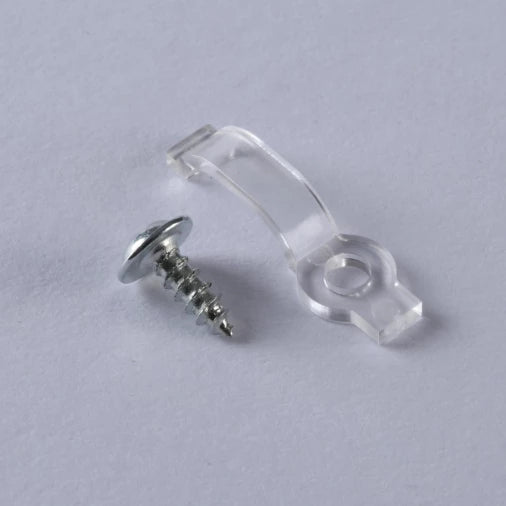 TEKLED
LED Strip Light Mounting Clips: Fixing Brackets for Direct PCB Placement Pack of 10
LED Strip Light Mounting Clips: Secure Fixing Brackets for PCB Placement
Introducing our LED Strip Light Mounting Clips — the ideal solution for a secure and precise installation of your LED strips. Designed with meticulous attention to detail, these fixing brackets ensure that the mounting pressure is applied to the PCB, preserving the strip's integrity and performance.
Key Features & Benefits:
Precision Placement: These clips are engineered to mount directly onto the PCB, ensuring that the LEDs remain untouched and free from any pressure.
Secure Fixing: With a robust grip, these brackets guarantee that your LED strip remains firmly in place, preventing any unwanted movement or dislodging.
Easy Installation: The intuitive design allows for a hassle-free setup, making the mounting process swift and straightforward.
Durable Material: Crafted from high-quality materials, these clips are built to last, ensuring longevity and reliability for your lighting setups.
Versatile Use: Suitable for various LED strip light installations, these mounting brackets are a must-have accessory for both residential and commercial lighting projects.
Whether you're aiming for ambient room lighting or a dynamic display, trust our LED Strip Light Mounting Clips to provide a stable and secure foundation for your LED strips, ensuring optimal performance and longevity.
Technical Specifications
| | |
| --- | --- |
| Item Code | 890-17605 |
| Material | Plastic (Clip) and Metal (Screw) |
| Colour | Clear Plastic |
| Pack Quantity | Pack of 10 |