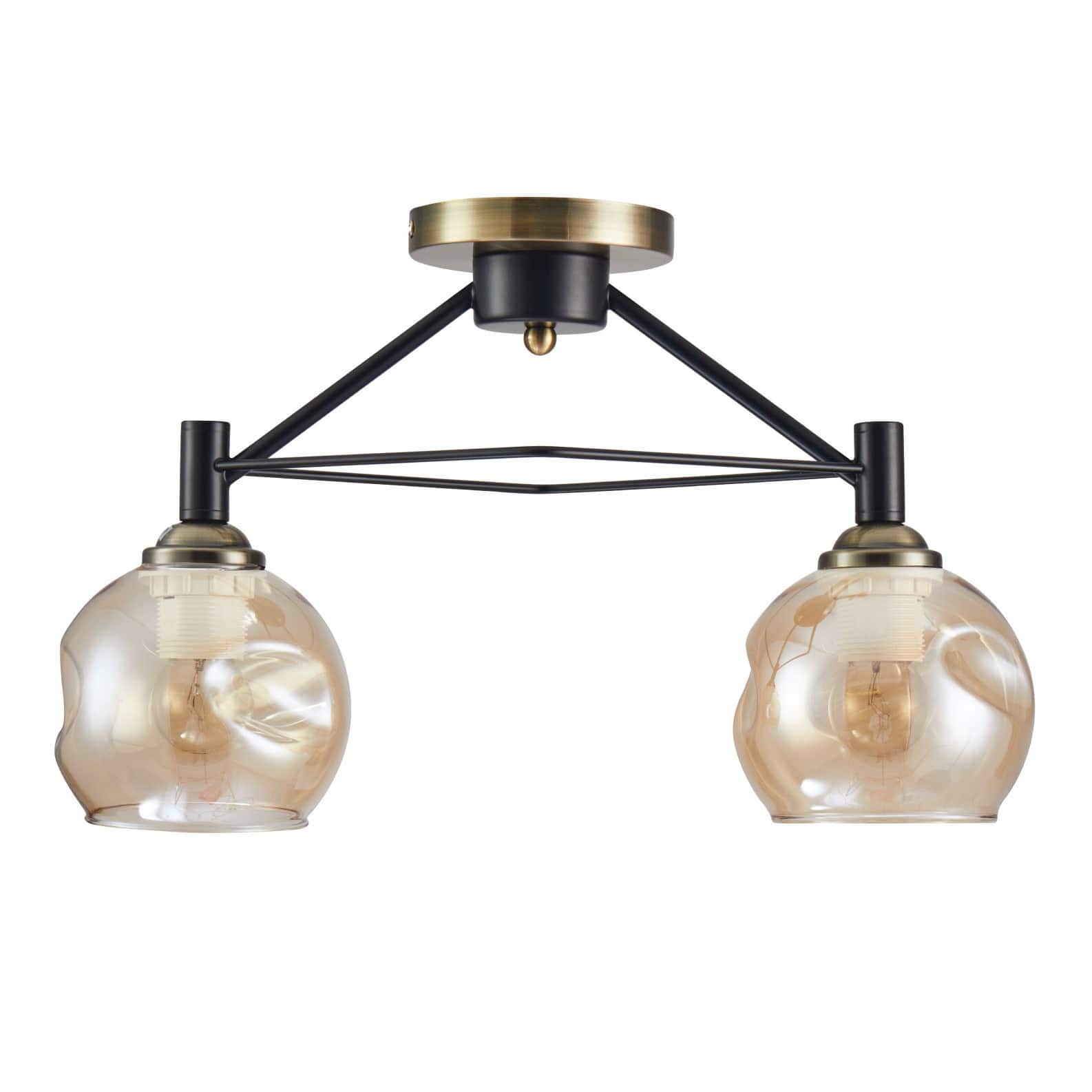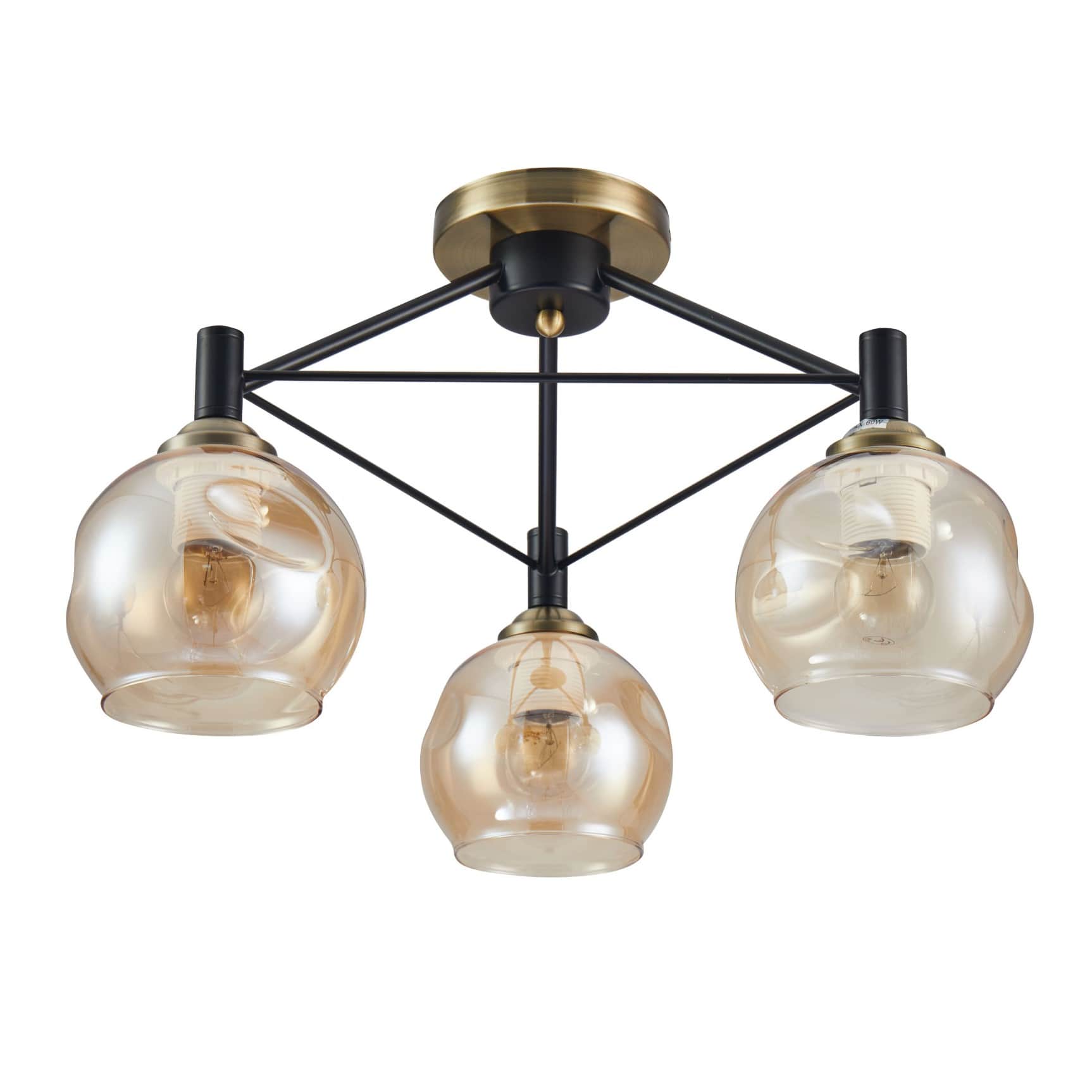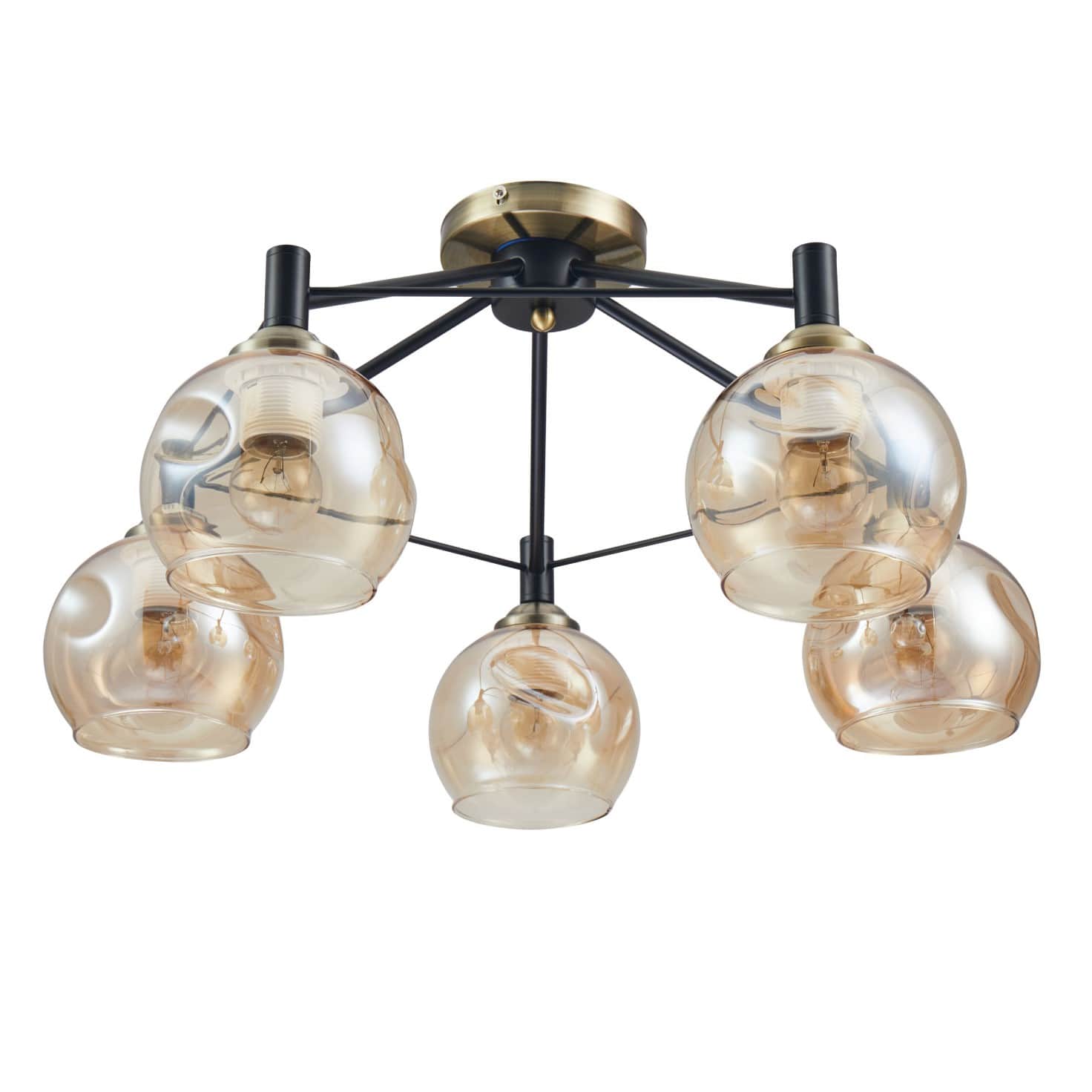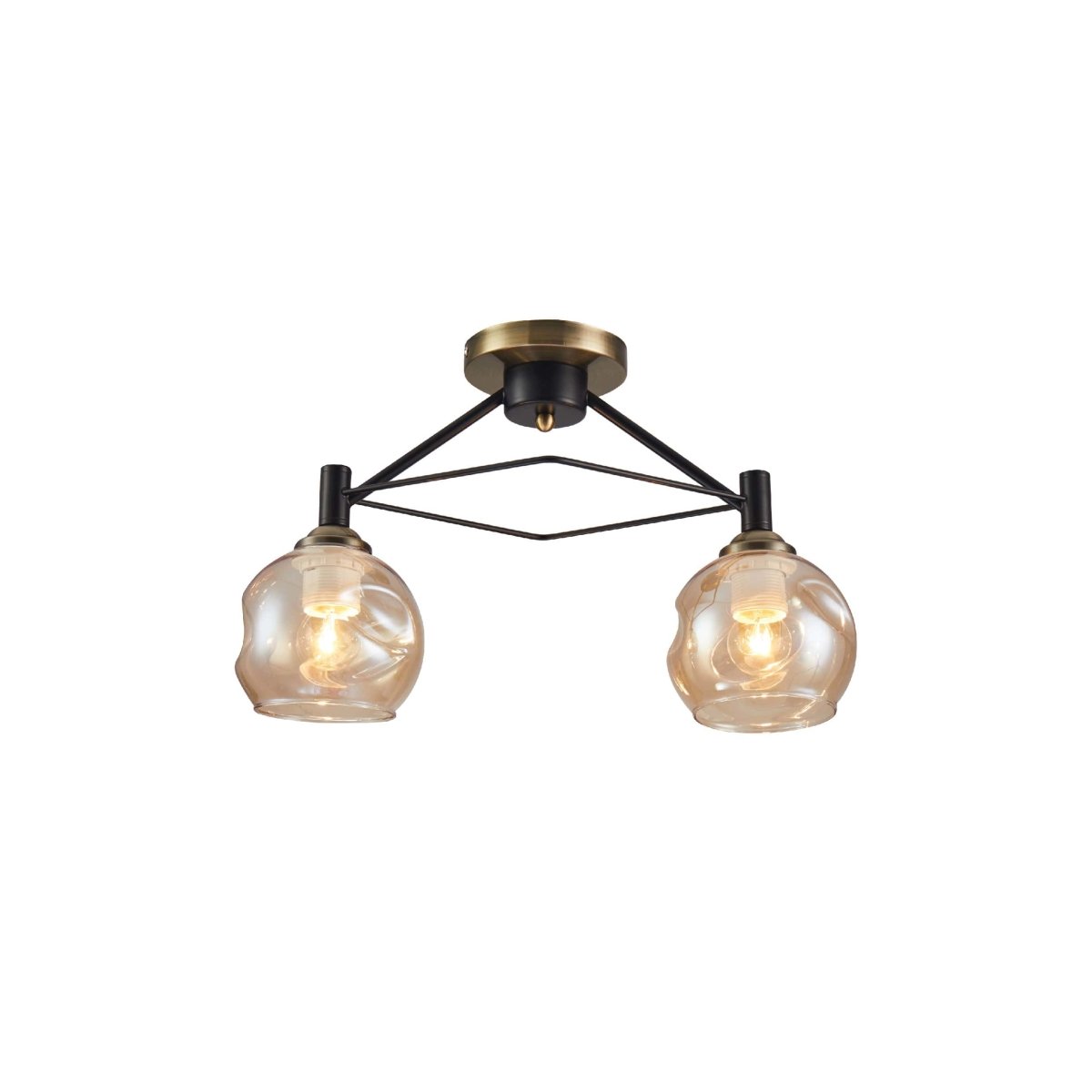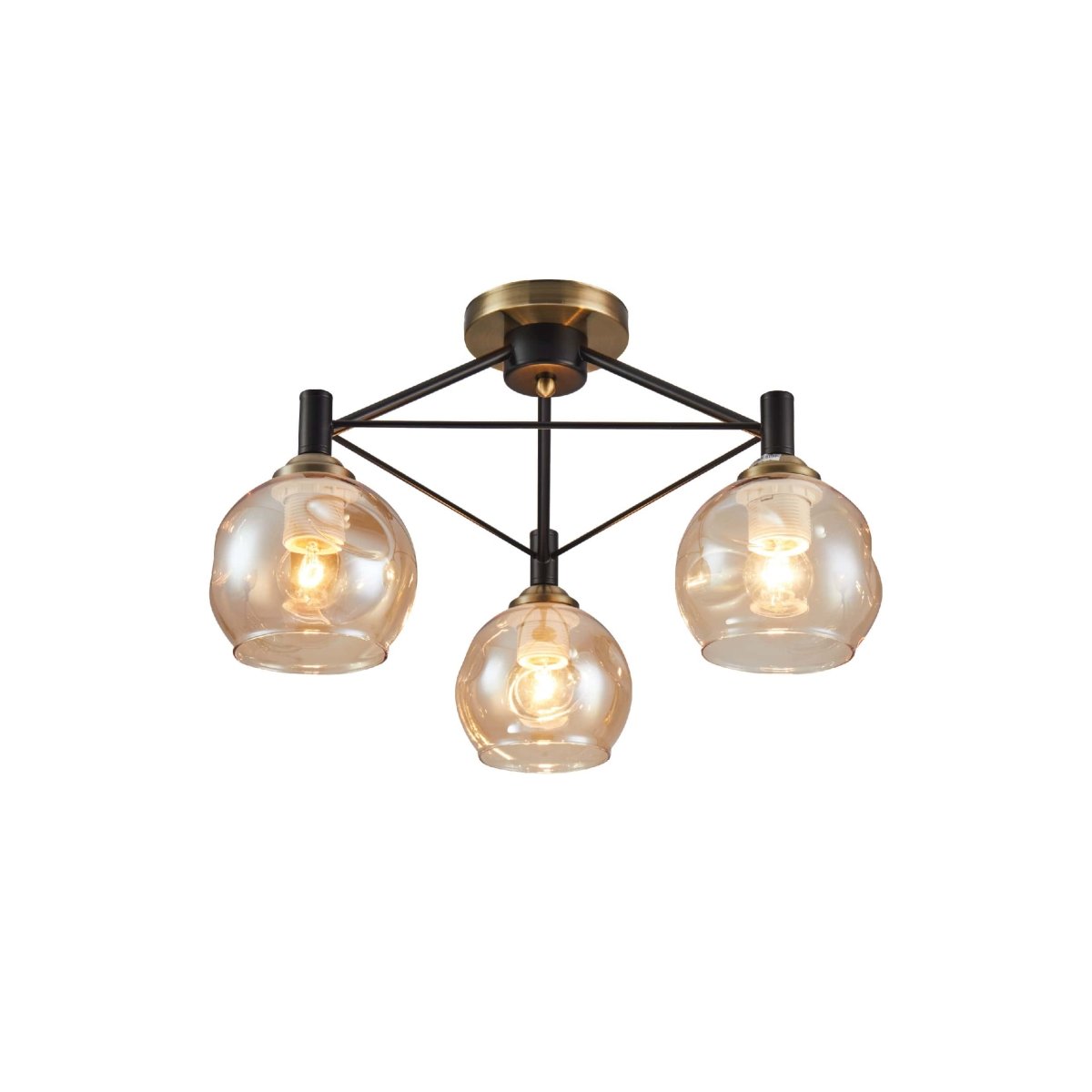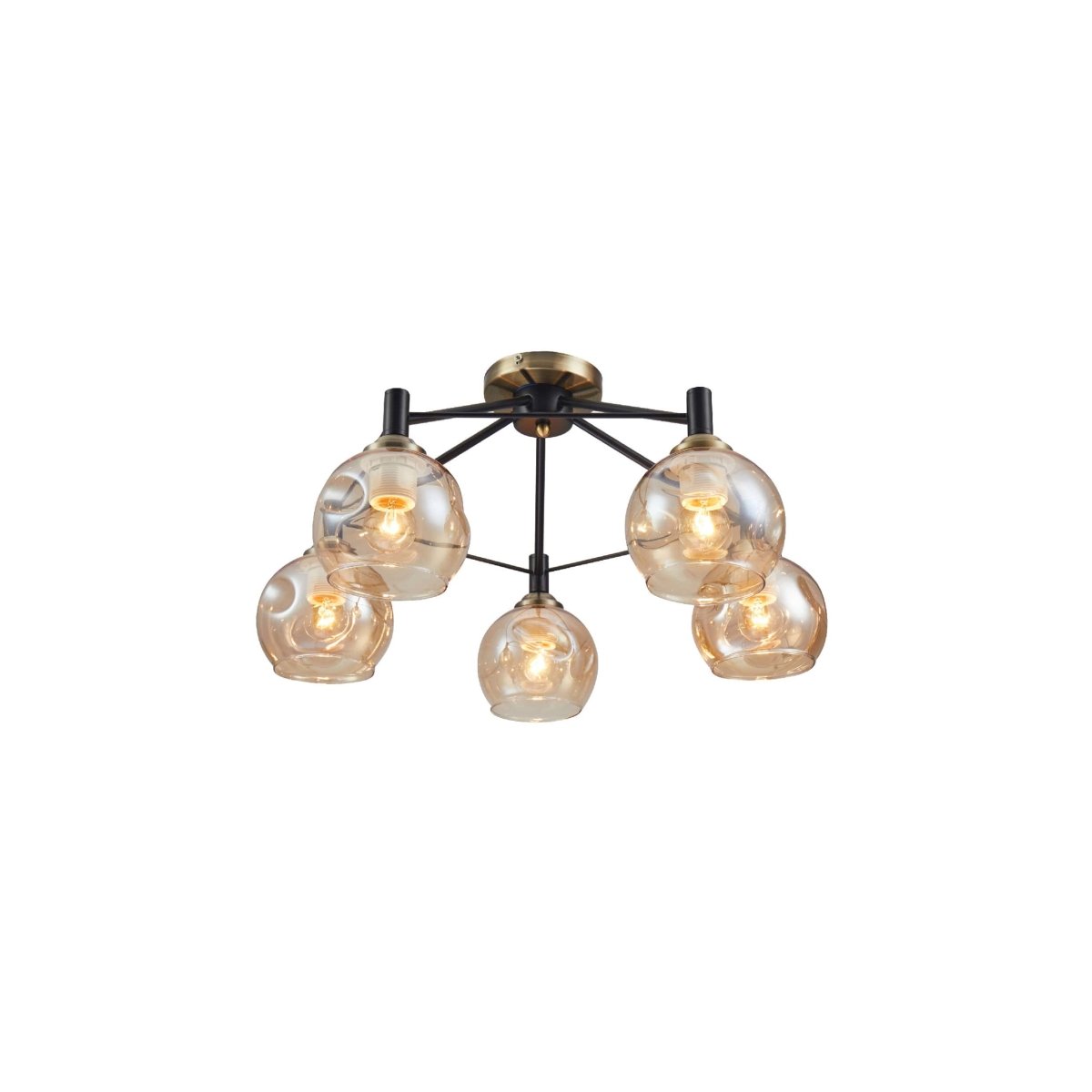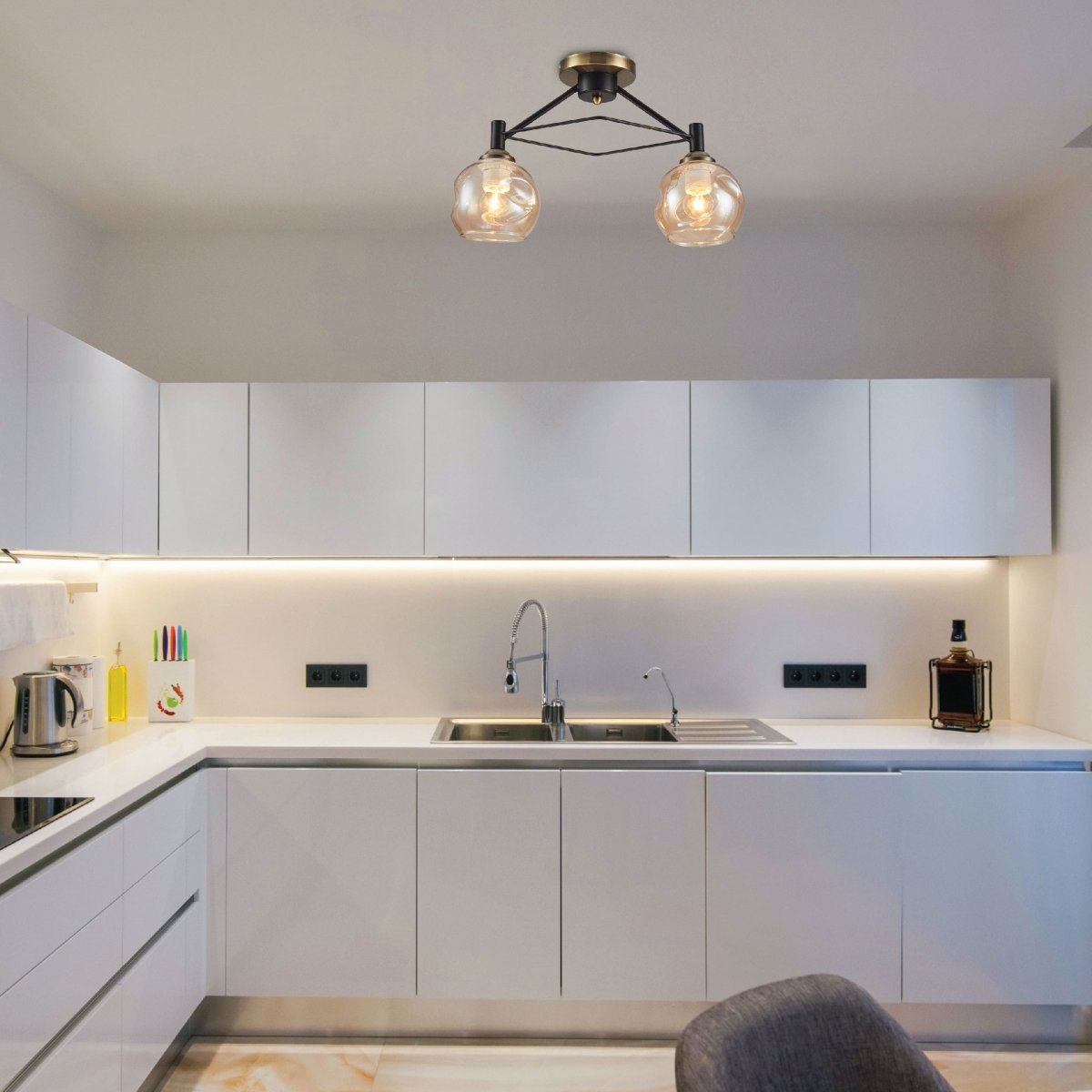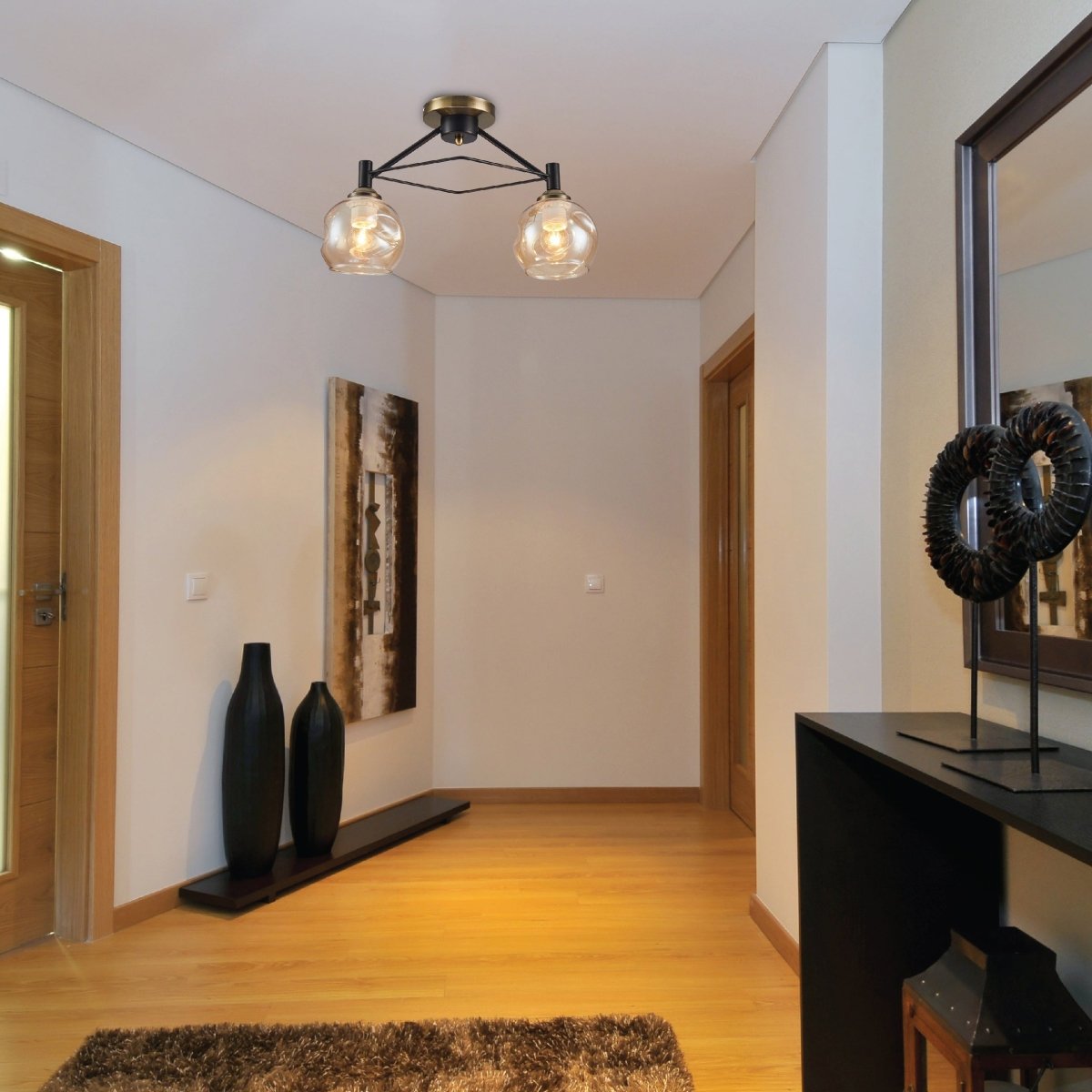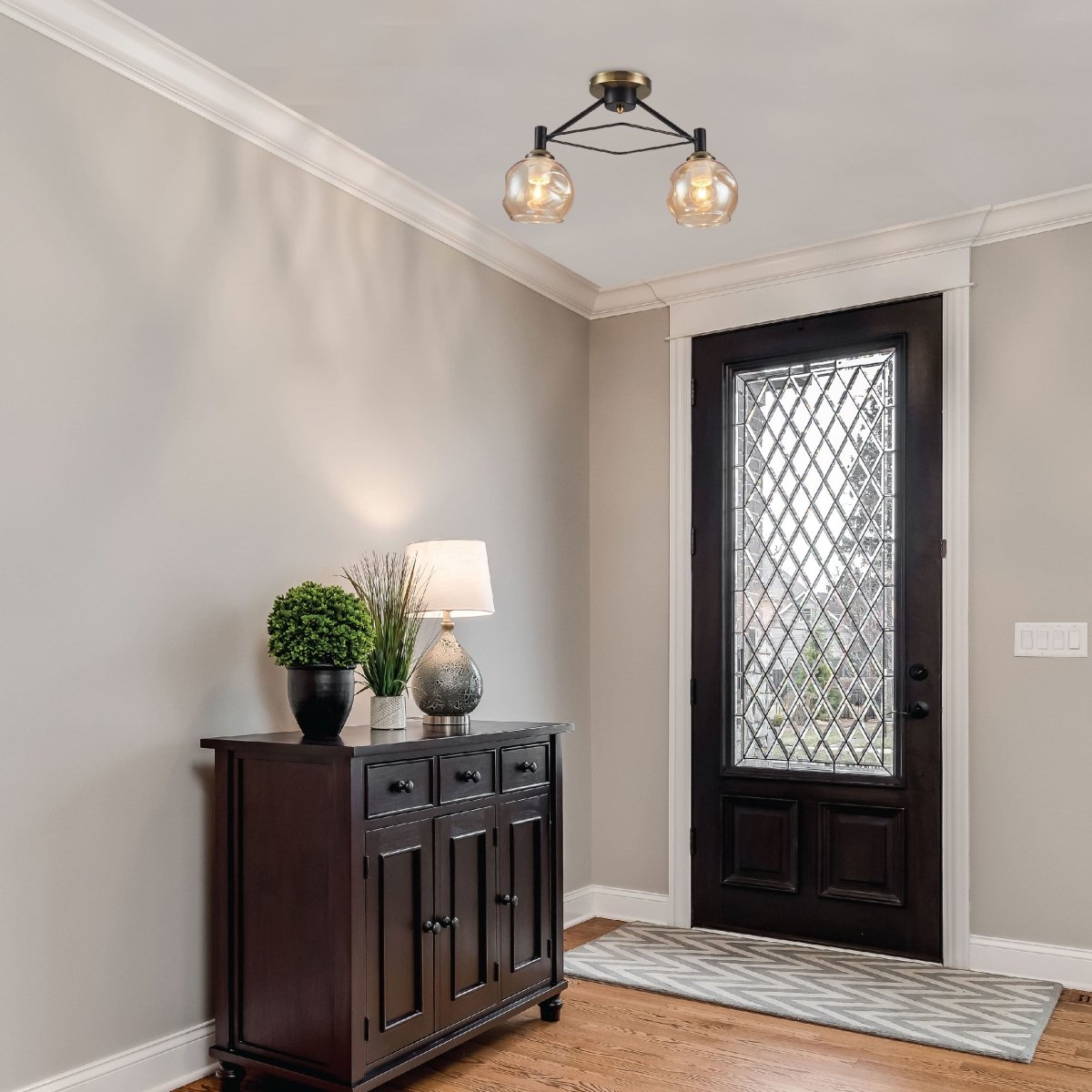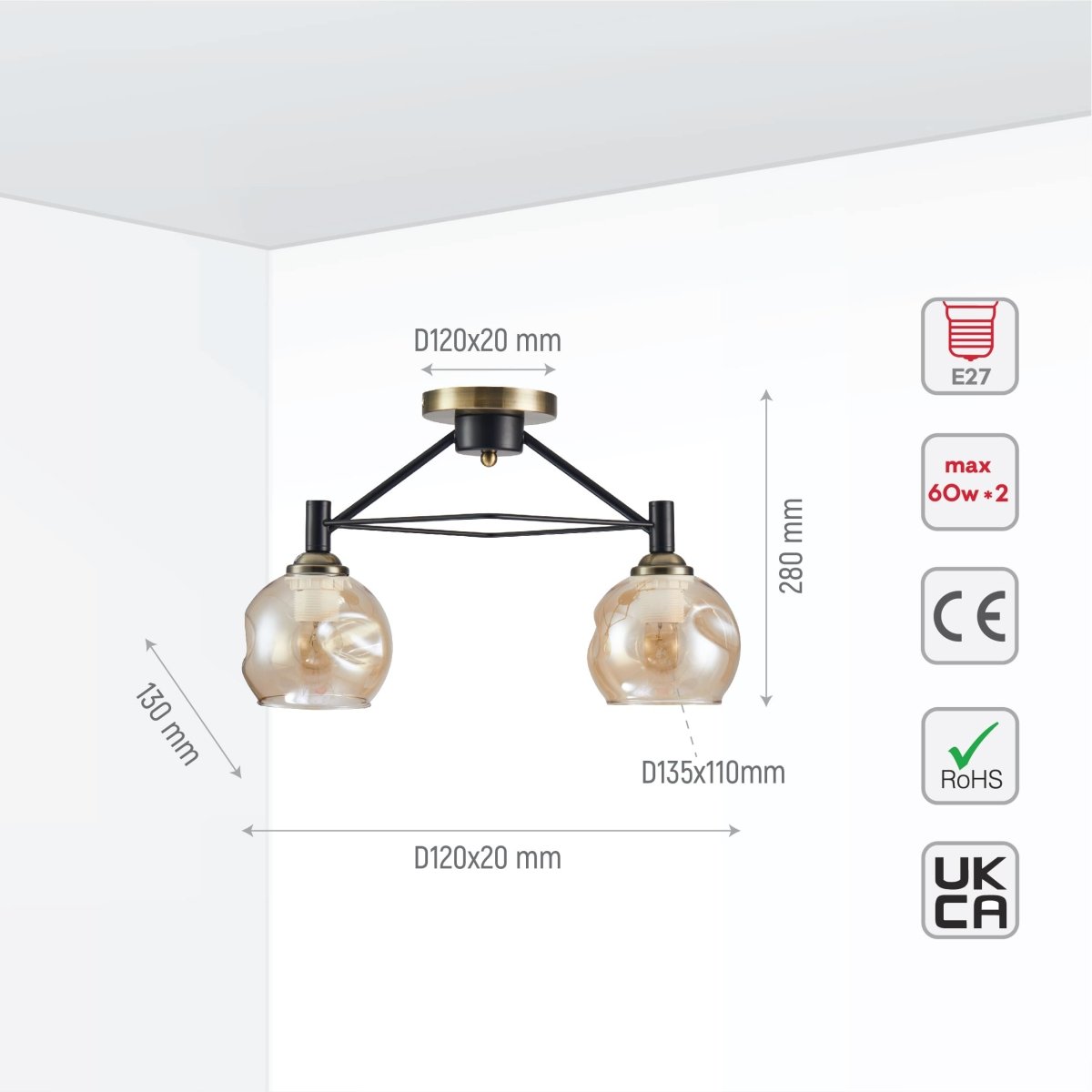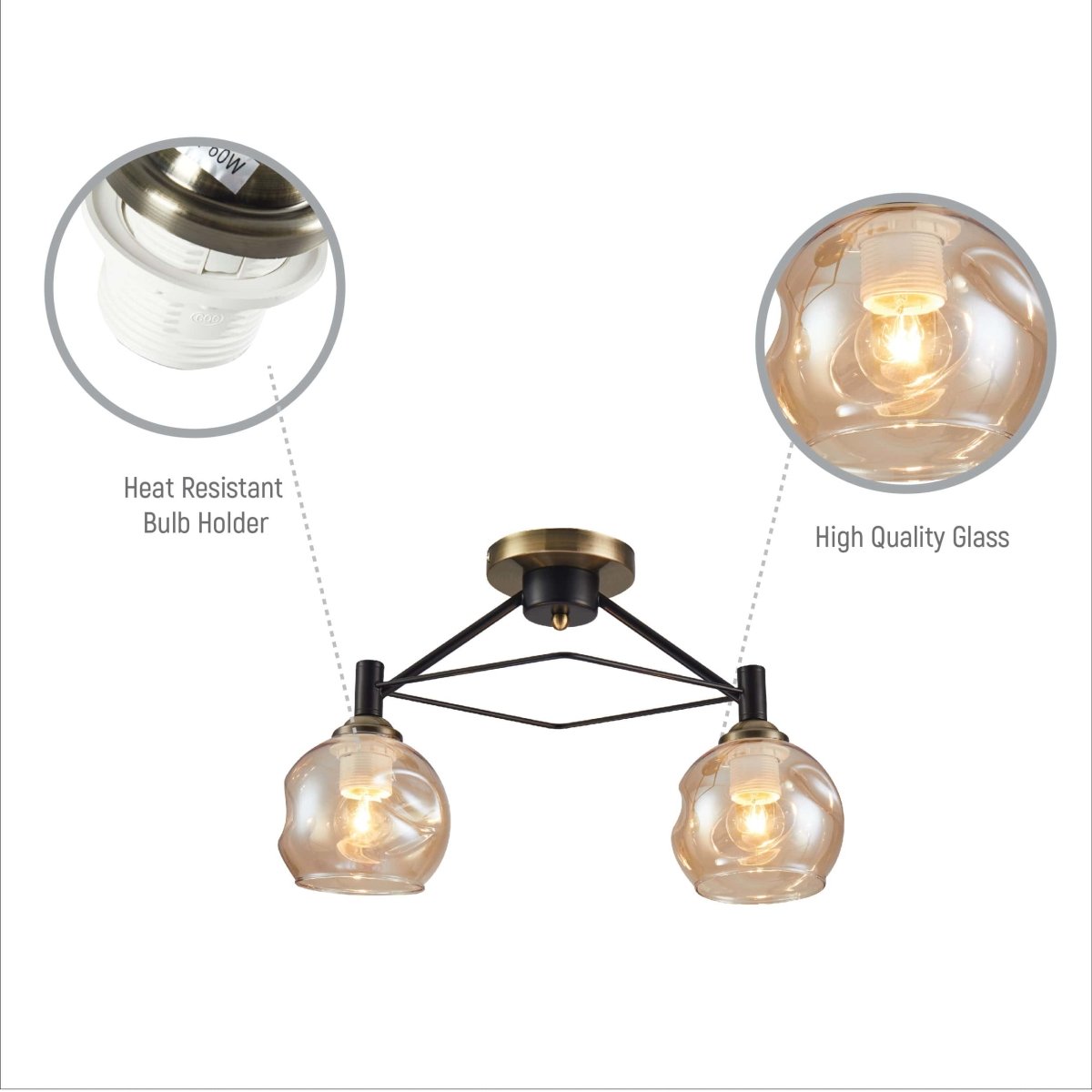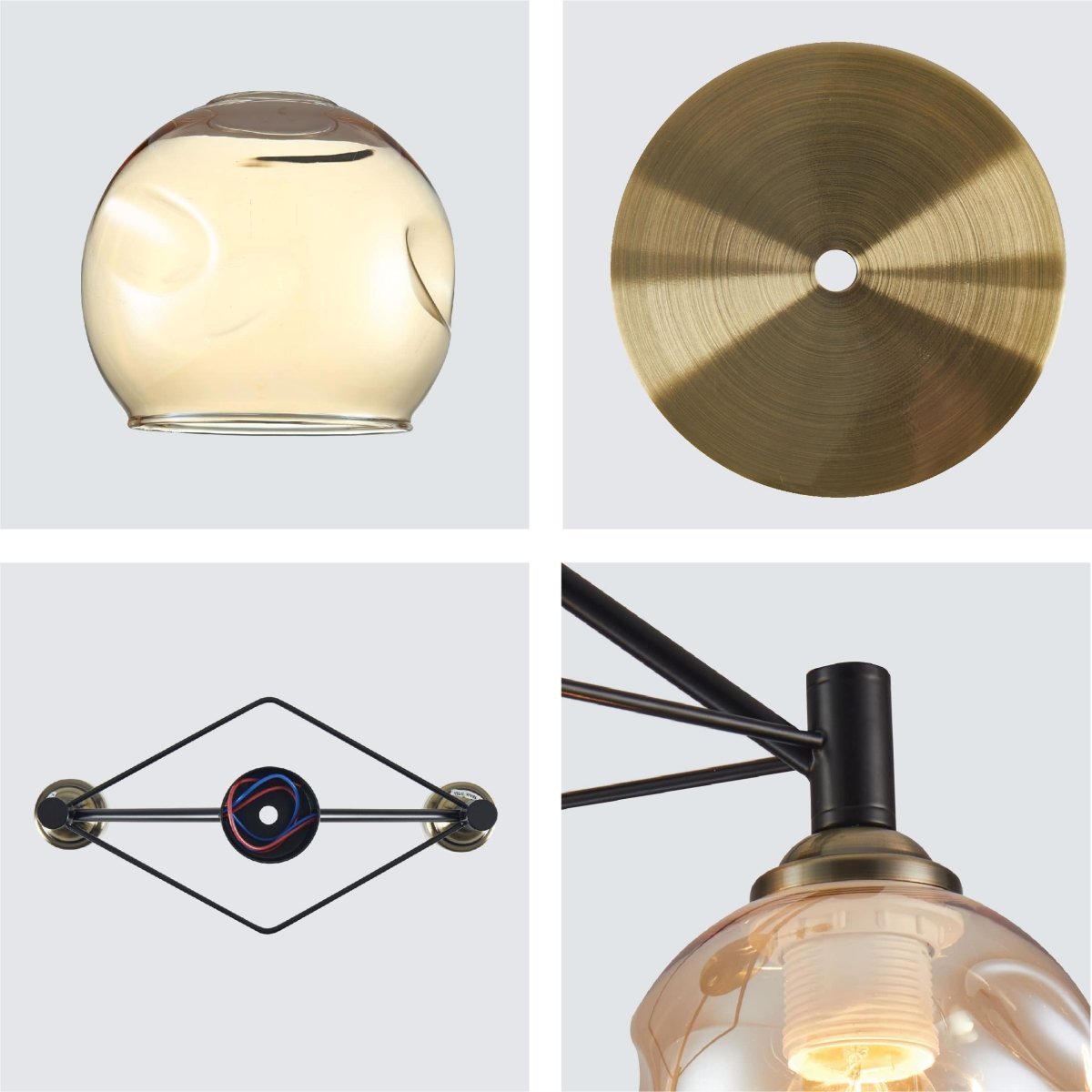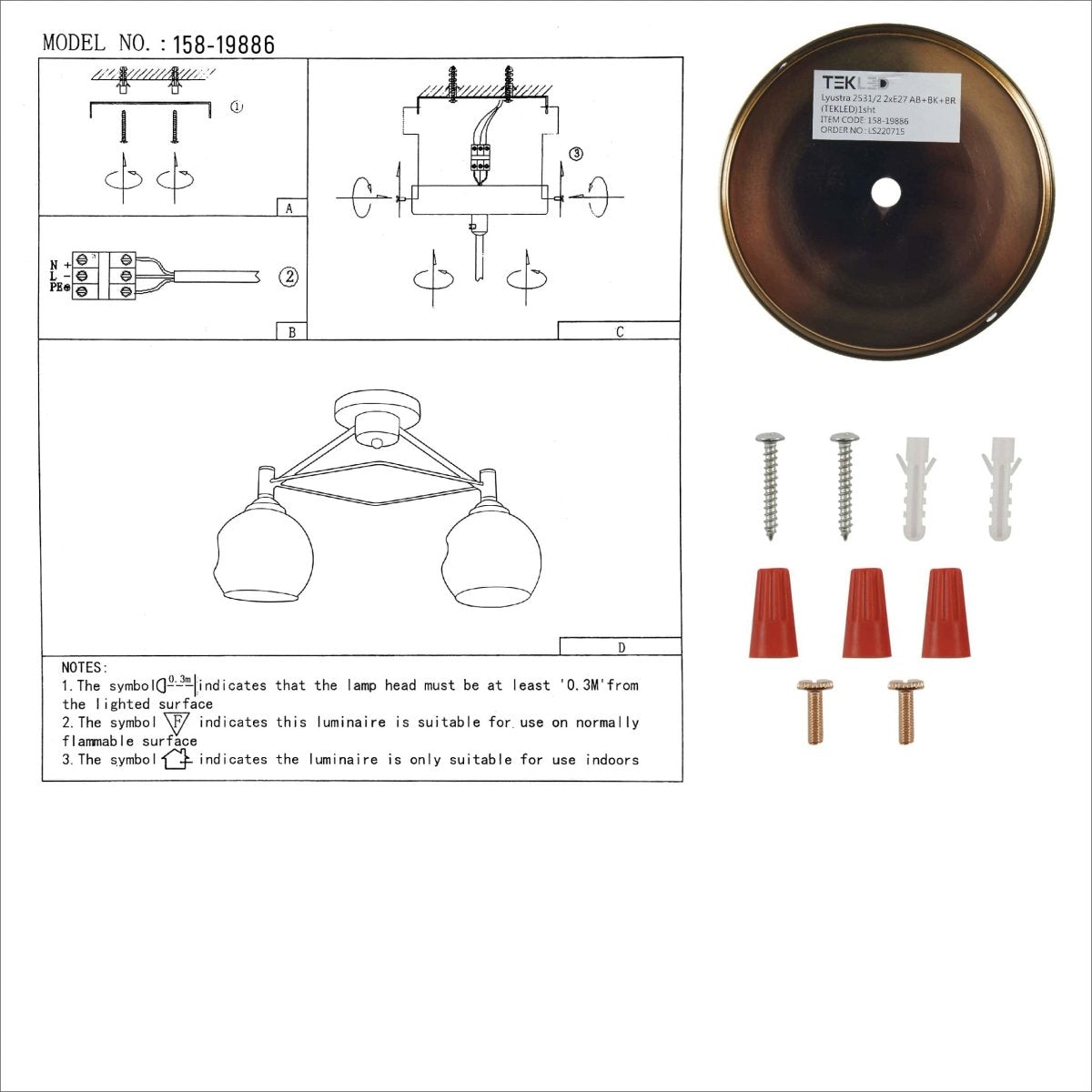 TEKLED
Amber Bell Glass Black Metal Semi Flush Ceiling Light - 2 Lamp.
Amber Bell Glass Black Metal Semi Flush Ceiling Light
Illuminate your living space with this captivating semi-flush ceiling light, beautifully marrying the old-world charm and contemporary design. The fixture features elegant amber bell-shaped glass shades, ensuring a gentle dispersion of light, creating a warm, inviting ambiance perfect for gatherings or tranquil evenings.

The robust black metal frame, with its intricate geometric styling, adds a layer of modern sophistication, making this piece a versatile addition to various interior design themes. From the sleek lines of contemporary decor to the rich textures of traditional settings, and the balanced aesthetics of transitional styles, this lighting fixture enhances your space with its timeless elegance.

Offering a range of options with 2, 3, or 5 lamp configurations, the design ensures a tailored lighting solution to meet your specific needs. It serves as a focal point in a grand living room, adds a touch of sophistication to your dining experience, or brings a cozy glow to your bedroom sanctuary.

Enhanced with an antique brass rose, the fixture exudes a subtle vintage allure, providing a nod to classic design while maintaining a fresh, modern appeal. The semi-flush mount makes it an ideal choice for spaces with lower ceilings, ensuring brilliant illumination without compromising on style or space.

In essence, this ceiling light is not just a source of illumination; it's a centerpiece, a blend of functionality and artistry. It stands as a statement piece that promises to elevate the aesthetic of your home, infusing it with warmth, style, and a dash of modern elegance. Embrace the perfect balance of form and function with this exquisite addition to your home lighting collection.
Technical Specifications
| | |
| --- | --- |
| Product Code | 158-19886 | 158-19888 | 158-19890 |
| Name | Amber Bell Glass Black Metal Semi Flush Ceiling Light |
| Power | Max 60W / Bulb |
| Voltage | 220/240Vac 50/60Hz |
| Lamp Holder Type | E27 Edison Screw (ES) |
| Lamp Holder Quantity | 2 | 3 | 5 |
| Protection Class | Class I |
| Dimmability | Dimmable if used with dimmable bulbs |
| Light Source | Bulb |
| Compatible Bulbs | E27 base G45 Golf Ball bulbs |
| Bulbs | Bulbs are not included |
| IP Class | IP 20 |
| Diffuser Material | Glass |
| Diffuser Type | Clear amber glass |
| Mount Type | Semi Flush |
| Product Dimensions (L x W x H) (D x H) | 400x130x280 mm | D480x280 mm | D560x280 mm |
| Product Length | 280 mm |
| Shape | Bell,Arm |
| Material | Steel, Glass |
| Product Colour | Black, Antique Brass, Amber (glass) |
| Paint Type | Wet paint, Electroplated metal |
| Shade Material | Glass |
| Size of Shade(s) | D130x110 mm |
| Size of Rose | D120x20mm |
| Function Mode | ON/OFF |
| Operating Temperature (°C) | -20/+45C |
| Warranty | 3 year |
| Box Dimension (L x W x H) | 355x330x165 mm | 410x370x275 mm | 520x470x270 mm |
| Net Weight | 0.7 kg | 1.0 kg | 1.46 kg |
| Gross Weight | 1.1 kg | 1.64 kg | 2.4 kg |
| Box Content | 1 Light fixture, User manual, Accessories package( Tapping screw x 2, Expansion plug x 2 ) |
| Pieces/Box | 1 set |
| Certifications | CE, UKCA, RoHS |