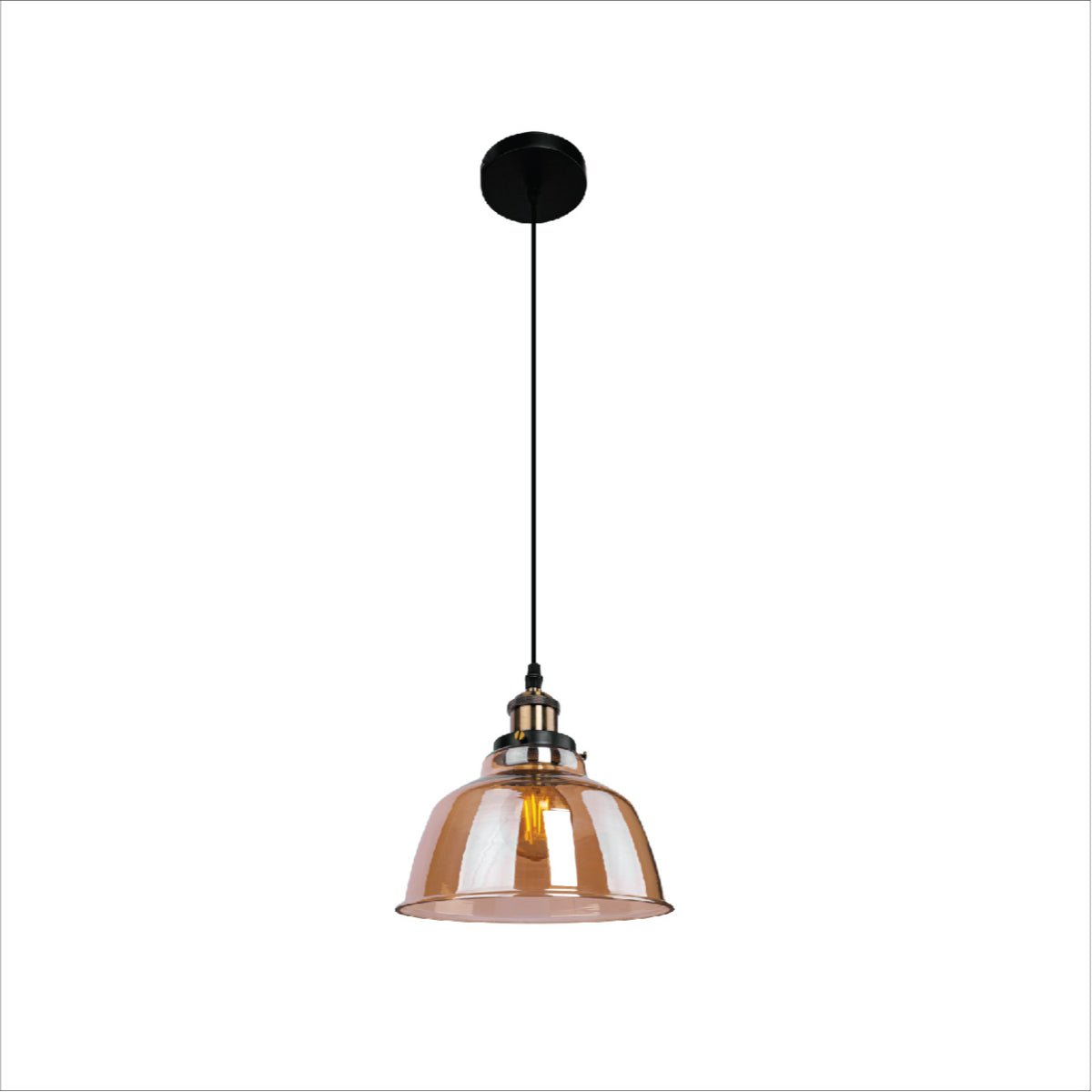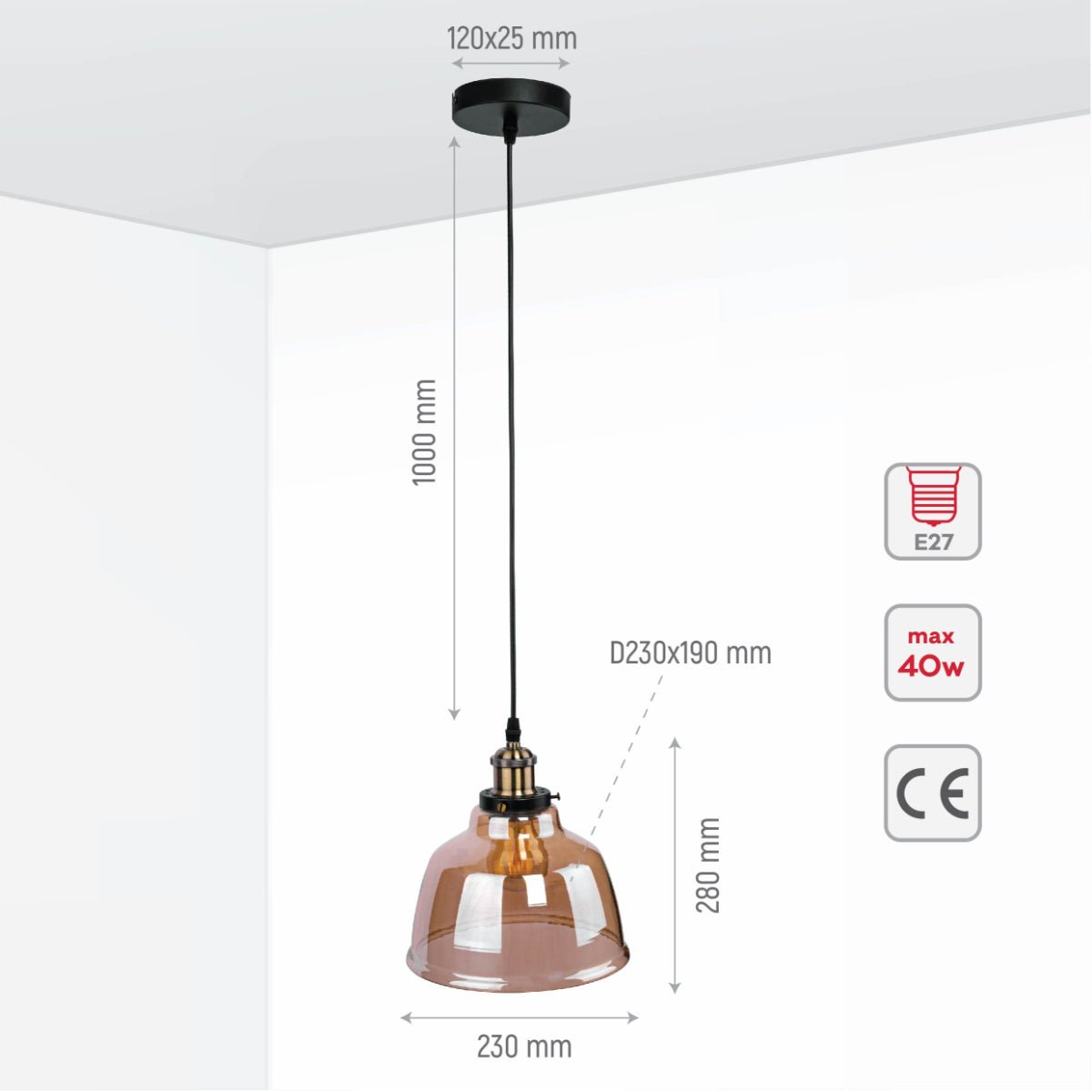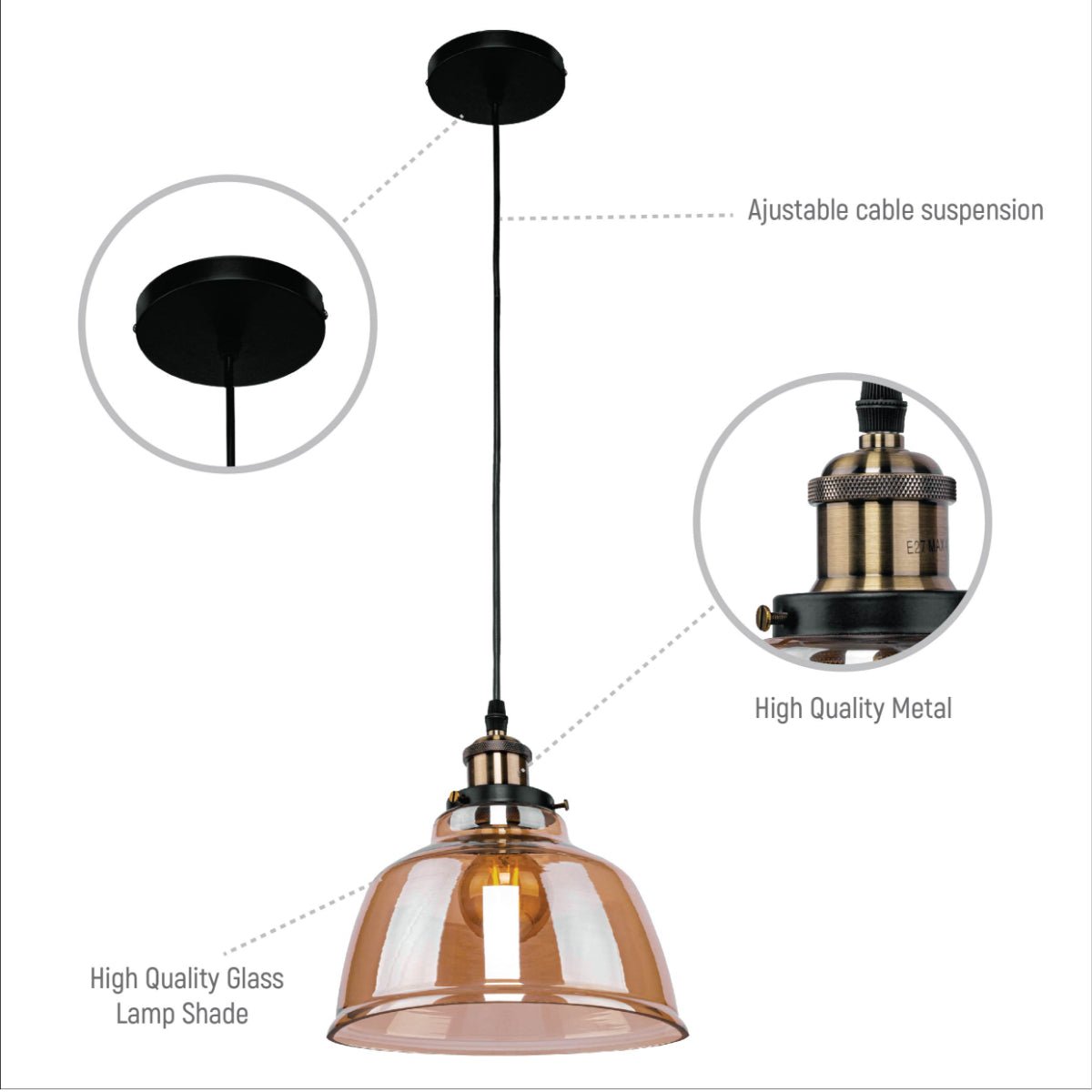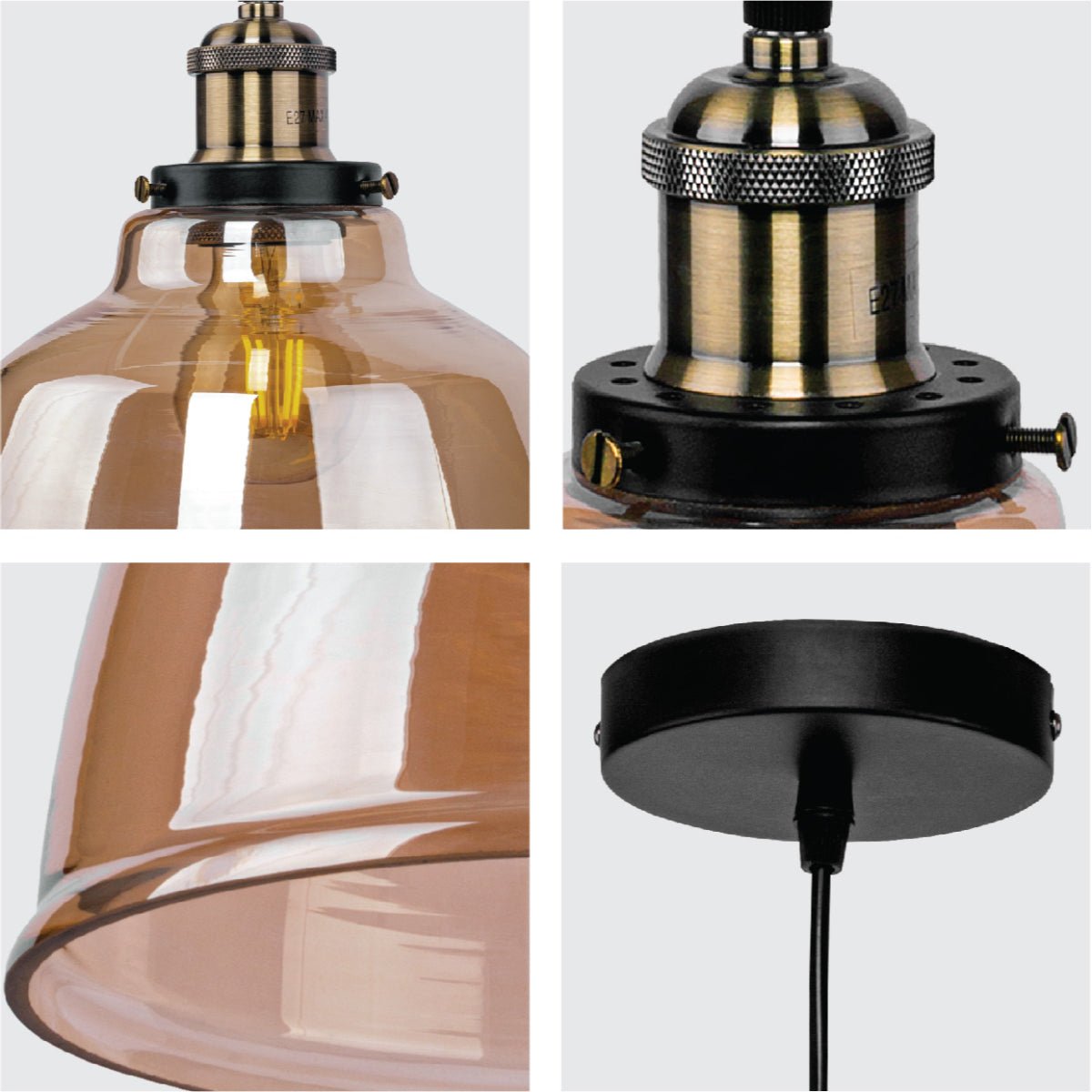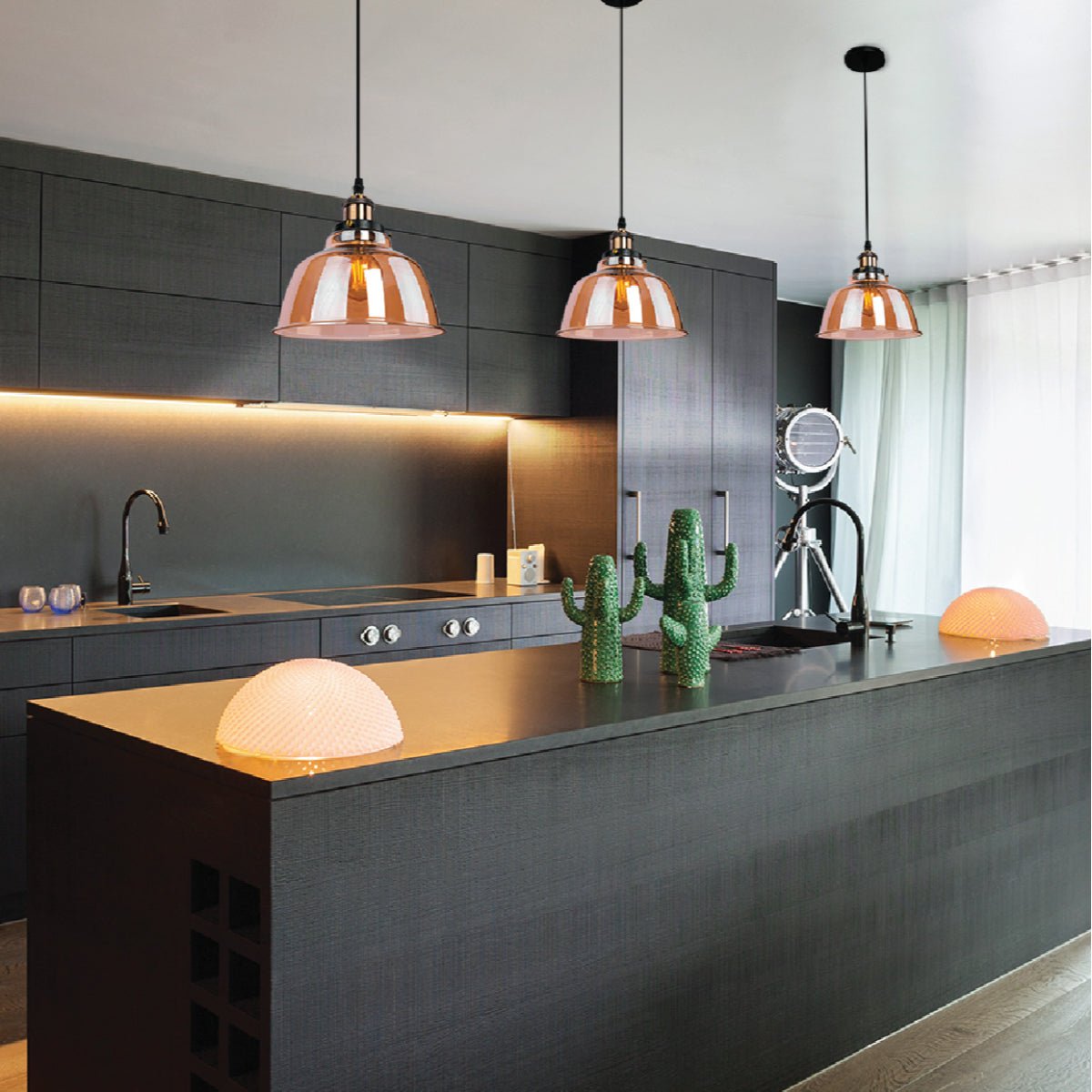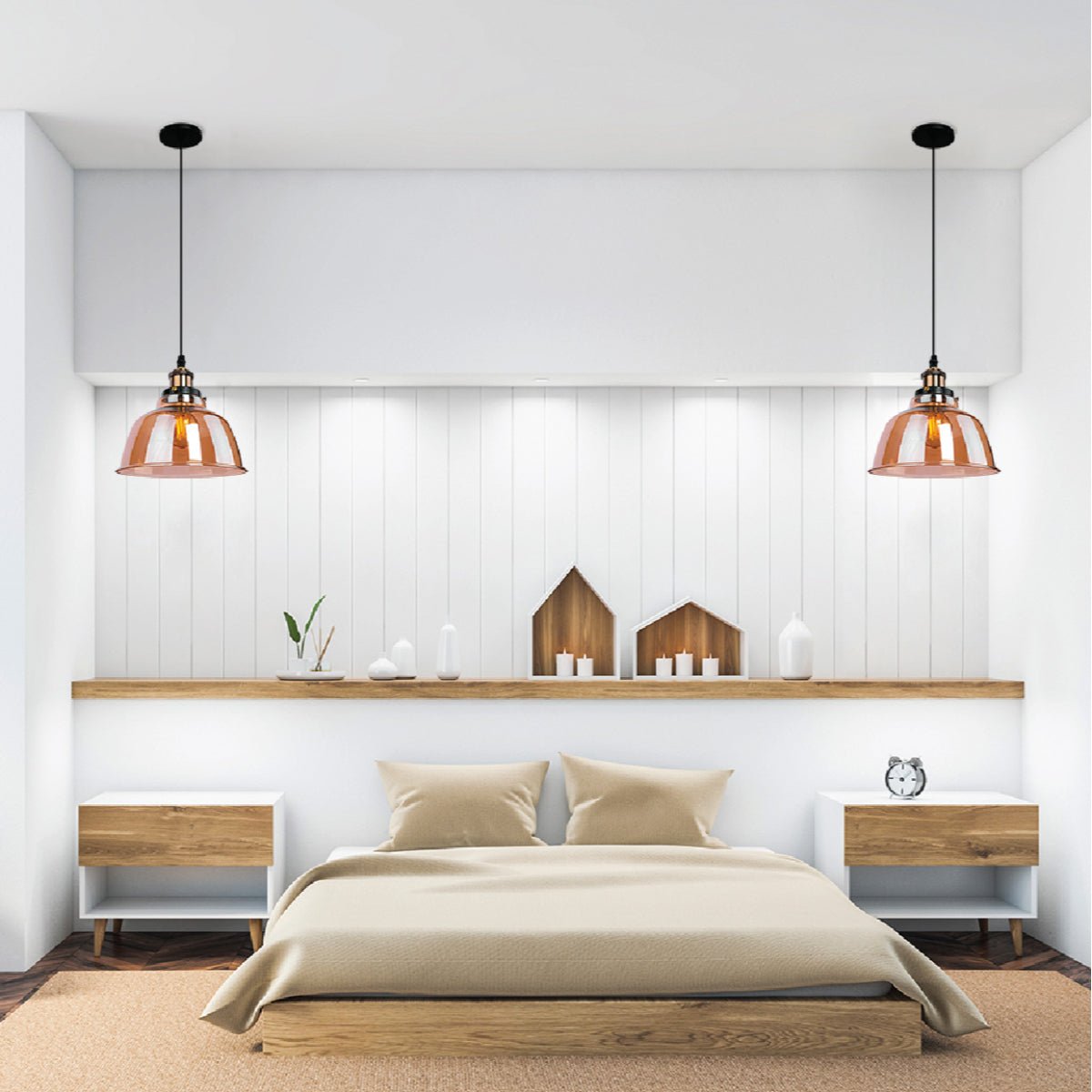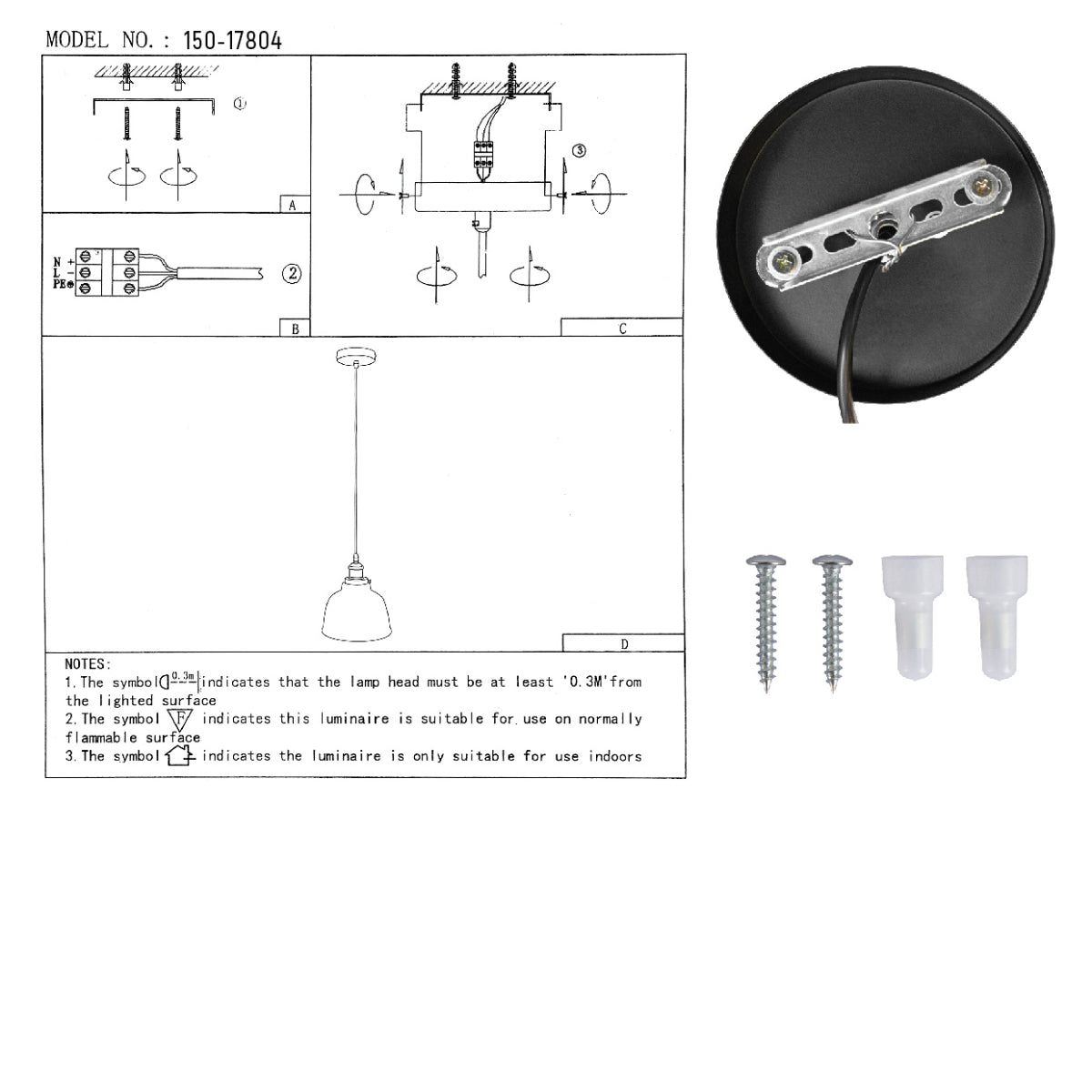 TEKLED
Amber Glass Dome Pendant Ceiling Light E27
Amber Glass Dome Pendant Ceiling Light E27
Introducing the Amber Glass Dome Pendant Ceiling Light: A Timeless Blend of Elegance and Warmth

Enhance the ambiance of any space with the Amber Glass Dome Pendant Ceiling Light. Crafted with meticulous attention to detail, this exquisite lighting fixture seamlessly combines vintage charm with modern sophistication. Its captivating design, versatile functionality, and warm amber glow make it the perfect addition to a wide range of settings, from kitchens and living rooms to cafes, bars, and restaurants.

The amber-colored glass shade exudes a sense of warmth and intimacy, creating a cozy atmosphere that invites relaxation and conversation. The dome or bowl shape of the shade adds a touch of elegance and provides a soft, diffused illumination, casting a warm and inviting glow across the room. Its antique brass lamp holder beautifully complements the amber glass, infusing a classic and timeless appeal into the overall design.

For added versatility, the Amber Glass Dome Pendant Light features an adjustable suspension length. Whether you prefer a low-hanging statement piece or a higher installation, this light fixture can be easily customized to suit your desired aesthetic and functional needs. This flexibility allows you to create captivating lighting arrangements, particularly when used as a group of two or three above a kitchen island, in bedrooms, living rooms, cafes, bars, restaurants, foyers, or lobbies.

The design of this pendant light effortlessly complements various decor styles, making it a versatile choice for any interior. Its vintage-inspired elements seamlessly blend with rustic, industrial, or farmhouse themes, adding character and charm to the space. Additionally, the warm amber hue of the glass shade pairs exceptionally well with earthy tones, natural materials, and cozy, intimate settings. Whether you're going for a retro-inspired ambiance or a contemporary twist on traditional aesthetics, the Amber Glass Dome Pendant Ceiling Light is sure to elevate your decor.

To achieve the perfect lighting effect, we recommend pairing this pendant light with ST64 LED Filament bulbs. The warm, soft glow of these bulbs enhances the ambiance created by the amber glass shade, casting a comforting and welcoming illumination throughout the room. The combination of the amber glass, antique brass lamp holder, and the warm LED filament bulbs creates a harmonious visual experience that exudes elegance and sophistication.

In summary, the Amber Glass Dome Pendant Ceiling Light offers a harmonious blend of timeless design, warm illumination, and versatile functionality. Its amber-colored glass, dome or bowl shape, antique brass lamp holder, and adjustable suspension length make it a striking addition to any space. Whether you're seeking to create an intimate atmosphere in your home, or adding a touch of vintage elegance to a commercial setting, this pendant light is a perfect choice. Transform your space into a haven of style and warmth with the Amber Glass Dome Pendant Ceiling Light.
Technical Specifications
| | |
| --- | --- |
| Name | Amber Glass Dome Pendant Ceiling Light with E27 |
| Product Code | 150-17804 |
| Model | Beam, Sea Gull, Quoizel |
| Power | Max 40 W |
| Power Source | Hardwired |
| Voltage | 220/240Vac 50/60Hz |
| Lamp Holder Type | E27 Edison Screw (ES) |
| Lamp Holder Quantity | 1 |
| Protection Class | Class I |
| Dimmability | Dimmable if used with dimmable bulbs |
| Light Source | Bulb |
| Bulbs | Bulbs are not included |
| IP Class(Ingress Protection) | IP20 |
| Mount Type | Suspended |
| Product Dimensions (L x W x H) (D x H) | D230xH280 mm |
| Suspension Type | Cable |
| Adjustable Suspension | Yes, you may adjust the suspension length |
| Suspension Length | 1000 mm |
| Size of Shades | D230xH190mm |
| Size of Rose | D120x25mm |
| Shape | Cone,Dome, Bowl |
| Made of Materials | Steel, Glass |
| Shade Material | Glass |
| Product Colour | Amber |
| Shade Colour | Amber |
| Paint Type | Spray Painted |
| Diffuser Type | Amber clear |
| Operating Temperature (C) | -20/+45C |
| Warranty | 3 year |
| Net Weight | 1.3kg |
| Box Dimensions (LxWxH) | 270x270x310mm |
| Pieces/Box | 1 |
| Certifications | UKCA, CE, RoHS |