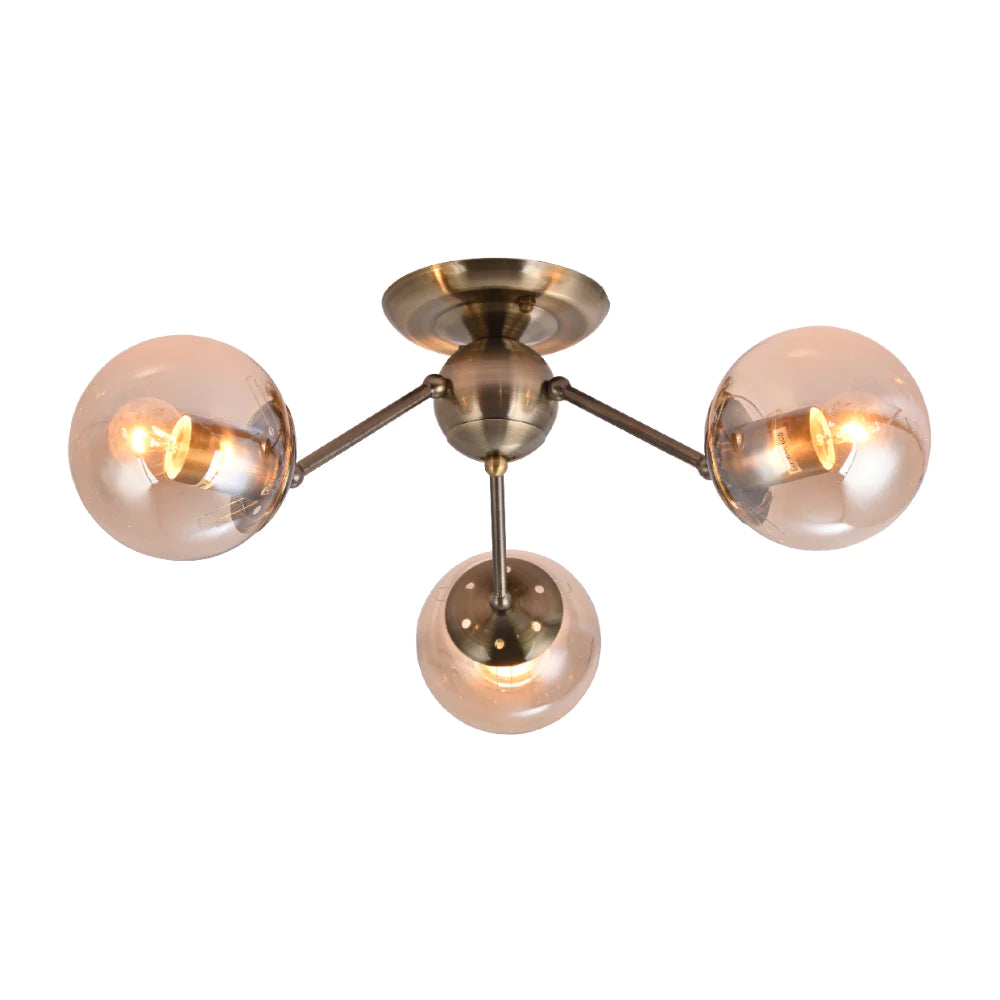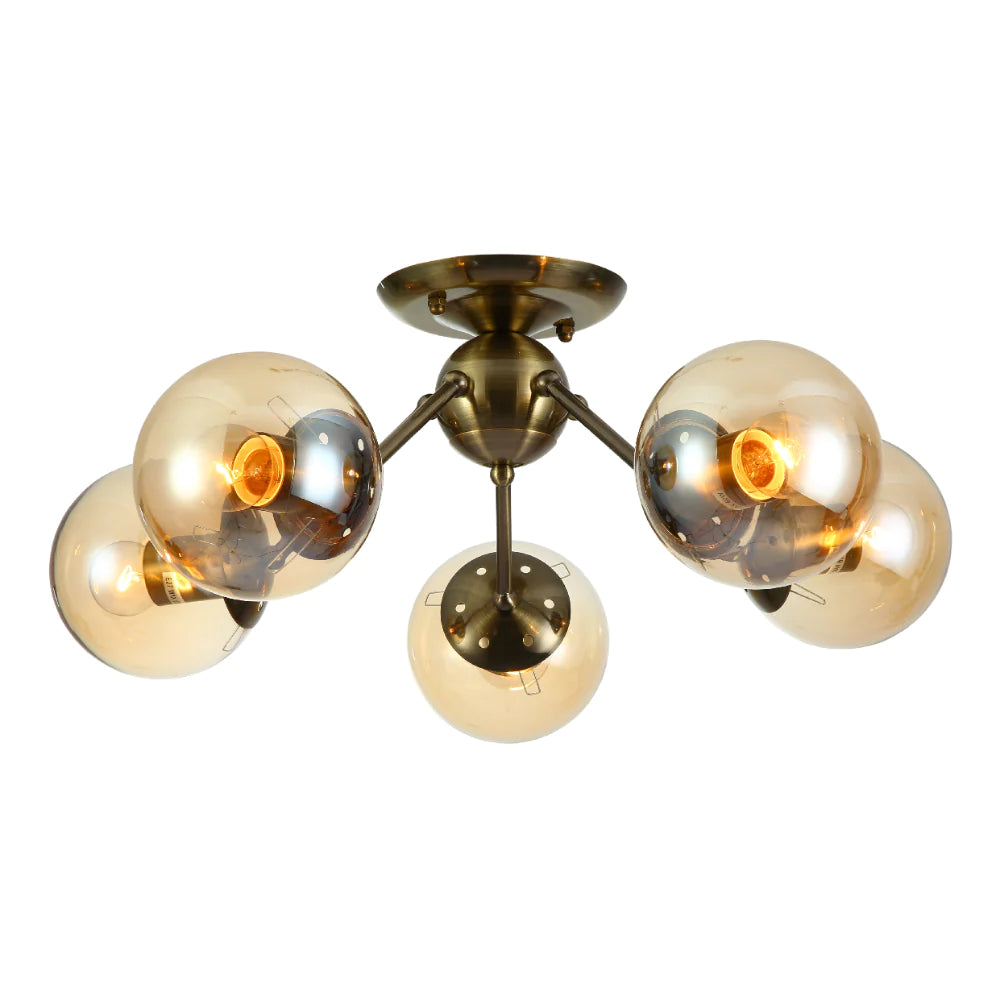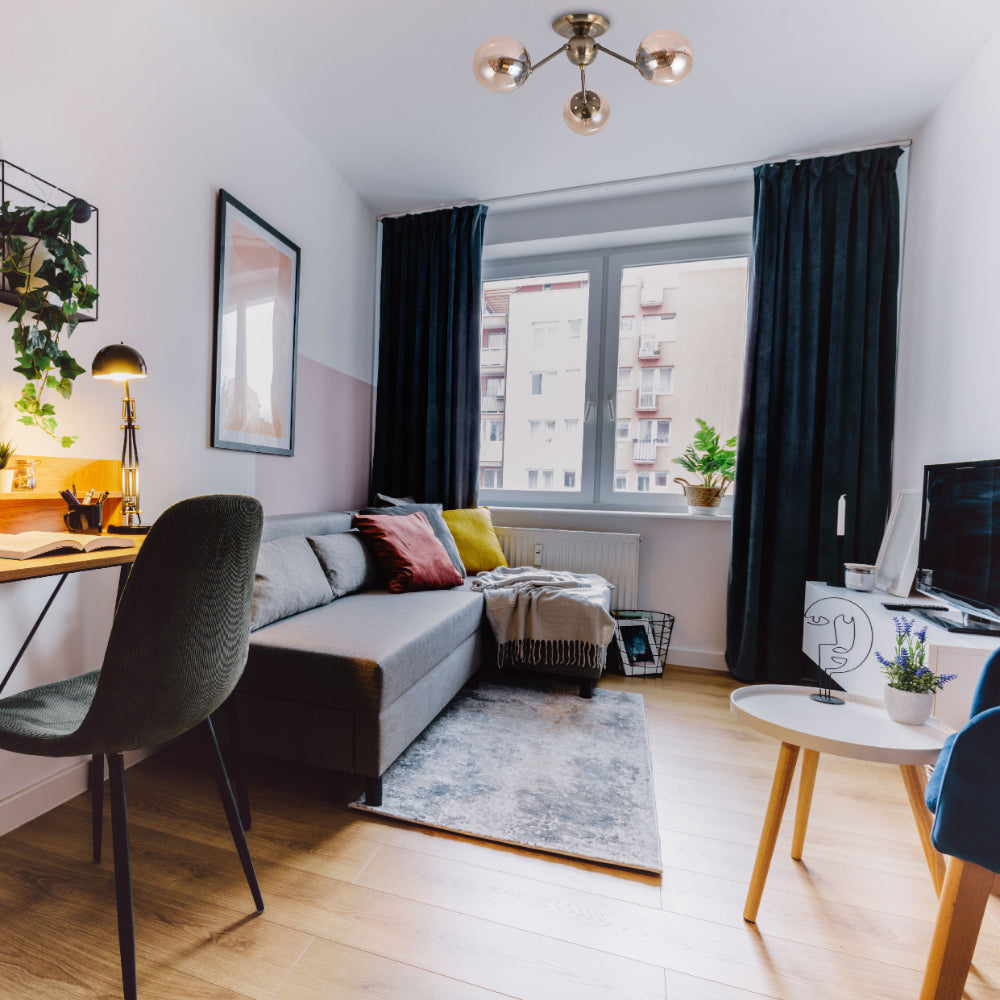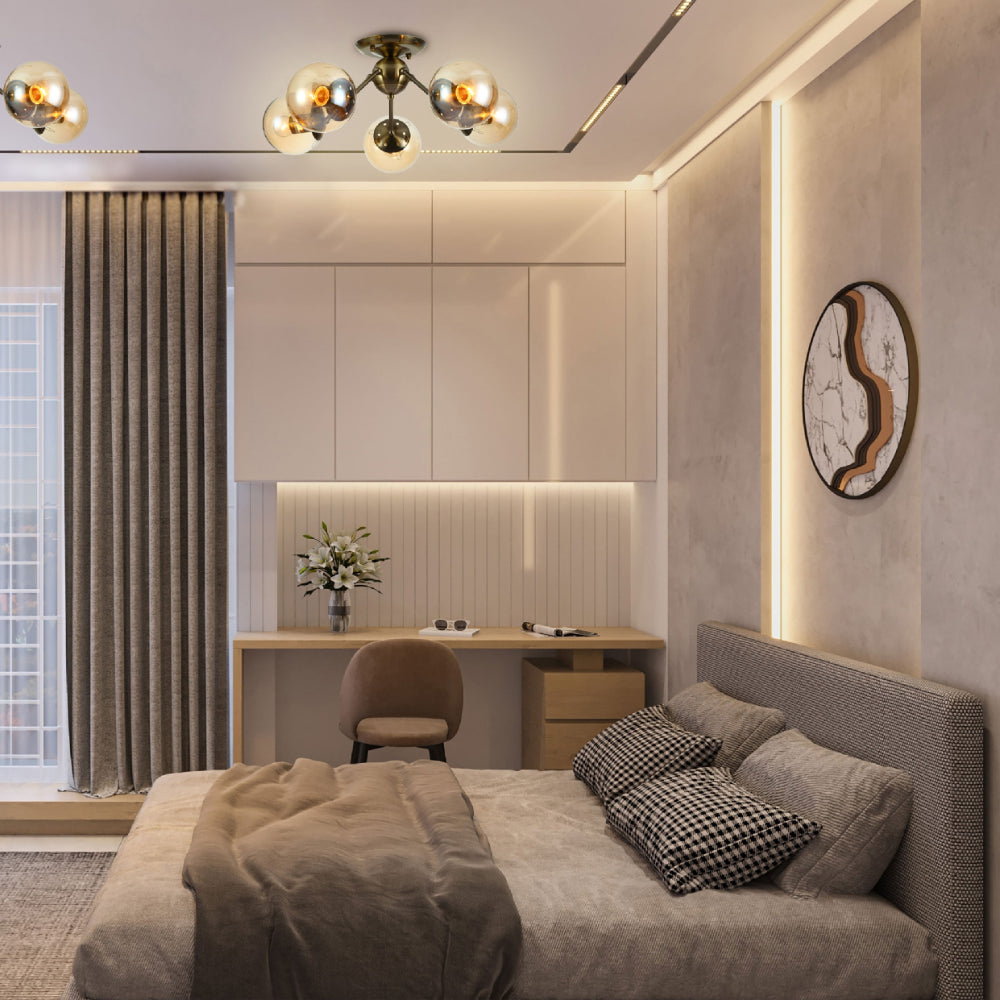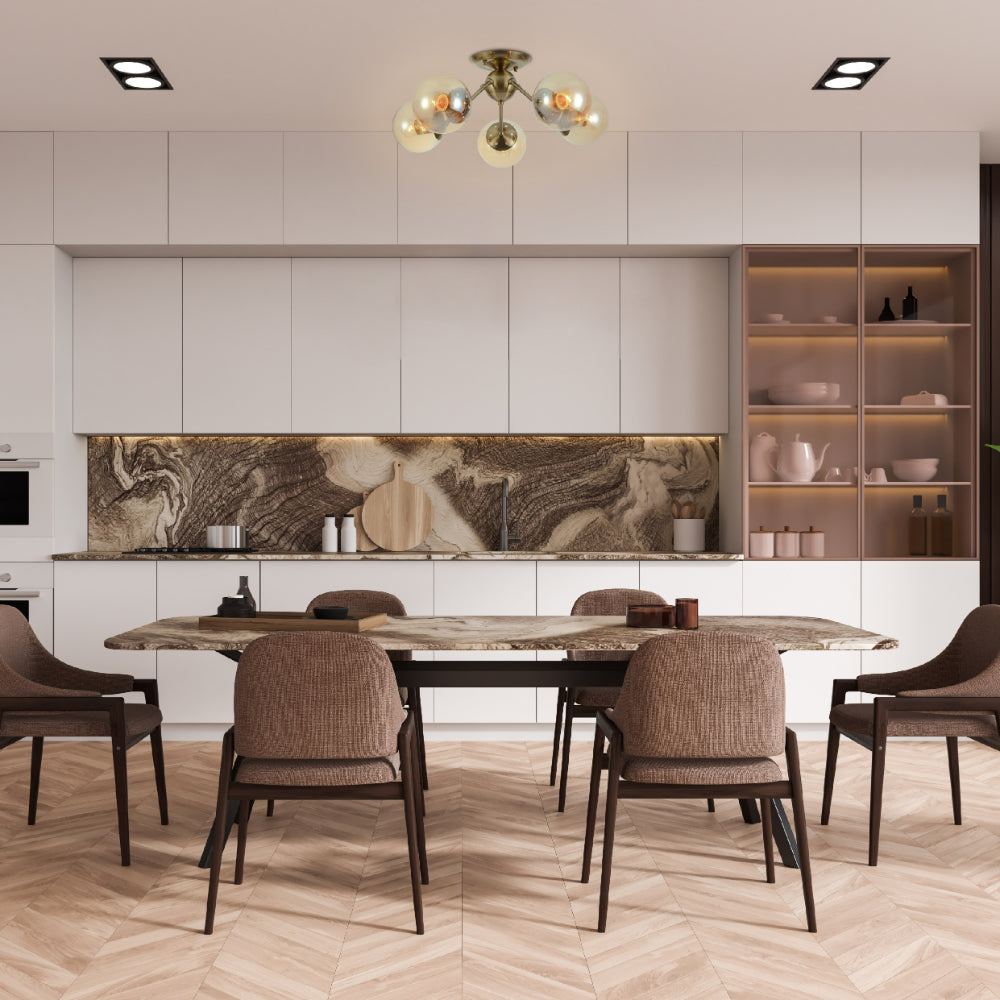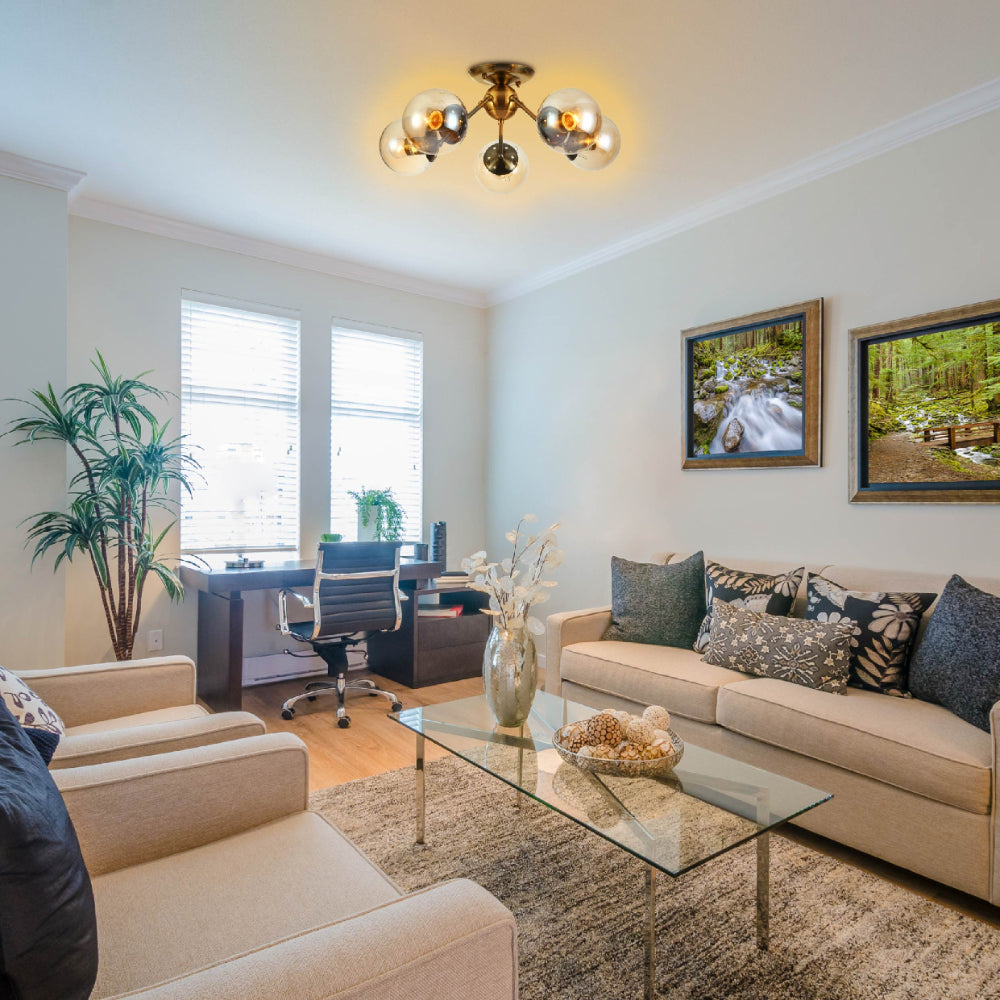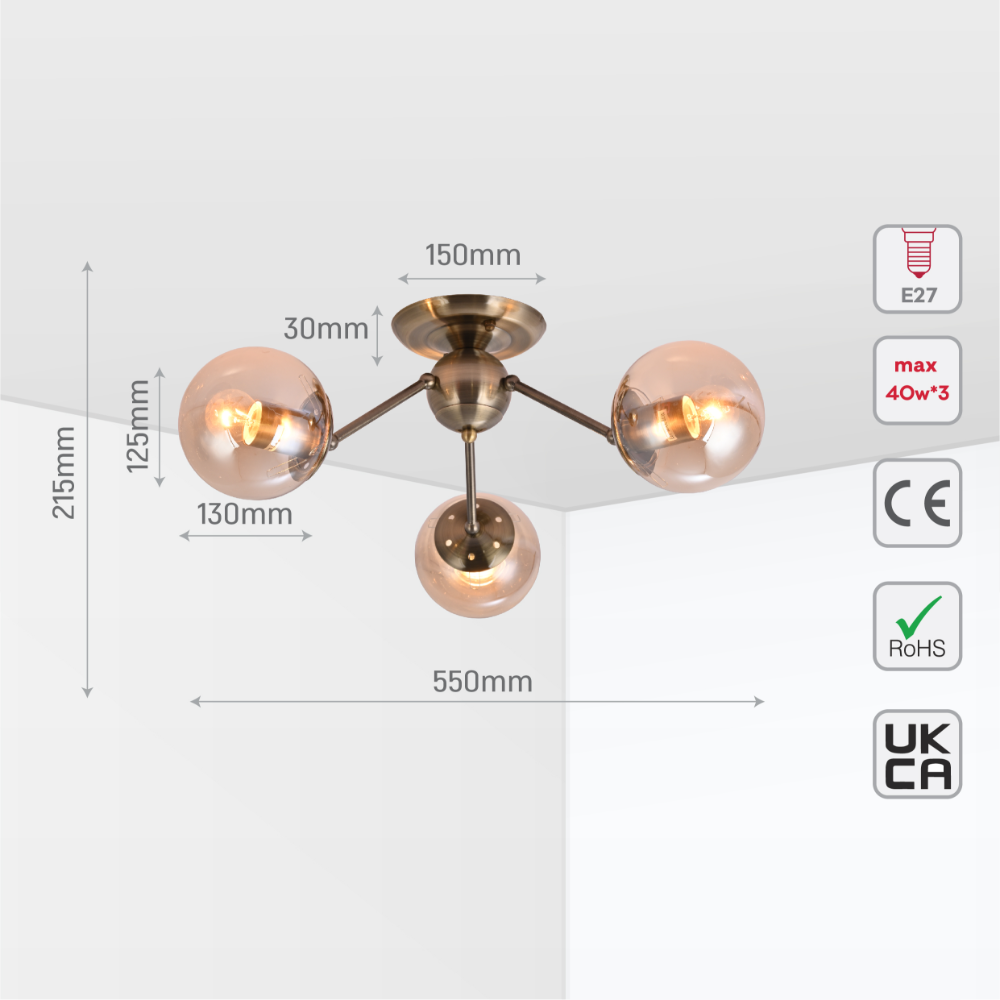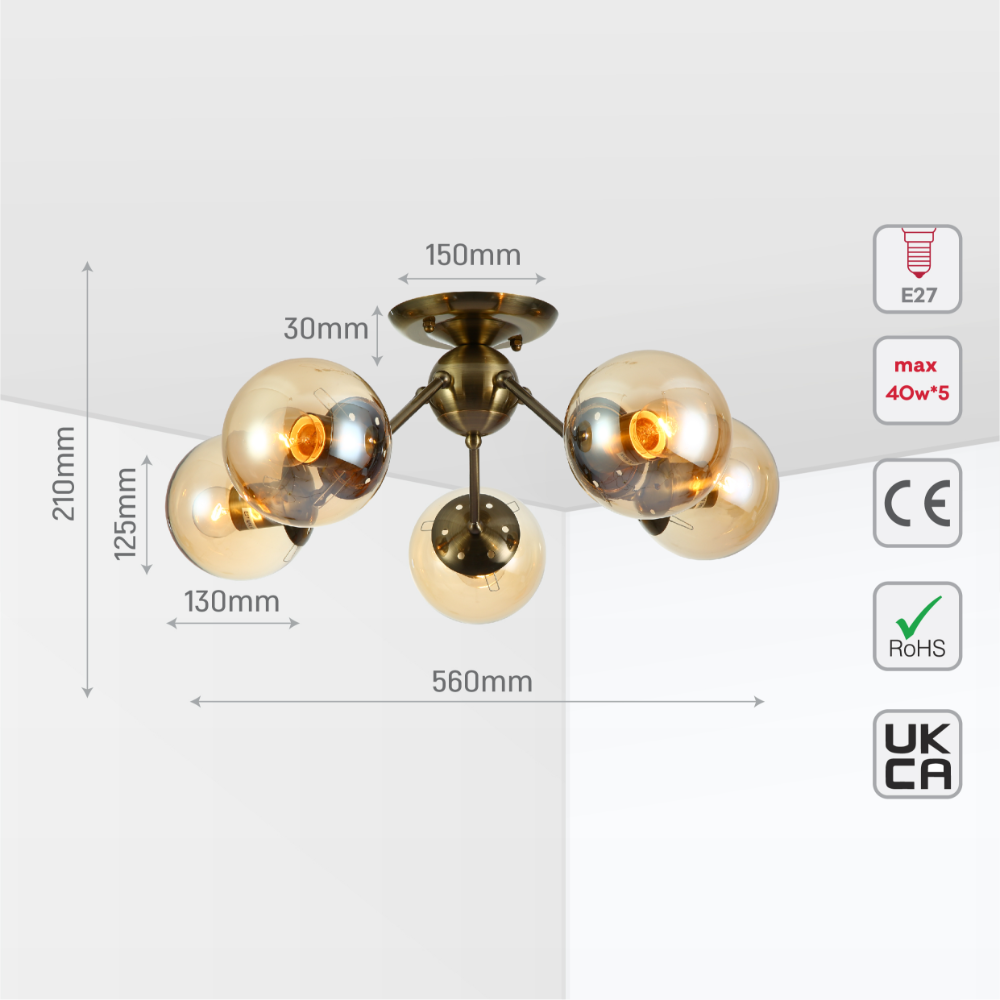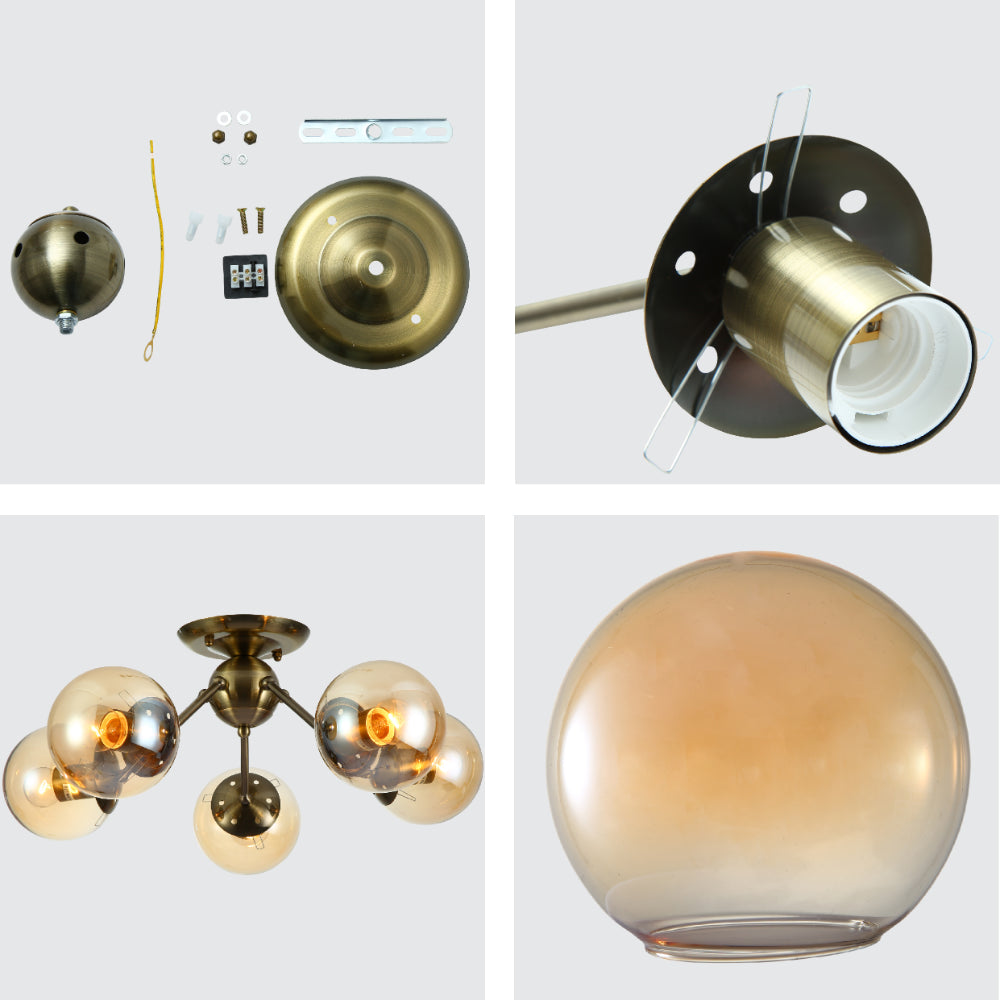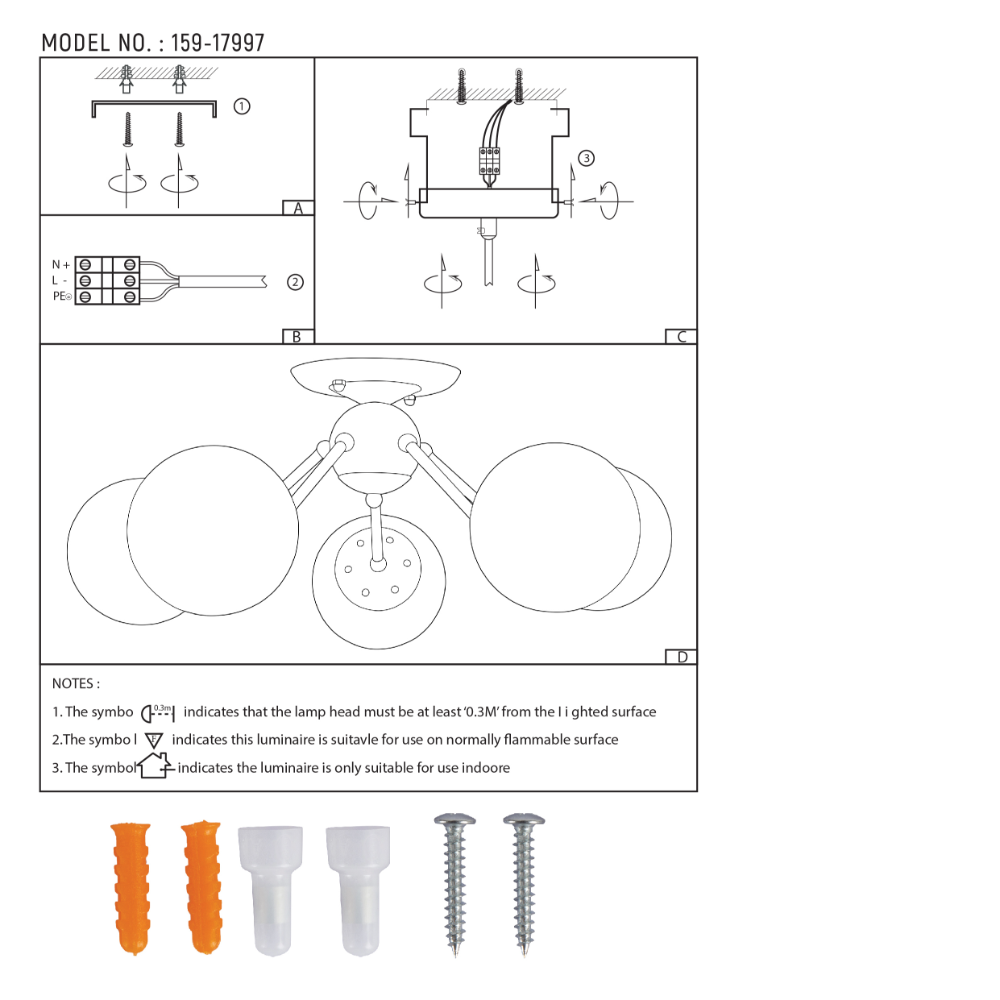 TEKLED
Atomic Elegance Brass & Amber Globe Light - 3 Globe.
Atomic Elegance Brass & Amber Globe Light
Introducing the Atomic Elegance Brass & Amber Globe Light, an exquisite fusion of science and art. This semi-flush ceiling light draws inspiration from molecular structures, making it a striking addition to any interior space.
Design and Description
The design centers around an antique brass sphere, representing the nucleus of an atom. From this central point, either three or five rods extend at a 45-degree angle, emulating covalent bonds in a molecule. Each rod culminates in an amber globe, positioned so that the lampholder within aligns parallel to the floor, creating a harmonious balance. The globes, when fitted with clear glass bulbs, exude a retro, vintage charm, reminiscent of old-world elegance.
Style and Placement
This light fixture is an ideal choice for those who appreciate the intersection of science and design. It's particularly suited for spaces where a touch of vintage flair is desired, such as living rooms, studies, or dining areas with a classic or industrial decor theme. The antique brass and amber combination adds warmth and depth to the space, while the unique design serves as a conversation piece.
Decor Compatibility
The Atomic Elegance Light's design is versatile enough to complement various interior styles. It fits seamlessly within a retro-inspired setting, enhances the sophisticated feel of a modernist space, and adds character to a minimalist environment. Its semi-flush design makes it particularly suitable for rooms with lower ceiling heights, where it adds visual interest without overwhelming the space.
Conclusion
As a celebration of both science and art, the Atomic Elegance Brass & Amber Globe Light is more than a lighting fixture; it's a testament to innovative design. Its blend of antique brass and amber tones, along with the molecular-inspired structure, makes it a captivating addition to any home seeking a touch of vintage elegance and intellectual charm.
Technical Specifications
| | |
| --- | --- |
| Product Code | 159-17996 | 159-17997 |
| Name | Atomic Elegance Brass & Amber Globe Light |
| Power | MAX 40W*3 | MAX 40W*5 |
| Power Source | Hardwired |
| Voltage | 220/240Vac 50/60Hz |
| Lamp Holder Type | E27 Edison Screw |
| Lamp Holder Quantity | 3 | 5 |
| Protection Class | Class I |
| Dimmability | Dimmable if used with dimmable bulbs |
| Light Source | Bulb |
| Bulbs | Bulbs are not included |
| IP Class | IP20 |
| Mount Type | Semi Flush |
| Product Dimensions (L x W x H) (D x H) | D550*215mm | D560*210mm |
| Product Length | 550mm | 560mm |
| Shape | Arm |
| Material | Steel, Glass |
| Product Colour | Antique Brass, Amber |
| Paint Type | Electroplating |
| Shade Material | Glass |
| Size of Shade(s) | D130*125mm | D130*125mm |
| Shade Colour | Amber |
| Size of Rose | D150*30mm |
| Operating Temperature (°C) | -20/+45 C |
| Warranty | 3 year |
| Box Dimension (L x W x H) | 490*280*170mm | 520*400*170mm |
| Net Weight | 0.88kg | 1.4kg |
| Gross Weight | 1.4kg | 2.2kg |
| Box Content | 1Light fixture,User manual, Accessories package | 1Light fixture,User manual, Accessories package |
| Pieces/Box | 1 |
| Certifications | UKCA, CE, RoHS |