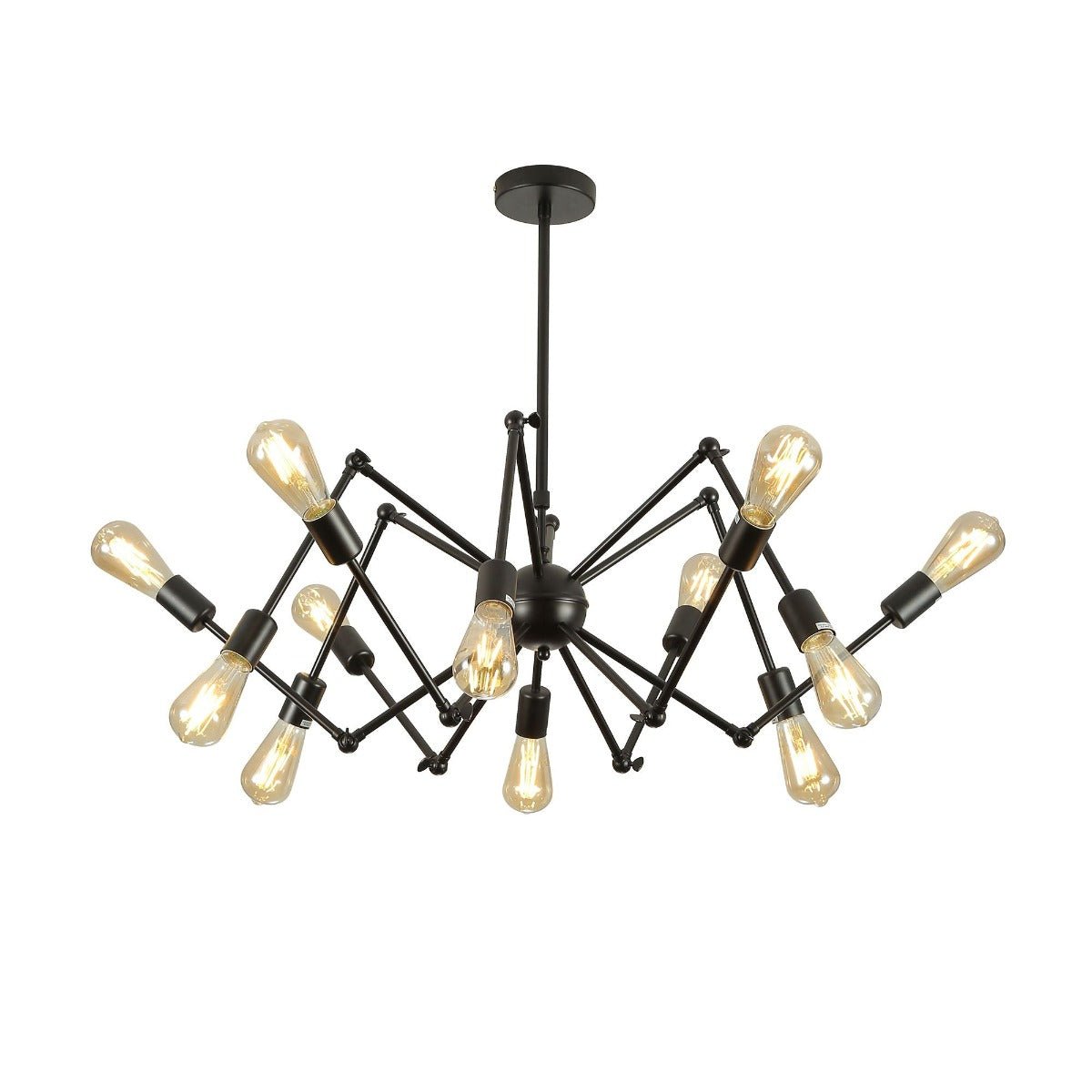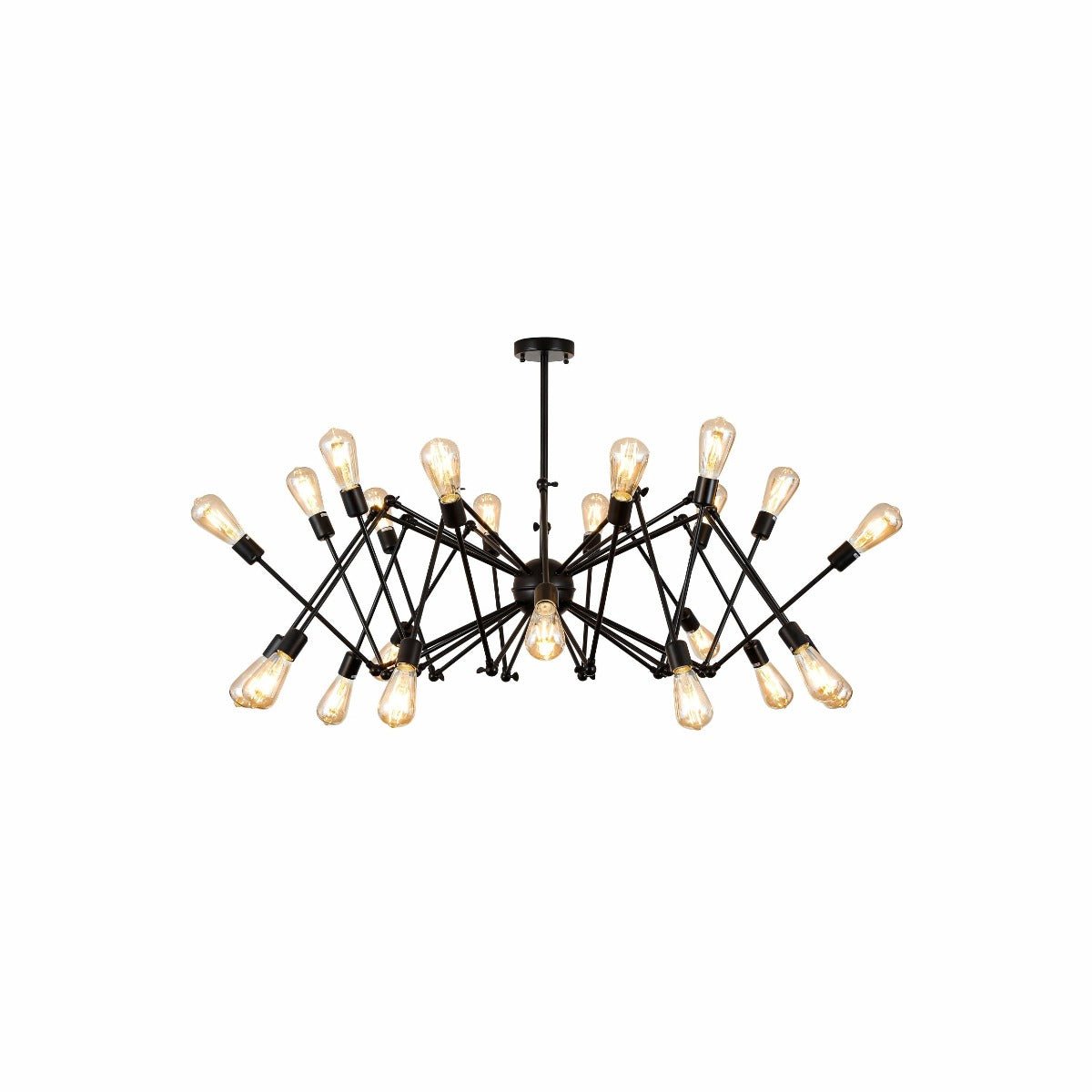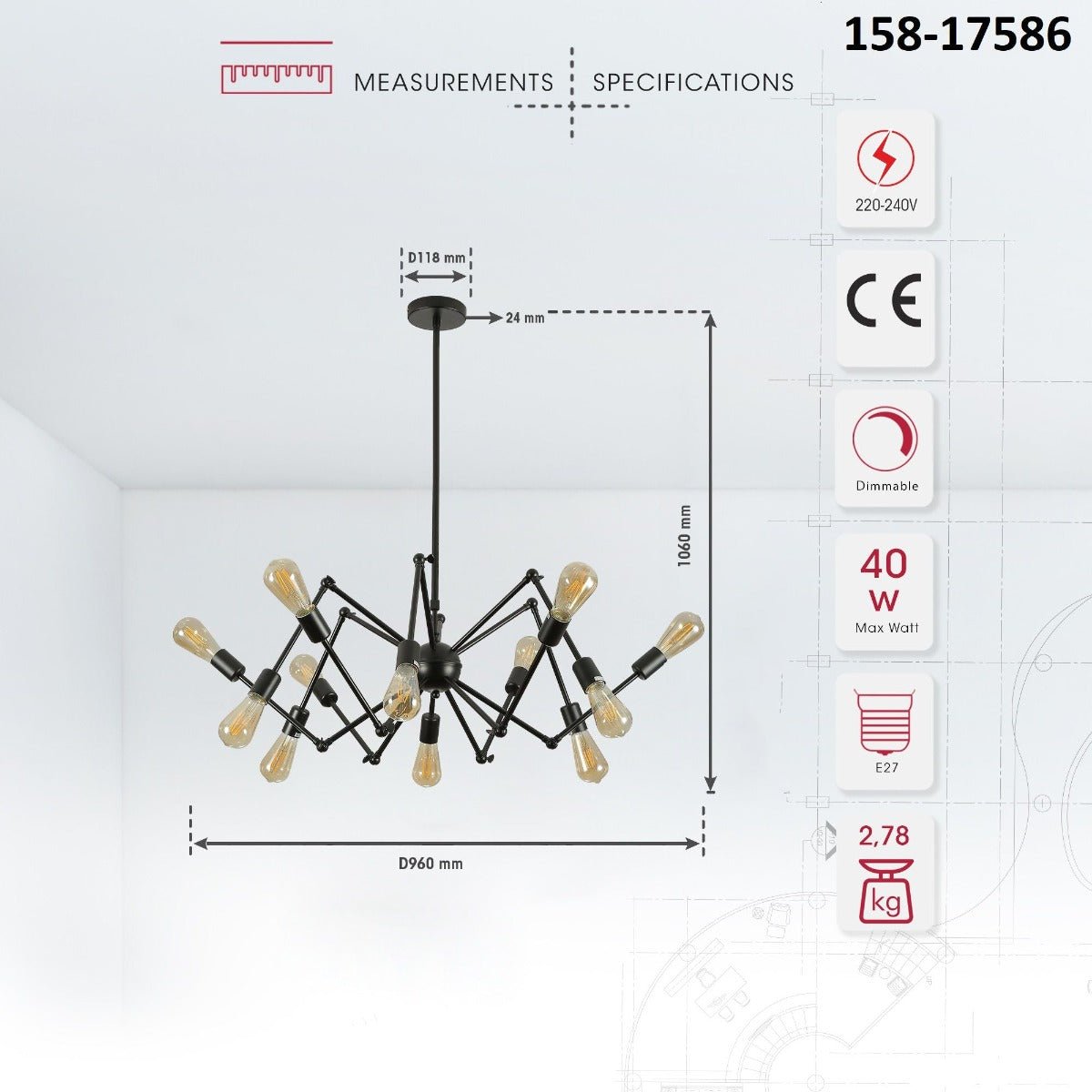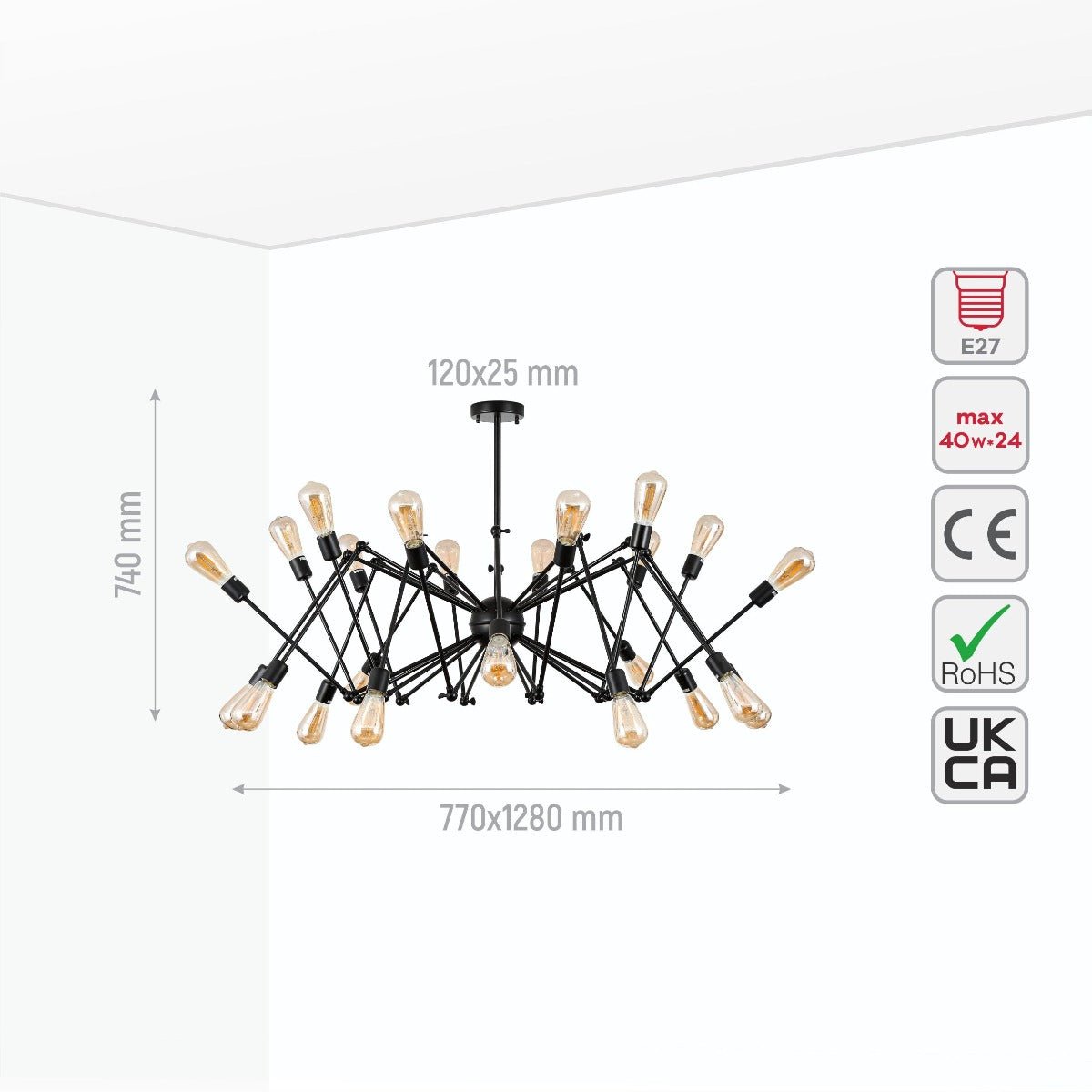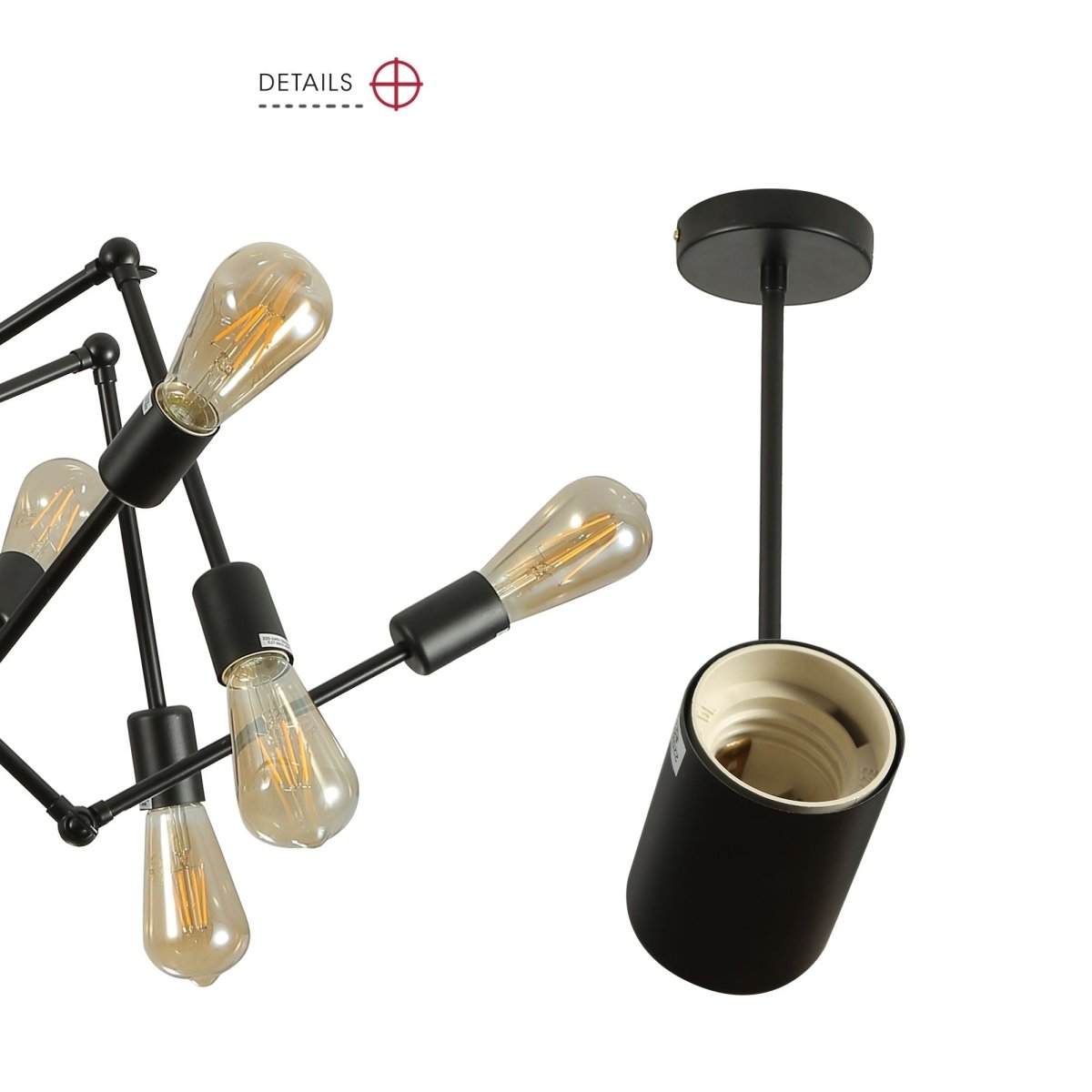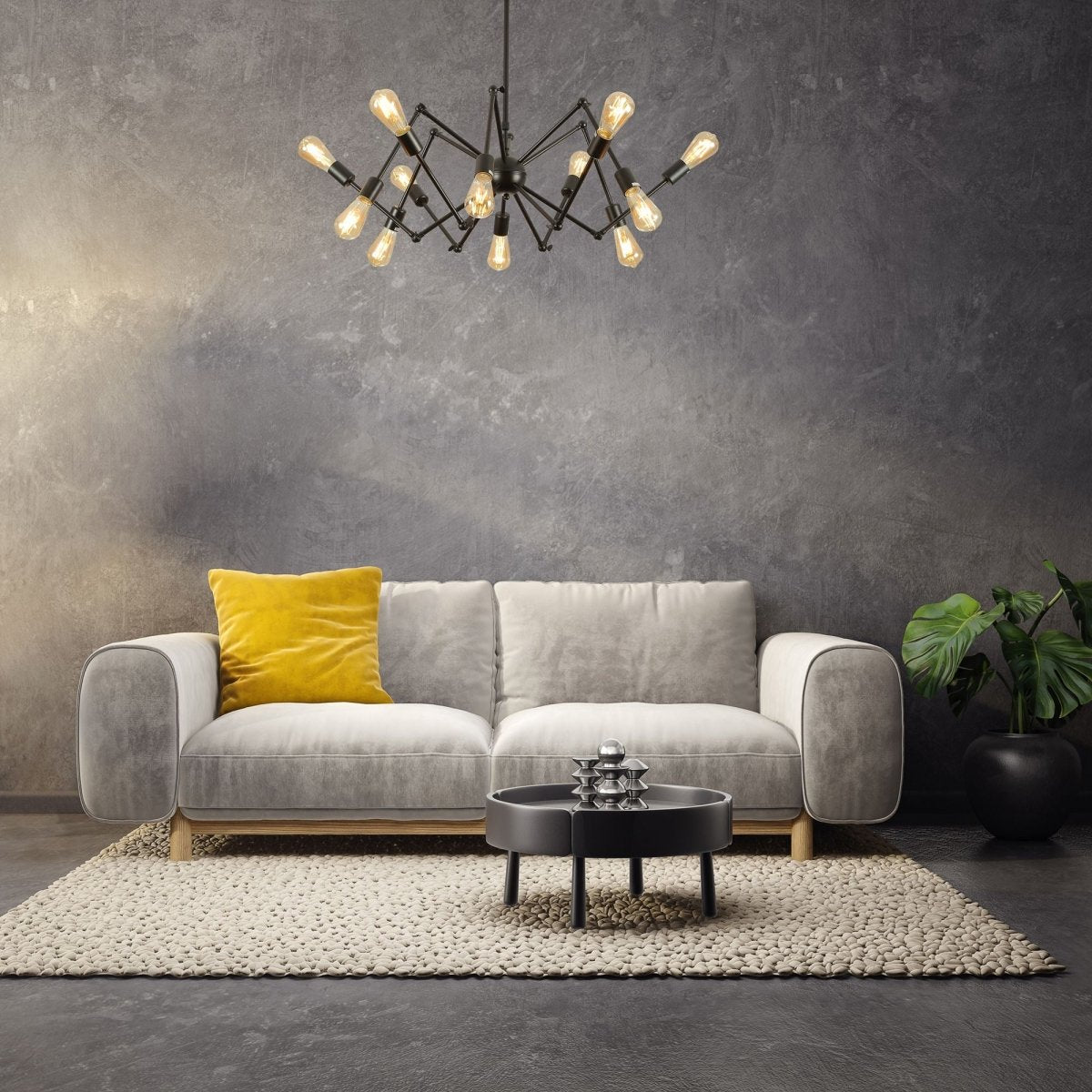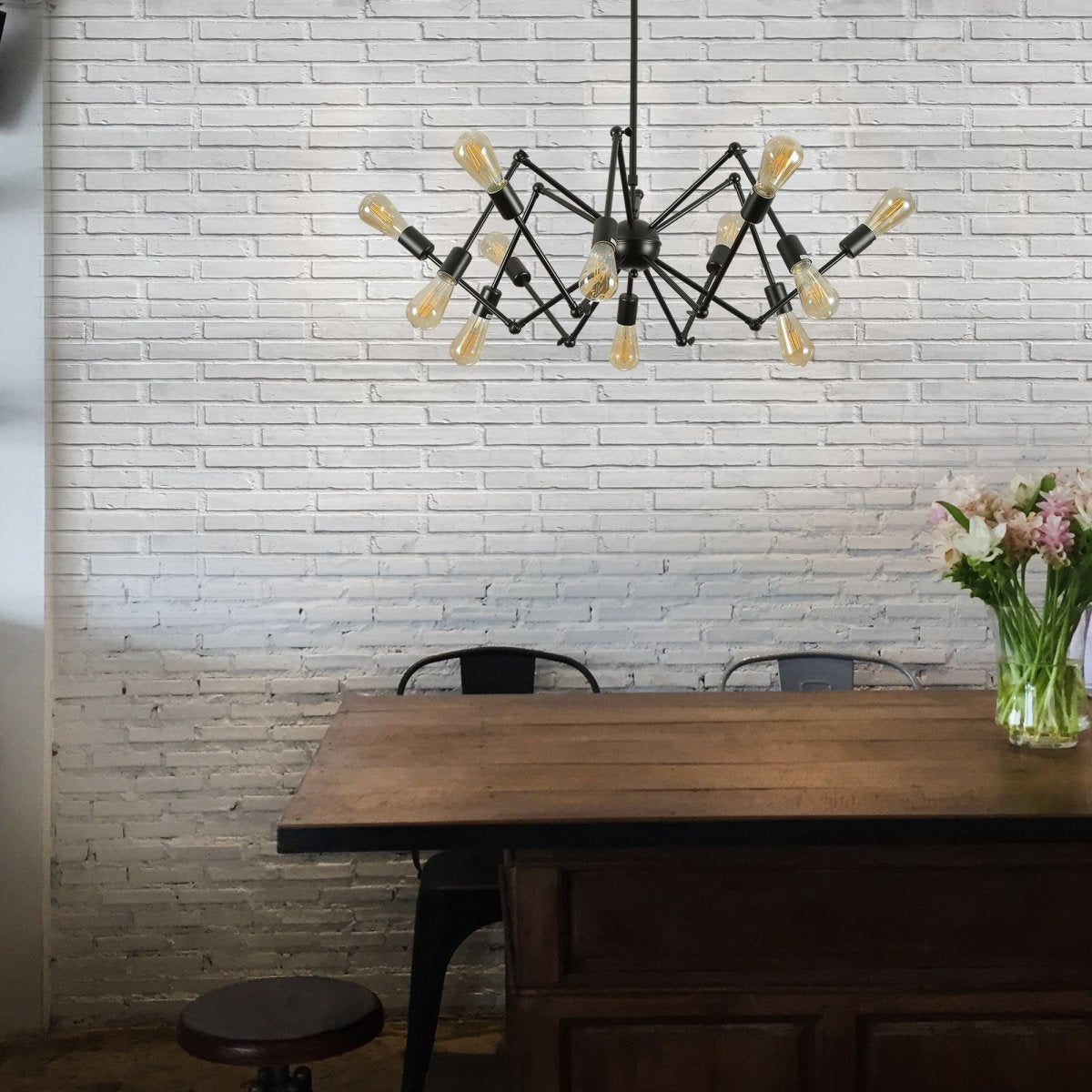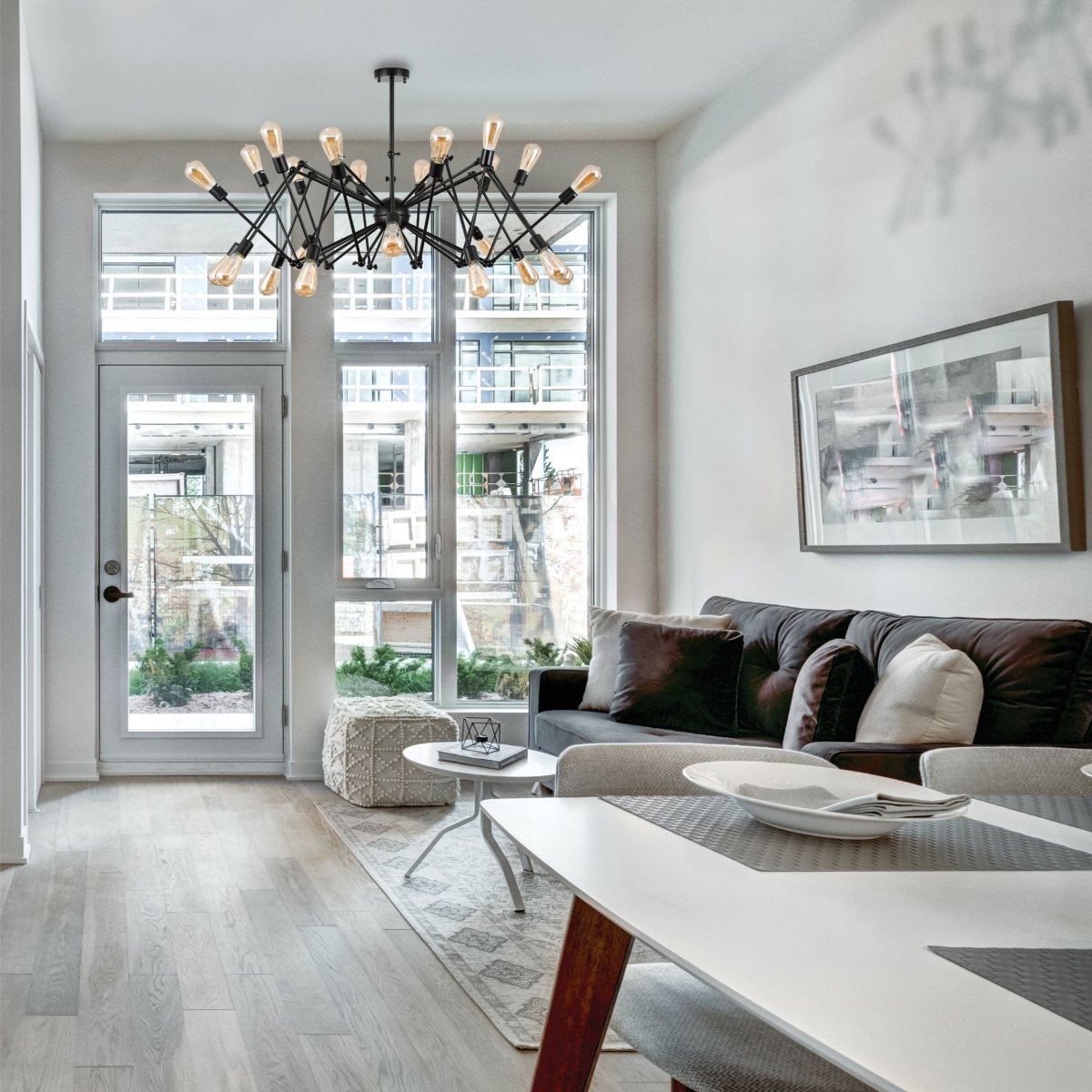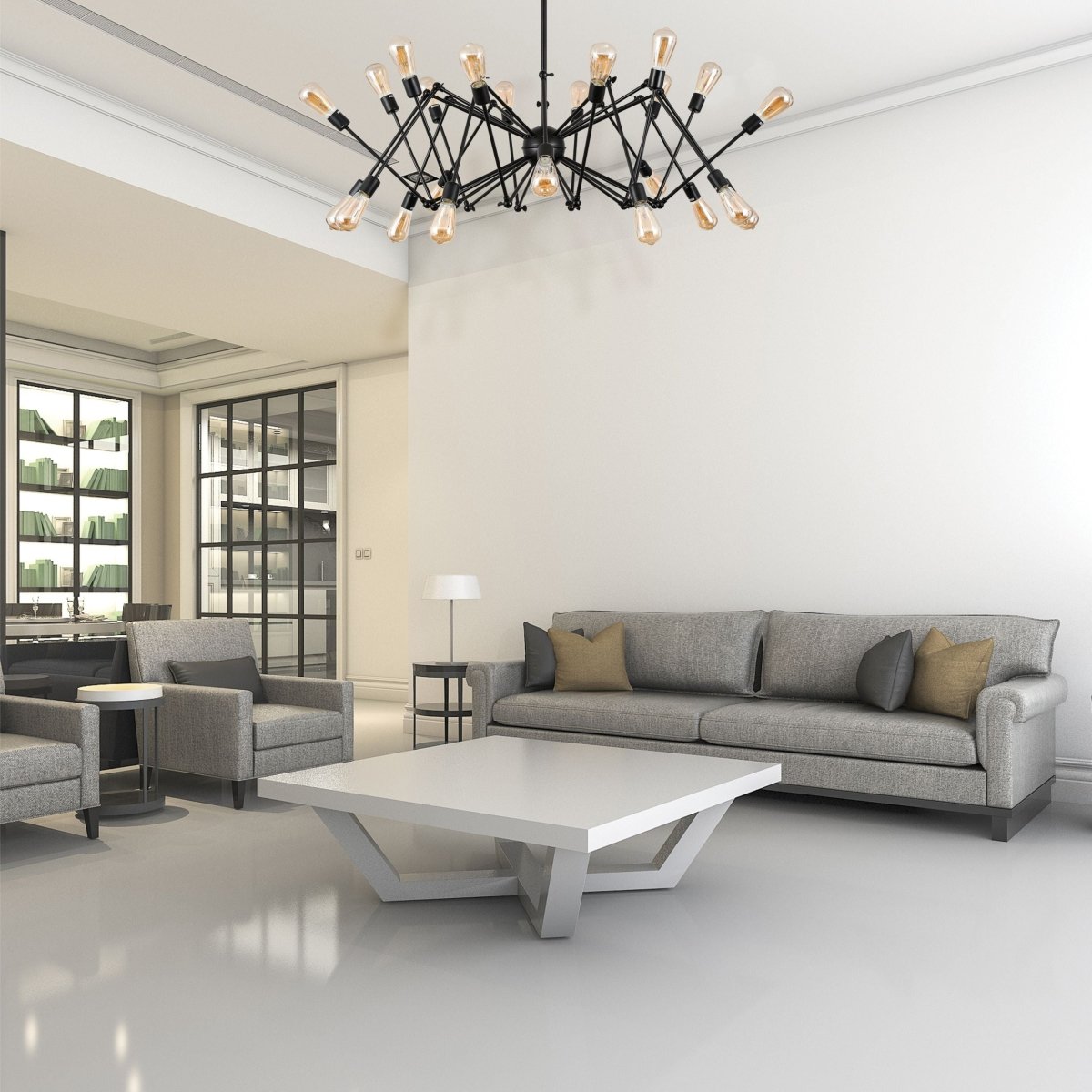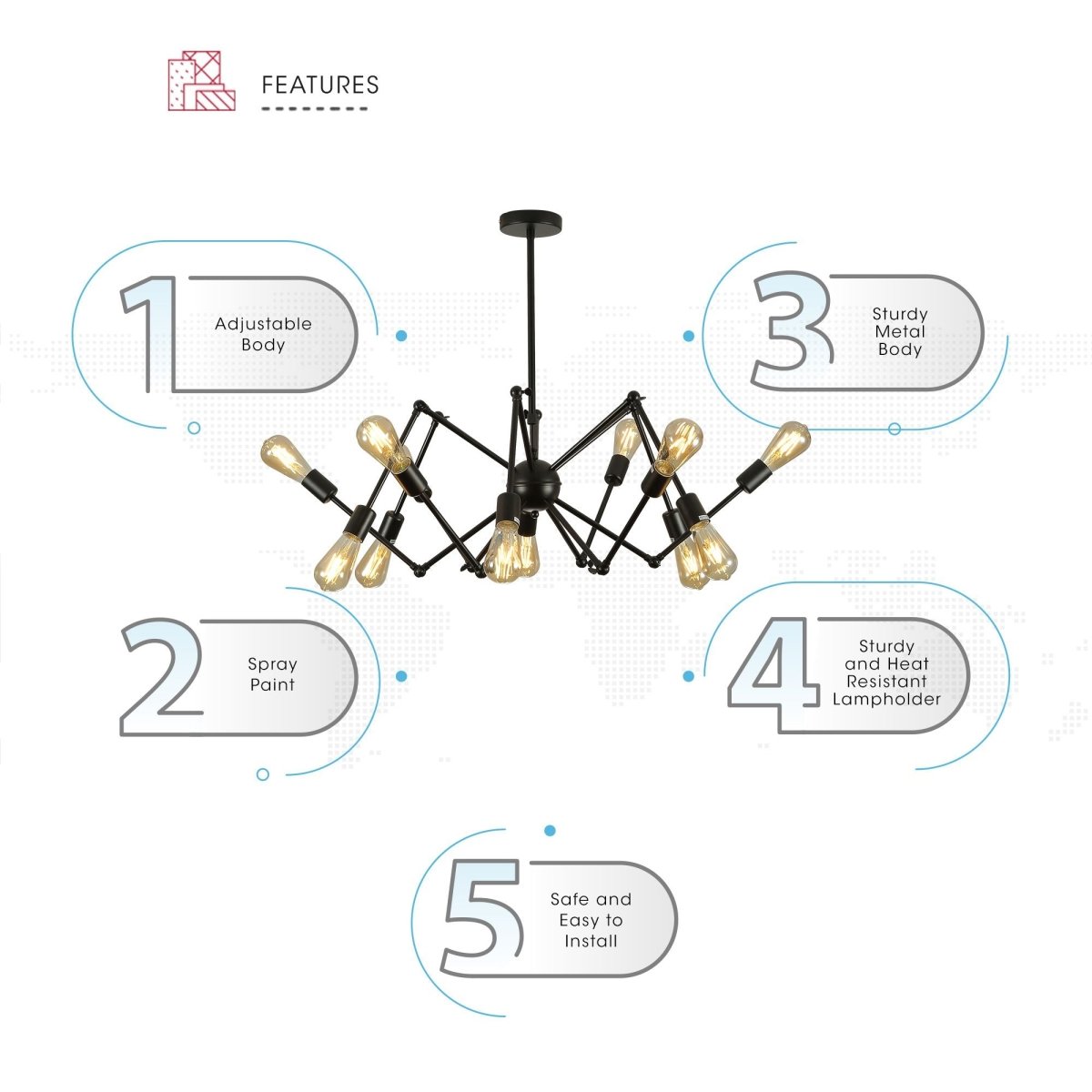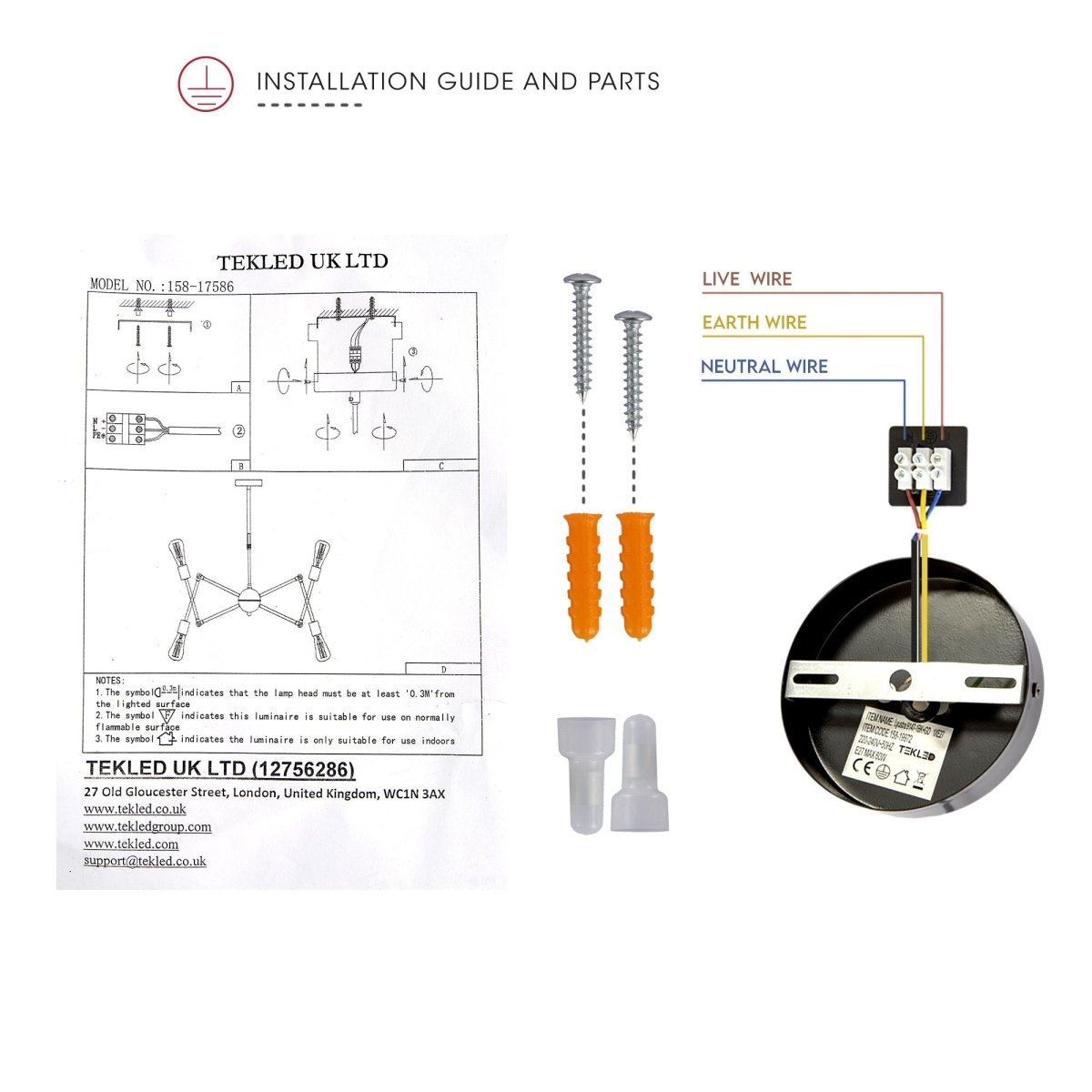 TEKLED
Black Hinged Rod Metal Spider Chandelier Ceiling Light E27 Fittings - 12 Lamp.
Black Hinged Rod Metal Spider Chandelier Ceiling Light E27 Fittings
Looking for a statement piece that will add a touch of industrial chic to your decor? Look no further than this stunning black hinged rod metal spider chandelier. With its bold design and unique style, this ceiling light is sure to make a statement in any room.
Crafted from high-quality metal, this chandelier features a sturdy hinged rod frame that is both sleek and durable. The twelve(twenty four) exposed E27 light sockets provide ample light to illuminate your space, while the black finish gives it a classic industrial look.
This spider chandelier is perfect for anyone looking to add a touch of steampunk or industrial style to their home. Whether you're looking to create an industrial loft vibe in your living room or add a touch of edgy elegance to your bedroom, this chandelier is the perfect choice.
Pair this chandelier with other industrial or vintage-inspired decor for a cohesive and stylish look. You can also use it as a statement piece in a more modern or minimalist space to add an unexpected touch of texture and interest.
Overall, this black hinged rod metal spider chandelier is a must-have for anyone looking to add a touch of industrial style to their decor. Its unique design, high-quality construction, and versatile style make it the perfect addition to any home.
The Black Hinged Rod Metal Spider Chandelier Ceiling Light with E27 Fittings will add modern and funky vibes to your interiors. Available in 2 variants of 12 Lamp and 24 Lamp respectively, this piece will compliment interiors that are contemporary and modern in style. Slightly cluttered and eclectic at the first glance, a longer stare will prove that this design has a method to its madness. Use it in living rooms, halls, cafes, restaurants, and themed bars. It would look particularly dapper over kitchen islands and dining tables. Pair it with a warm yellow toned bulb to bring out the amber glass colour and feel. Warm lighting feels natural in the evenings and promotes relaxation. Warm, or soft white light, is especially appropriate for cosy living spaces where we want to relax and be comfortable. This wonderfully crafted ceiling light is compatible with dimmer switches, but the bulbs are not included in the package. Make sure to add twelve E27 bulbs (or twenty-four, depending on the variant chosen) to your cart when ordering.
The style of the ceiling light is industrial or steampunk. It features a black metal hinged rod frame with twelve exposed E27 light sockets. The design is inspired by the vintage industrial aesthetic and gives a raw, edgy look to the space. This style often incorporates metal, distressed or weathered finishes, and mechanical elements such as gears or pipes.
Technical Specifications
| | |
| --- | --- |
| Name | Black Hinged Rod Metal Spider Chandelier Ceiling Light with E27 Fittings |
| Product Code | 158-17586 | 158-17589 |
| Model | Modern, Contemporary, Luxury |
| Power | Max 40 W/Bulb |
| Power Source | Hardwired |
| Voltage | 220/240Vac 50/60Hz |
| Lamp Holder Type | E27 Edison Screw (ES) |
| Protection Class | Class I |
| Dimmability | Dimmable if used with dimmable bulbs |
| Light Source | Bulb |
| Bulbs | Bulbs are not included |
| IP Class(Ingress Protection) | IP20 |
| Mount Type | Suspended |
| Product Dimensions (L x W x H) (D x H) | D1100xH620 mm | D1280xH740 |
| Suspension Type | Rod |
| Adjustable Suspension | 12 Light model has syringe type rod so can be shortened, 24 light model has constant height rod |
| Size of Rose | D120x25mm |
| Shape | Rod, Sputnik |
| Made of Materials | Steel |
| Product Colour | Black |
| Paint Type | Spray Painted |
| Operating Temperature (C) | -20/+45C |
| Warranty | 3 year |
| Gross Weight | 3.39 kg | 10.4kg |
| Net Weight | 2.78kg | 4.88kg |
| Box Dimensions (LxWxH) | 350x250x150mm | 550x220x380mm |
| Certifications | UKCA, CE, RoHS |