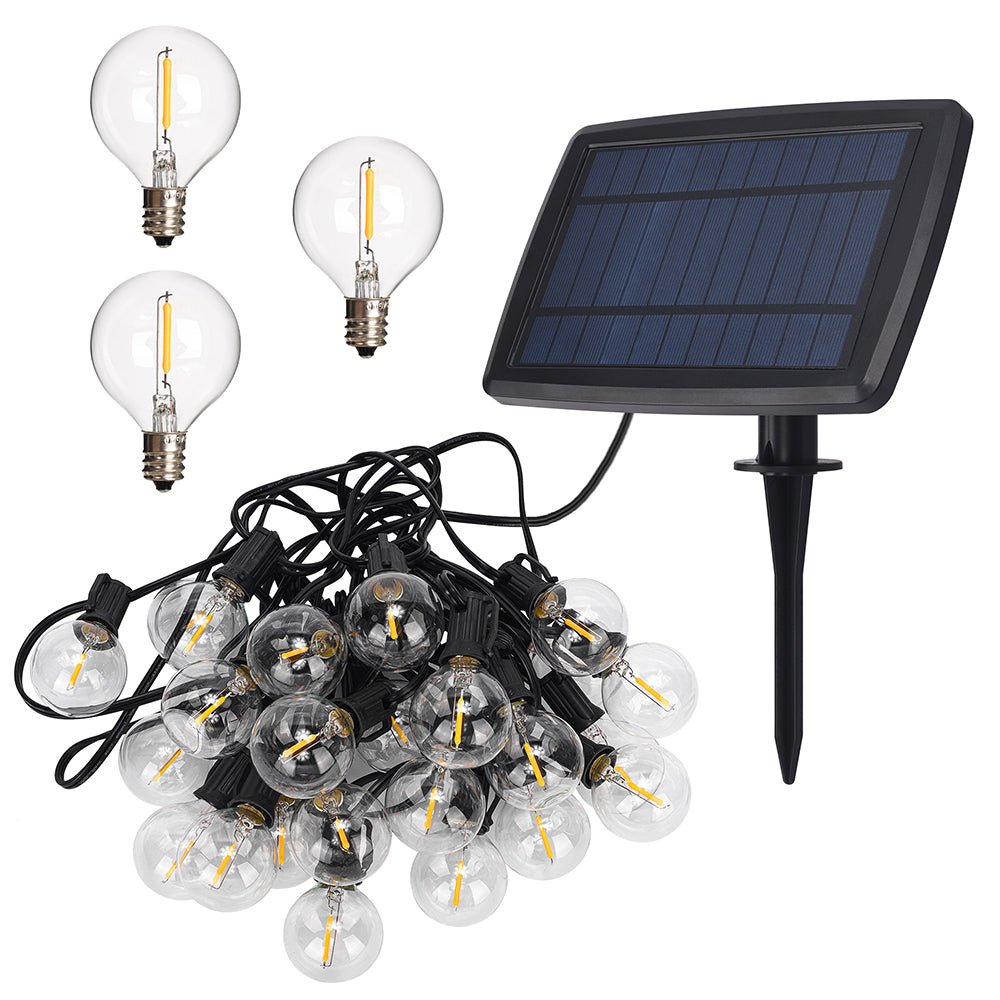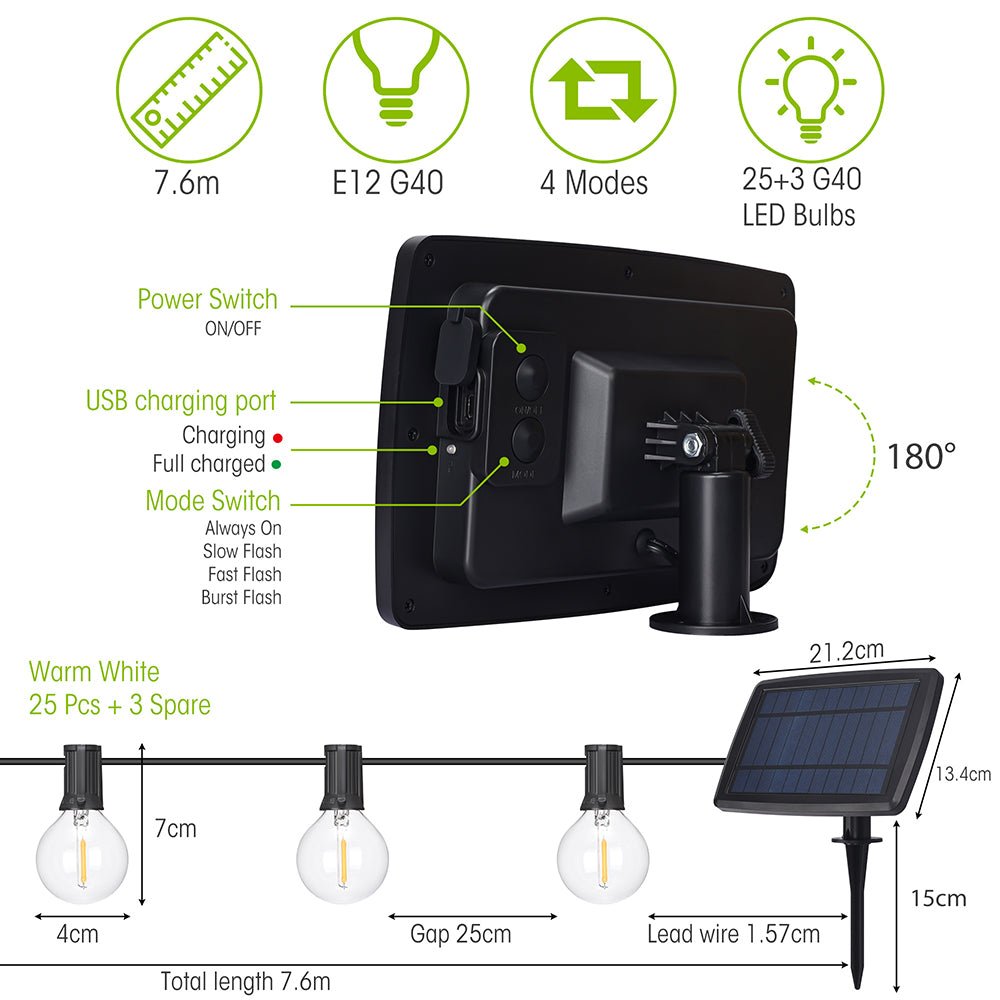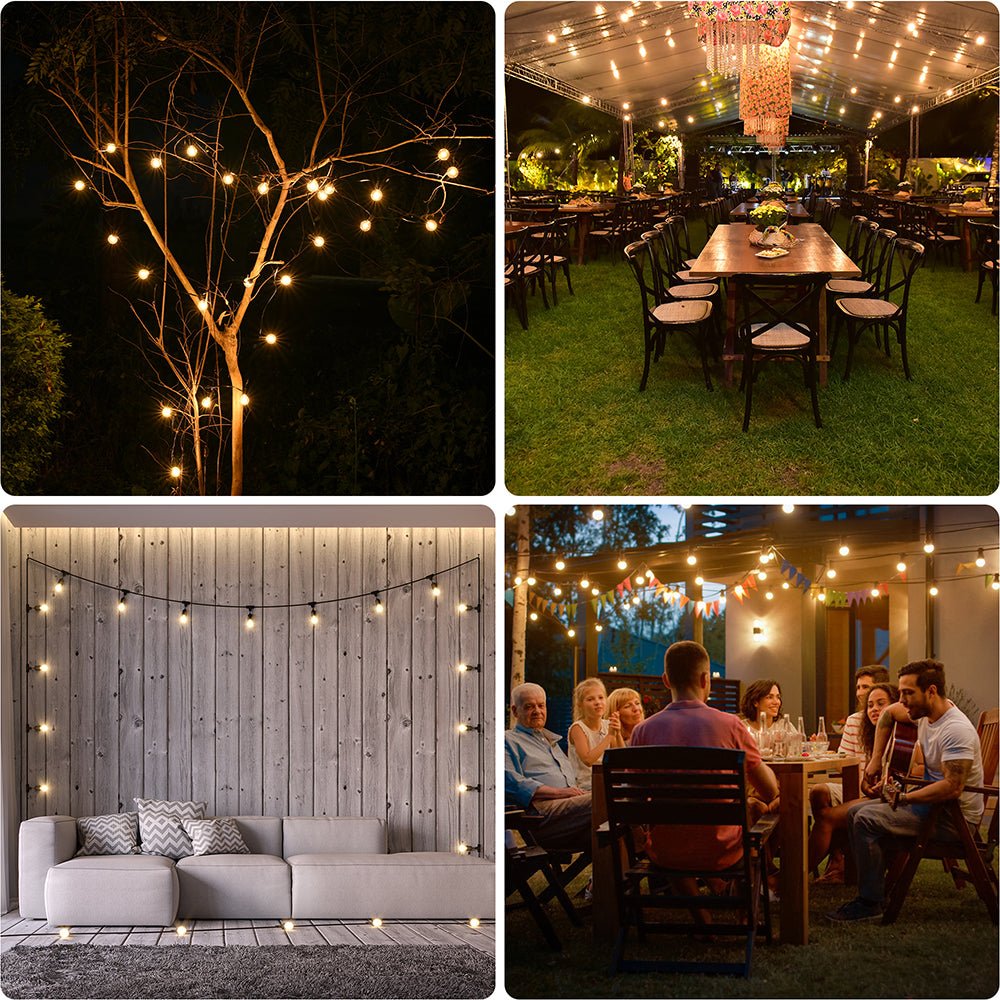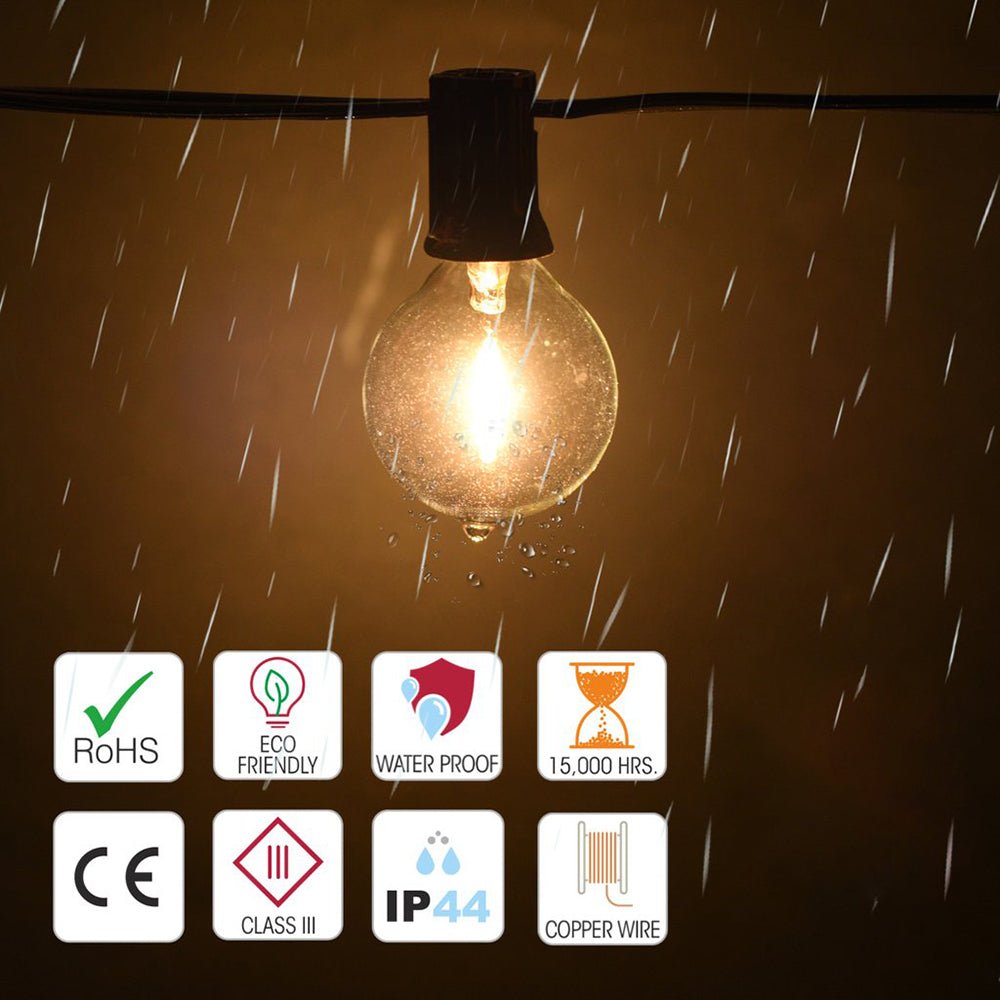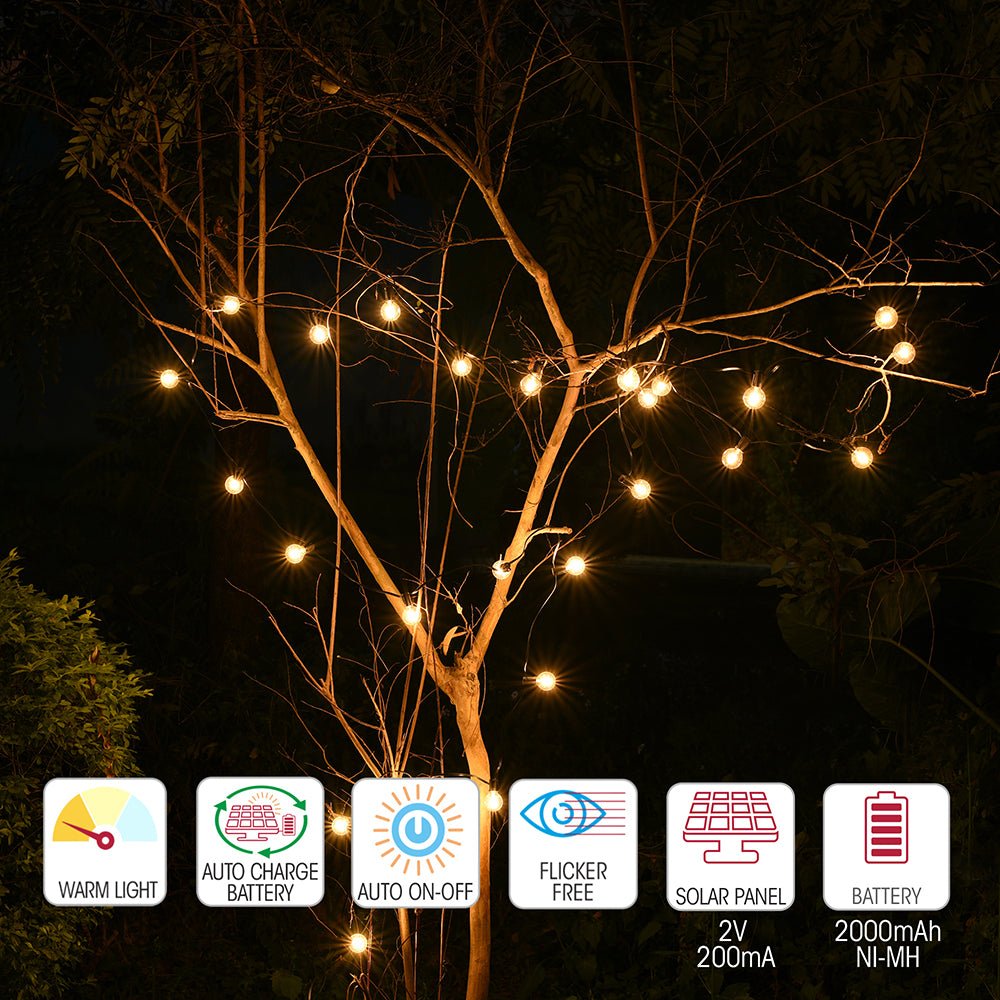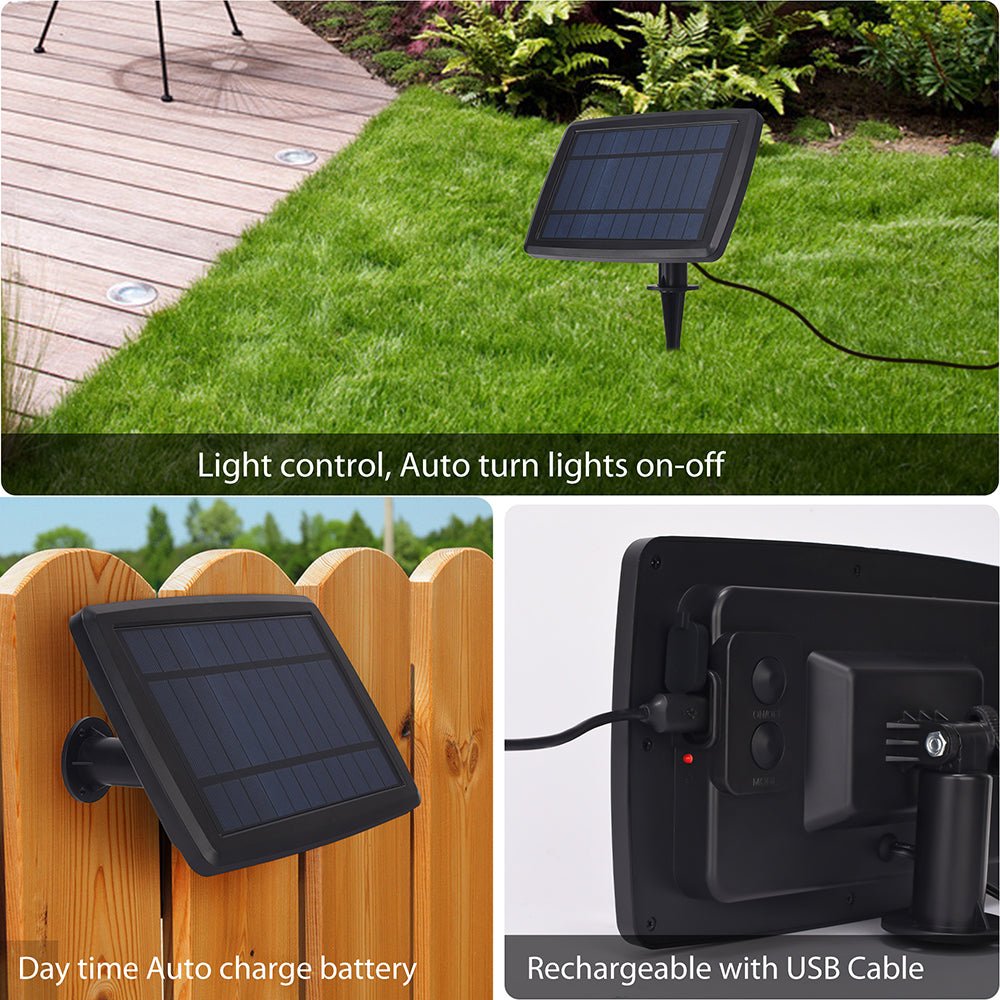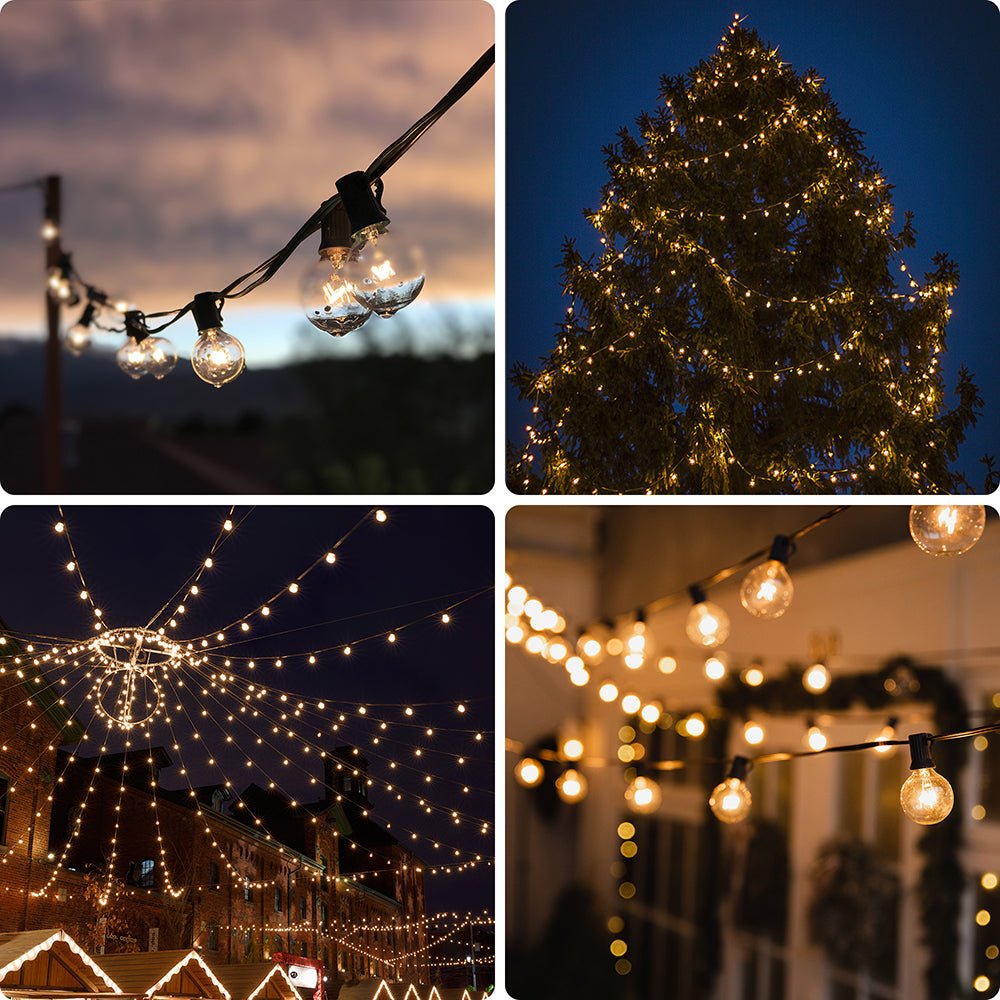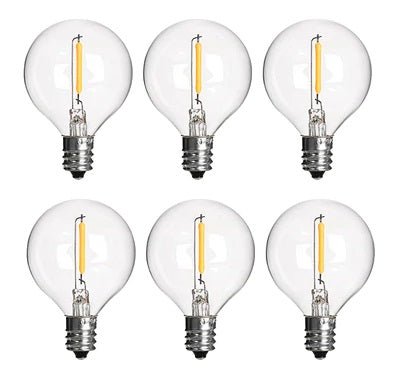 TEKLED
Castor Solar LED Bulb String 25pcs Globe G40 7.6m with USB Charging Port Weatherproof Festoon Light - 25 Bulbs Solar Festoon Light String.
Size:
25 Bulbs Solar Festoon Light String
In stock
Castor Solar LED Bulb String 25pcs Globe G40 7.6m with USB Charging Port Weatherproof Festoon Light
TEKLED's Castor LED Bulb String offers 25 energy-efficient solar power-enabled warm-white LED Golf ball lights to beautify your interior decor. Unlike ordinary lighting, the lights do not heat up even after hours of usage. Choose from four modes of operation on our E12 G40 LED Bulb string to illuminate your room with light shades and give your interiors a soothing effect. Now your home and garden display comes with the added benefit of practical and energy-efficient solar-powered solution for your lighting needs.
An IP rating of 44 will ensure safety while in use under all weather conditions, a flexible insulated copper wire makes the lights safe for you. The wire can be conveniently bent into any shape to decorate for any occasion and make it useful for a wide array of applications.
The lights are CE-UKCA certified, energy-efficient, long-lasting, A+ energy-rated courtyards, gardens, aisles, entrances, patios, corridors, balconies, garages, porches, courtyards, quadrangles, yards, enclosures, plaza, terrace, court, quad, close, deck, atrium, inclosure, square, peristyle, galleria, forecourt, parvis, place, curtilage, parvise solar LED lights.
These LED copper string lights can be charged using a USB port, a power bank or any other USB interface, in addition to the solar panels that come with the product. Our weatherproof string light is easy-to-install and can be used anywhere indoors and outdoors.

RoHS certified: Our fairy lights are high quality and are free of toxic-chemicals and products. The string lights are not only safe to use but environment-friendly as well. Get the 25 bulb string or stock up on 6 spare bulbs on the TEKLED website!

Operating Modes: The product has four modes that can be selected by pressing the mode button:

Normal Steady Mode: This mode provides continuous and steady light without any interruptions or variations in intensity.
Breathing Mode: In this mode, the lights will fade in and out to mimic the pattern of breathing, creating a soothing and relaxing ambiance.
Fast Strobe: This mode makes the lights flash quickly, creating a lively and dynamic atmosphere suitable for parties or events.

Slow Strobe: In this mode, the lights flash slowly, creating a calming and gentle visual effect.

Technical Specifications
| | |
| --- | --- |
| Name | Castor Solar LED Bulb String 25pcs Globe G40 7.6m with USB Charging Port Weatherproof Festoon Light |
| Product Code | 581-03146 |
| Power | 3 W |
| Equivalent Wattage | 40 W |
| Solar Panel Power | 5.5V 550mA 3 W |
| Battery Power | 2 Pieces 3.7V 2200mAh Li-Ion |
| Power Source | Solar Panel |
| Lamp Holder Type | E12 Small Edison Screw |
| Bulb Type | LED G40 Golf Ball 3V |
| Base Type | E12 |
| Protection Class | Class III |
| Dimmability | Non-Dimmable |
| Light Source | Filament-LED |
| Led Quantity | 25 Bulbs and 3 spare bulbs |
| Bulbs | Bulbs are included |
| Light Output(luminous flux) | 15 lm/Bulb |
| CRI(Colour Rendering Index) | CRI>80 |
| CCT (Kelvin)(Light Colour) | 3000K Warm White |
| IP Class(Ingress Protection) | IP44 |
| Function Mode | 4 mode of operations |
| Product Length | 1.5 m + 6.2 m |
| Power Cord Length | 1.5 m |
| Made of Materials | Plastic & Copper Wire |
| Product Colour | Black cable |
| Diffuser Type | Clear |
| Operating Temperature (C) | -20/+55C |
| Energy Rating | A+ |
| Warranty | 1 year |
| Life Span | 15000 h |
| Gross Weight | 1038 g |
| Net Weight | 838 g |
| Box Dimensions (LxWxH) | 390x230x85mm |
| Box Content | 1pcs * LED string with 25pcs BULB 1pcs * Solar Panel 3pcs * spare parts Bulb 1pcs * holder 1pcs * User Manual 3pcs * screw with Expansion |
| Certifications | UKCA, CE, RoHS |