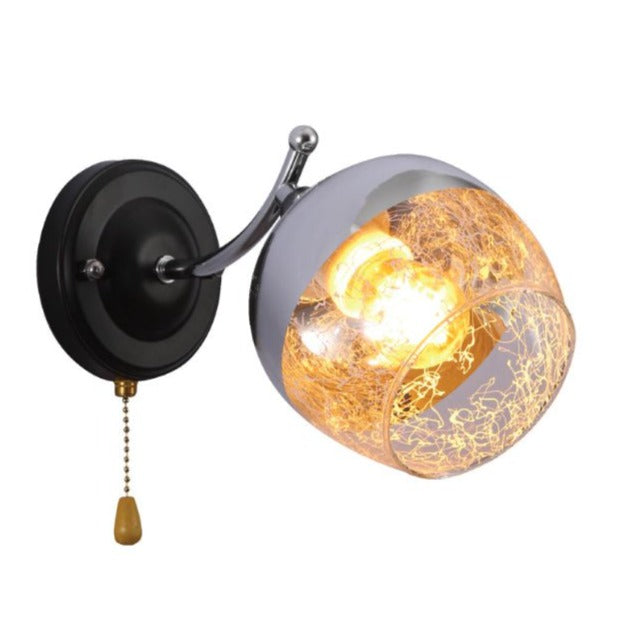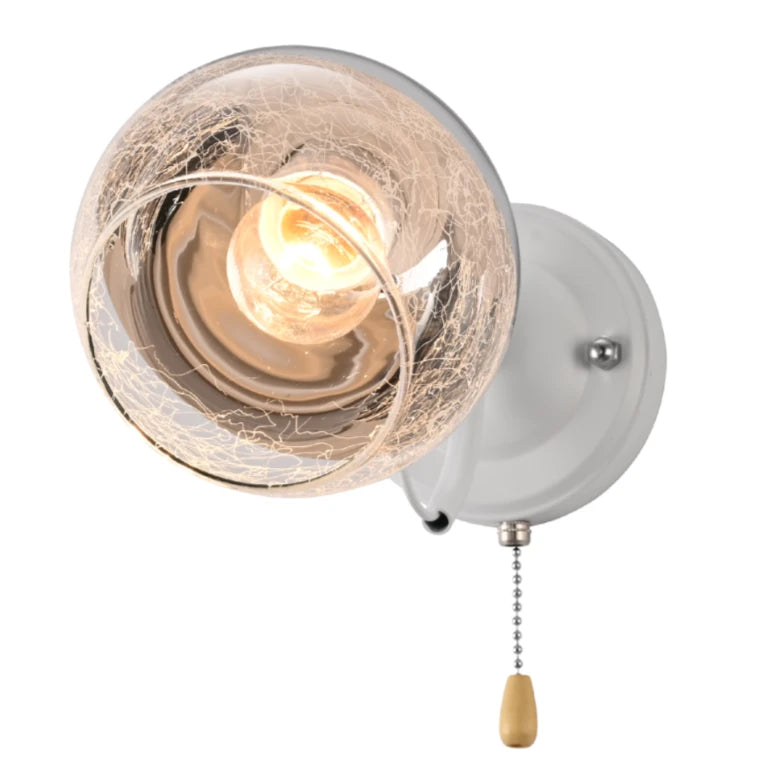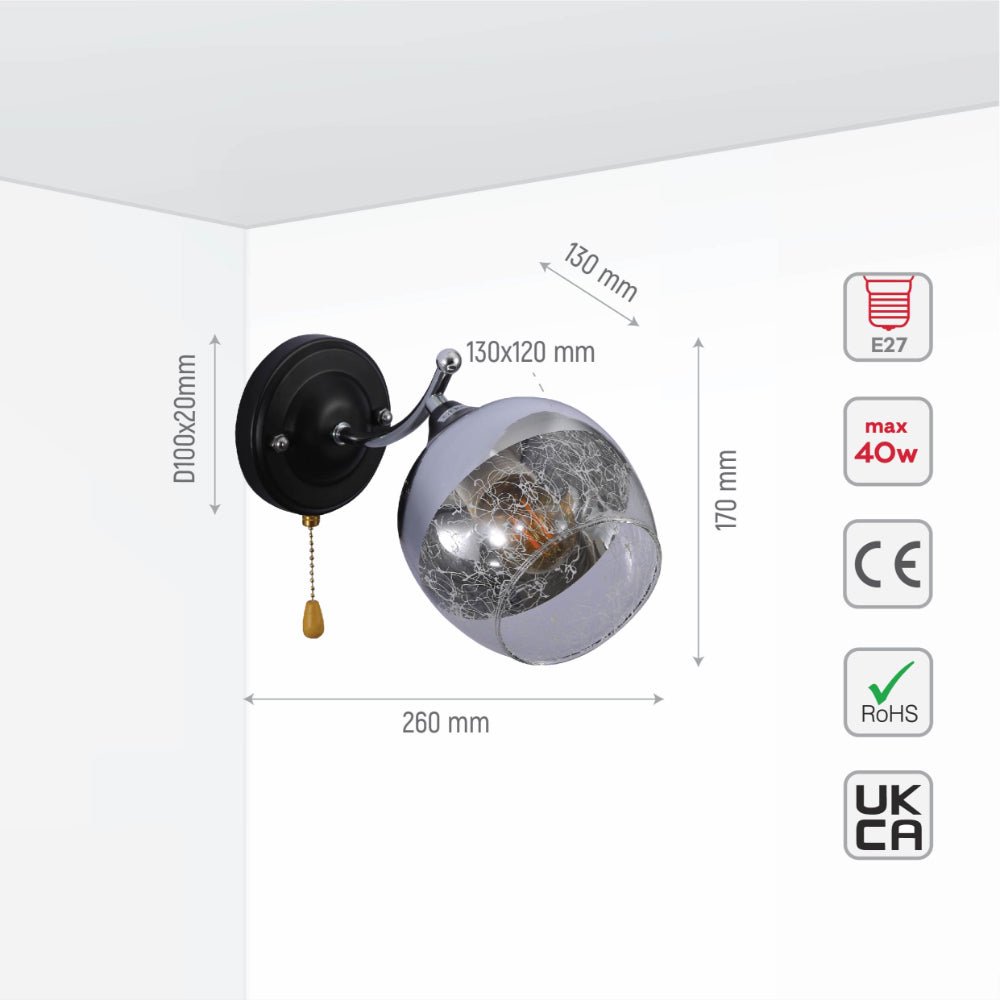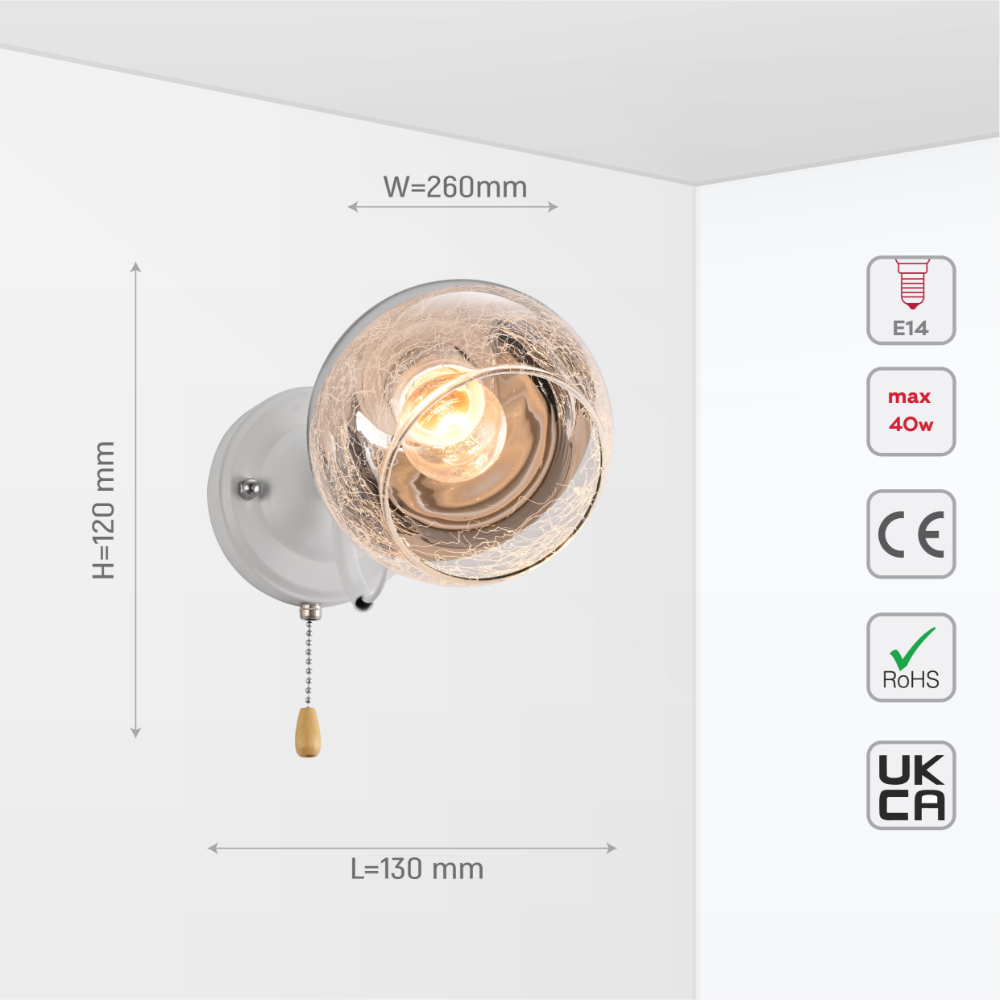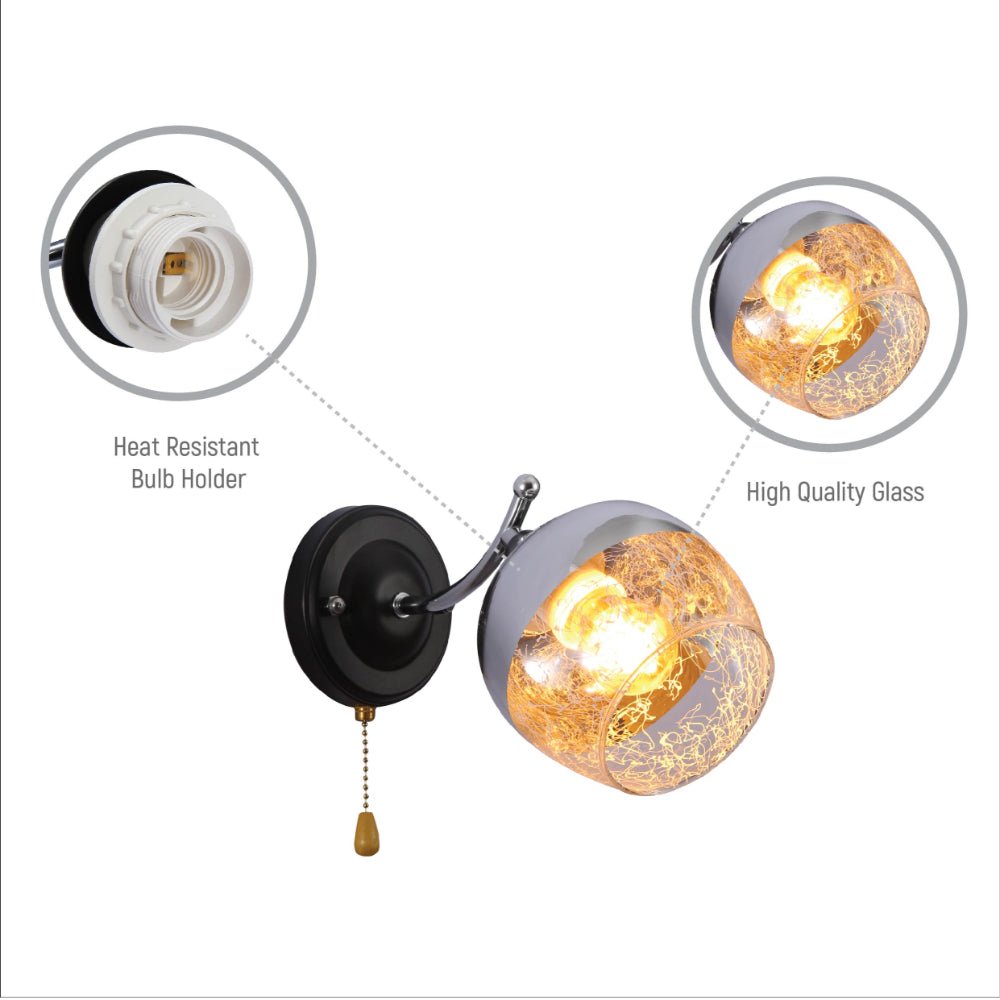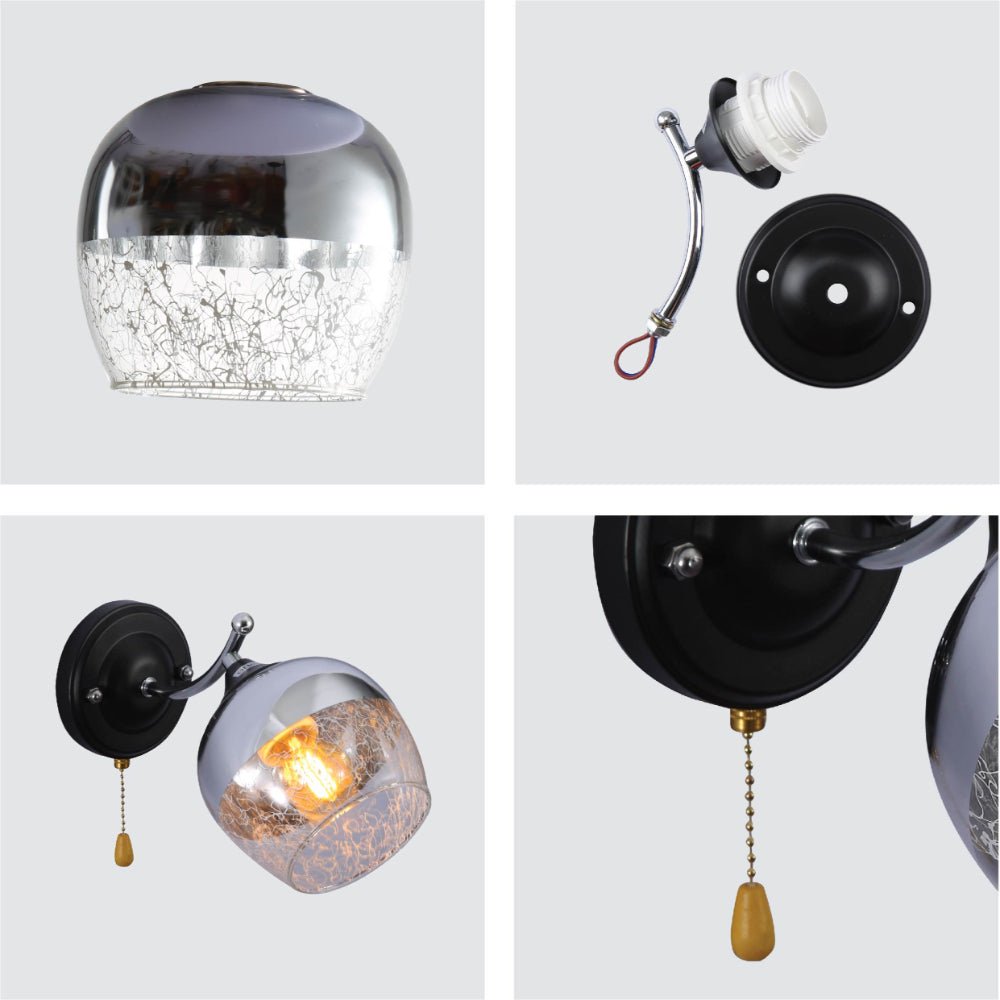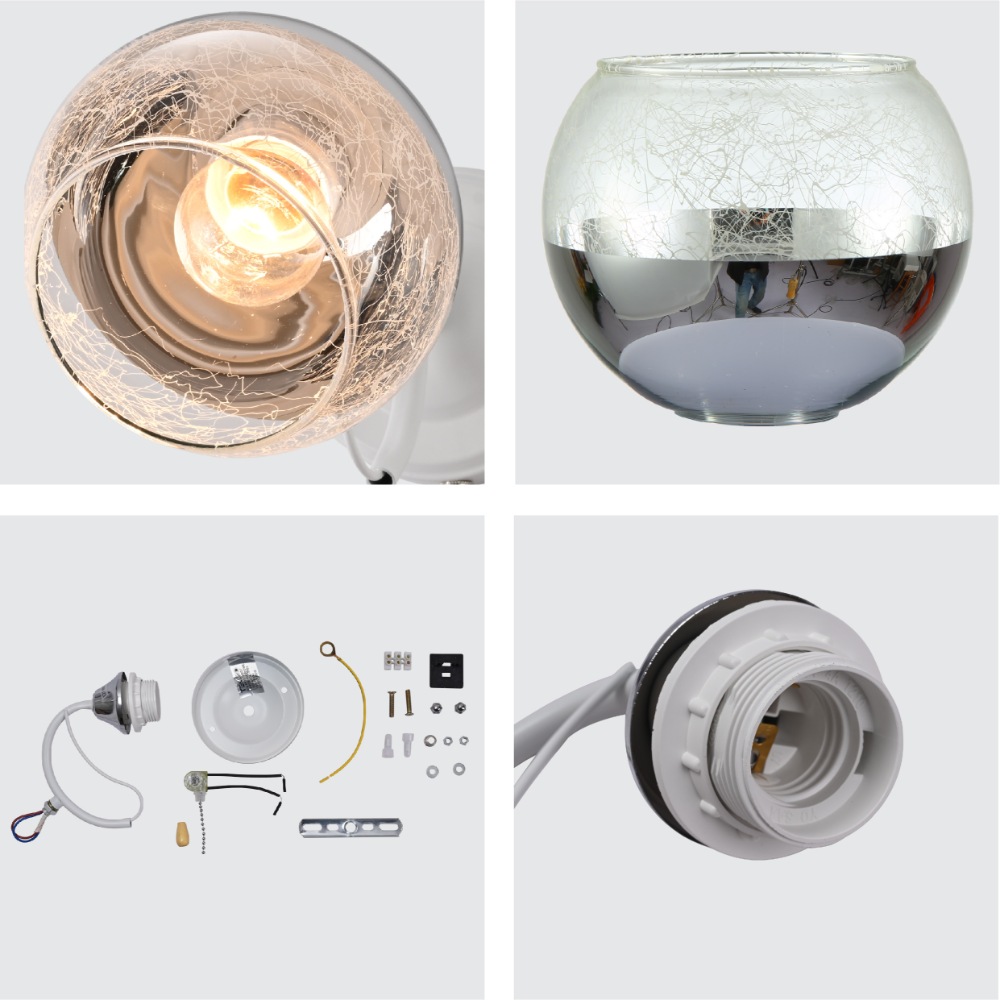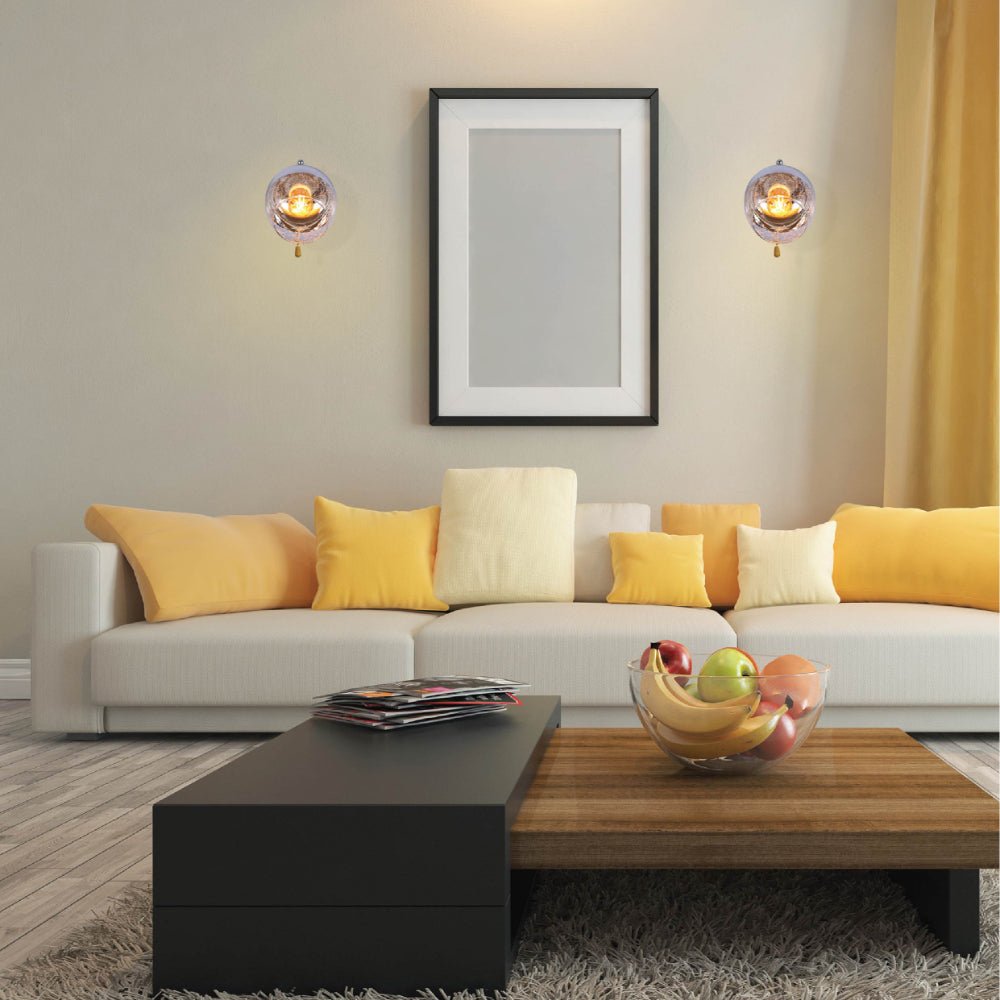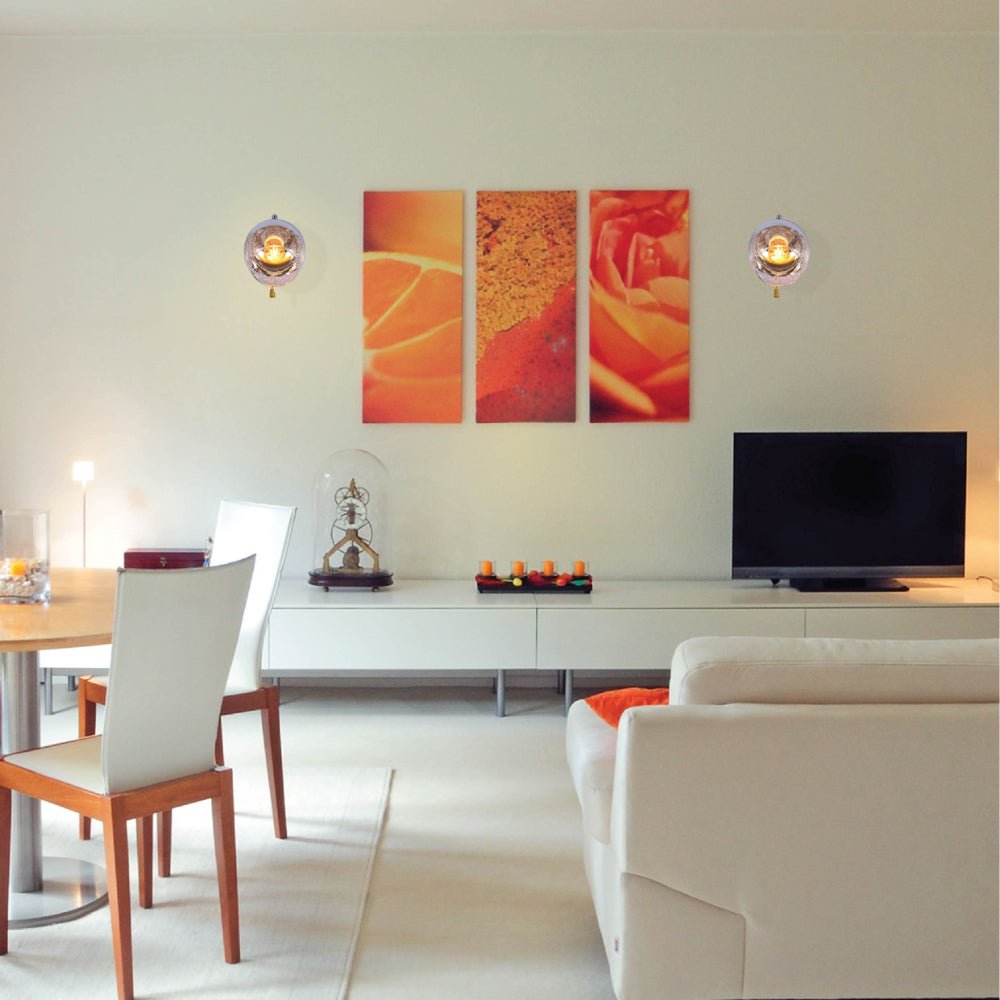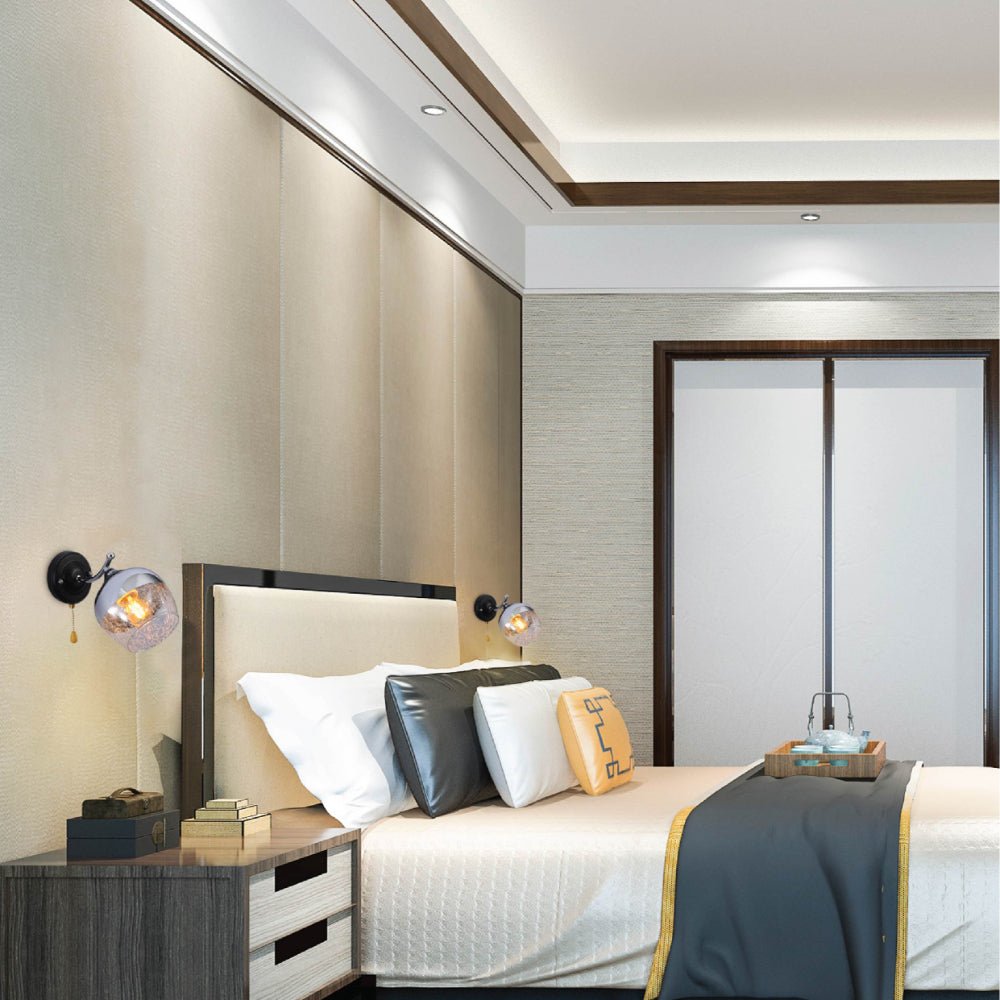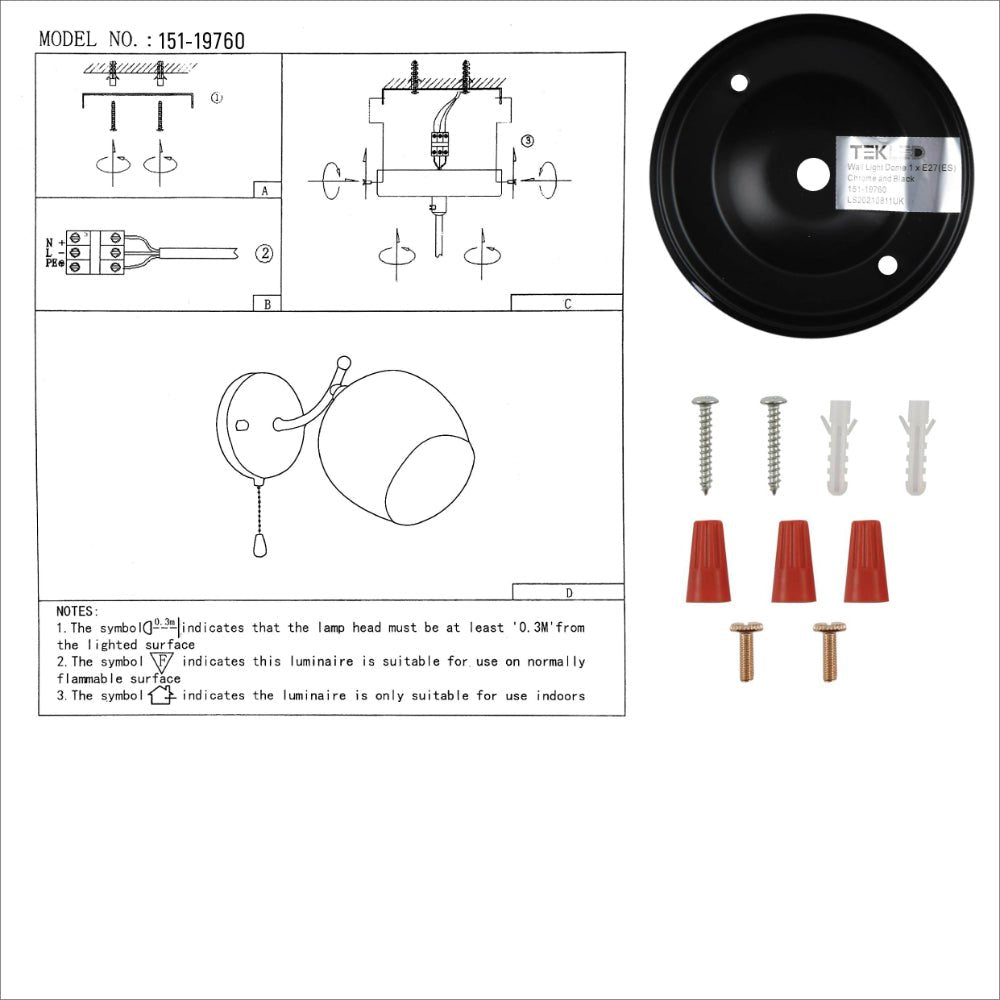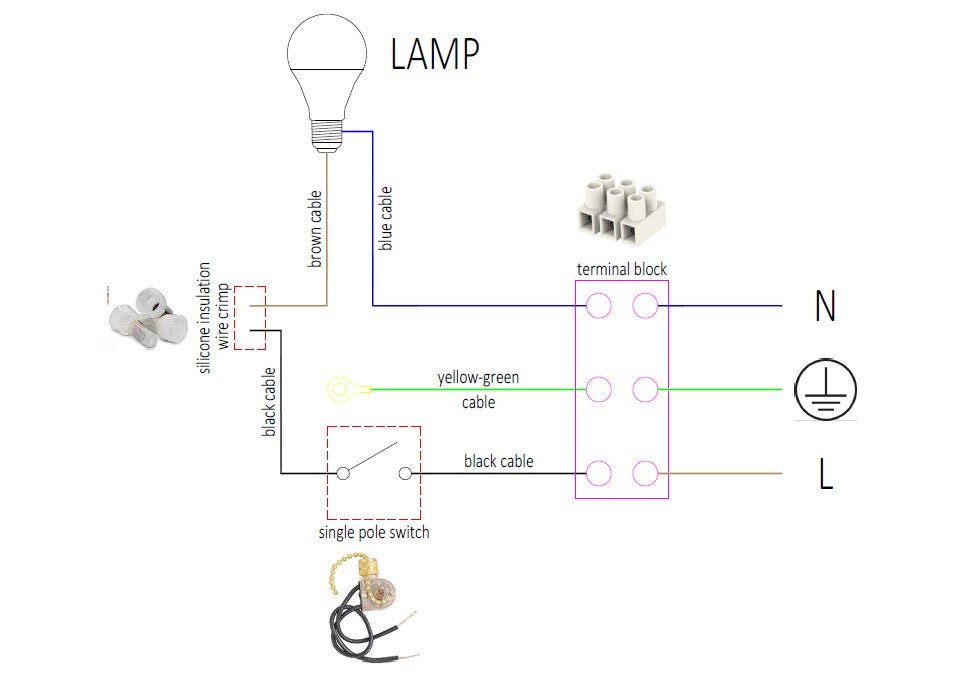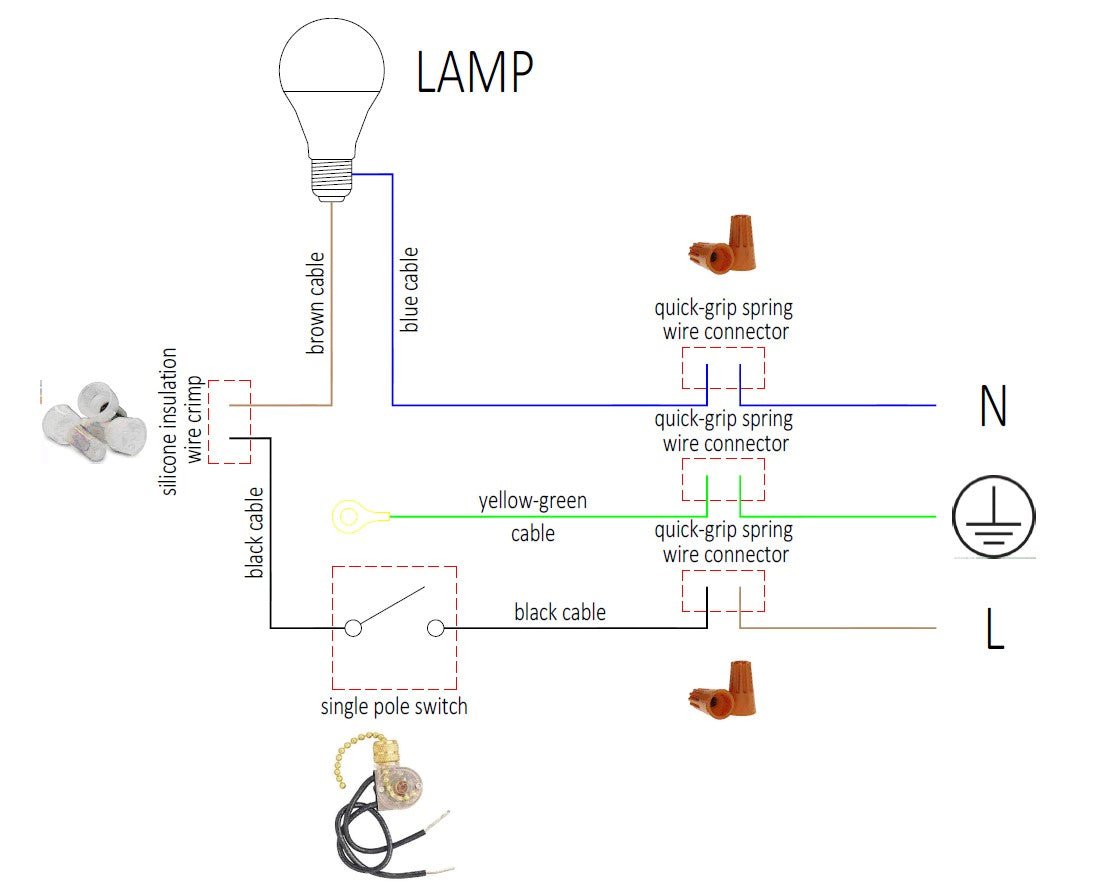 TEKLED
Black-Chrome | White Metal Partial Mirror Cone Glass Wall Light E27 Pull Down Switch - Black.
Black-Chrome or White Metal Partial Mirror Cone Glass Wall Light E27 Pull Down Switch
Timeless Design Meets Versatility: Introducing the Chrome Metal Partial Mirror Cone Glass Wall Light E27 Pull Down Switch. This masterpiece is an embodiment of where age-old charm blends seamlessly with contemporary innovation. Drawing inspiration from classic Italian vintage designs, it reflects an era where every artifact told a tale. The design's inherent beauty lies in its wine-glass silhouette, reminiscent of luxurious Italian villas, evoking memories of sun-drenched terraces overlooking scenic vineyards. This timeless appeal is not just a tribute to the bygone eras but is carefully juxtaposed with modern-day functionality. Its pull-down switch is a testament to this merger, offering users not just a piece of art but a utility that aligns with today's lifestyles. Beyond its design, the chrome and glass elements bring together two contrasting materials, embodying both reflection and transparency, which dance beautifully under the play of light. It's not just a lighting fixture; it's a conversation starter, a statement of taste, and a nod to those who appreciate the finer things in life.
Application & Usage: This fixture is not just about looks; it's a versatile and practical choice for diverse spaces. Whether you're aiming for the rustic charm of a bedroom, the relaxed ambiance of a living room, or the welcoming warmth of a cafe or boutique restaurant, this light effortlessly fits in. Its design makes it a perfect choice for bohemian, contemporary, and mid-century modern interiors. For commercial owners, envision this as an accent light in coffee stores, upscale bars, or chic restaurants, enhancing the overall ambiance.

Material & Finish: Crafted with precision, its standout feature is the unique cone glass. Half mirrored with a chrome-plated finish and half adorned with a marble-like texture, this fixture promises both durability and an upscale look. Made primarily of steel and glass, the light achieves a balance between sturdiness and aesthetic appeal.

Versatile and Practical: Its surface mount design ensures ease of installation, while the pull-down switch offers convenience in operation. Although it's ready for dimmability, users should note the requirement of an E27 bulb, which isn't part of the package.

Warranty & Assurance: With a 3-year warranty, this fixture isn't just an investment in aesthetics but a testament to quality and durability.

Tip for Decor Enthusiasts: Pair this light with a warm, yellow-toned bulb to emanate a cozy, golden ambiance, especially apt for vintage, rustic, or traditional settings. If using in a bedroom, placing them symmetrically on either side of the bed can elevate the room's decor.
Shaped like a wine glass, the Chrome Metal Partial Mirror Cone Glass Wall Light E27 Pull Down Switch will add retro Italian vibes to your bedrooms, living rooms, porches, balconies, bathrooms, as well as cafes, restaurants, reception areas, and bars. This piece is as useful as it is attractive. The pull down switch makes it convenient to switch it on and off. Pair it with a warm or yellow toned light to bring out an ambient, golden glow to your spaces. Use it in pairs over the bed. Warm lighting feels natural in the evenings and promotes relaxation. Warm, or soft white, light, is especially appropriate for cosy living spaces where we want to relax and be comfortable. It is compatible with dimmer switches, but the bulb is not included in the package. Make sure to add an E27 bulb to your cart when ordering.

Now we offer this item in 2 finish
Black Chrome or White
Technical Specifications
| | |
| --- | --- |
| Name | Chrome Metal Partial Mirror Cone Glass Wall Light E27 Pull Down Switch |
| Product Code | 151-19760 | 151-19930 |
| Power | Max 40 W |
| Power Source | Hardwired |
| Voltage | 220/240Vac 50/60Hz |
| Lamp Holder Type | E27 Edison Screw (ES) |
| Lamp Holder Quantity | 1 |
| Protection Class | Class I |
| Dimmability | Dimmable if used with dimmable bulbs |
| Light Source | Bulb |
| Bulbs | Bulbs are not included |
| IP Class(Ingress Protection) | IP20 |
| Mount Type | Surface Mount |
| Function Mode | On/Off |
| Product Dimensions (L x W x H) (D x H) | 260x130x170 mm |
| Size of Shades | D130x120 mm |
| Size of Rose | D100x20mm |
| Shape | Bell |
| Made of Materials | Steel, Glass |
| Shade Material | Glass |
| Product Colour | Chrome, Black | White |
| Shade Colour | Mirror plated Clear |
| Paint Type | Electroplated, Spray Painted(white and black parts) |
| Diffuser Type | Clear |
| Control | Built on pull down switch |
| Operating Temperature (C) | -20/+45C |
| Warranty | 3 year |
| Gross Weight | 0.5 kg |
| Net Weight | 0.27 kg |
| Box Dimensions (LxWxH) | 250x175x165mm |
| Box Content | 1 Light fixture, User manual, Accessories package(Tapping screw*2, Expansion plug*2) |
| Pieces/Box | 1 |
| Certifications | UKCA, CE, RoHS |