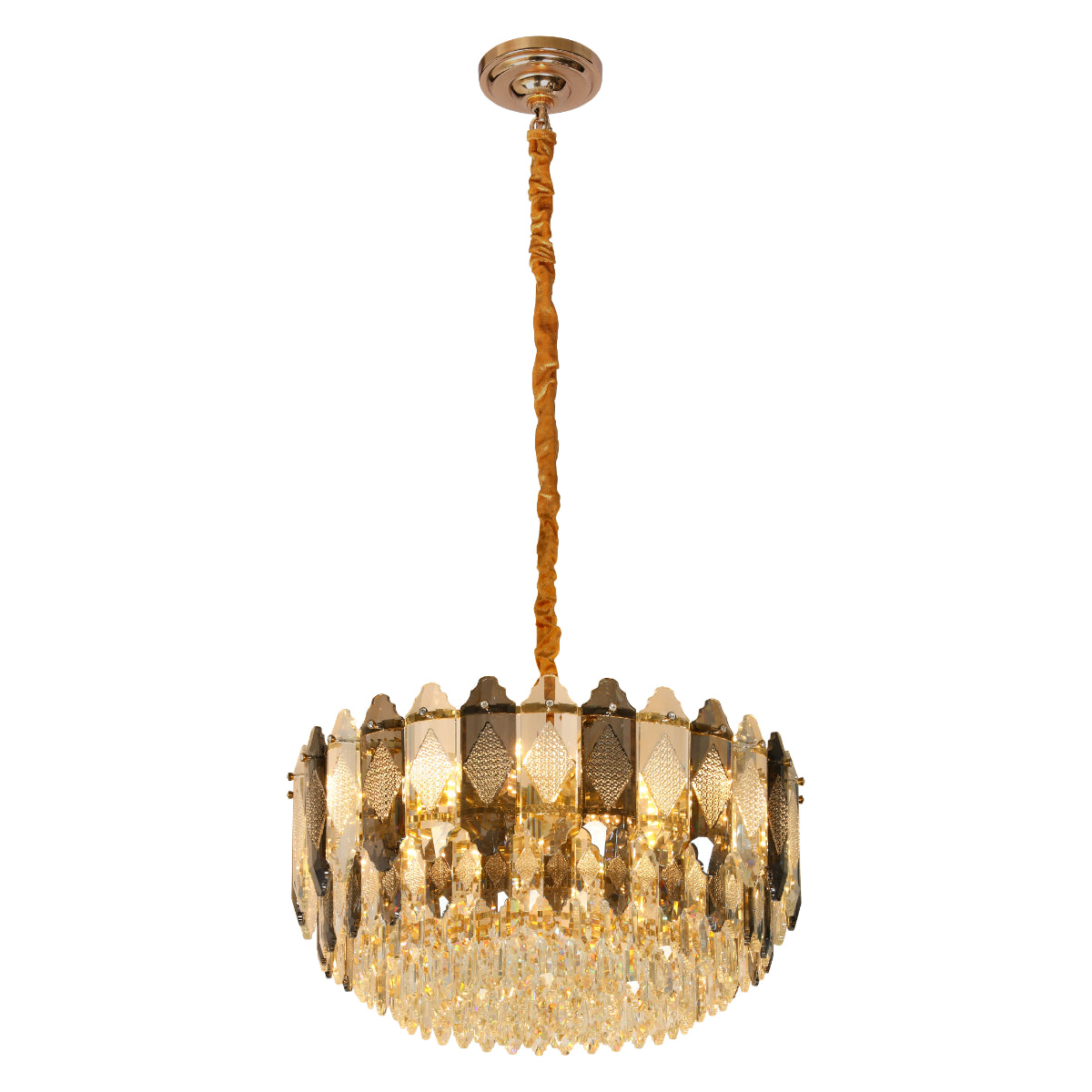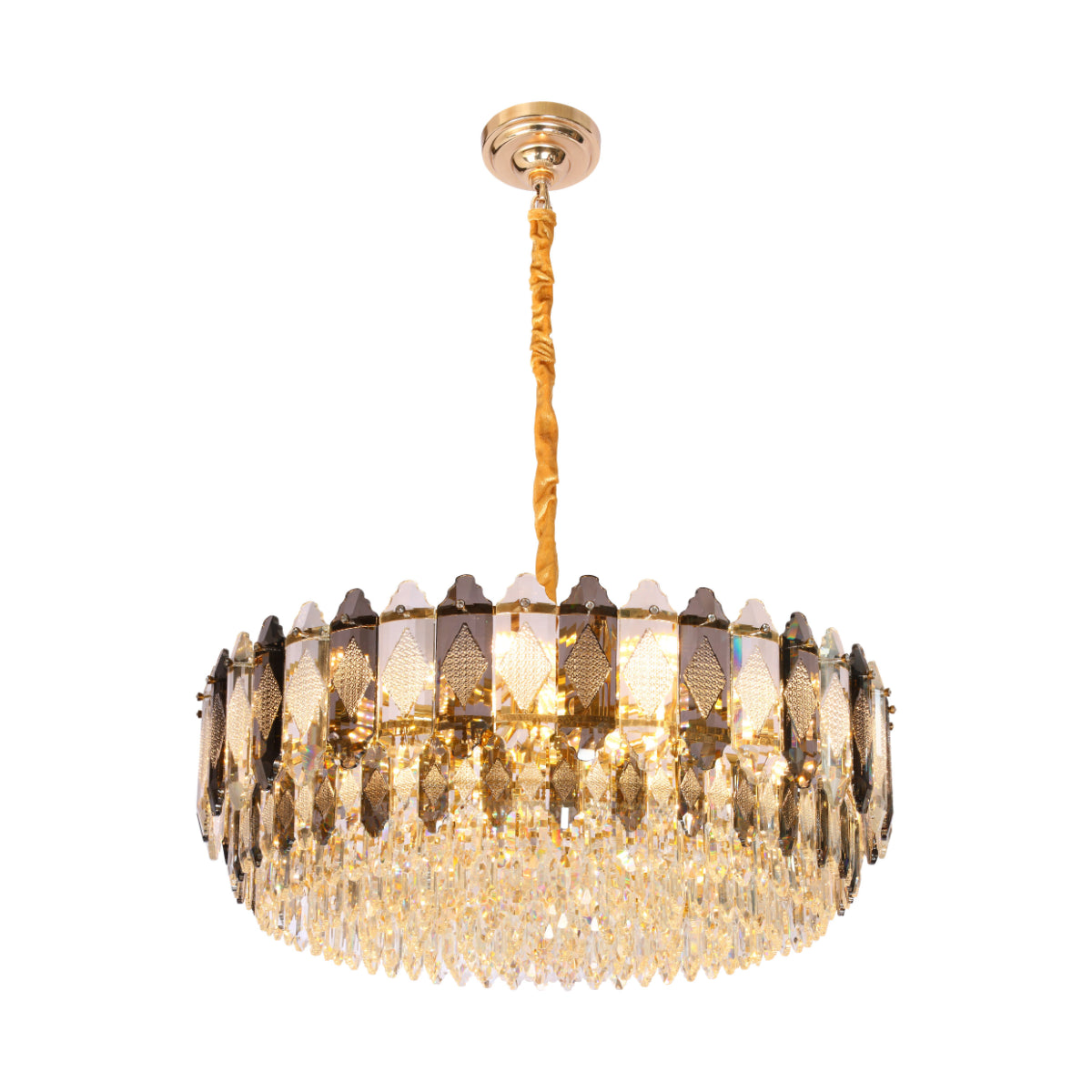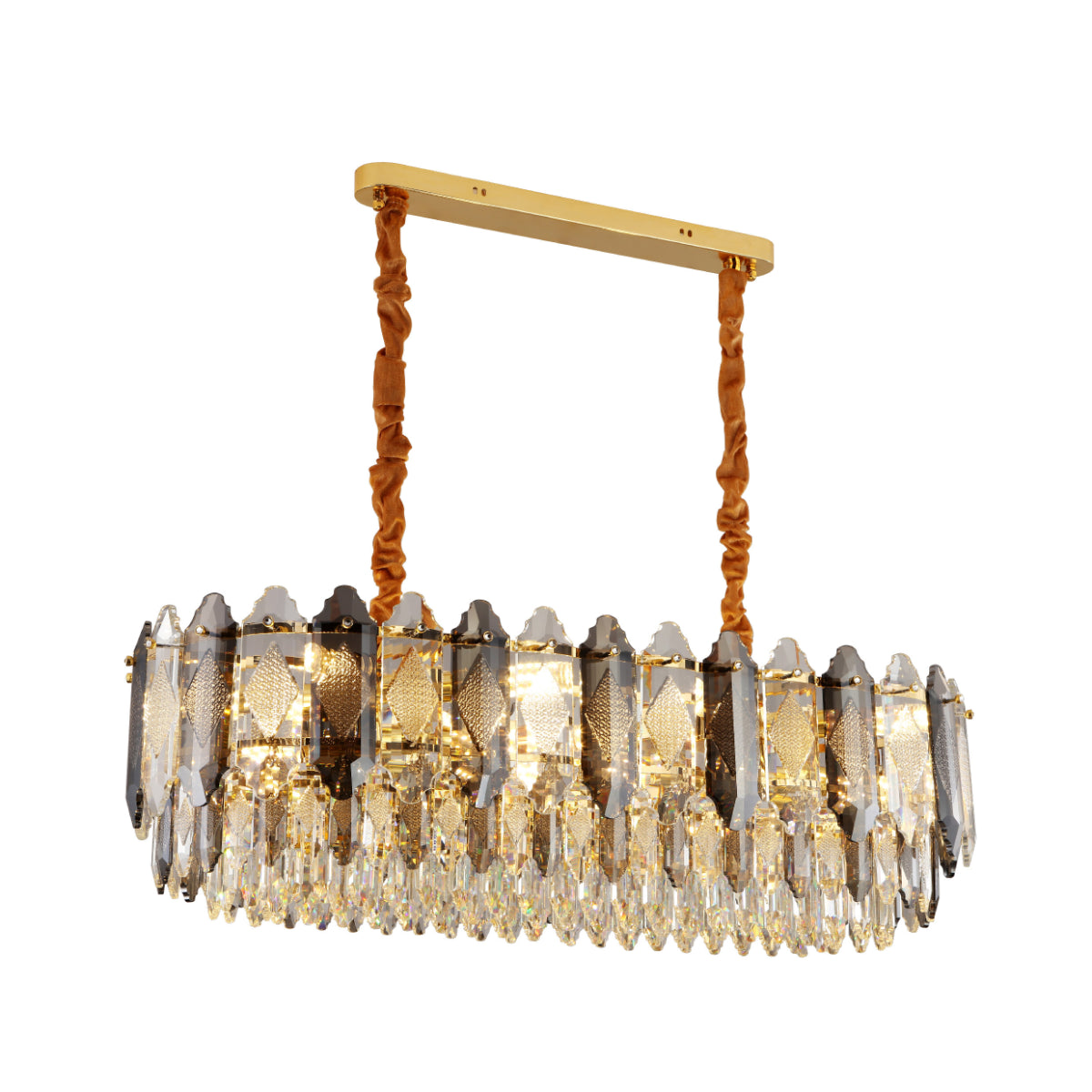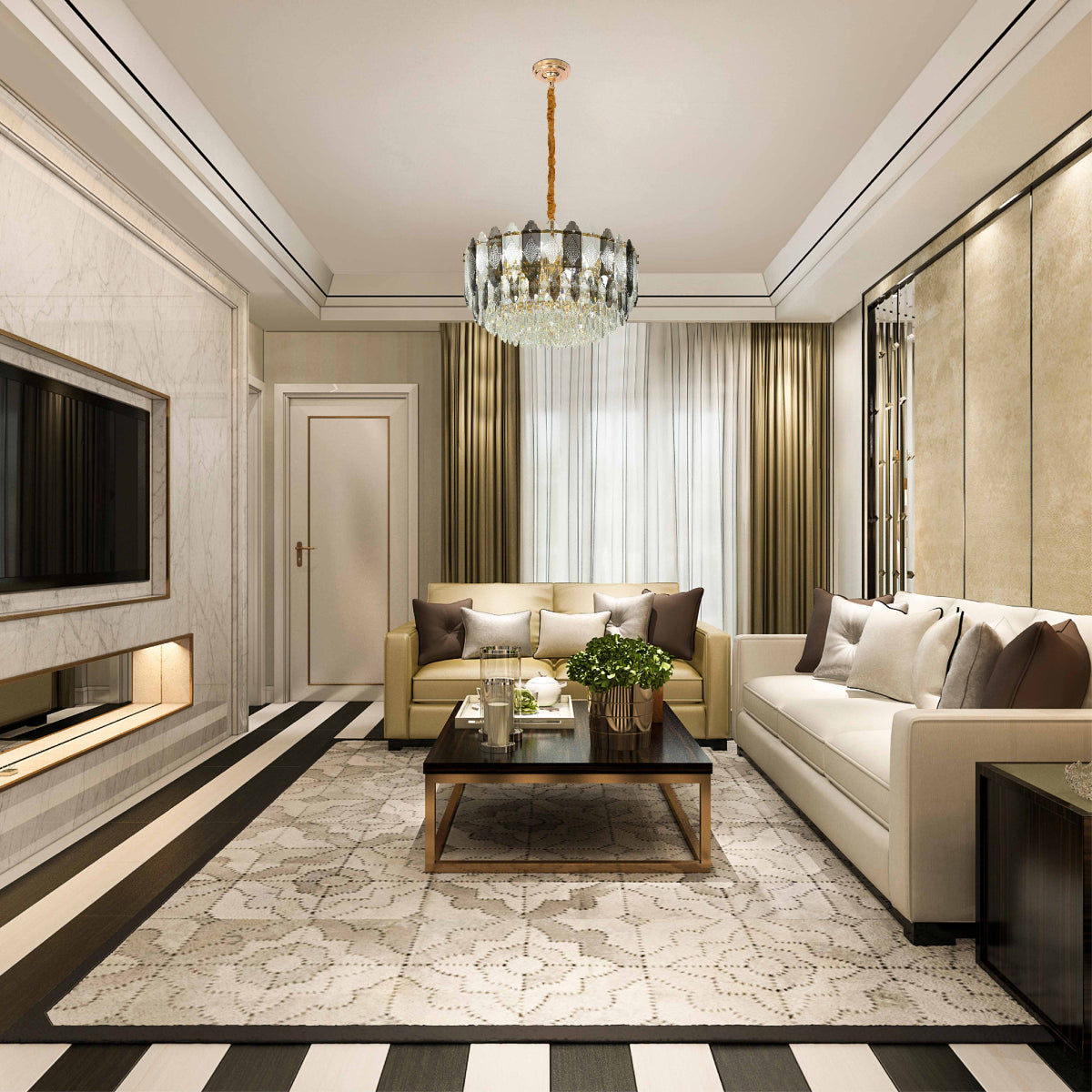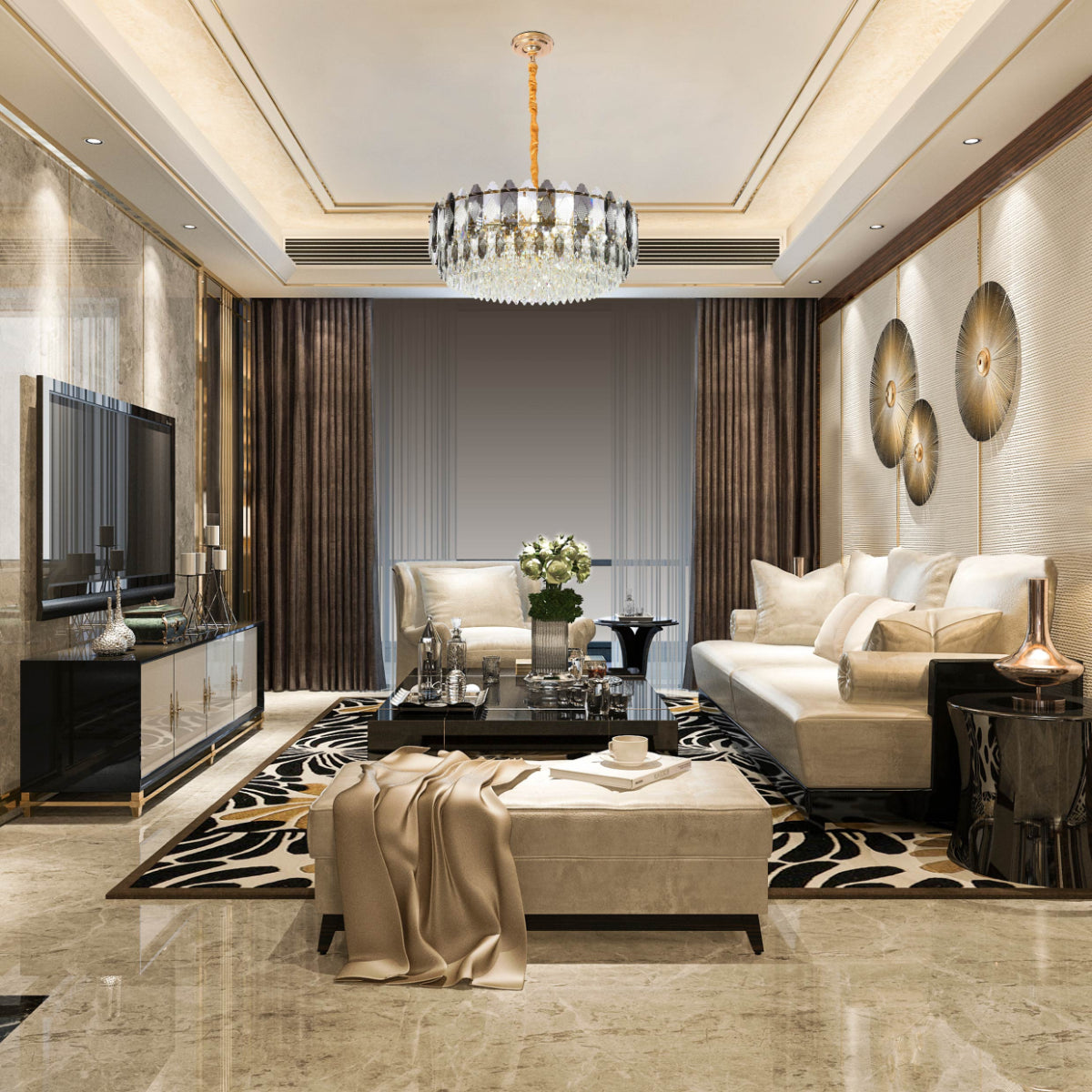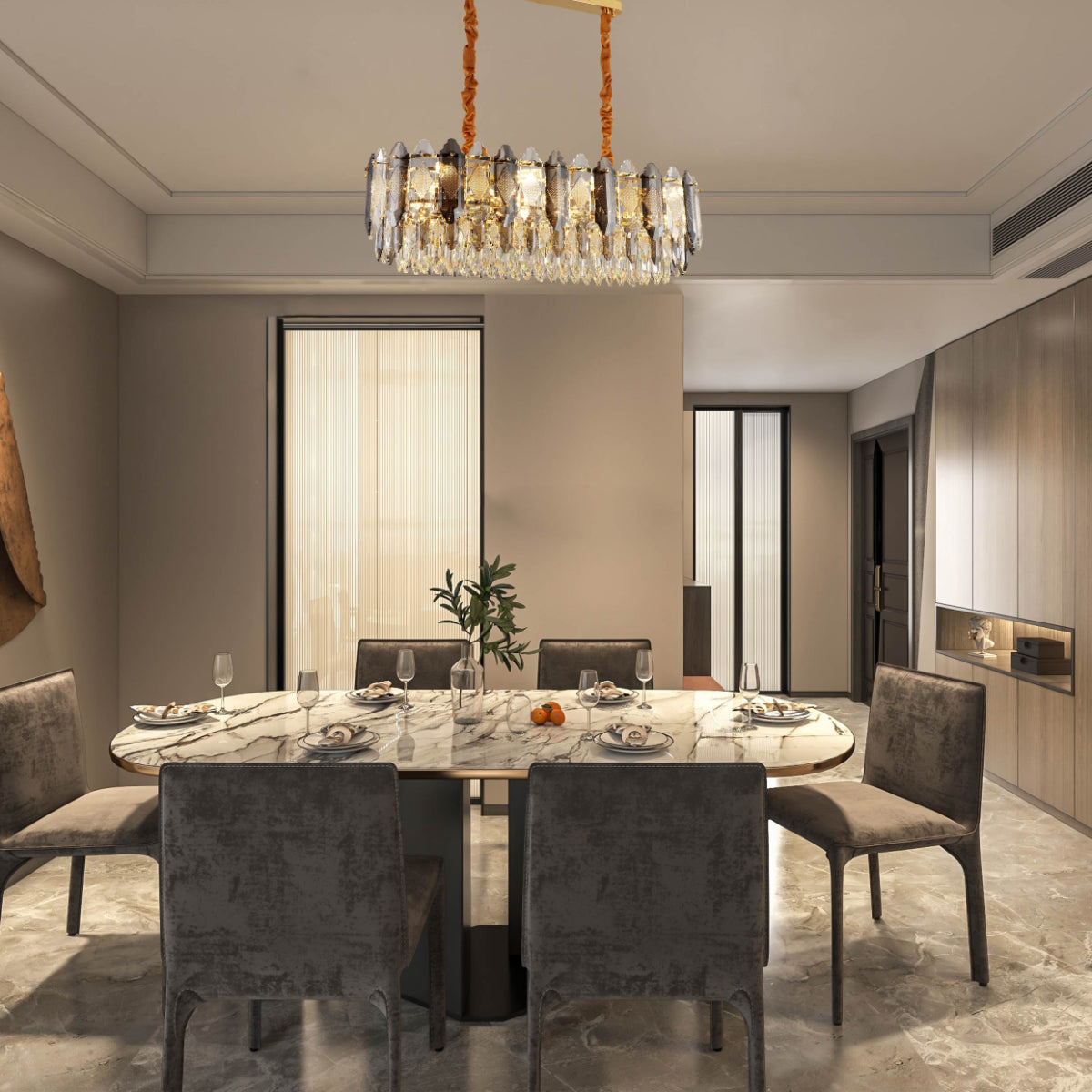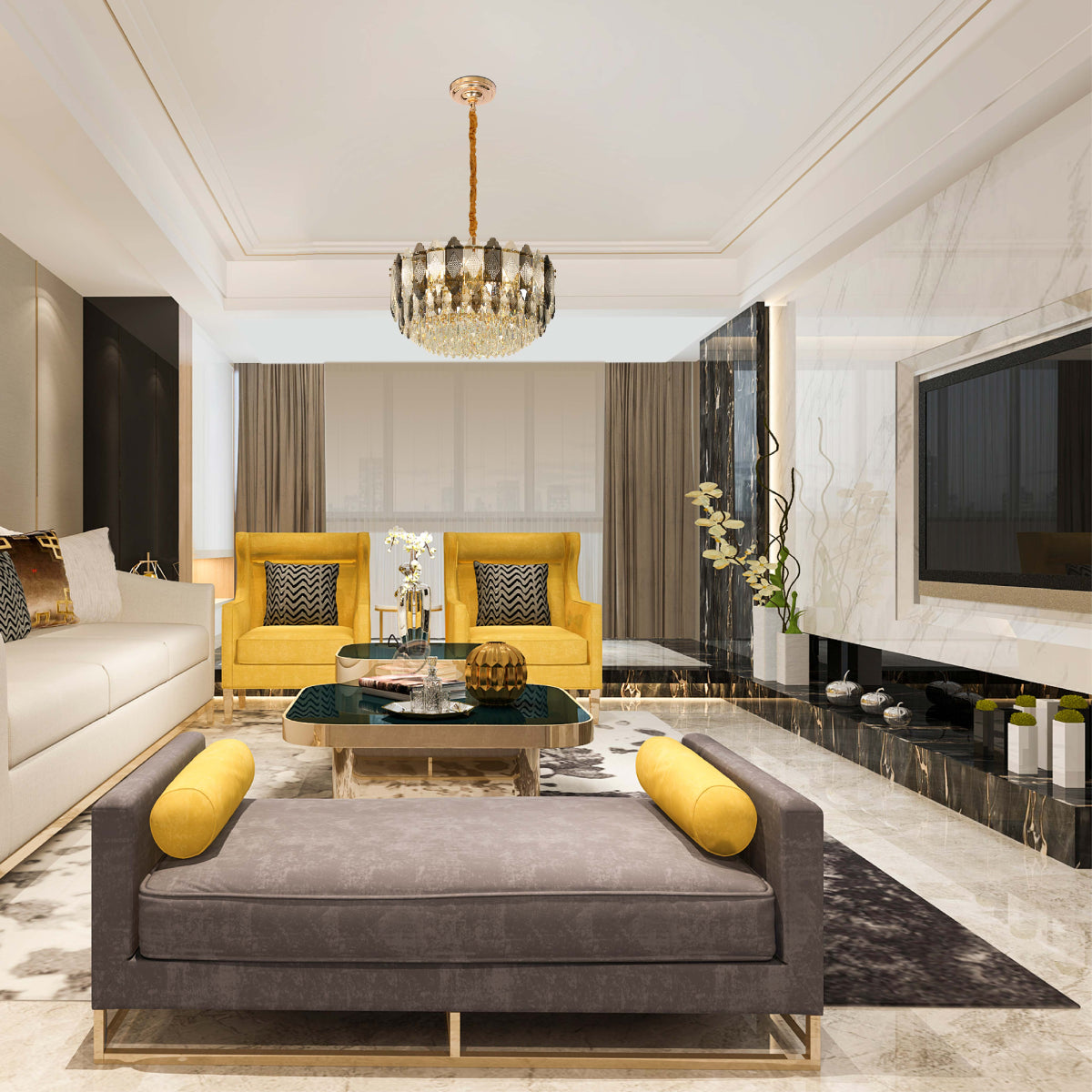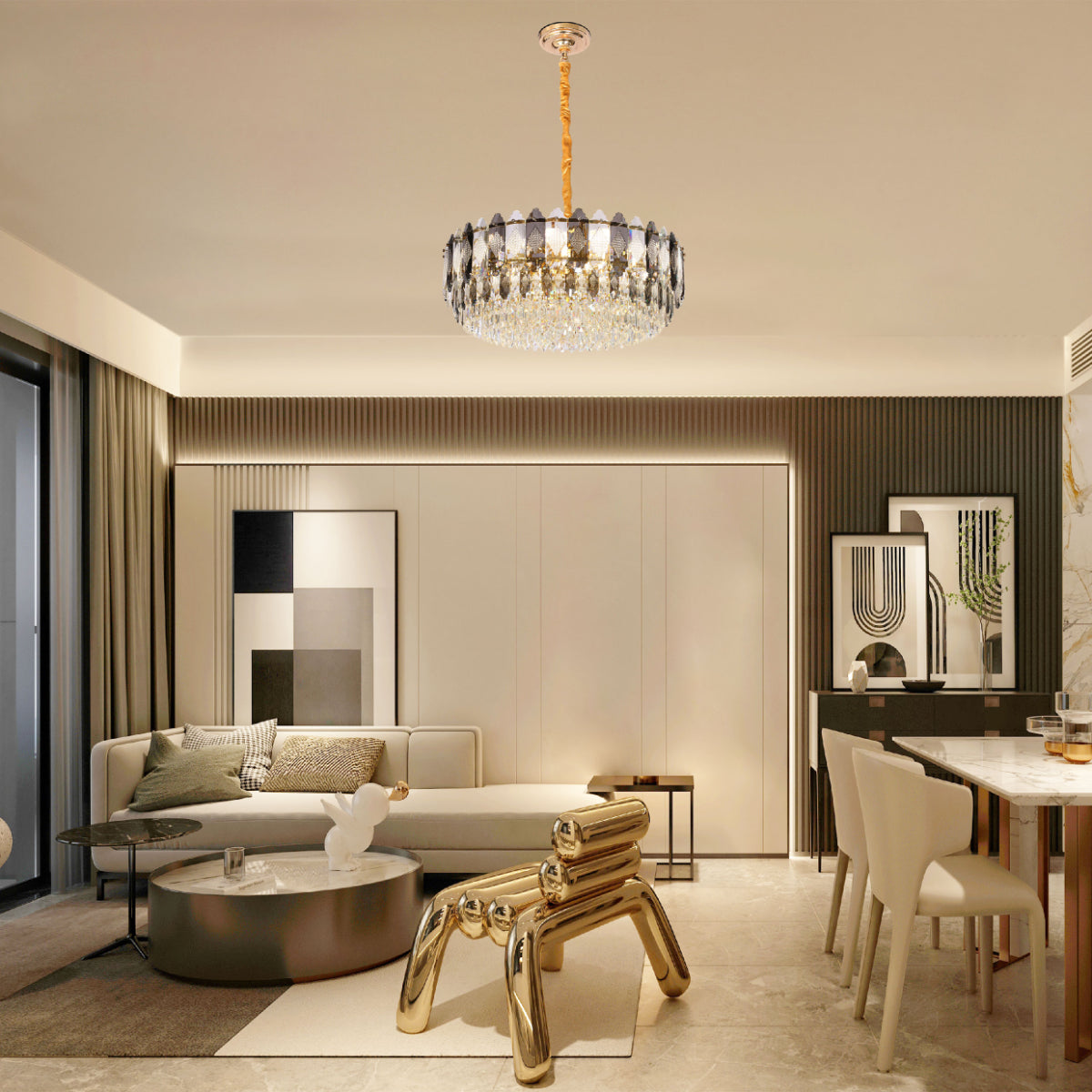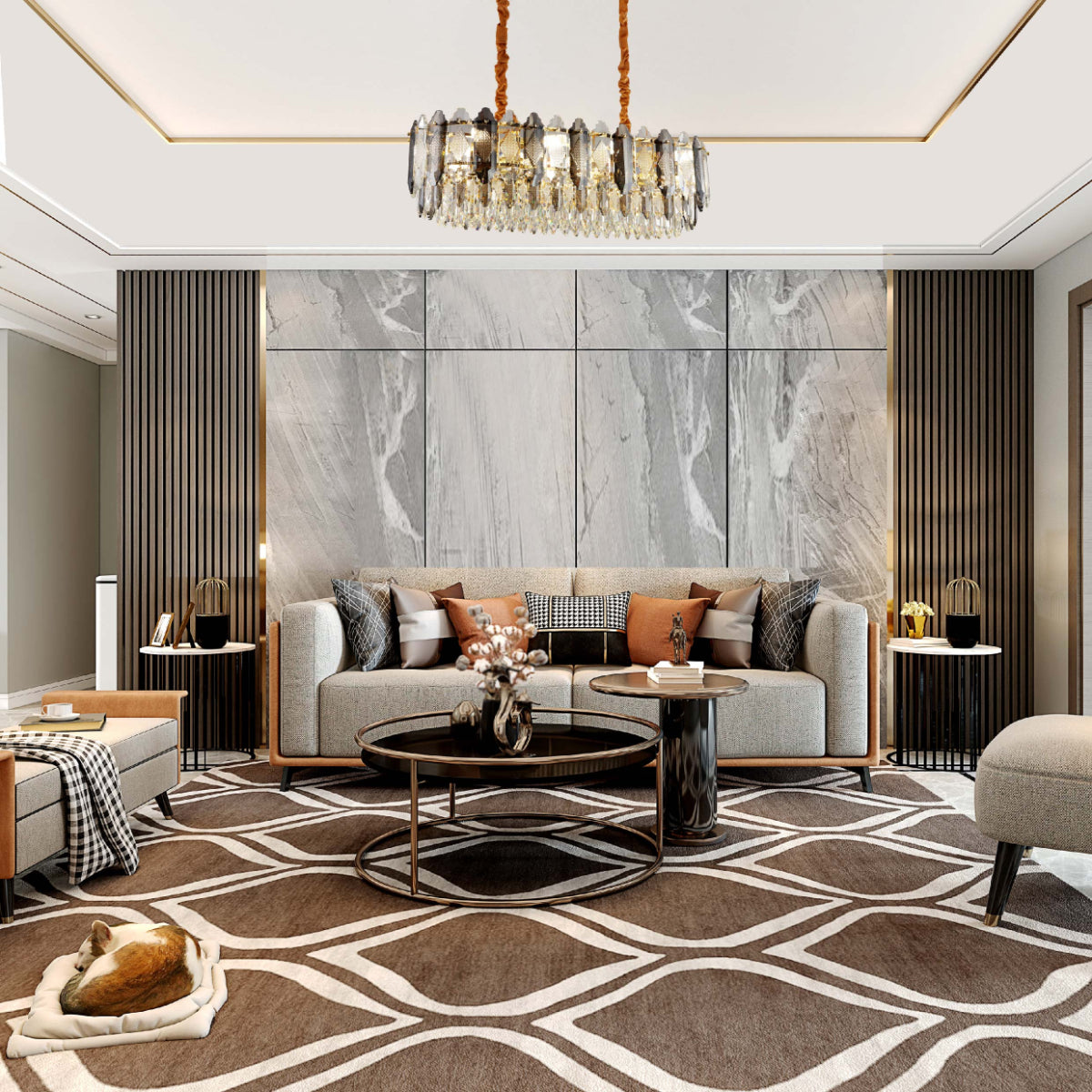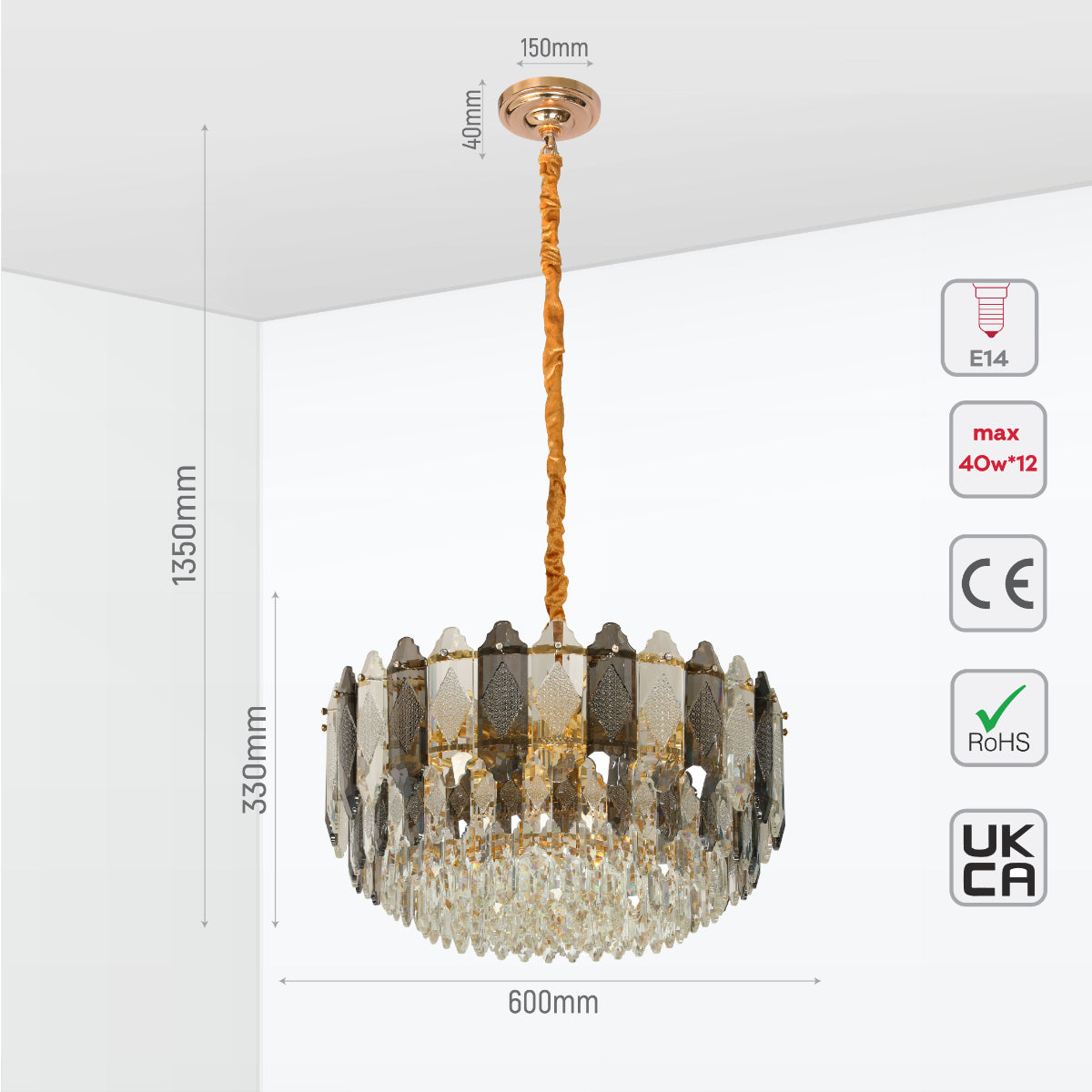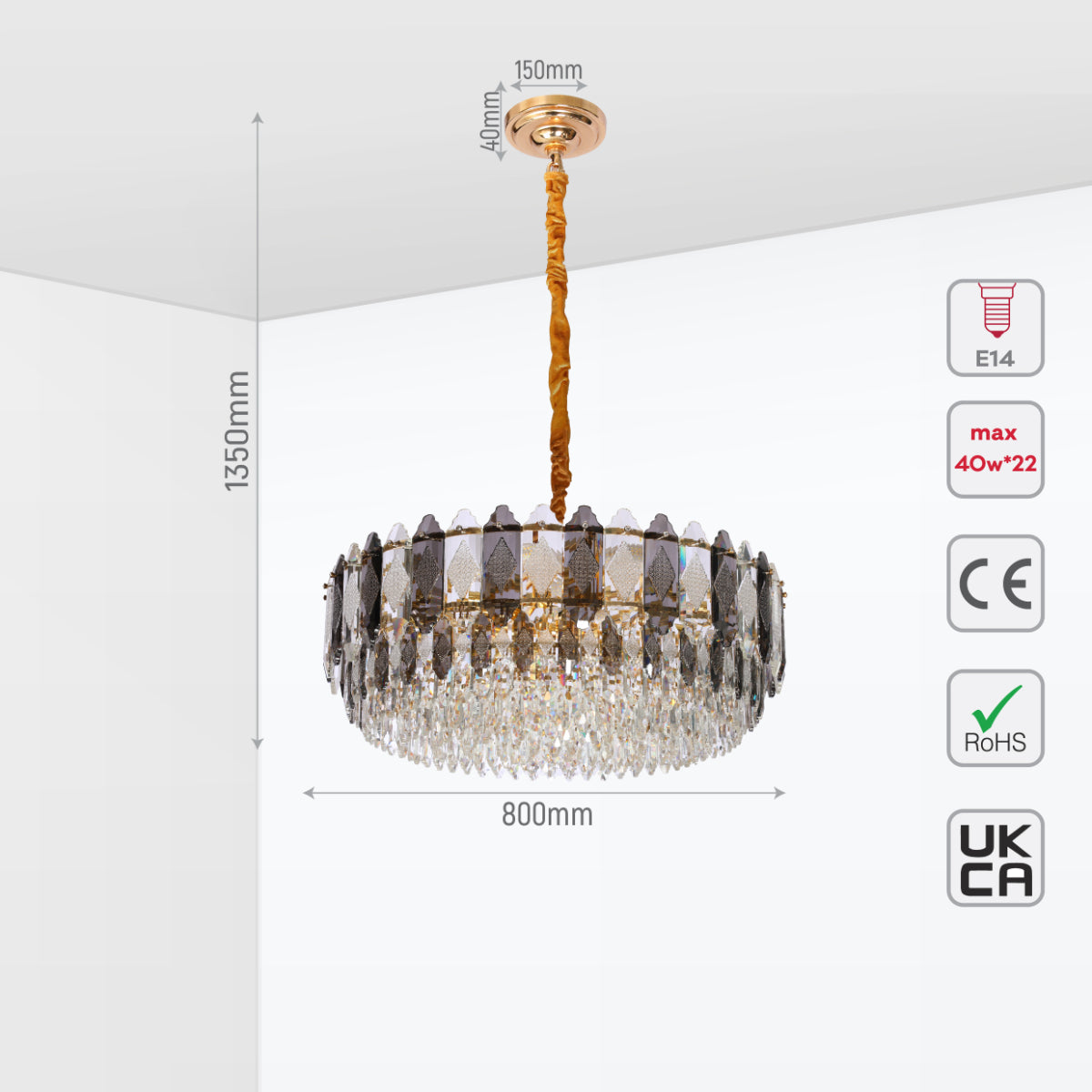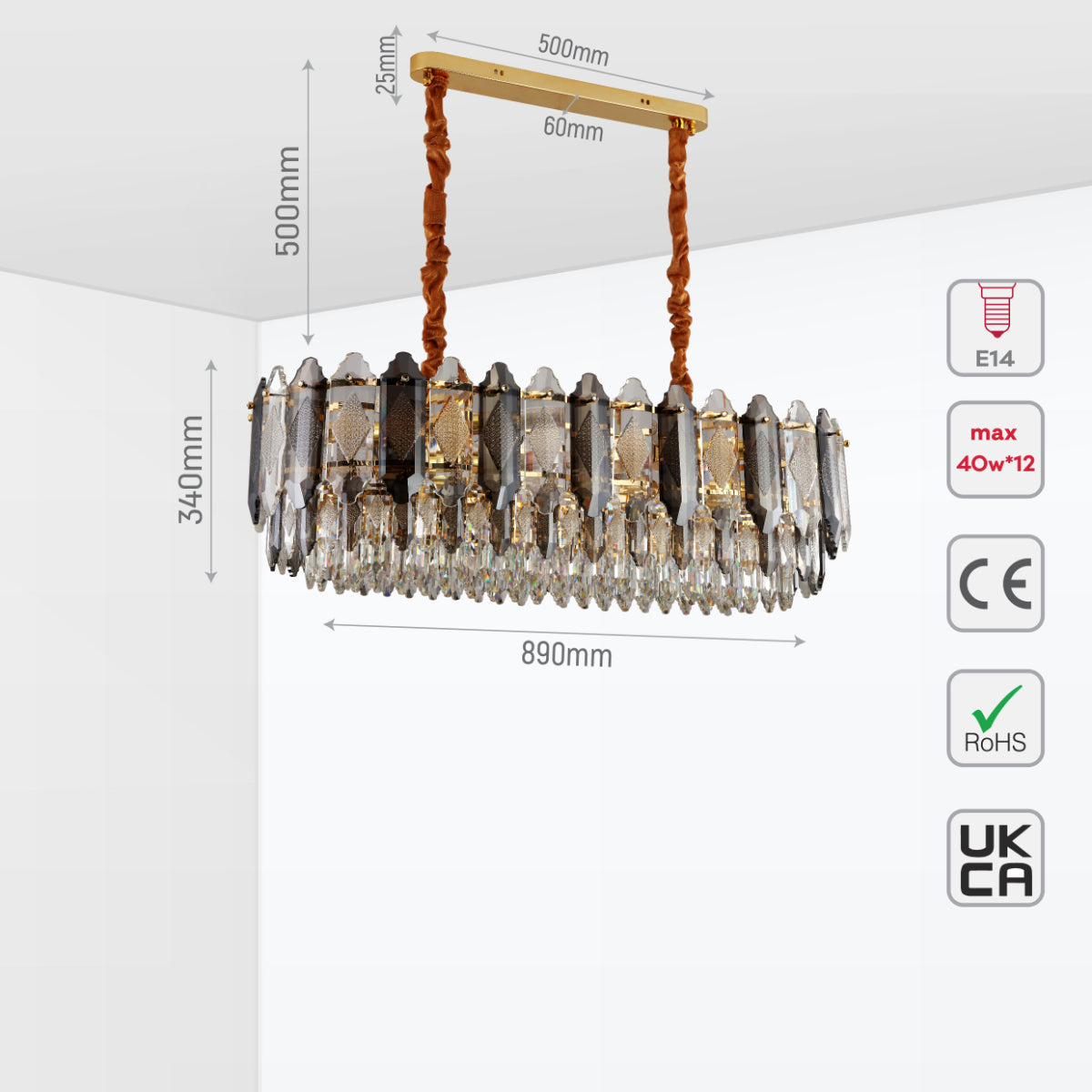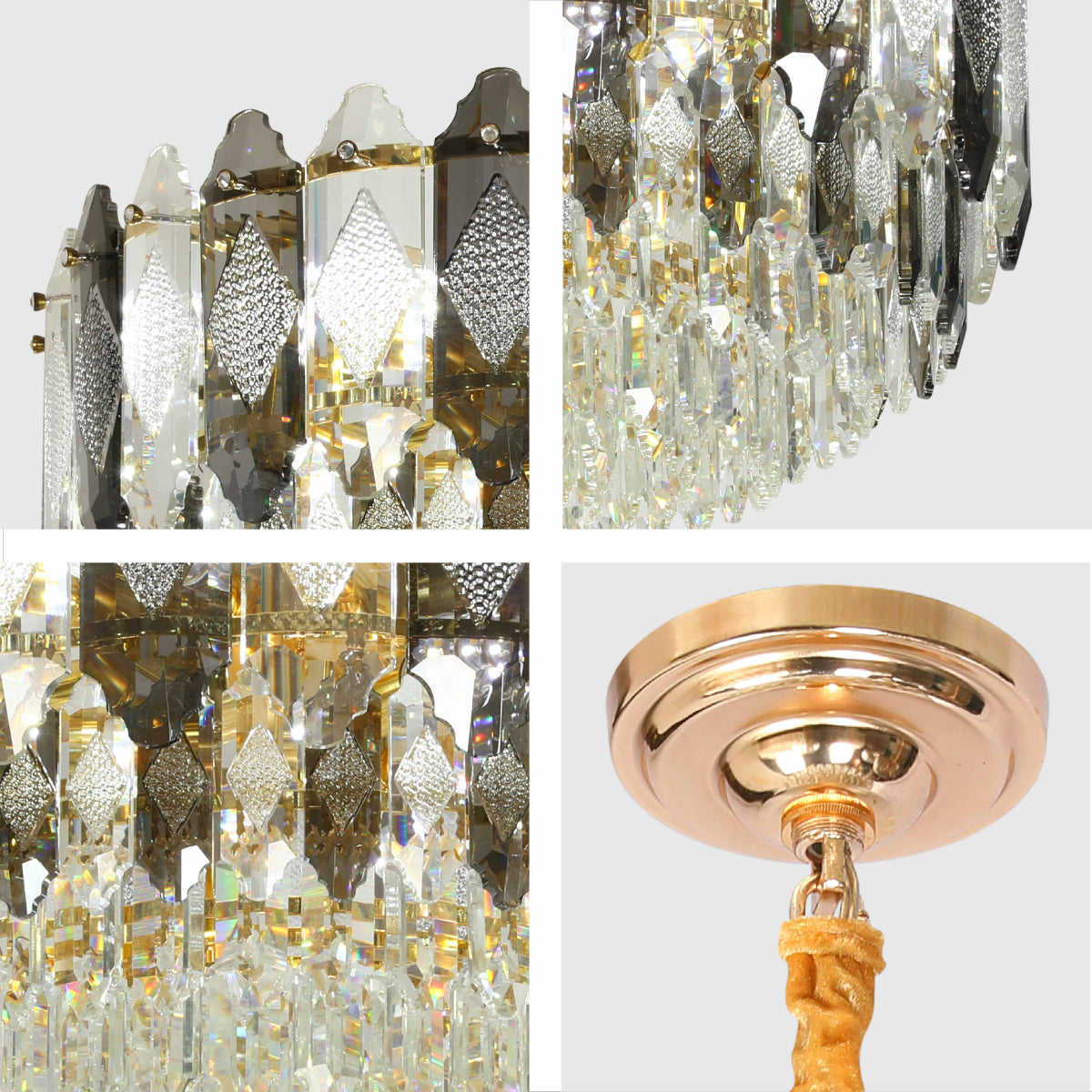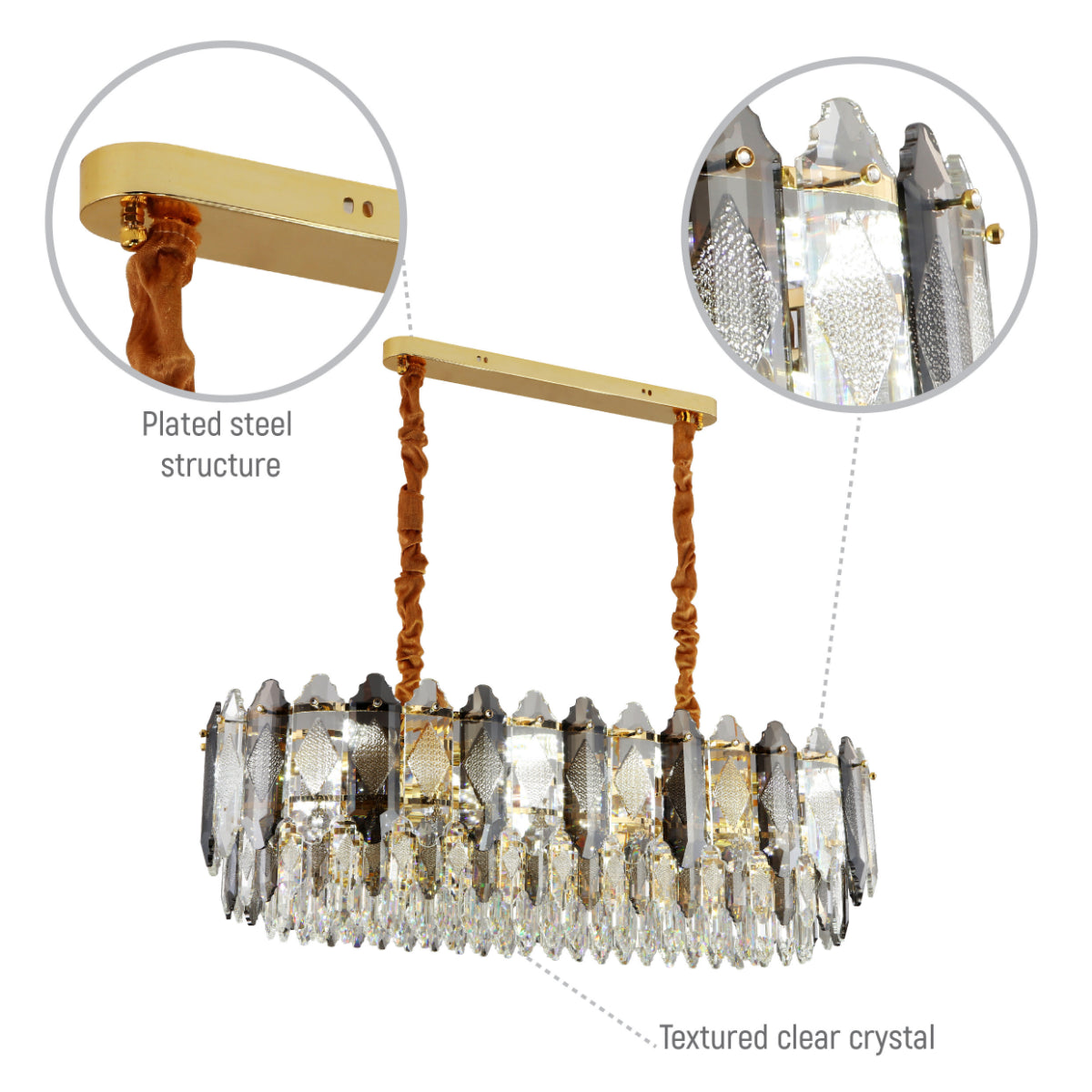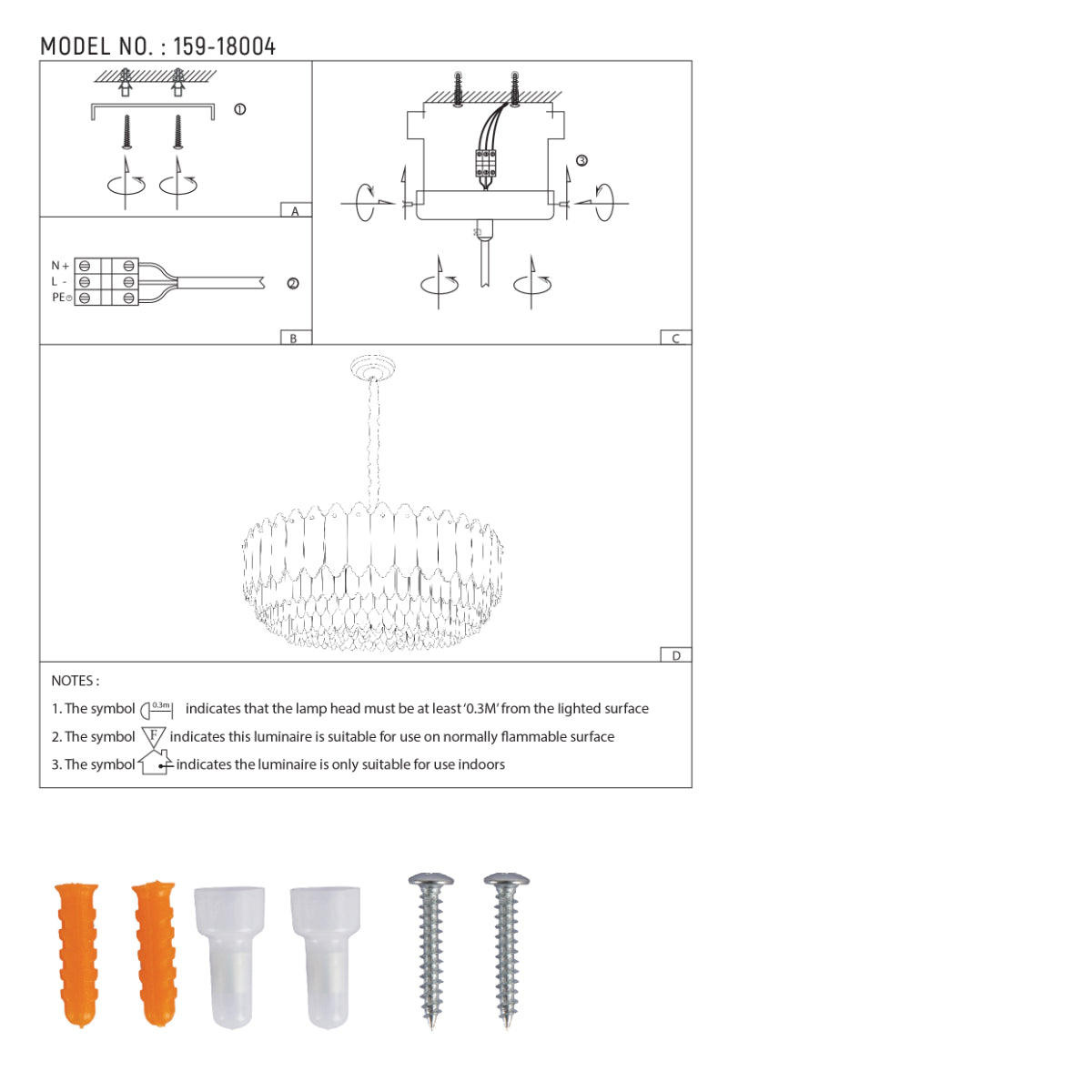 TEKLED
Deluxe Smoky Clear Crystal Modern Chandelier Light Gold - D600 mm Round.
Deluxe Smoky Clear Crystal Modern Chandelier Light Gold
Dual-Tone Crystal Chandelier: Where Modern Opulence Meets Classic Charm

Elevate your home decor with a statement piece that seamlessly blends with both contemporary and classic interiors. Draped in a lustrous gold-coloured metal body, this chandelier boasts a unique dance between smoky grey and clear crystals, setting the tone for unparalleled sophistication.

Harmonious Crystal Design: The chandelier's exterior plays host to an alternating array of smoky grey and clear crystals, creating a visual rhythm that captures and refracts light enchantingly. As your eyes are drawn inward, the pristine beauty of clear crystals takes center stage, amplifying the luminescence.

Versatile Placement: For the Cosmopolitan Dining Area: Whether paired with a sleek glass dining table or an antique wooden ensemble, this piece promises conversations that last long after dinner.
Luxury Living Rooms: Complementing both minimalist modern sofas and classic Victorian settees, it radiates warmth and luxury, making every evening memorable.
Regal Bedrooms and Beyond: Cast a romantic glow over plush beddings or introduce it to hotel lobbies for an added touch of opulence.
Sizes Tailored for Every Space: Compact Brilliance: At 600mm diameter and 330mm height, tailored for 12 E14 candle bulbs, suspended from a 1-meter velvet-encased chain.
Statement Piece: Measuring 800mm in diameter and 330mm in height, it houses 22 bulbs and features a 1-meter velvet-wrapped chain.
Linear Allure: The unique island model at 890mm in length, 330mm in height, and 340mm width, suspended from dual 500mm velvet-covered chains.
Bulbs: E14 candle bulbs promise to enhance the shimmer and shine of each crystal facet, ensuring optimal luminance. (Note: Bulbs are not included.)

Crafted for those who value the finer things in life, this chandelier promises not just illumination but a transformation of spaces — be it kitchens with modern marble countertops, living rooms adorned with chic furnishings, or regal hotel spaces aiming for reviews praising aesthetic appeal. Dive into a world of luxury, one crystal at a time.
Technical Specifications
Product Code
159-18003 | 159-18004 | 159-18005
Name
Deluxe Smoky Clear Crystal Chandelier Light Gold
Power
Max 40W/Bulb
Voltage
220/240Vac 50/60Hz
Lamp Holder Type
E14 Small Edison Screw
Lamp Holder Quantity
12 | 22 | 12
Protection Class
Class I
Dimmability
Yes, if it is used with dimmable bulbs
Light Source
Bulb
Compatible Bulbs
E14 Candle Bulbs
Bulbs
Bulbs are not included
IP Class
IP20
Mount Type
Suspended
Product Dimensions (L x W x H) (D x H)
D600x330 mm | D800x330 mm | 890x330x340 mm
Product Length
1350 mm | 1350 mm | 890 mm
Shape
Circle
Material
Crystal, Steel
Product Colour
Gold, Antique Brass, Smoky, Clear
Paint Type
Electroplated
Size of Rose
D150x40 mm | D150x40 mm | 500x60x25 mm
Suspension Type
Chain with velvet
Suspension Length
1000 mm | 1000 mm | 500 mm
Adjustable Suspension
Adjustable Drop Length
Function Mode
On/Off
Operating Temperature (°C)
-20/+45 ℃
Warranty
3 year
Box Dimension (L x W x H)
64*64*21 and 36*26*20 cm | 
84*84*21 and 36*26*13 and 36*26*14 cm |
95*37*18 and 36*26*21 cm
Net Weight
20 kg | 30 kg | 21 kg
Gross Weight
22 kg | 32 kg | 22 kg
Box Content
Light body x 1, instructions x 1, hook x 1, Crystals
Pieces/Box
2 Boxes | 3 Boxes | 2 Boxes

Certifications
CE, UKCA, RoHS