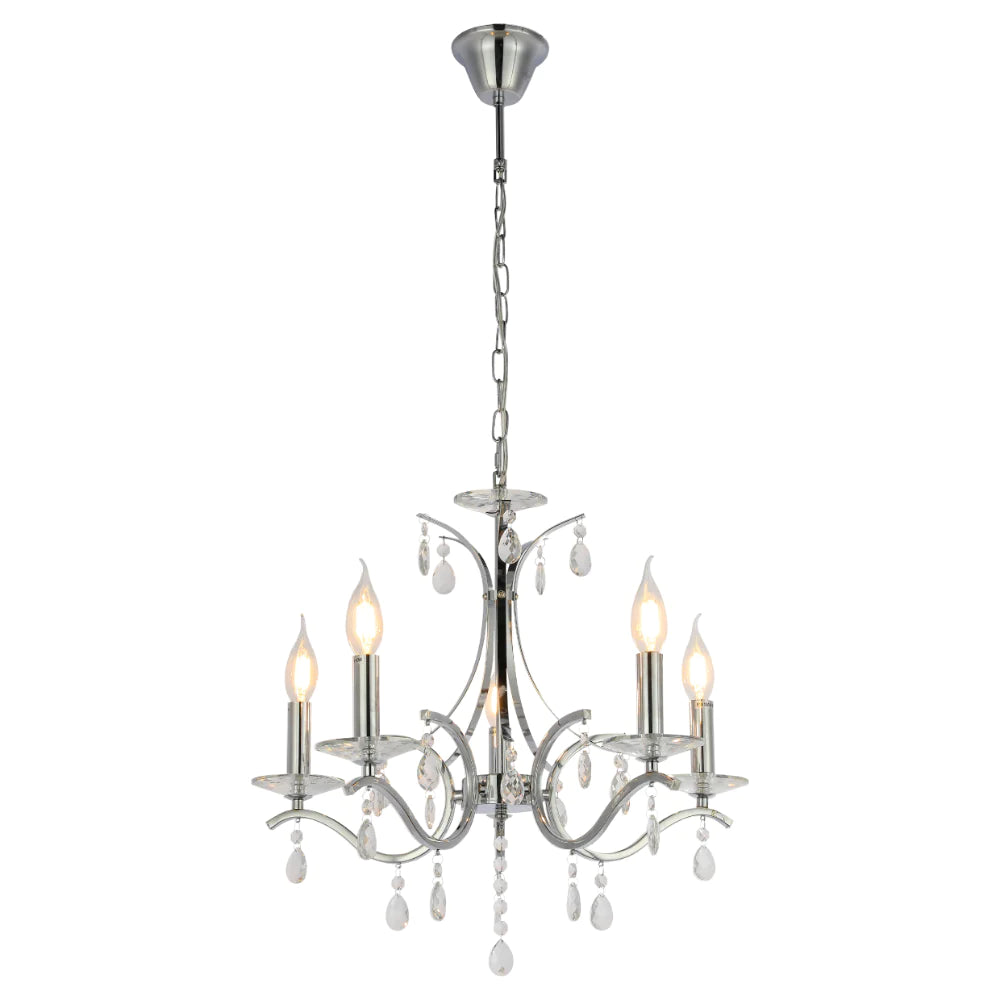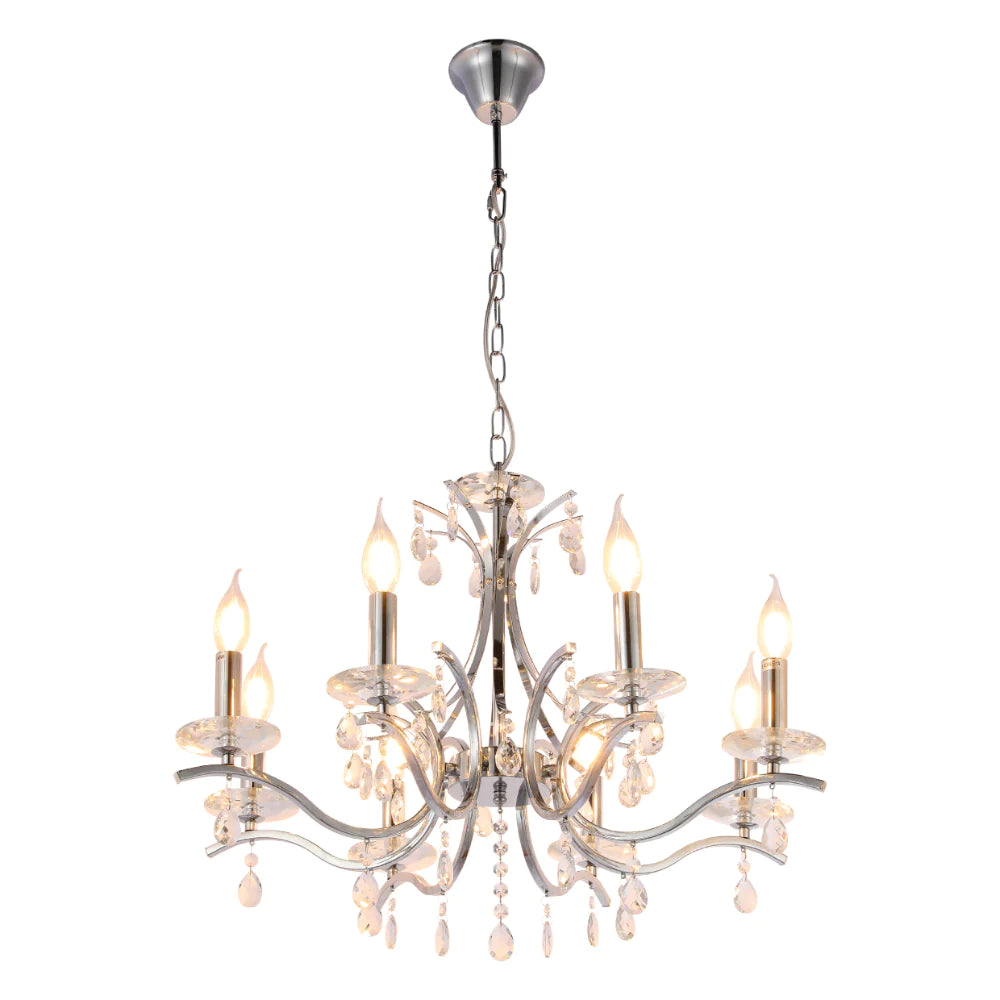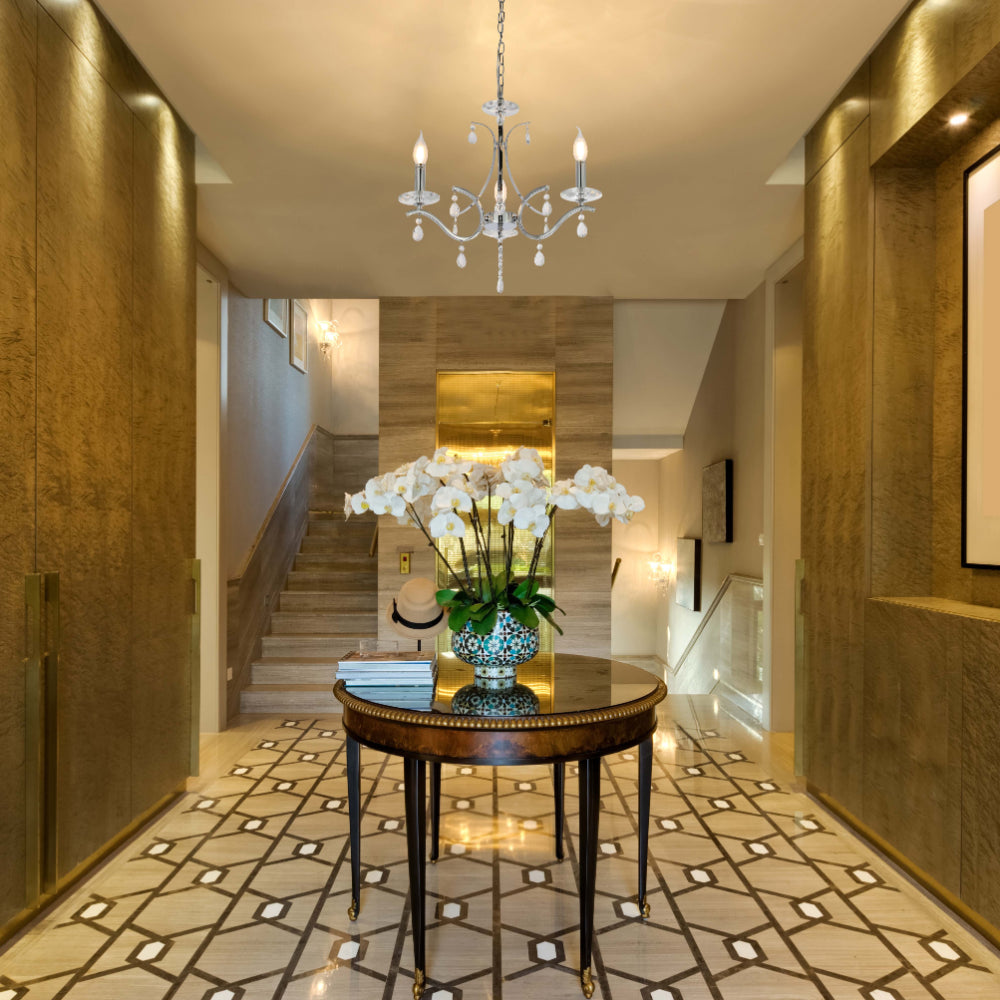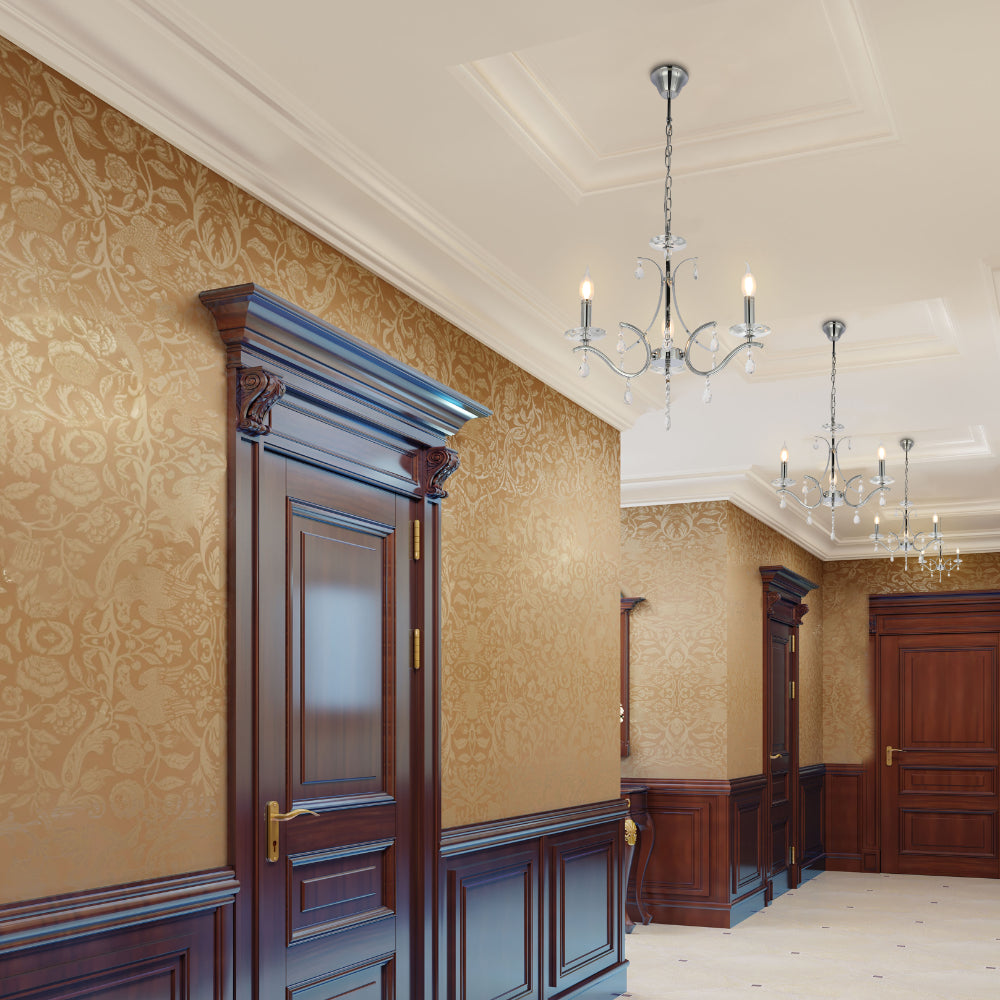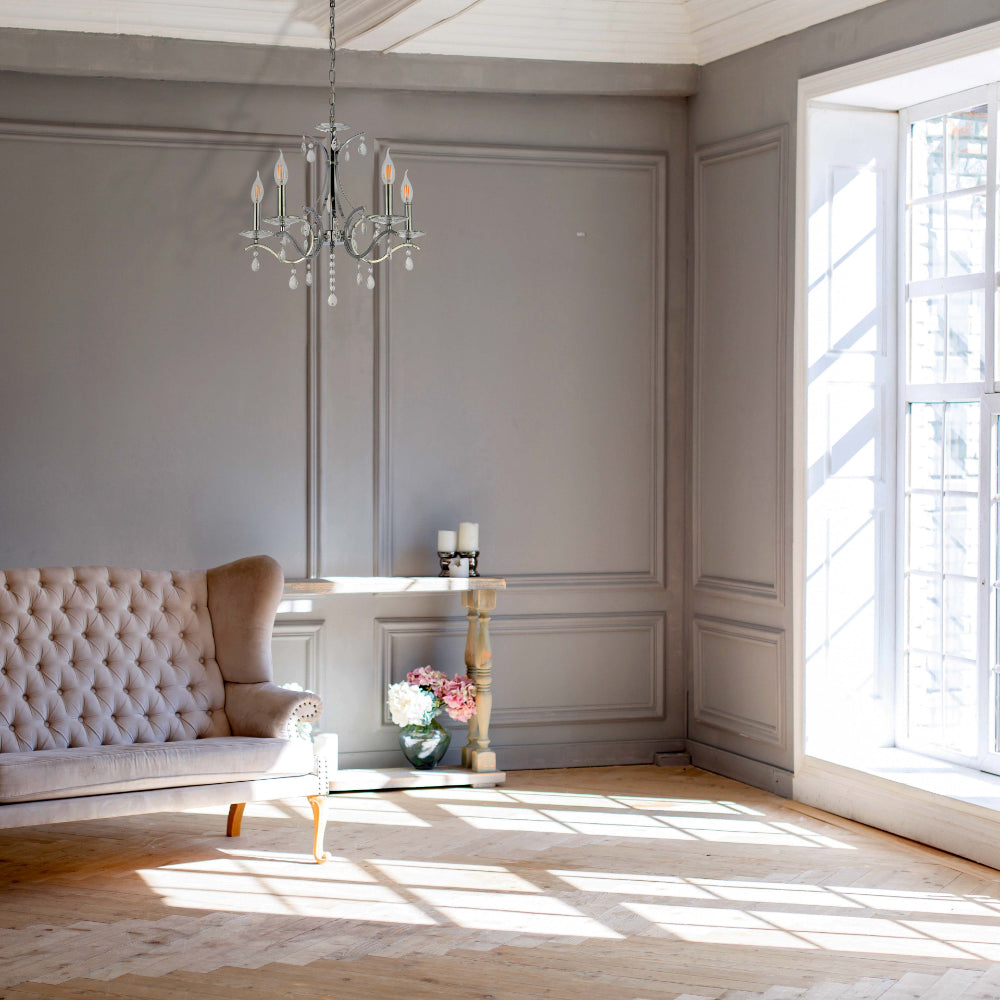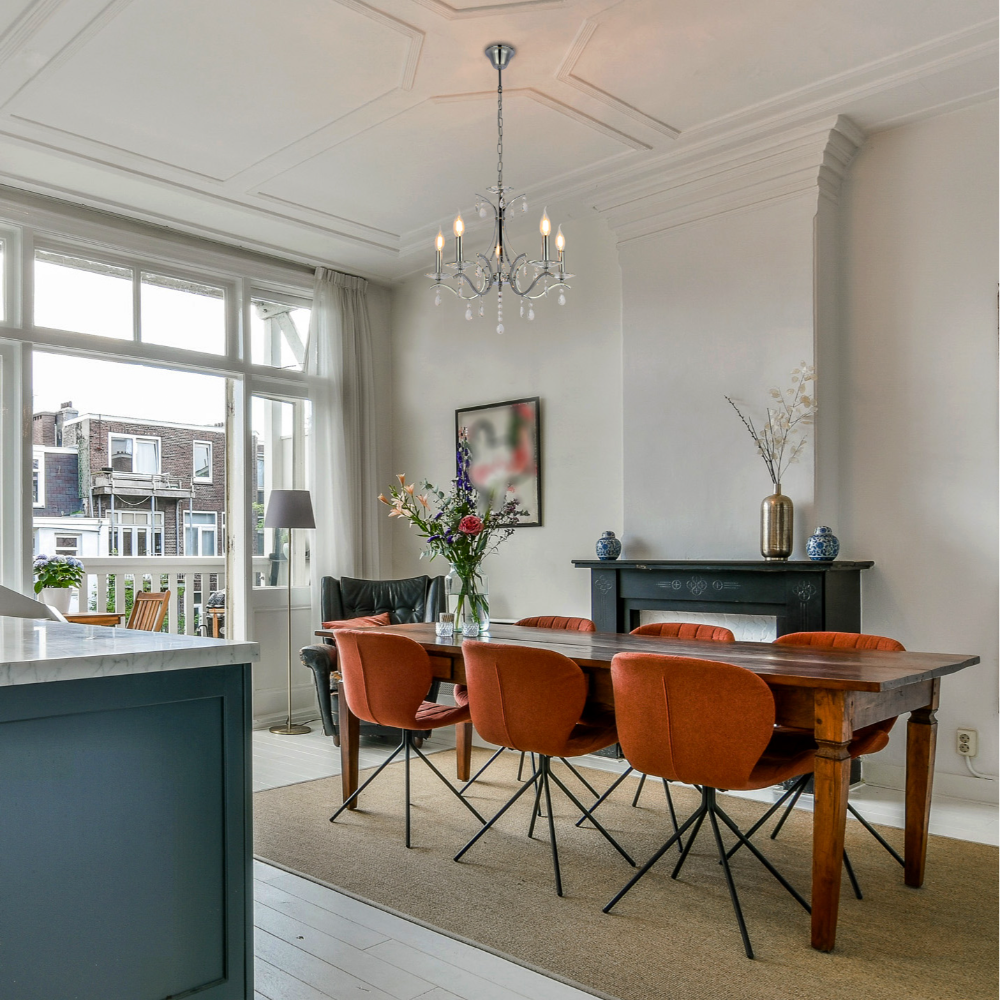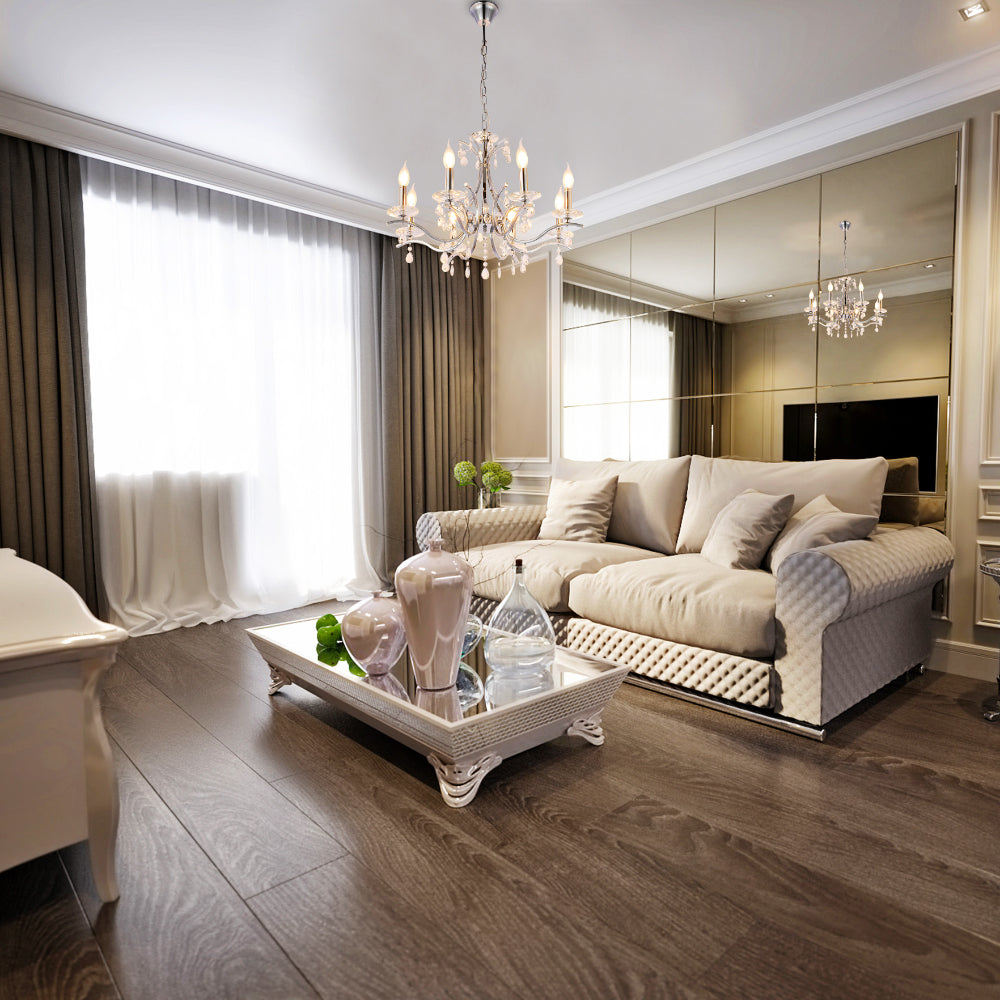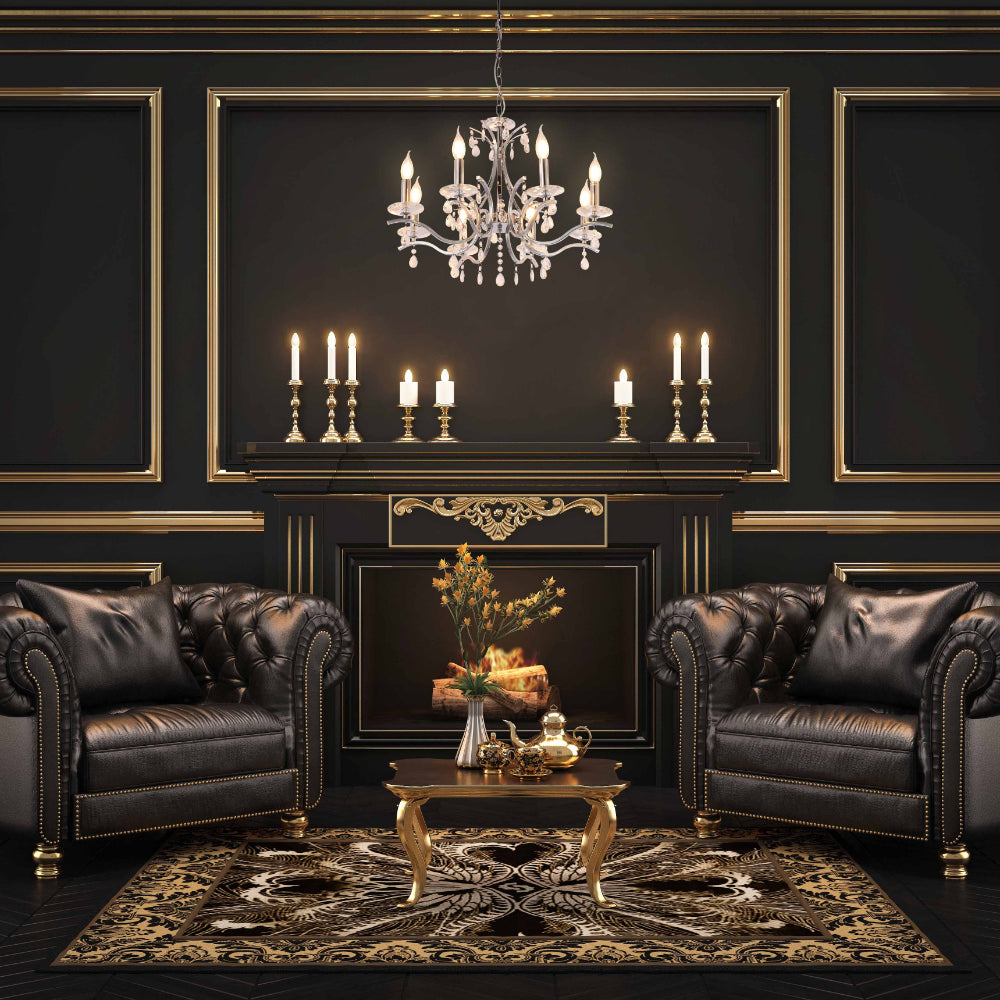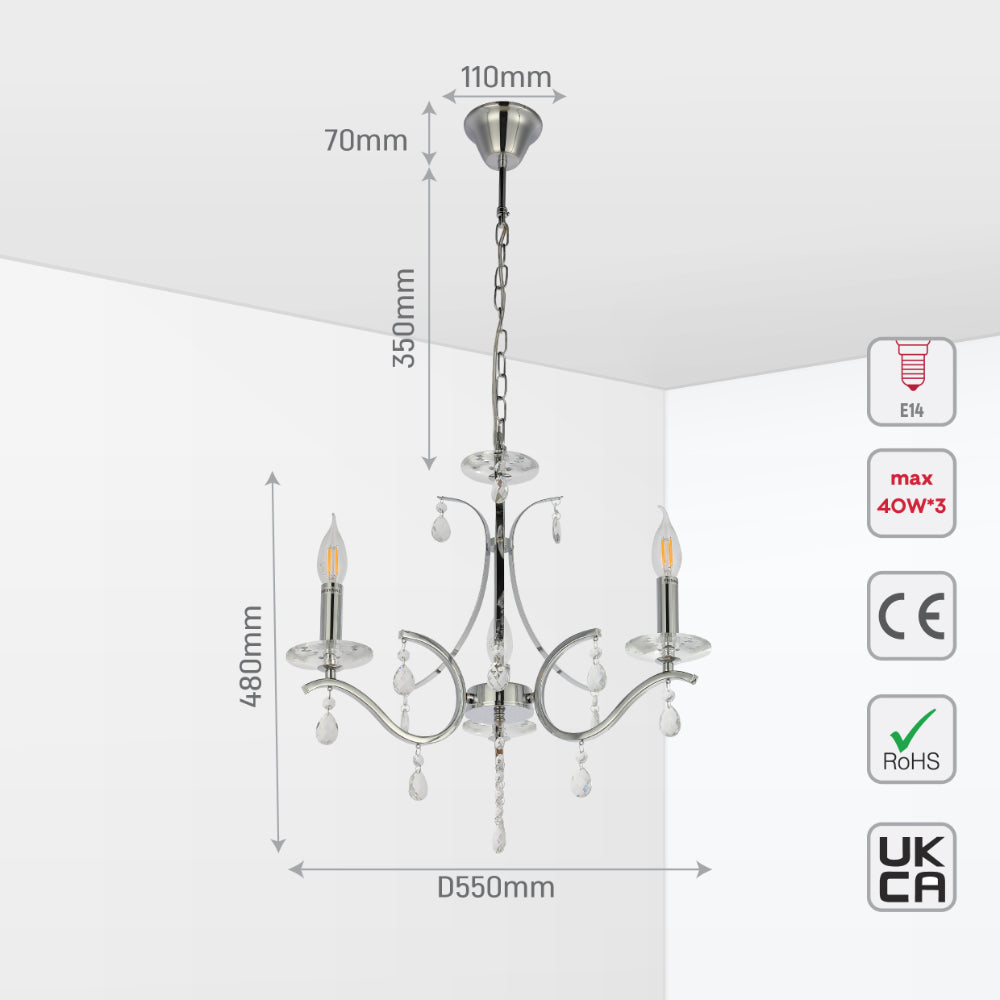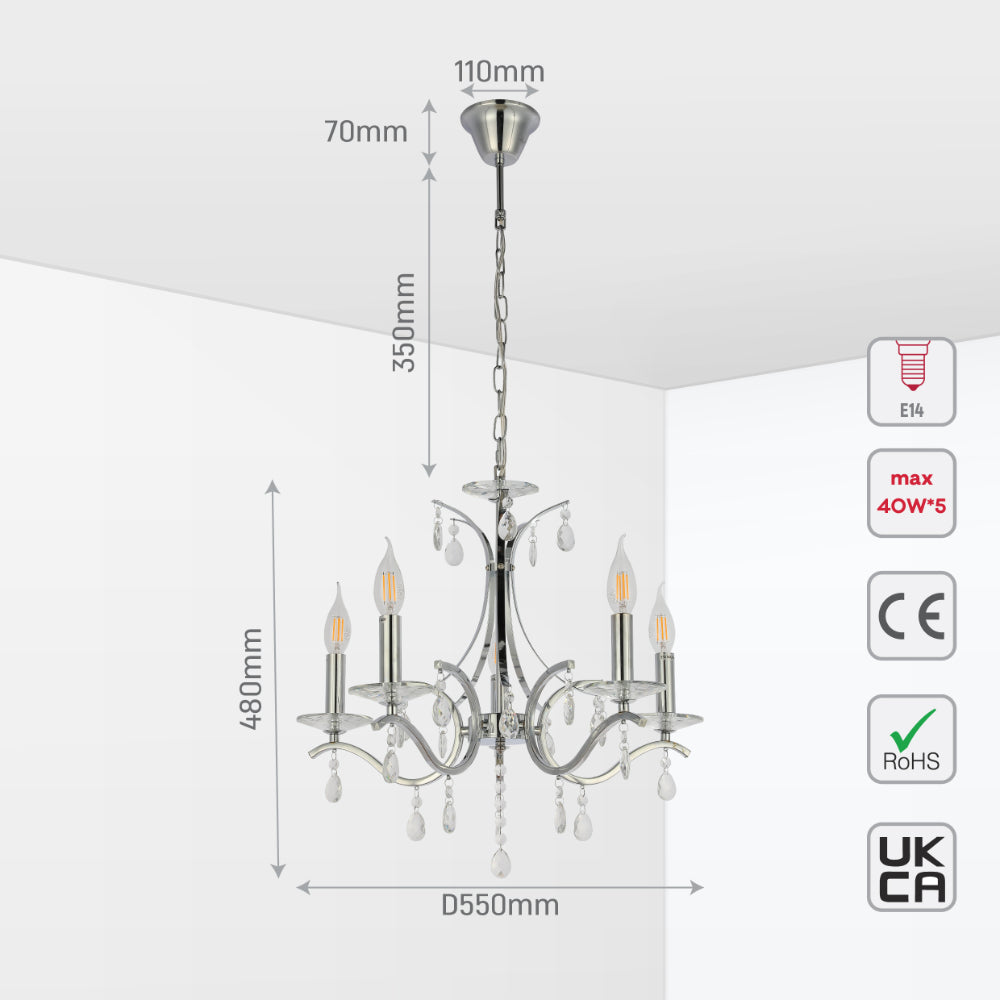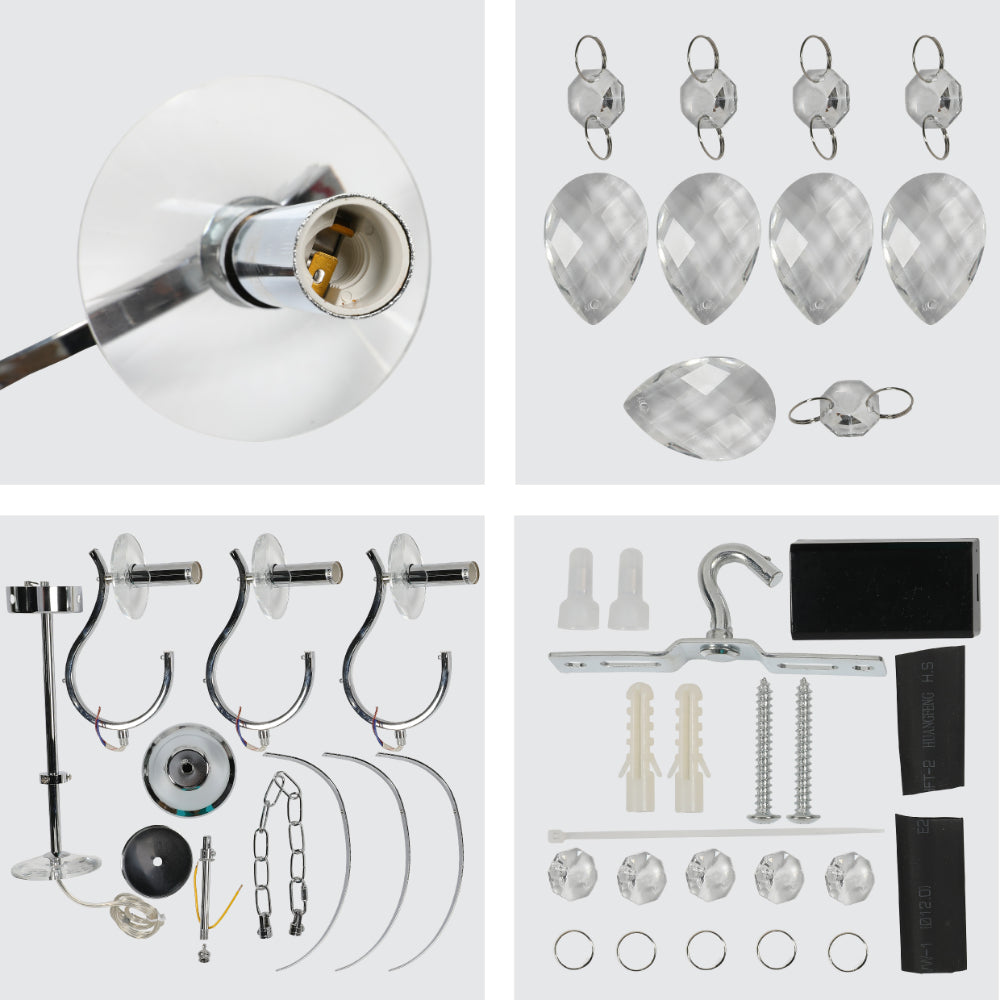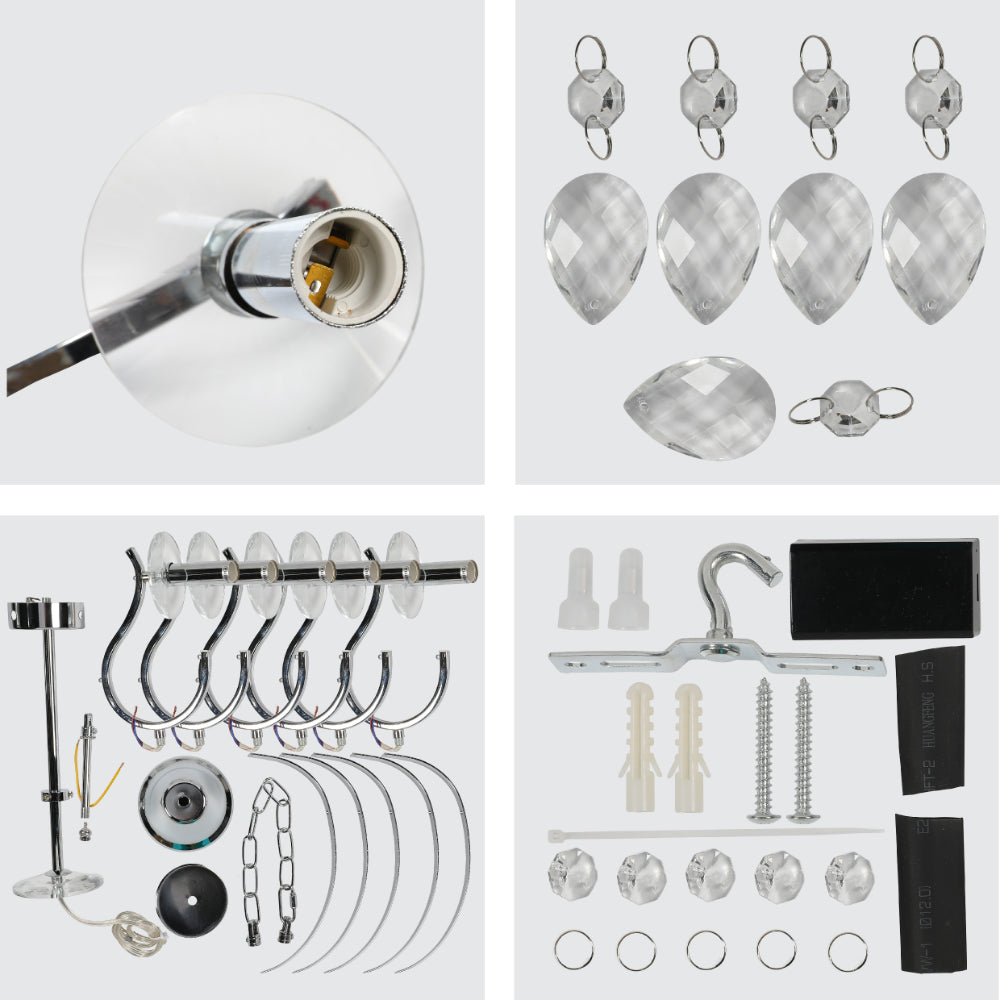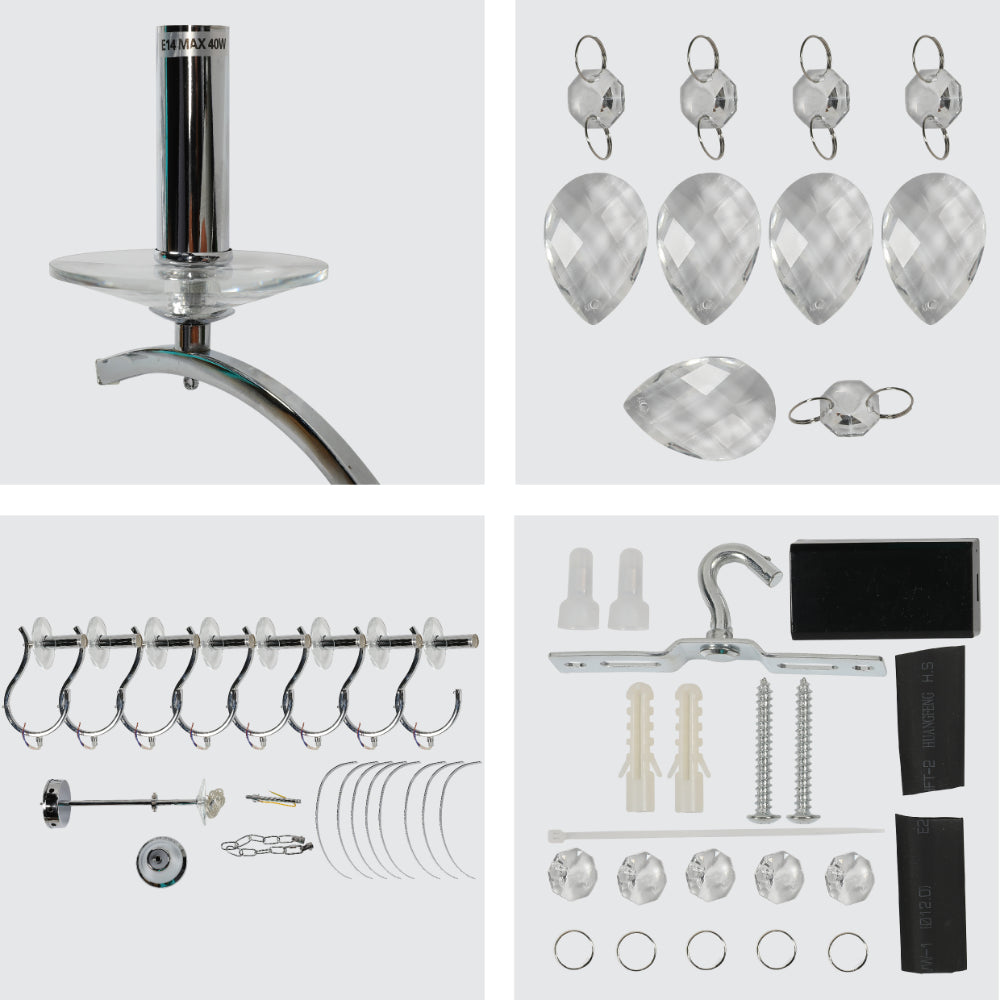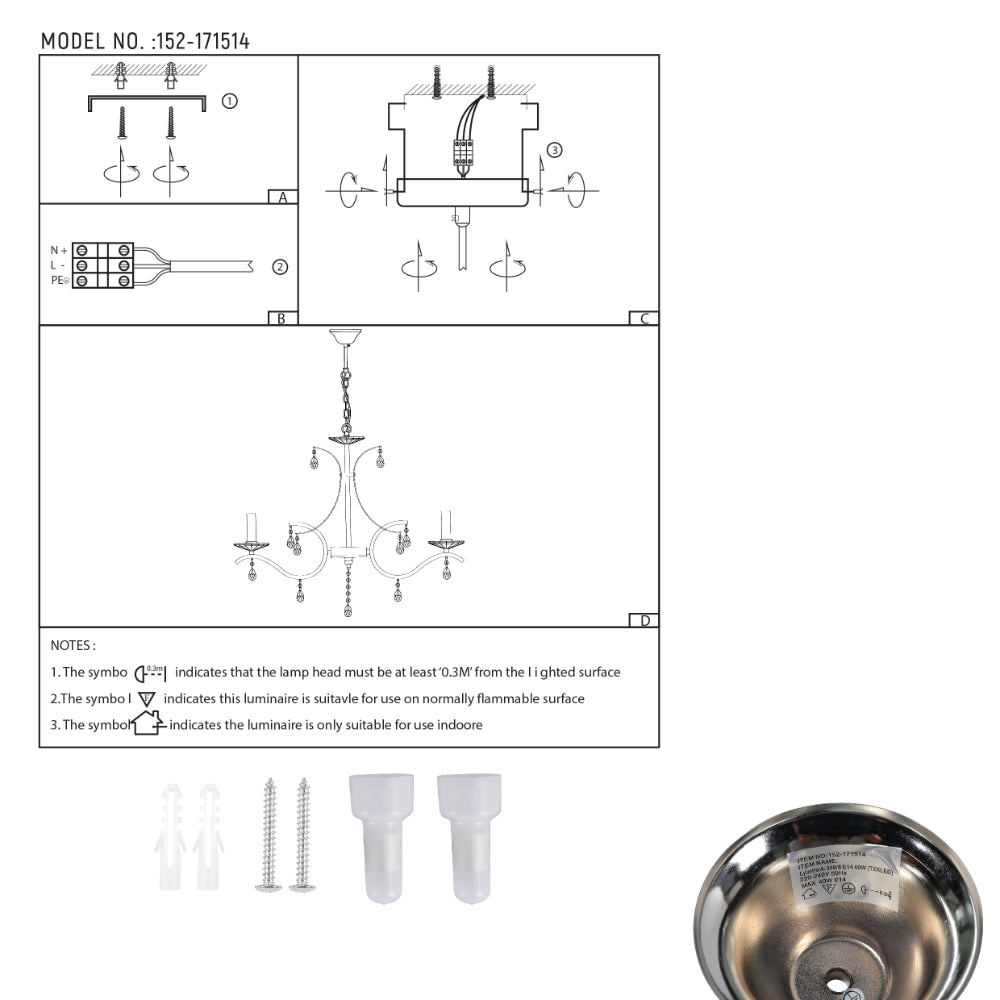 TEKLED
Elegant Chrome Chandelier Ceiling Light with Crystal Beads - 3 Candle.
Elegant Chrome Chandelier Ceiling Light with Crystal Beads
Classic Elegance with a Modern Twist:
Our chandelier presents a fusion of timeless charm and contemporary flair. The classic curved arms, finished in radiant chrome, sweep outward and upward in a display of graceful elegance. With configurations of 3, 5, or 8 lights, this chandelier can be selected to suit the scale and style of any room, from intimate bedrooms to grandiose dining areas.
Refined Aesthetics and Crystal Details:
The chrome body of the chandelier reflects light with a mirror-like sheen, providing a striking contrast to the delicate transparency of the glass candle holders. Each arm is adorned with crystal beads, arranged in glittering arrays that catch the light, creating a cascade of sparkling reflections that dance across the room.
Material Quality and Lighting Functionality:
Constructed with meticulous care, the chandelier features a chrome body that not only offers stunning visual appeal but also ensures durability. The glass candle holders are crafted to resemble the timeless beauty of candlelit fixtures, and the chandelier is designed to support SES bulbs, combining visual warmth with practical illumination.
Versatile Installation and Customizable Ambiance:
The chandelier comes with an adjustable chain, providing flexibility in hanging height and making installation a breeze in spaces with varying ceiling heights. This adjustability, along with the choice of bulb intensity, allows for the creation of the desired ambiance, from soft and romantic to bright and lively.
Styling and Placement Tips:
This chandelier's blend of classic design and modern elements makes it a versatile piece that complements a range of interior styles. It can effortlessly elevate a minimalist modern decor, add a touch of luxury to a transitional space, or serve as a sophisticated focal point in a traditional setting. Its crystal accents are particularly well-suited for areas where a touch of elegance is desired, such as over a polished dining table or in a grand foyer.

Technical Specifications
| | |
| --- | --- |
| Product Code | 152-171512 | 152-171513 | 152-171514 |
| Name | Elegant Chrome Chandelier Ceiling Light with Crystal Beads |
| Model | Vintage |
| Power | MAX 40W*3 | MAX 40W*5 | MAX 40W*8 |
| Power Source | Hardwired |
| Voltage | 220/240Vac 50/60Hz |
| Lamp Holder Type | E14 Small Edison Screw (SES) |
| Lamp Holder Quantity | 3 | 5 | 8 |
| Protection Class | Class I |
| Dimmability | Dimmable if used with dimmable bulbs |
| Light Source | Bulb |
| Compatible Bulbs | Candle Bulbs with E14 base |
| Bulbs | Bulbs are not included |
| IP Class | IP20 |
| Mount Type | Suspended |
| Product Dimensions (L x W x H) (D x H) | D550*480mm | D550*480mm | D650*480mm |
| Product Length | 970mm |
| Shape | Arm |
| Material | Steel, Crystal |
| Product Colour | Chrome,Clear |
| Paint Type | Electroplated |
| Size of Rose | D110*70mm |
| Suspension Type | Chain |
| Suspension Length | 350mm |
| Adjustable Suspension | Yes |
| Operating Temperature (°C) | -20/+45 C |
| Warranty | 3 year |
| Box Dimension (L x W x H) | 320*200*120mm | 370*200*150mm | 400*200*245mm |
| Net Weight | 1.85kg | 2.72kg | 4.15kg |
| Gross Weight | 2.2kg | 3.12kg | 4.7kg |
| Box Content | 1Light fixture,User manual, hanger, Accessories package | 1Light fixture,User manual, hanger, Accessories package | 1Light fixture,User manual, hanger, Accessories package |
| Pieces/Box | 1 |
| Certifications | UKCA, CE, RoHS |