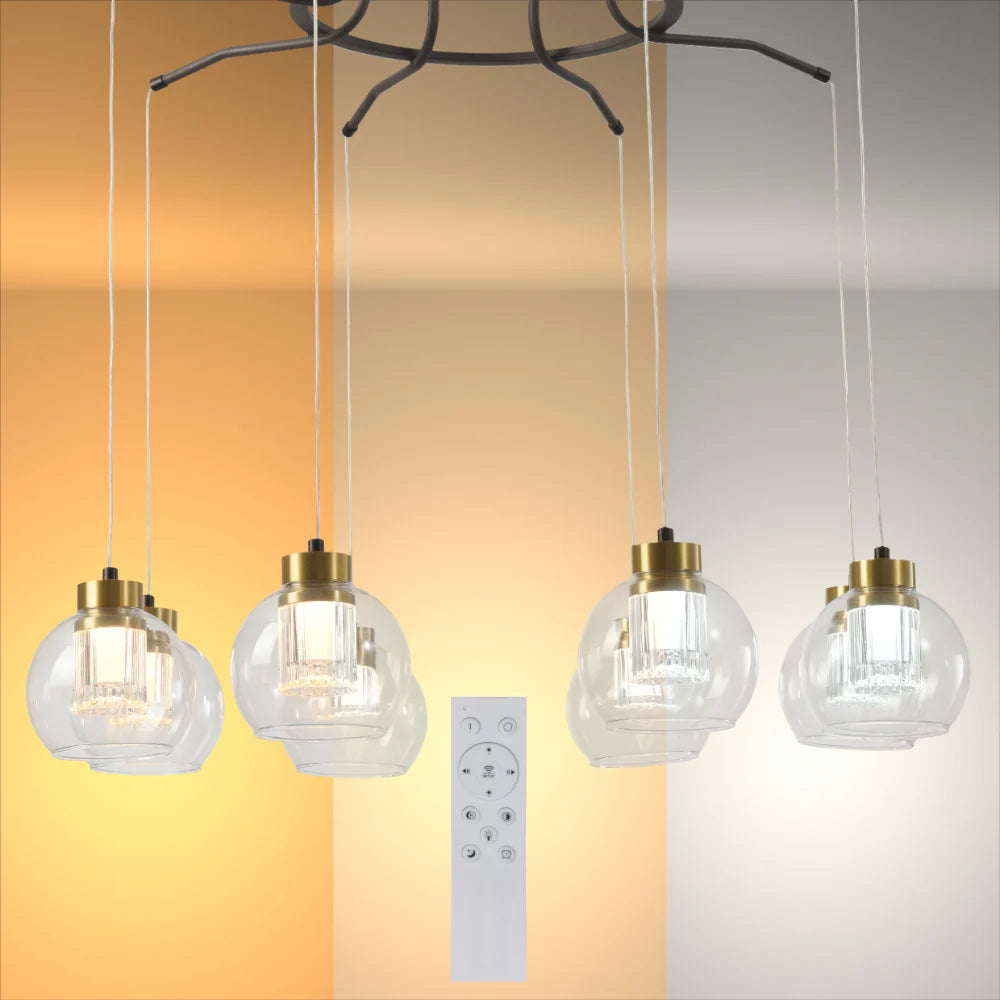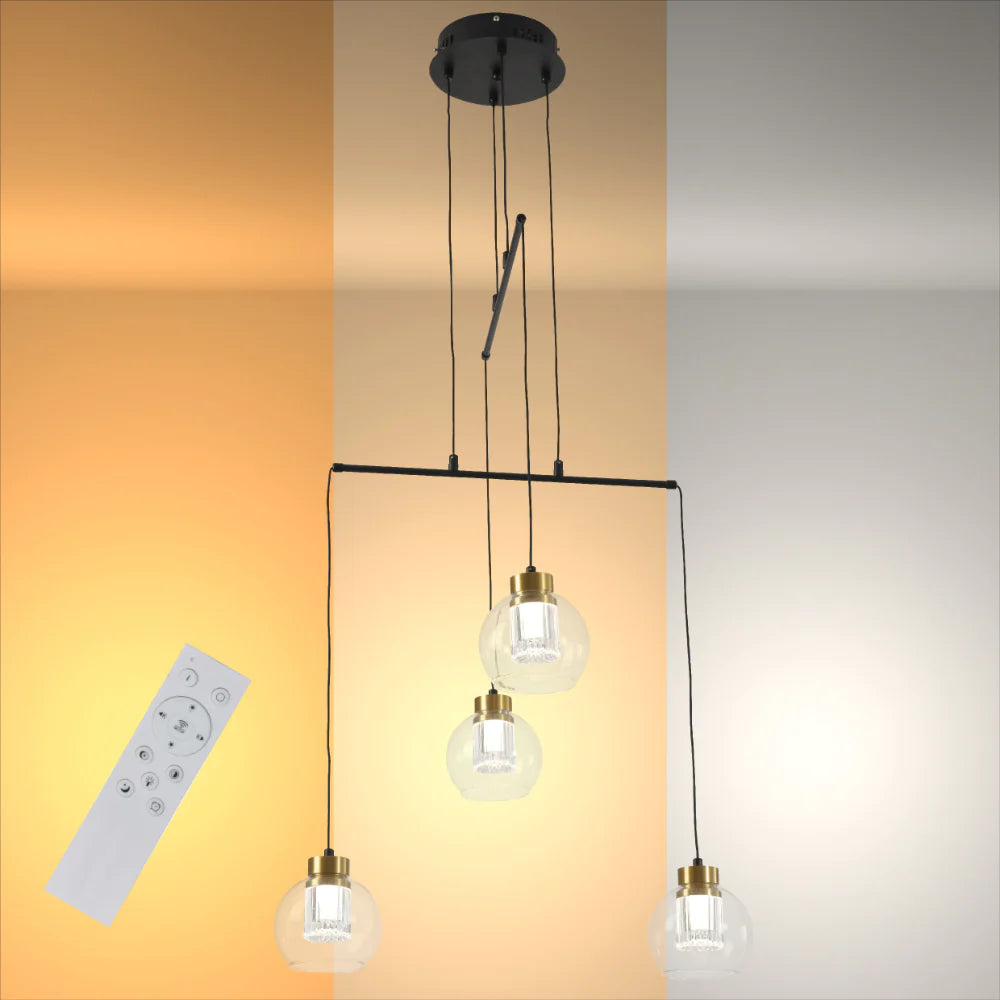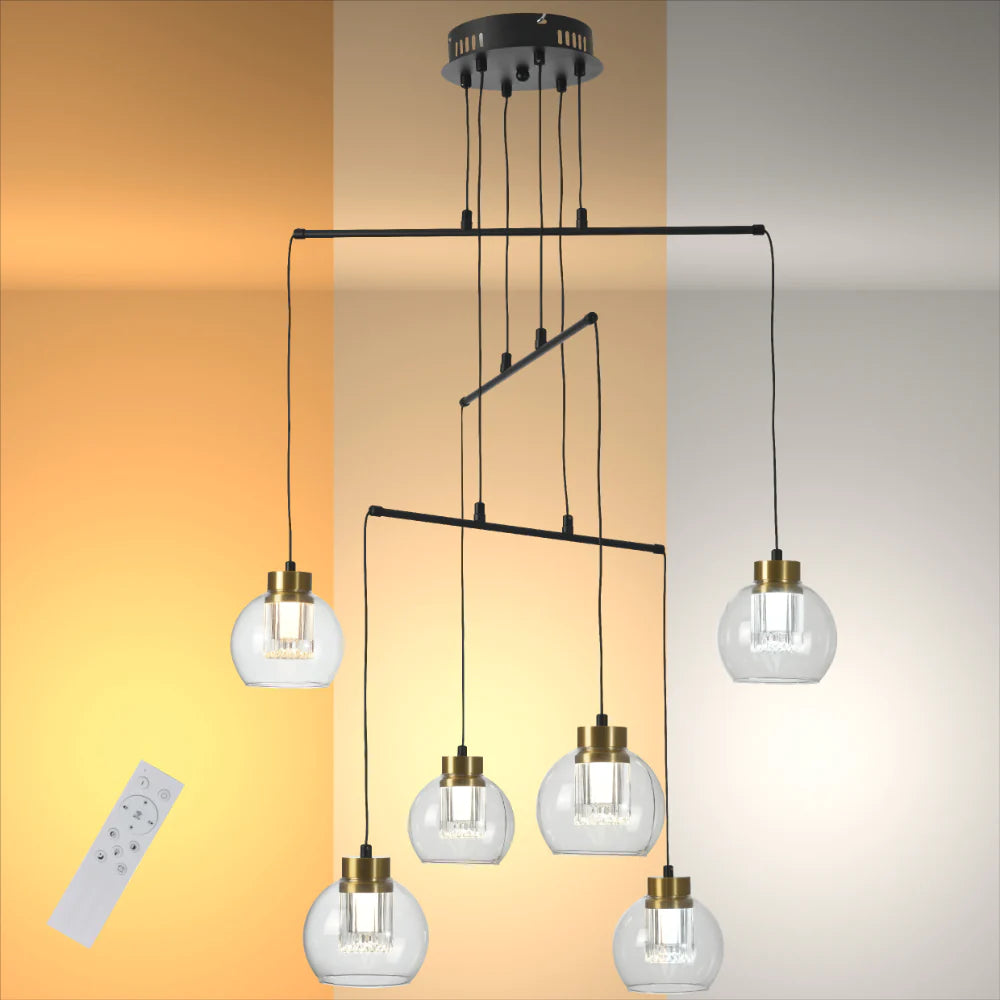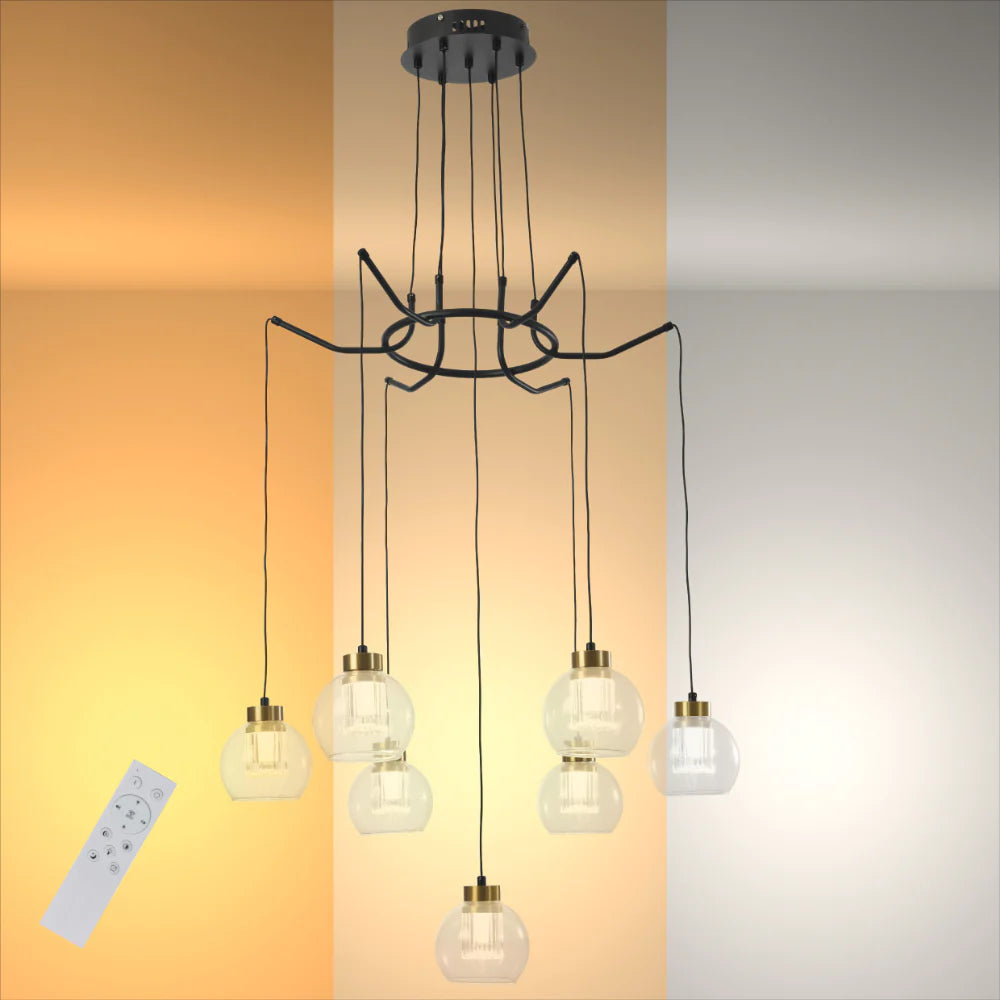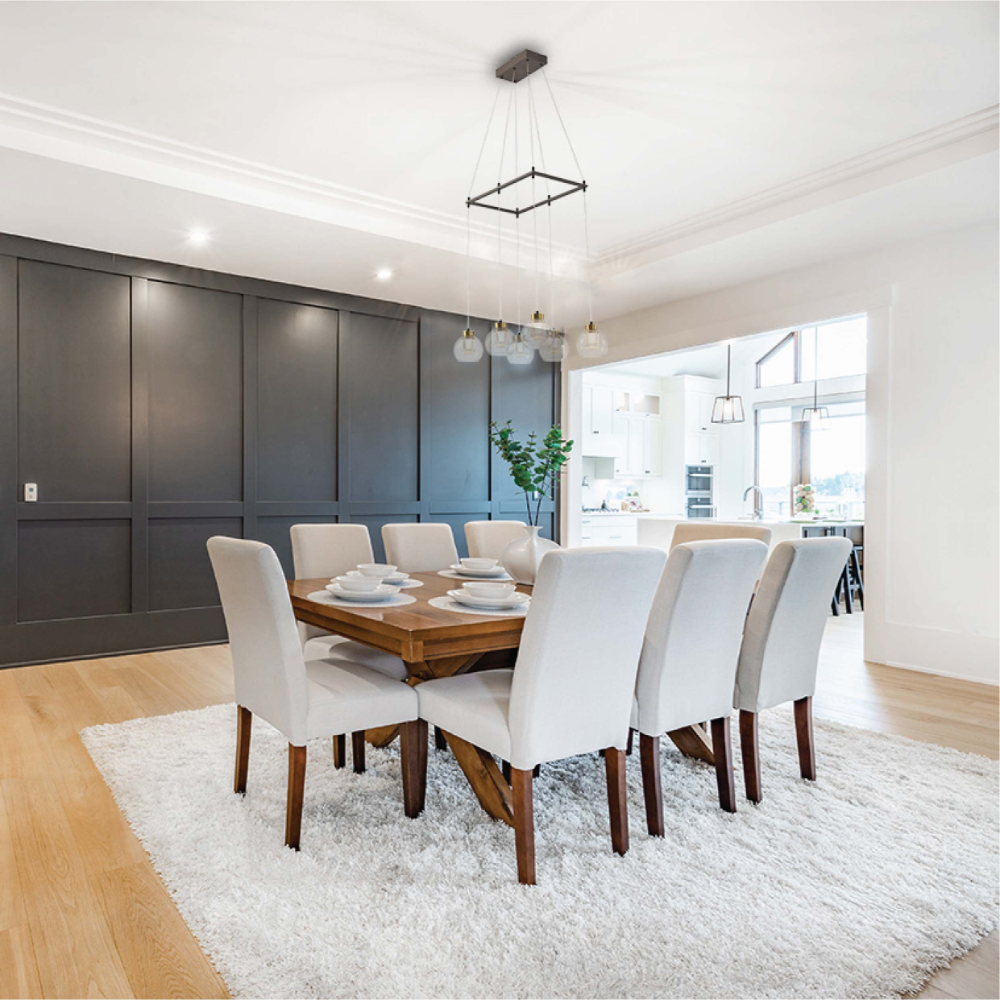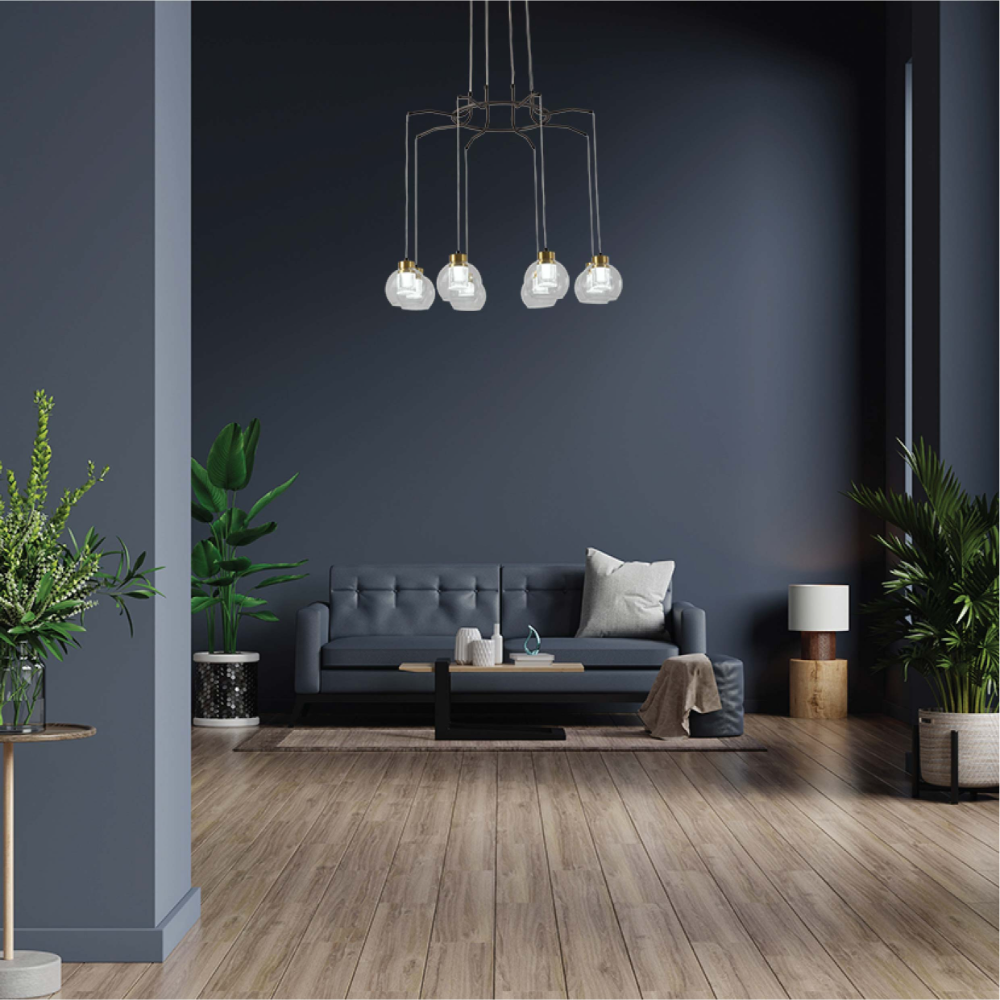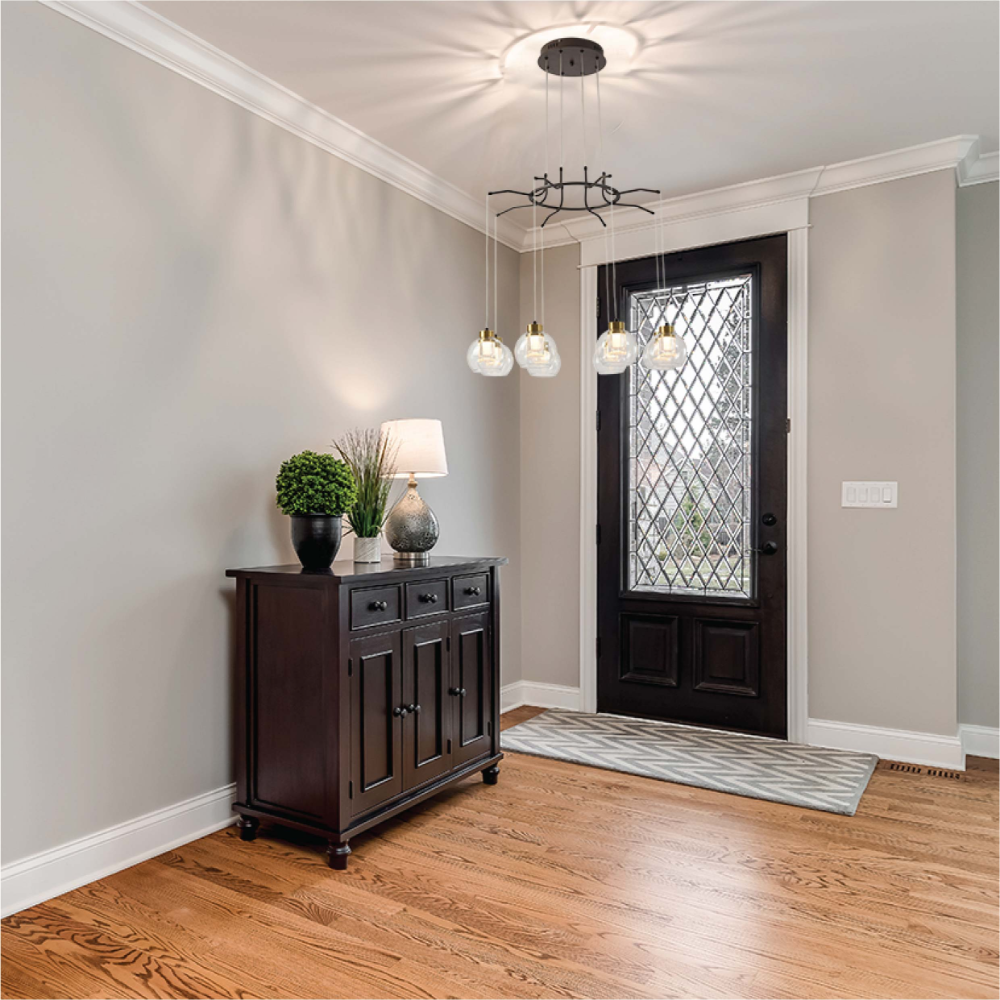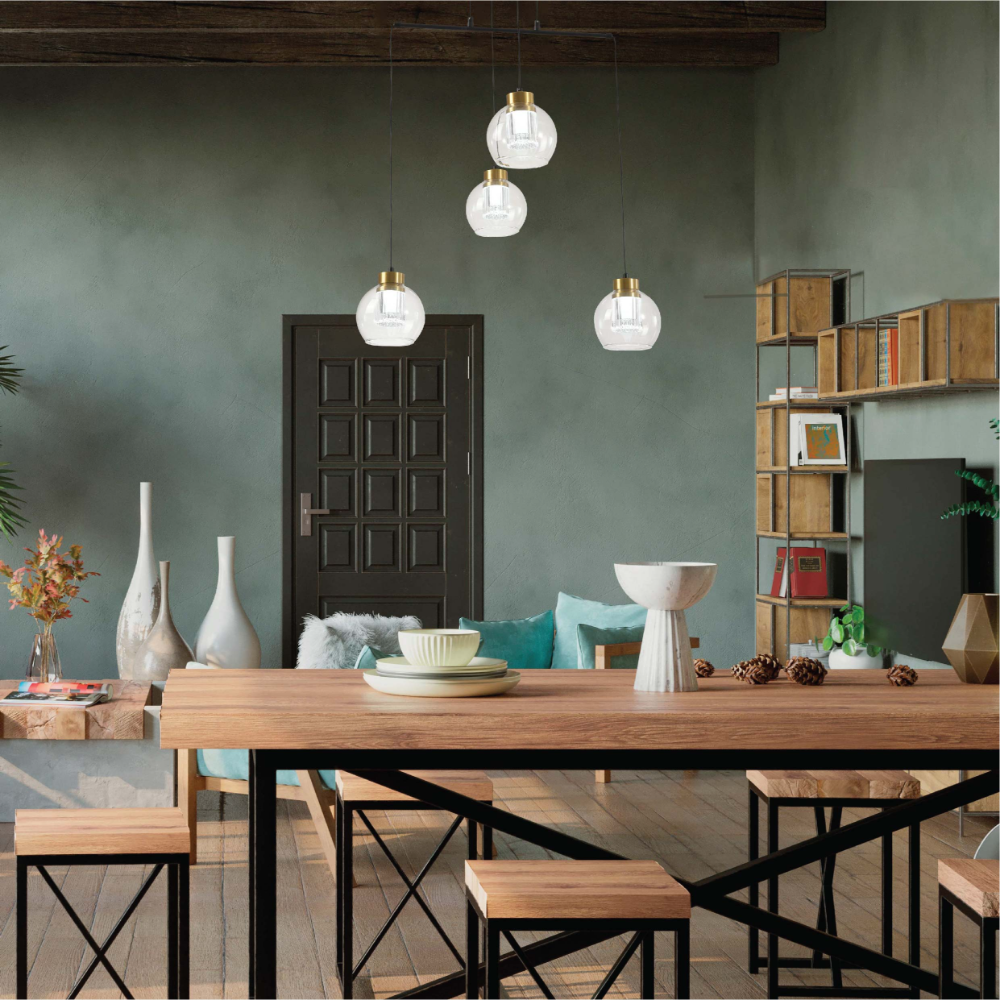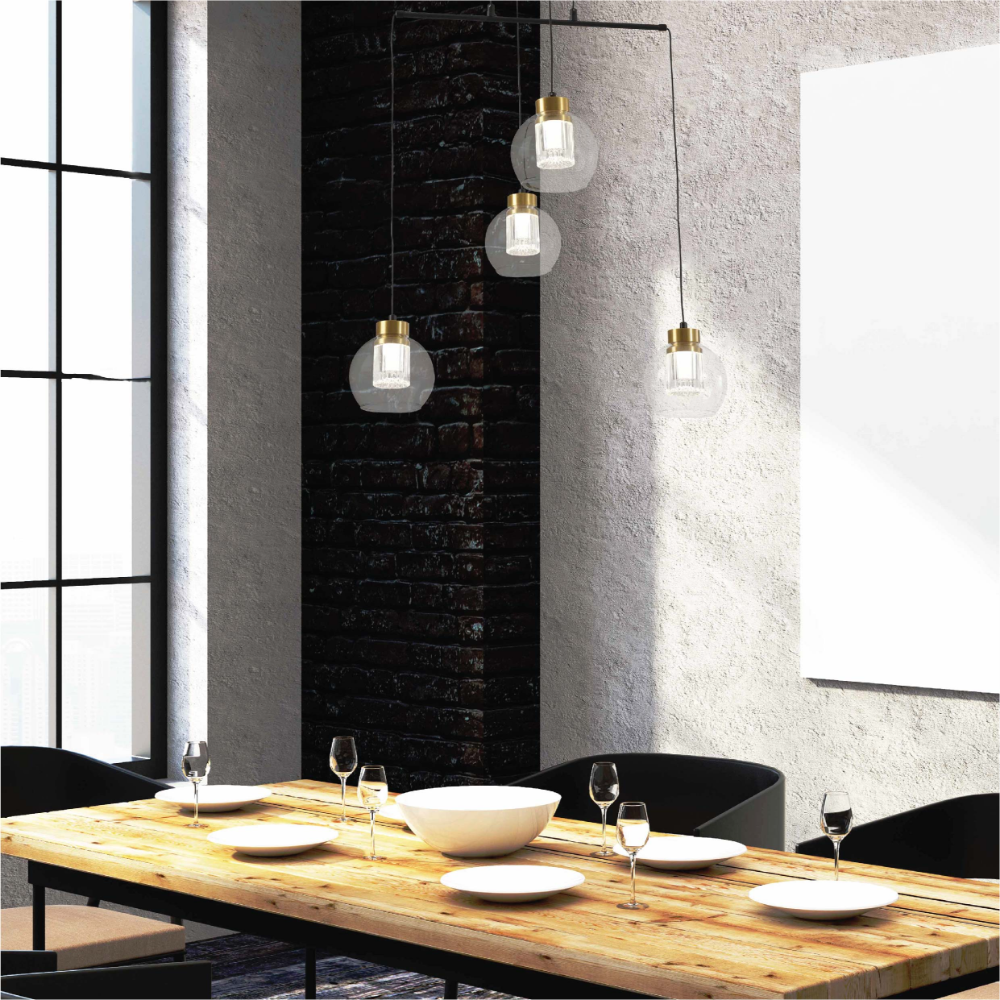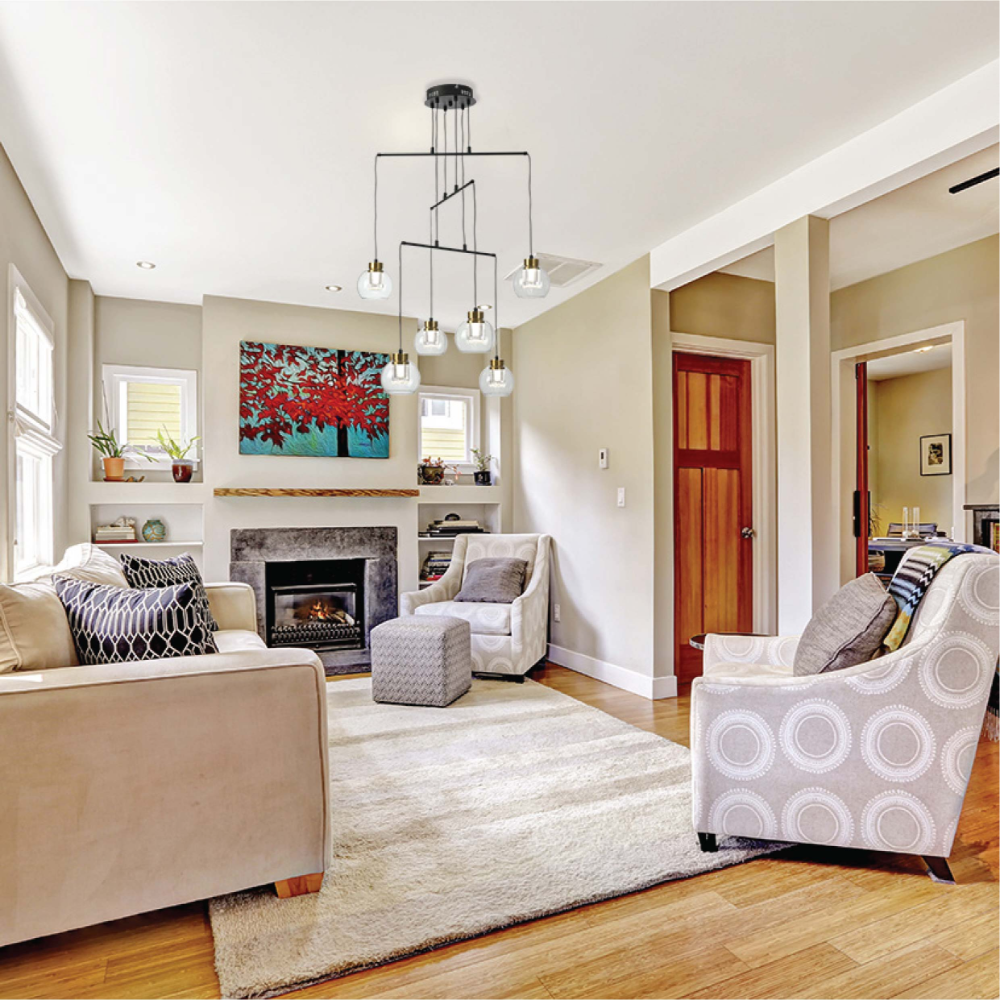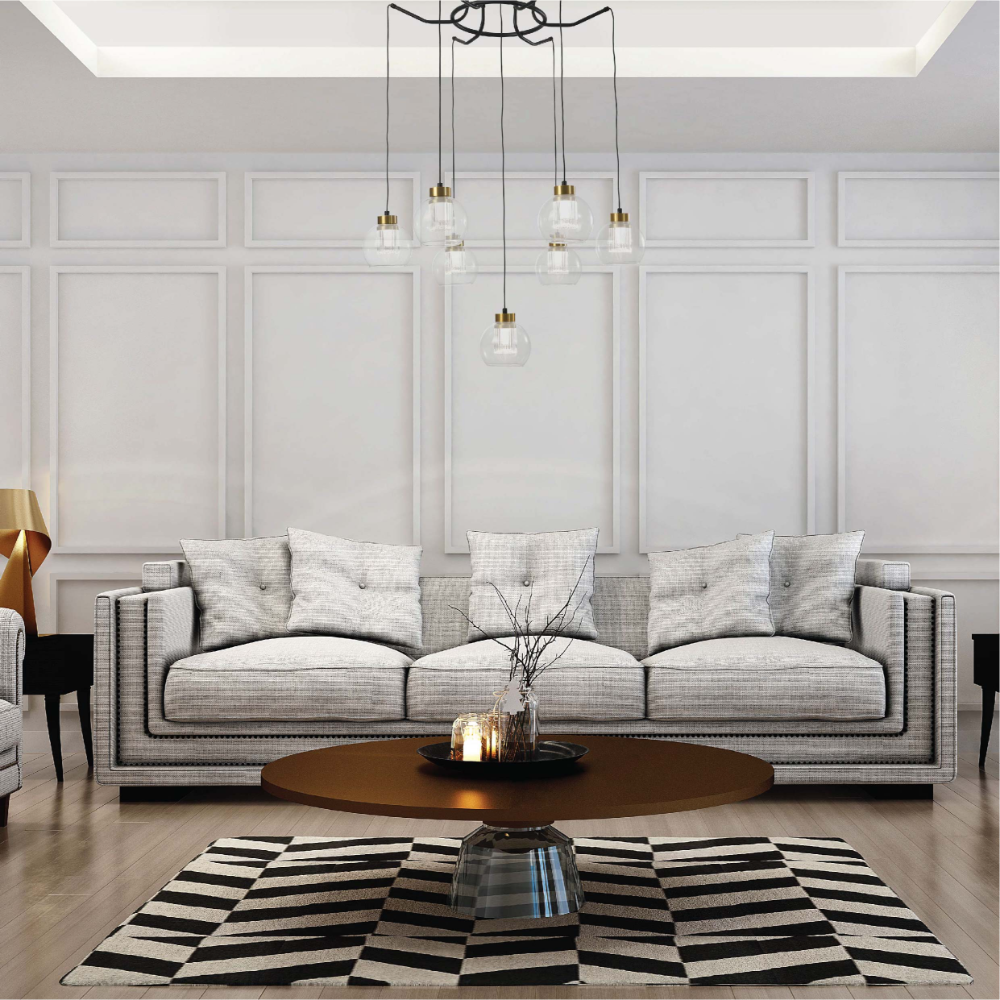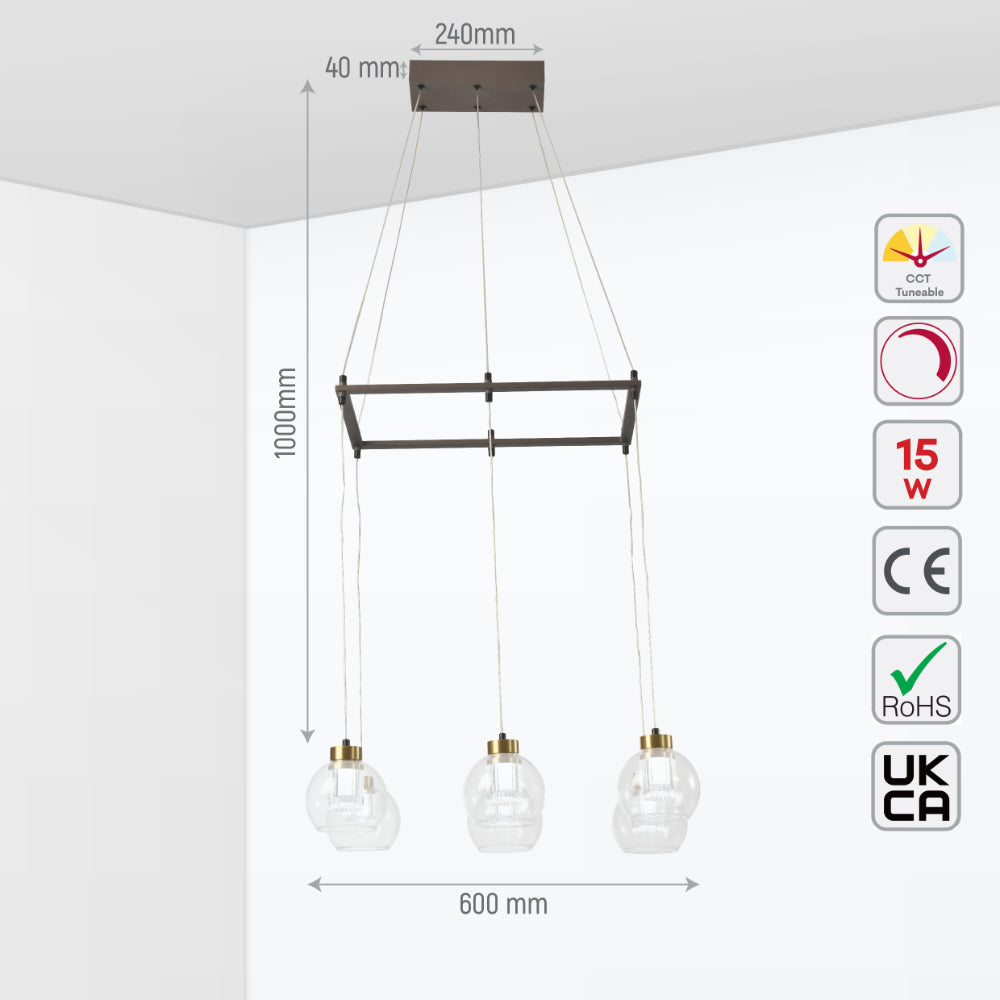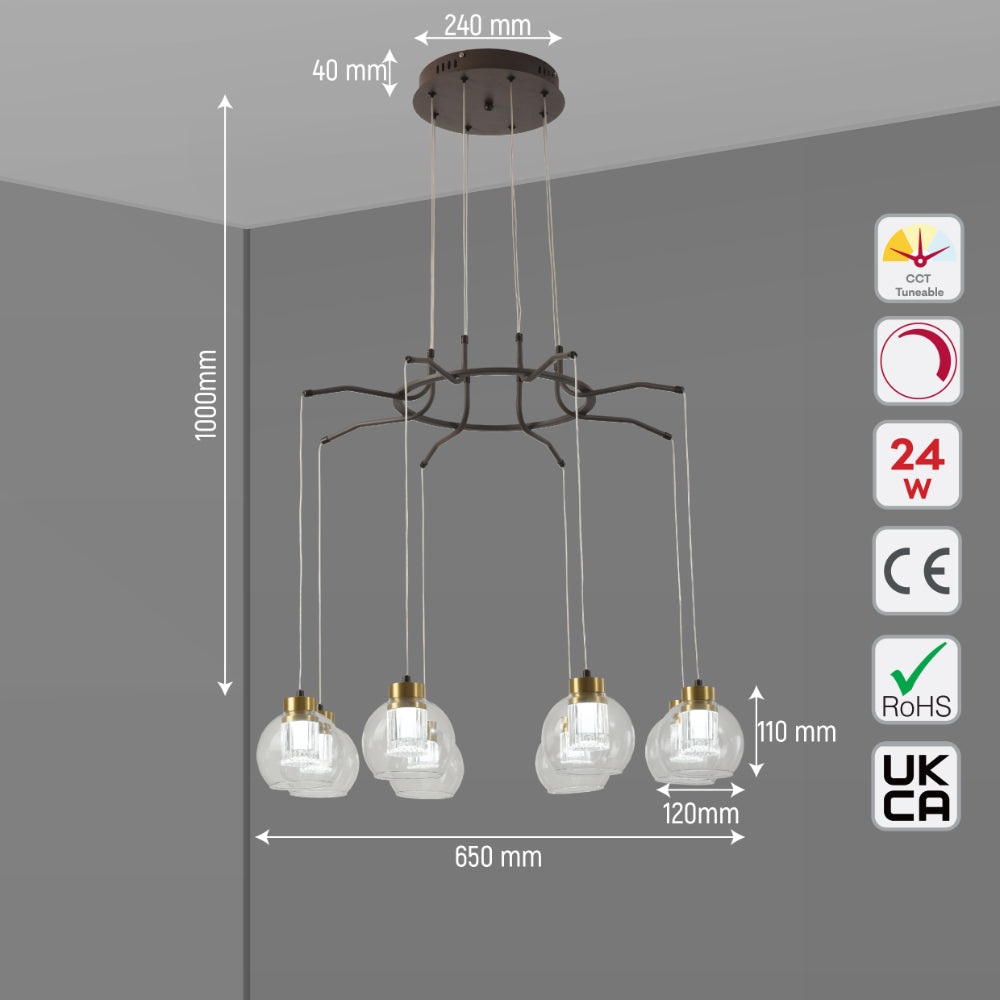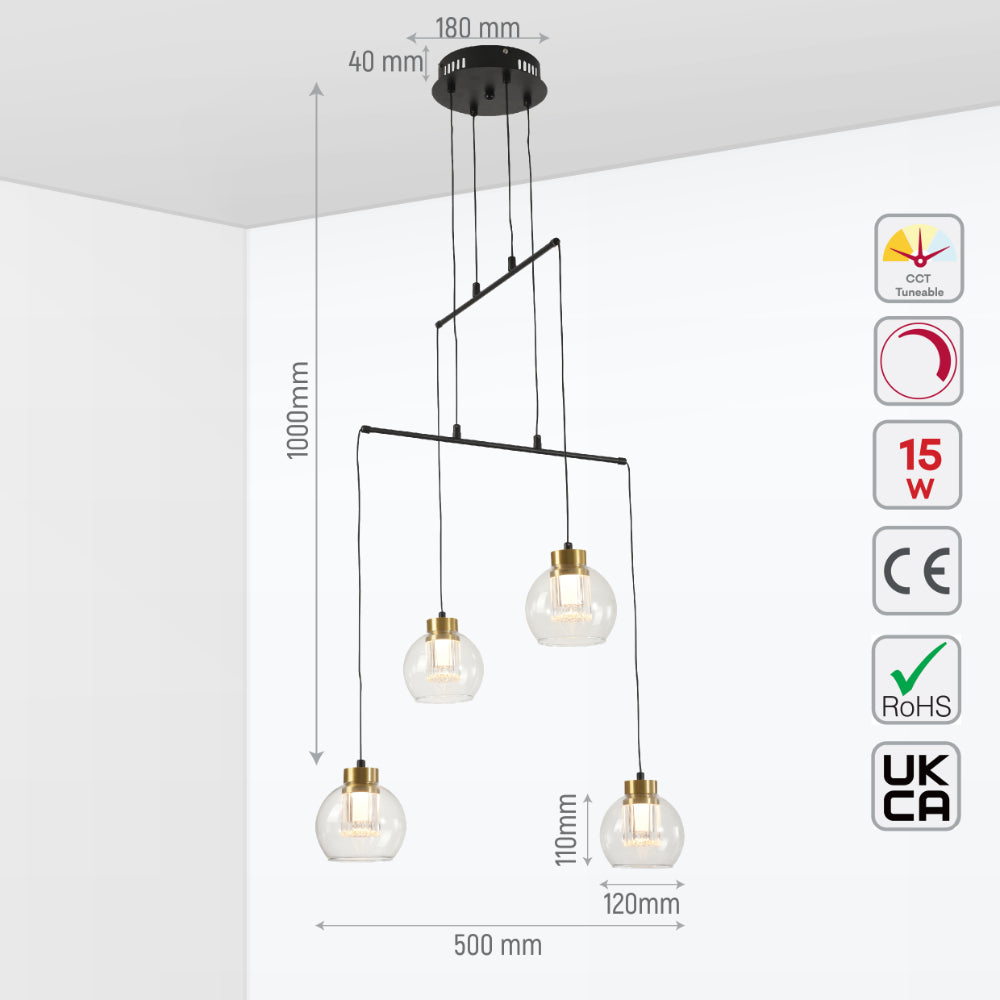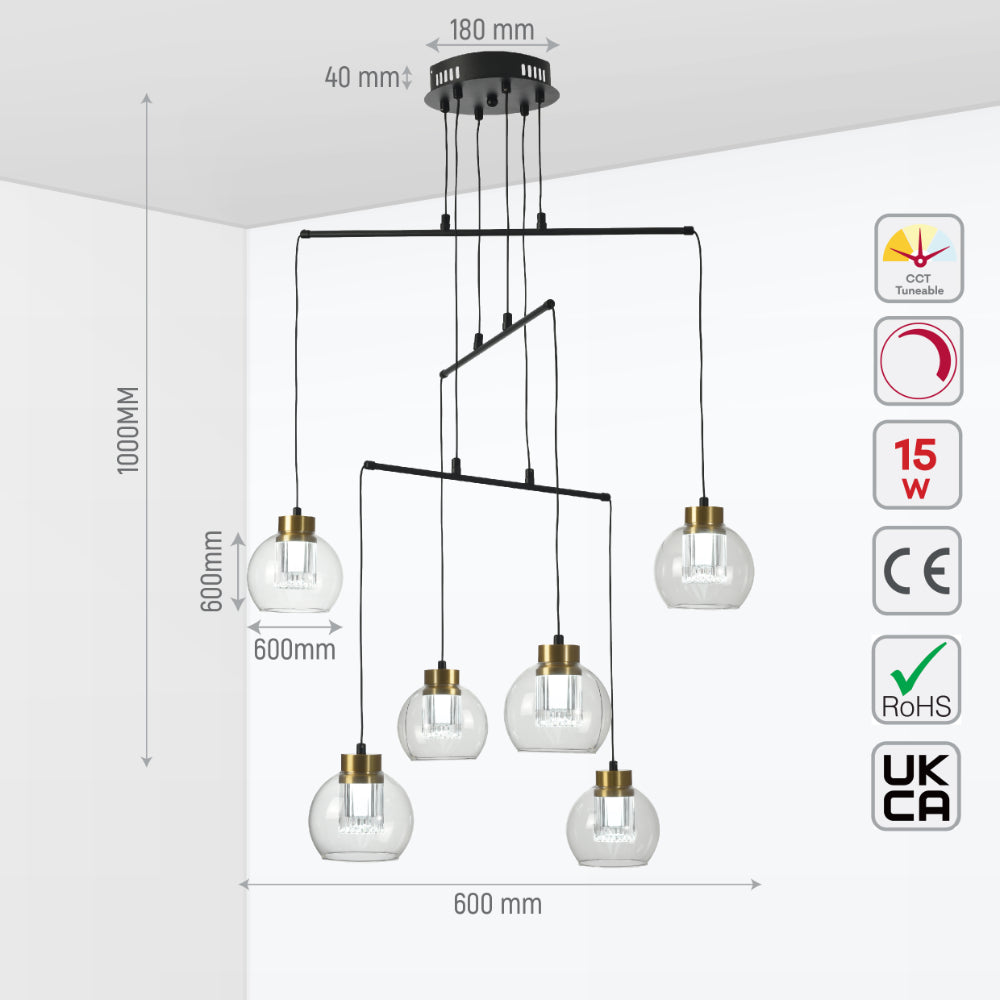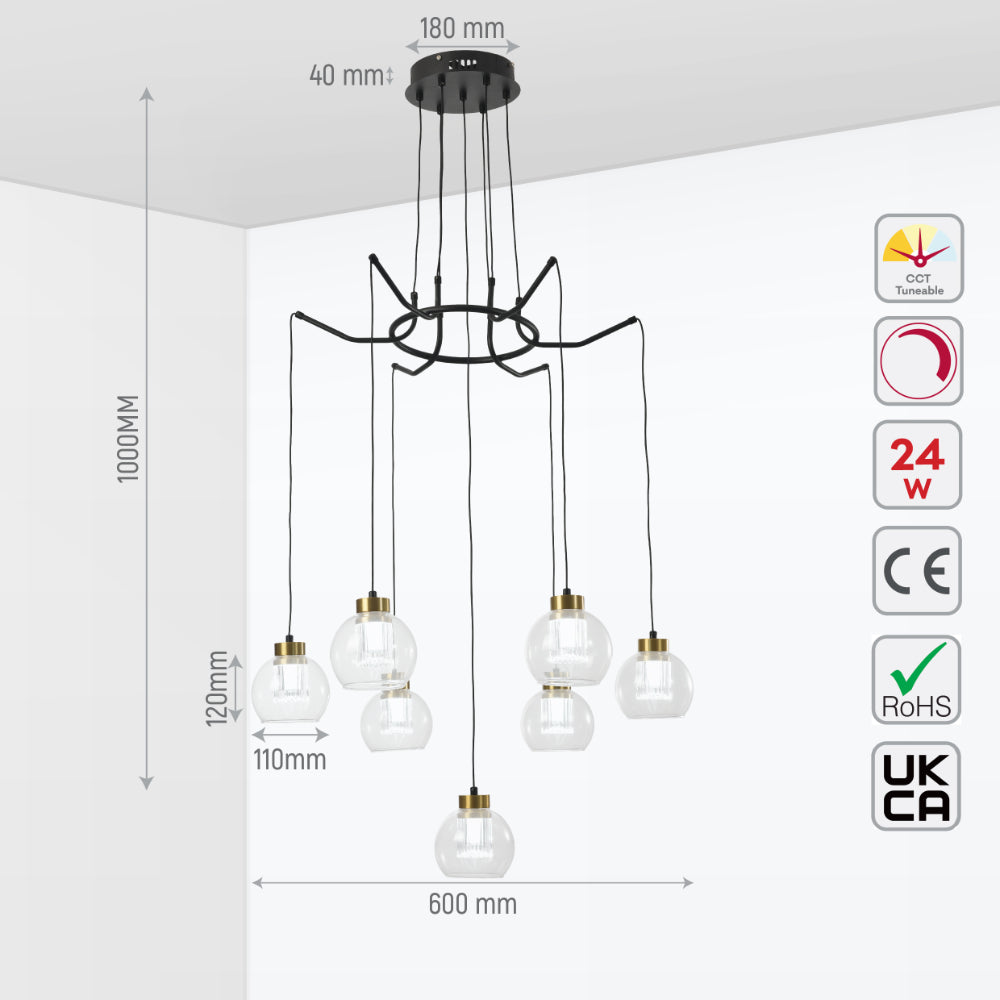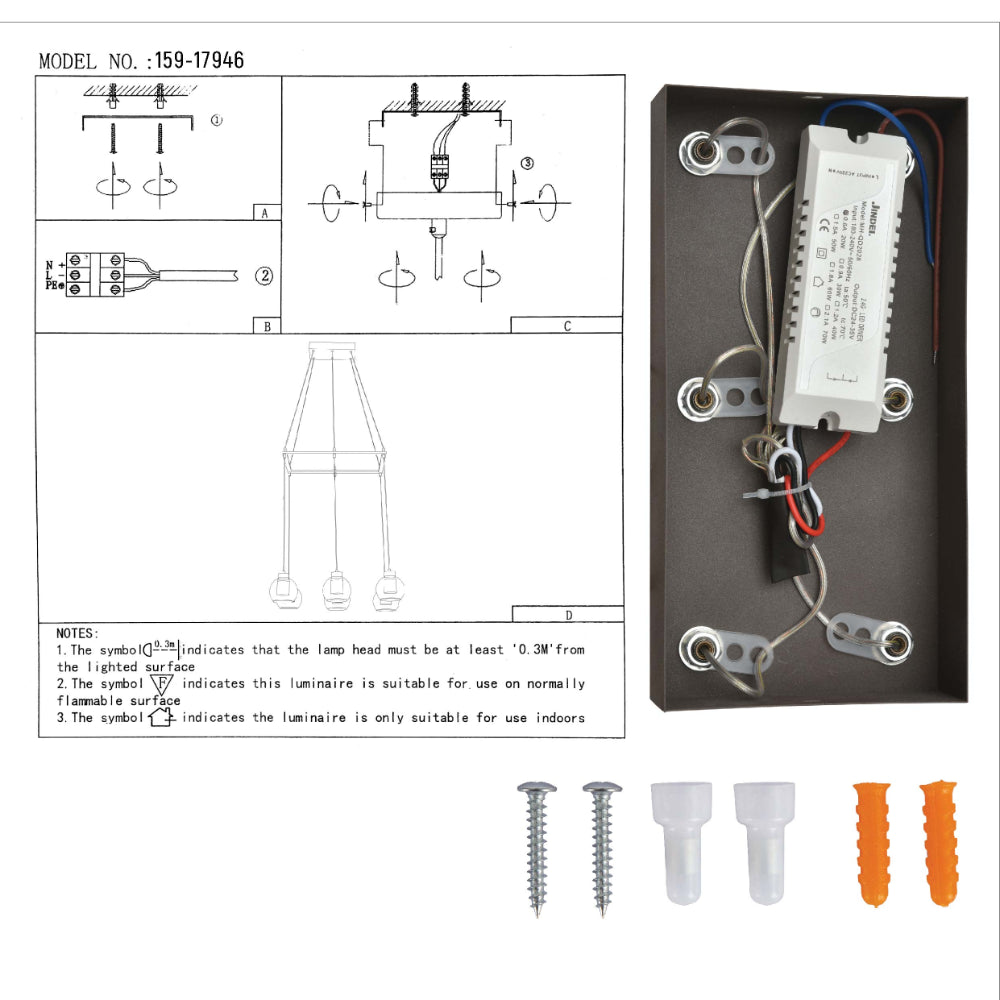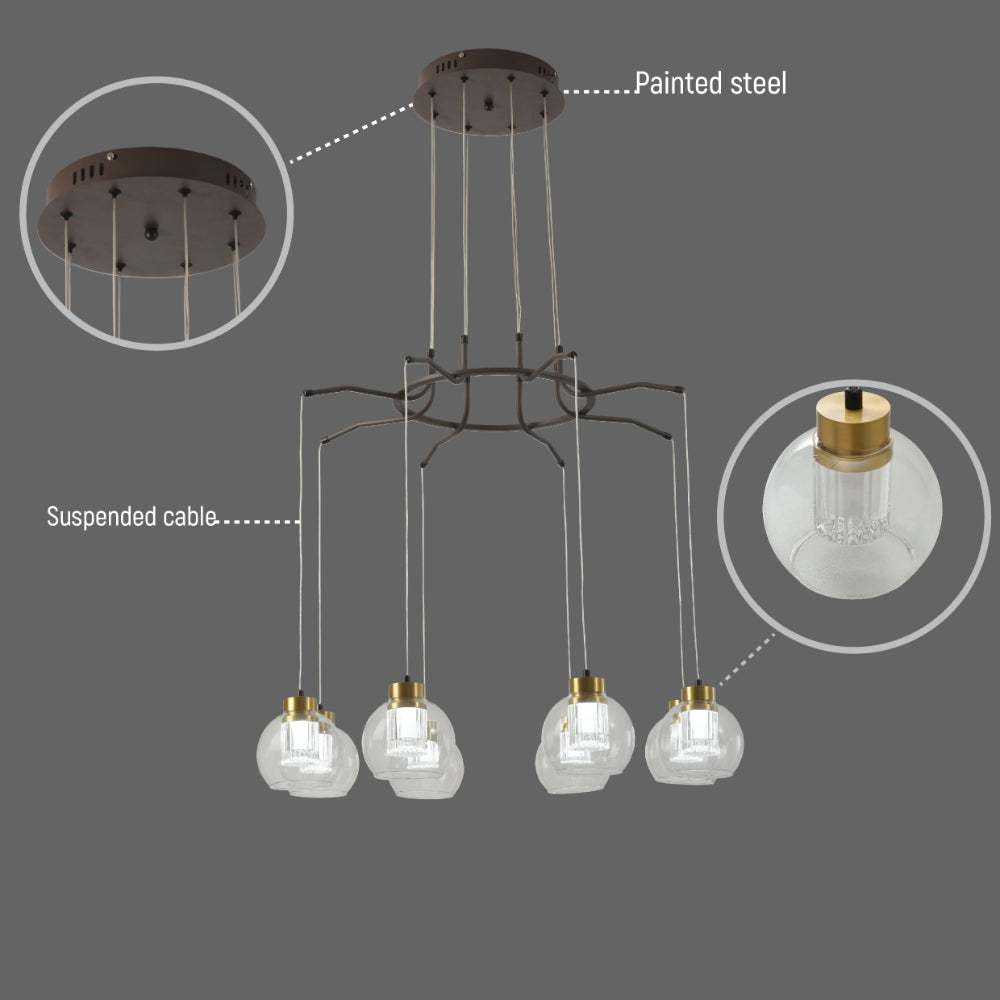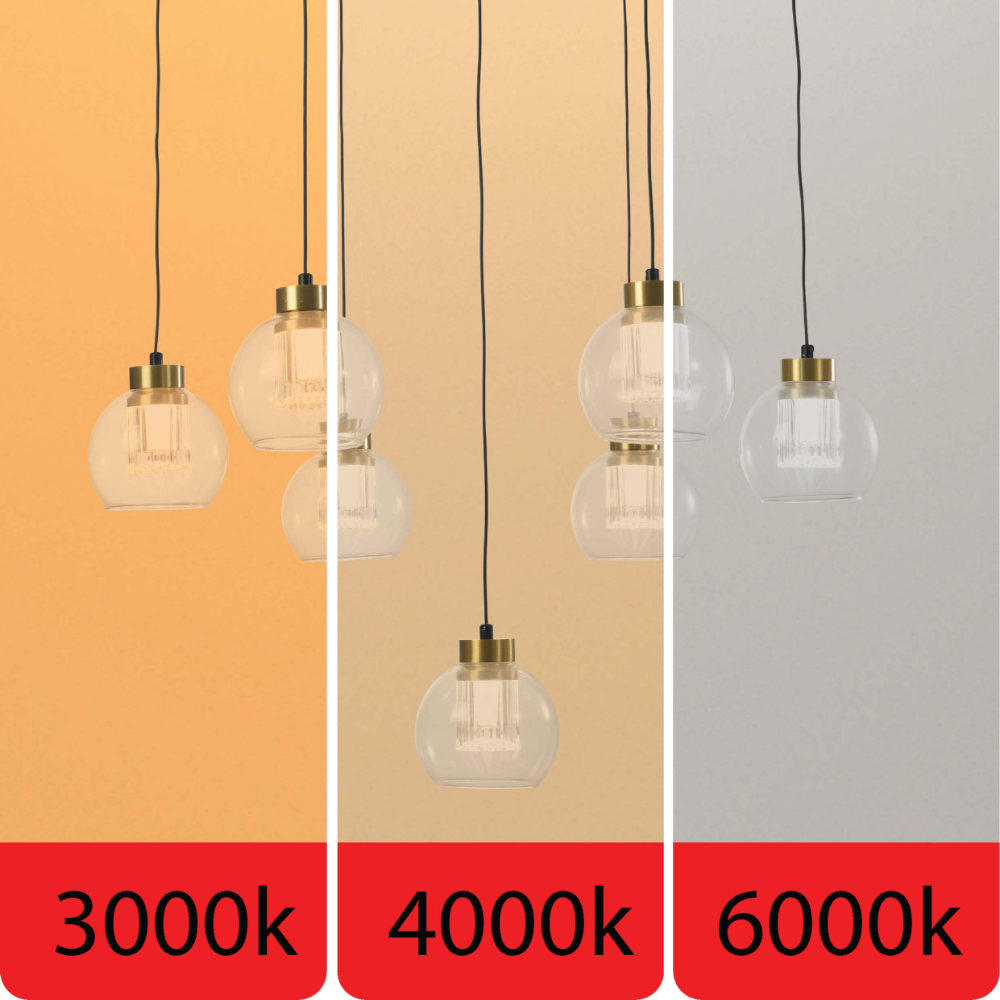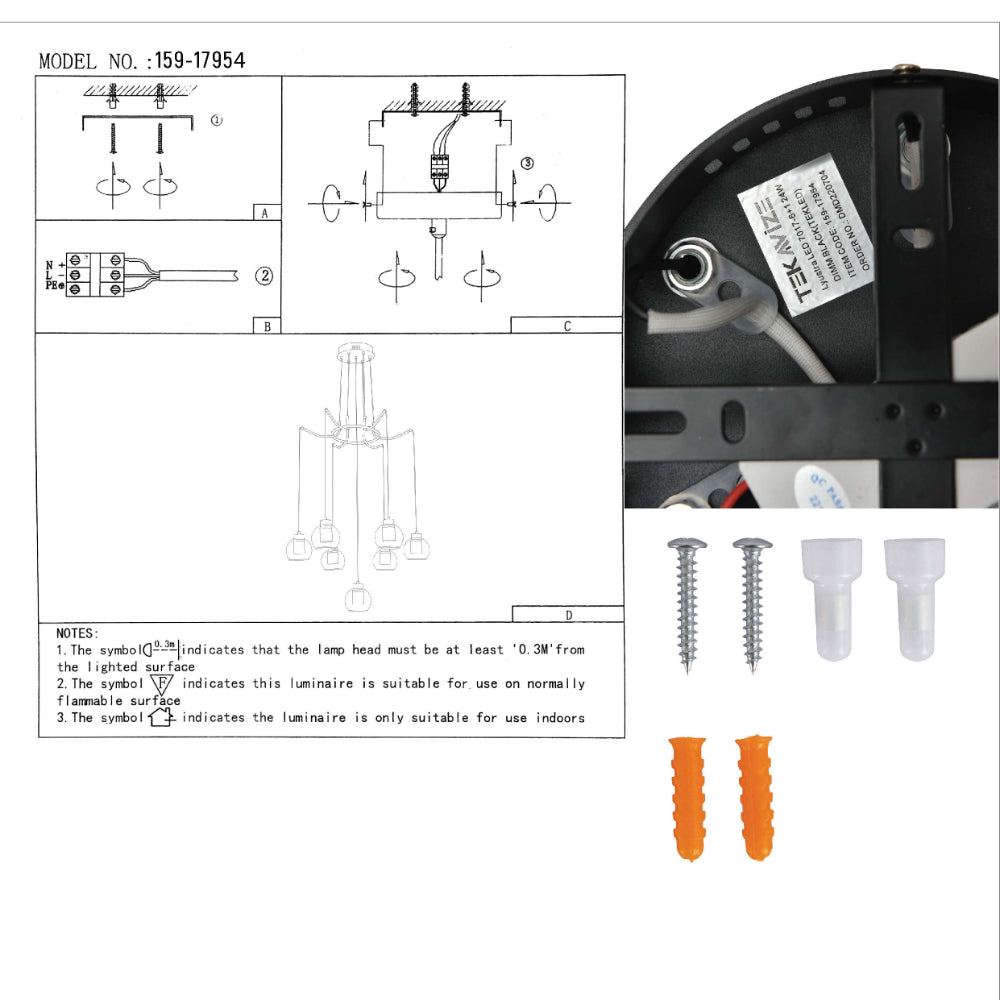 TEKLED
Eleganza Lumina Adjustable LED Chandeliers - Rectangle 6 Lamp.
Eleganza Lumina Adjustable LED Chandeliers
Introducing the Eleganza Lumina Collection, where contemporary art meets functional elegance. Designed for the modern home, these chandeliers blend sophisticated style with innovative technology.
Design and Description
Each variant in the collection is a masterpiece of design. From the sleek rectangular frame of the first variant to the unique hexagonal form of the fifth, these chandeliers exude modernity and grace. The delicate black frames, about 4-5 times the diameter of the cables, add to their dainty appearance. Glass and PC pendants with opalescent PC in the glass dome and a touch of gold create a stunning visual contrast.

Usage and Decoration Styles
Ideal for various settings, from minimalist to contemporary interiors. These chandeliers can be a focal point in living rooms, hallways, or above dining tables. Their adjustable pendant lengths make them versatile for different ceiling heights.

Materials and Quality
Crafted with high-quality materials, the chandeliers ensure durability and elegance. The combination of glass, PC, and a touch of gold offers a luxurious feel. The sturdy yet elegant black frames ensure longevity and add to the modern aesthetic.

Control and Functionality
Enhanced with the latest technology, each chandelier comes with a remote controller. This feature allows you to dim the lights and tune the white CCT from a warm 3000K to a bright 6500K, ensuring the perfect ambiance for every occasion.

The Eleganza Lumina Collection is more than just a lighting fixture; it's a statement piece that brings modern elegance and advanced functionality to your space.
Technical Specifications
| | |
| --- | --- |
| Product Code | 159-17946 | 159-17948 | 159-17950 | 159-17952 | 159-17954 |
| Name | Eleganza Lumina Adjustable LED Chandeliers |
| Model | Modern Chandelier, Art Deco, Nordic |
| Power | 15W | 24W | 15W | 15W | 24W |
| Power Source | Hardwired |
| Voltage | 220/240Vac 50/60Hz |
| Lamp Holder Type | Built-in LED |
| Protection Class | Class II |
| Dimmability | Dimmable and CCT Tunable via 2.4GHz Remote Controller |
| Light Source | SMD LED |
| Lumen | 1360 lm | 2300 lm | 1450 lm | 1500 lm | 2250 lm |
| Luminous efficacy | 90Lm/W | 100Lm/W | 100Lm/W | 100Lm/W | 100Lm/W |
| CRI | >80 |
| CCT (Kelvin) | 3000K Warm White 4000K Cool White 6000K Cool Daylight |
| IP Class | IP20 |
| Mount Type | Suspended |
| Product Dimensions (L x W x H) (D x H) | 600*400*H1000 mm | D650*H1000 mm | 500*500*H1000 mm | 600*600*H1000 mm | D600*H1000 mm |
| Product Length | 600 mm | 650 mm | 500 mm | 600 mm | 600 mm |
| Shape | Circle |
| Material | Steel, Aluminium, PC, Glass |
| Product Colour | Coffee |
| Paint Type | Powder Coating |
| Shade Material | Glass |
| Size of Shade(s) | D120*H110 6PCS | D120*H110 8PCS | D120*H110 4PCS | D120*H110 6PCS | D120*H110 7PCS |
| Shade Colour | Clear |
| Size of Rose | 240*120*40mm | D240*40mm | D180*40mm | D180*40mm | D180*40mm |
| Suspension Type | Cord and wires |
| Suspension Length | 1000mm |
| Adjustable Suspension | Yes |
| Function Mode | Dimming and White tuning via 2.4GHz Remote Controller |
| Driver Type | Constant Voltage Driver |
| Driver Power | 20W | 30W | 20W | 20W | 30W |
| Driver Input Voltage | 220~240V |
| Driver Output Voltage | 24-35V |
| Driver Output Current | 600 mA | 900 mA | 600 mA | 600 mA | 900 mA |
| Operating Temperature (°C) | -20/+45 C |
| Energy Rating | F |
| Warranty | 3 year |
| Box Dimension (L x W x H) | 560*200*360mm | 680*180*680mm | 610*240*210mm | 560*360*210mm | 630*180*630mm |
| Net Weight | 1kg |
| Gross Weight | 2 kg | 2 kg | 2 kg | 2 kg | 2 kg |
| Box Content | 1Light fixture,User manual*1,1Remote control | 1Light fixture,User manual*1,1Remote control | 1Light fixture,User manual*1,1Remote control | 1Light fixture,User manual*1,1Remote control |
| Pieces/Box | 1 |
| Certifications | UKCA, CE, RoHS |