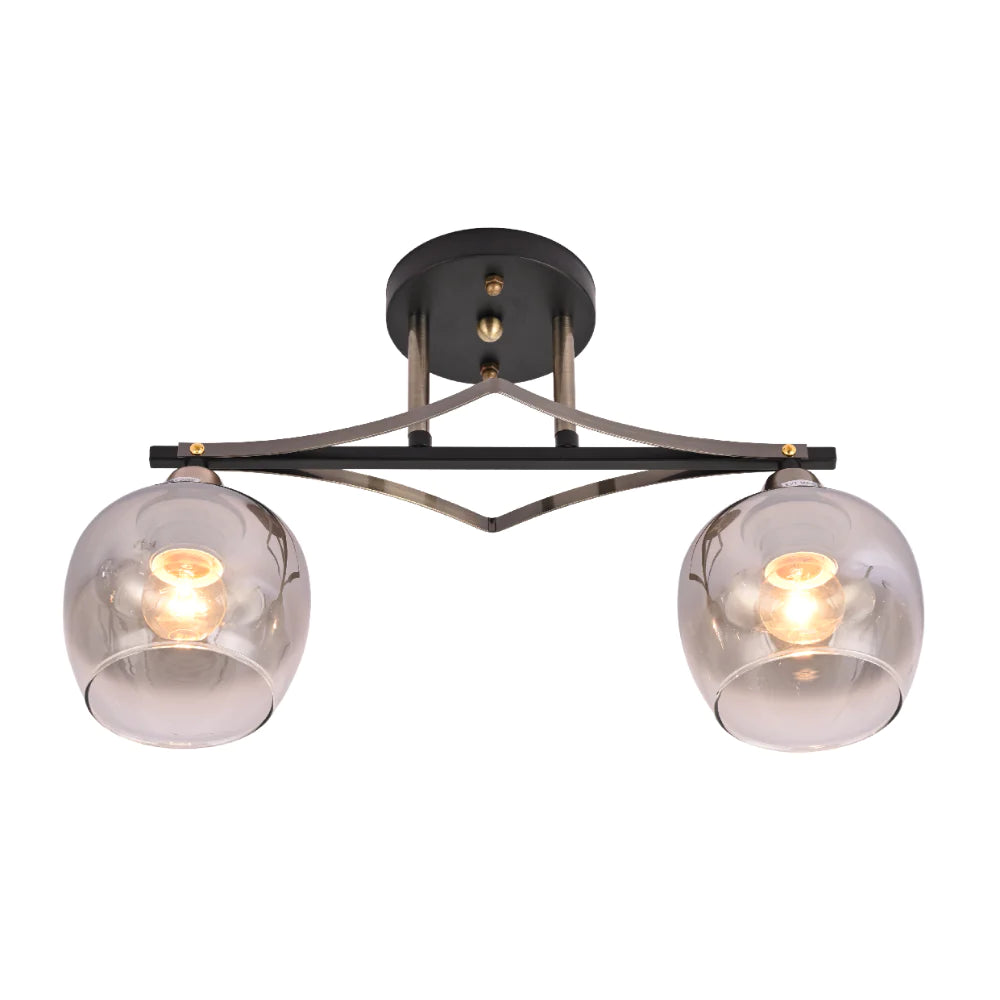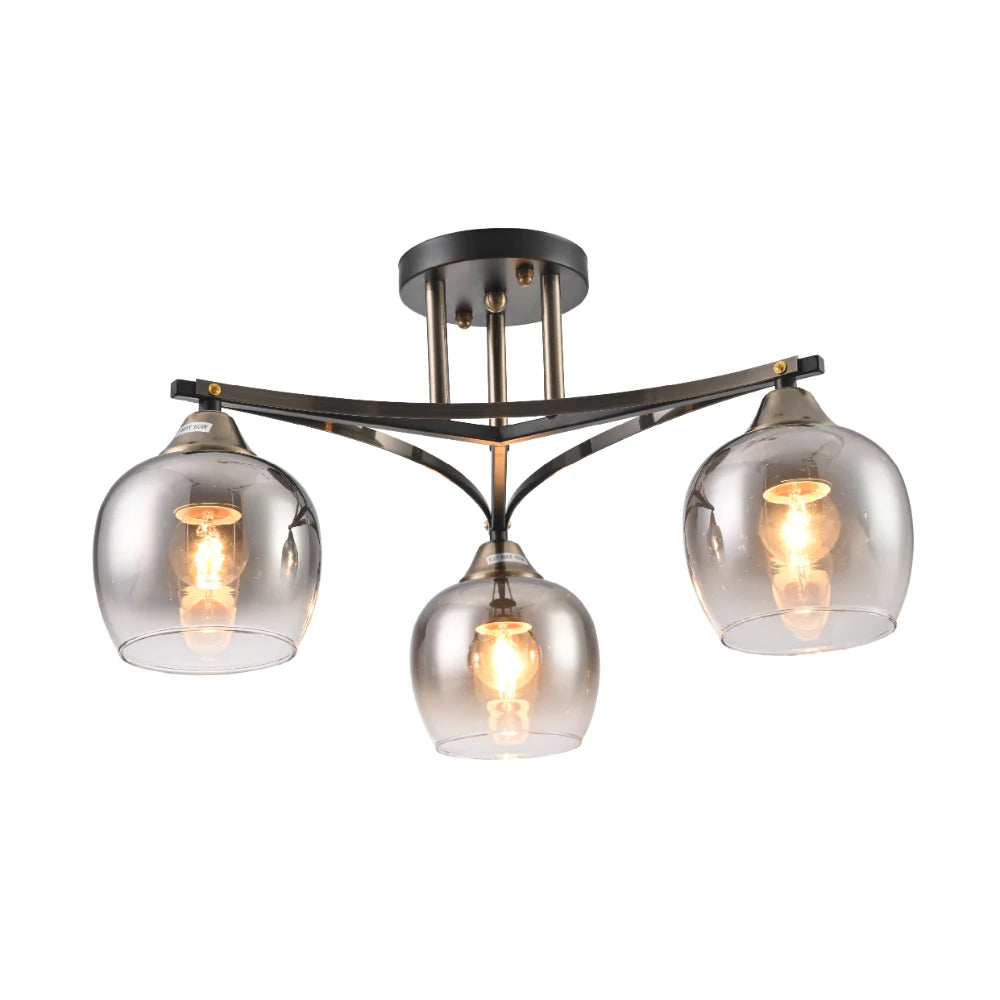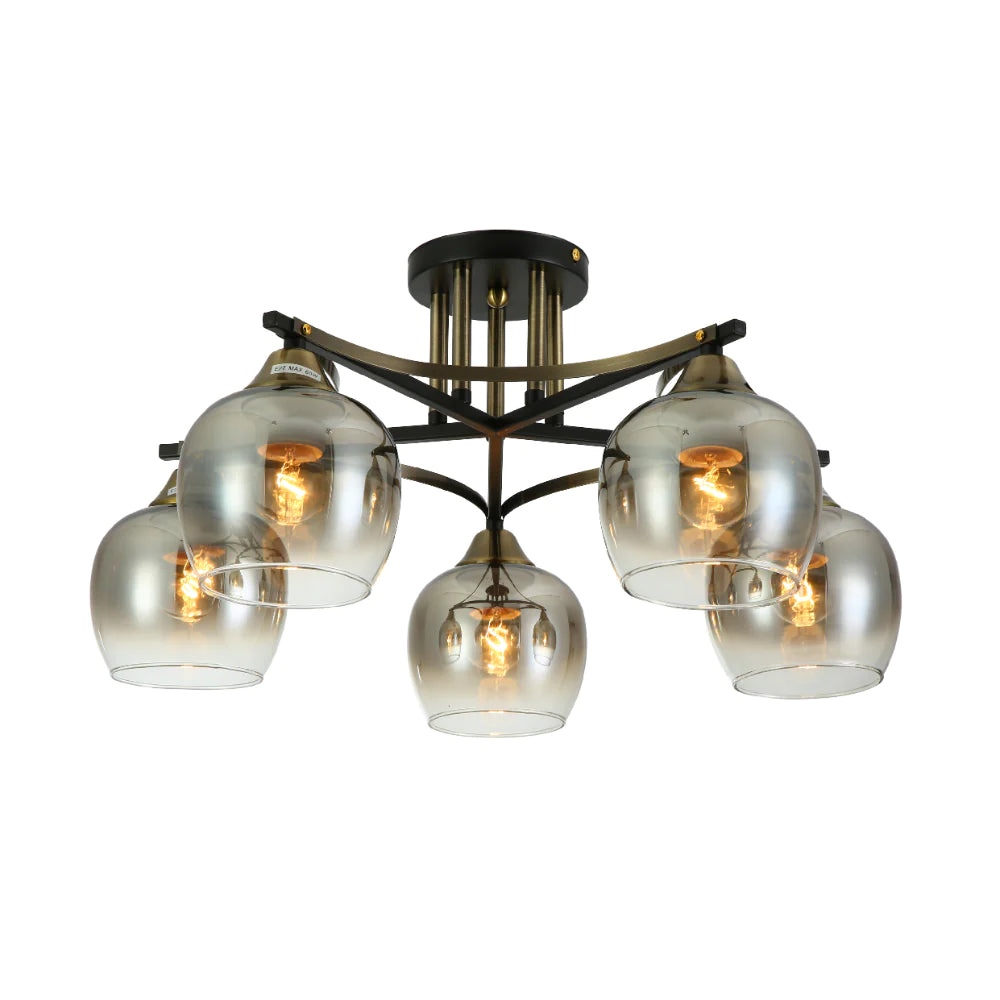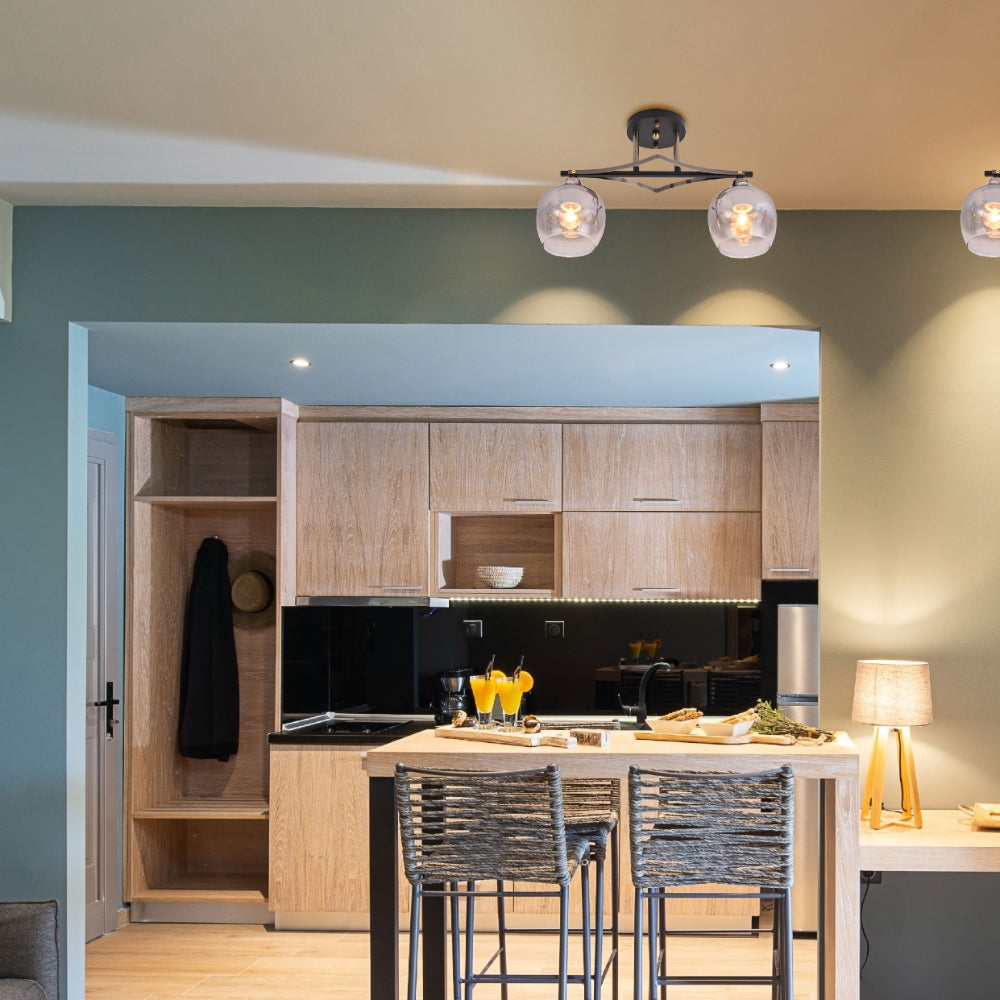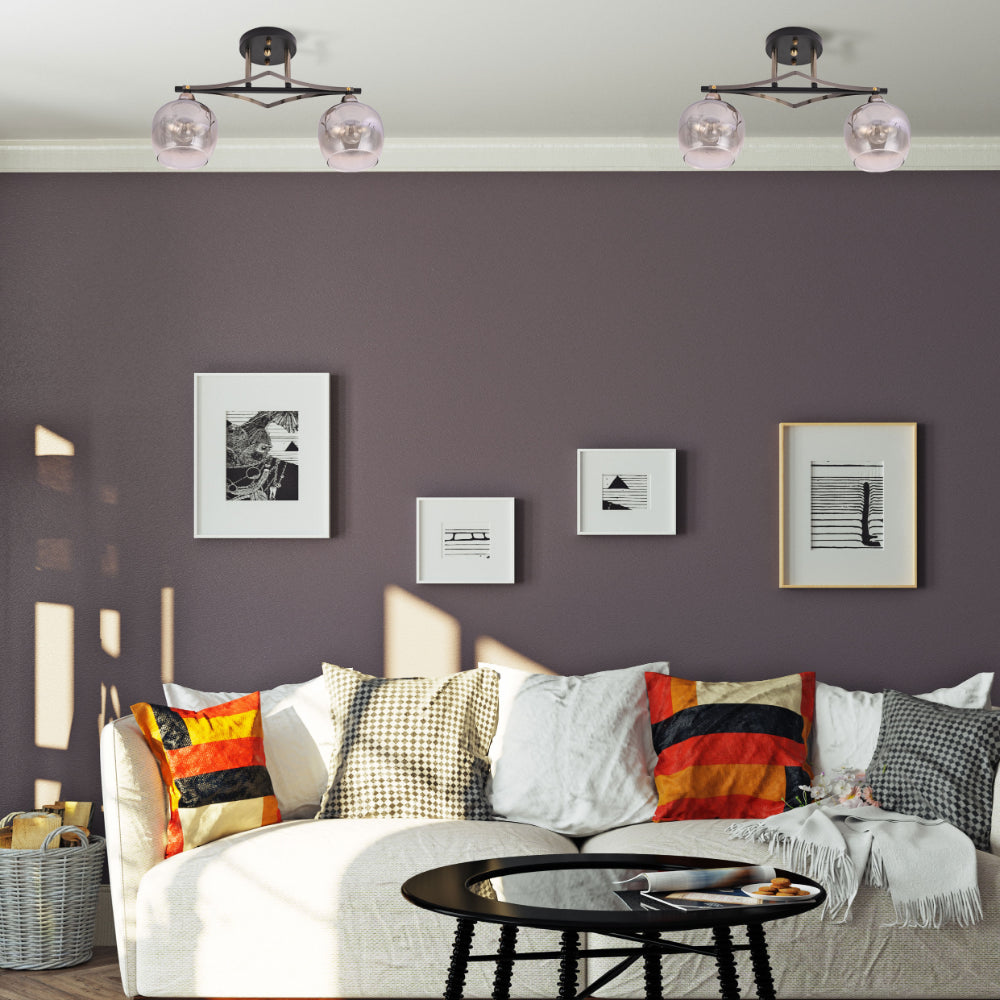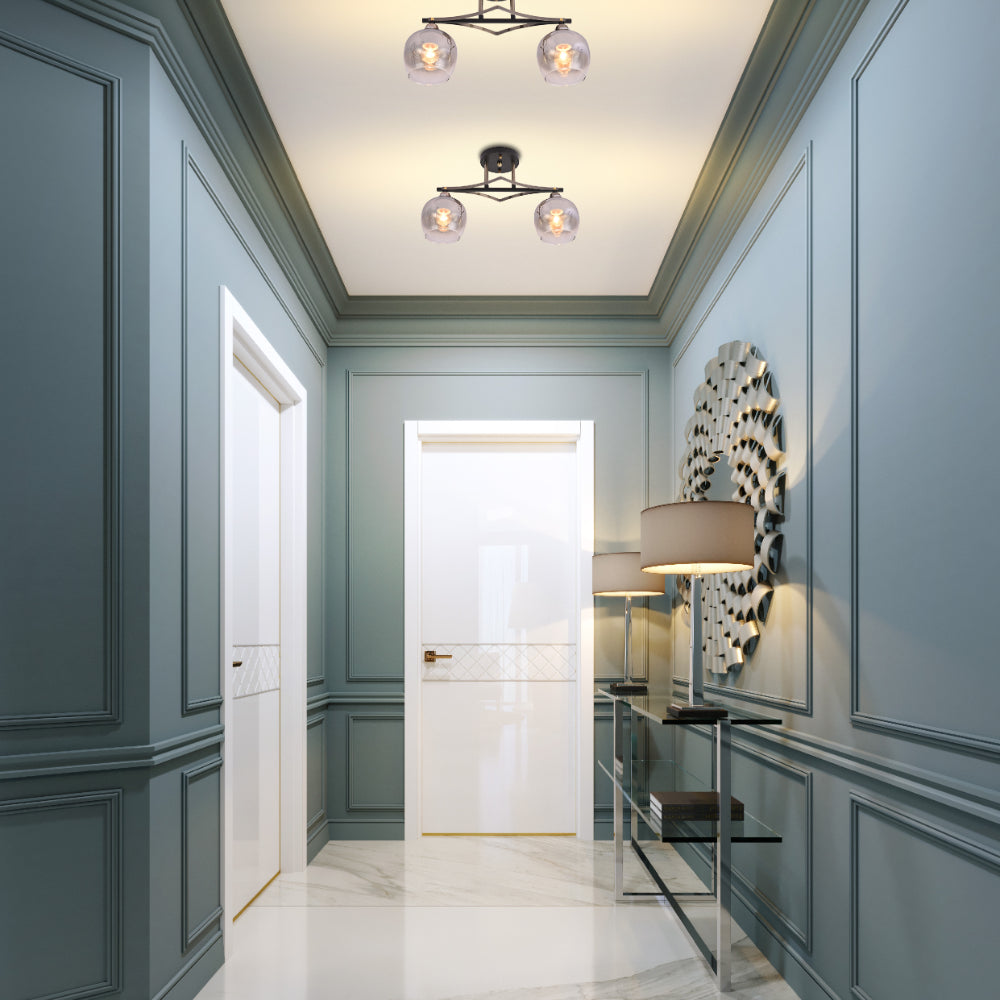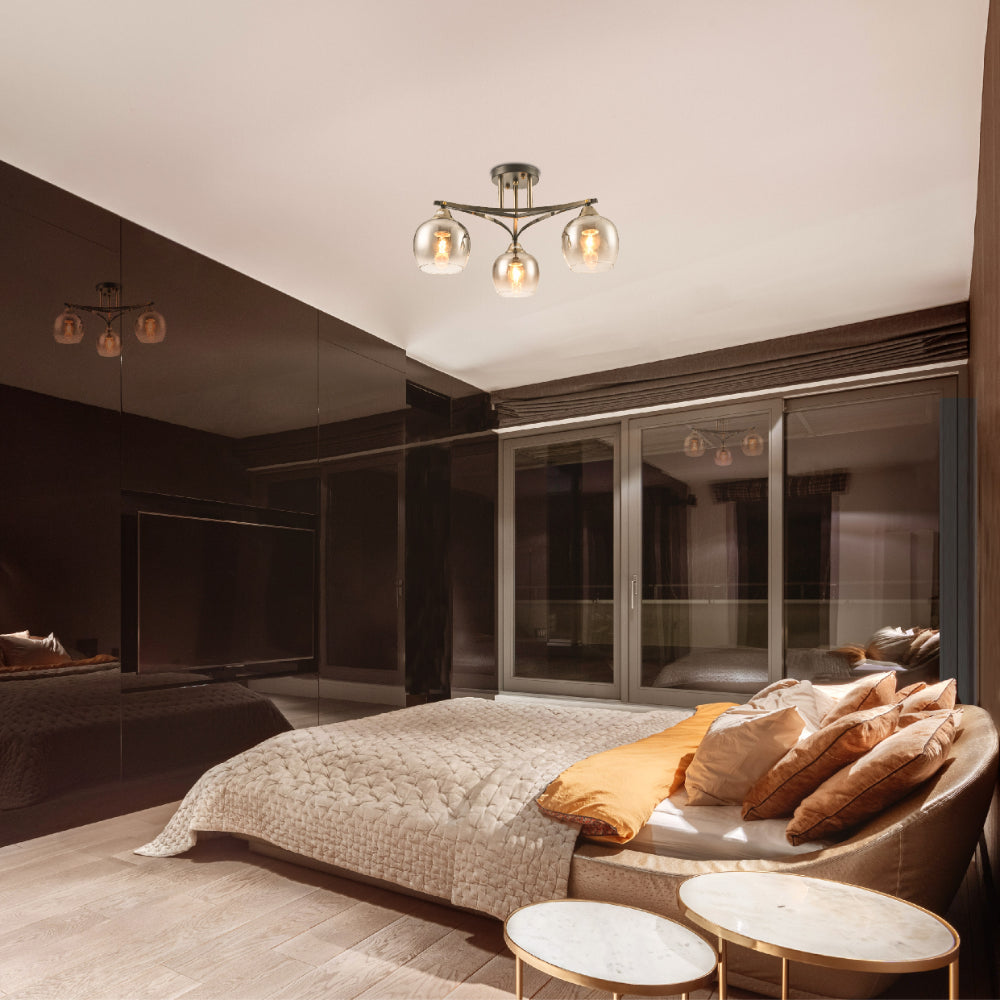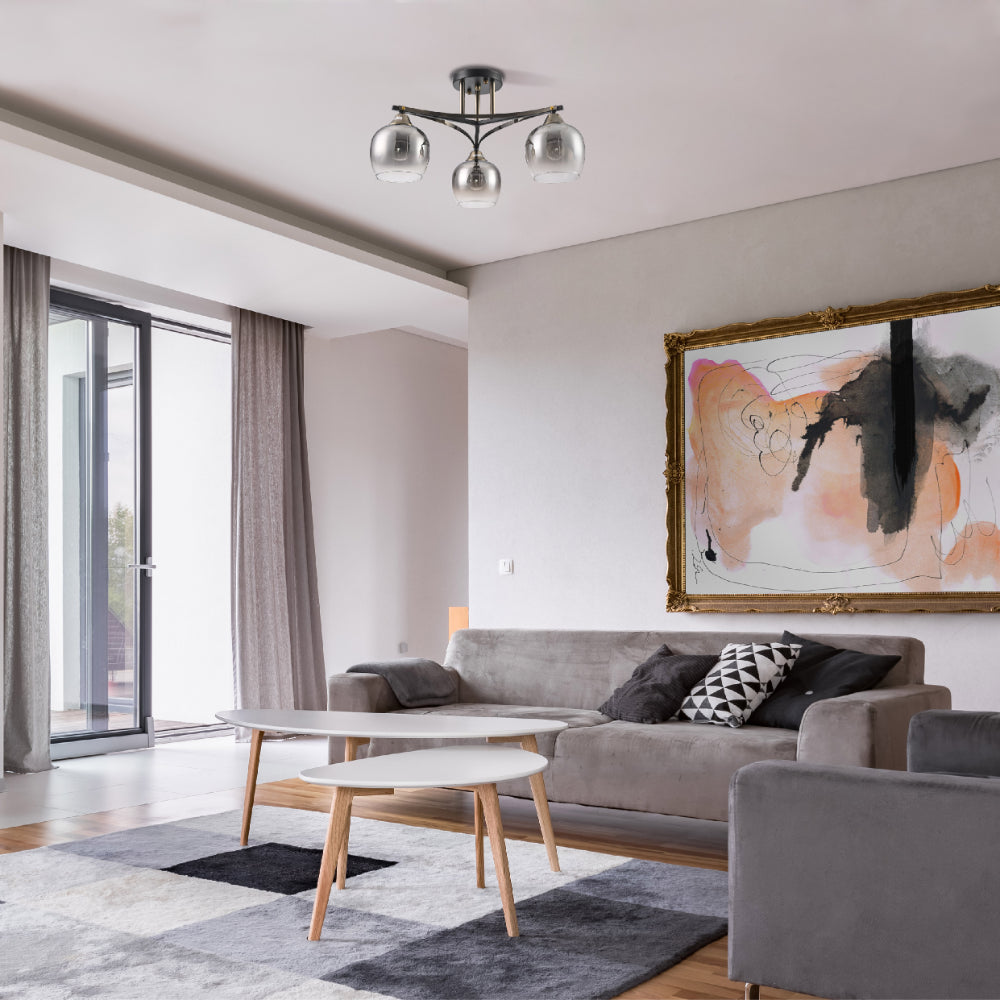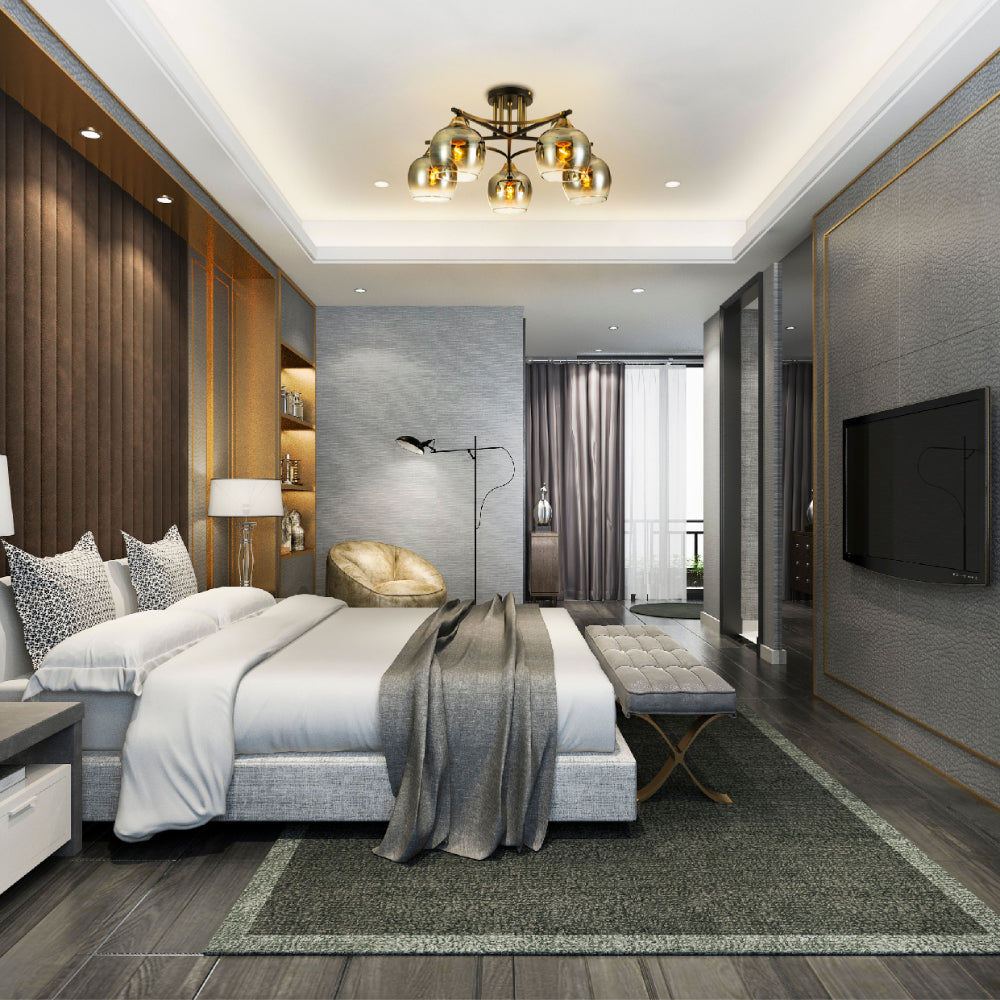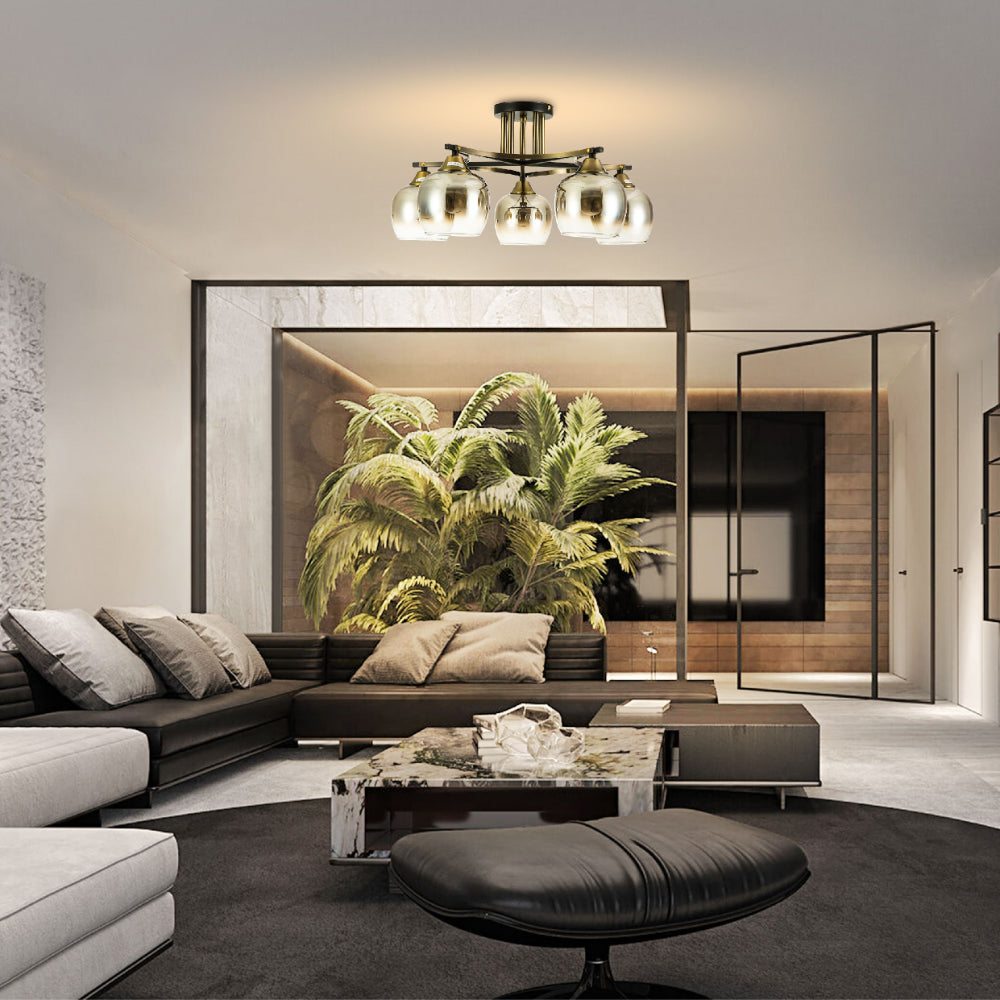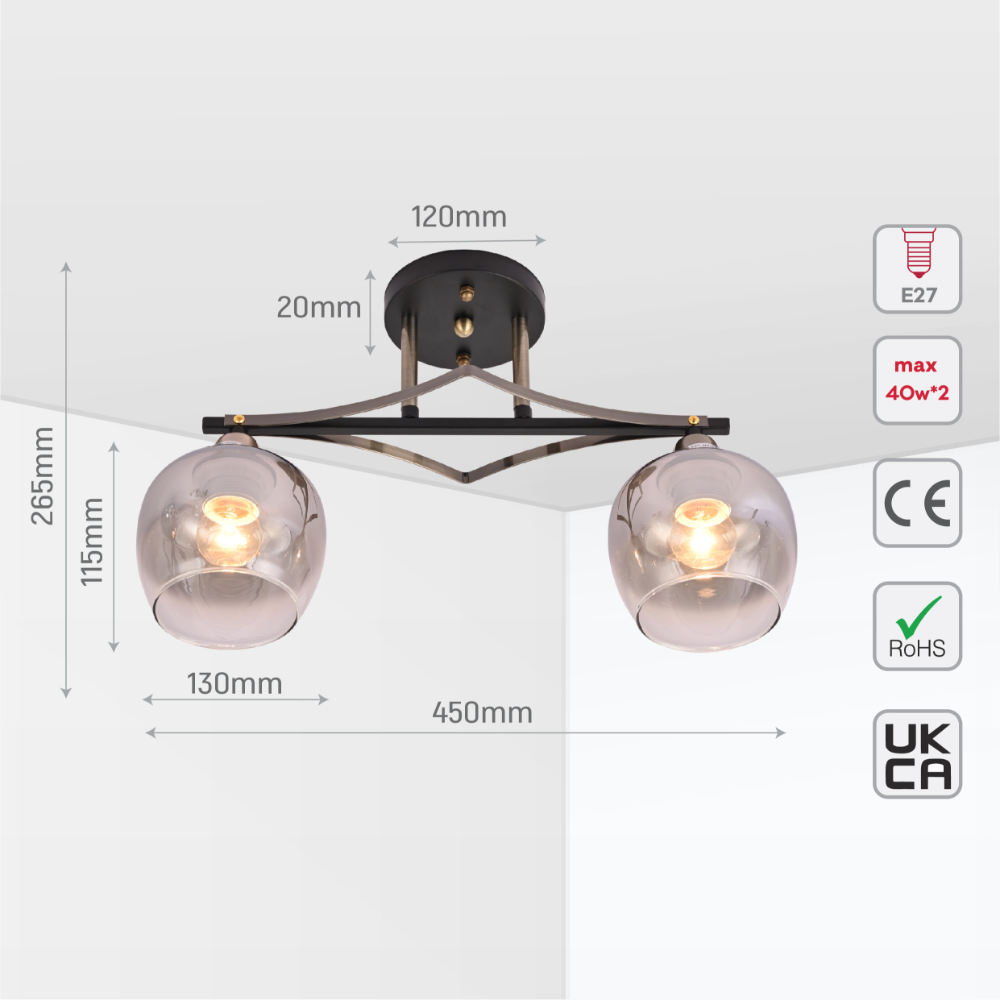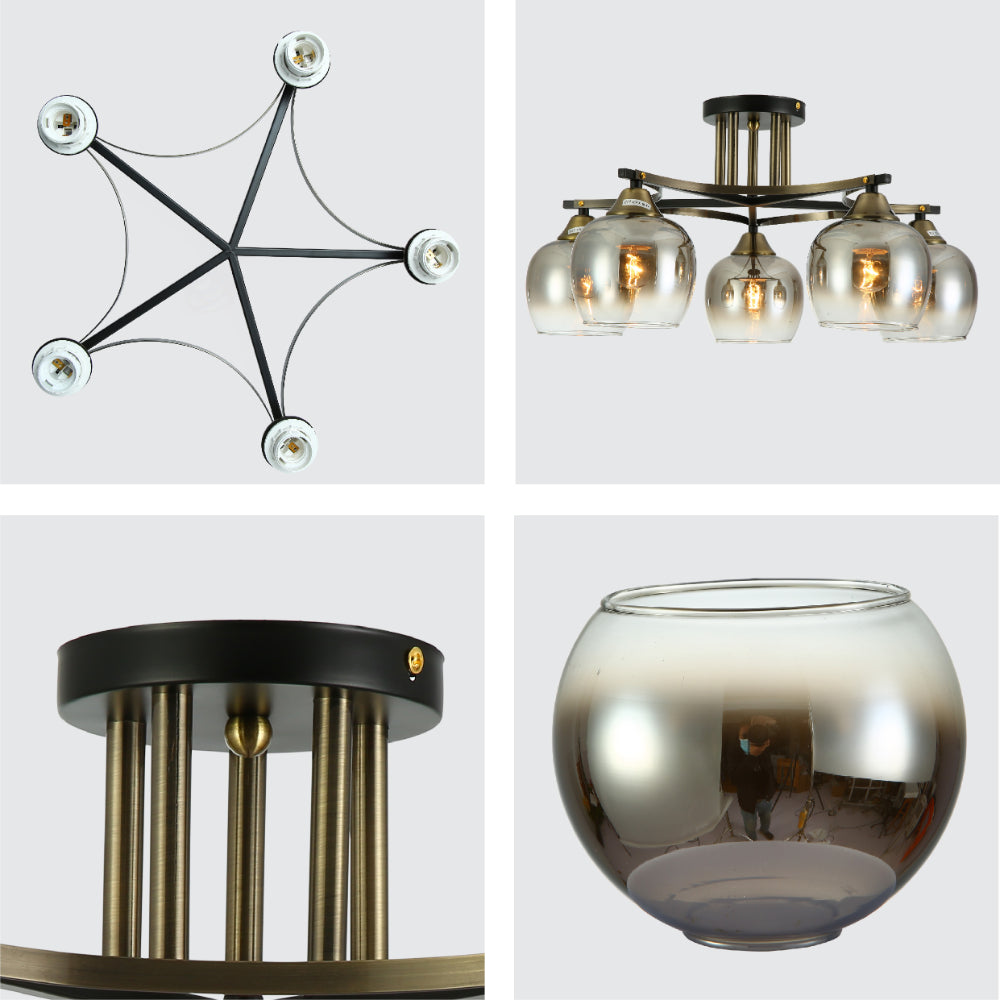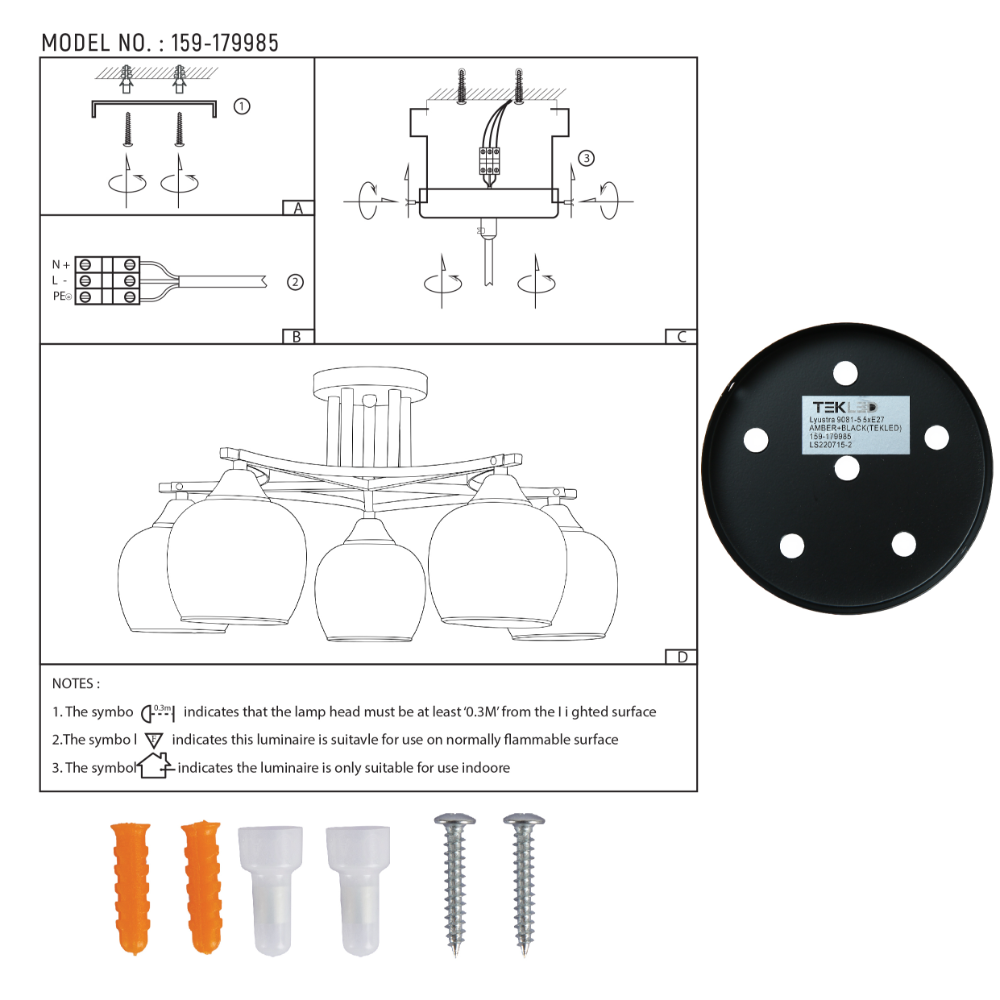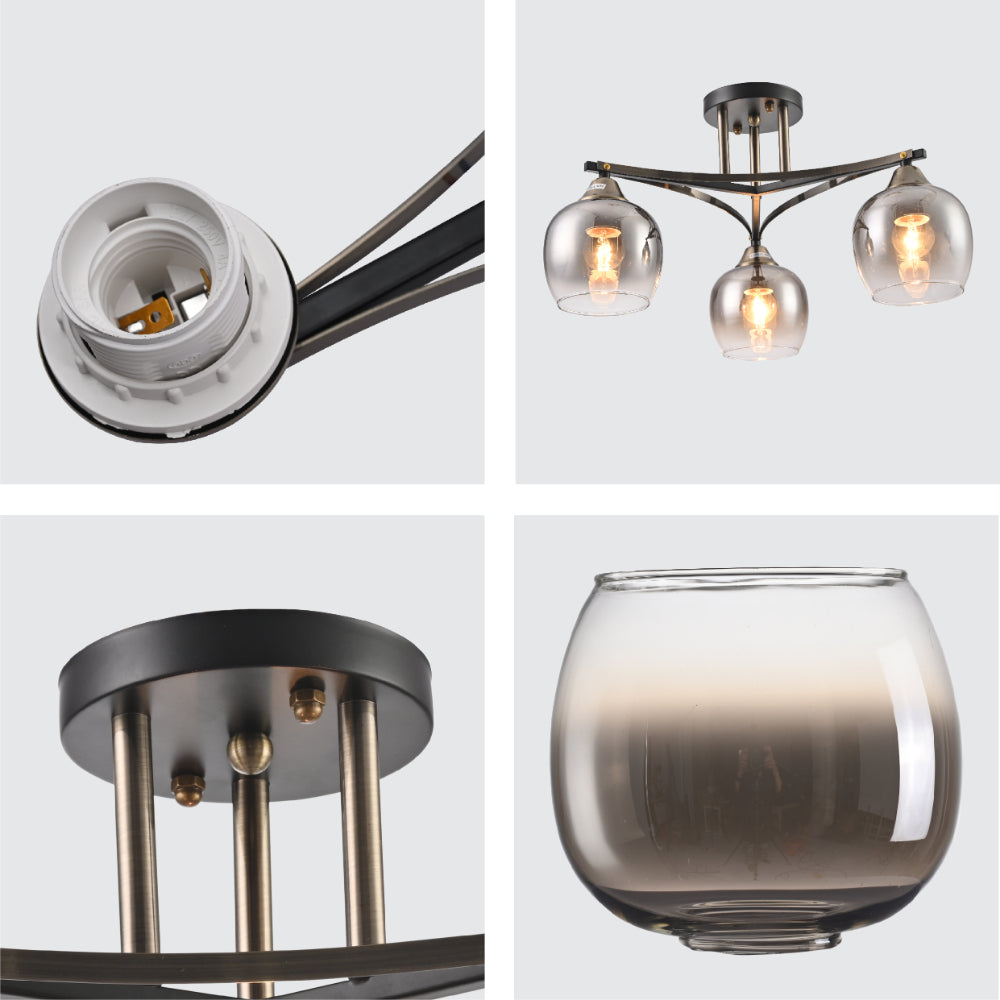 TEKLED
Geometric Starburst Faded Smoky Grey Globe Black & Bronze Ceiling Light - 2 Globe.
Geometric Starburst Faded Smoky Grey Globe Black & Bronze Ceiling Light
Discover the striking beauty of our Geometric Starburst Ceiling Light, a masterpiece of design that blends geometry with ambient lighting. Offered in 2, 3, and 5 globe arrangements, this fixture is a perfect embodiment of modern elegance and architectural finesse.
Geometry and Color Fusion
The design of this ceiling light is a celebration of geometric harmony and color gradients. Its structure is a delicate interplay of linear and curved forms, creating star-like patterns in the larger variants and a gracefully intersecting design in the two-globe version. The globes transition from a clear base to a rich smoky grey at the top, adding a sophisticated and stylish touch to the fixture.
Artistic Visual Impact
Each variant of this light is a dynamic representation of modern art, with the bronze and black metallic arms forming captivating geometric shapes. These shapes, reminiscent of celestial constellations, are complemented by the elegant globes, which appear as luminous orbs floating in space.
Versatility and Style
This light's modern geometric aesthetic makes it an ideal addition to contemporary interiors, where its bold forms and intriguing color play can take center stage. It's particularly impactful in settings where its sculptural quality can be appreciated from various vantage points.
Conclusion
The Geometric Starburst Ceiling Light transcends its function as a light source, becoming a focal point of interior design. Its unique combination of geometry, color, and light brings a sophisticated and artistic element to any room it adorns, regardless of the number of globes.
Technical Specifications
| | |
| --- | --- |
| Product Code | 159-179983 | 159-179984 | 159-179985 |
| Name | Geometric Starburst Faded Smoky Grey Globe Black & Bronze Ceiling Light |
| Power | MAX 40W*2 | MAX 40W*3 | MAX 40W*5 |
| Power Source | Hardwired |
| Voltage | 220/240Vac 50/60Hz |
| Lamp Holder Type | E27 Edison Screw |
| Lamp Holder Quantity | 2 | 3 | 5 |
| Protection Class | Class I |
| Dimmability | Dimmable if used with dimmable bulbs |
| Light Source | Bulb |
| Bulbs | Bulbs are not included |
| IP Class | IP20 |
| Mount Type | Semi Flush |
| Product Dimensions (L x W x H) (D x H) | 450*130*265mm | D510*265mm | D550*260mm |
| Product Length | 450mm | 510mm | 550mm |
| Shape | Arm |
| Material | Steel, Glass |
| Product Colour | Antique Brass, Black, Amber |
| Paint Type | Spray Paint, Electroplated |
| Shade Material | Glass |
| Size of Shade(s) | D130*115mm | D130*115mm | D130*115mm |
| Shade Colour | Amber |
| Size of Rose | D120*20mm |
| Operating Temperature (°C) | -20/+45 C |
| Warranty | 3 year |
| Box Dimension (L x W x H) | 390*255*165mm | 410*410*165mm | 455*455*250mm |
| Net Weight | 0.7kg | 1.05kg | 1.7kg |
| Gross Weight | 1.05kg | 1.8kg | 2.5kg |
| Box Content | 1Light fixture,User manual, Accessories package | 1Light fixture,User manual, Accessories package | 1Light fixture,User manual, Accessories package |
| Pieces/Box | 1 |
| Certifications | UKCA, CE, RoHS |