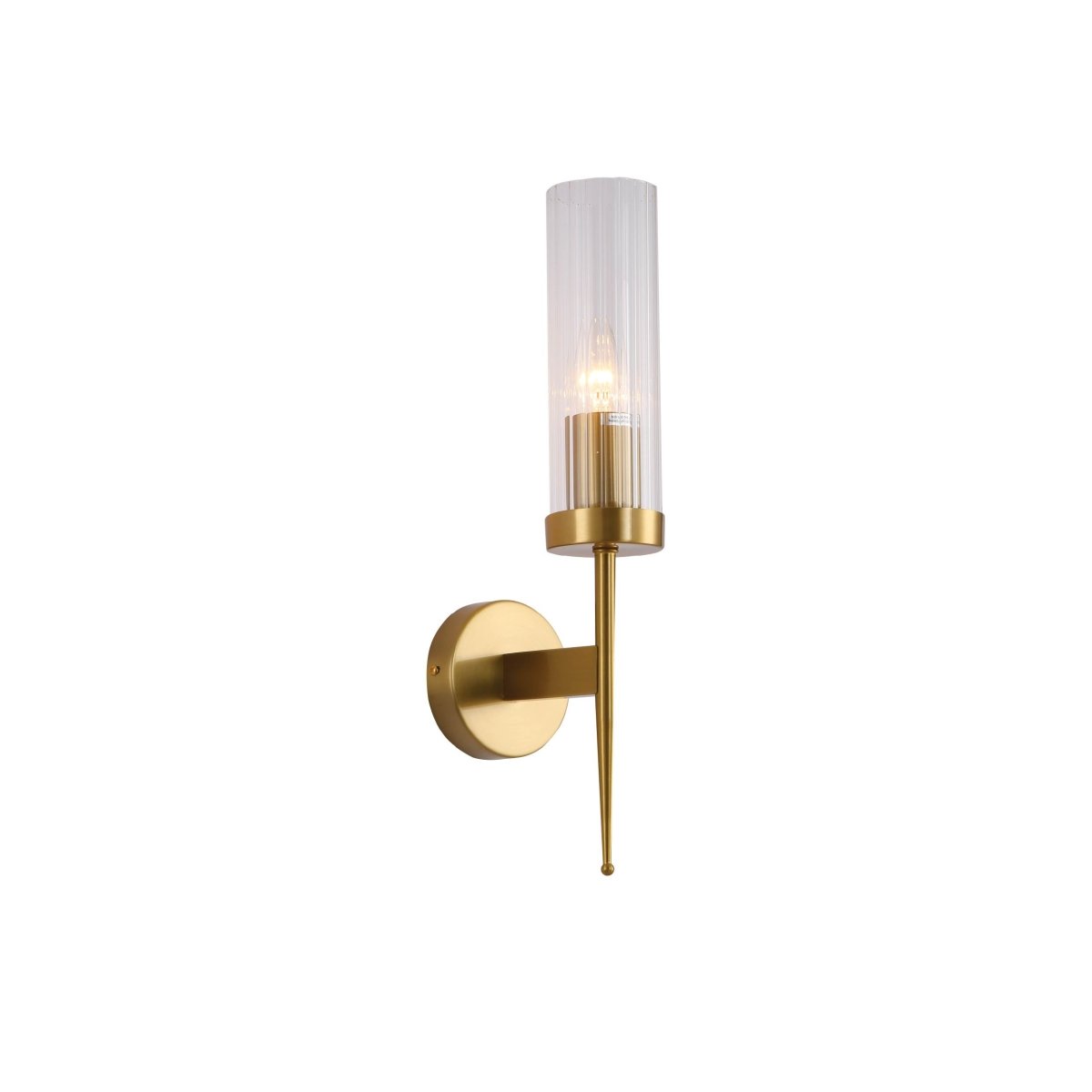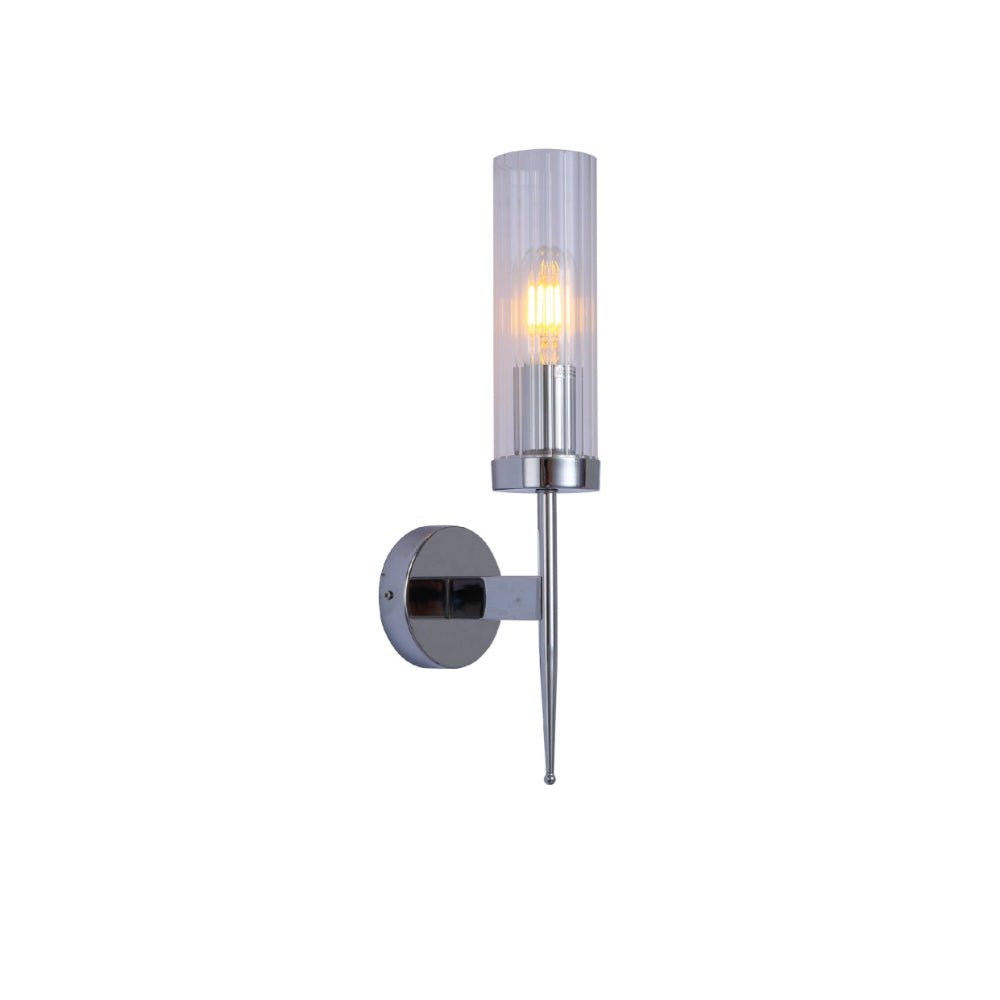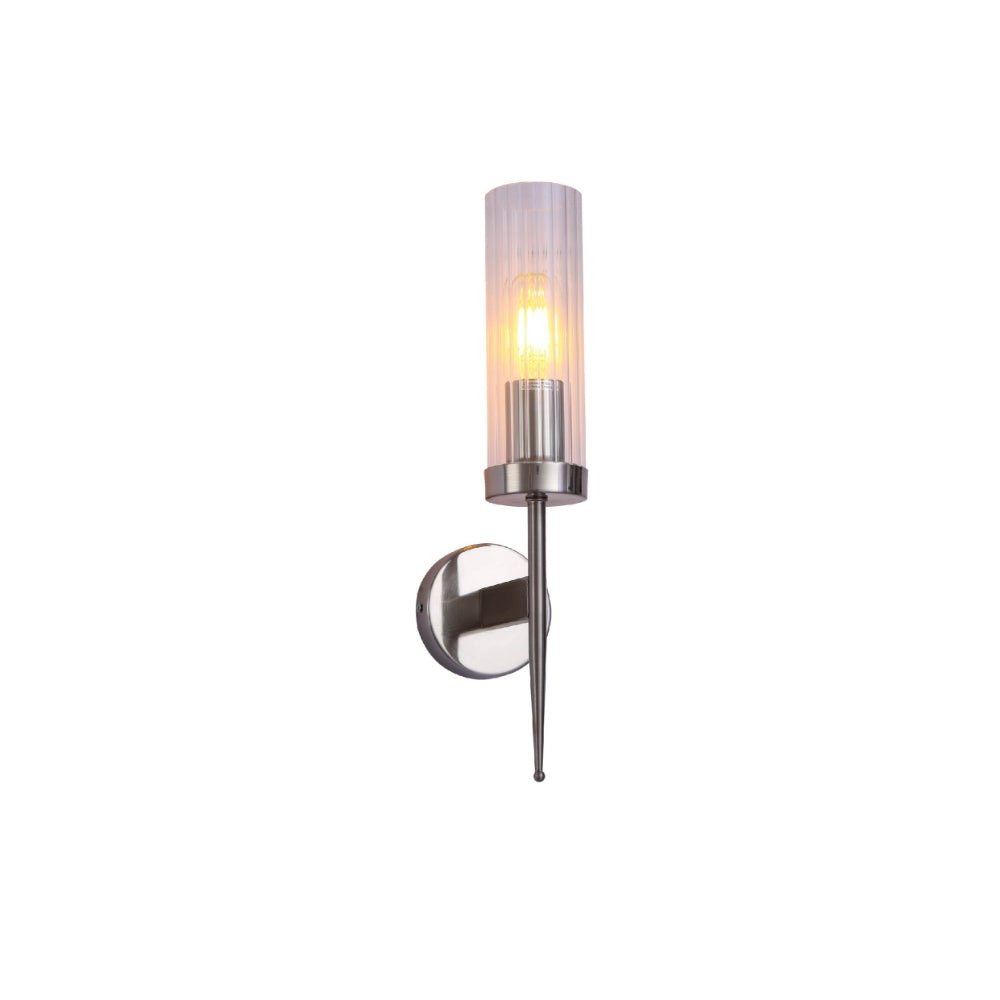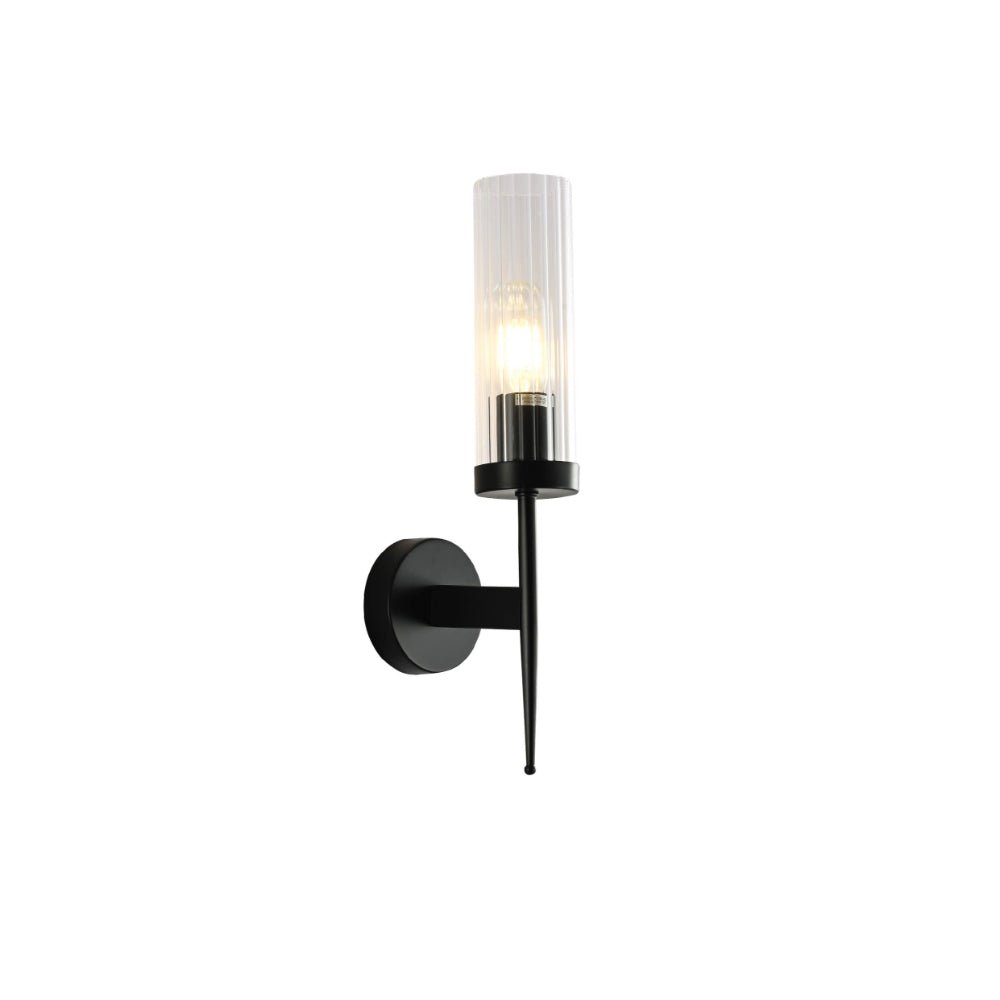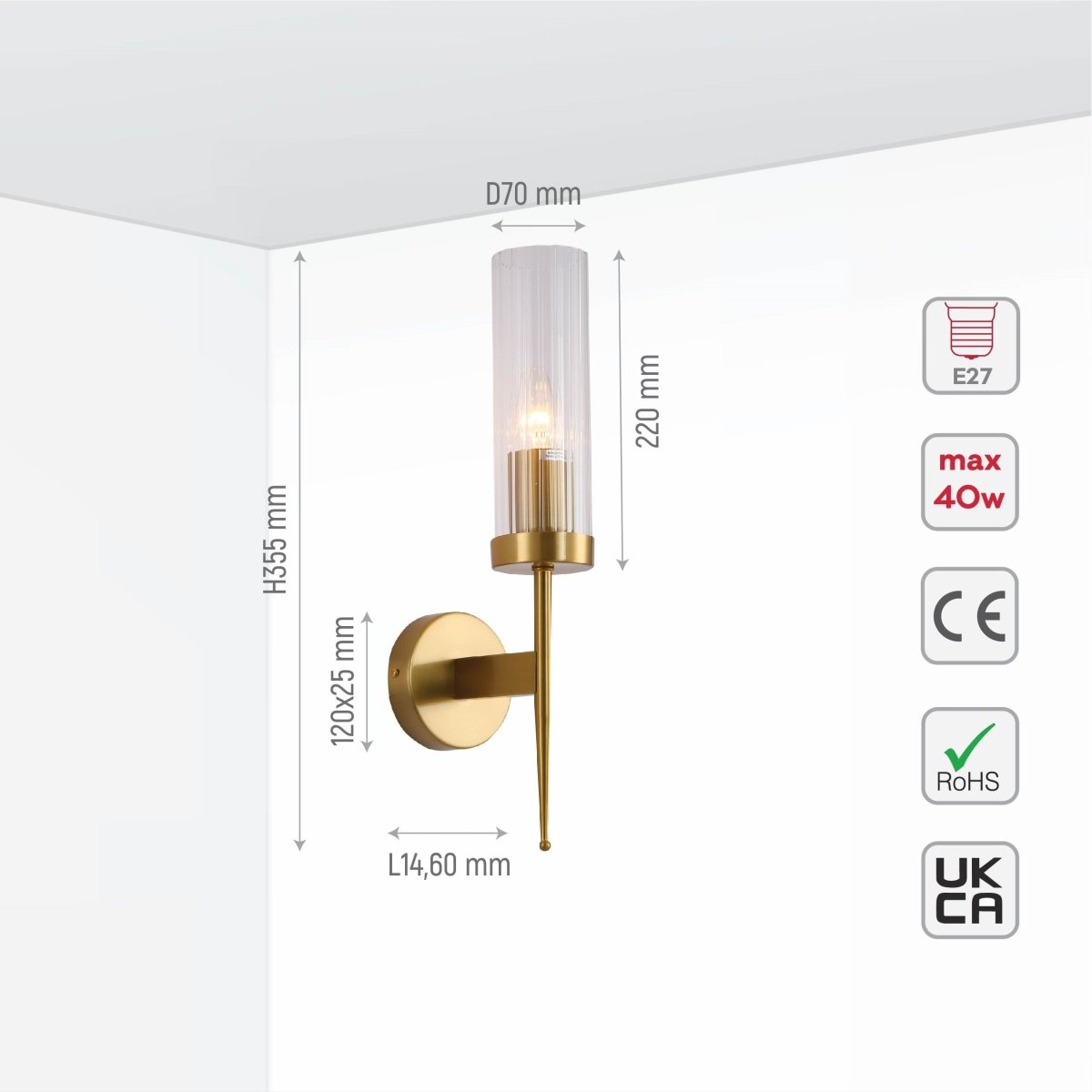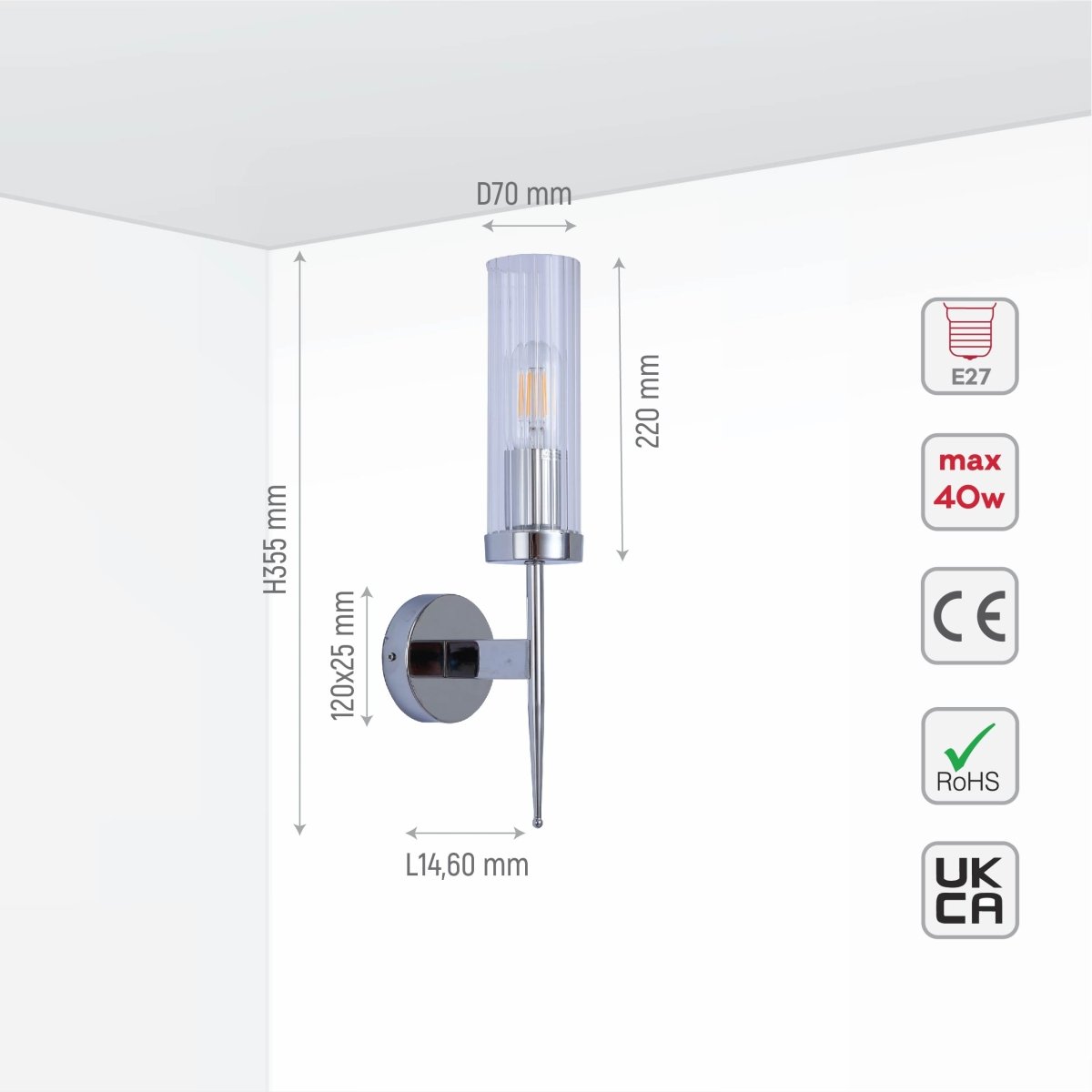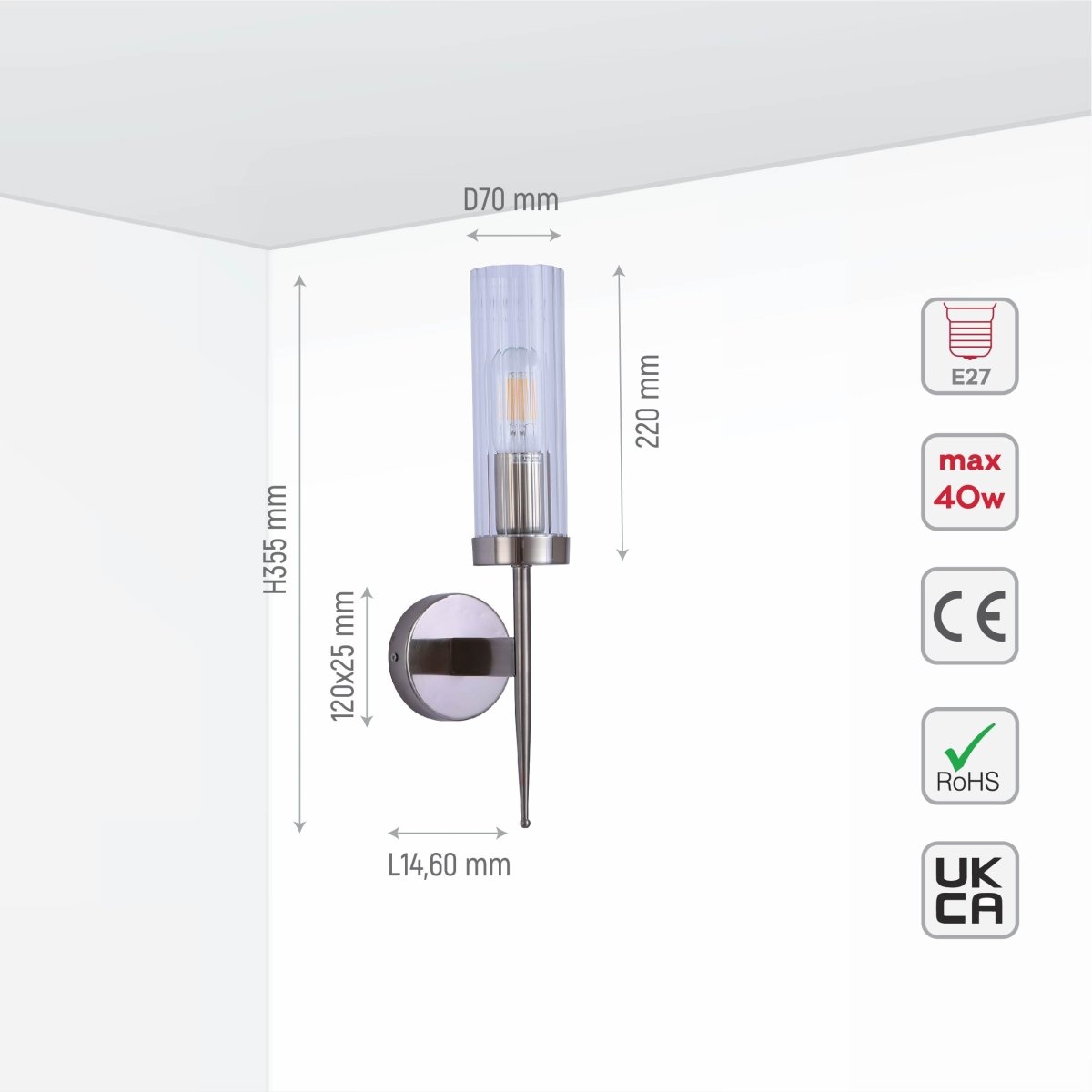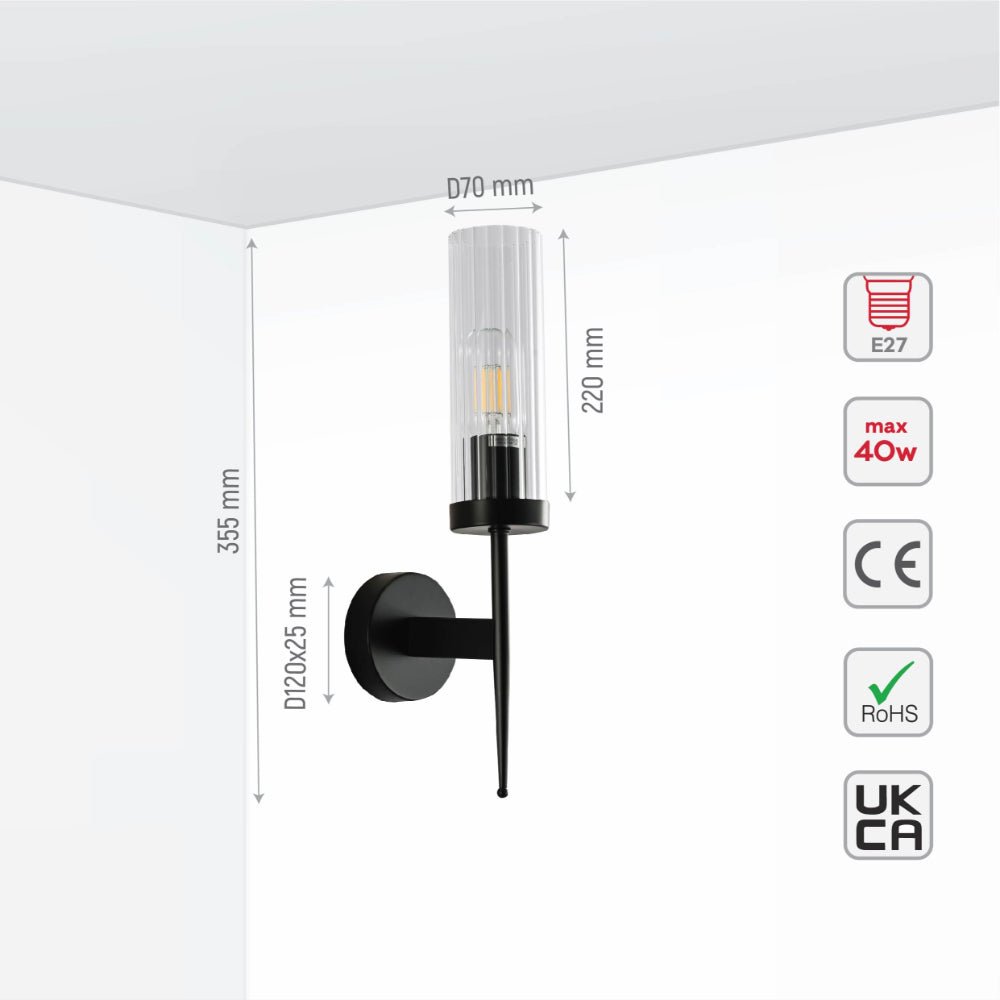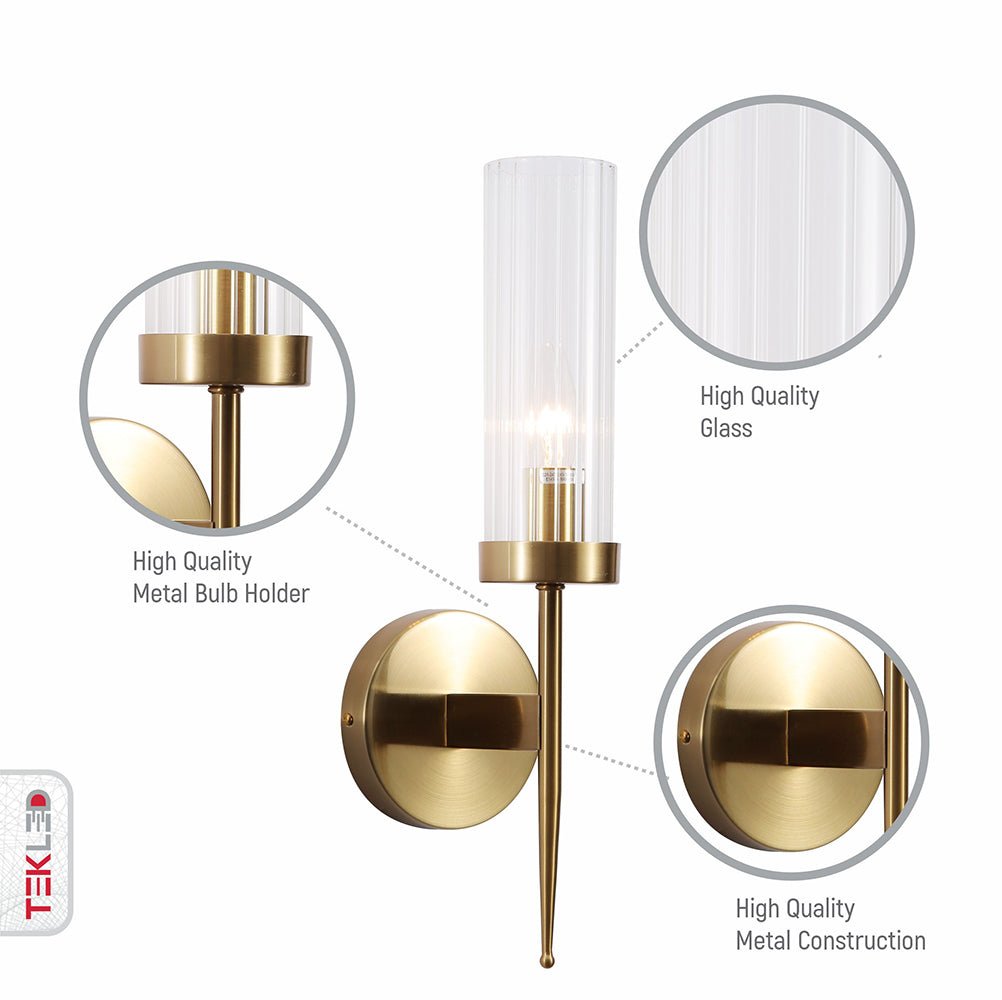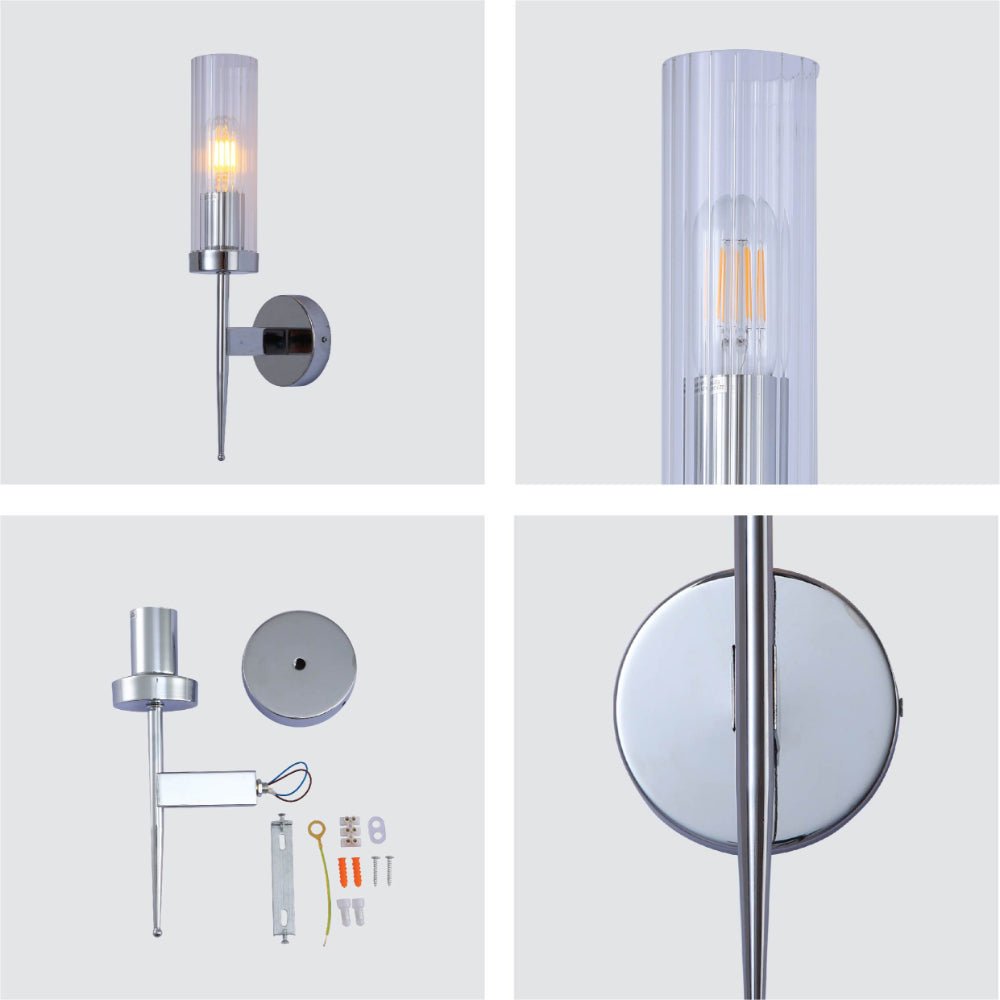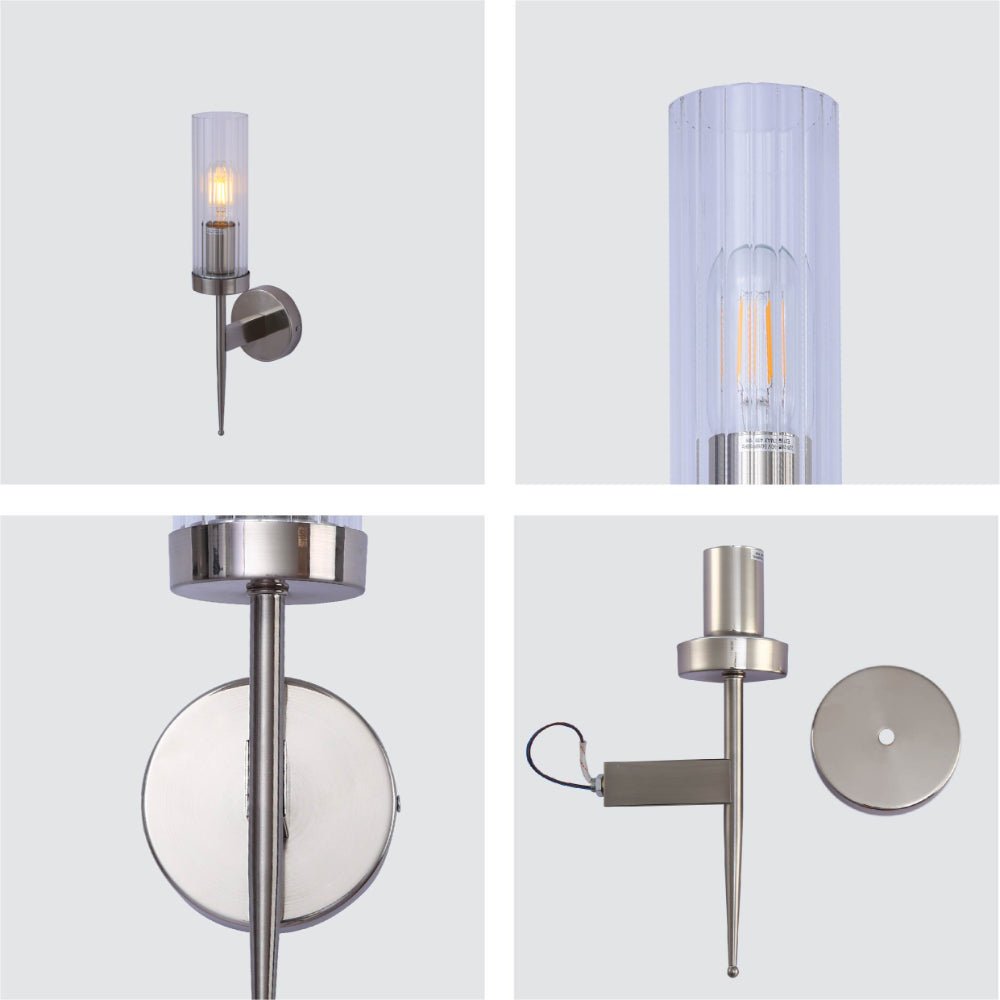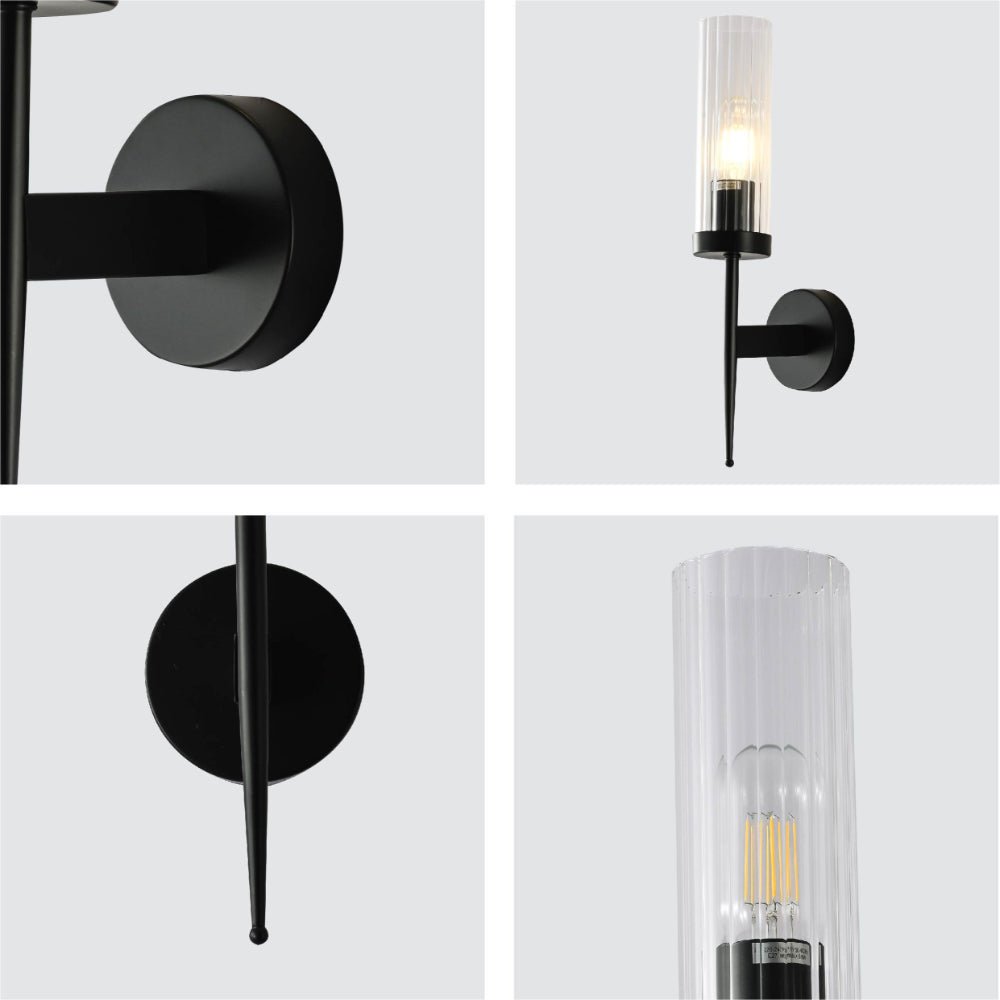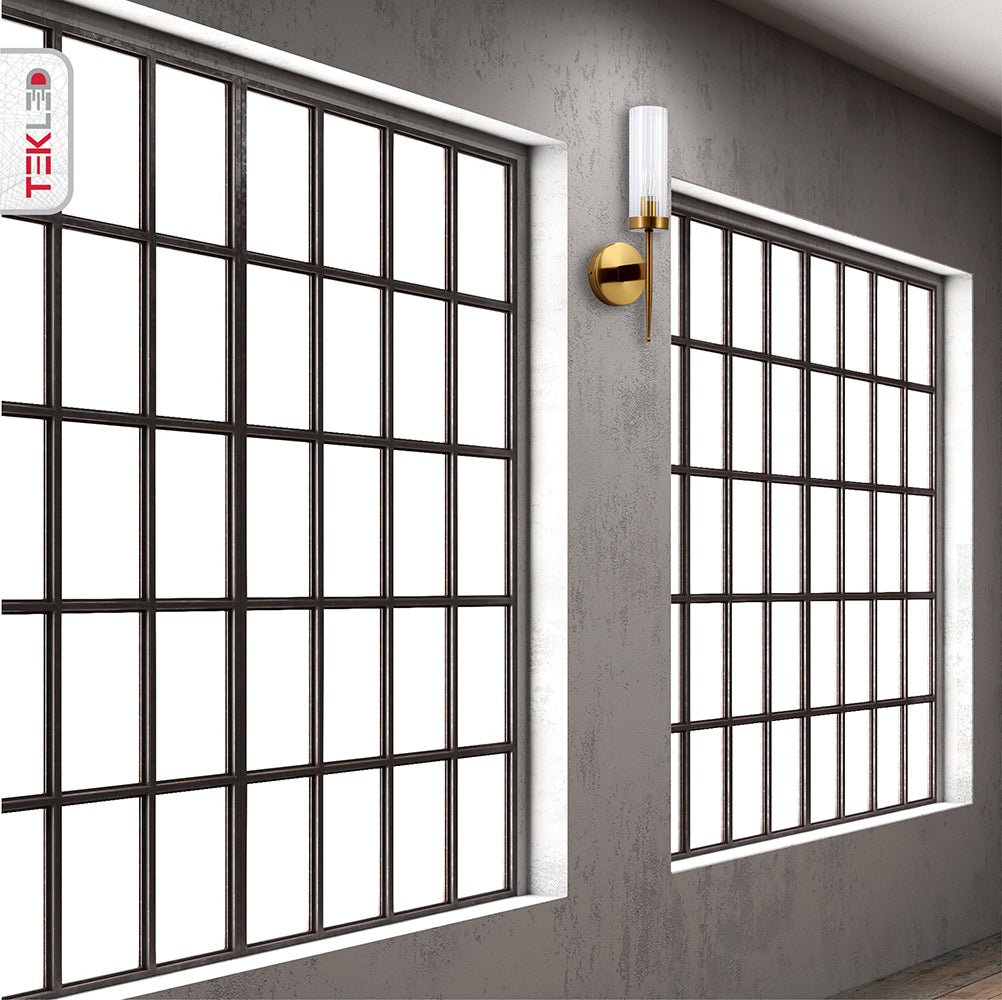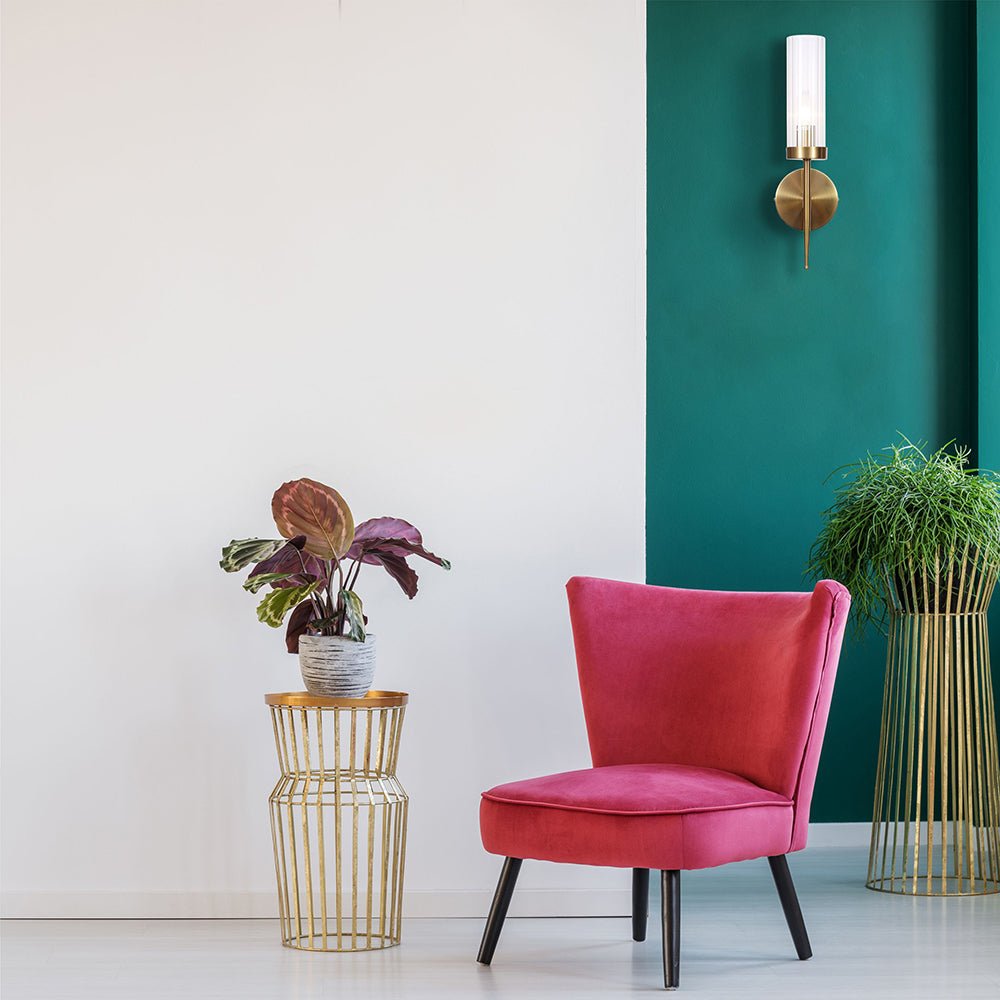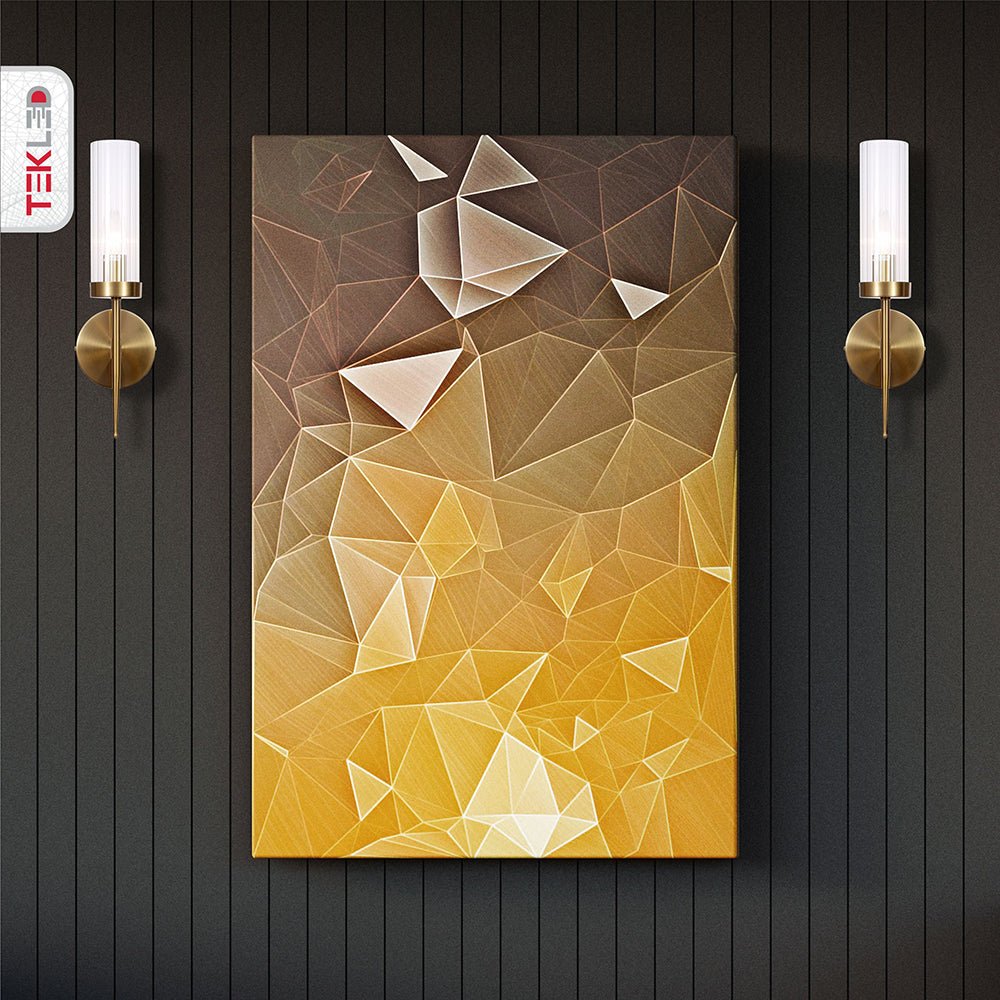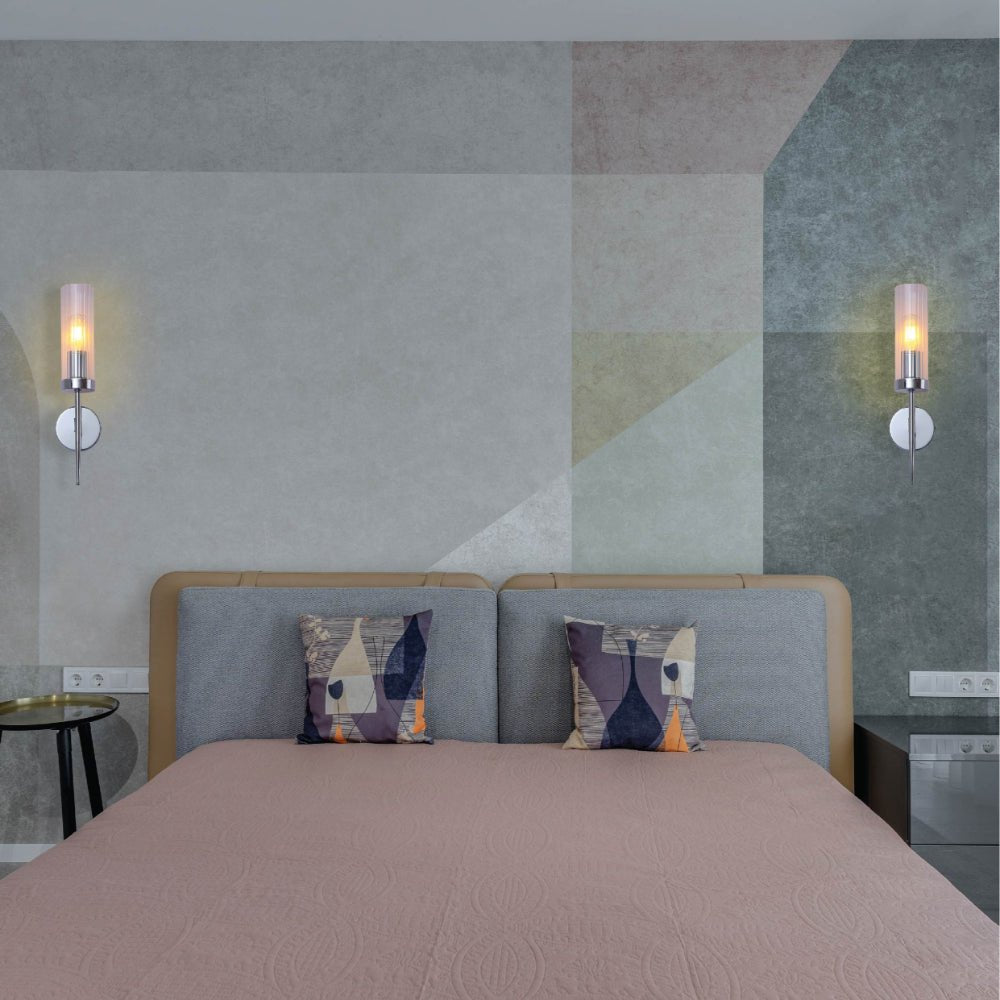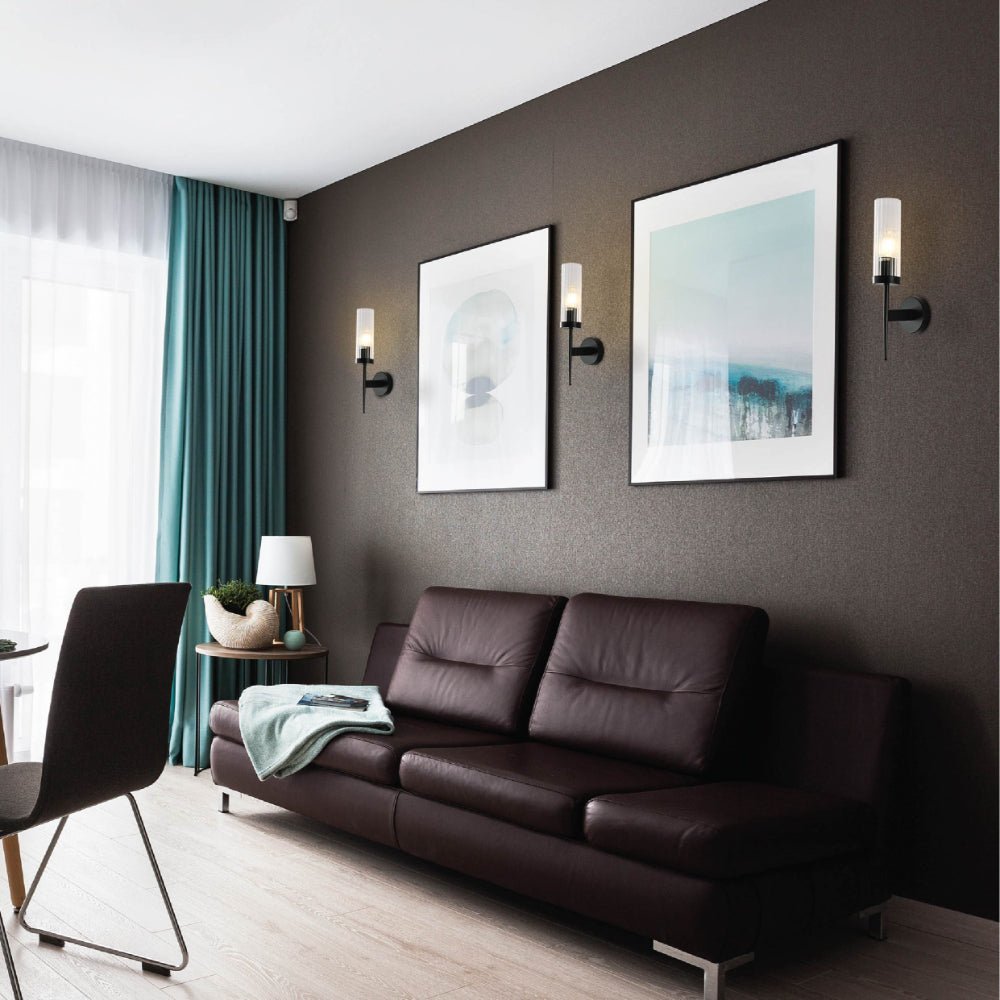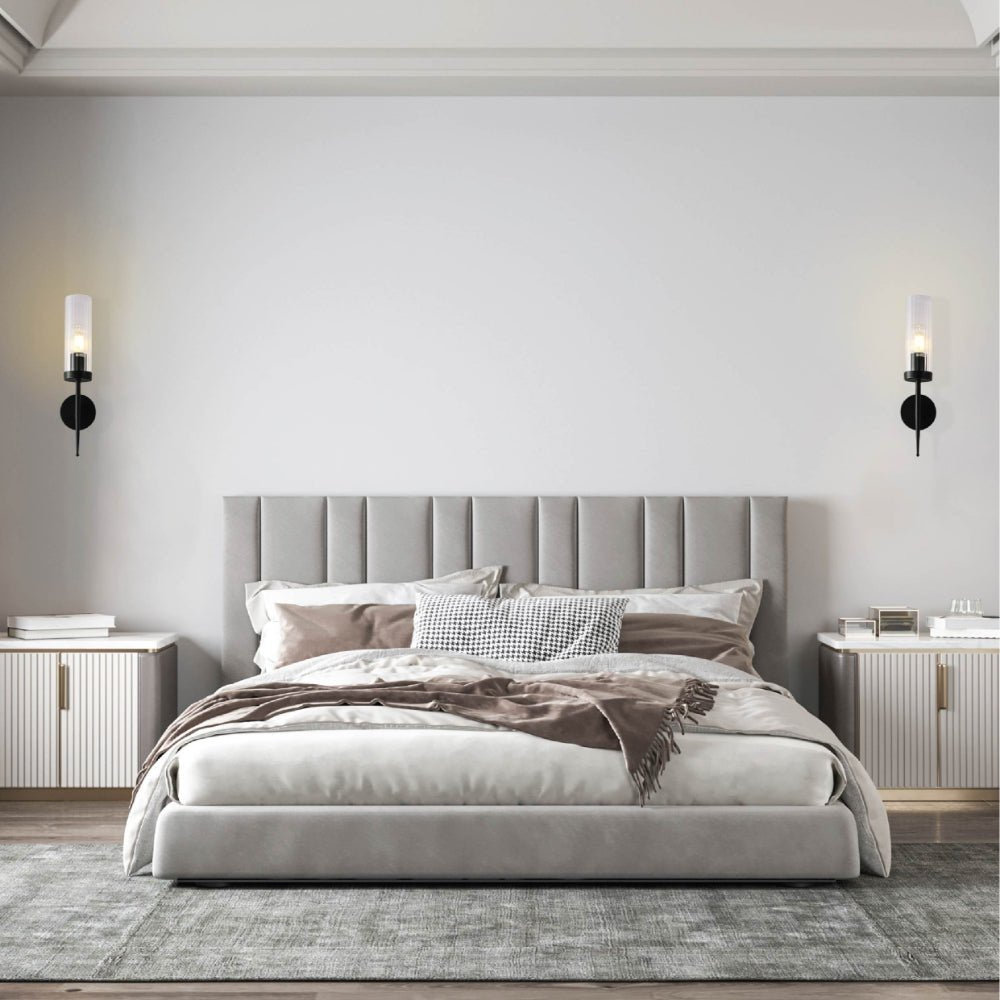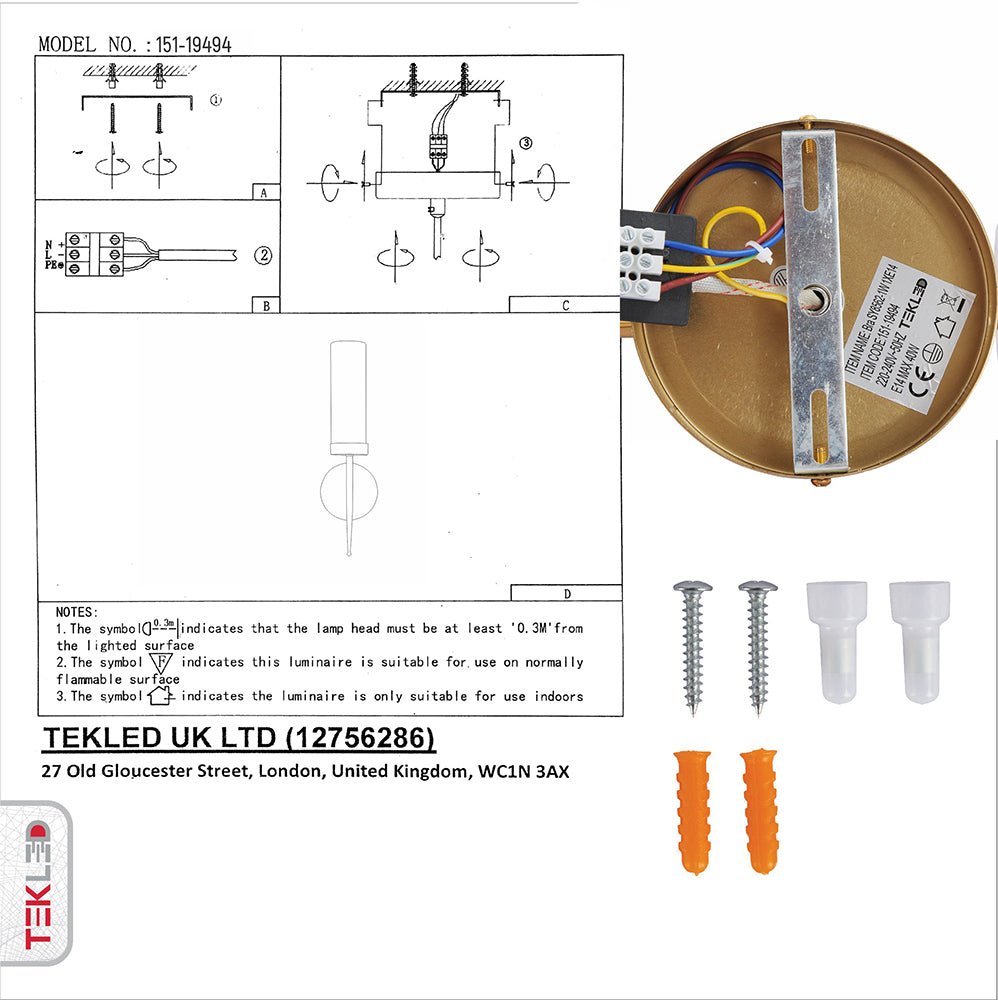 TEKLED
Cylinder Clear Reeded Glass Joseph Fonteyn Fluted Wall Light E27 - Chrome.
Alouette Replica Cylinder Clear Reeded Glass Joseph Fonteyn Fluted Glass Wall Light E27
Introducing the exquisite Cylinder Clear Reeded Glass Joseph Fonteyn Fluted Wall Light, a captivating lighting fixture that combines style, design, and functionality. This wall light is available in four stunning variants: Gold Aluminium Bronze, chrome, satin nickel(electroplated), and matte black (spray painted).

The design of this wall light is truly remarkable, featuring a fluted, ribbed, and reeded pattern on the clear glass shade. This intricate detailing creates a mesmerizing play of light and shadows, adding depth and character to any space. When illuminated, the fluted pattern casts unique and enchanting patterns on the surrounding walls, creating a captivating ambiance.

The style of the Cylinder Clear Reeded Glass Wall Light is timeless and versatile, making it suitable for a wide range of interior design themes and decoration styles. Its elegant and sophisticated appearance adds a touch of glamour and refinement to any room. Whether your decor leans towards modern, contemporary, vintage, or traditional, this wall light effortlessly complements various aesthetics and enhances the overall atmosphere.

The Gold Aluminium Bronze variant exudes a sense of opulence and luxury, perfect for adding a touch of grandeur to upscale interiors. The chrome finish offers a sleek and polished look, ideal for contemporary spaces seeking a modern and minimalist vibe. The satin nickel variant exudes understated elegance and pairs well with transitional or industrial-inspired decors. Lastly, the matte black option adds a touch of drama and sophistication, creating a striking contrast against lighter-colored walls.

With its fluted glass shade and versatile finishes, the Cylinder Clear Reeded Glass Wall Light can be installed in various areas of your home or commercial space. It serves as a stunning accent piece in hallways, entryways, living rooms, dining areas, bedrooms, and even bathrooms. It can also be used in commercial settings such as hotels, restaurants, and lounges, where its captivating design becomes a focal point and enhances the overall aesthetics. Install it as a single statement piece or in pairs for a balanced and symmetrical look.

The Cylinder Clear Reeded Glass Joseph Fonteyn Fluted Wall Light is a beloved choice among our customers, and it's easy to see why. Its exceptional design, high-quality materials, and attention to detail make it a sought-after lighting fixture. It not only provides functional illumination but also serves as a captivating decorative element that elevates the overall aesthetic of any room.

Upgrade your lighting with the Cylinder Clear Reeded Glass Joseph Fonteyn Fluted Wall Light and experience the perfect blend of style, design, and ambience. Transform your space into a haven of elegance and sophistication, where every detail shines with brilliance. Choose this remarkable wall light and let it become the focal point of your decor, casting a warm and enchanting glow that mesmerises all who enter.
Technical Specifications
| | |
| --- | --- |
| Name | Alouette Replica Cylinder Clear Reeded Glass Joseph Fonteyn Fluted Wall Light E27 |
| Product Code | 151-19494 | 151-194940 | 151-194942 | 151-194944 |
| Model | Sconce, Liaison, Chester |
| Power | Max 40 W |
| Power Source | Hardwired |
| Voltage | 220/240Vac 50/60Hz |
| Lamp Holder Type | E27 Edison Screw (ES) |
| Protection Class | Class I |
| Dimmability | Dimmable if used with dimmable bulbs |
| Light Source | Bulb |
| Bulbs | Bulbs are not included |
| IP Class(Ingress Protection) | IP20 |
| Mount Type | Surface Mount |
| Product Dimensions (L x W x H) (D x H) | W100xH410 mmx150 mm |
| Size of Shades | D70xH220mm |
| Size of Rose | D120x25mm |
| Shape | Cylinder |
| Made of Materials | Steel, Glass |
| Shade Material | Glass |
| Product Colour | Gold Aluminium Bronze | Chrome | Satin Nickel | Black(matte) |
| Shade Colour | Clear |
| Paint Type | Electroplated, Spray Painted |
| Diffuser Type | Clear textured |
| Operating Temperature (C) | -20/+45C |
| Warranty | 3 year |
| Gross Weight | 1.07 kg |
| Net Weight | 0.56kg |
| Box Dimensions (LxWxH) | 320x320x200mm |
| Certifications | UKCA, CE, RoHS |