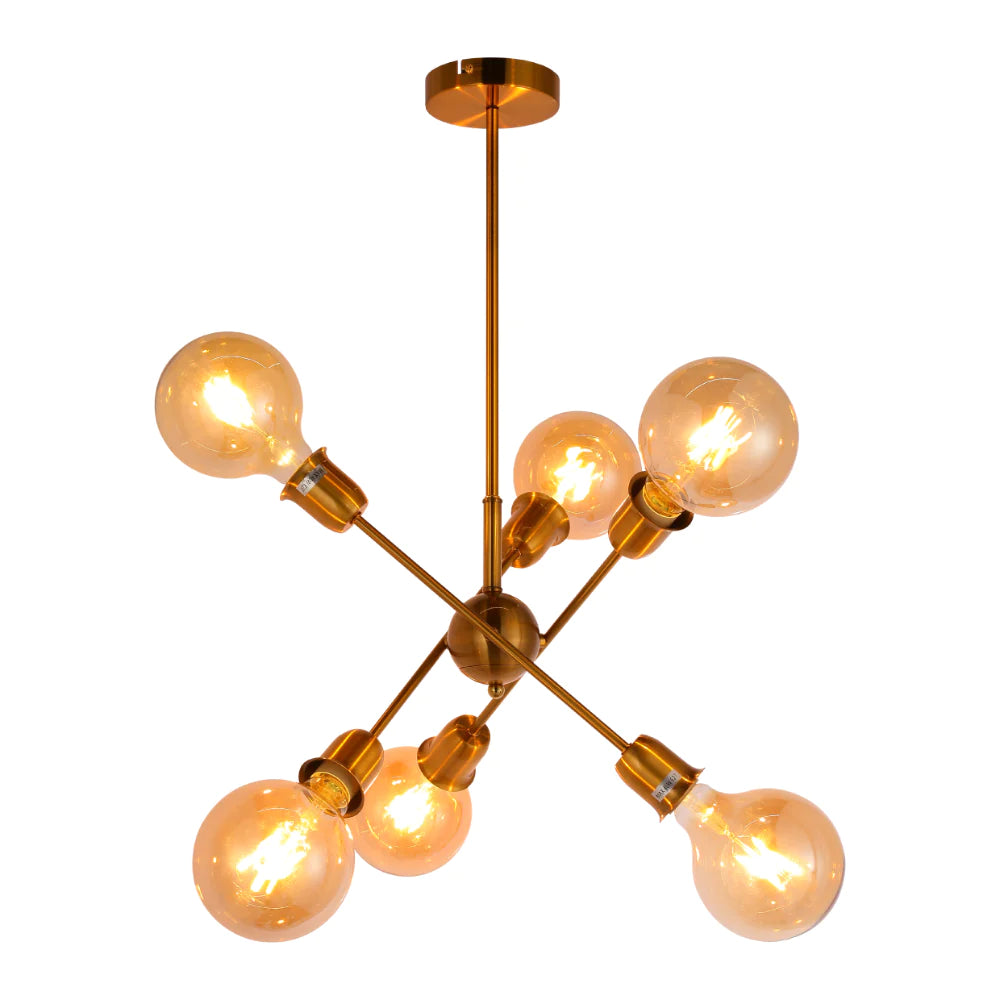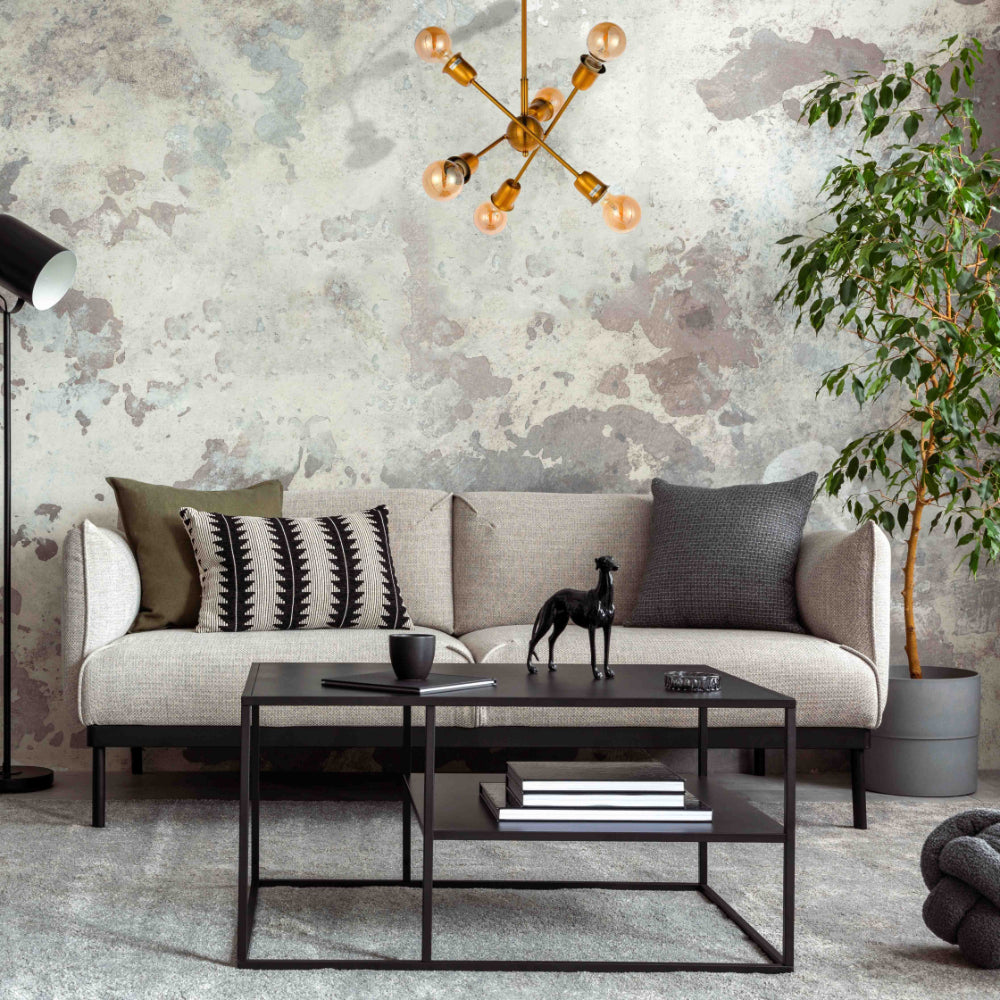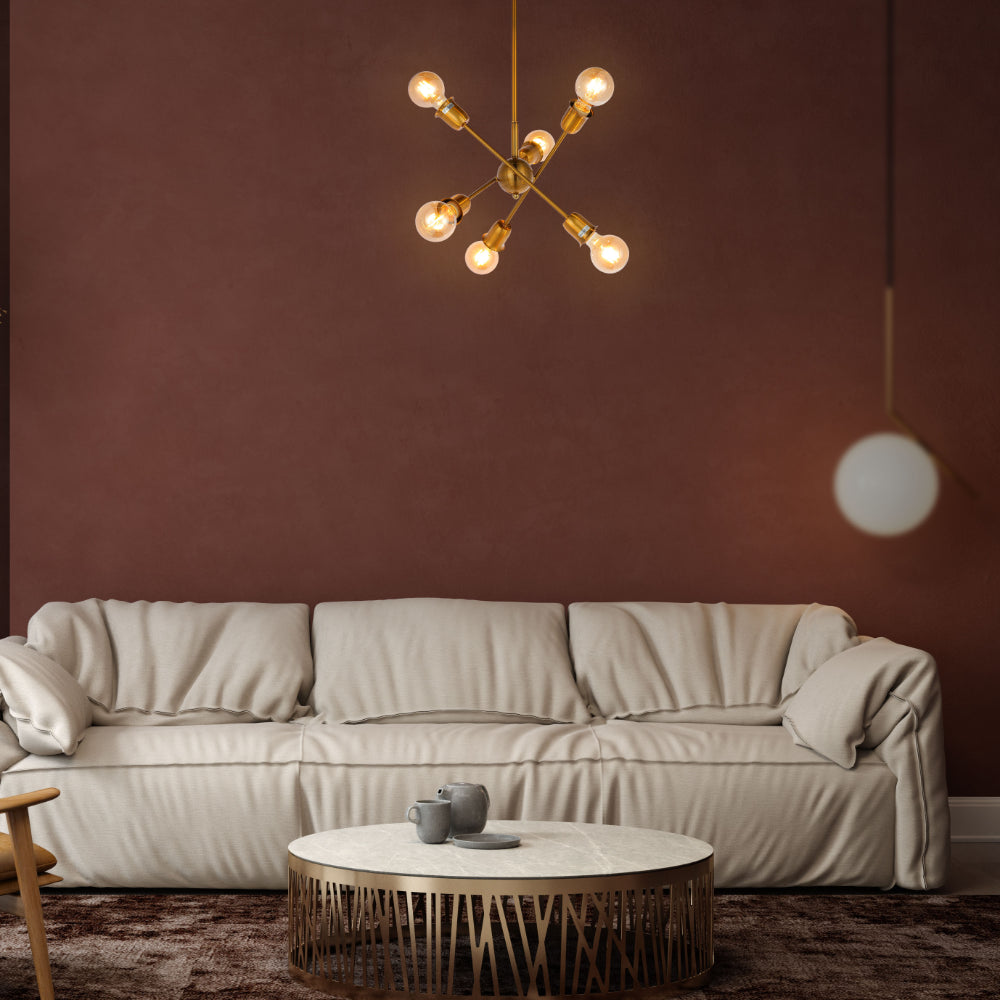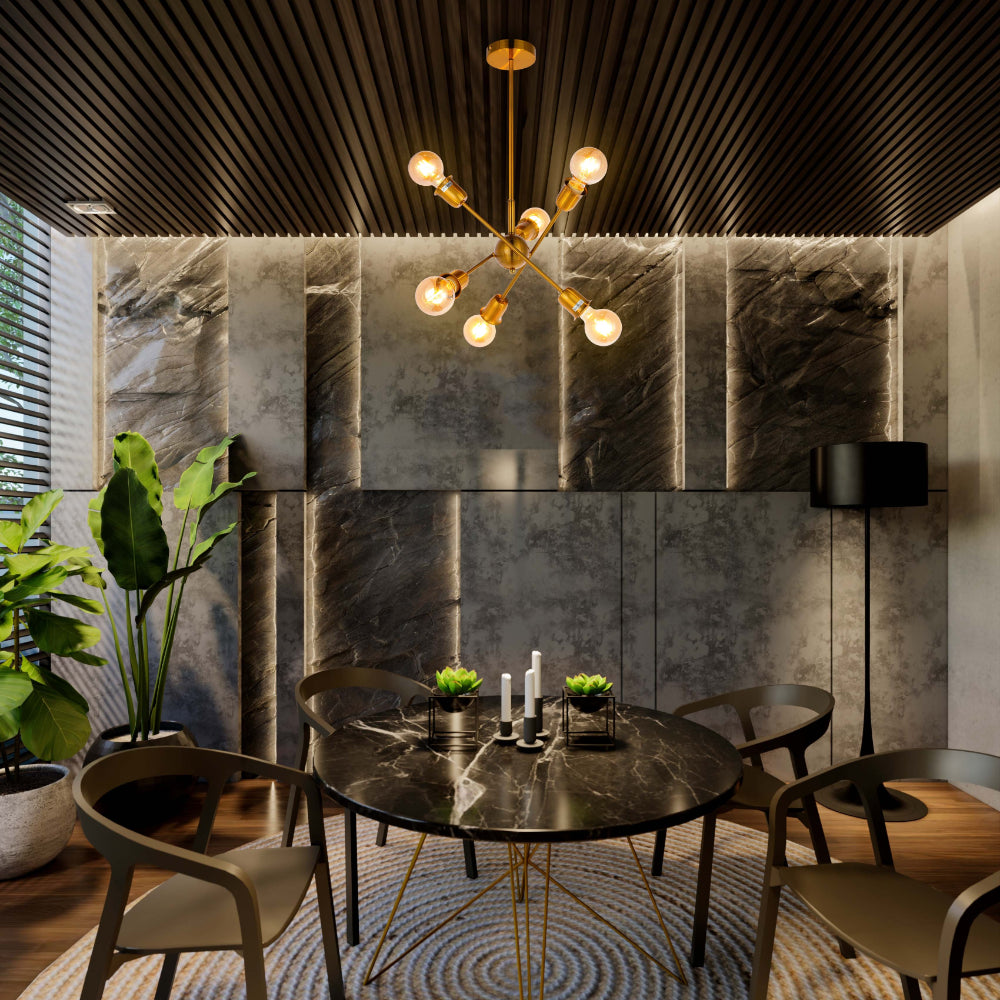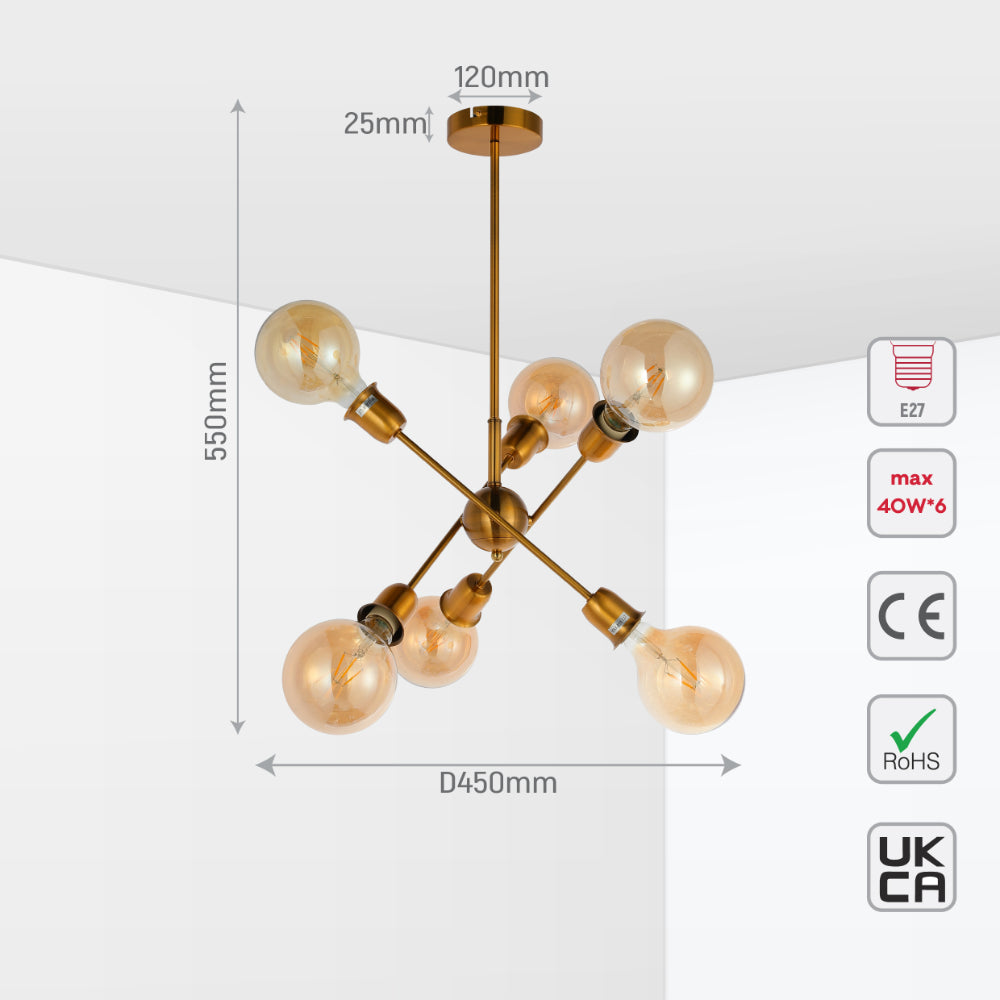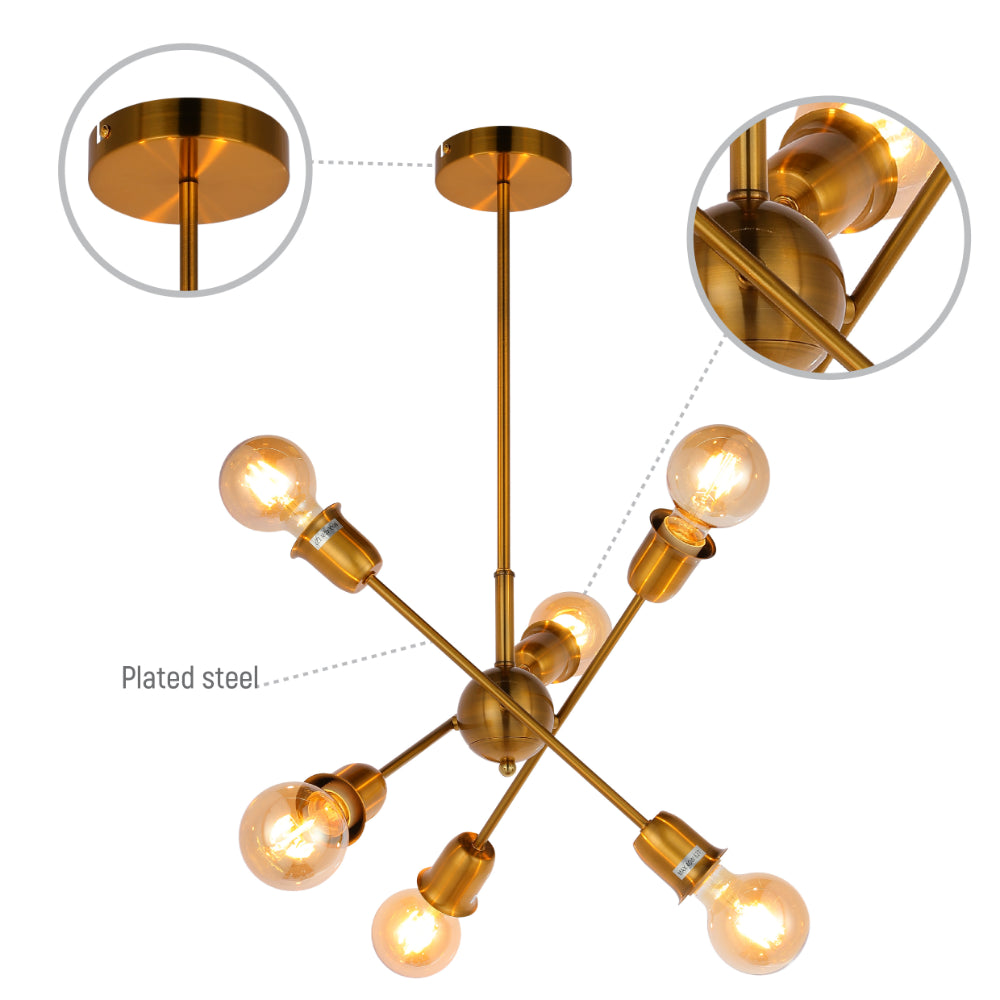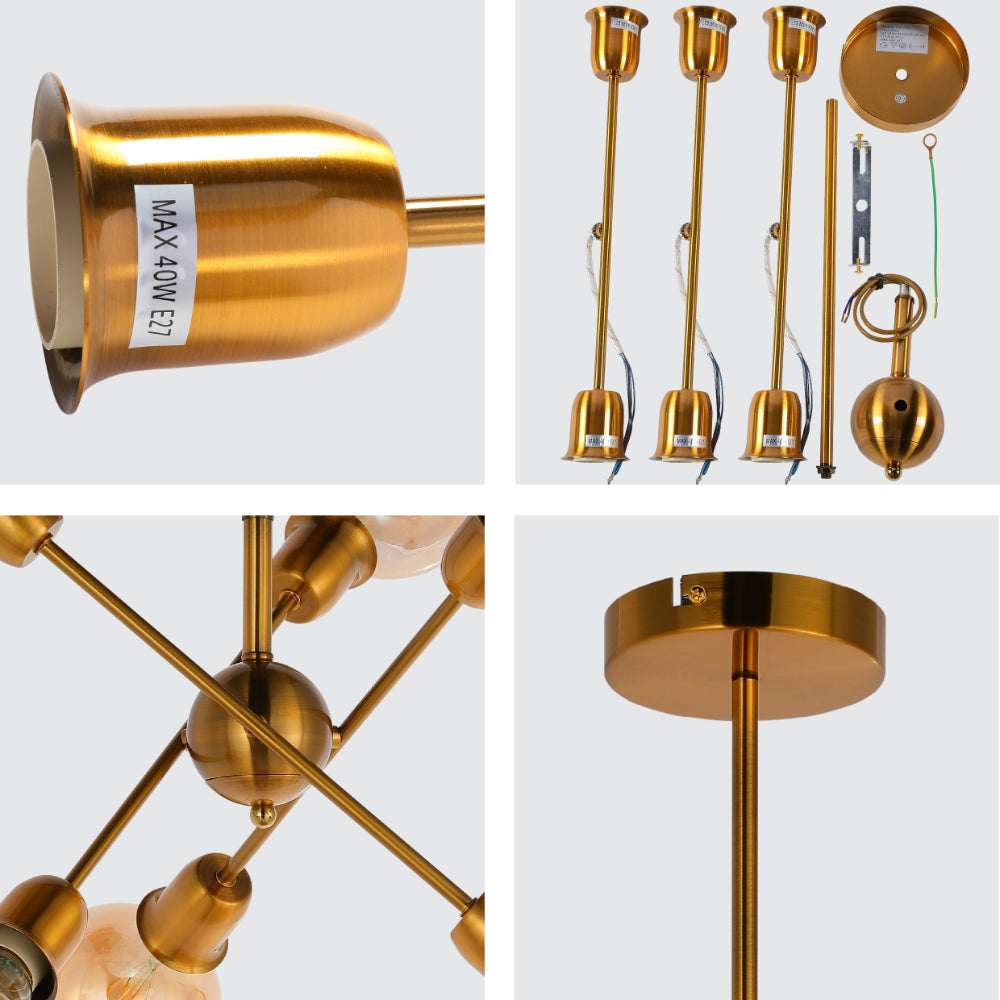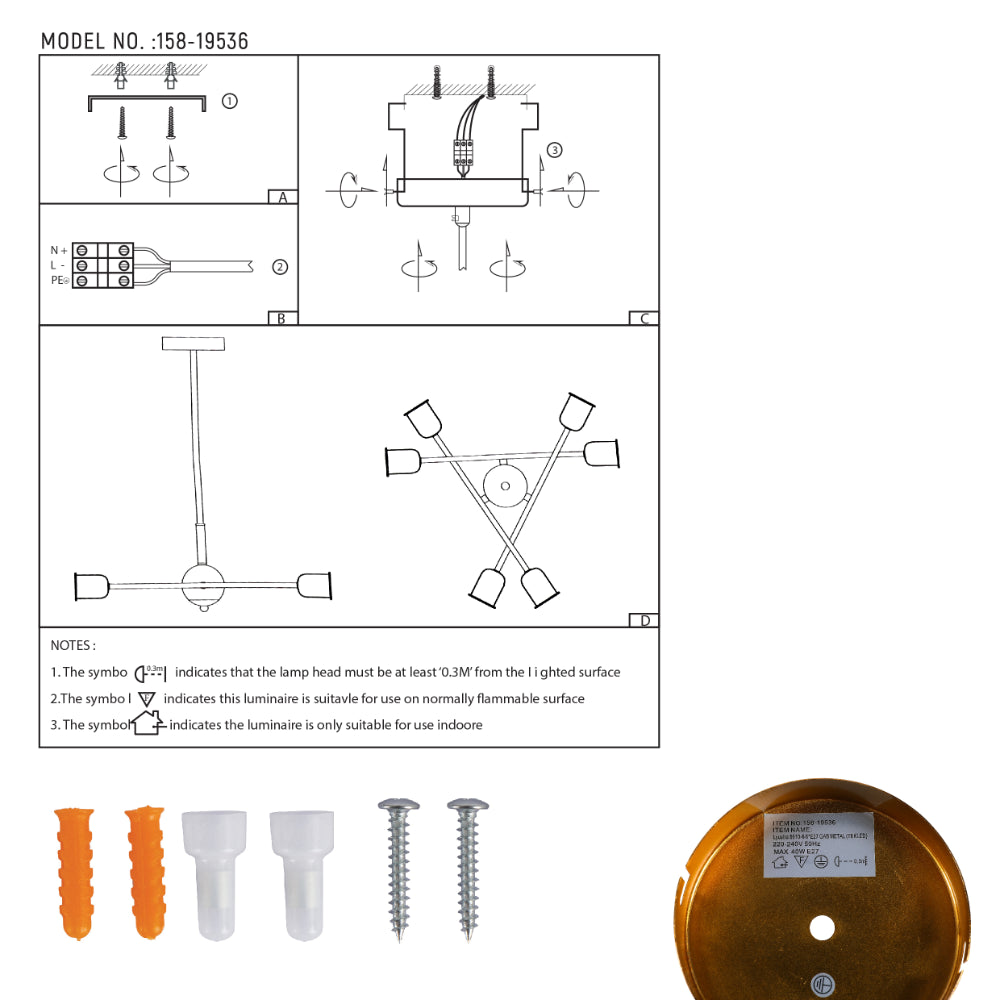 TEKLED
Golden Equilibrium Sphere Sputnik Chandelier | 6-Light Geometric Elegance Fixture
Golden Equilibrium Sphere Sputnik Chandelier | 6-Light Geometric Elegance Fixture
Elegant Structure and Timeless Material:
Our chandelier captivates with its elegant design, featuring a central metal sphere from which six branching rods extend at a precise 45-degree angle. This sophisticated geometry, combined with the lustrous finish of gold aluminum bronze plating, results in a lighting fixture that is both commanding and harmonious.
Versatile Style Dynamics:
The chandelier's design effortlessly bridges the gap between vintage and modern aesthetics. Depending on your choice of bulbs, this versatile piece can shift from a warm, nostalgic glow using amber glass bulbs to a sleek, contemporary ambiance with opal glass bulbs. Its adaptable nature makes it a fitting statement piece for a variety of interior design themes.
Quality Construction and Ambient Glow:
Each rod, plated in gold aluminum bronze, provides a warm, reflective quality that enriches the surrounding space. The chandelier is engineered for balance and durability, ensuring that the beauty of its design is matched by its construction.
Installation and Customizable Illumination:
The chandelier comes equipped with an adjustable rod, making it simple to install at the ideal height in any room, from lofty ceilings in a grand foyer to more intimate settings above a dining table. The central sphere acts as a hub for the equally spaced rods, creating an even, pleasing distribution of light.
Lighting Recommendations and Decor Compatibility:
This fixture's golden hues and the option for amber or opal glass bulbs make it a versatile addition to interiors from classic to contemporary. It pairs beautifully with rich textures and wood tones for a vintage look, or with minimalist decor for a chic, modern feel. For a complete vintage effect, Edison-style amber bulbs are recommended, while frosted opal bulbs will cater to those with a preference for modern simplicity.
The product description is designed to highlight the chandelier's versatile design, emphasizing its adaptability to different styles and lighting moods, appealing to a wide range of customers who appreciate both the classic and the contemporary.
Technical Specifications
| | |
| --- | --- |
| Product Code | 158-19536 |
| Name | Golden Equilibrium Sphere Sputnik Chandelier | 6-Light Geometric Elegance Fixture |
| Model | Sputnik, Modern, Minimalist, Industrial |
| Power | MAX 40W*6 |
| Power Source | Hardwired |
| Voltage | 220/240Vac 50/60Hz |
| Lamp Holder Type | E27 Edison Screw |
| Lamp Holder Quantity | 6 |
| Protection Class | Class I |
| Dimmability | Dimmable if used with dimmable bulbs |
| Light Source | Bulb |
| Bulbs | Bulbs are not included |
| IP Class | IP20 |
| Mount Type | Suspended |
| Product Dimensions (L x W x H) (D x H) | D450*550mm |
| Product Length | 550mm |
| Shape | Rod |
| Material | Steel |
| Product Colour | Gold Aluminium Bronze |
| Paint Type | Electroplated |
| Size of Rose | D120*25mm |
| Suspension Type | Rod |
| Suspension Length | 350mm |
| Adjustable Suspension | No |
| Operating Temperature (°C) | -20/+45 C |
| Warranty | 3 year |
| Box Dimension (L x W x H) | 435*130*140mm |
| Net Weight | 0.97kg |
| Gross Weight | 1.23kg |
| Box Content | 1Light fixture,User manual, Accessories package |
| Pieces/Box | 1 |
| Certifications | UKCA, CE, RoHS |