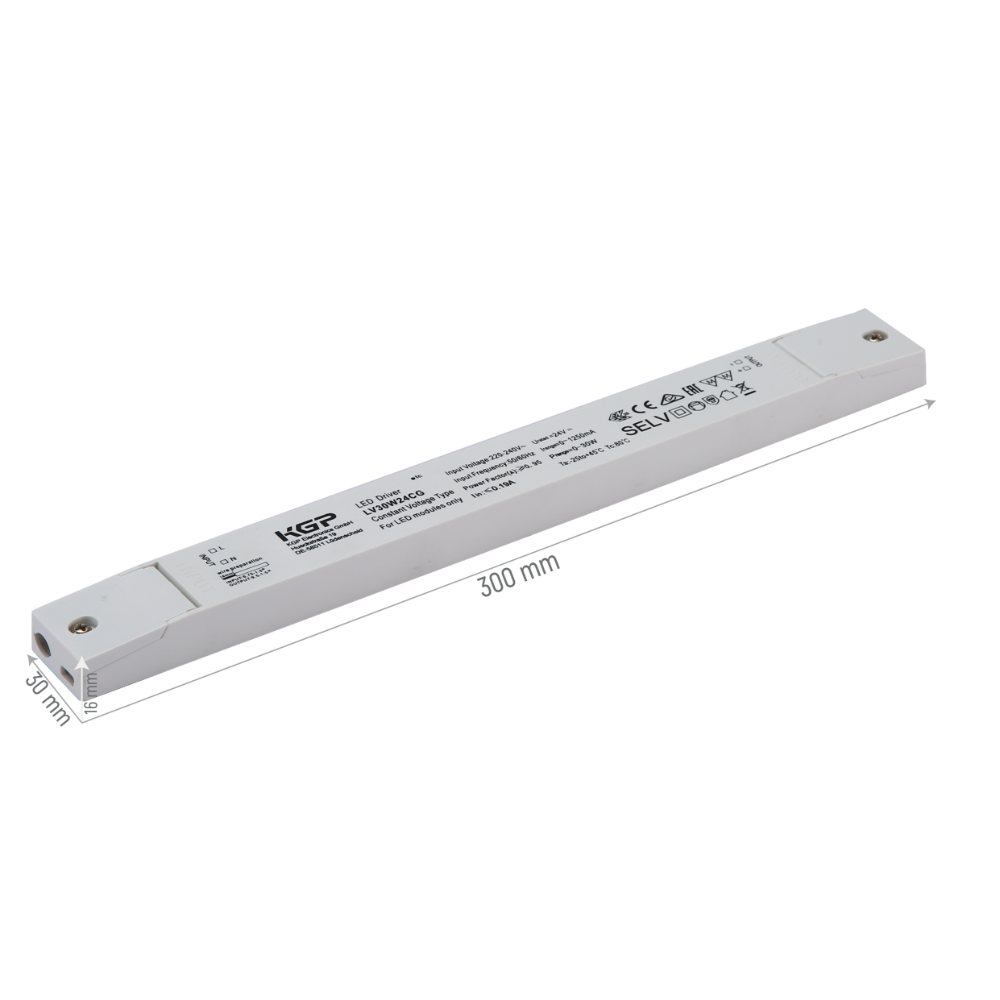 TEKLED
KGP Constant Voltage LED Driver 24V 30W 1.25A for LED Strips-Modules
KGP Constant Voltage LED Driver 24V 30W 1.25A for LED Strips-Modules
Introducing the KGP Constant Voltage LED Driver — your robust solution for powering LED Modules and Strip lights. With its sleek design and advanced features, it ensures the reliable performance of your LED setups.
Key Features & Benefits:
Power-packed Performance: With an impressive 30W capacity and a broad output current range up to 1250 mA, this driver stands out, ensuring your LEDs shine brightly and consistently.
Steady Voltage Output: Delivering a uniform 24V DC, the driver ensures your LEDs maintain a consistent luminosity and hue.
Adaptable Dimming Options: Though the driver is inherently non-dimmable, pair it with 24V dimmer controllers to achieve your desired brightness levels, offering flexibility in lighting ambiance.
Sleek and Unobtrusive Design: Measuring just 300*30*18 mm, its white, compact plastic casing can be discreetly integrated into most settings, preserving aesthetics.
Exceptional Durability: Designed for longevity, this driver boasts a lifespan of 50,000 hours, so you can install with confidence, knowing it's built to last.
Wide Temperature Tolerance: With an operational temperature range from -25°C to +45°C, it's resilient enough to perform in diverse climatic conditions, ensuring reliability.
Certified Excellence: Meeting stringent quality benchmarks, it's endorsed with certifications from UKCA, CE, ENEC, EAC, and SELV. Rest assured, you're investing in a product that meets globally recognized standards.
Perfect for both residential and commercial applications, the KGP Constant Voltage LED Driver guarantees a harmonious blend of efficiency, longevity, and compatibility. Whether you're setting up decorative strips or high-power LED modules, trust this driver to deliver the power you need.
Technical Specifications
Name
KGP Constant Voltage LED Driver 24V 30W 1.25A for LED Strips-Modules
Product Code
890-15959   LV30W24CG
Power
30 W
Type
Constant Voltage 24V dc
Input Voltage

220/240Vac 50/60Hz

Input Current
<0.19 A
Output Voltage
24V dc 
Output Current
0-1250 mA
Power Range
0-30 W
LED Type
for LED Modules and LED Strip lights

Output
single output
Protection Class
Class II
Dimmability
Non-dimmable but can be used with 24V dimmer controllers for dimming the LEDs

IP Class(Ingress Protection)
IP20 indoor
Product Dimensions (L x W x H) (D x H)
300*30*18 mm

Made of Materials
Plastic Box

Product Colour
White
Input Cable Size
0.75 - 1.5 mm

Output Cable Size

0.5 - 1.5 mm
Power Factor
pf>0.95
Flickering
Non-Flickering
Operating Temperature (C)
-25/+45

°C

Temperature (Tc)

90°C
Warranty
3 year
Life Span
50000 h
Box Dimensions (LxWxH)
x x mm
Box Content
1 Piece of driver
Certifications
UKCA, CE, ENEC, EAC, SELV