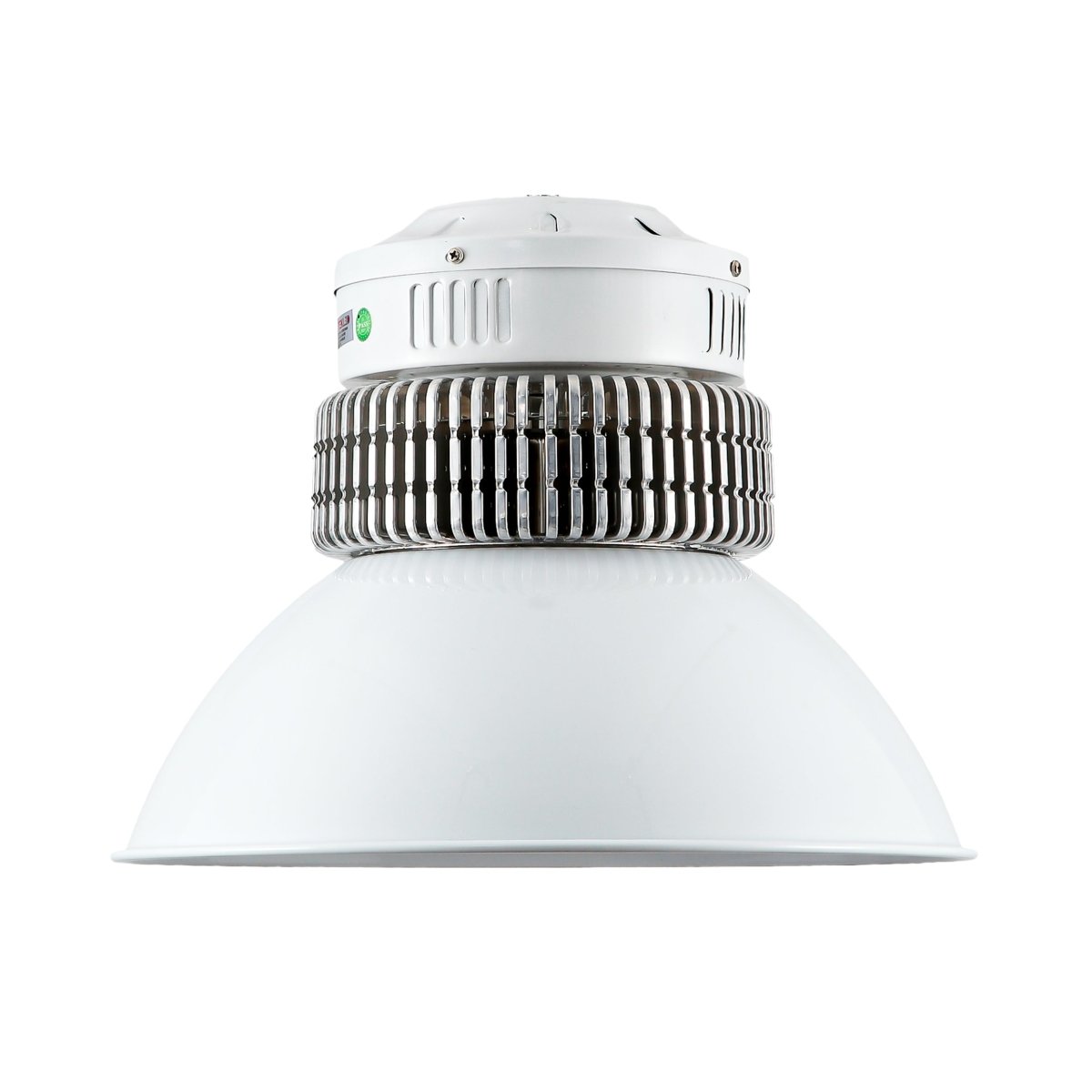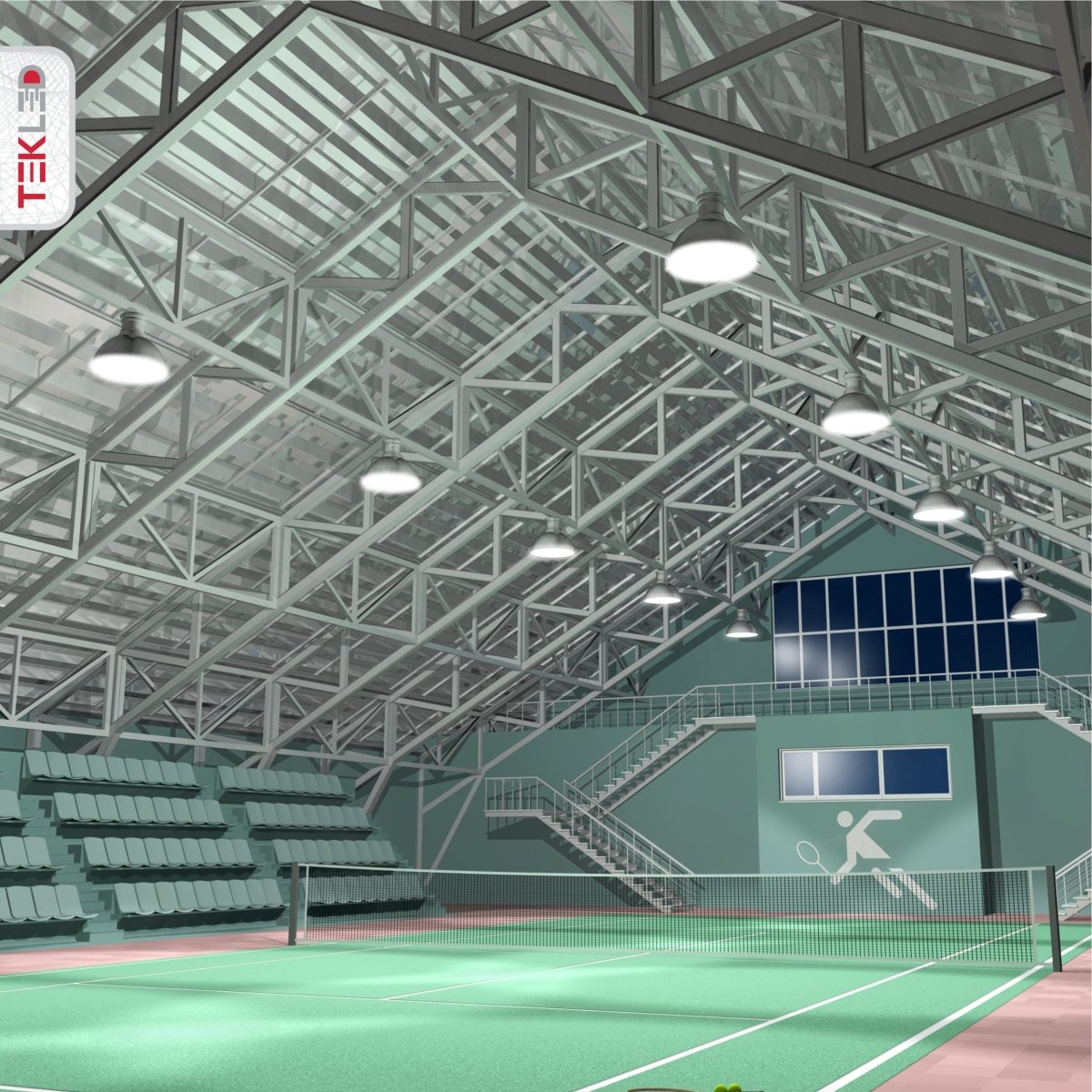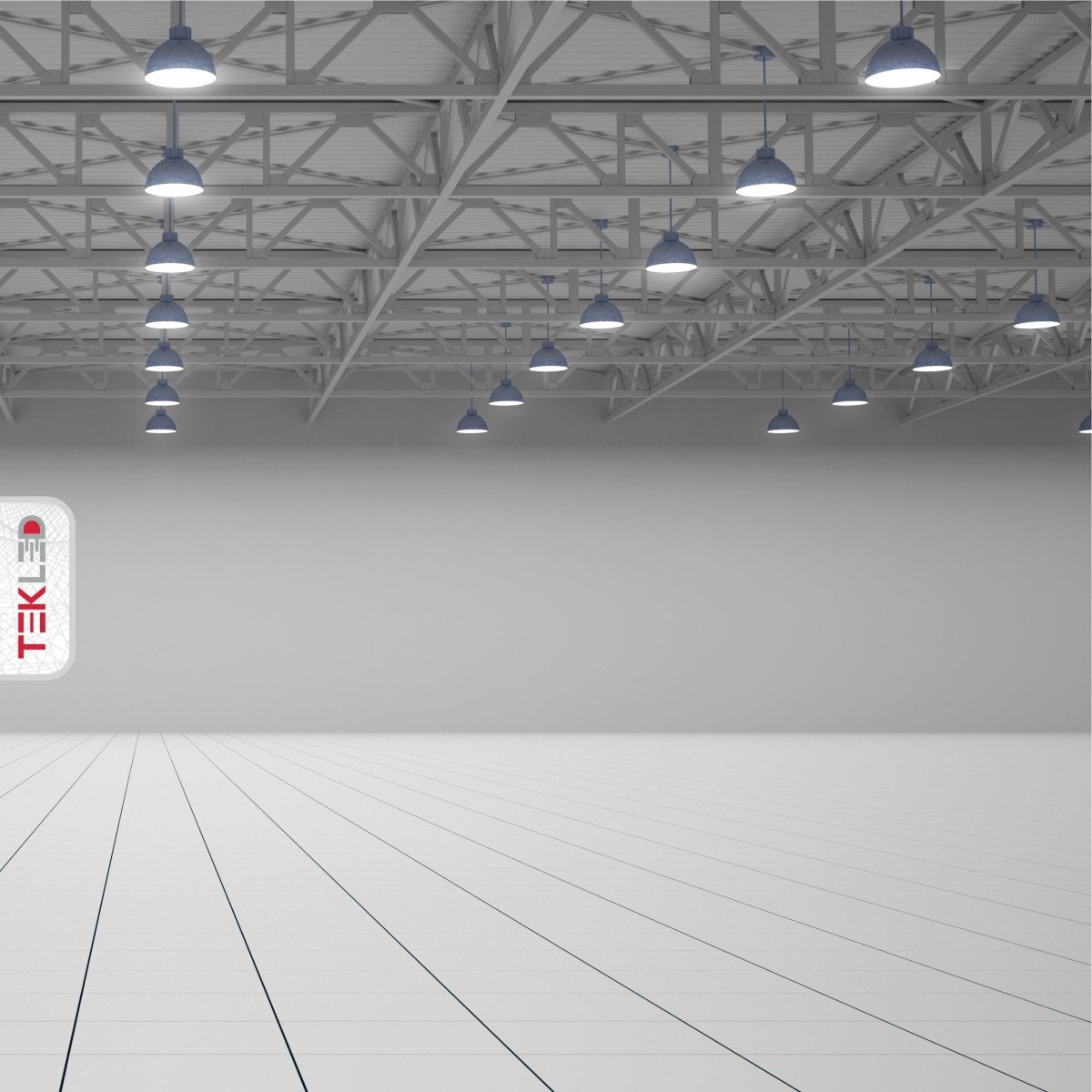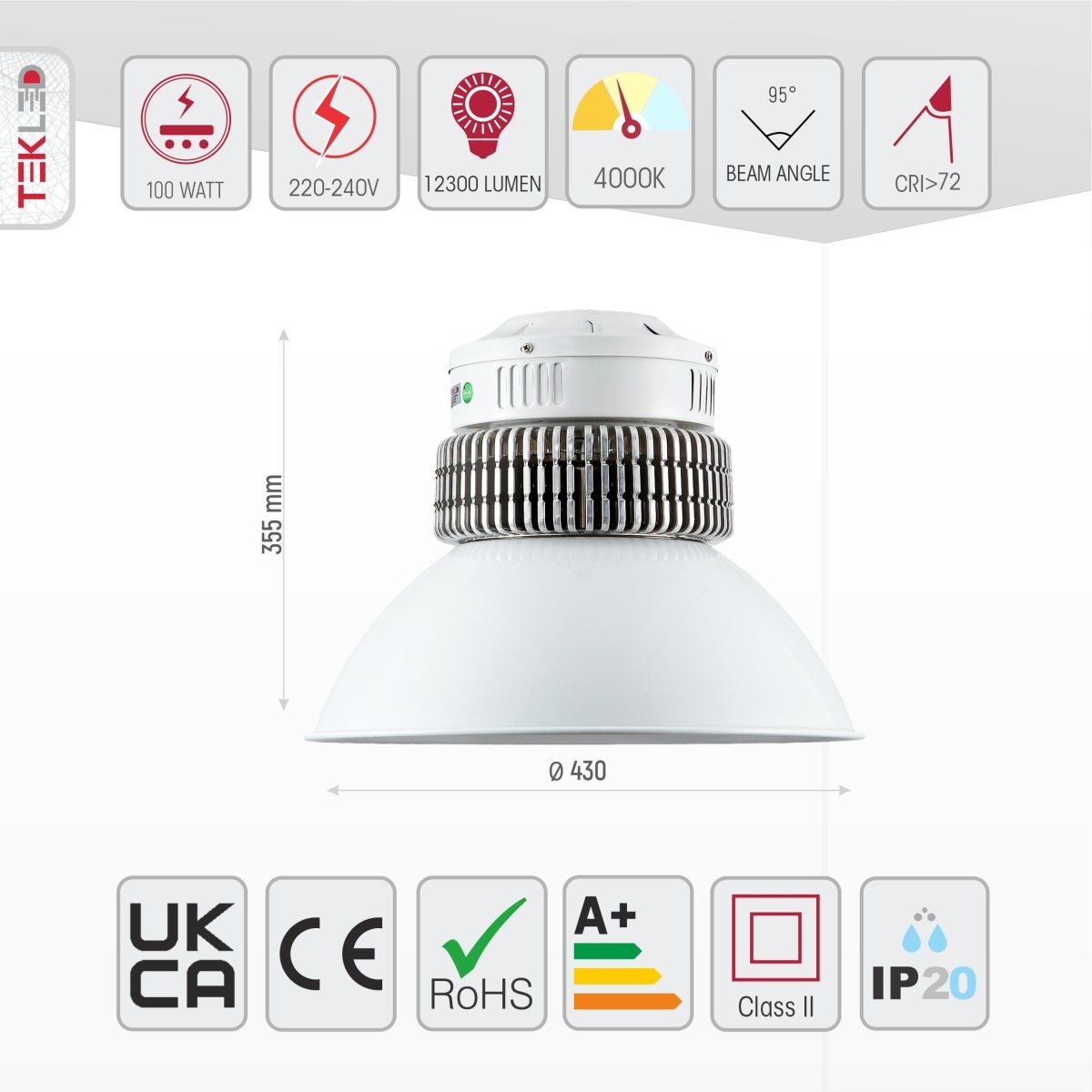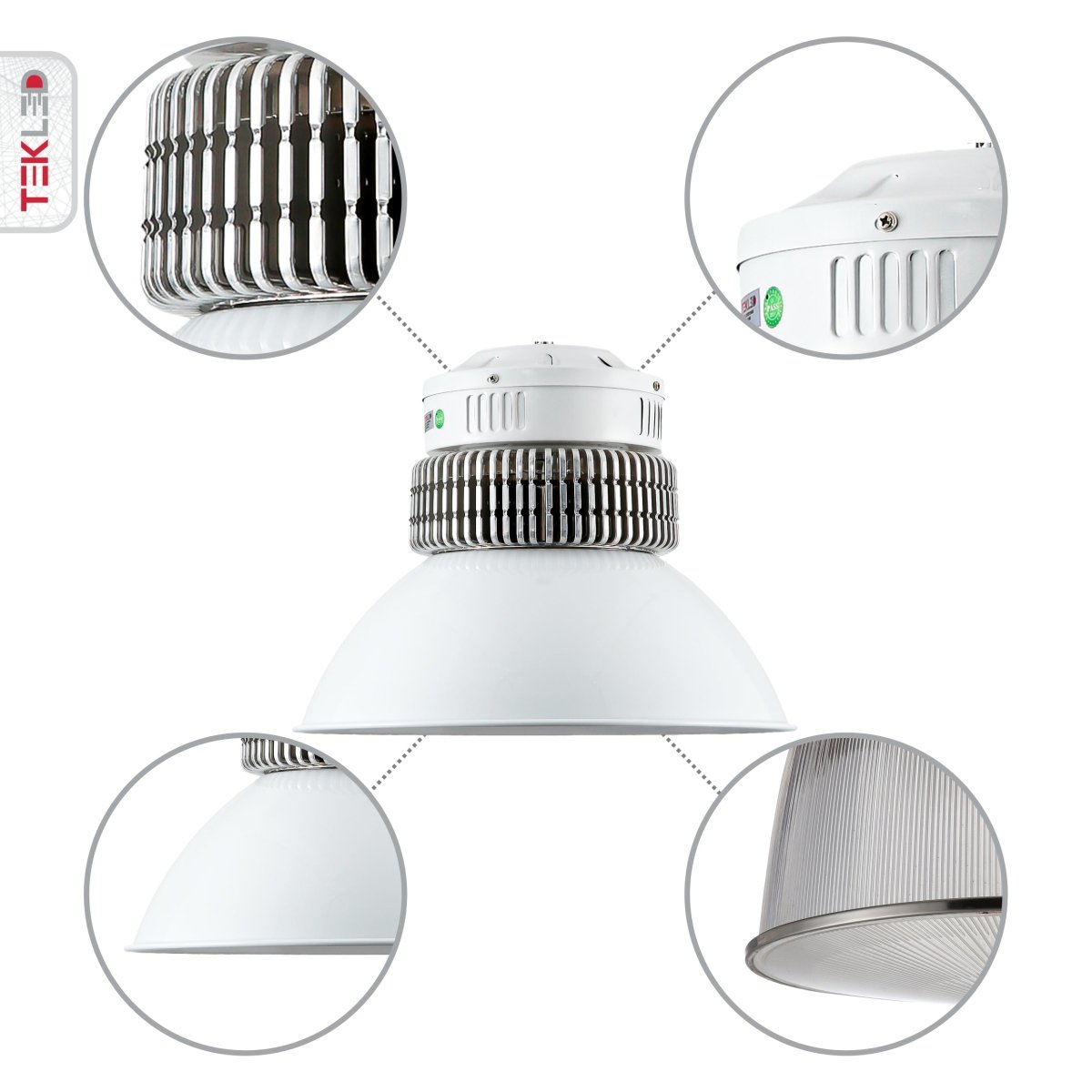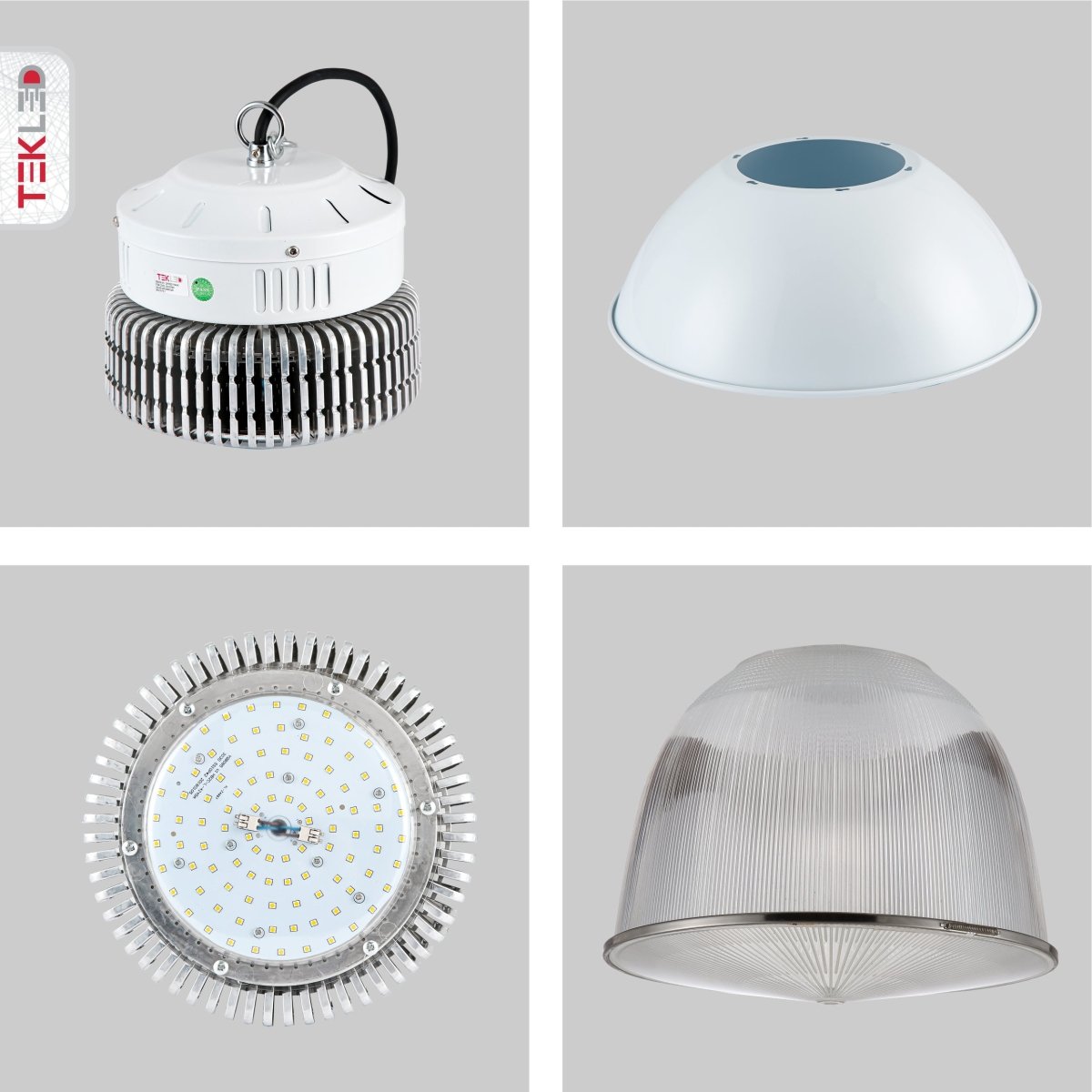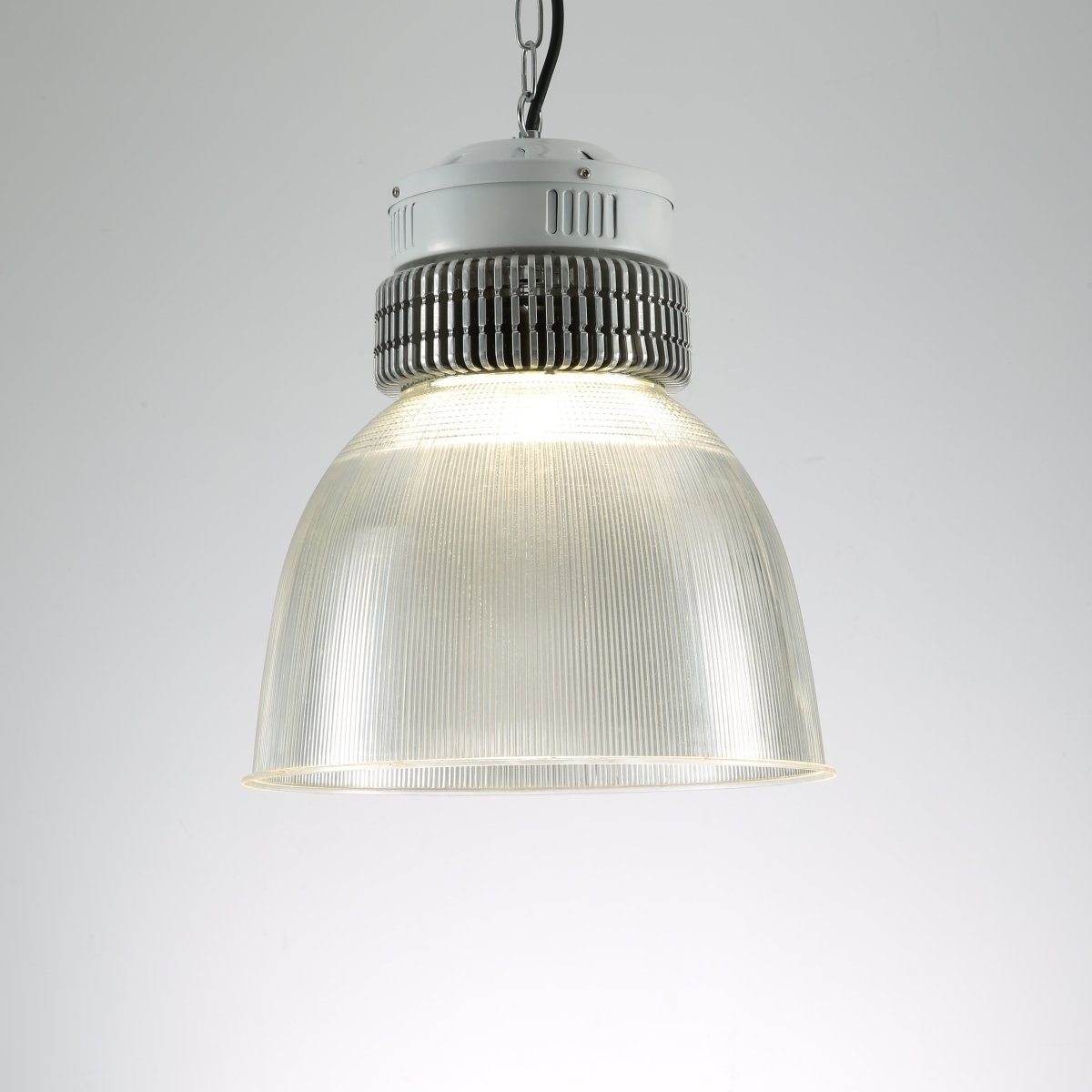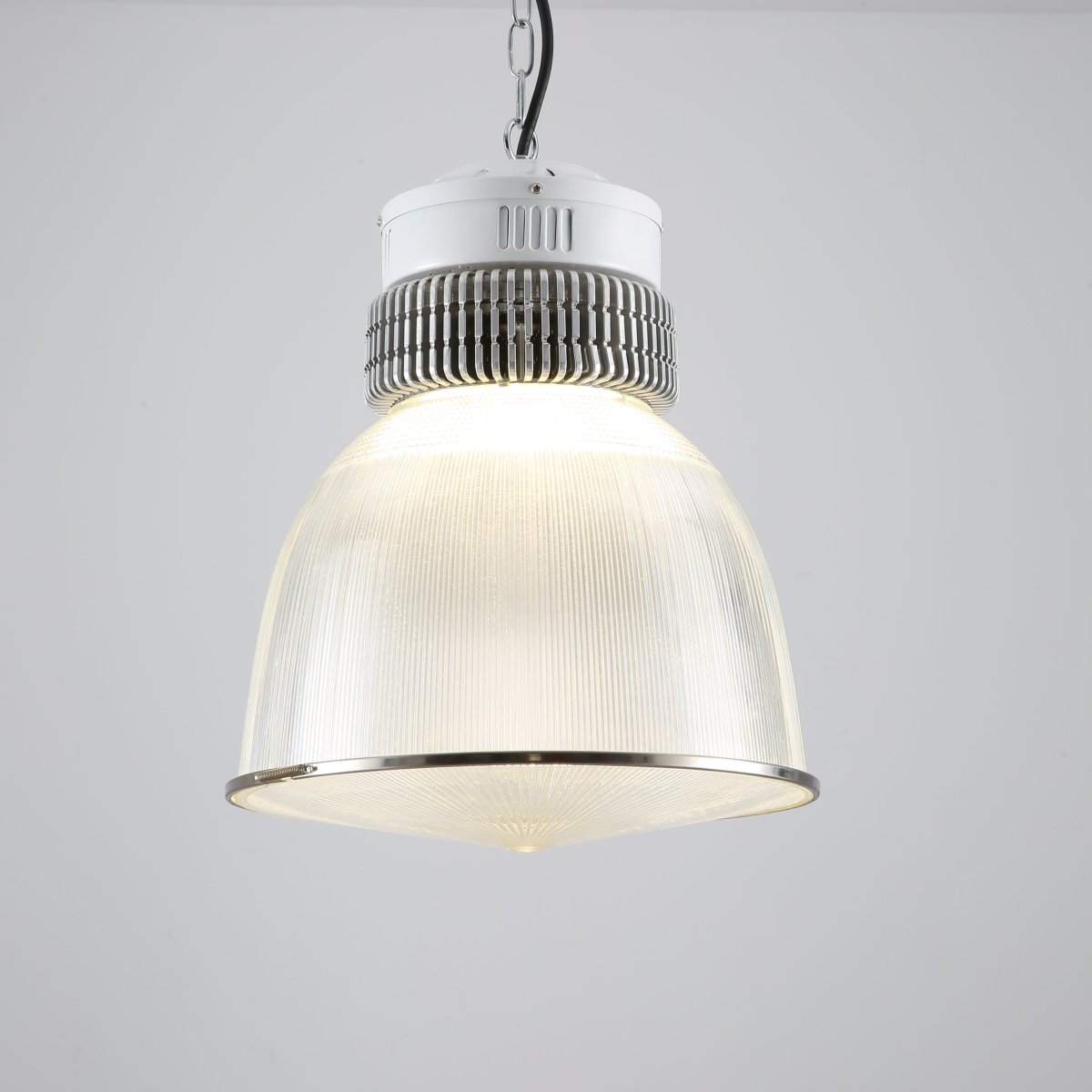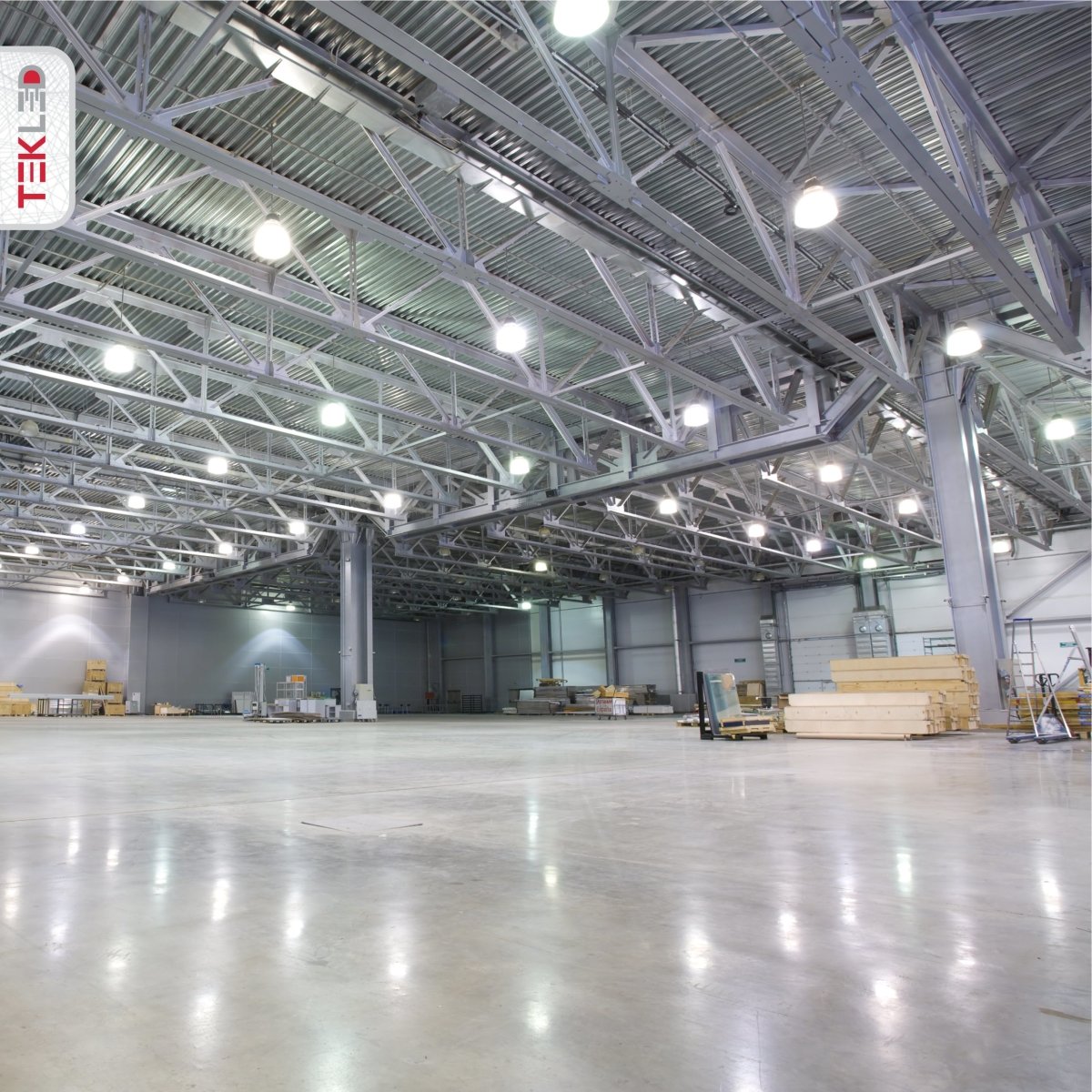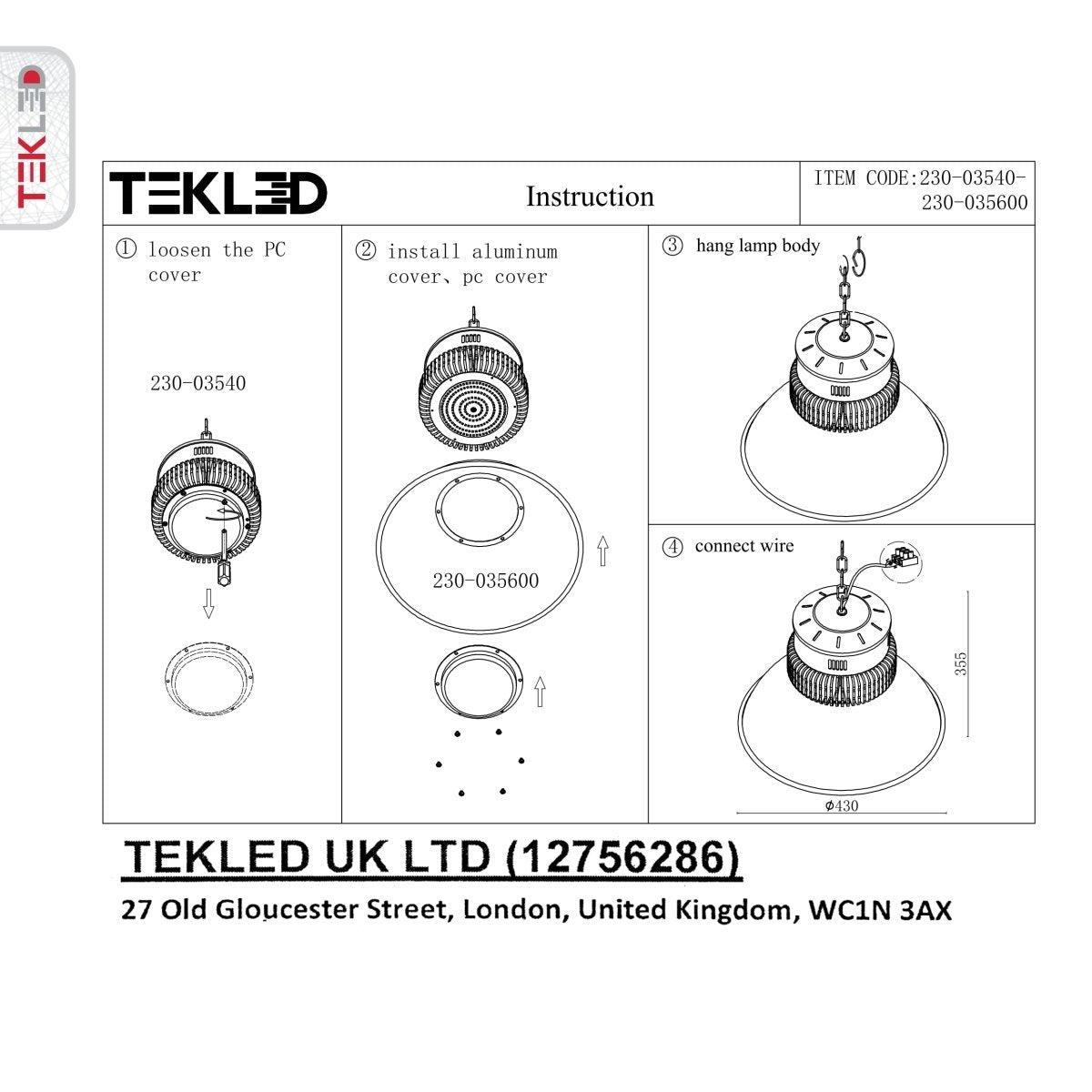 TEKLED
LED Radiator High bay 100W Cool White 4000K IP20 - with Metal Reflector.
Style:
with Metal Reflector
LED Radiator High bay 100W Cool White 4000K IP20
Introducing the LED High Bay Light, an advanced lighting solution designed for various high-ceiling spaces such as warehouses, gyms, and exhibition halls. With a sleek white finish, this light features an aluminium heat sink for efficient heat dissipation and a metal reflector for precise light distribution.

Available in 100W, 150W, and 200W power options, it delivers a 4000K cool white light, promoting clear visibility and a comfortable environment. The LED High Bay Light boasts an impressive 130 lm/W luminous efficacy, ensuring high brightness and energy efficiency. It also includes an Inventronics brand driver with advanced control options for convenient lighting management.

The LED High Bay Light is built for reliability, backed by a 5-year warranty, and a 60,000-hour lifetime, significantly reducing maintenance needs. We offer three reflector options to meet varying lighting needs, including a metal reflector, a PC transparent reflector, and a PC transparent reflector with a lid cover for added protection.

In summary, the LED High Bay Light is an efficient and dependable lighting solution, delivering precise light distribution and enhanced productivity. Trust in its performance and durability for superior illumination and energy efficiency.

For a sophisticated lighting solution, consider the new TEKLED LED Radiator Highbay White IP20 LED 100W suspended high bay downlight. With a sleek aluminium body and a minimalist design, this fixture provides dimmable, cool white light at a colour temperature of 4000K. Ideal for warehouses, sport halls, schools and high-ceiling retail stores, this fixture offers easy installation and exceptional illumination. Choose from Metal Reflector, PC Reflector or PC Reflector with Cover options for tailored light distribution.
Driver used on this fixture has below specifications
Full Power at Wide Output Current Range (Constant Power)
Adjustable Output Current (AOC) with Programmability
Isolated 1-5V/1-10V/10V PWM/3-Timer-Modes Dimmable
Output Lumen Compensation
Input Surge Protection: DM 6kV, CM 10kV
All-Around Protection: OVP, SCP, OTP
IP66/IP67 and UL Dry/Damp/Wet Location(this is for driver but fixture is not IP65, it is for indoor)
SELV Output
TYPE HL, for use in a Class I, Division 2 hazardous (Classified) location
The EUM series, constant-current, programmable IP67 LED driver that operates from 90 - 305Vac input with excellent power factor. It is created for many lighting applications including high bay, high mast and roadway, etc. The high efficiency of these drivers and compact metal case enables them to run cooler, significantly improving reliability and extending product life. To ensure trouble-free operation, protection is provided against input surge, output over voltage, short circuit, and over temperature.
Technical Specifications
| | |
| --- | --- |
| Name | LED Radiator High bay 100W Cool White 4000K IP20 |
| Product Code | 230-03540 |
| Power | 90W |
| Power Source | Hardwired |
| Voltage | 220/240Vac 50/60Hz |
| Input Current | 0.43A @240Vac |
| Lamp Holder Type | Integrated LED |
| Protection Class | Class I |
| Dimmability | Dimmable |
| Light Source | LED SMD 3030 |
| Led Quantity | 10P5S*2 100pcs |
| Bulbs | Built-in LED fixture with LED driver |
| Light Output(luminous flux) | 12300 lm |
| Luminous Efficacy | 135 lm/W |
| Lux | avg 75Lux @6m height 12m diameter, max 180Lux |
| CRI(Colour Rendering Index) | CRI>70 |
| CCT (Kelvin)(Light Colour) | 4000K Cool White |
| IP Class(Ingress Protection) | IP20 |
| Mount Type | Suspended |
| Function Mode | 1-5V, 1-10V, PWM, Multiple Timers |
| Product Dimensions (L x W x H) (D x H) | D225x235 |
| Power Cord Length | 50cm |
| Suspension Type | Chain |
| Suspension Length | 25cm |
| Made of Materials | Aluminium, Steel, Polycarbonate |
| Product Colour | White |
| Paint Type | Spray Painted |
| Driver Brand | Inventronics EUM-100S280DG |
| Driver Type | Constant Current |
| Driver Power | 100W |
| Driver Input Voltage | 90~305 Vac / 127~300 Vdc 50/60Hz |
| Driver Input Current | 0.43A @240Vac |
| Driver Output Voltage | 18 ~ 54 Vdc |
| Driver Output Current | 2800mA |
| Surge Protection Level | 6kv |
| Power Factor | pf>0.95 |
| Flickering | Non-Flickering |
| Control | 1-5V, 1-10V, PWM, Multiple Timers |
| Operating Temperature (C) | -40/+60C |
| New Energy Rating | E |
| Energy Rating | A+ |
| Warranty | 5 year |
| Life Span | 60000 h |
| Gross Weight | 2.4kg |
| Net Weight | 2.06kg |
| Box Dimensions (LxWxH) | 255x255x280mm |
| Box Content | 1pc Lamp body 1pc instruction |
| Certifications | UKCA, CE (LVD, EMC) |