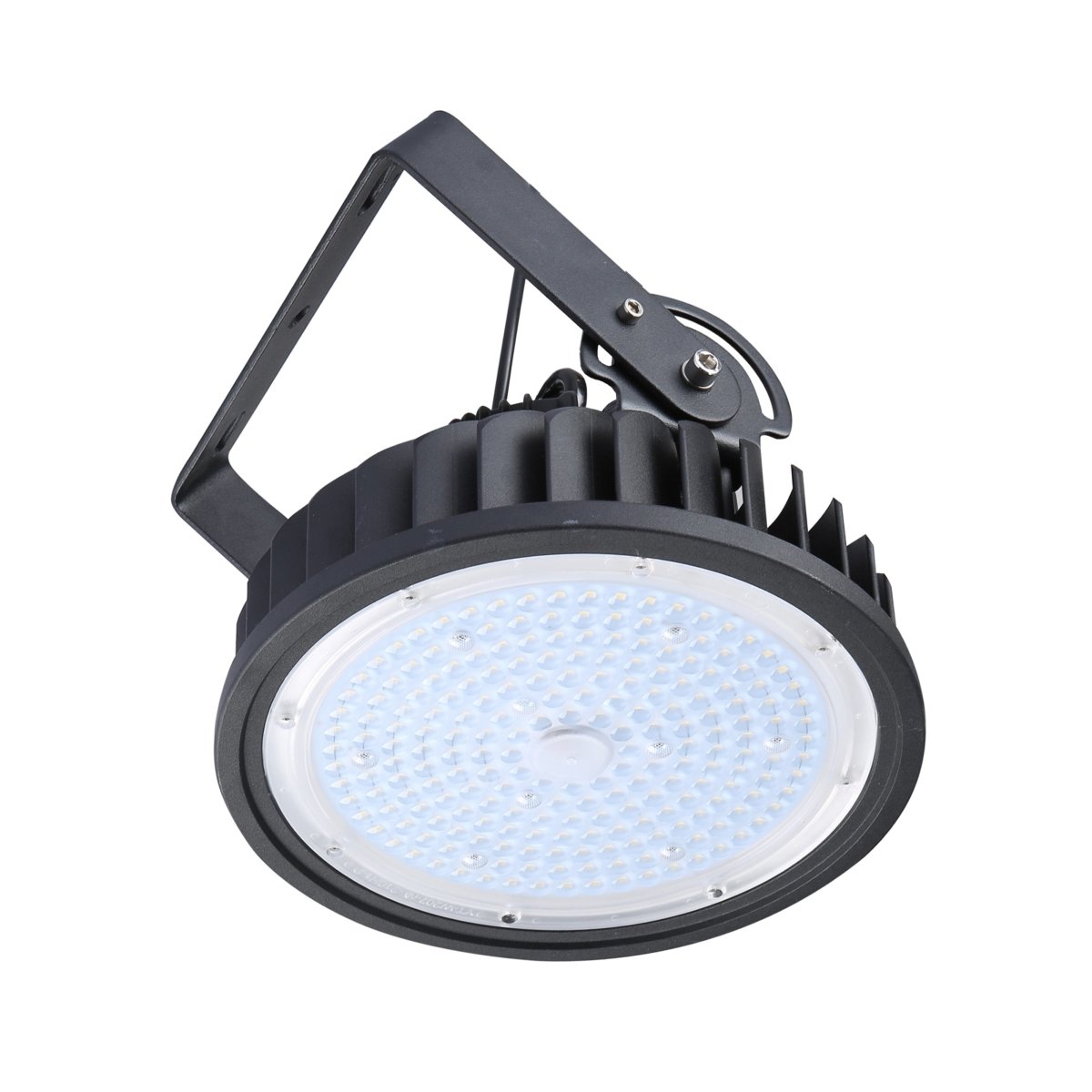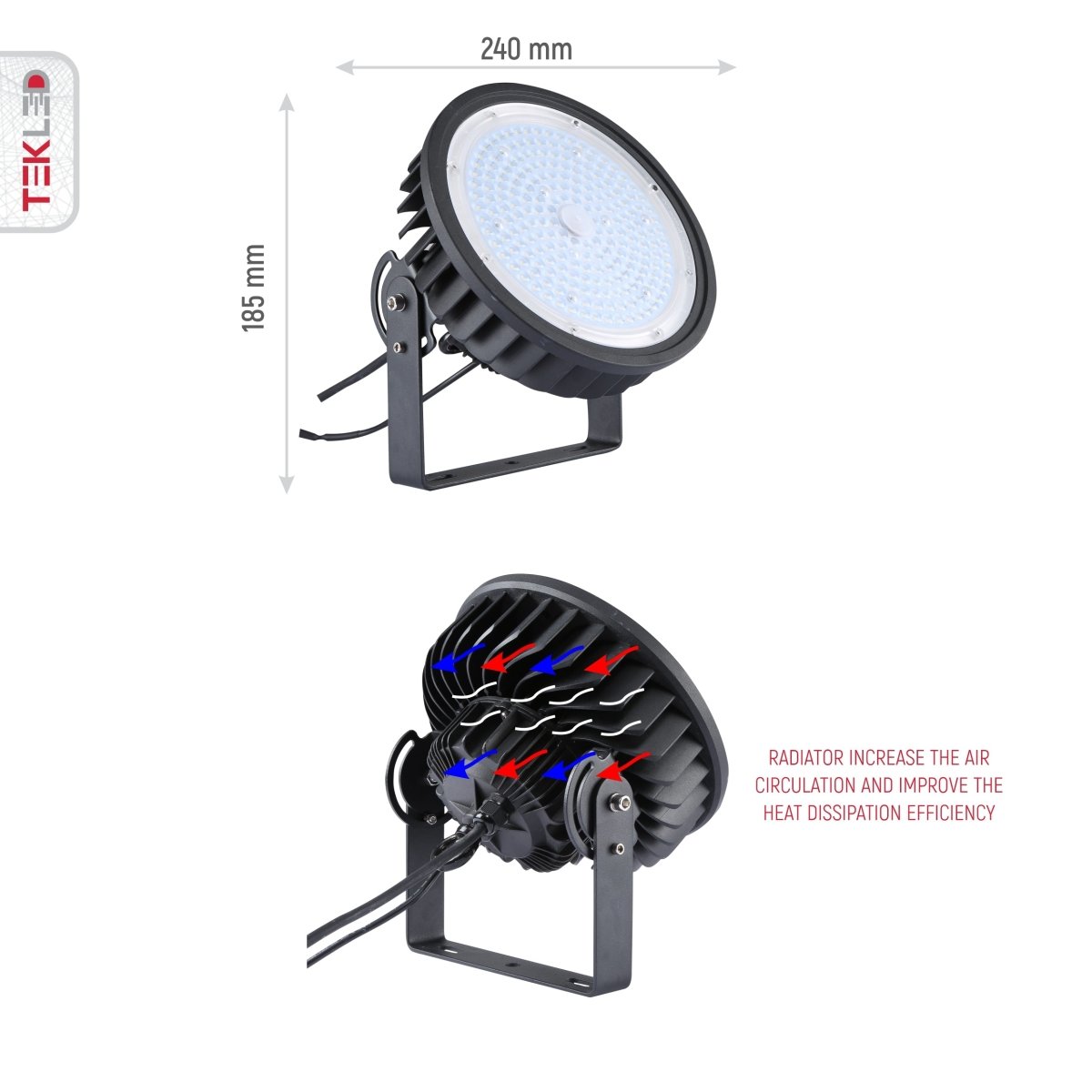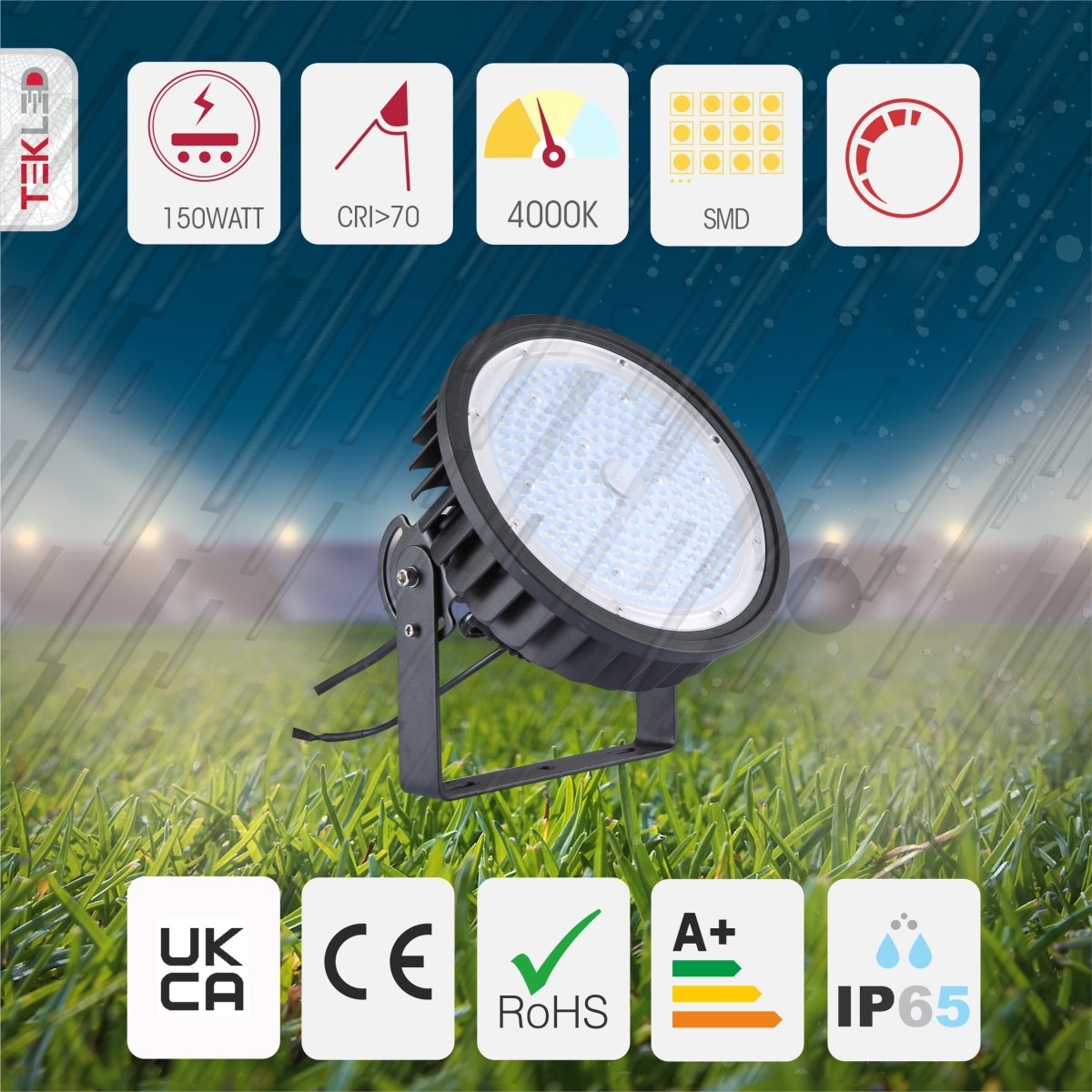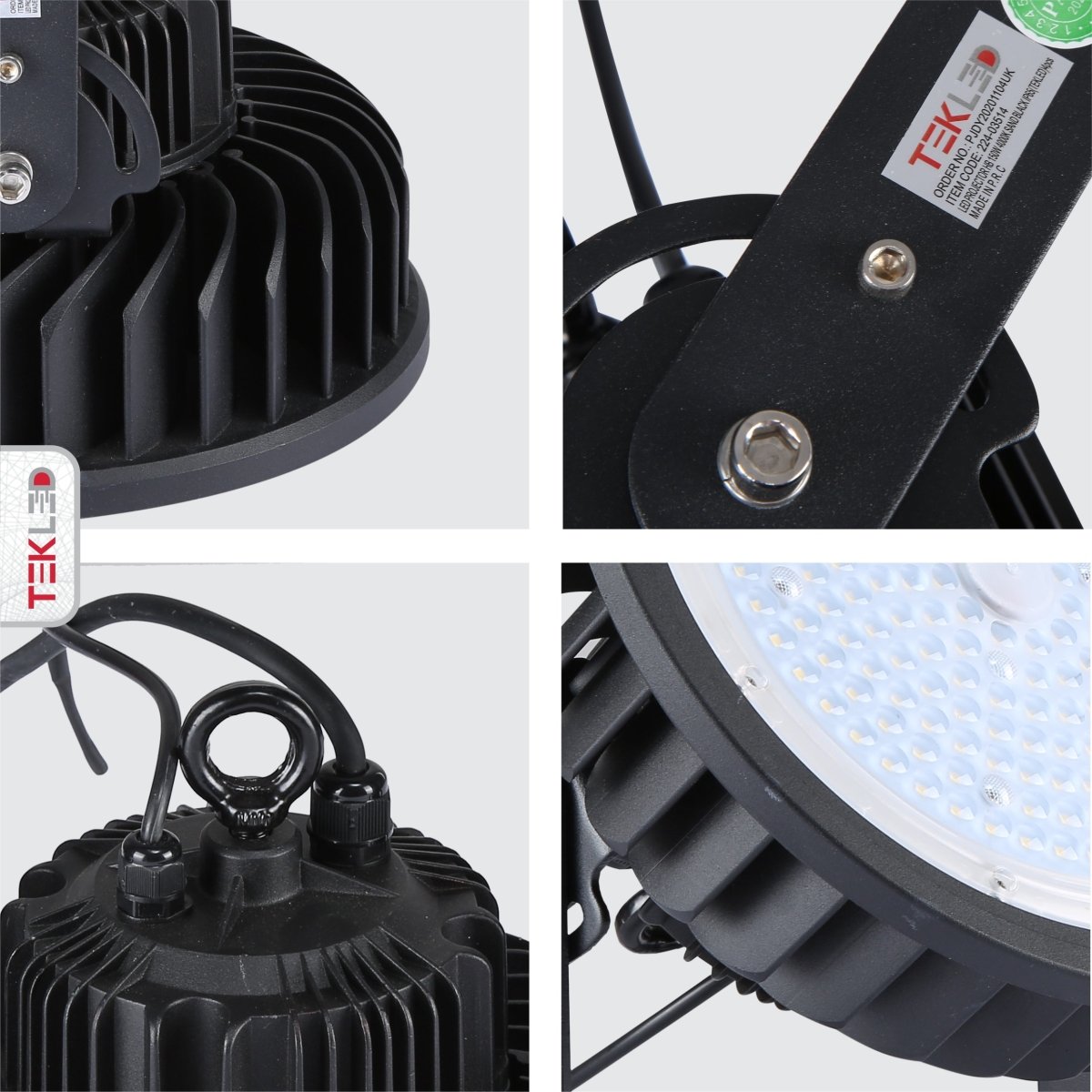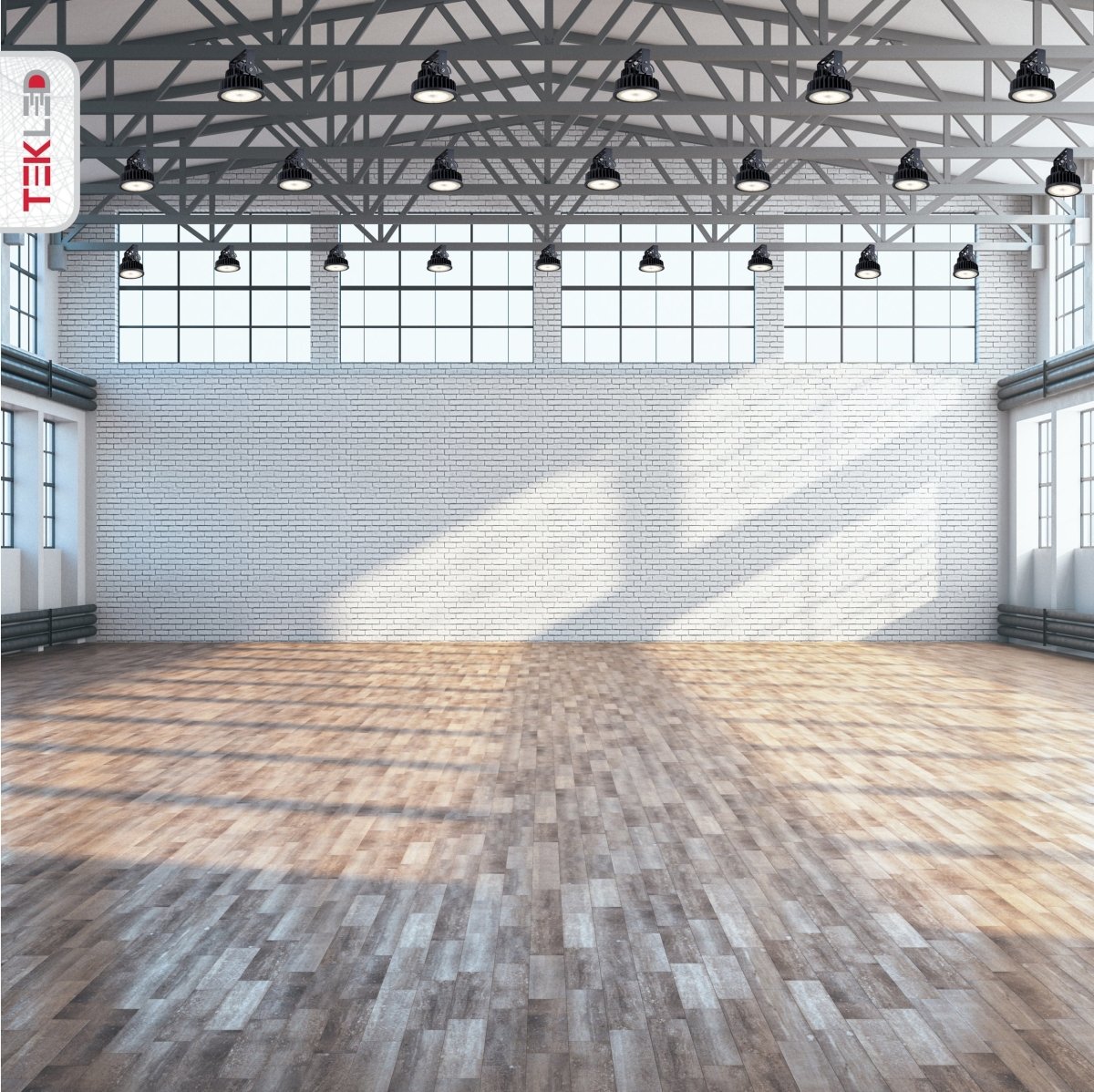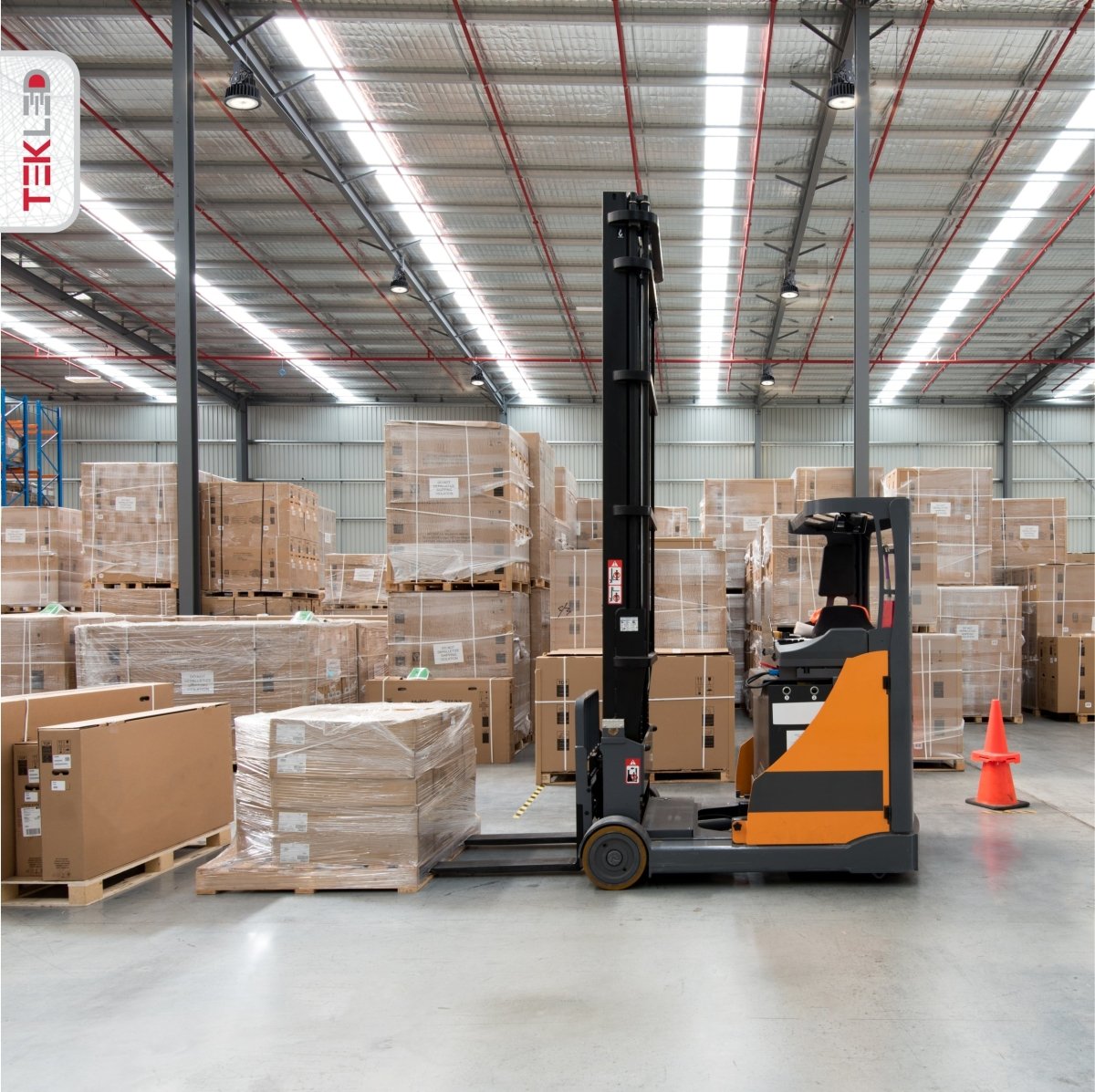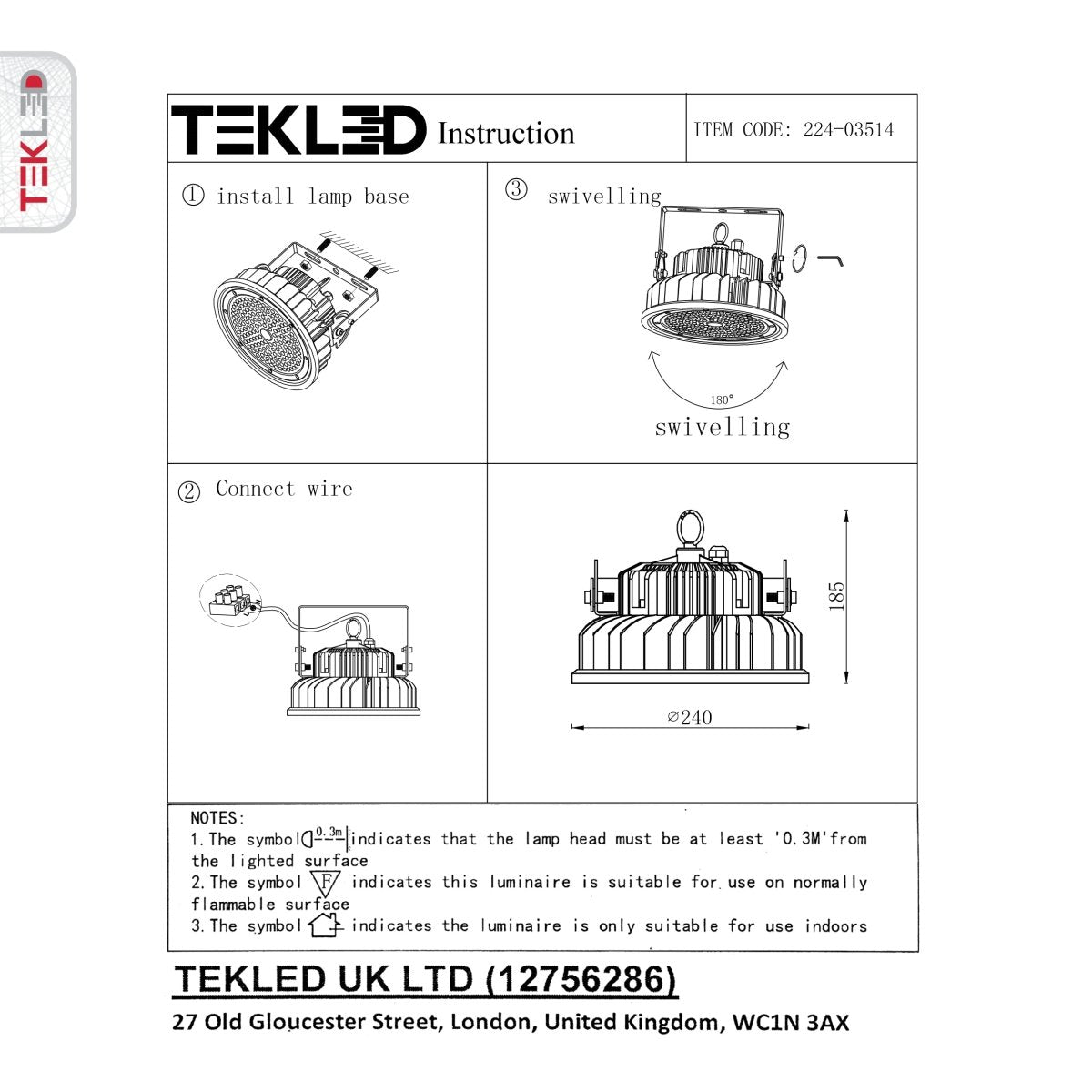 TEKLED
LED UFO Cold Forged Heatsink Highbay Light 150W Cool White 4000K Sand Black IP65
LED UFO Cold Forged Heat Sink High bay Light 150W Cool White 4000K Sand Black IP65
Introducing our high-performance LED UFO Cold Forged Heatsink High Bay Light, available in two variants: 100W and 150W. Designed to provide exceptional illumination in various industrial and commercial applications, this high bay light combines power, efficiency, and durability to meet your lighting needs.

Featuring a sleek sand black powder coating finish, the LED UFO High Bay Light adds a touch of modern elegance to any space. The 4000K cool white light creates a bright and vibrant atmosphere, enhancing visibility and productivity in your chosen area.

The LED UFO High Bay Light boasts an impressive luminous efficacy of 145 lm/W, ensuring efficient energy consumption and cost savings. With a D energy rating, 150W variant delivers a remarkable 22150 lm of light output. This high luminosity provides ample brightness to large spaces, making it ideal for warehouses, factories, gymnasiums, and other areas with high ceilings.

Crafted with a cold forged aluminium body, this high bay light excels in heat dissipation. The advanced heat sink design effectively dissipates heat, preventing the light from overheating and ensuring long-lasting performance. Coupled with a polycarbonate lens, which offers an 80-degree beam angle, the LED UFO High Bay Light delivers uniform lighting distribution and minimizes glare.

Installation is flexible and hassle-free with the adjustable bracket or loop hook mounting options. Whether you prefer to mount the high bay light directly or suspend it from the ceiling, these options provide versatility in positioning and allow you to achieve optimal lighting angles and coverage.

With a remarkable rated lifetime of 50000 hours and backed by a 5-year warranty, this LED UFO High Bay Light offers peace of mind and long-term reliability. The IP65 rating ensures its resistance to dust, moisture, and other environmental factors, making it suitable for both indoor and outdoor use.

The LED UFO Cold Forged Heatsink High Bay Light finds its application in a wide range of settings. It is an excellent lighting solution for warehouses, manufacturing facilities, gymnasiums, sports arenas, exhibition halls, retail stores, and many other high-ceiling spaces that require bright, reliable, and energy-efficient lighting.
Upgrade your lighting with the LED UFO High Bay Light, and experience the benefits of its superior performance, durability, and versatility. Create a well-lit environment that enhances productivity, safety, and visual appeal. Trust in the longevity, efficiency, and outstanding illumination provided by our LED UFO High Bay Light, and illuminate your space with confidence.
The outdoor security lighting is CE-UKCA certified, long lasting and compatible for a wide range of uses.
RoHS certified: Our outdoor security lighting is high quality and is free of toxic-chemicals and products. The flood lights are not only safe to use but eco-friendly as well.
Technical Specifications
| | |
| --- | --- |
| Name | LED UFO Cold Forged Heat sink High bay Light 150W Cool White 4000K Sand Black IP65 |
| Product Code | 224-03514 |
| Power | 150 W |
| Power Source | Hardwired |
| Voltage | 220/240Vac 50/60Hz |
| Lamp Holder Type | Integrated LED |
| Protection Class | Class I |
| Dimmability | Dimmable |
| Light Source | LED SMD 3030 |
| Led Quantity | 6S12P*2 + 6S11P 210pcs |
| Bulbs | Built-in LED fixture with LED driver |
| Light Output(luminous flux) | 22150 lm |
| Luminous Efficacy | 149 lm/W |
| Lux | avg 199Lux @6m height 10m diameter - max 335Lux at the center |
| CRI(Colour Rendering Index) | CRI>70 |
| CCT (Kelvin)(Light Colour) | 4000K Cool White |
| IP Class(Ingress Protection) | IP65 |
| Mount Type | Surface Mount, Suspended |
| Function Mode | On/Off |
| Product Dimensions (L x W x H) (D x H) | 240x185mm |
| Power Cord Length | 35cm |
| Made of Materials | Cold Forged Aluminium, Steel, Polycarbonate |
| Product Colour | Sand Black |
| Paint Type | Powder coated |
| Adjustable | Adjustable Bracket |
| Beam Angle | 80 |
| Optic Type | Lens |
| Optic Material | Polycarbonate |
| Driver Brand | DONE |
| Driver Type | Constant Current |
| Driver Power | 150 W |
| Driver Input Voltage | 90~305Vac 50/60Hz |
| Driver Input Current | 0.69A @240Vac |
| Driver Output Voltage | 19-38Vdc |
| Driver Output Current | 3600mA |
| Efficiency | 0.9 |
| Surge Protection Level | 4kV |
| Power Factor | pf>0.97 |
| Control | On/Off |
| Operating Temperature (C) | -40/+50C |
| New Energy Rating | D |
| Energy Rating | A+++ |
| Warranty | 5 year |
| Life Span | 50000 h |
| Gross Weight | 3.95kg |
| Net Weight | 3.67kg |
| Box Dimensions (LxWxH) | 255x245x195mm |
| Box Content | 1pc Lamp body , 1 pc instruction |
| Pieces/Box | 1 |
| Certifications | UKCA, CE (LVD, EMC) |