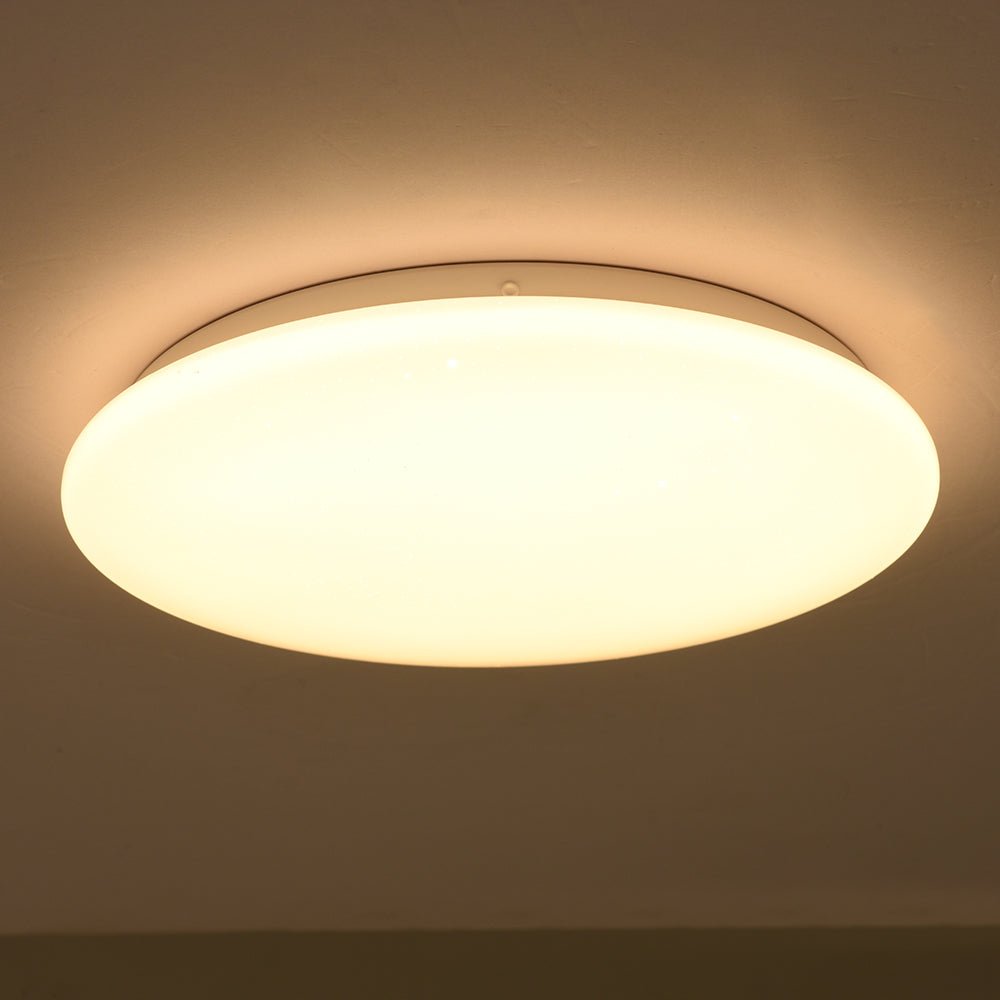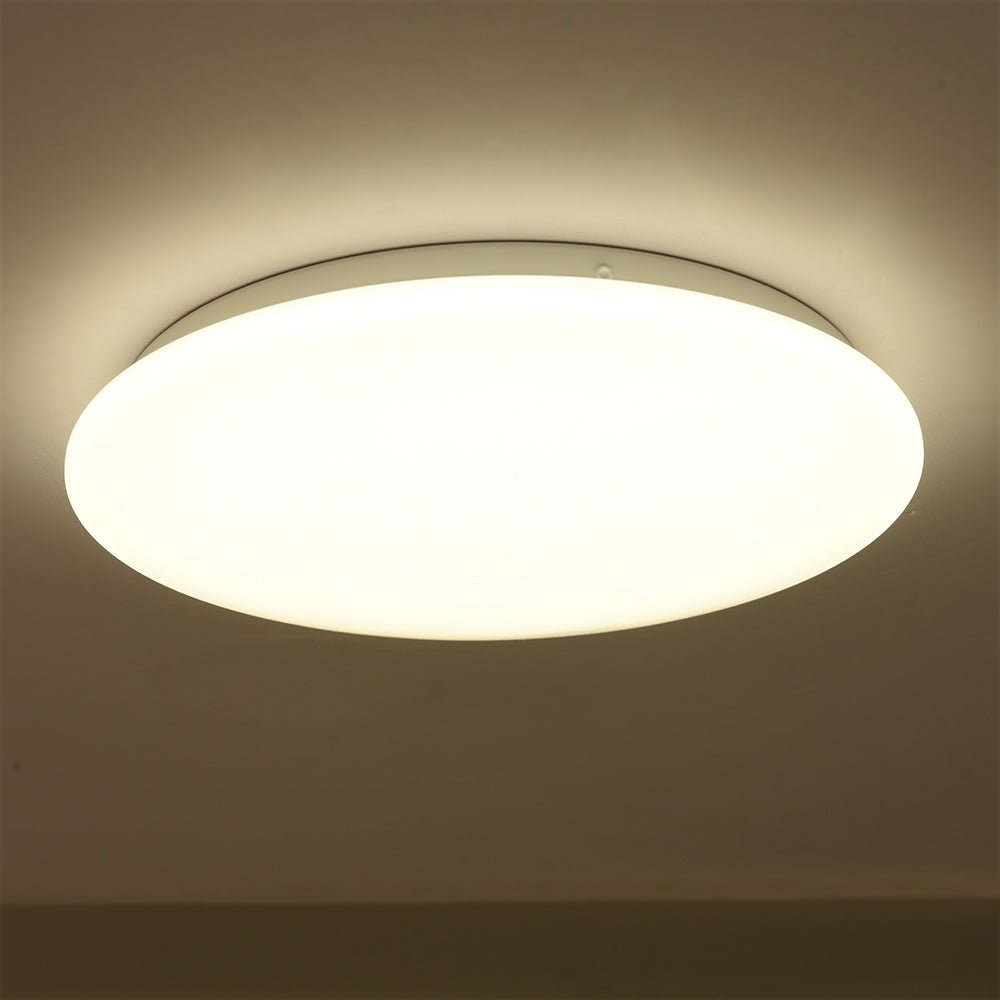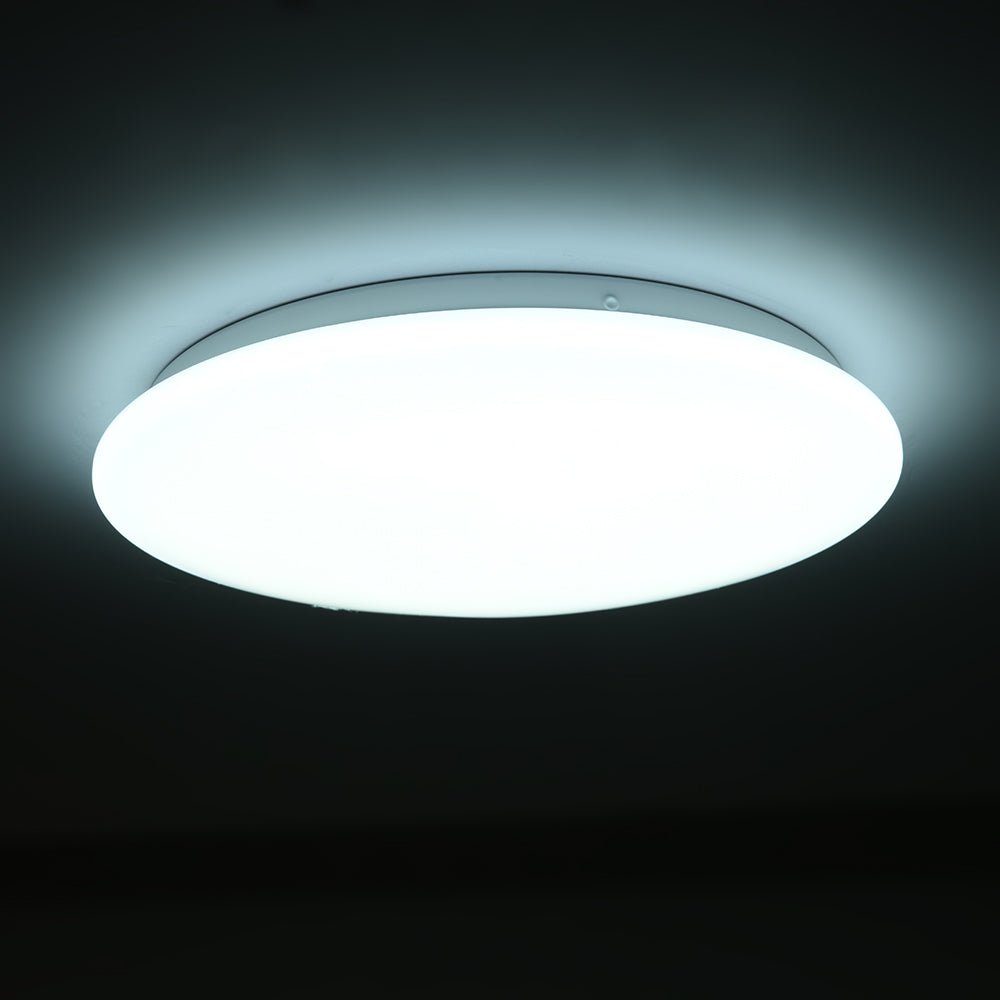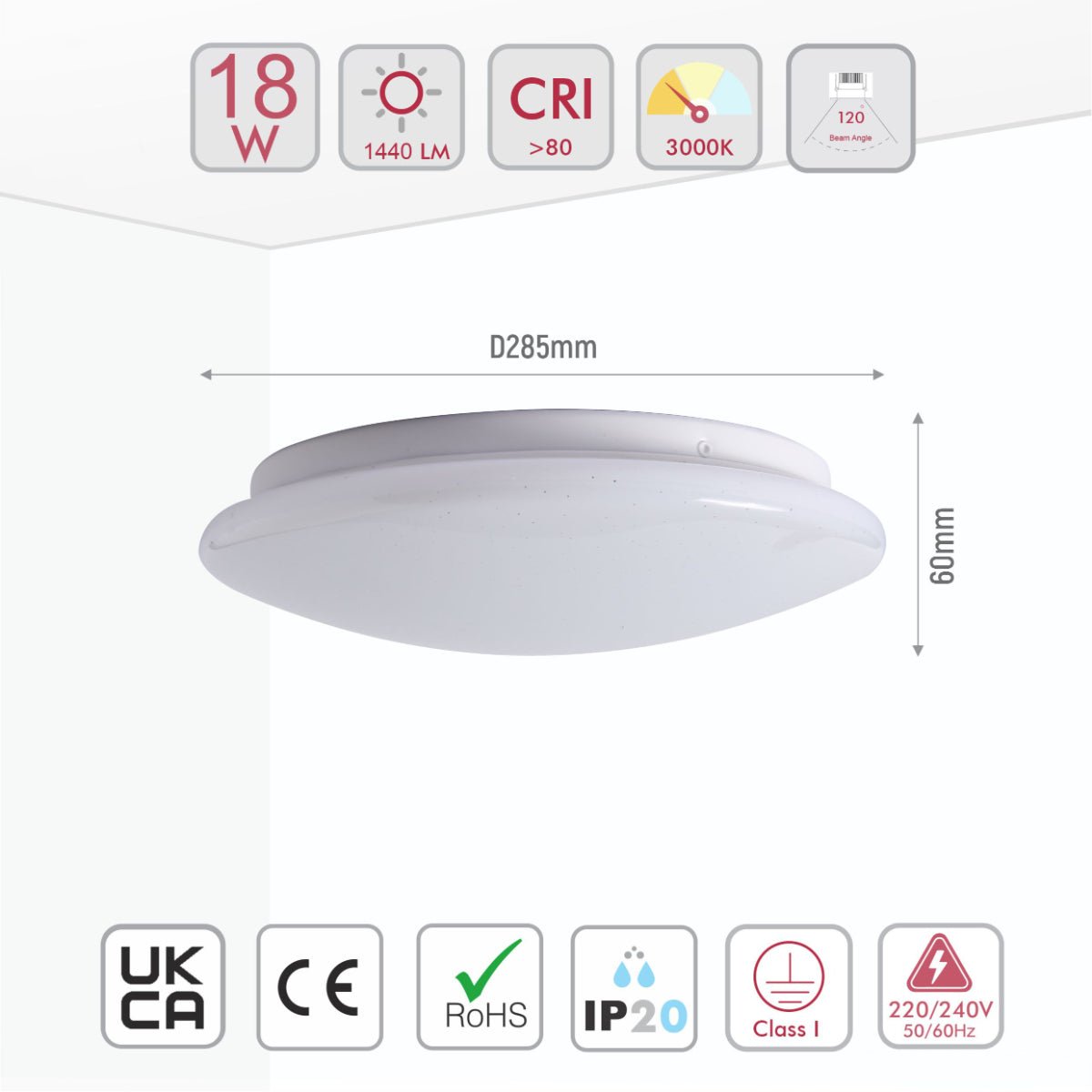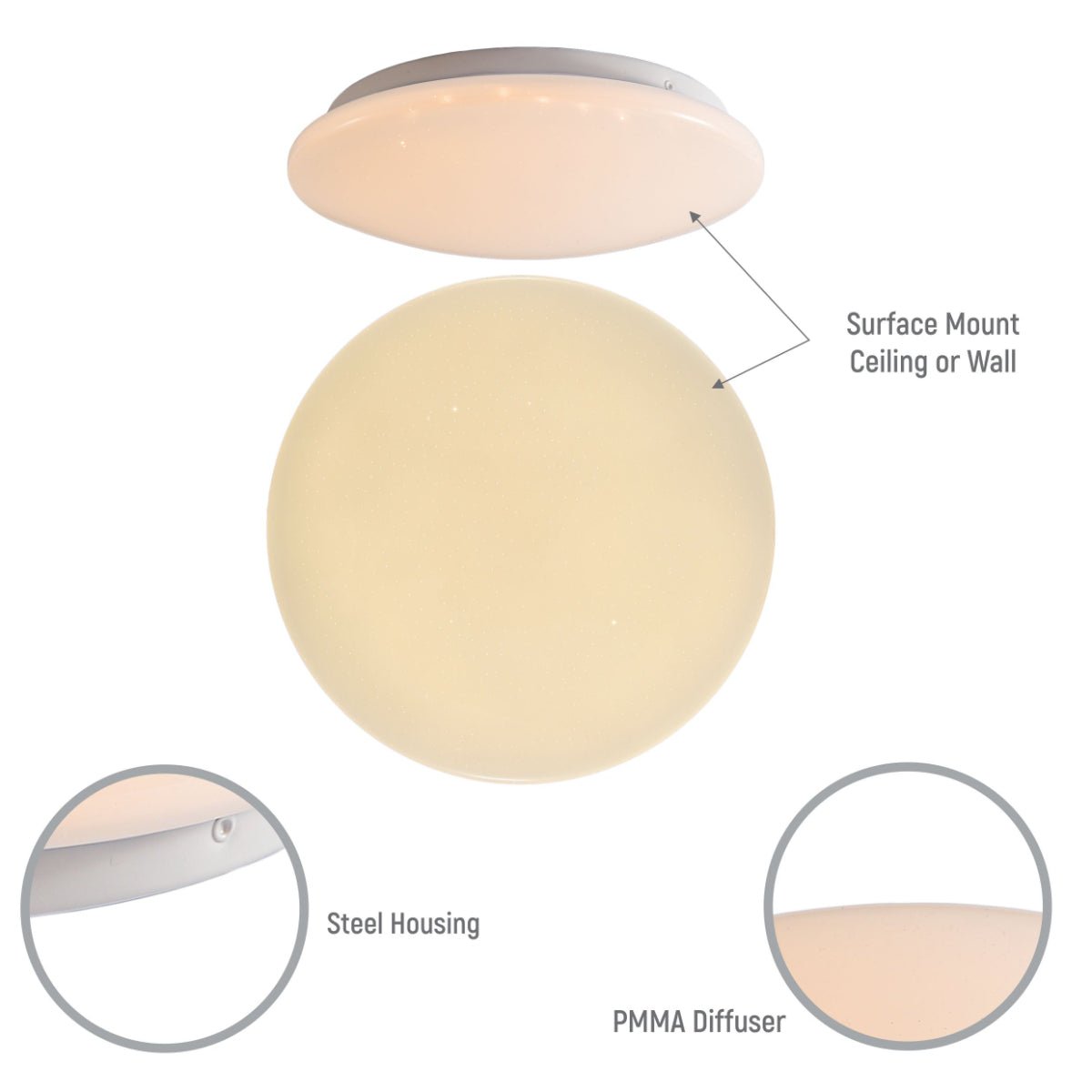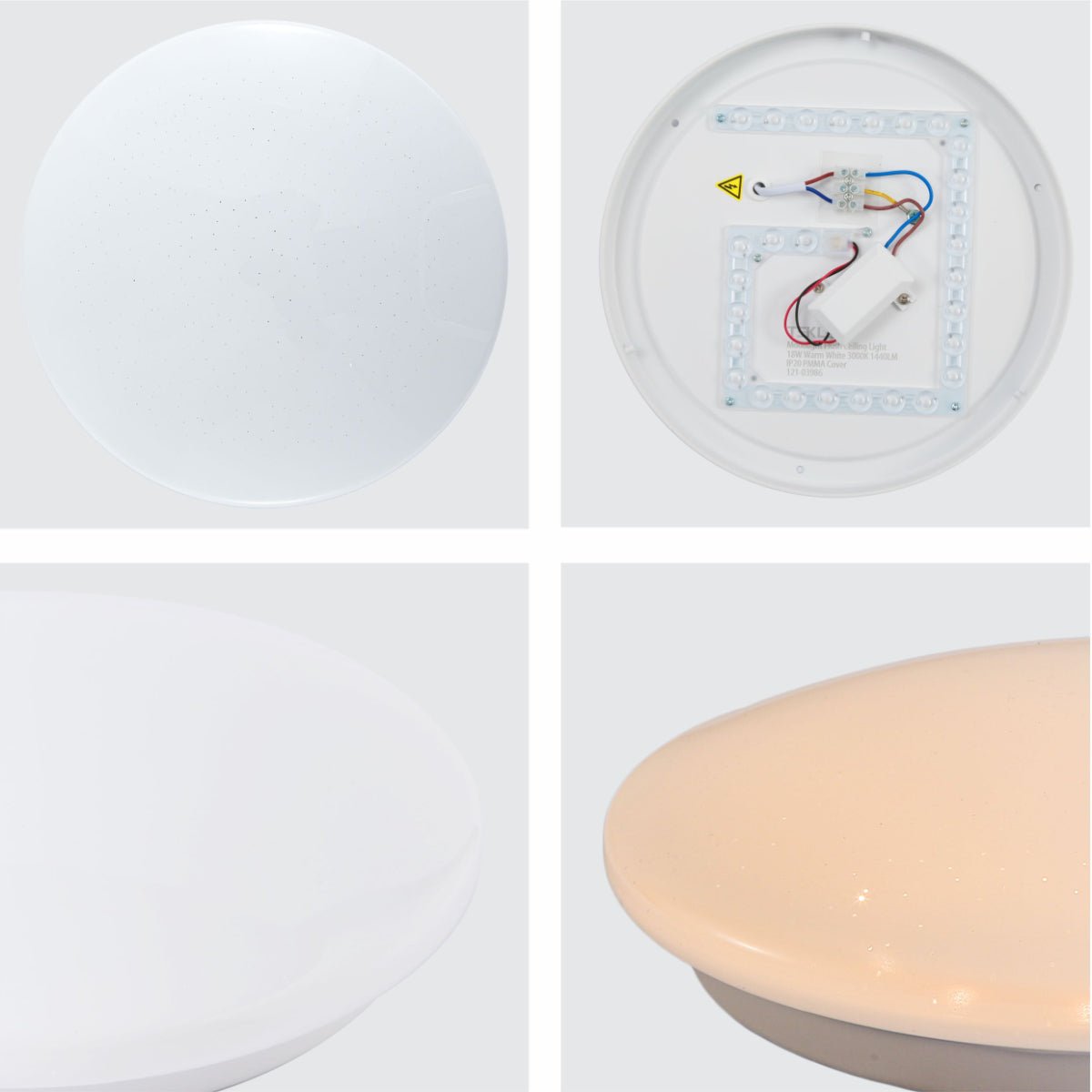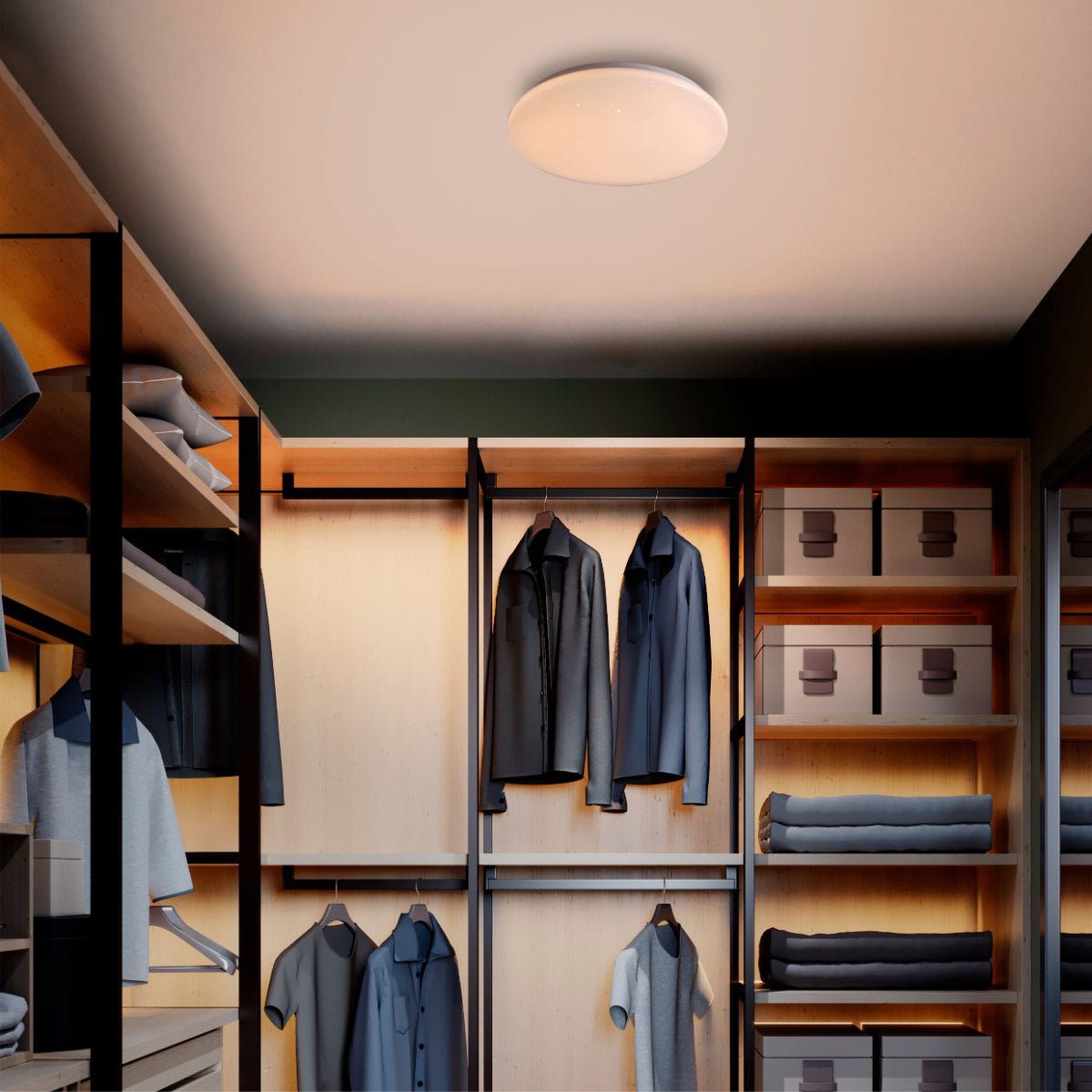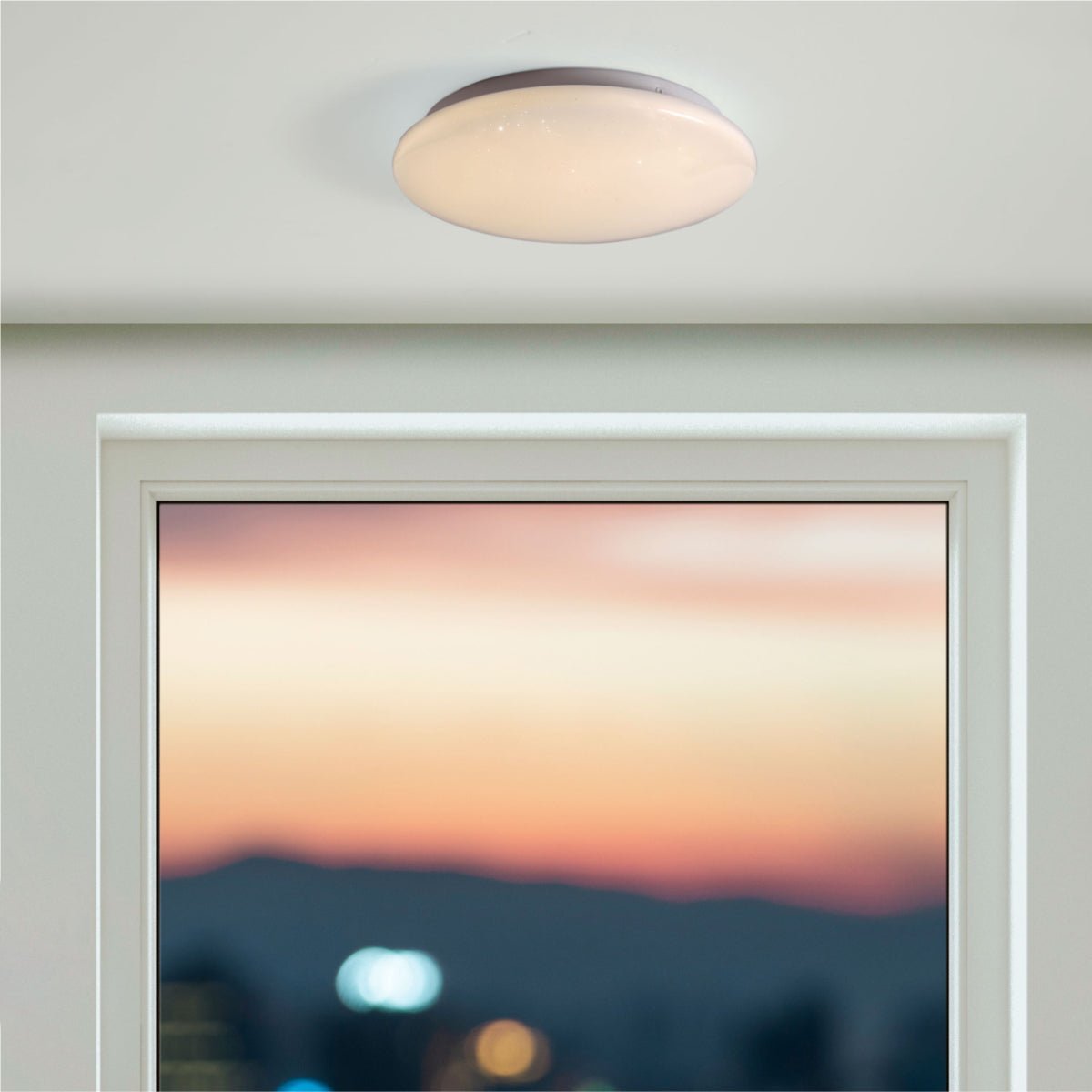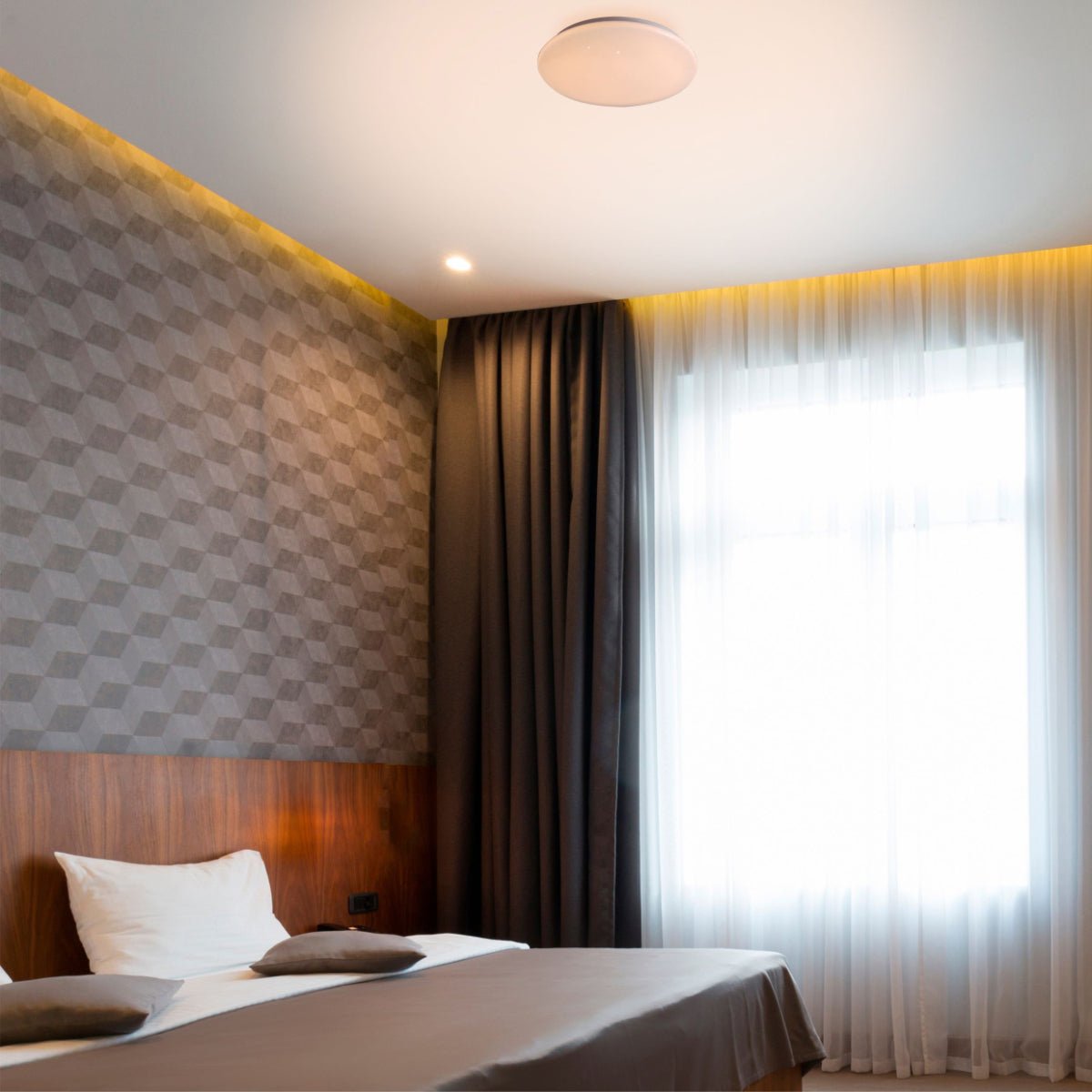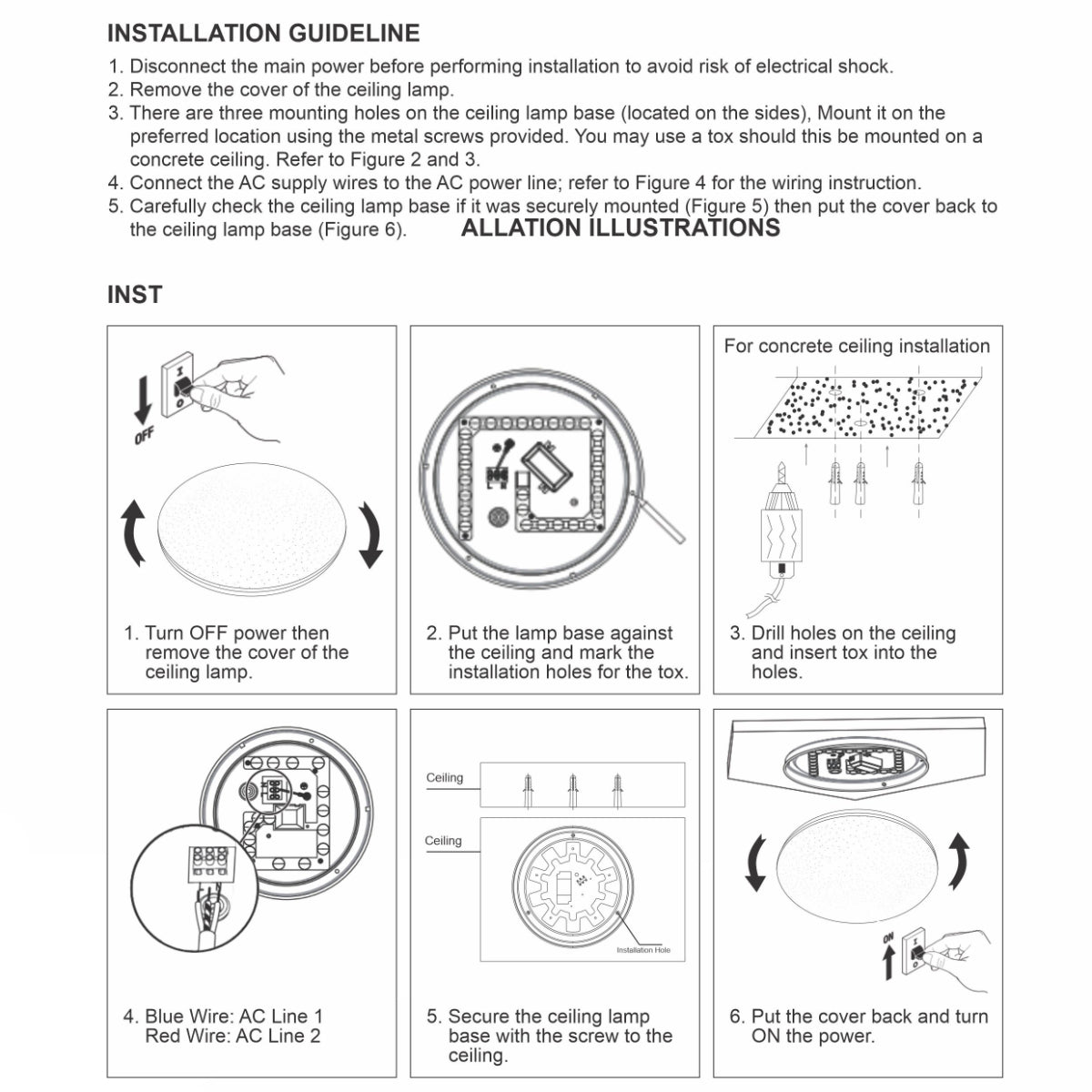 TEKLED
Moonlight Flush Ceiling Light 18W 1440LM IP20 non-yellowing PMMA Cover - 3000K Warm White.
Light Colour:
3000K Warm White
In stock
Moonlight Flush Ceiling Light 18W 1440LM IP20 non-yellowing PMMA Cover

Presenting the 18W Moonlight Flush Ceiling Light, a perfect blend of style, efficiency, and durability. This unique light fixture flaunts a flush mount design, complemented by a distinct mushroom-top-shaped PMMA diffuser, emulating a radiant moon. It transcends conventional lighting fixtures with its non-yellowing PMMA diffuser, ensuring enduring brilliance.

At 285mm in diameter with a streamlined profile of a mere 60mm height, it is designed to fit snugly into a variety of spaces. Encased within the sturdy metal tray is the 18W LED PCB, which exudes an impressive luminous efficacy of 80 Lumens/Watt, making it a superbly energy-efficient option for your illumination needs.

The 18W Moonlight Flush Ceiling Light offers three different CCT colours (3000K, 4000K, and 6500K), enabling you to tailor the ambience to your preference. With an impressive lifespan of 30,000 hours, this light fixture exemplifies durability and superior quality.

This versatile and cost-effective light fixture provides an optimal lighting solution for both your home or office. Excelling in areas where a single bulb may not suffice, its potent output caters to a wide range of indoor and outdoor illumination requirements. Whether it's illuminating corridors, entrances, or lighting up hard-to-reach spaces like attics and basements, this fixture ensures that no corner of your property remains in the dark.

Its soothing radiance can enhance the mood of your kitchen, creating a cosy and welcoming environment for culinary activities and dining. In bathrooms, the light offers excellent visibility for grooming, whilst fostering a calming atmosphere for relaxation. The 18W Moonlight Flush Ceiling Light sets a tranquil ambience in bedrooms, perfect for unwinding and rejuvenating.

The soft, ambient light is a boon for living rooms, creating a comfortable space for familial bonding or social gatherings. In an office setup, this light fixture ensures sufficient illumination in workspaces, conference rooms, and break areas, fostering productivity and comfort.

Moreover, it can be deployed to illuminate outdoor enclosed spaces such as balconies, porches, or patios, enhancing safety and extending their usability after sundown.

In conclusion, the 18W Moonlight Flush Ceiling Light transcends merely being a functional lighting solution; it is a stylish, efficient, and adaptable fixture that harmonises with any room and application in your dwelling or workspace. It doesn't just offer practical illumination; it imparts an elegant flair to any interior design. Amplify the aesthetics of your living or working space with this chic and efficient fixture—the 18W Moonlight Flush Ceiling Light.
Technical Specifications
| | |
| --- | --- |
| Name | Moonlight Flush Ceiling Light 18W Warm White Cool White Cool Daylight 1440LM IP20 non-yellowing PMMA Cover |
| Product Code | 121-03986 | 121-03988 | 121-03990 |
| Model | flush ceiling light, integrated led ceiling light, milky way effect ceiling light |
| Power | 18W |
| Power Source | Hardwired |
| Voltage | 220/240Vac 50/60Hz |
| Lamp Holder Type | Integrated LED |
| Protection Class | Class I |
| Dimmability | Non-Dimmable |
| Light Source | SMD LED |
| Led Quantity | 28 |
| Bulbs | Built-in LED fixture with built-in LED driver |
| Lit Type | backlit |
| Light Output(luminous flux) | 1440 lm |
| Luminous Efficacy | 80 lm/W |
| CRI(Colour Rendering Index) | CRI>80 |
| CCT (Kelvin)(Light Colour) | 3000K Warm White | 4000K Cool White | 6500K Cool Daylight |
| IP Class(Ingress Protection) | IP20 |
| Mount Type | Surface Mount |
| Function Mode | On/Off |
| Product Dimensions (L x W x H) (D x H) | D285x60mm |
| Made of Materials | Steel and PMMA |
| Product Colour | White |
| Shade Colour | Opal |
| Paint Type | Spray Painted |
| Optic Type | Lens |
| Optic Material | Polycarbonate |
| Diffuser Material | PMMA |
| Diffuser Type | Opal |
| Driver Type | Constant Current |
| Driver Power | 18W |
| Driver Input Voltage | 220~240Vac 50/60Hz |
| Control | On/Off |
| Operating Temperature (C) | -20/+45C |
| New Energy Rating | G |
| Energy Rating | A++ |
| Warranty | 3 year |
| Life Span | 30000 h |
| Net Weight | 359g |
| Box Dimensions (LxWxH) | 290*290*65mm |
| Box Content | 1Light fixture, User manual, Accessories package(Tapping screw*3, Expansion plug*3) |
| Certifications | UKCA, CE, RoHS |