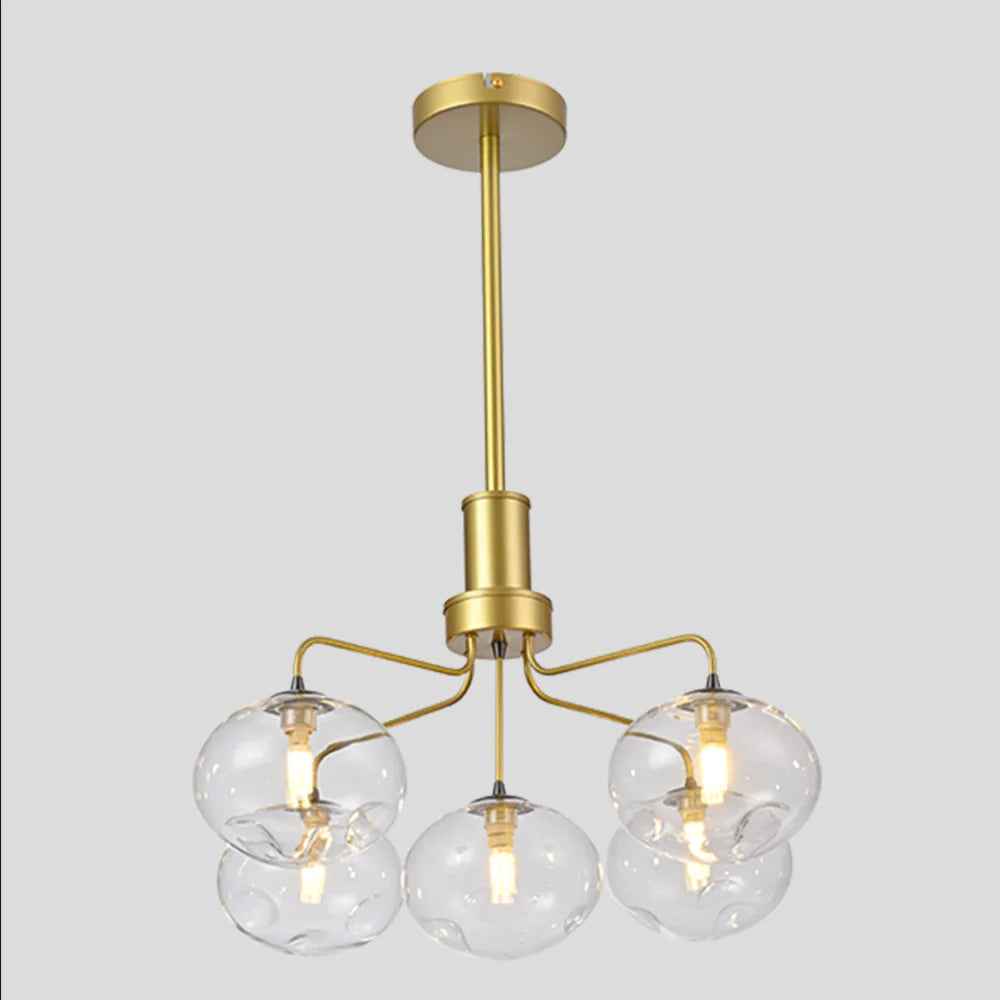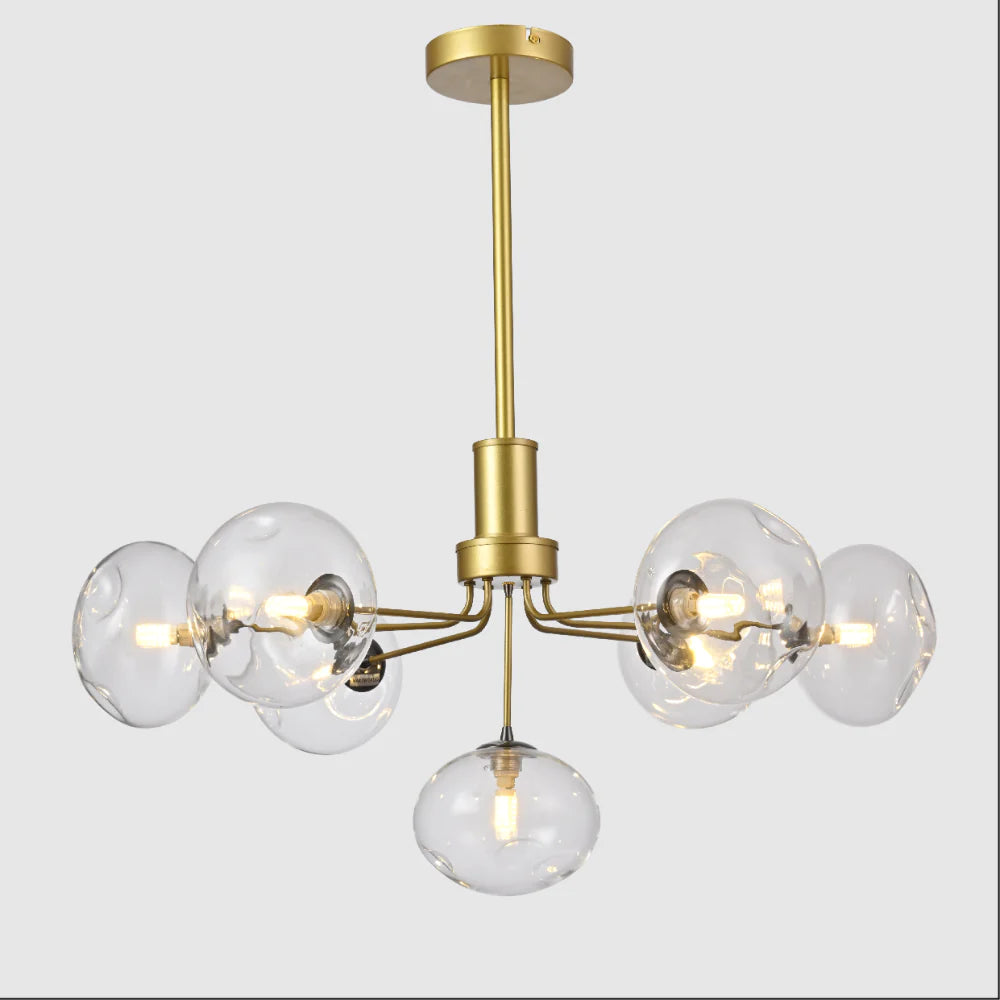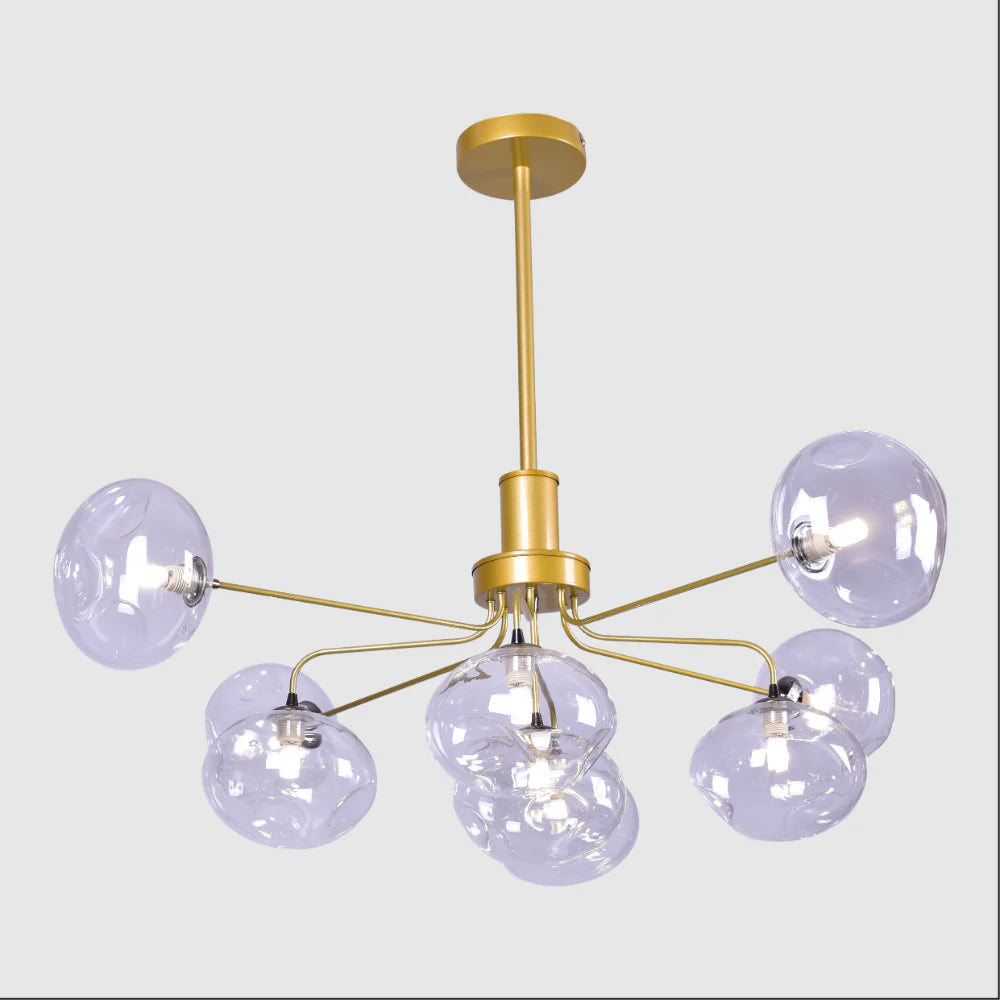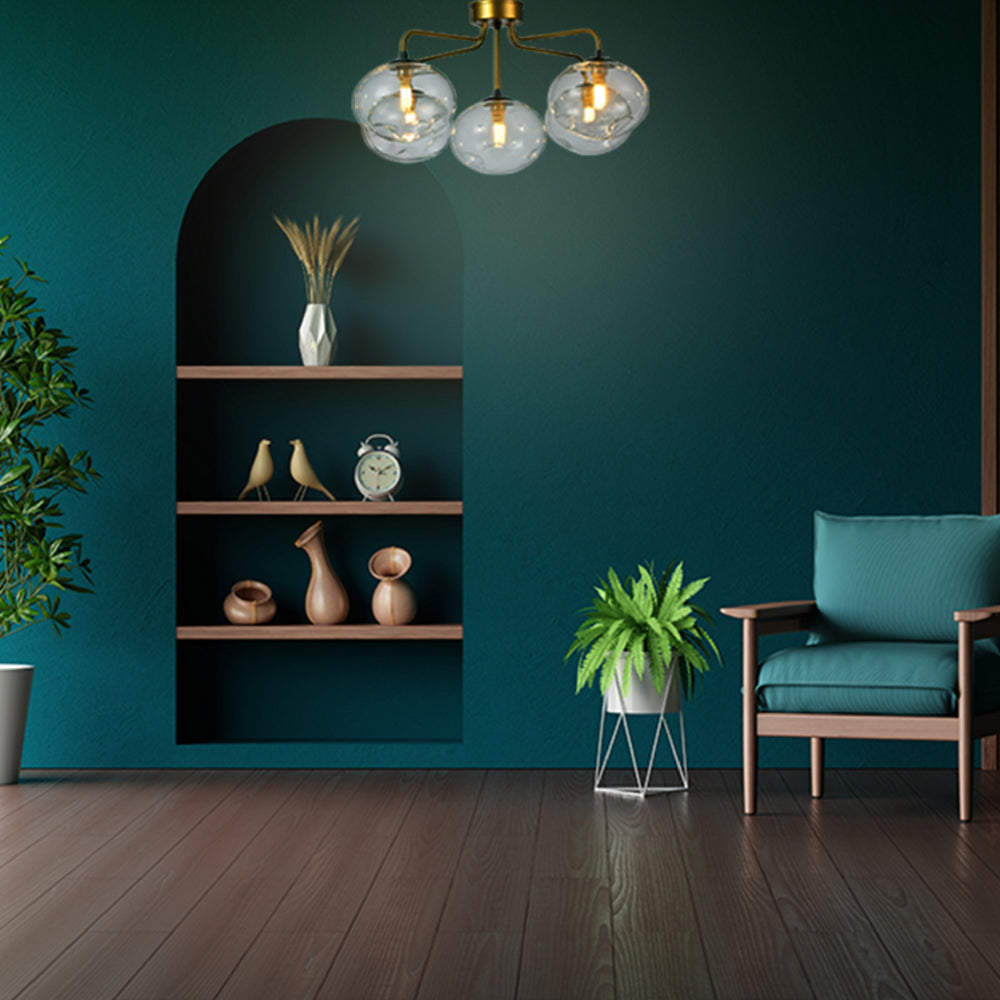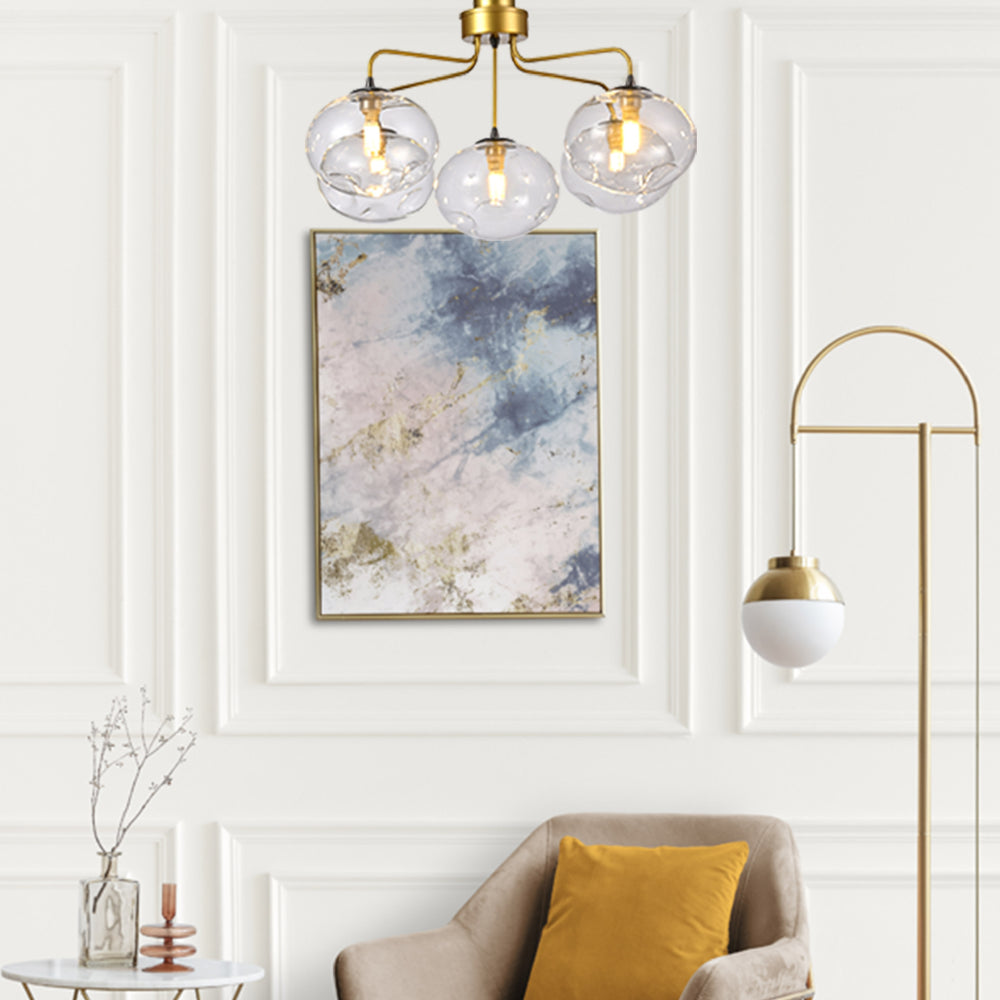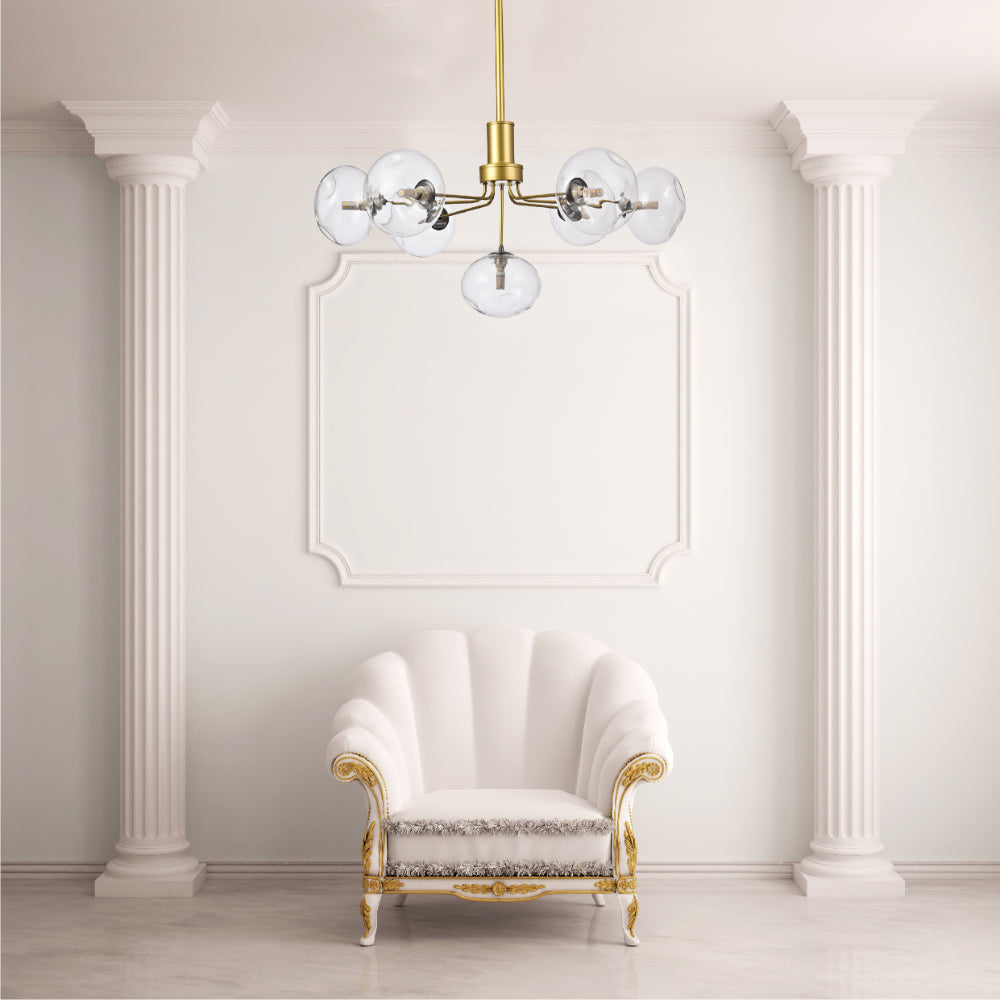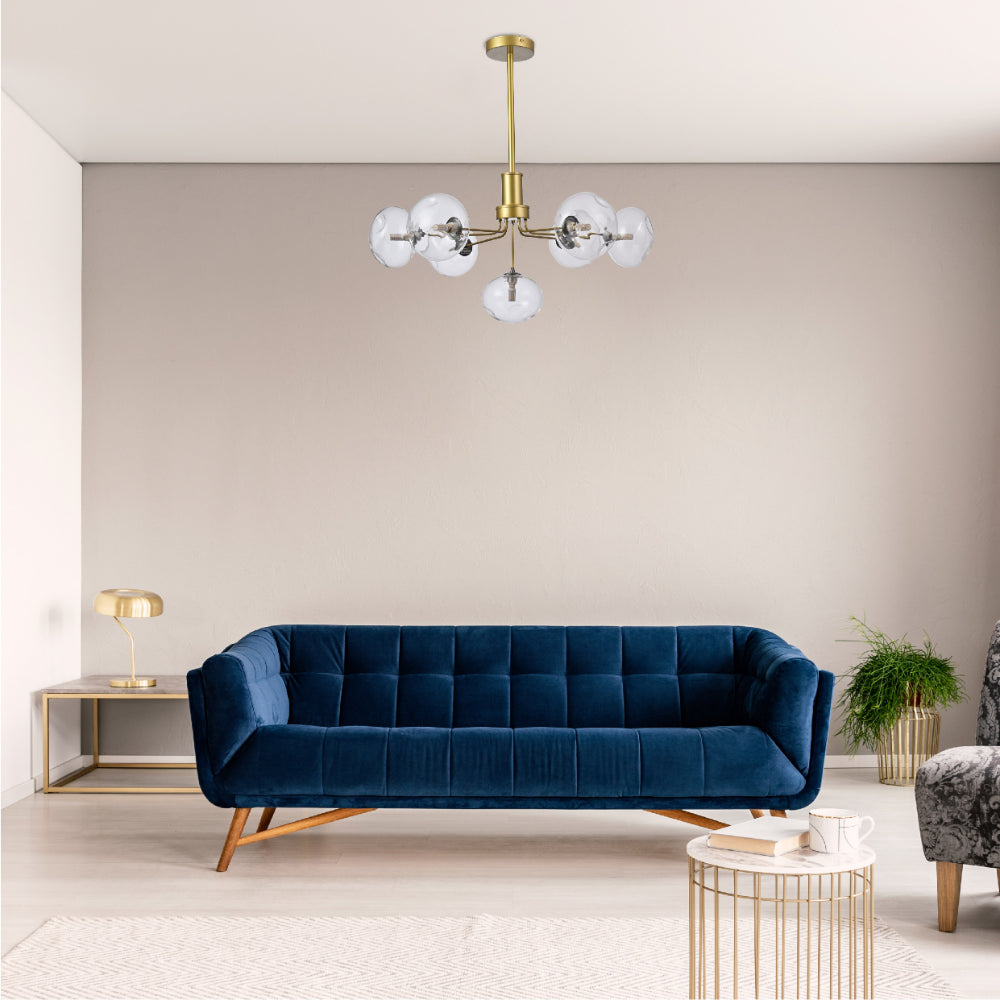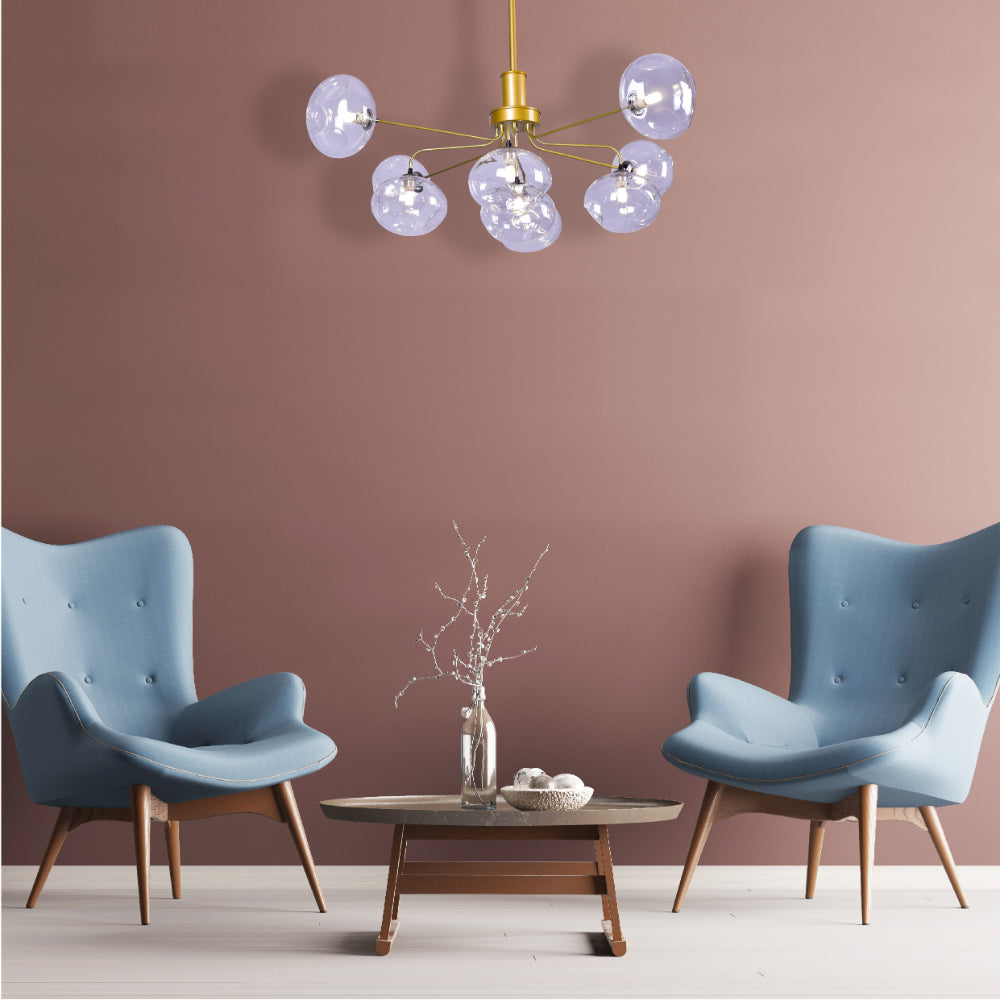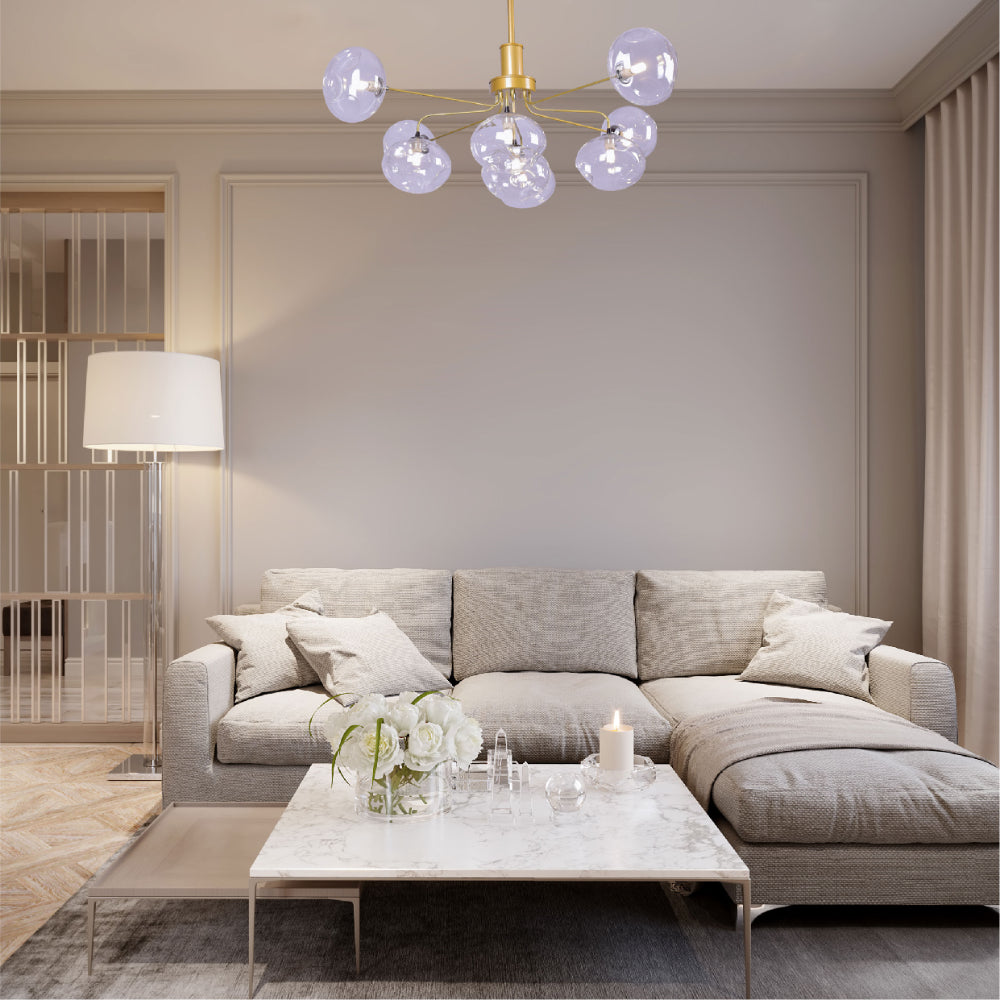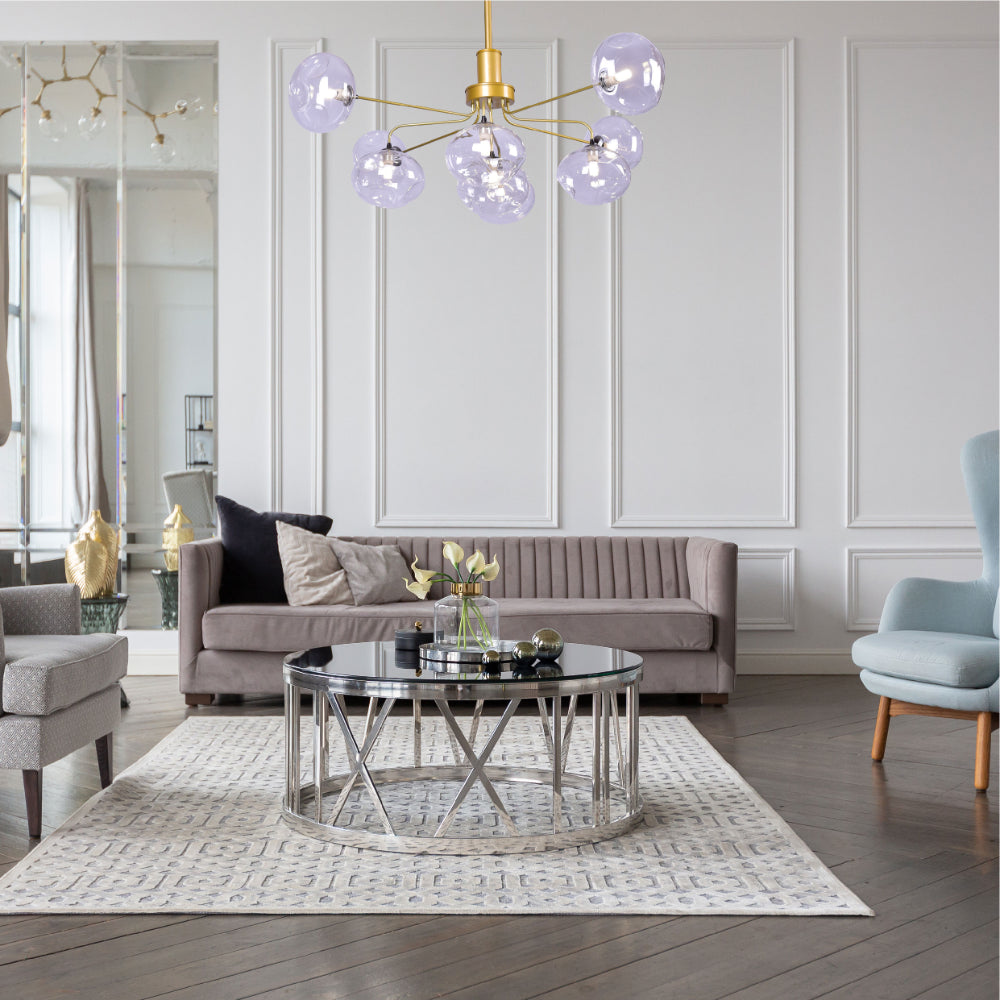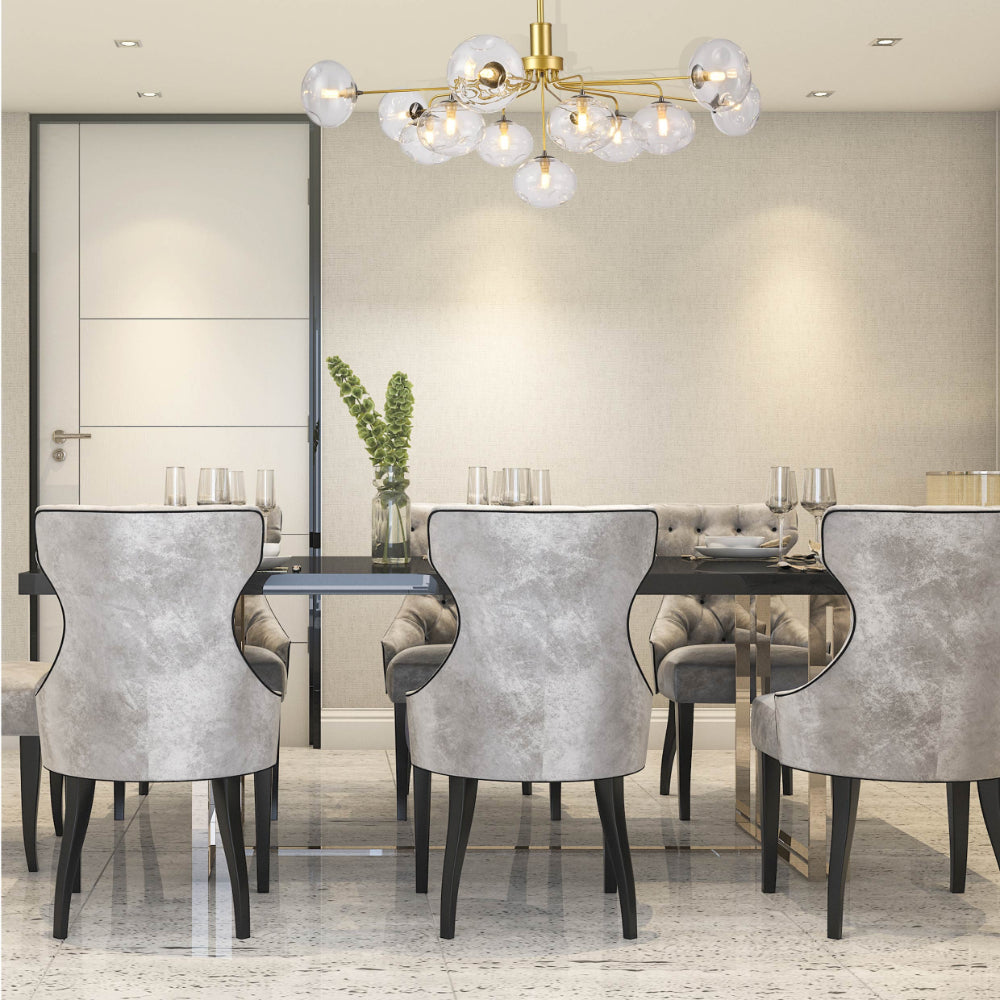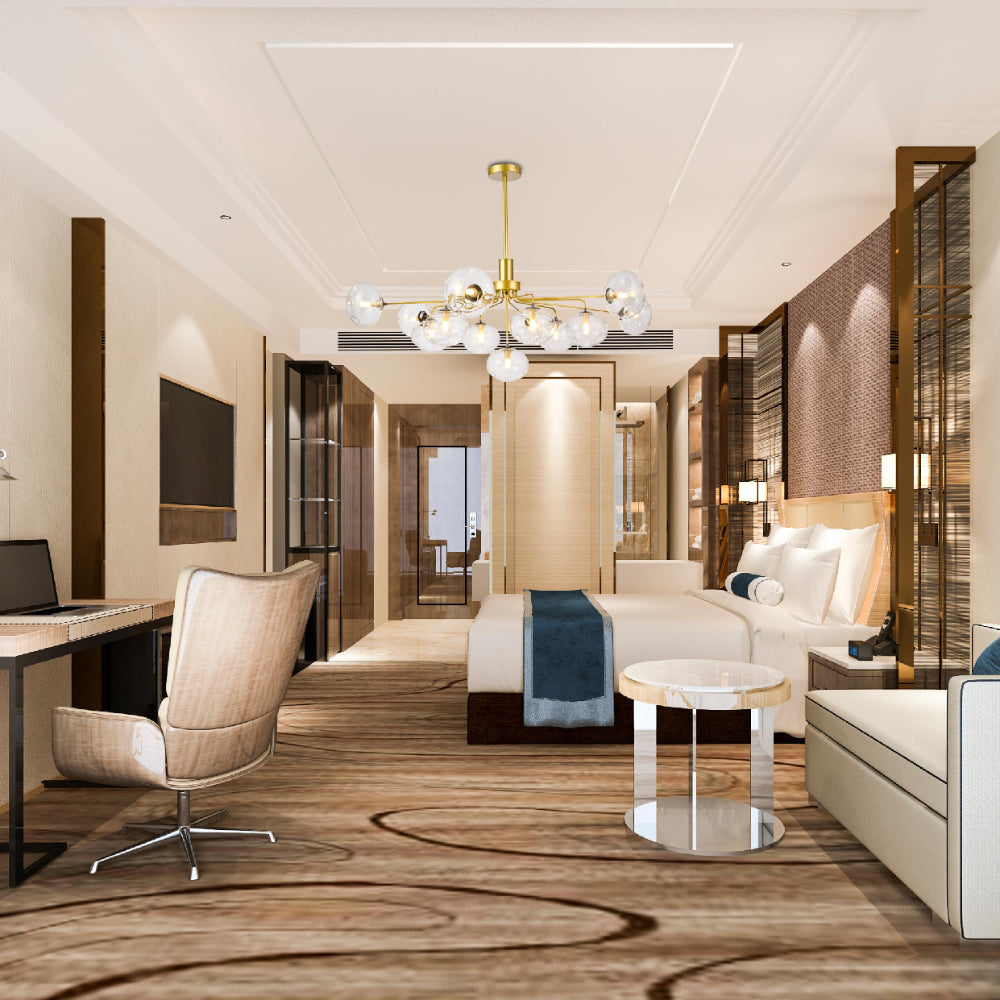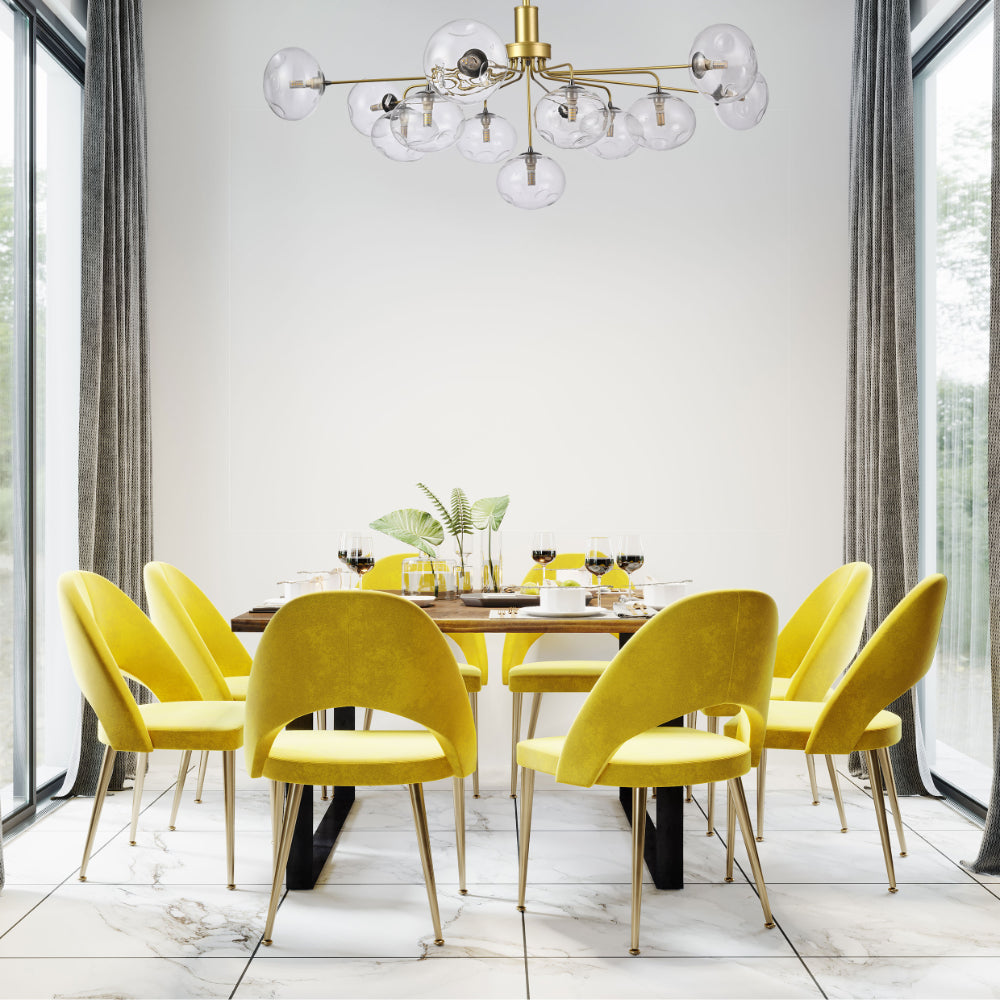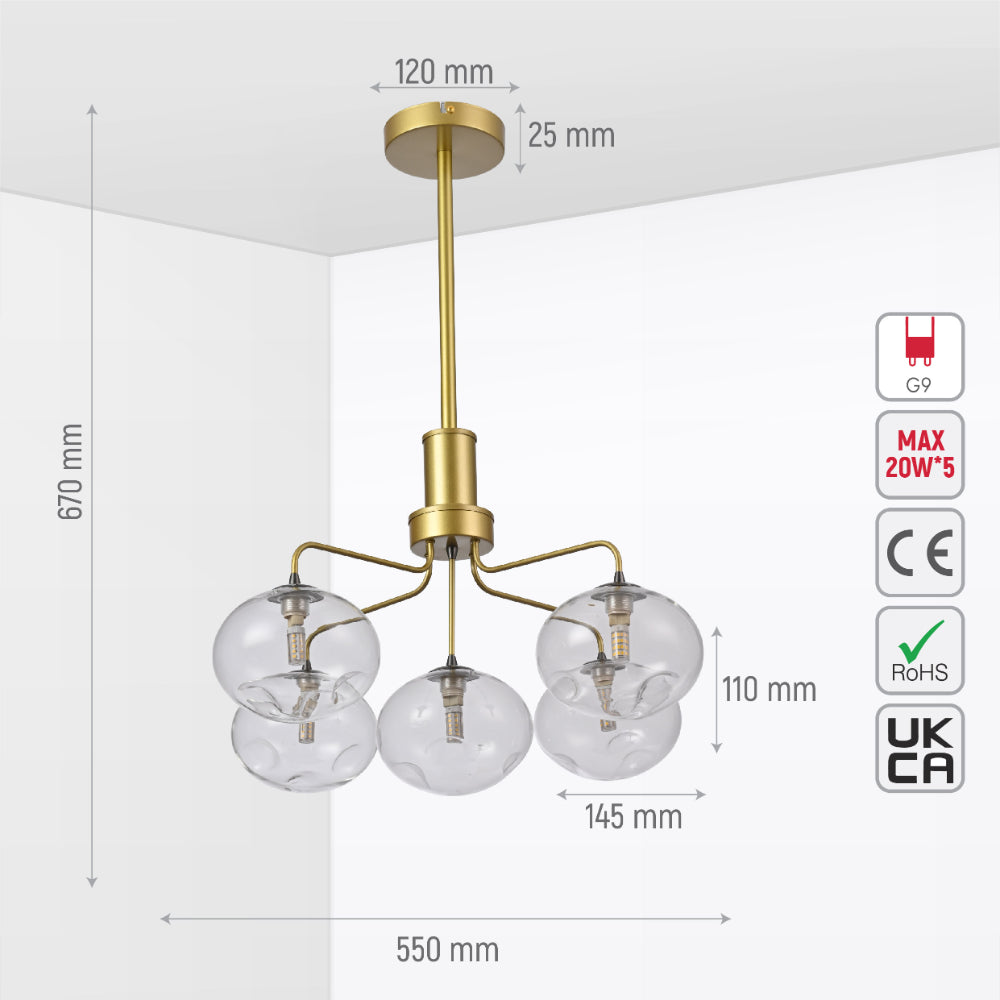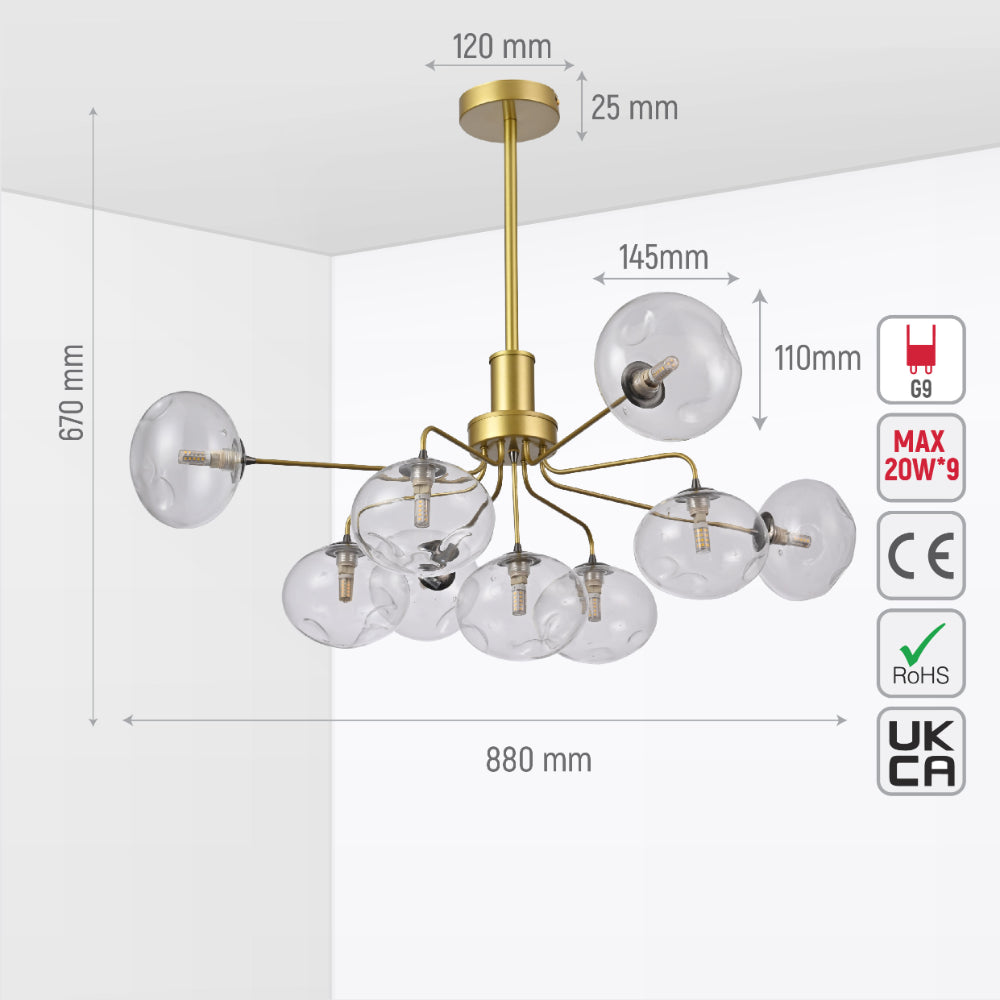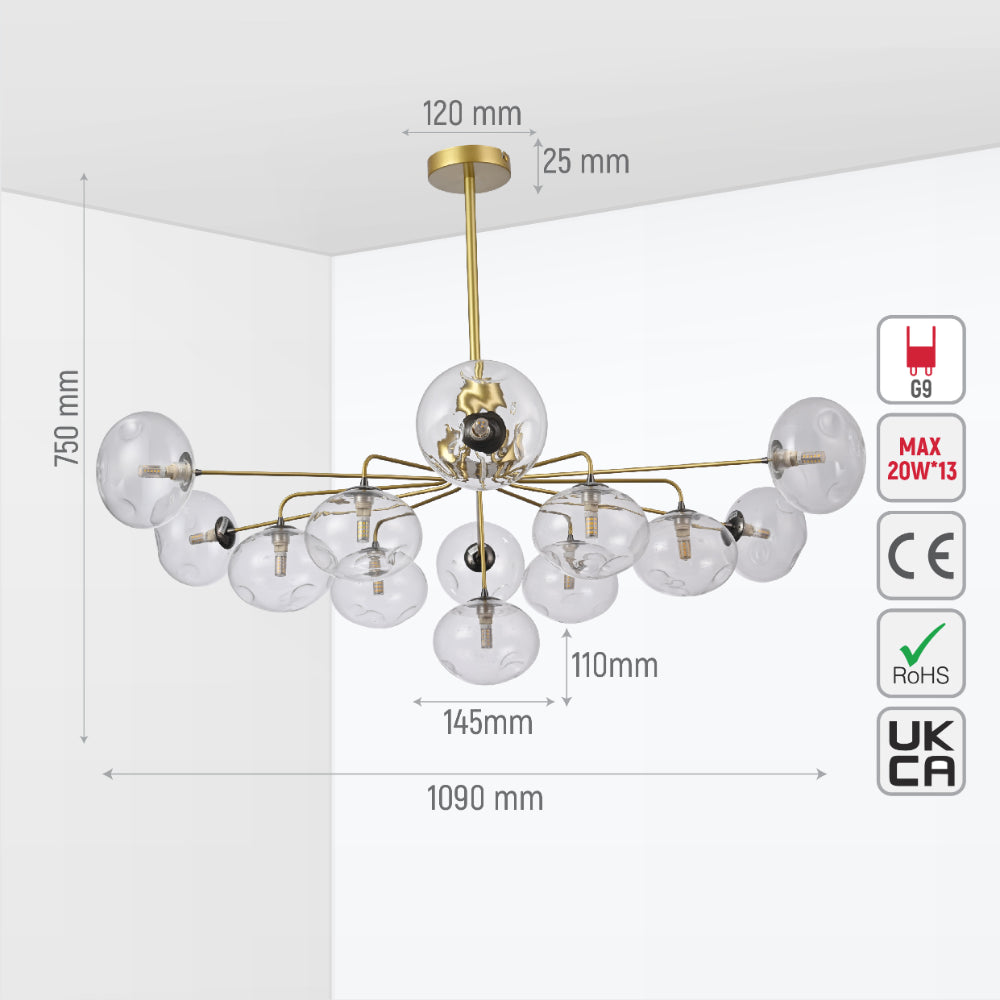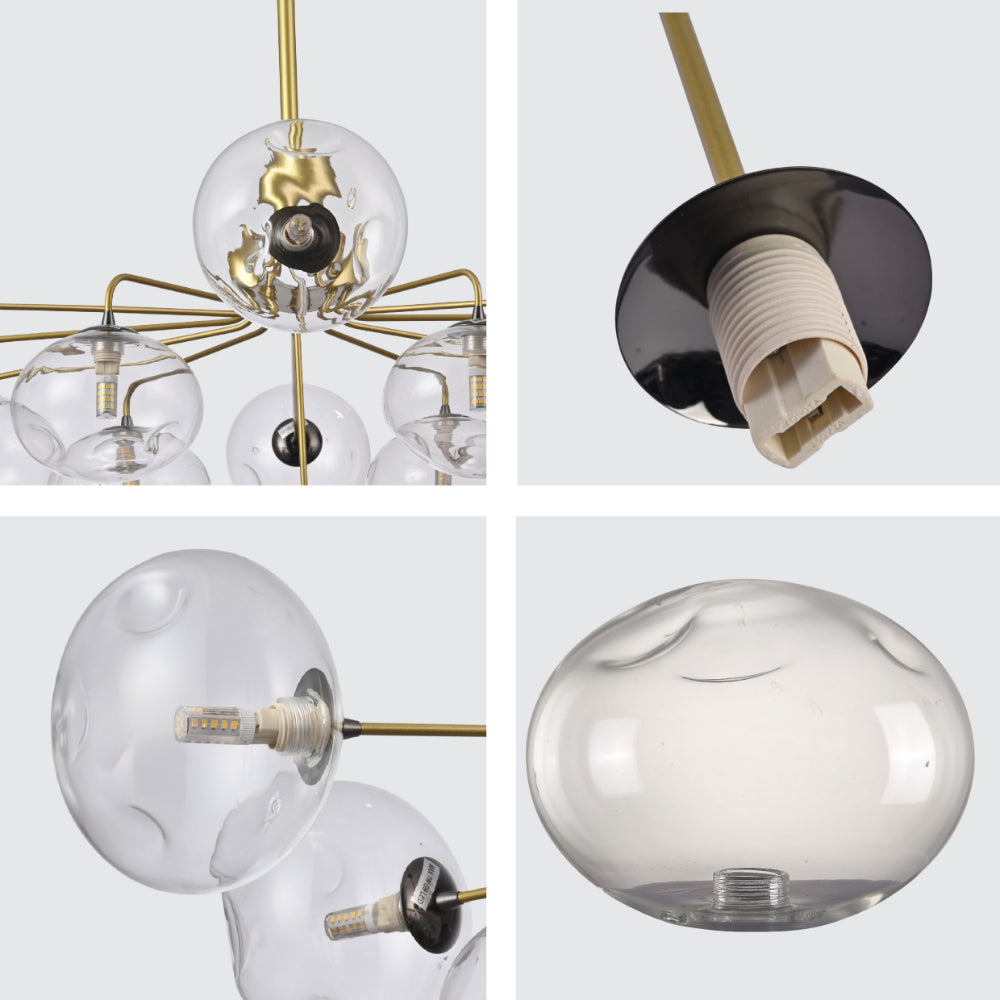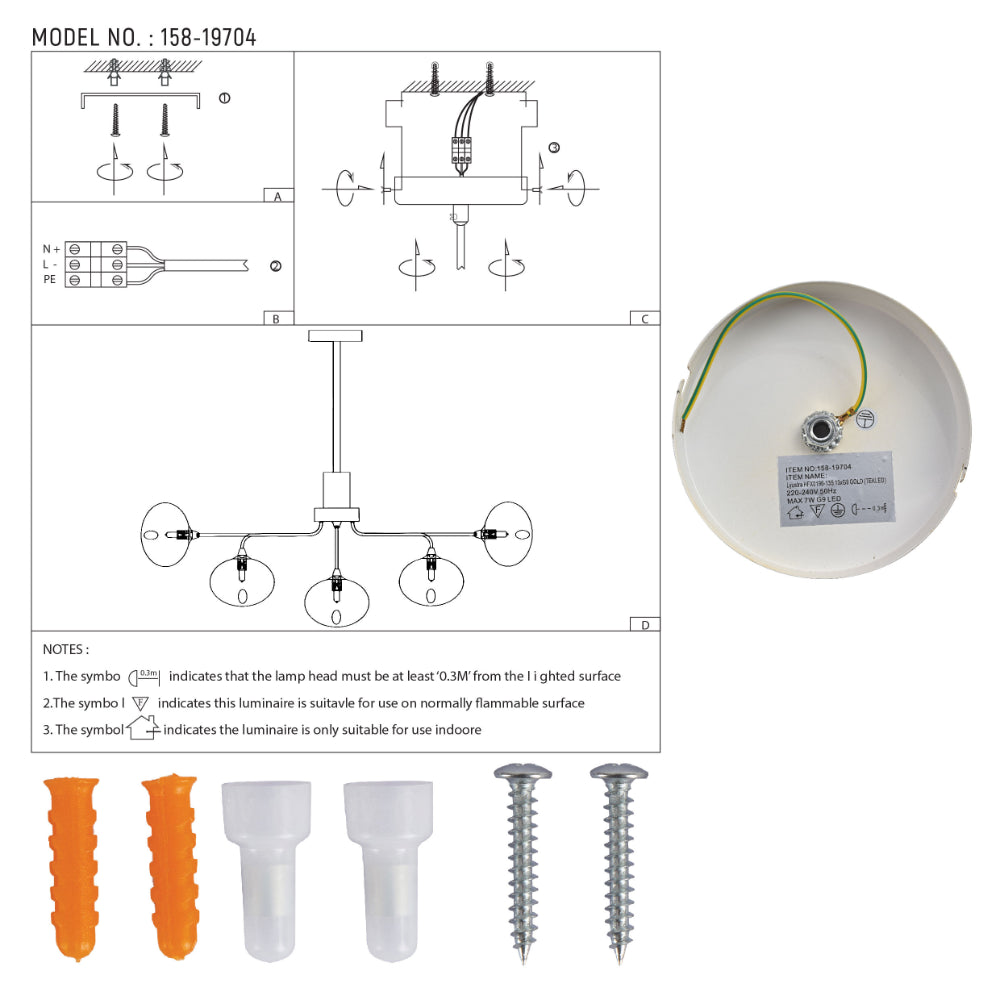 TEKLED
Multi-Arm Dimpled Globe Ceiling Light Elegant Gold - 5 Globe.
Multi-Arm Dimpled Globe Ceiling Light Elegant Gold
Elegant Gold Multi-Arm Ceiling Light with Dimpled Clear Globes

Elevate your interior space with this sophisticated gold ceiling light, designed to seamlessly blend with a variety of decor styles. Its radiant gold body exudes a luxurious charm that pairs beautifully with clear dimpled globes, creating a harmonious balance between opulence and modern design.

Where to Use:
Dining Room: Perfect for casting a warm, inviting glow over dinner parties and family gatherings. Its multi-arm design ensures even light distribution, making every mealtime special.
Living Room: Enhance your main seating area, complementing both contemporary and classic furniture styles. The clear globes playfully scatter light, creating a cozy ambiance.
Lobby or Entrance: Make a grand first impression. The cascading arms and globes draw the eye upwards, making spaces feel larger and more welcoming.
Hotel Suites & Lounges: Ideal for upscale establishments looking to offer a blend of luxury and comfort.
Style & Decor Compatibility:
Mid-Century Modern: The gold finish and clear globes resonate well with mid-century furniture, especially those with wooden tones.
Art-Deco: With its geometric design and opulent gold hue, it's a nod to the lavishness of the Art-Deco era.
Minimalist: Despite its multiple arms, the design doesn't feel overwhelming, making it suitable for minimalist spaces that need a touch of warmth.
Boho-Chic: The clear dimpled globes can add a whimsical touch, pairing well with eclectic and colorful boho interiors.
Color Harmony:
The timeless gold body of this ceiling light introduces a touch of elegance to any room. Gold, being a warm color, promotes feelings of comfort and luxury. When paired with neutral tones like beige, white, or gray, it stands out and becomes a focal point. Meanwhile, the clear glass globes offer versatility, ensuring they don't clash with existing color palettes. They also reflect and amplify the golden hue, creating a cohesive look.

Furniture Pairing Tips:
Wooden Furniture: The gold finish complements wooden tones, be it dark mahogany or light oak, adding a touch of modernity.
Upholstered Pieces: Neutral-colored sofas or chairs can be accentuated with gold-toned cushions or throws to echo the light's hue.
Glass or Marble Tables: The clear globes can mirror the sheen of glass or the gloss of marble, creating a harmonized look.
Whether you're a homeowner seeking to revamp a space or an interior designer sourcing for a project, this ceiling light promises not just illumination but a transformation of space. Remember to pair it with the right bulb to achieve the desired ambiance.




Technical Specifications
| | |
| --- | --- |
| Product Code | 158-19698 | 158-19700 | 158-19702 | 158-19704 |
| Name | Multi-Arm Dimpled Globe Ceiling Light Elegant Gold |
| Model | Modern Chandelier,Art Deco |
| Power | MAX 9W*5 | MAX 9W*7 | MAX 9W*9 | MAX 9W*13 |
| Power Source | Hardwired |
| Voltage | 220/240Vac 50/60Hz |
| Lamp Holder Type | G9 Snap Fix |
| Lamp Holder Quantity | 5 | 7 | 9 | 13 |
| Protection Class | Class I |
| Dimmability | Dimmable if used with dimmable bulbs |
| Light Source | Bulb |
| Bulbs | Bulbs are not included |
| IP Class | IP20 |
| Mount Type | Suspended |
| Product Dimensions (L x W x H) (D x H) | D550*670mm | D680*670mm | D880*670mm | D1090*750mm |
| Product Length | 670mm | 670mm | 670mm | 750mm |
| Shape | Globe,Arm |
| Material | Steel, Glass |
| Product Colour | Gold,Clear |
| Paint Type | Electroplated |
| Shade Material | Glass |
| Size of Shade(s) | D145*110mm |
| Shade Colour | Clear |
| Size of Rose | D120*25mm |
| Suspension Type | Rod |
| Operating Temperature (°C) | -20/+45 C |
| Warranty | 3 year |
| Box Dimension (L x W x H) | 550*200*310mm | 700*200*310mm | 525*380*310mm | 690*380*310mm |
| Net Weight | 1.31kg | 1.6kg | 2.08kg | 2.9kg |
| Gross Weight | 1.87kg | 2.3kg | 3.0kg | 3.9kg |
| Box Content | 1Light fixture,User manual, Accessories package |
| Pieces/Box | 1 |
| Certifications | UKCA, CE, RoHS |