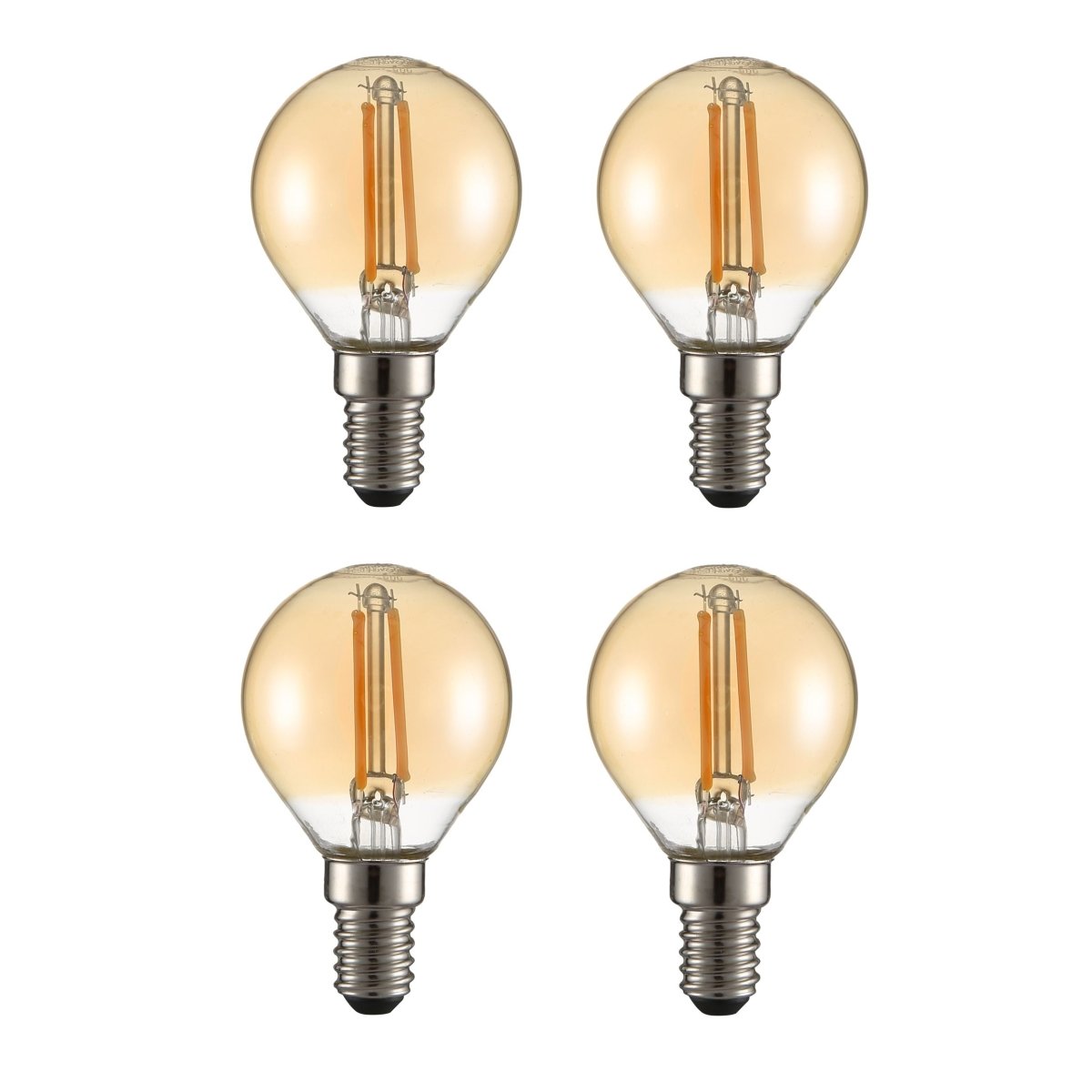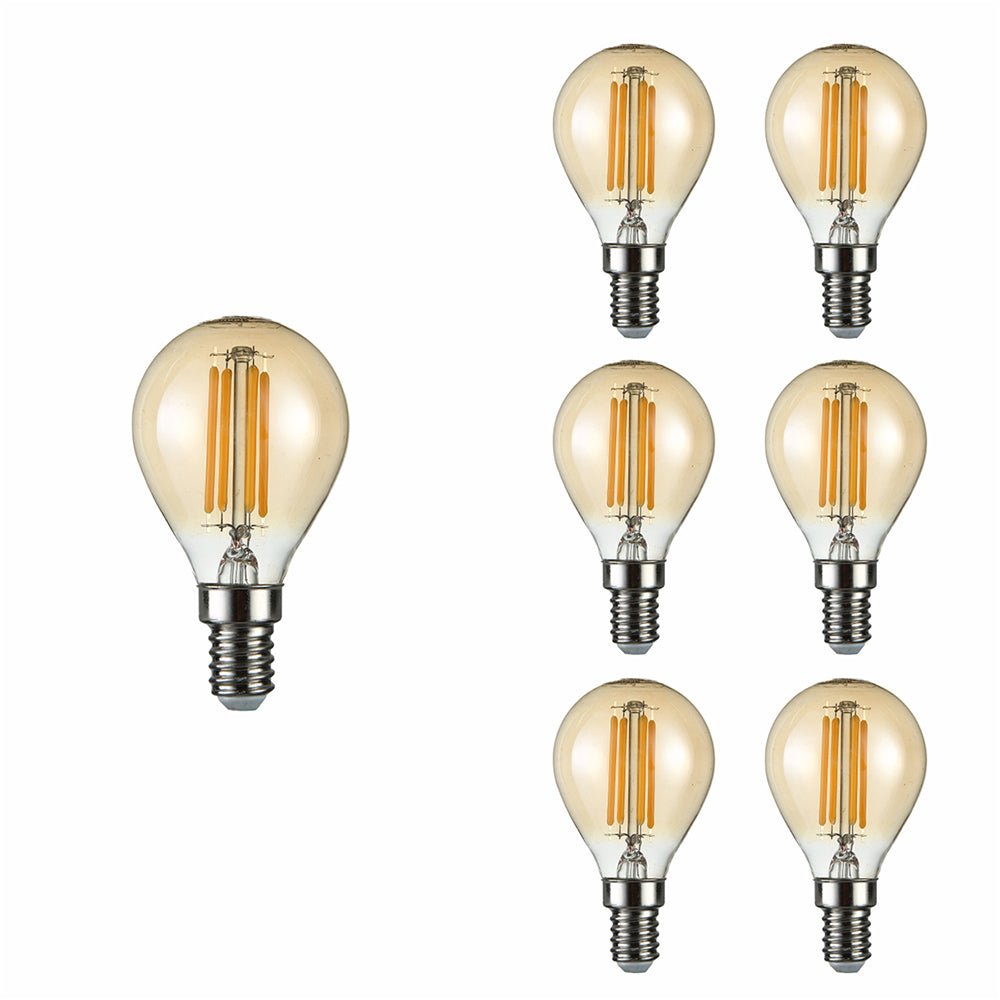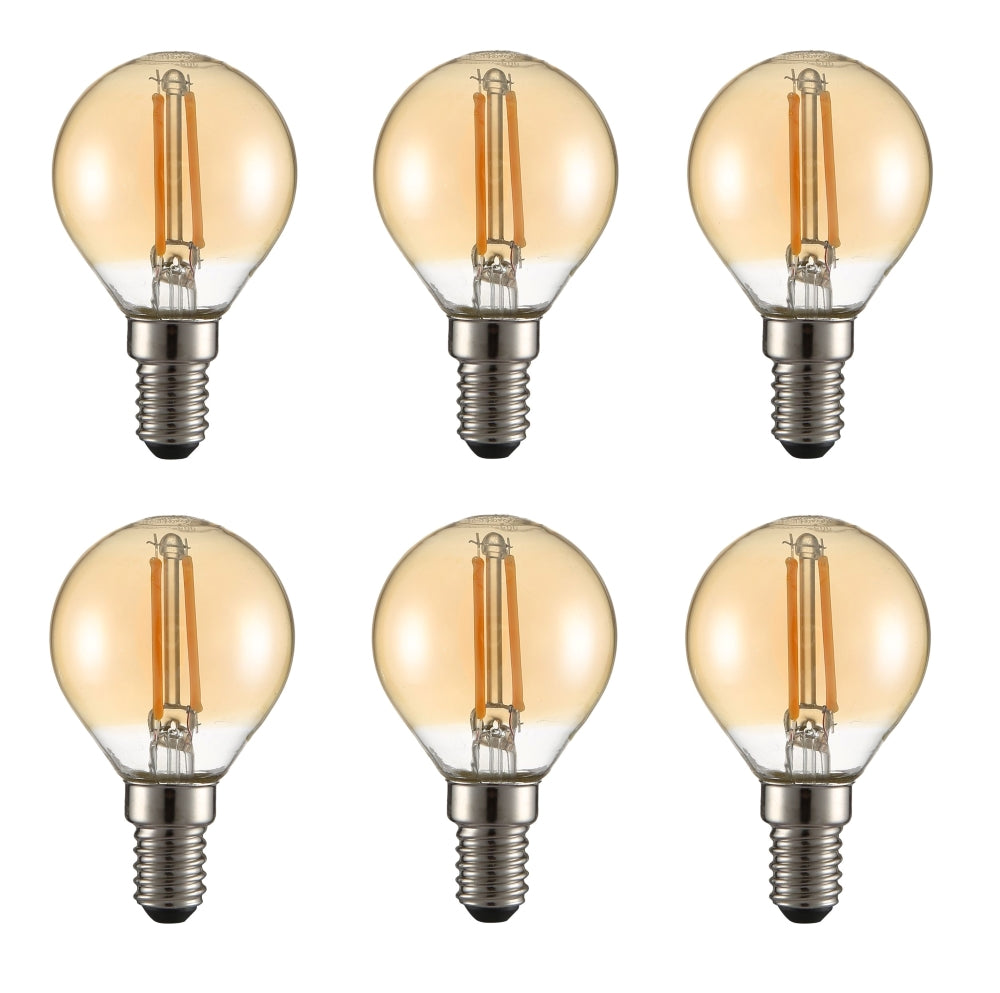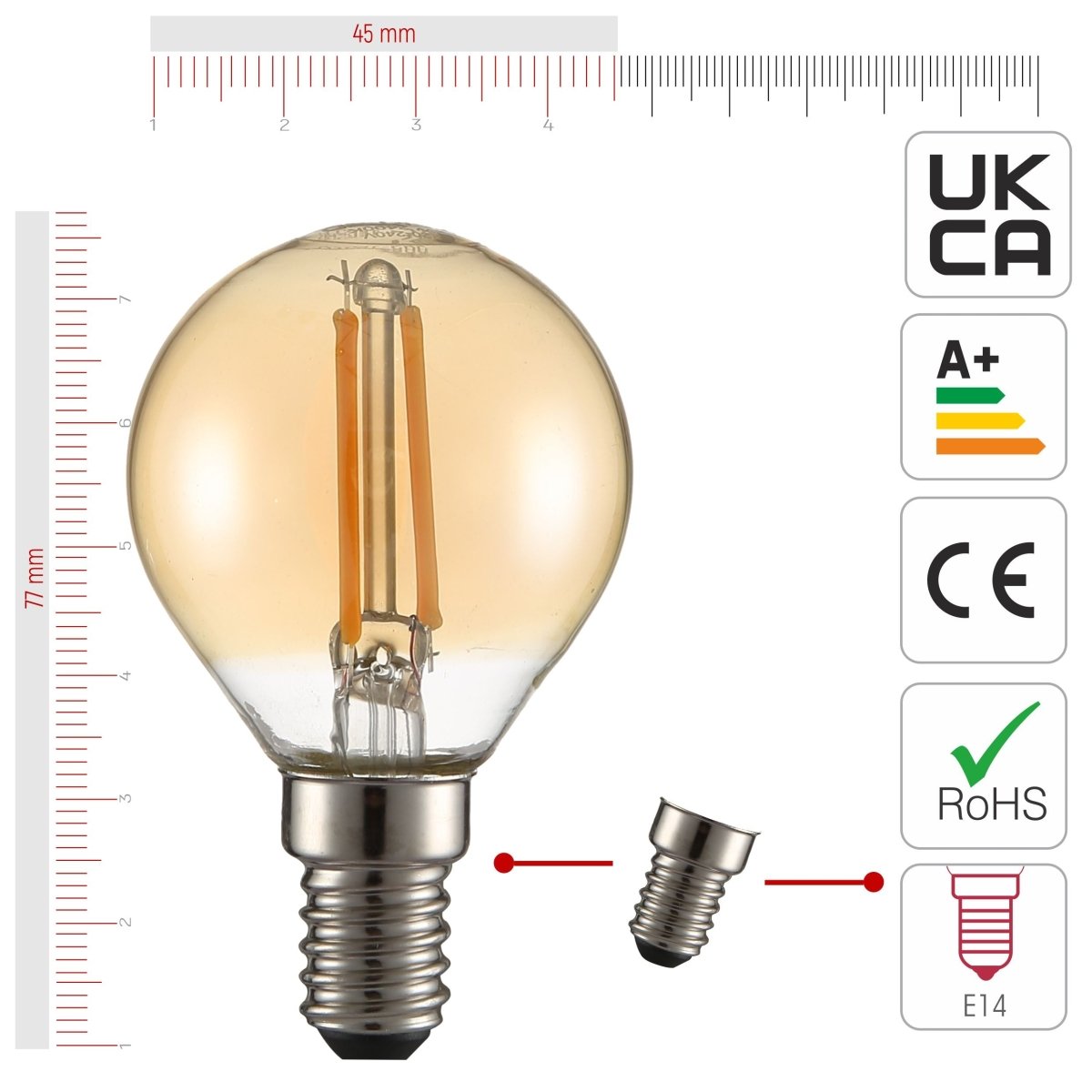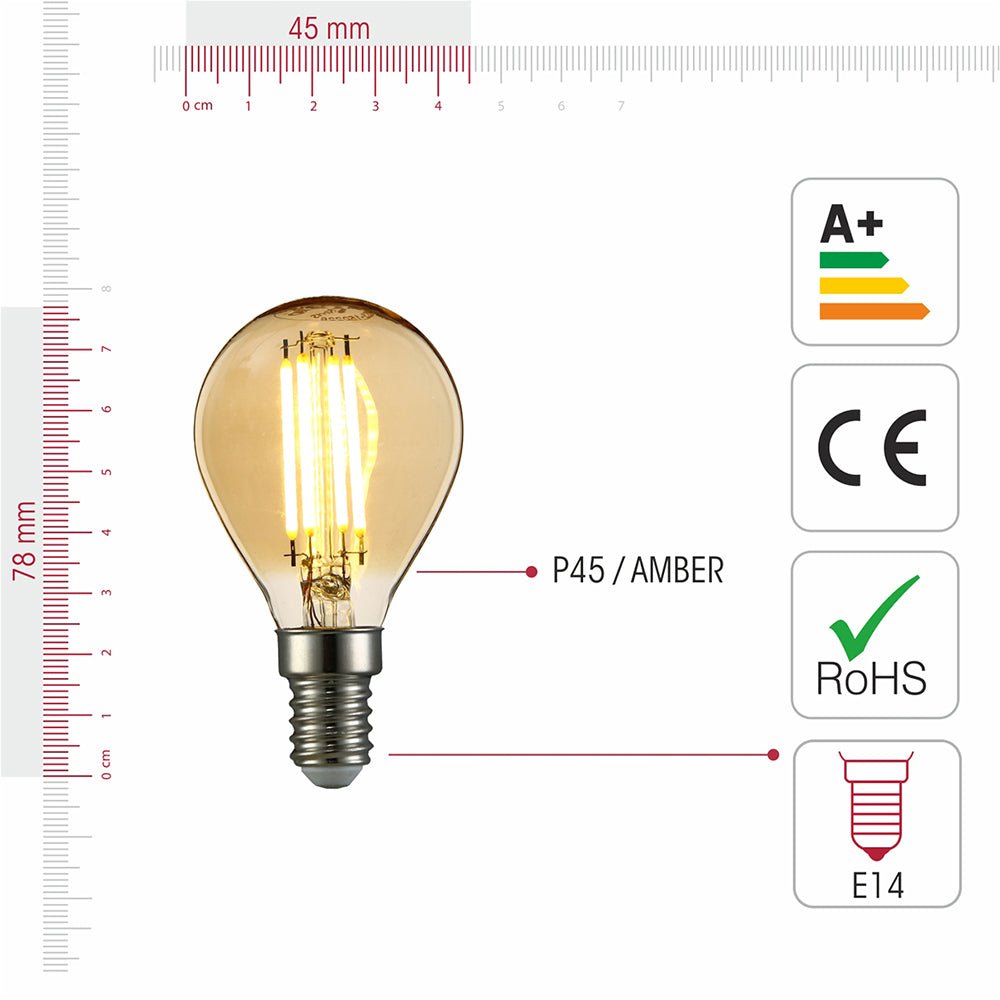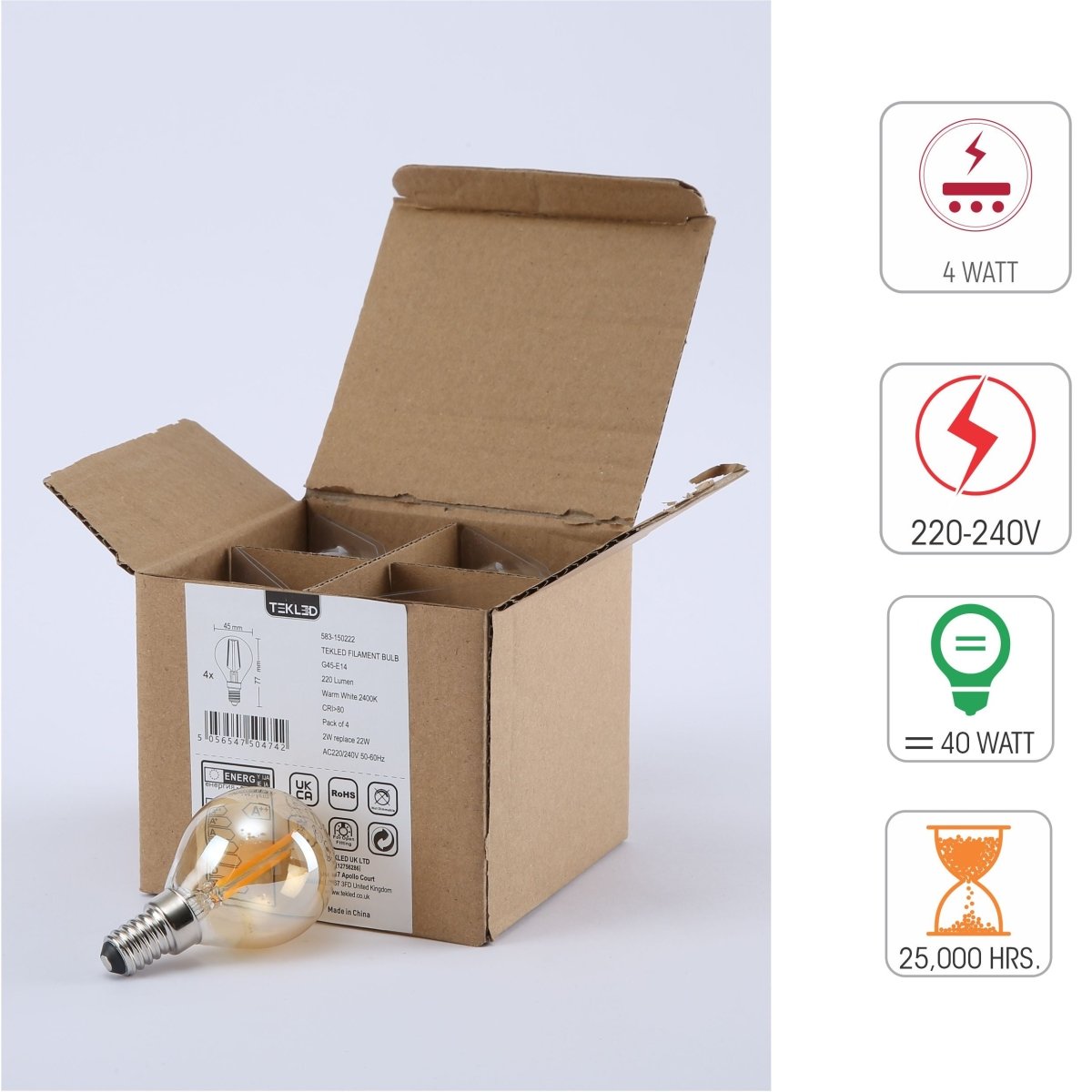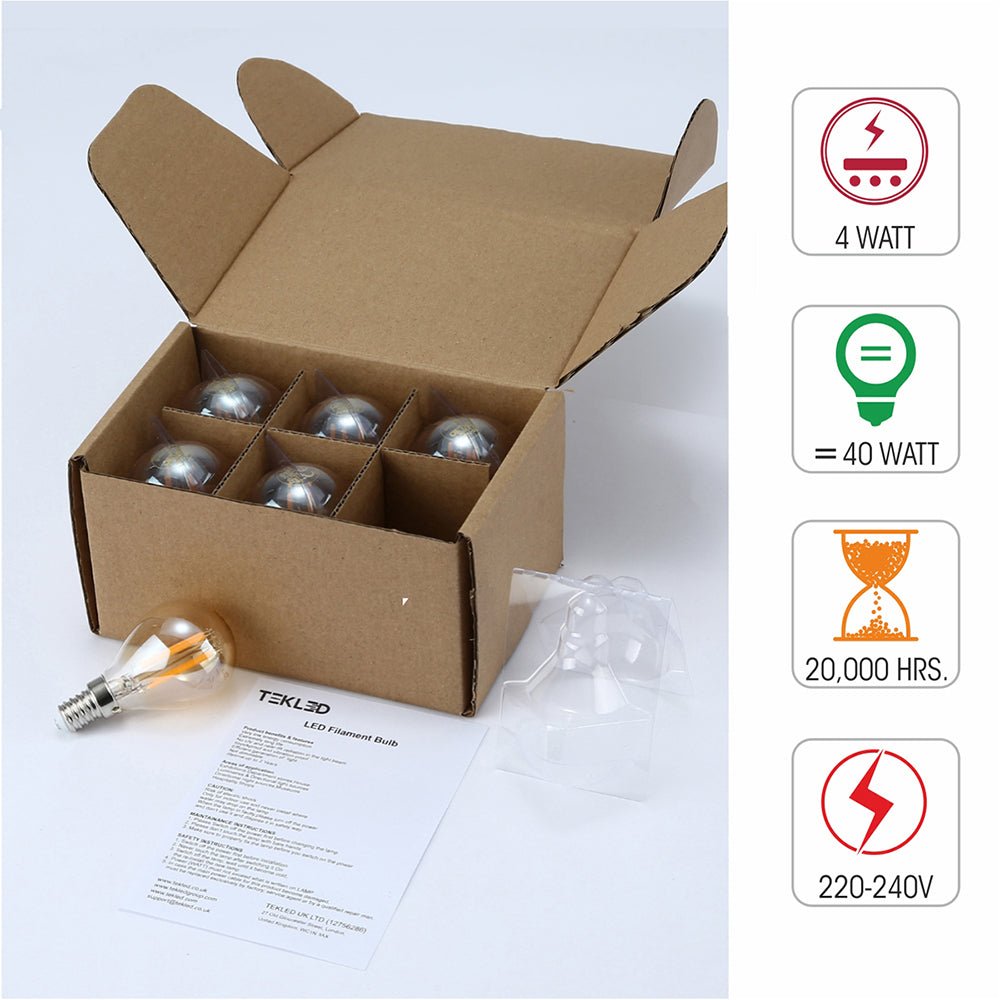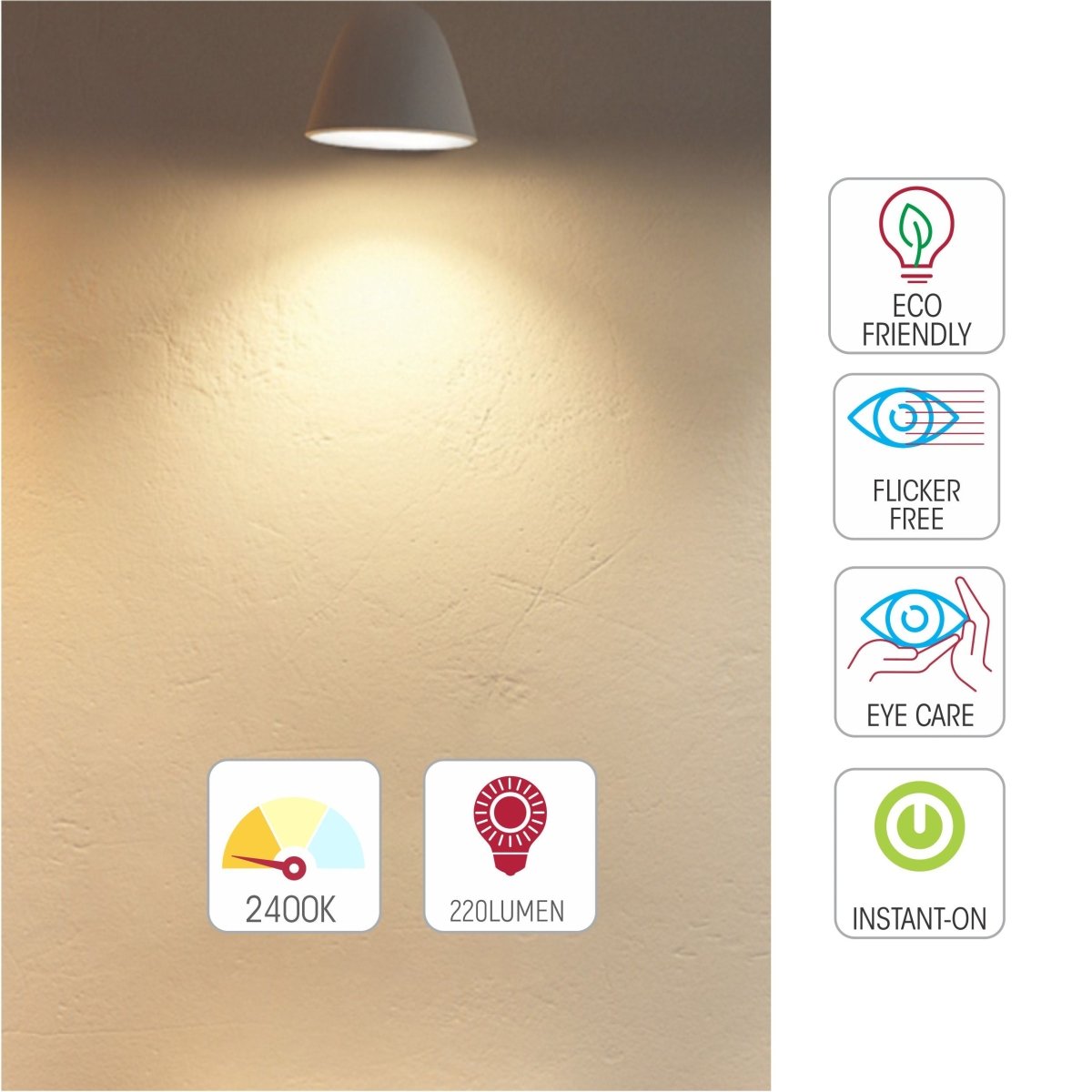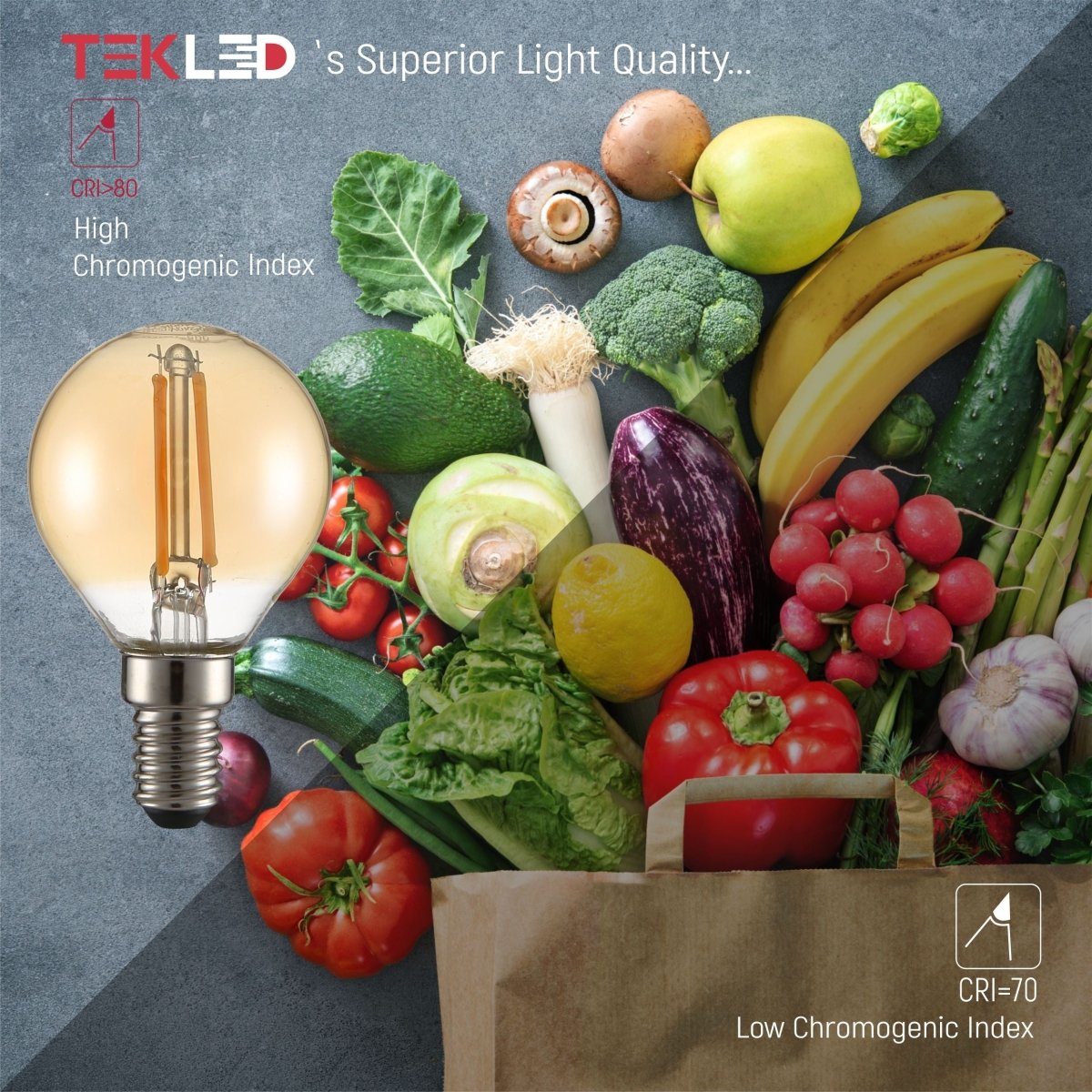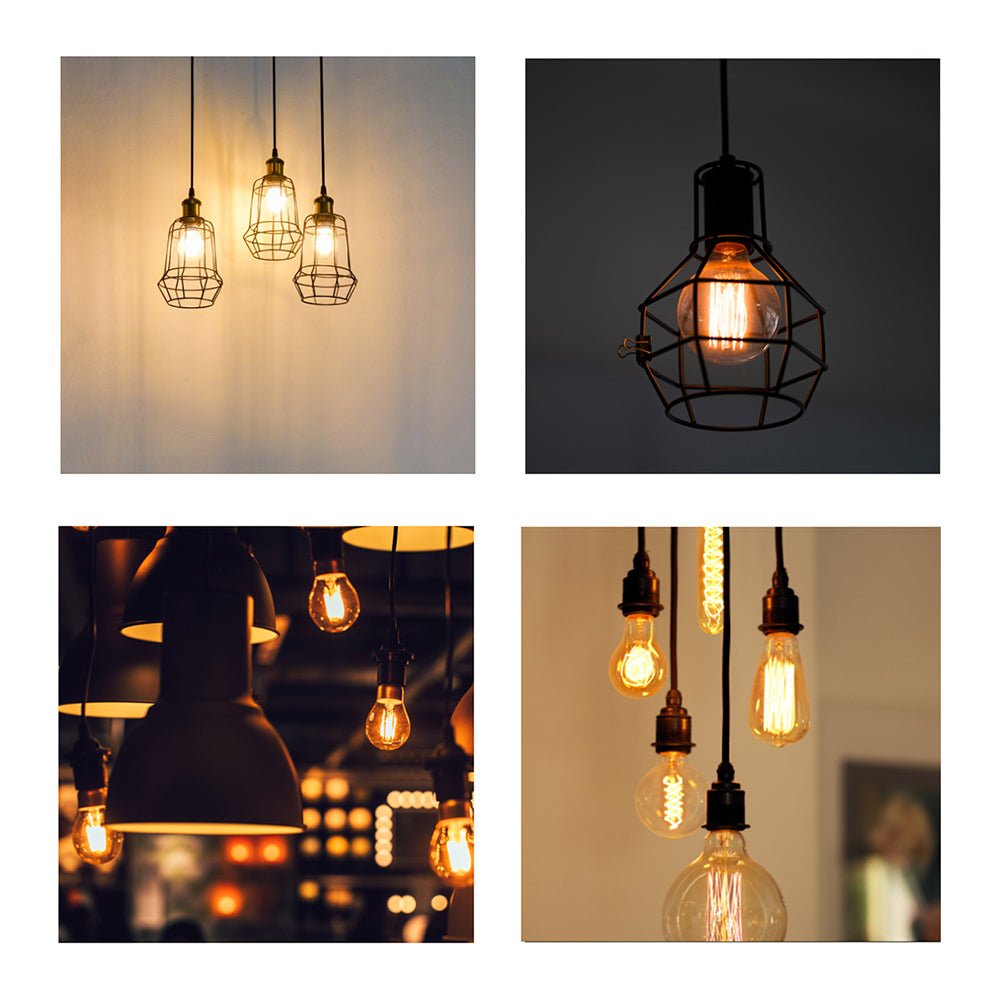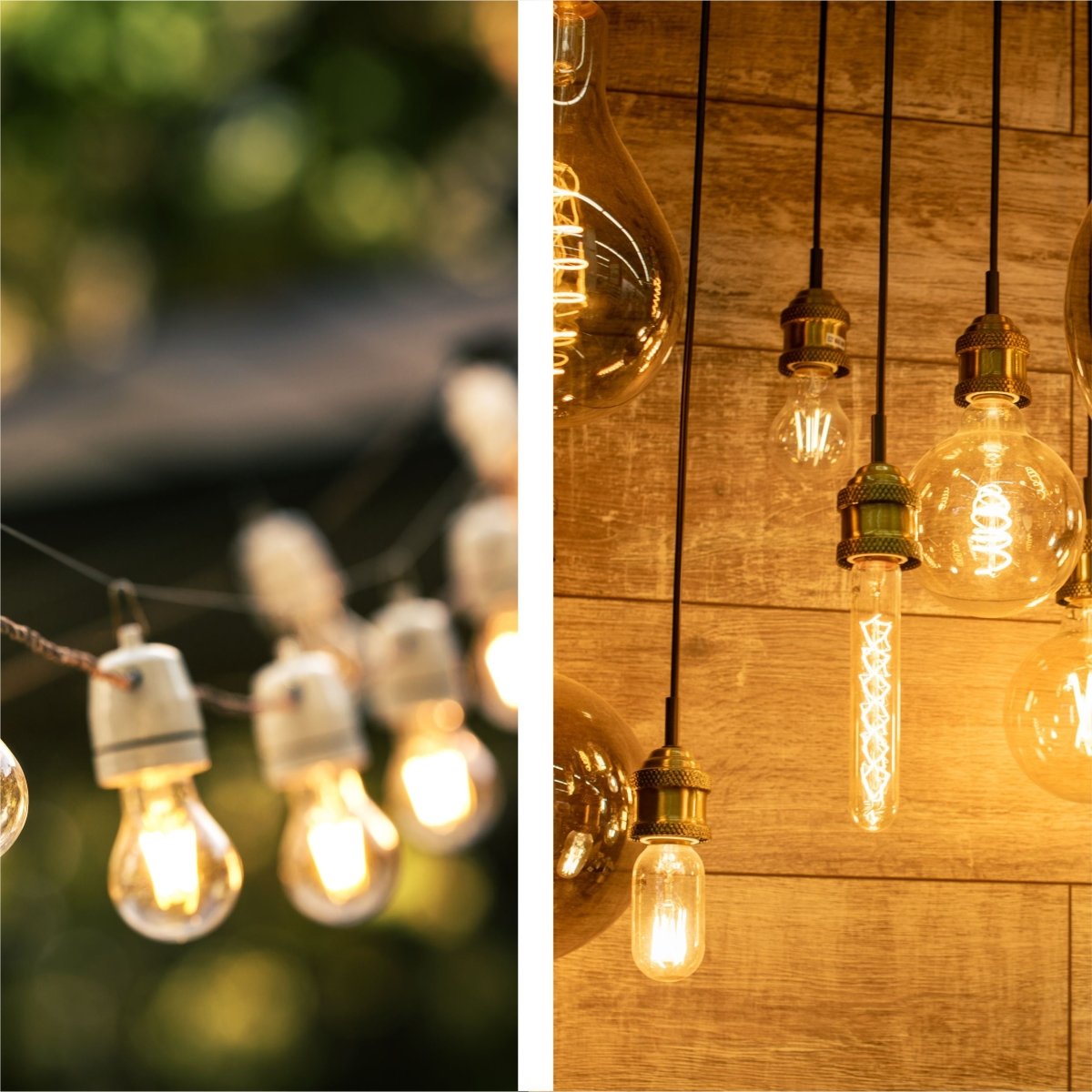 TEKLED
LED Filament P45 Golf Ball Bulb E14 Small Edison Screw Warm White 2400K - 2 W / Pack of 4.
LED Filament P45 Golf Ball Bulb E14 Small Edison Screw Warm White 2400K
Introducing the TEKLED LED Filament P45 Golf Ball Bulbs, your compact solution for energy-efficient, warm lighting. These bulbs are designed with an E14 Small Edison Screw base, making them an effortless replacement for traditional halogen bulbs in your home or business.

Available in 2W and 4W power variants, these LED bulbs deliver a luminous efficacy of up to 110 lm/W, providing the bright, clear light you need. They are the perfect light sources for an array of settings, such as living rooms, bedrooms, hallways, dining rooms, offices, retail shops, restaurants, or cafés.

Imbued with a warm white (2400K) colour temperature, these LED filament bulbs create a comfortable, relaxing atmosphere in any space. The warm white glow enhances the cosy ambience of your interior spaces, making them ideal for evening relaxation or intimate dining experiences.

As non-dimmable bulbs, the LED Filament P45 Golf Ball Bulbs maintain a consistent, stable light output, contributing to a tranquil, soothing environment. These bulbs are perfect for fixtures such as pendant lights, chandeliers, bedside lamps, or wall lights, both indoors and outdoors. Their compact design makes them an ideal choice for decorative lighting arrangements or smaller light fixtures where space is limited.

Constructed with glass and aluminium, these bulbs showcase an amber diffuser, offering an added touch of classic charm to their appearance. With an impressively long life span of 20,000 hours and an A+ energy rating, these bulbs provide significant energy savings over their lifetime.

Available in packs of 4 or 6, the LED Filament P45 Golf Ball Bulbs are not only an efficient choice for your lighting needs but also a practical one. Their certifications from UKCA, CE, and RoHS testify to their quality and safety standards.

Choose TEKLED's LED Filament P45 Golf Ball Bulbs for an energy-efficient, eco-friendly, and stylish lighting solution. Brighten your space with TEKLED, where vintage charm meets modern lighting technology.
Technical Specifications
| | |
| --- | --- |
| Name | LED Filament P45 Golf Ball Bulb E14 Small Edison Screw 2W 4W Pack of 4 or 6 Warm White |
| Product Code | 583-150222 | 583-150226 |
| Power | 2W | 4W |
| Equivalent Wattage | 22W | 40W |
| Voltage | 220/240Vac 50/60Hz |
| Input Current | 30 mA |
| Bulb Type | P45 Golf Ball |
| Base Type | E14 Small Edison Screw |
| Protection Class | Class II |
| Dimmability | Non-Dimmable |
| Light Source | Filament-LED |
| Light Output(luminous flux) | 220 lm | 400 lm |
| Luminous Efficacy | 110 lm/W | 100 lm/W |
| CRI(Colour Rendering Index) | CRI>80 |
| CCT (Kelvin)(Light Colour) | 2400K Warm White |
| IP Class(Ingress Protection) | IP44 |
| Product Dimensions (L x W x H) (D x H) | D45x77mm | D45 x 78H mm |
| Made of Materials | Glass & Aluminium |
| Product Colour | Amber |
| Diffuser Material | Glass |
| Diffuser Type | Amber |
| Power Factor | pf>0.5 |
| Flickering | Non-Flickering |
| Operating Temperature (C) | -20/+45C |
| New Energy Rating | E | F |
| Energy Rating | A+ |
| Warranty | 2 year |
| Life Span | 20000 h |
| Gross Weight | 133g | 176 g |
| Net Weight | 17.5g |
| Box Dimensions (LxWxH) | 110x110x100mm | 174x114x91mm |
| Box Content | 4pcs bulb | 6 Pack |
| Certifications | UKCA, CE, RoHS |