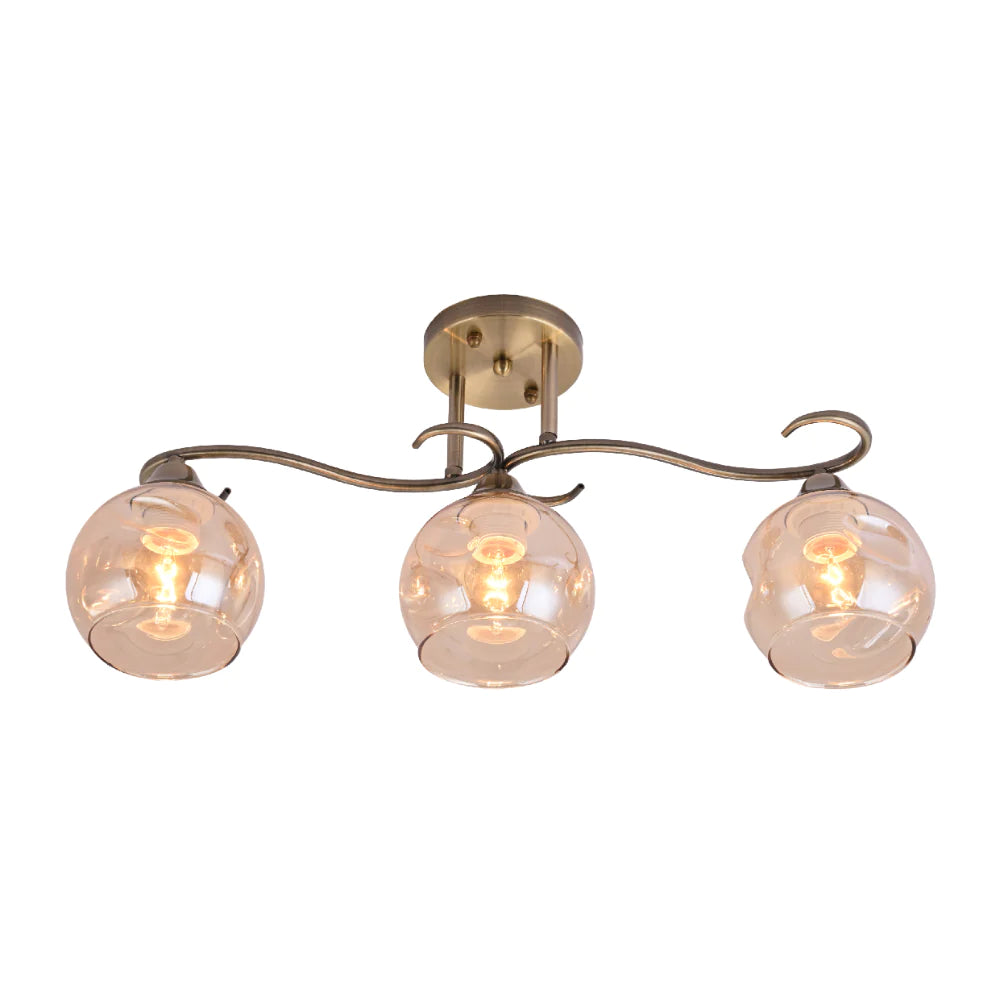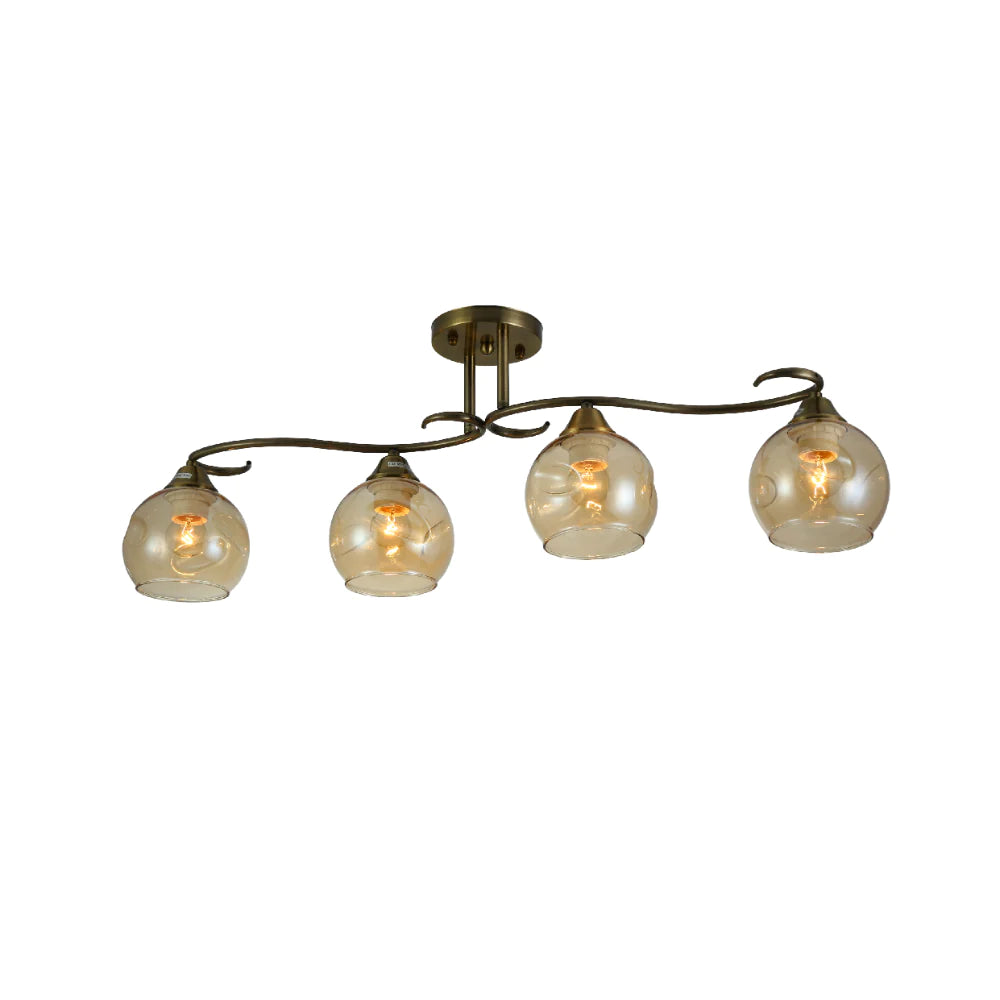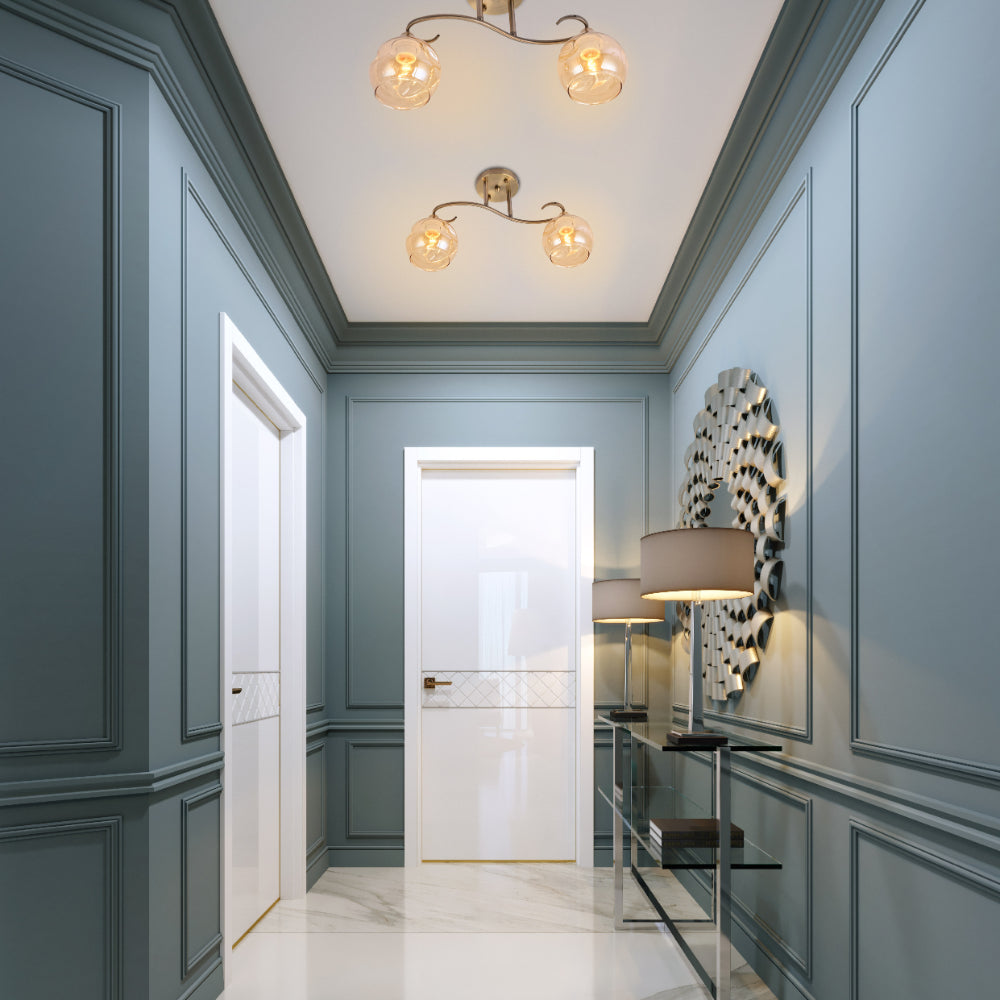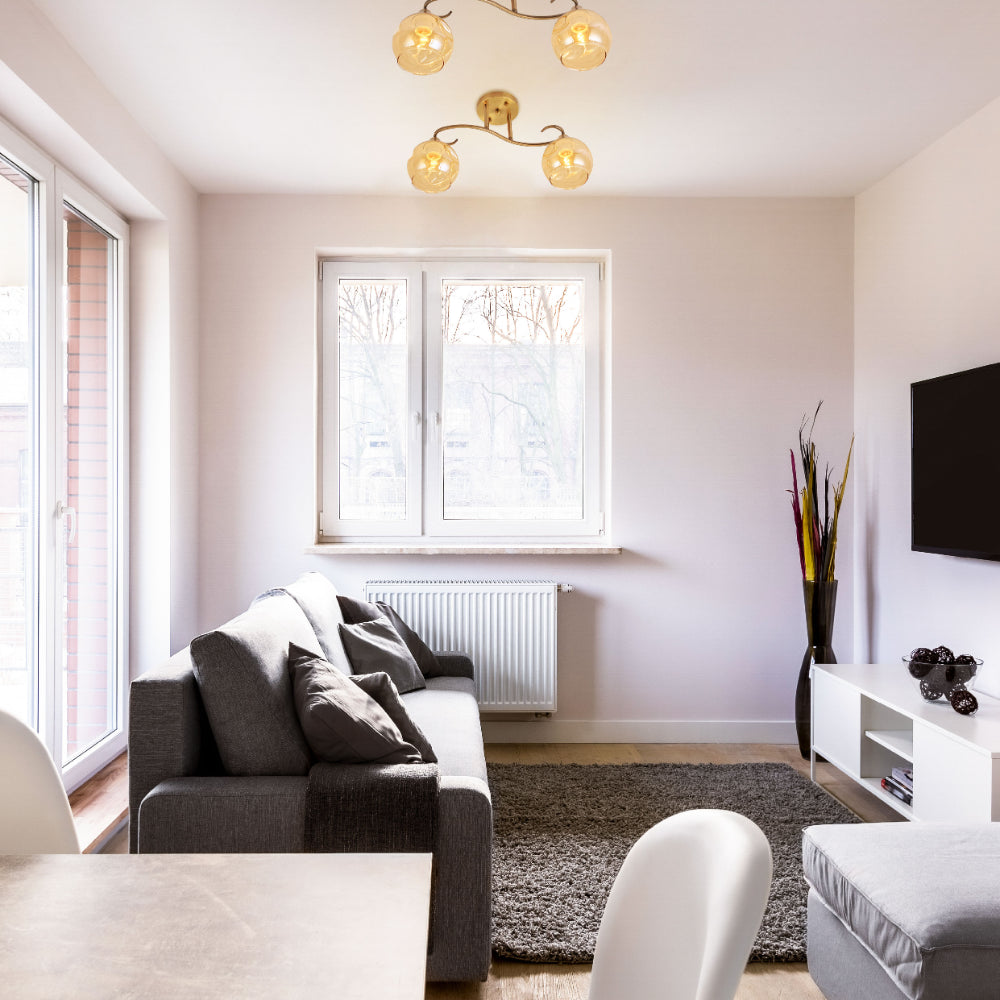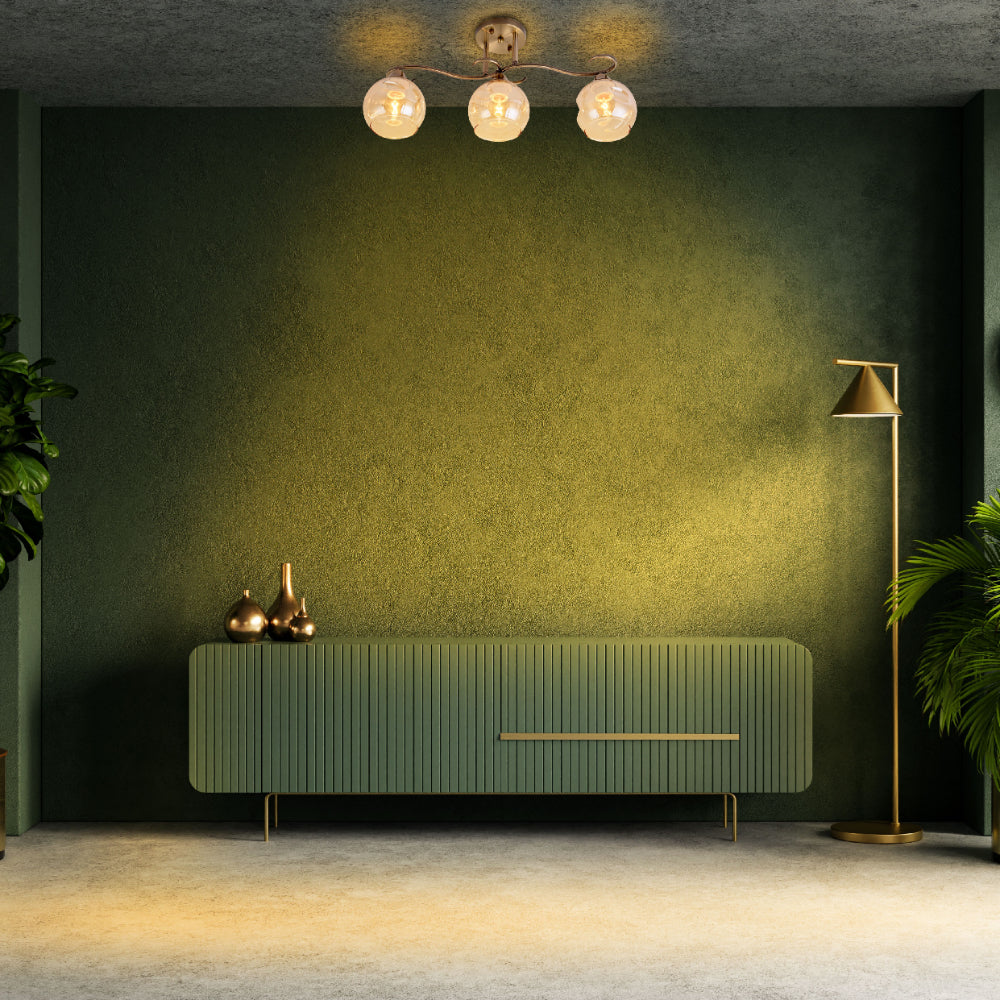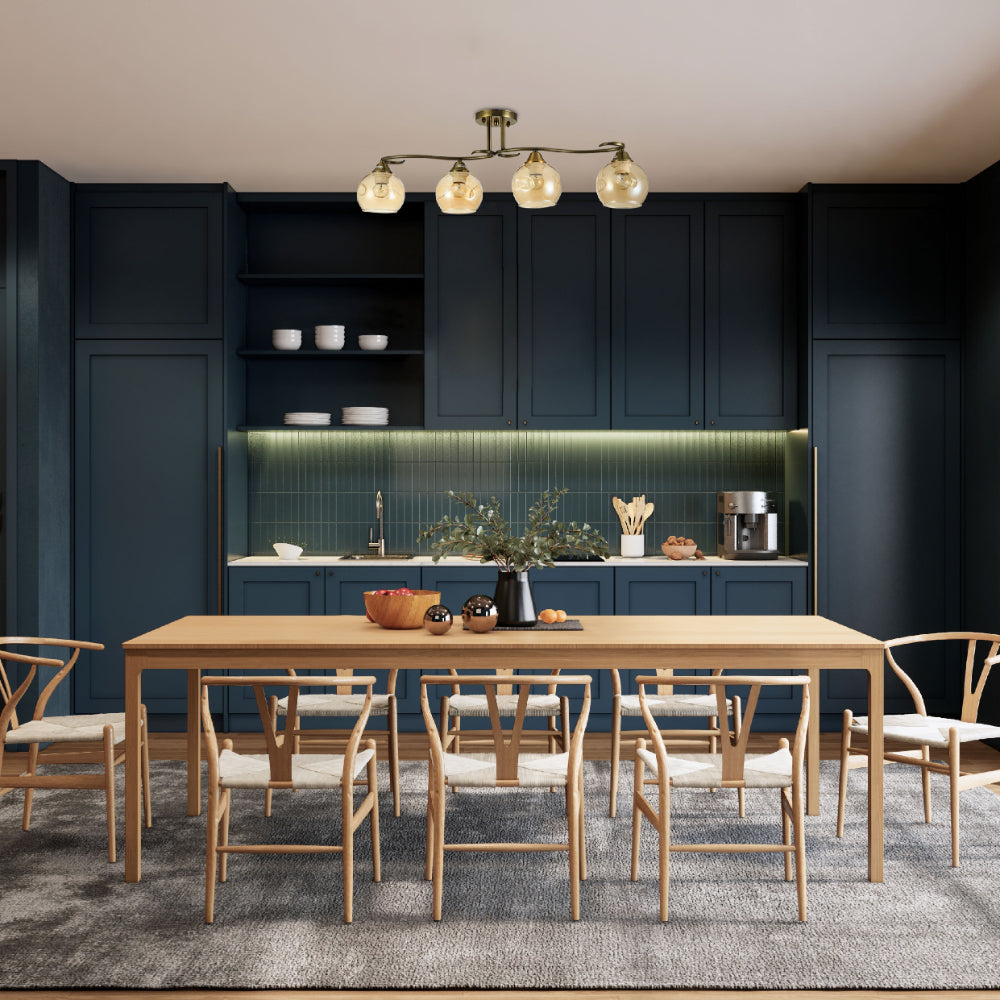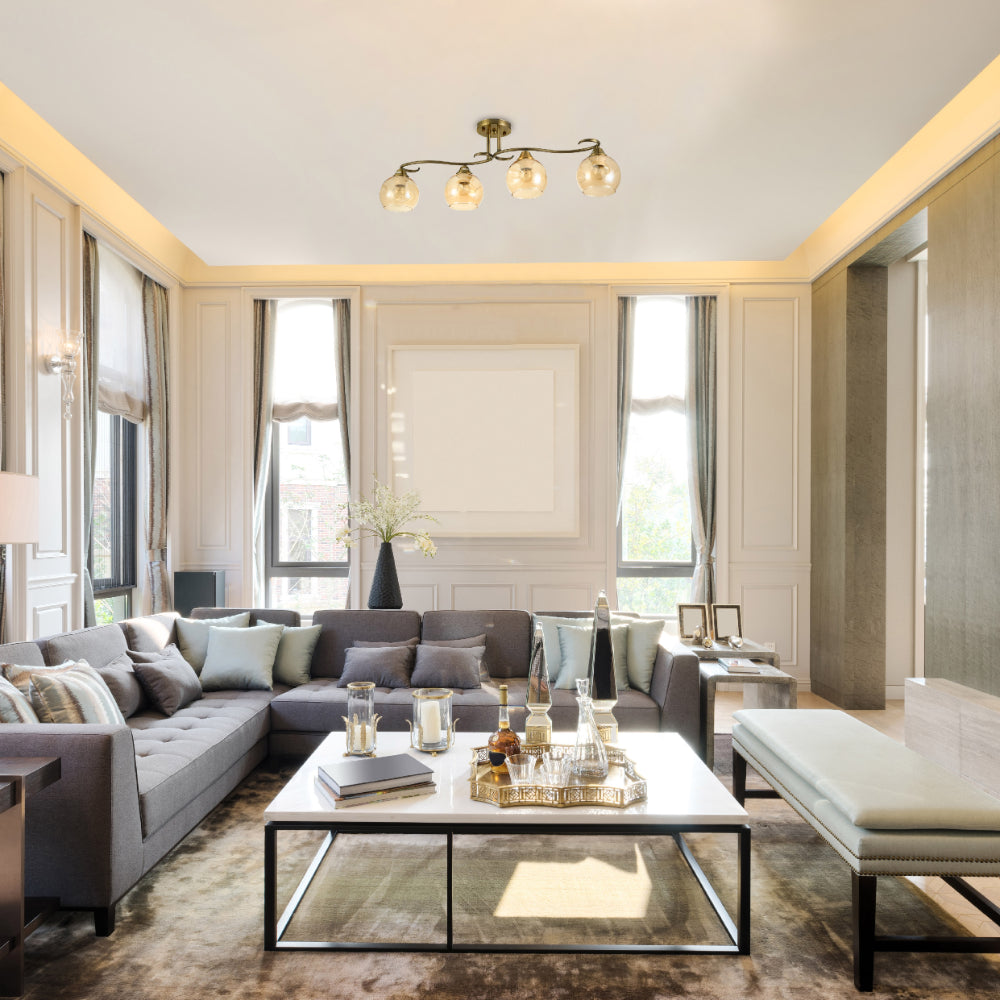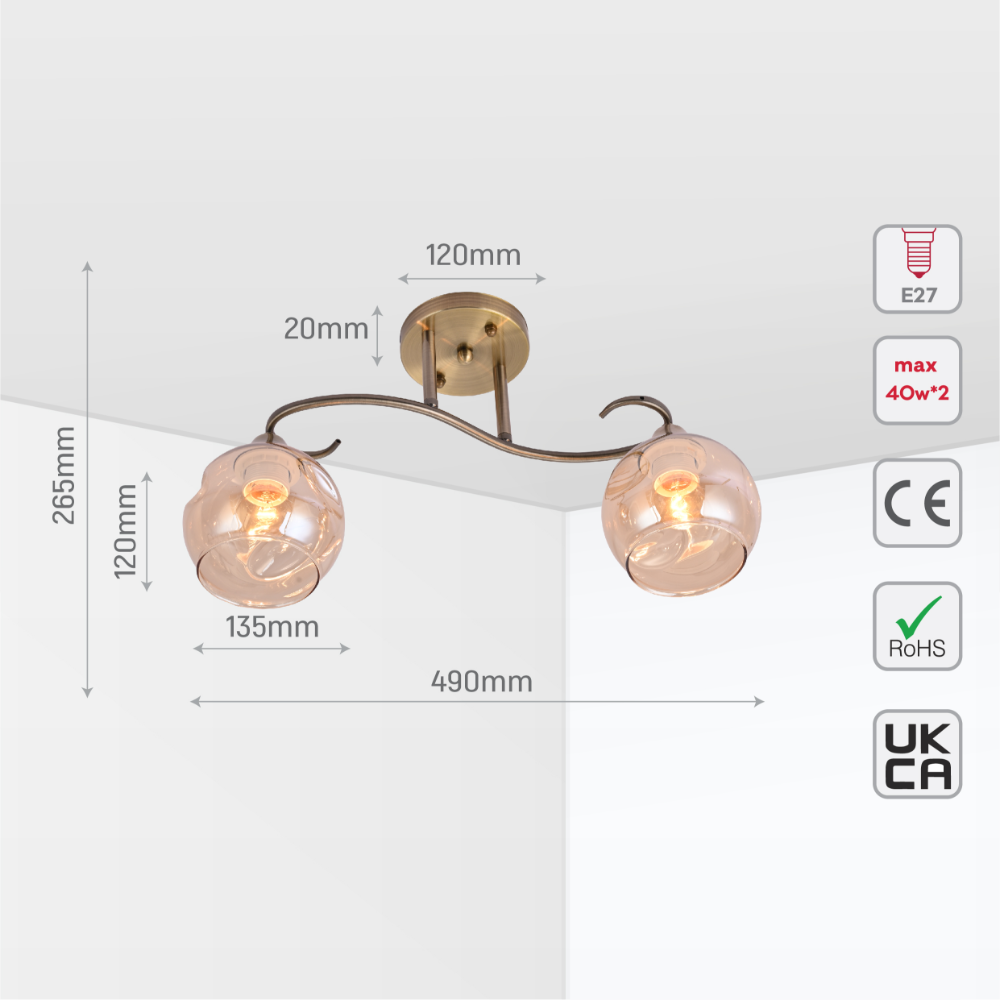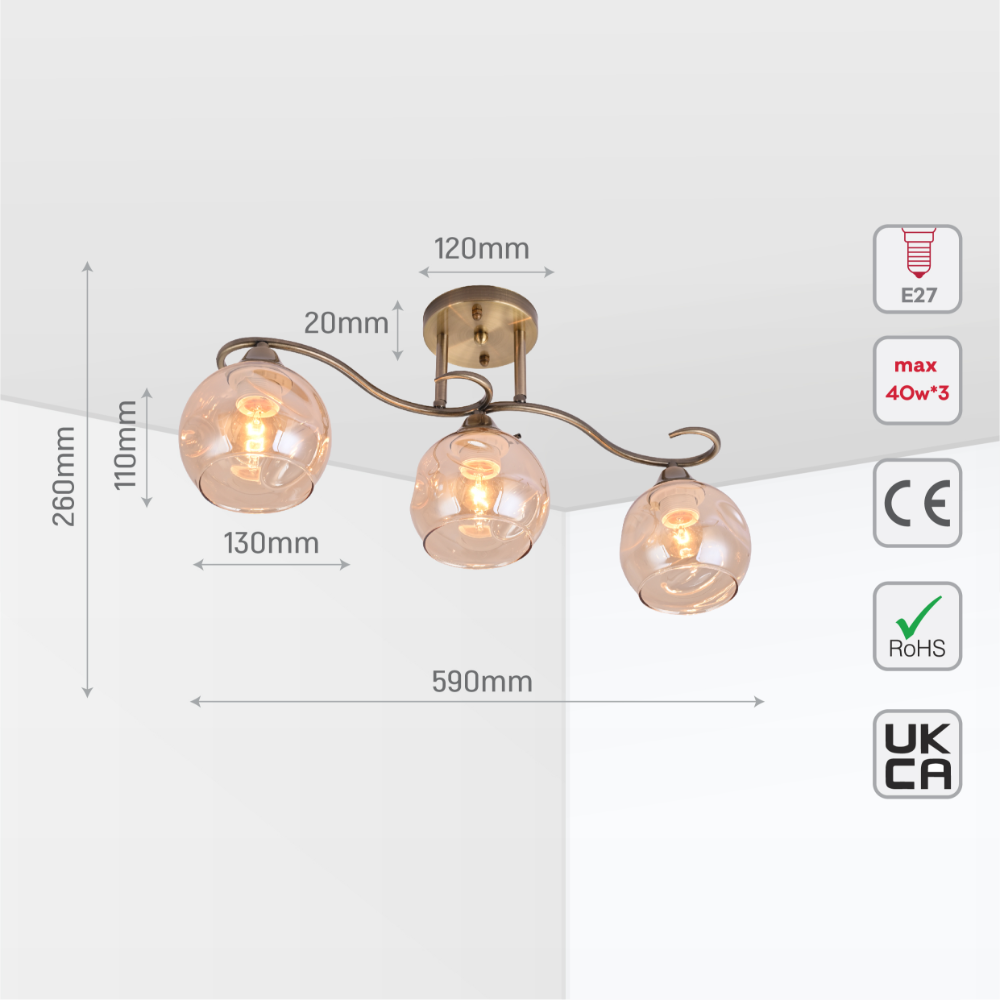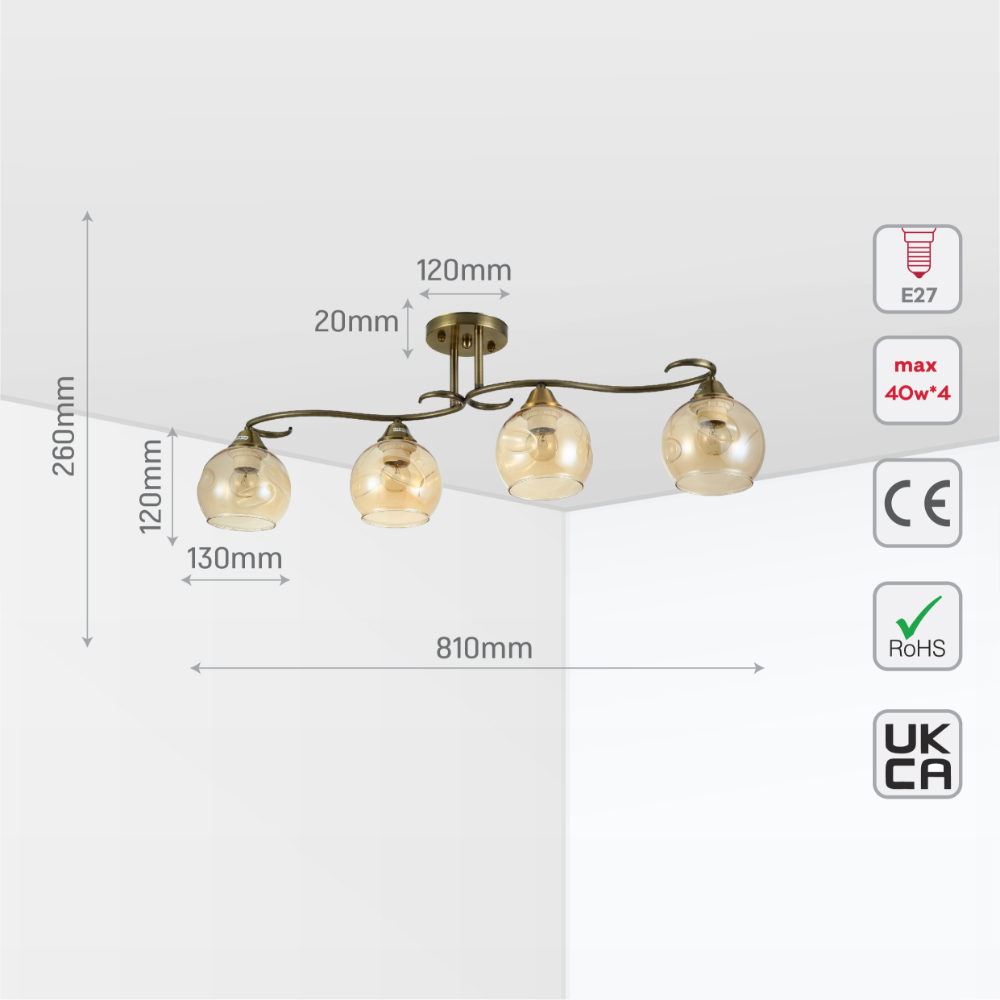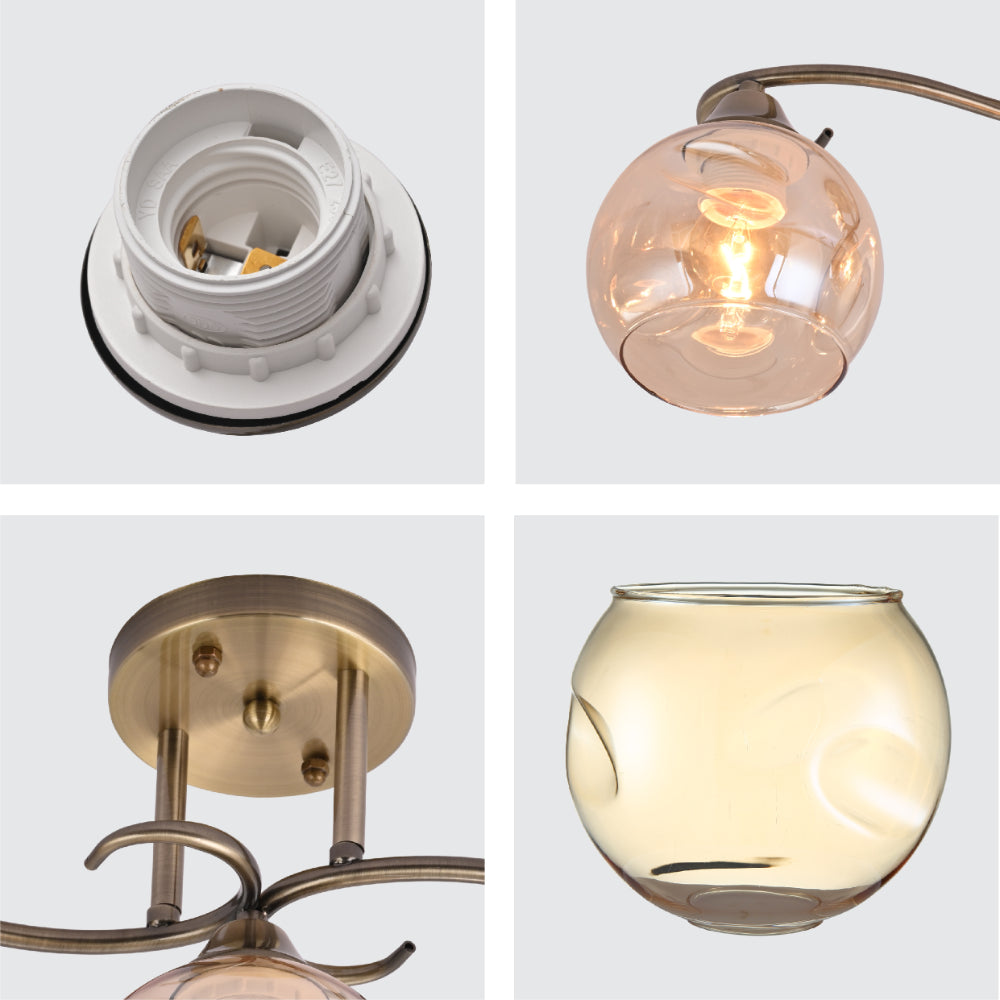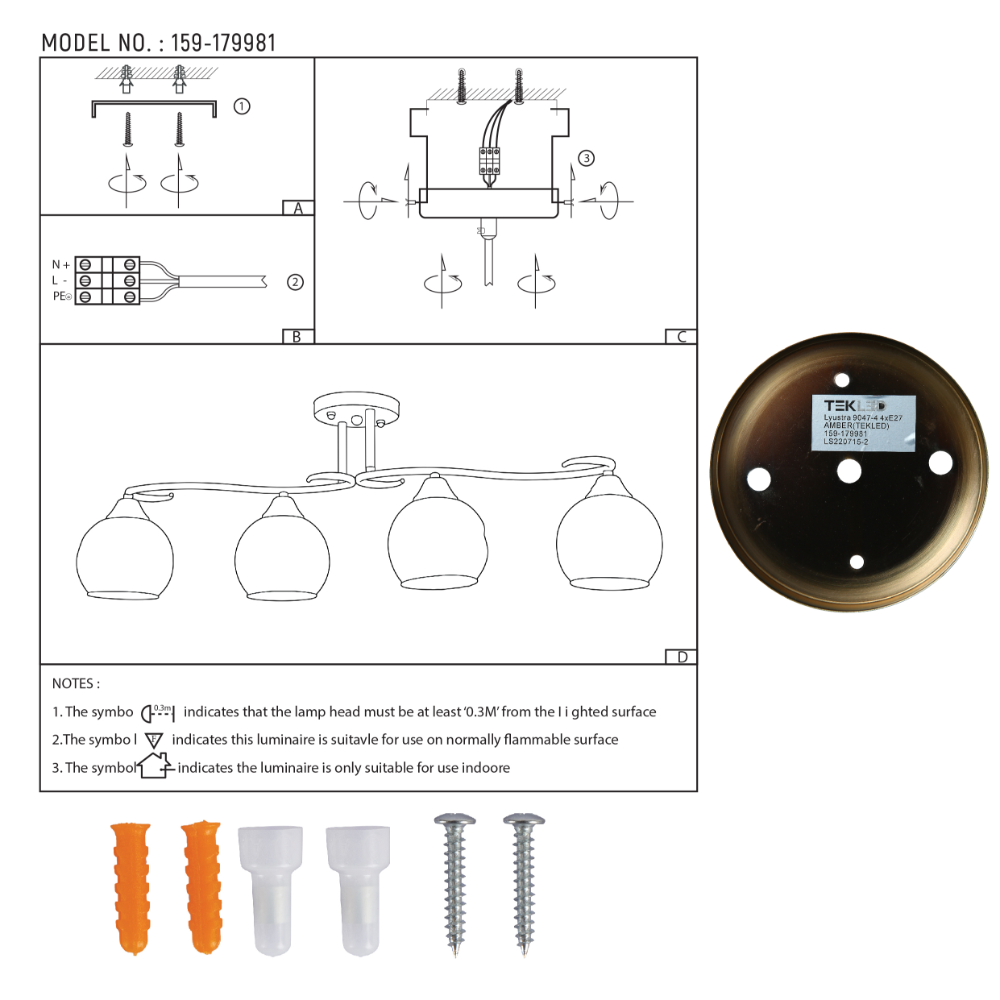 TEKLED
S-Curve Antique Brass and Dimpled Amber Globe Light - 2 Globe.
S-Curve Antique Brass and Dimpled Amber Globe Light
Introducing the S-Curve Antique Brass and Dimpled Amber Globe Light, a fusion of modern design and vintage charm. Available in 2, 3, and 4 globe variants, this ceiling light stands out with its unique linear arrangement and striking design elements.
Design and Description
The centerpiece of this light is its distinctive S-shaped arms, crafted in antique brass, which stretch out in an elegant, elongated S curve. This design element brings a dynamic sense of movement to the fixture. The globes, made of amber glass, feature large, crater-like dimples that add texture and depth, enhancing the light's visual appeal. While many lights feature circular designs, this light's linear form sets it apart, offering a sleek and contemporary look.
Variants and Layout
The 2-globe variant showcases a single S-curve, creating a balanced and symmetrical look. The 3 and 4-globe variants feature two parallel S-curves, maintaining a linear and cohesive design. Despite the increased number of globes, the light retains its streamlined appearance, making it suitable for a variety of spaces.
Style and Placement
This light fixture is a versatile piece that can complement a range of interior styles, from modern and contemporary to industrial and retro. Its linear form makes it ideal for placement above dining tables, in hallways, or in living rooms where its elongated shape can be fully appreciated. The warm glow of the dimpled amber globes casts a cozy and inviting light, ideal for creating a relaxed ambiance.
Decor Compatibility
The combination of antique brass and amber glass allows this light to blend seamlessly with various decor themes. Its unique design and texture make it a focal point in any room, adding character and style to your space.
Conclusion
The S-Curve Antique Brass and Dimpled Amber Globe Light is not just a lighting fixture; it's a statement piece that combines functionality with artful design. Whether you choose the 2, 3, or 4 globe variant, this light will add a touch of elegance and uniqueness to your home.
Technical Specifications
| | |
| --- | --- |
| Product Code | 159-17998 | 159-179980 | 159-179981 |
| Name | S-Curve Antique Brass and Dimpled Amber Globe Light |
| Power | MAX 40W*2 | MAX 40W*3 | MAX 40W*4 |
| Power Source | Hardwired |
| Voltage | 220/240Vac 50/60Hz |
| Lamp Holder Type | E27 Edison Screw |
| Lamp Holder Quantity | 2 | 3 | 4 |
| Protection Class | Class I |
| Dimmability | Dimmable if used with dimmable bulbs |
| Light Source | Bulb |
| Bulbs | Bulbs are not included |
| IP Class | IP20 |
| Mount Type | Semi Flush |
| Product Dimensions (L x W x H) (D x H) | 490*265mm | 590*260mm | 810*170*260mm |
| Product Length | 490mm | 590mm | 810mm |
| Shape | Arm |
| Material | Steel, Glass |
| Product Colour | Antique Brass, Amber |
| Paint Type | Electroplating |
| Shade Material | Glass |
| Size of Shade(s) | 135*120mm | 130*110mm | D130*120mm |
| Shade Colour | Amber |
| Size of Rose | D120*20mm |
| Operating Temperature (°C) | -20/+45 C |
| Warranty | 3 year |
| Box Dimension (L x W x H) | 420*260*160mm | 540*260*16mm | 770*260*160mm |
| Net Weight | 0.55kg | 0.76kg | 0.95kg |
| Gross Weight | 0.94kg | 1.2kg | 1.53kg |
| Box Content | 1Light fixture,User manual, Accessories package | 1Light fixture,User manual, Accessories package | 1Light fixture,User manual, Accessories package |
| Pieces/Box | 1 |
| Certifications | UKCA, CE, RoHS |