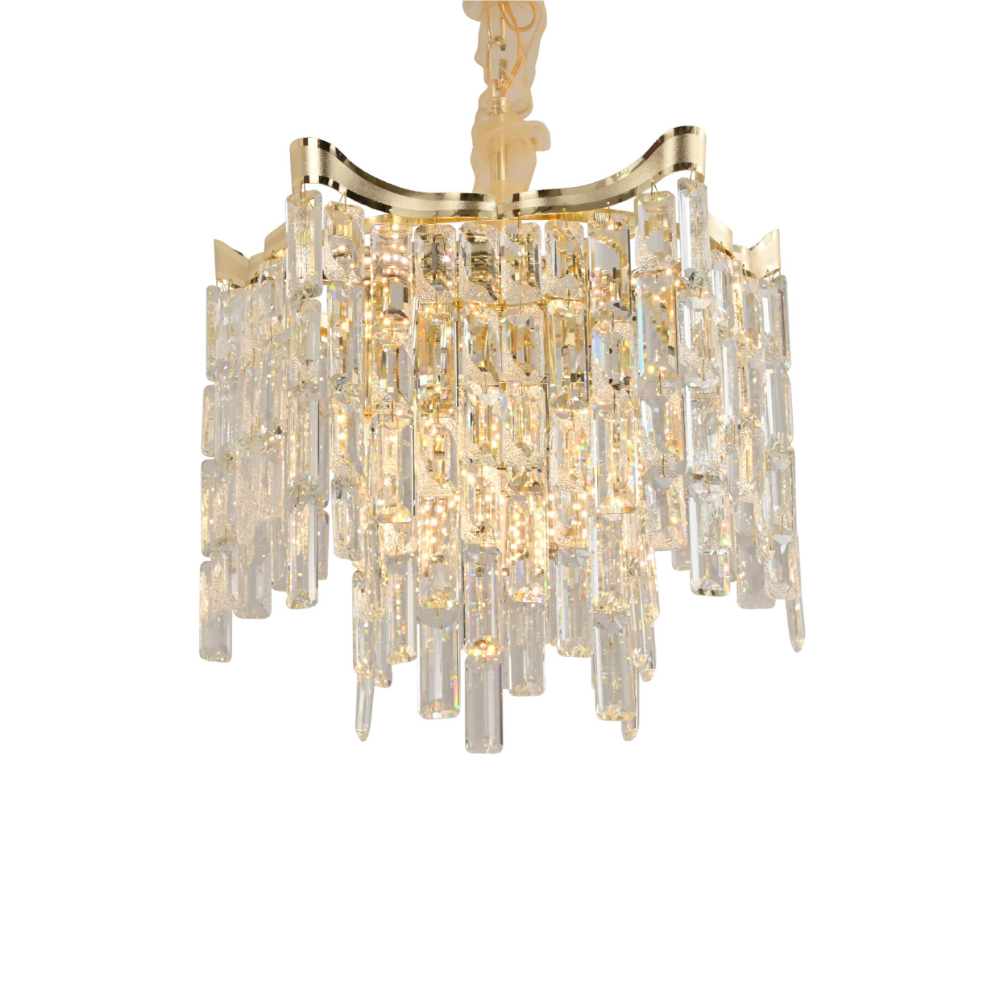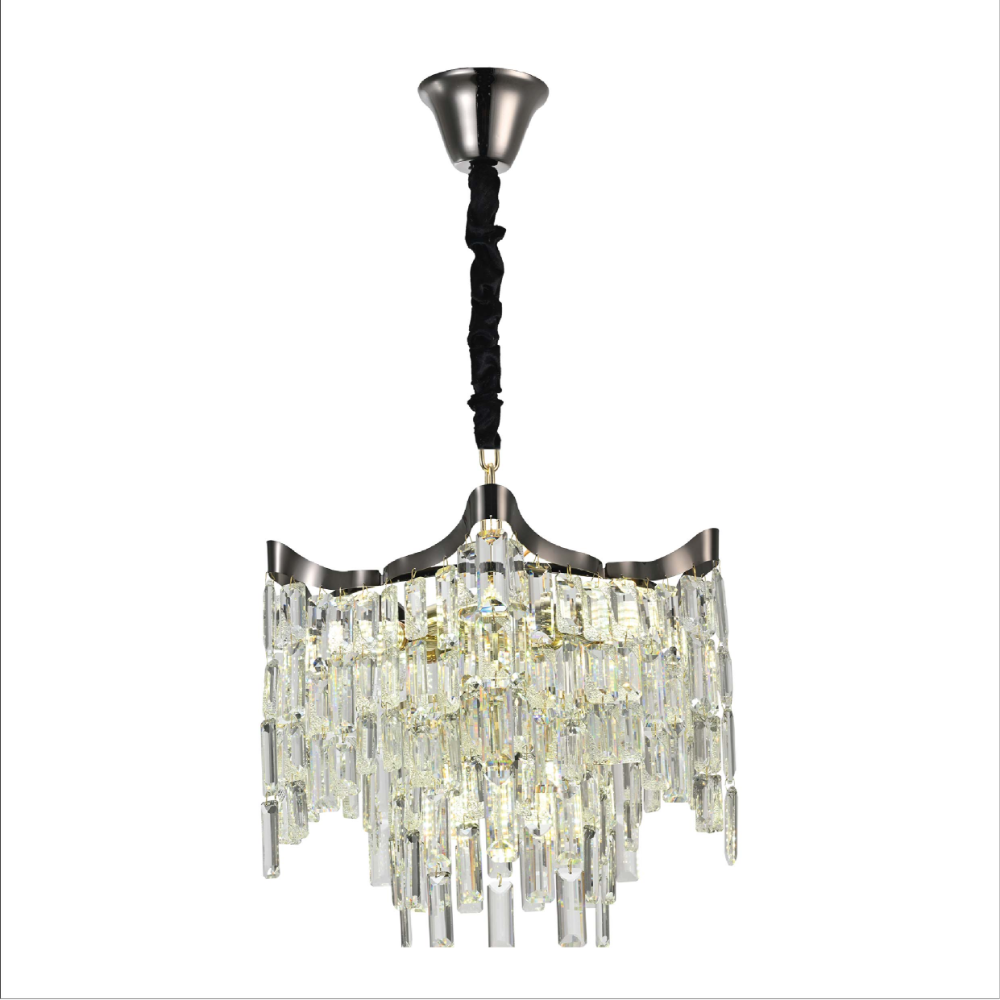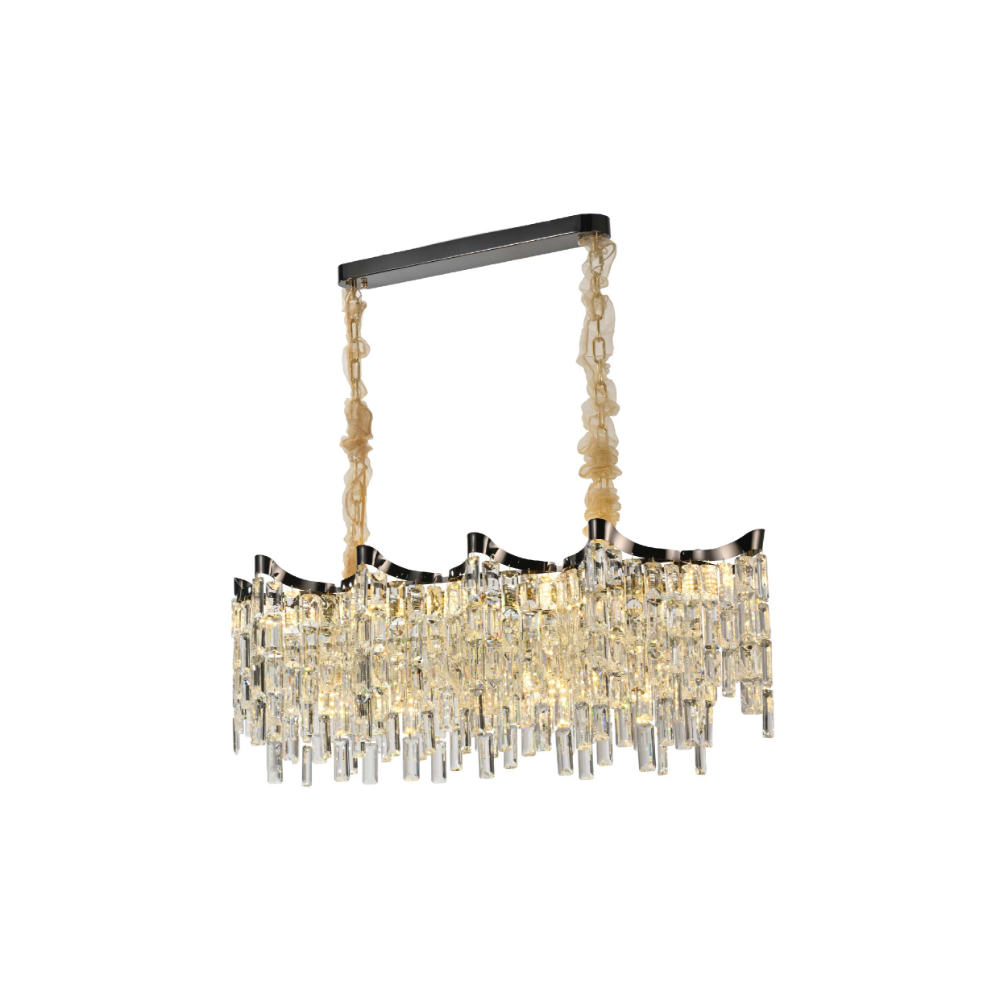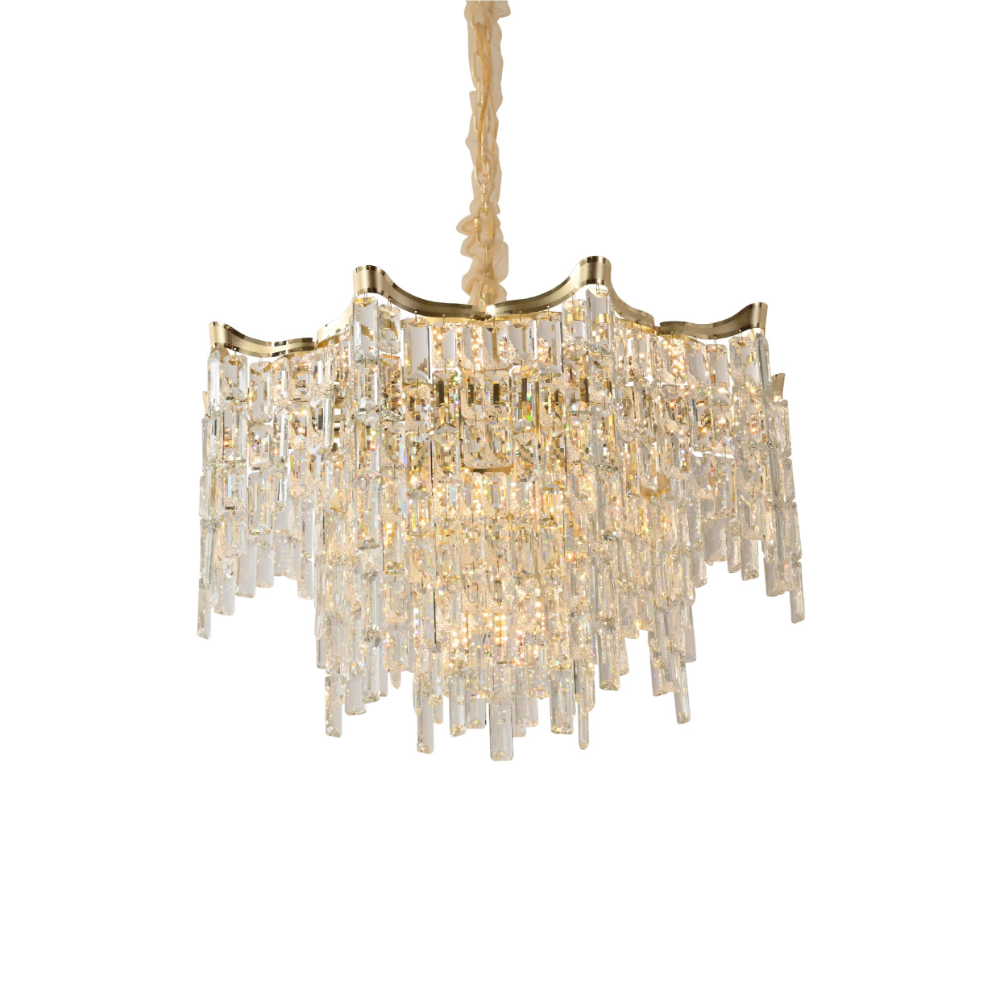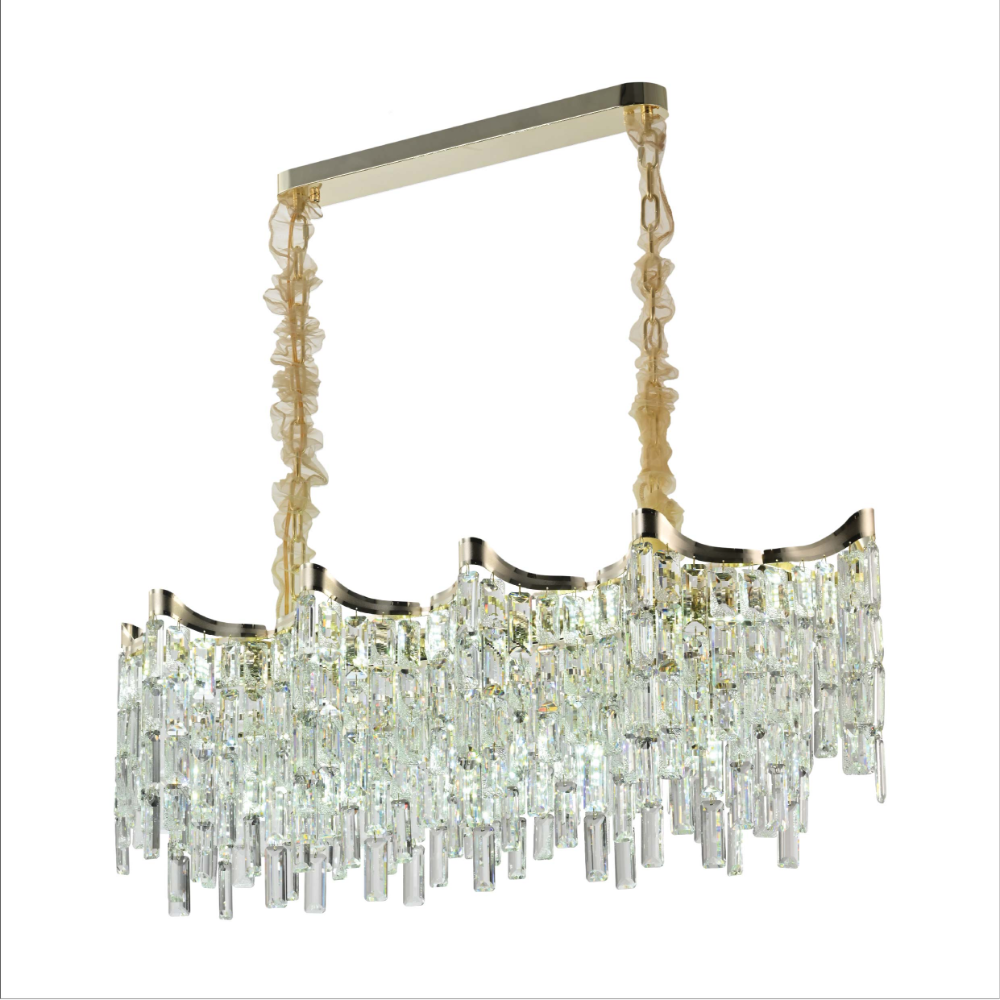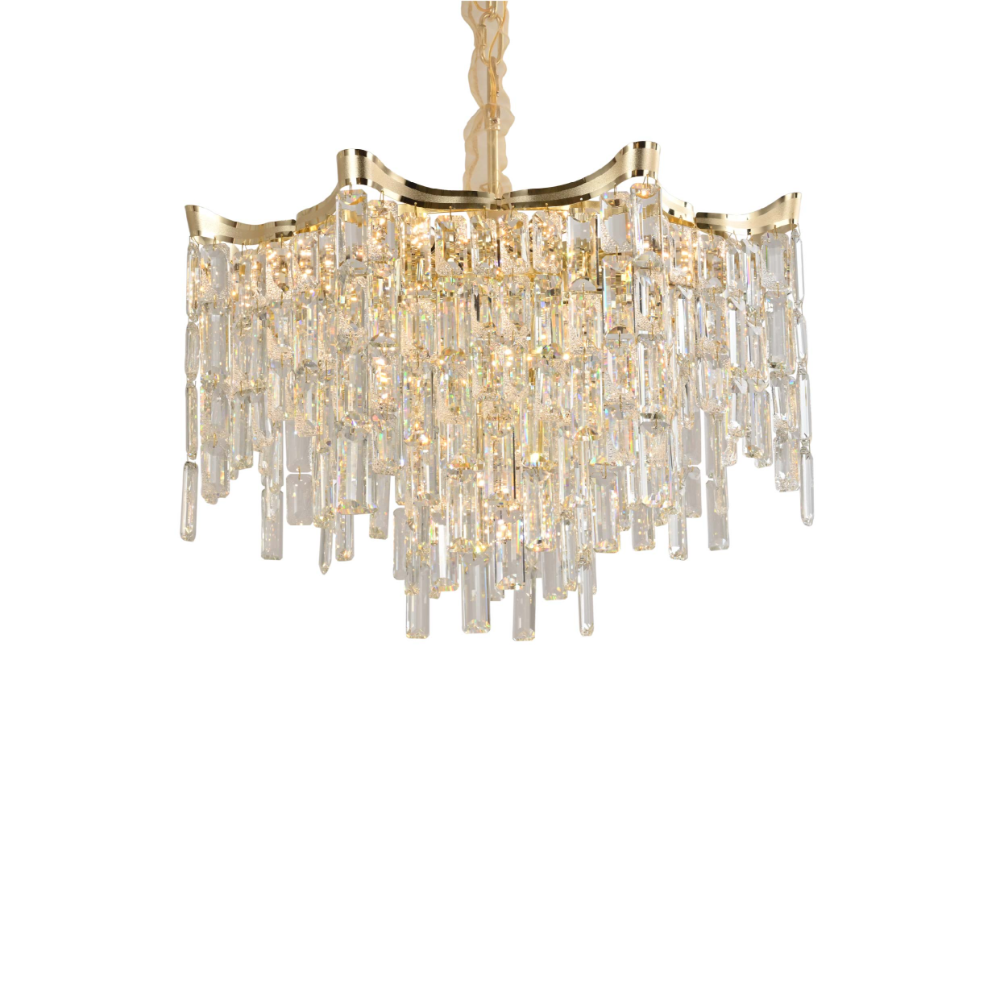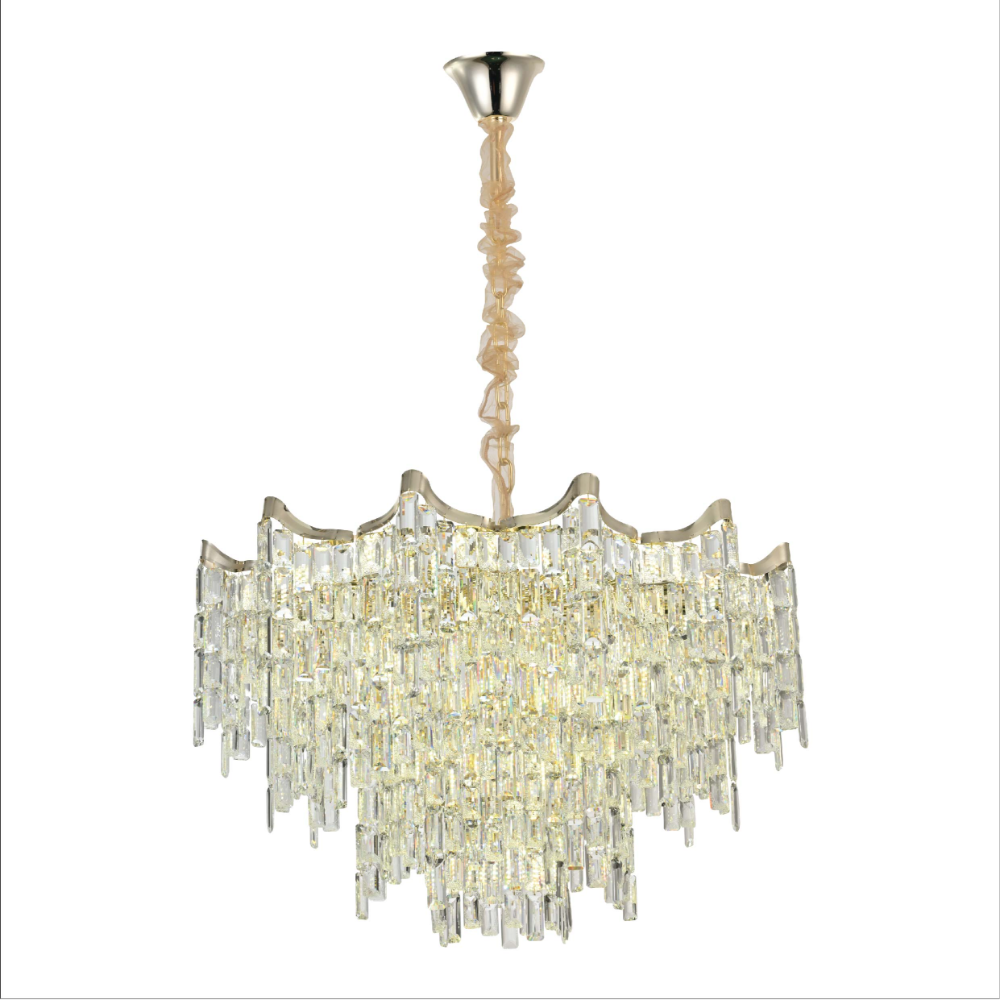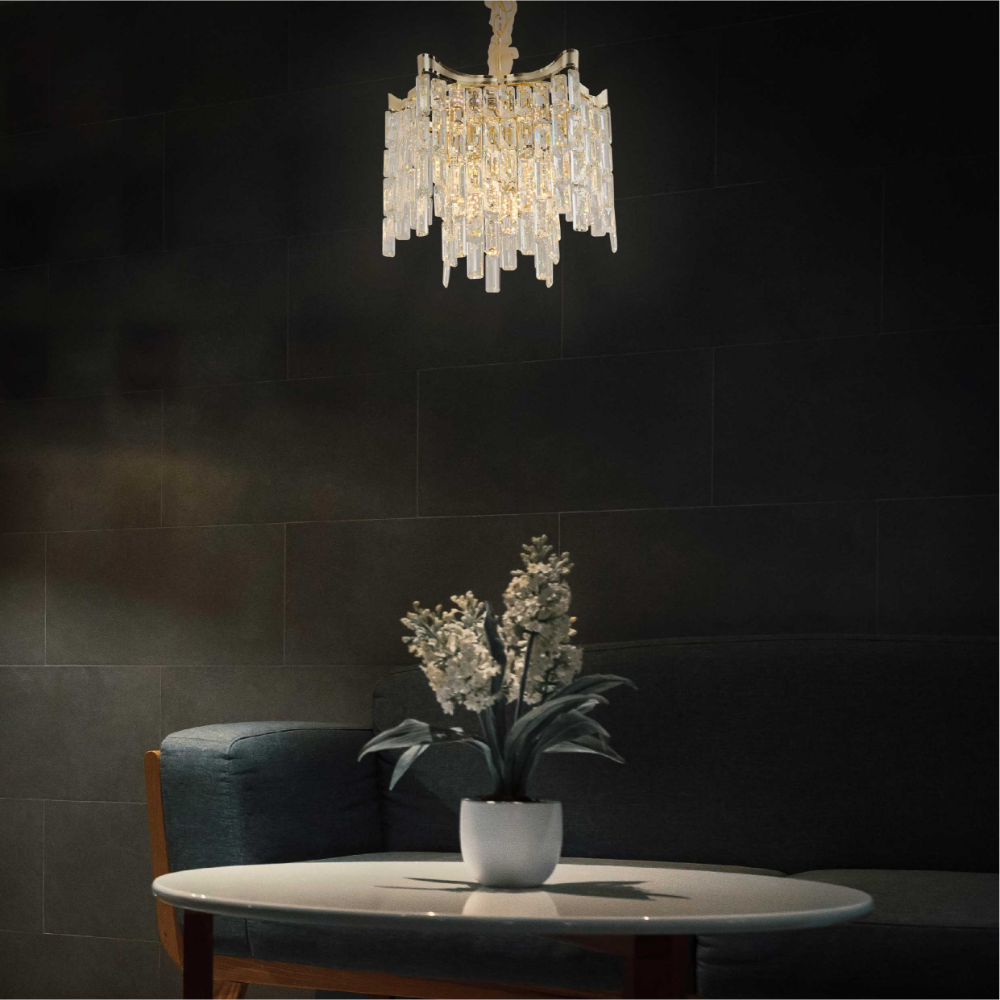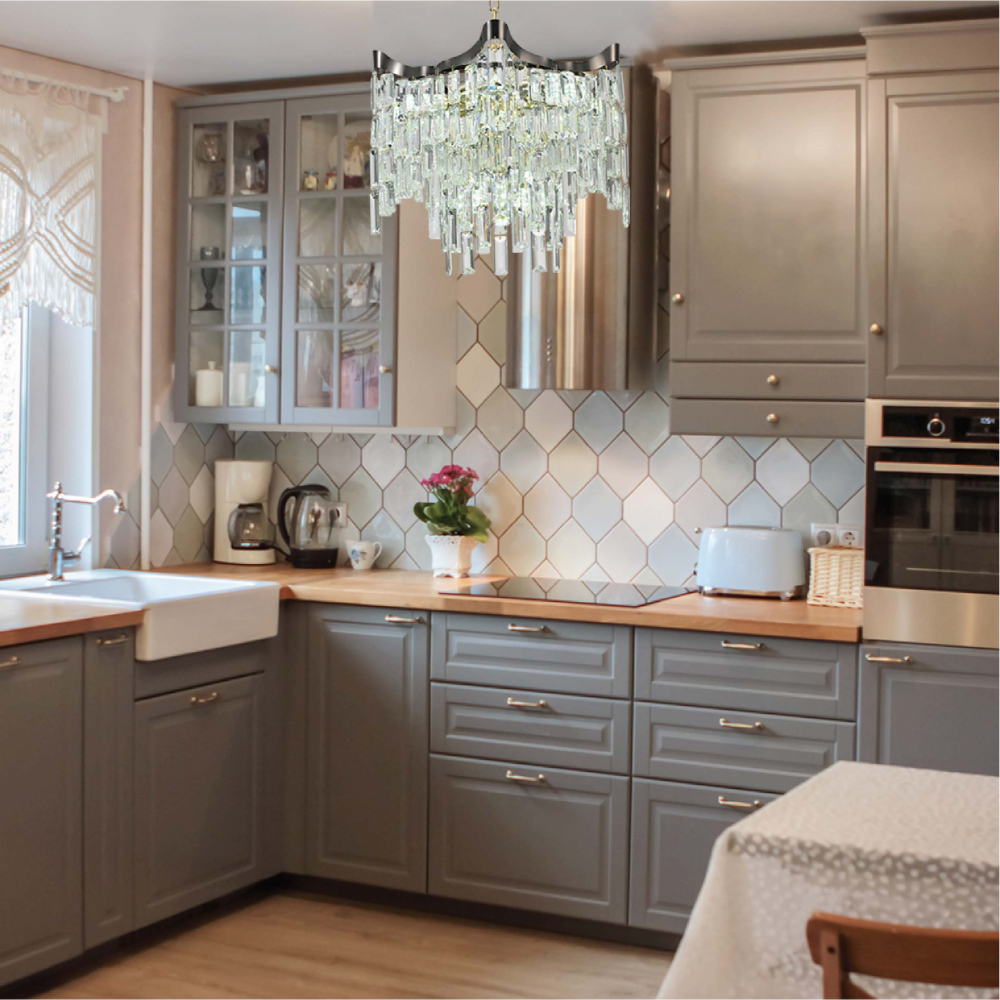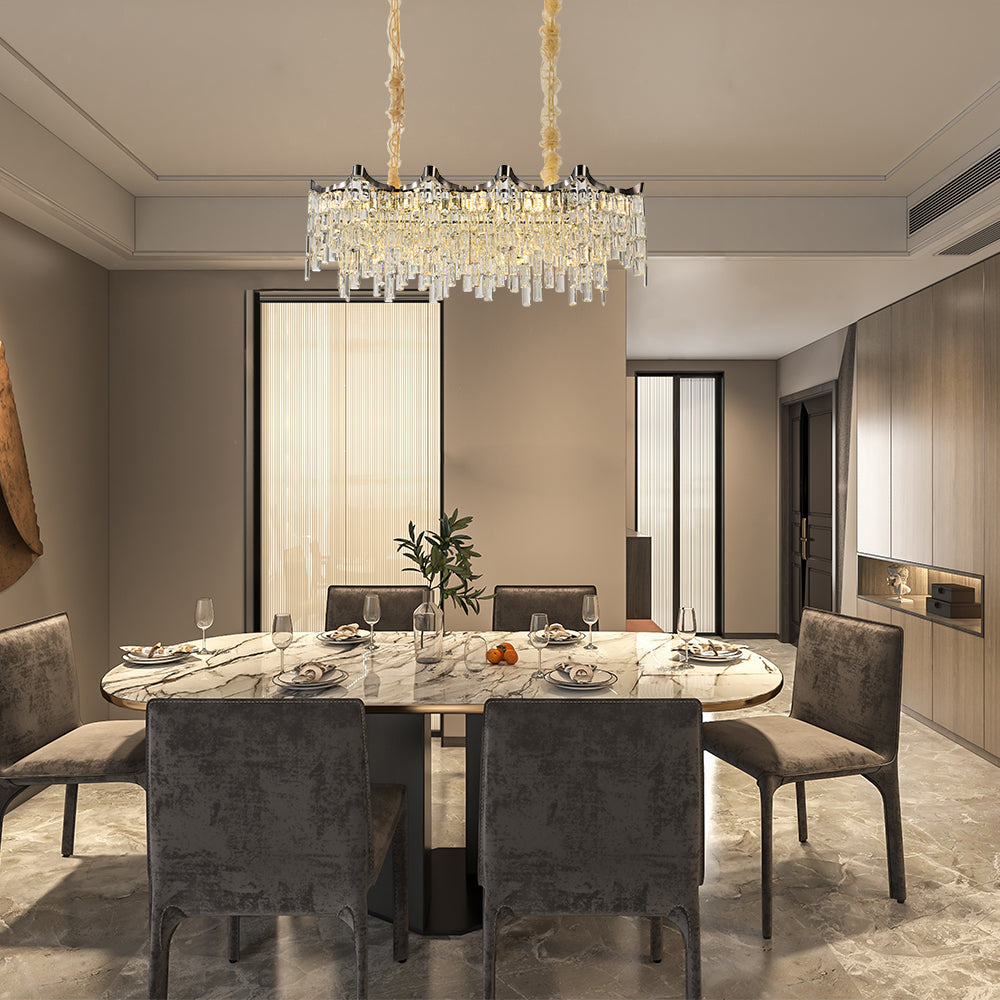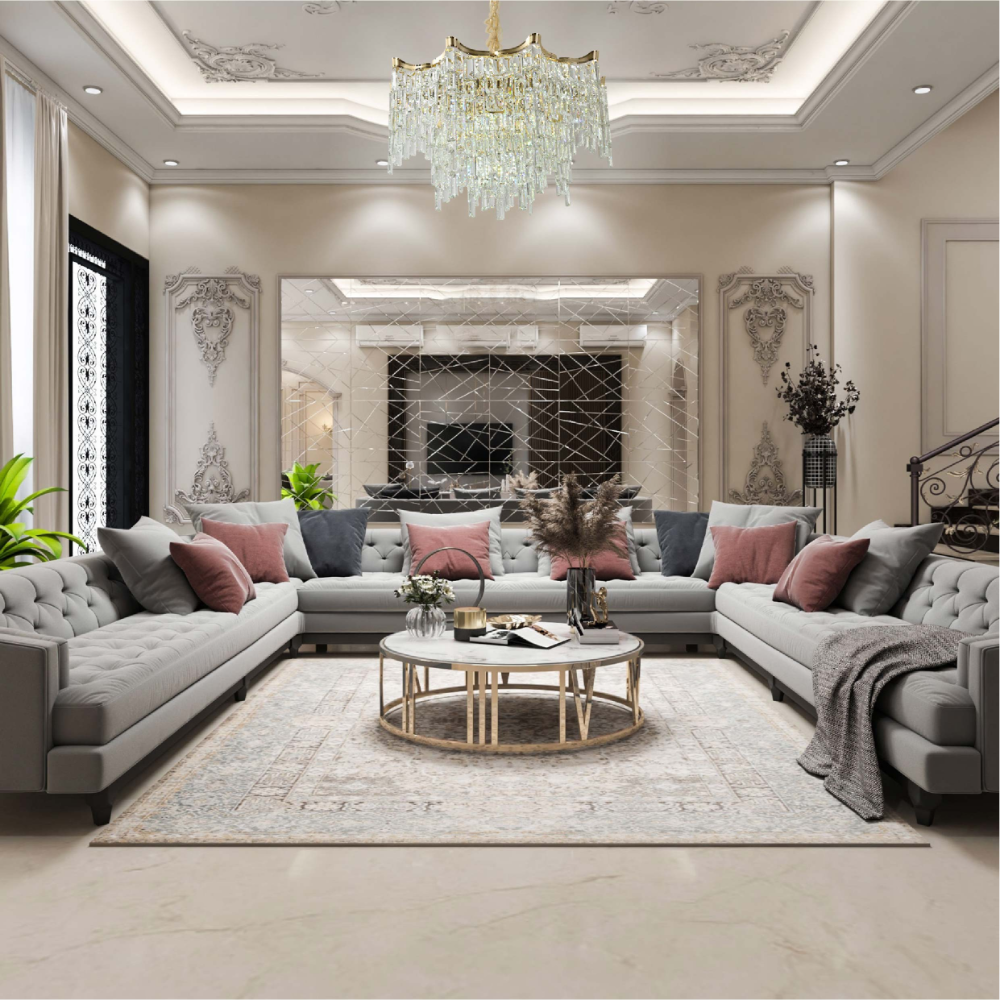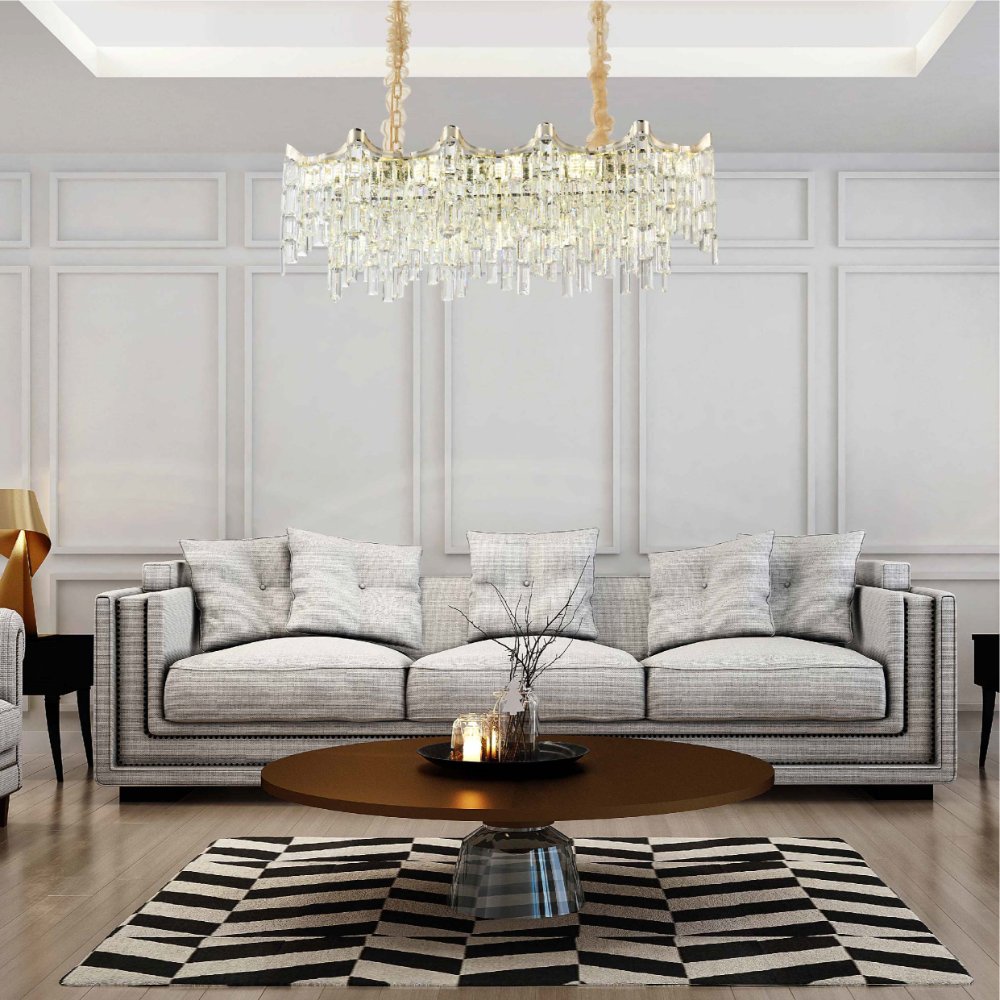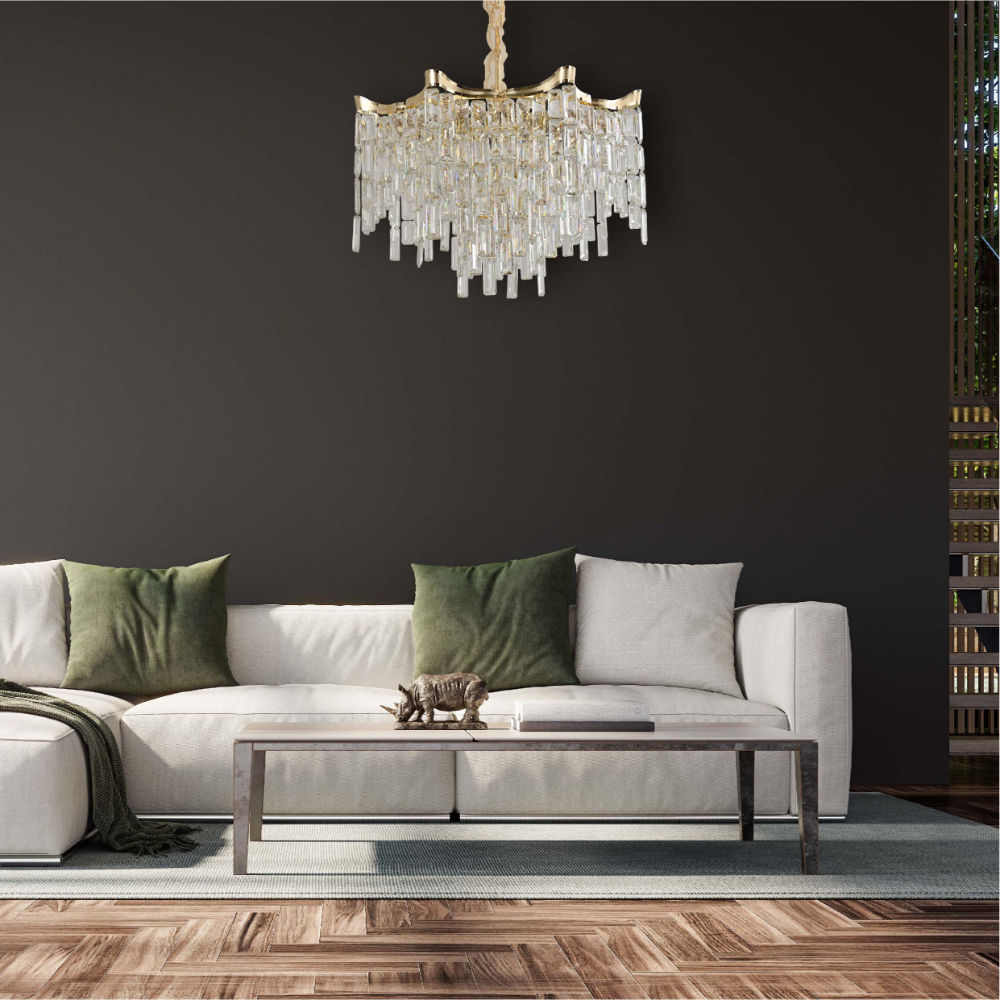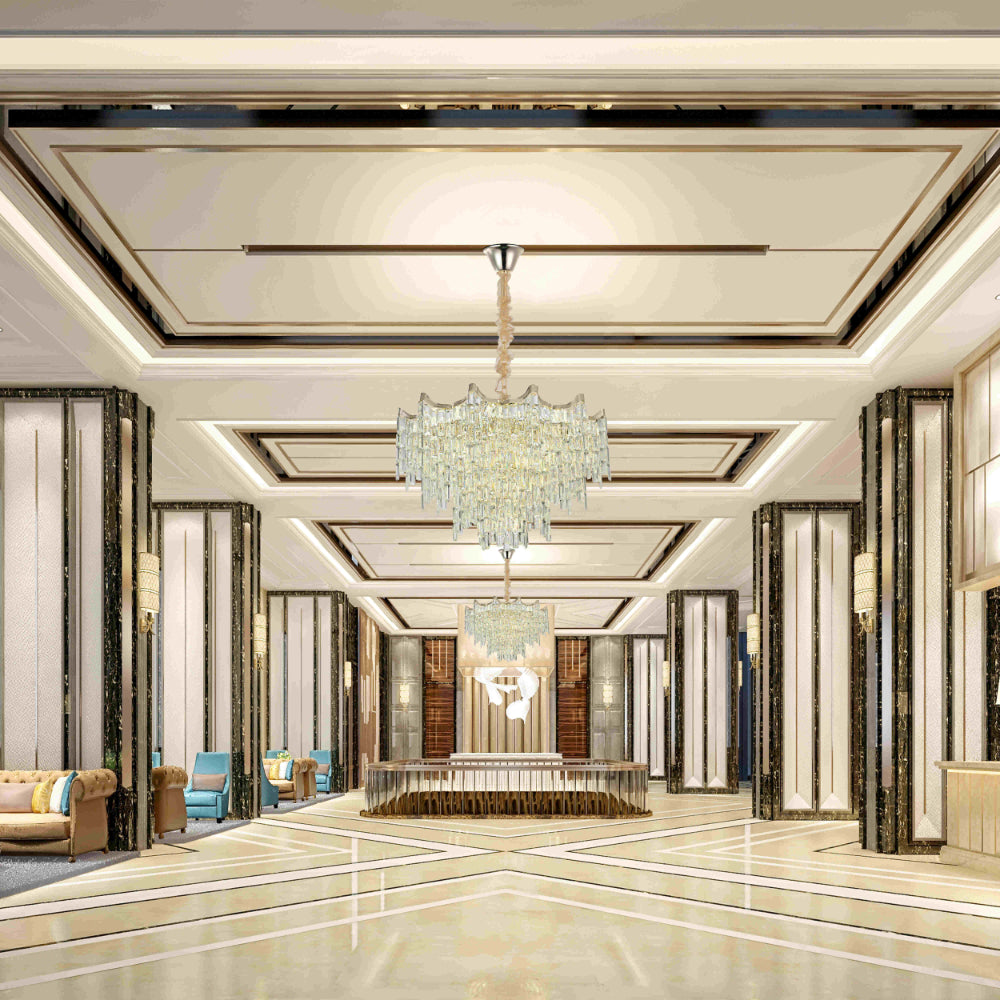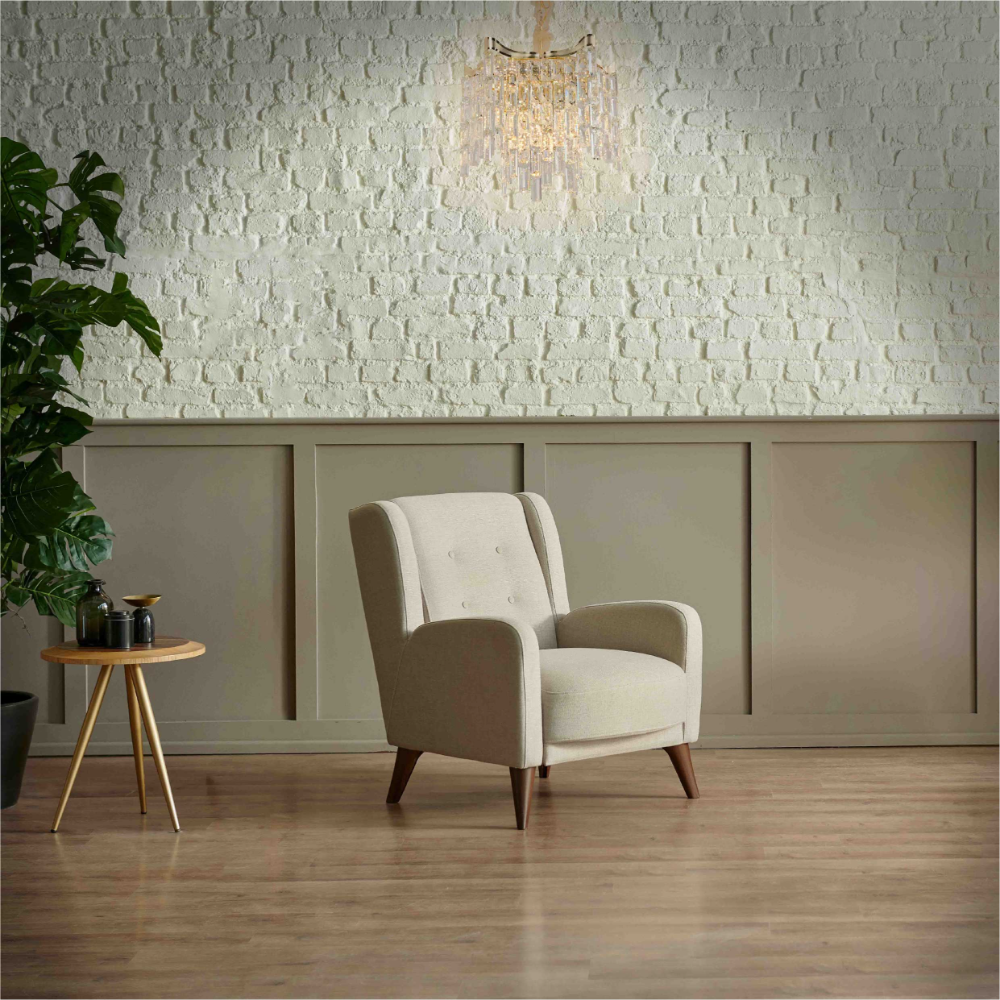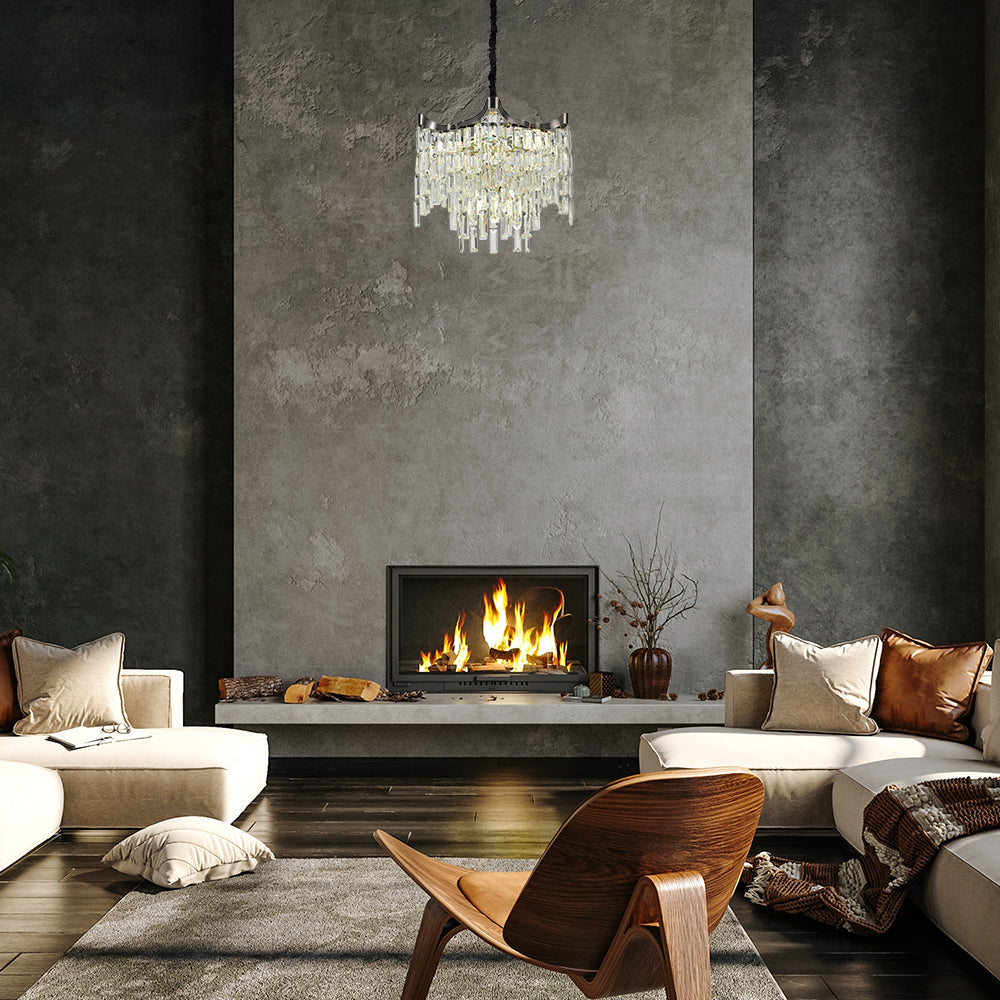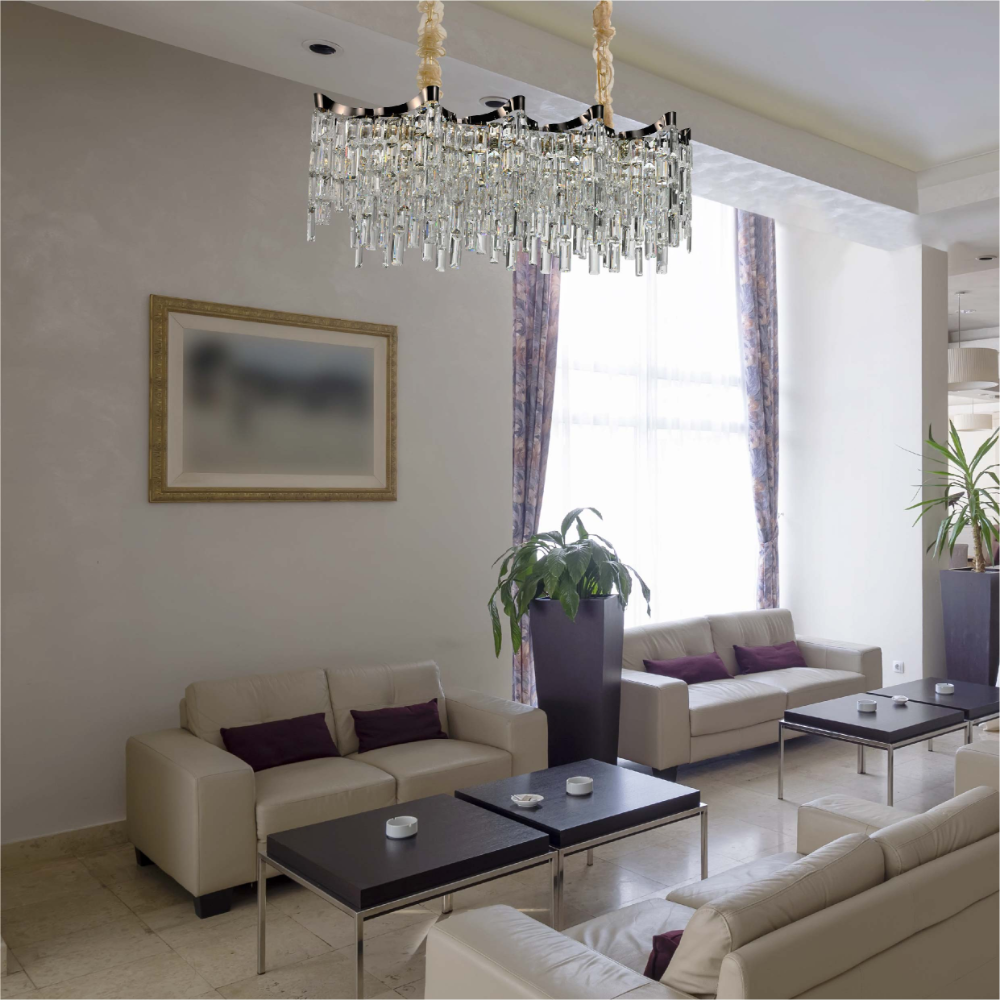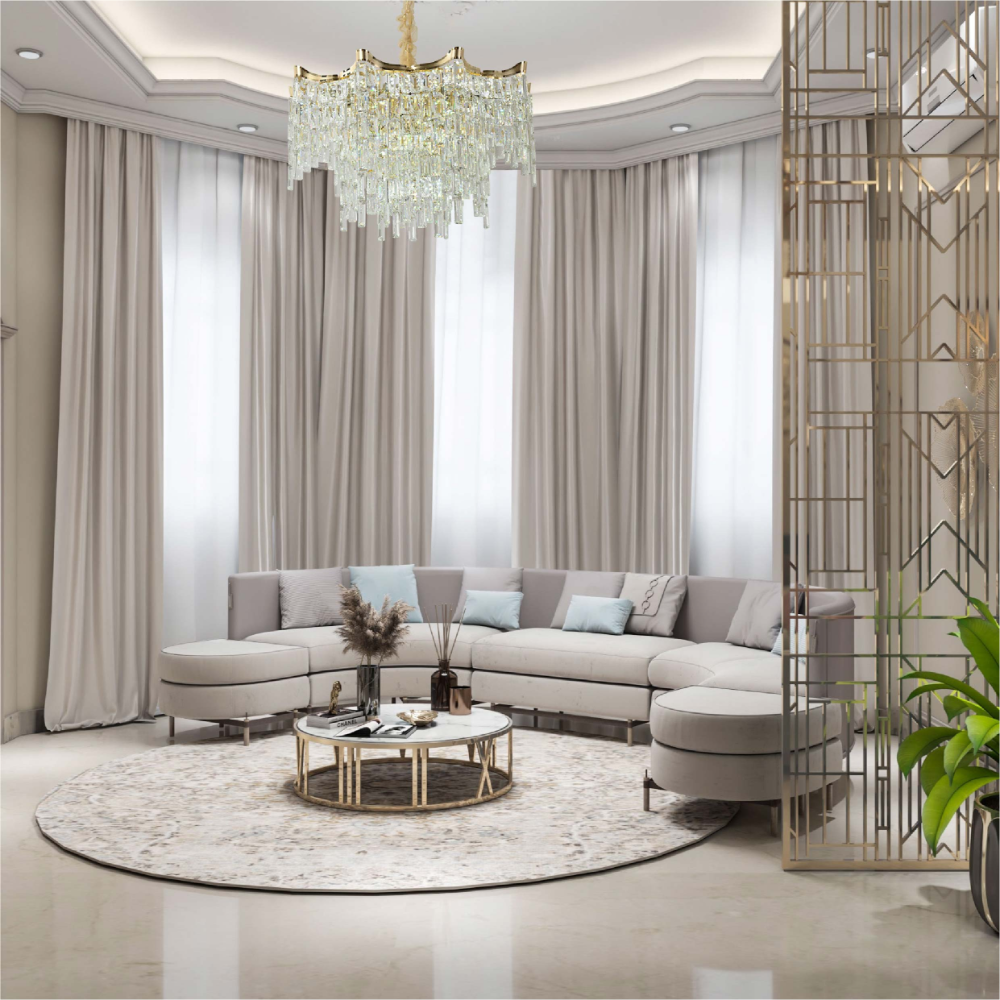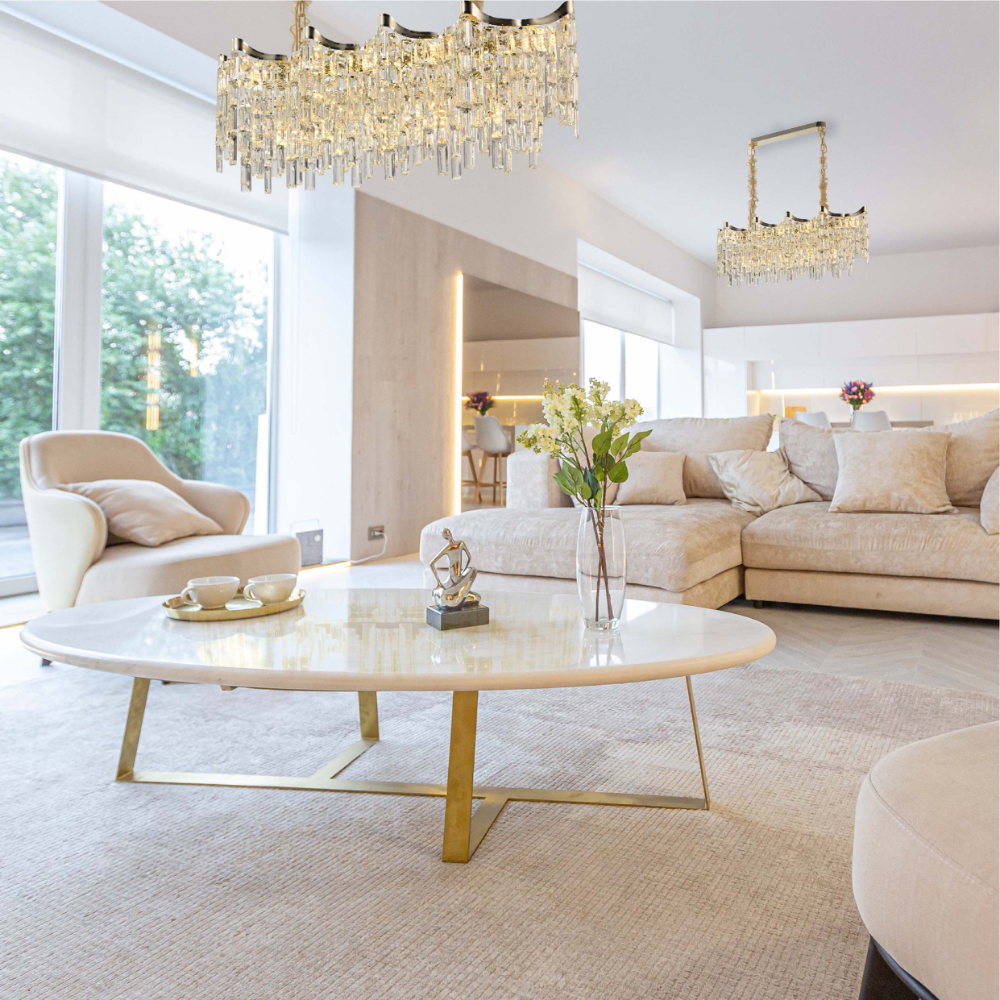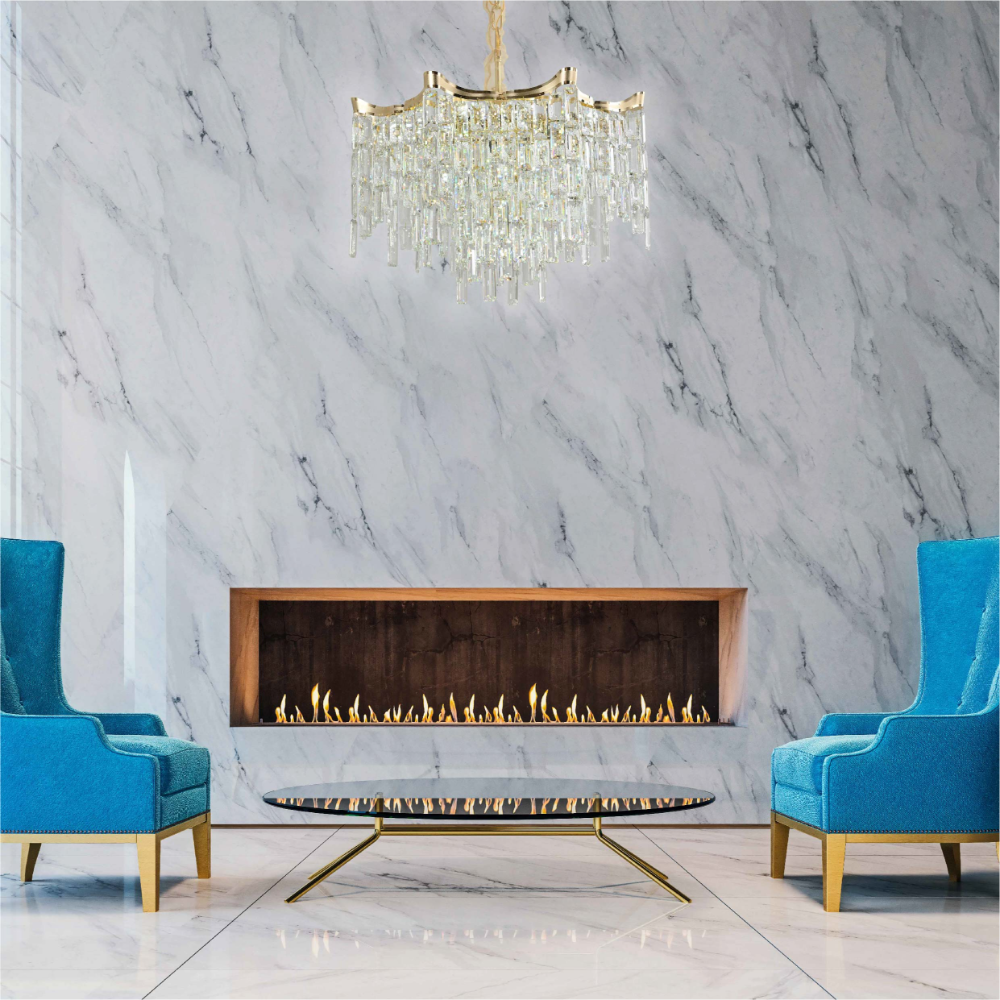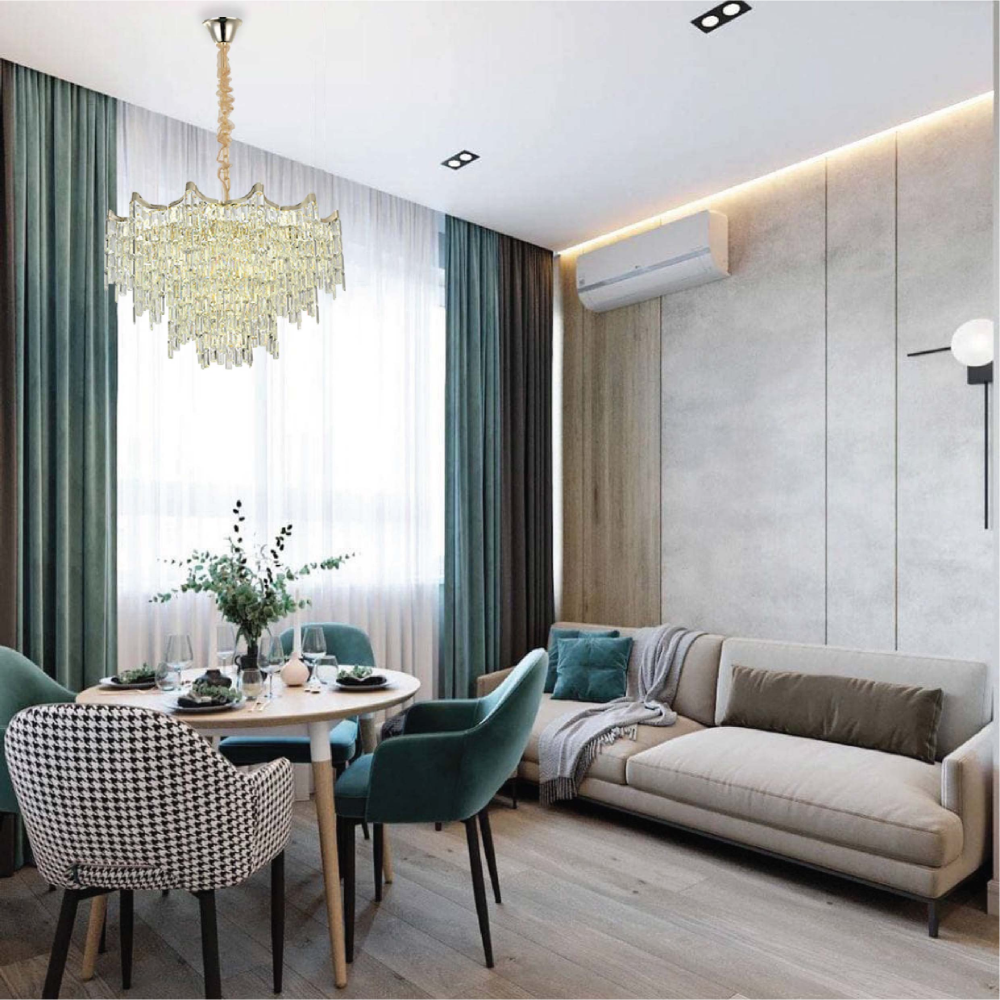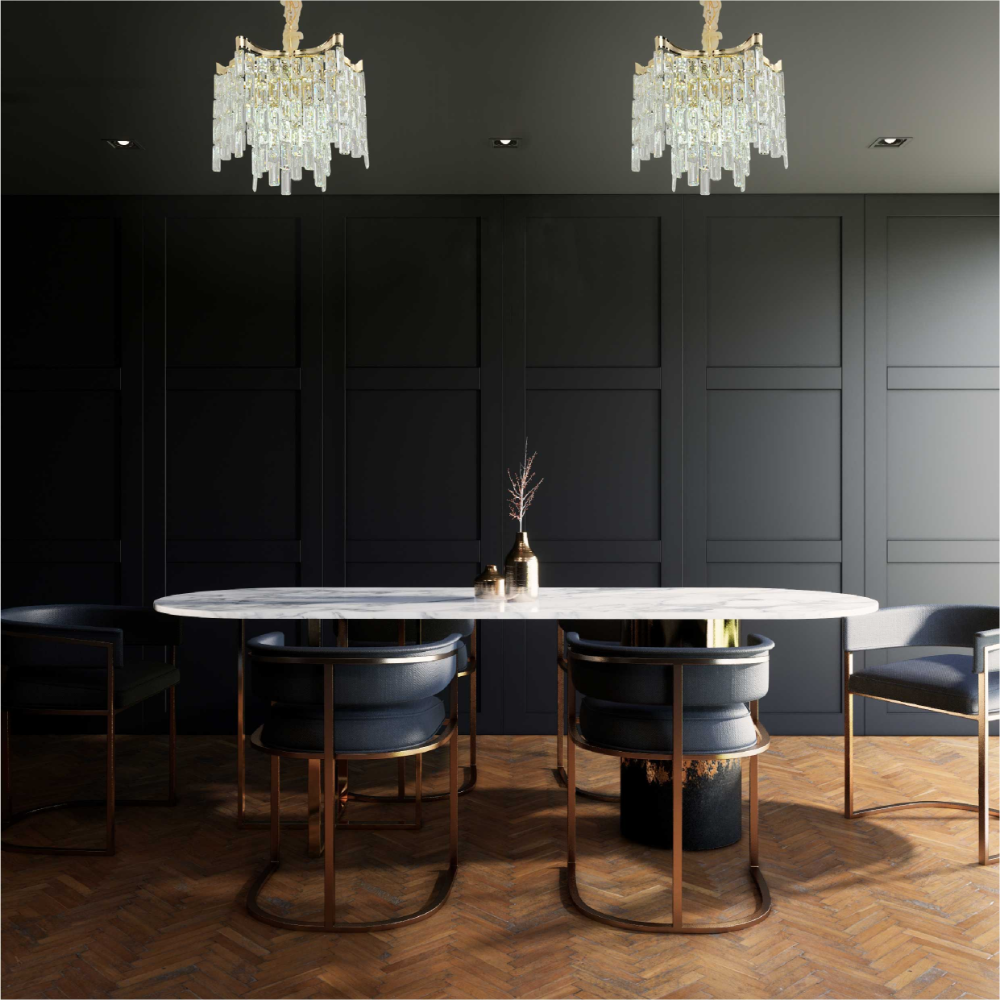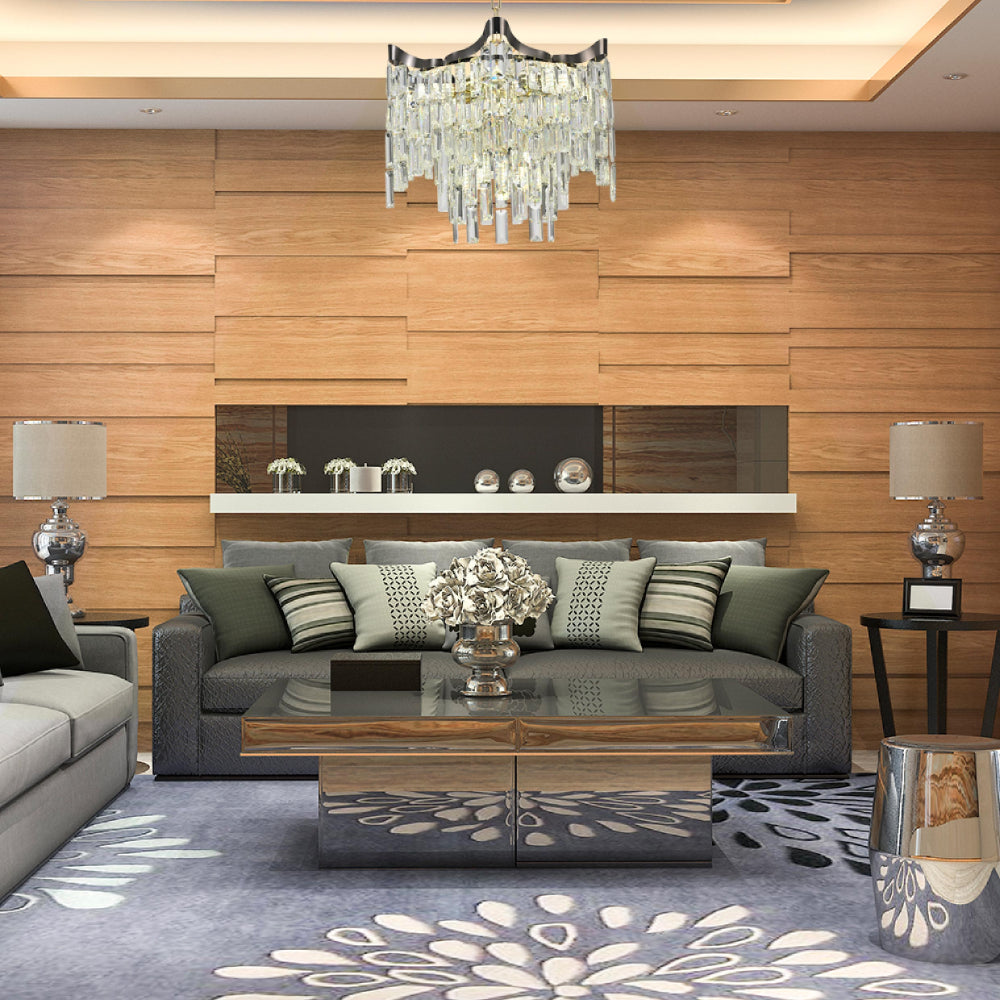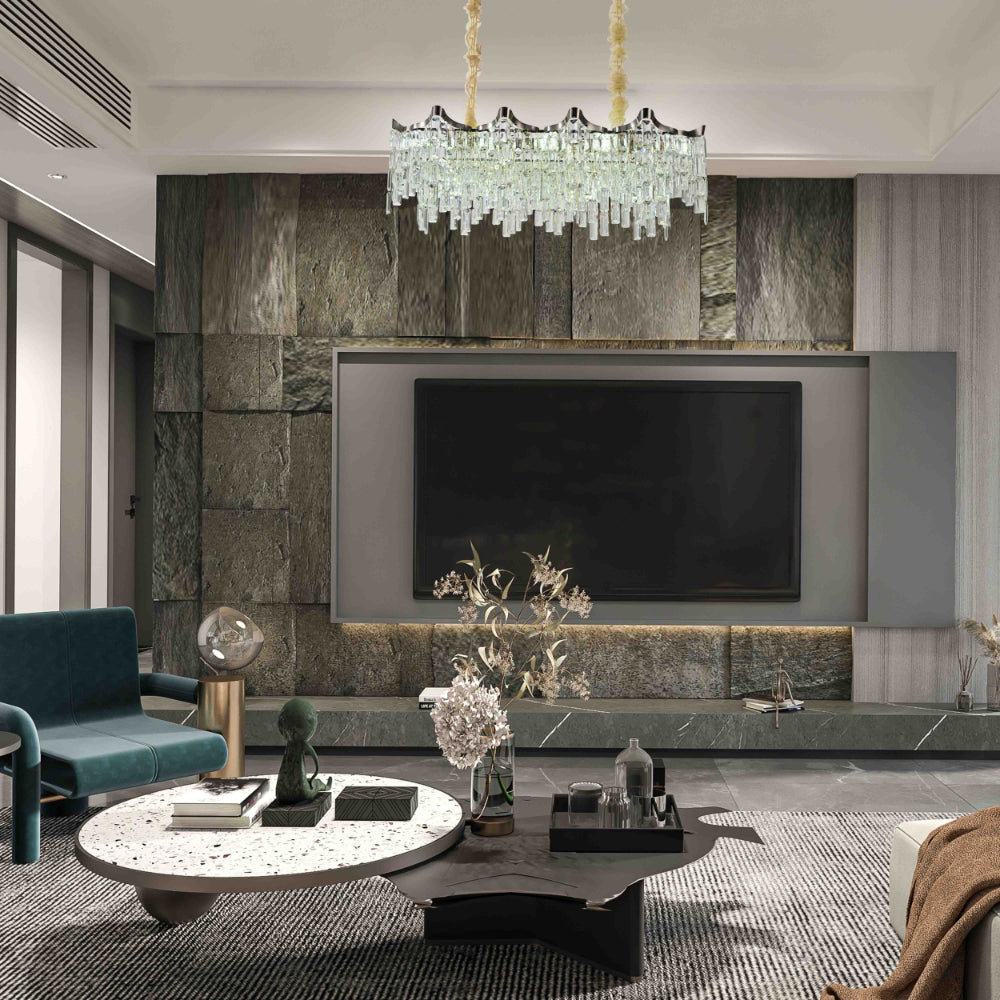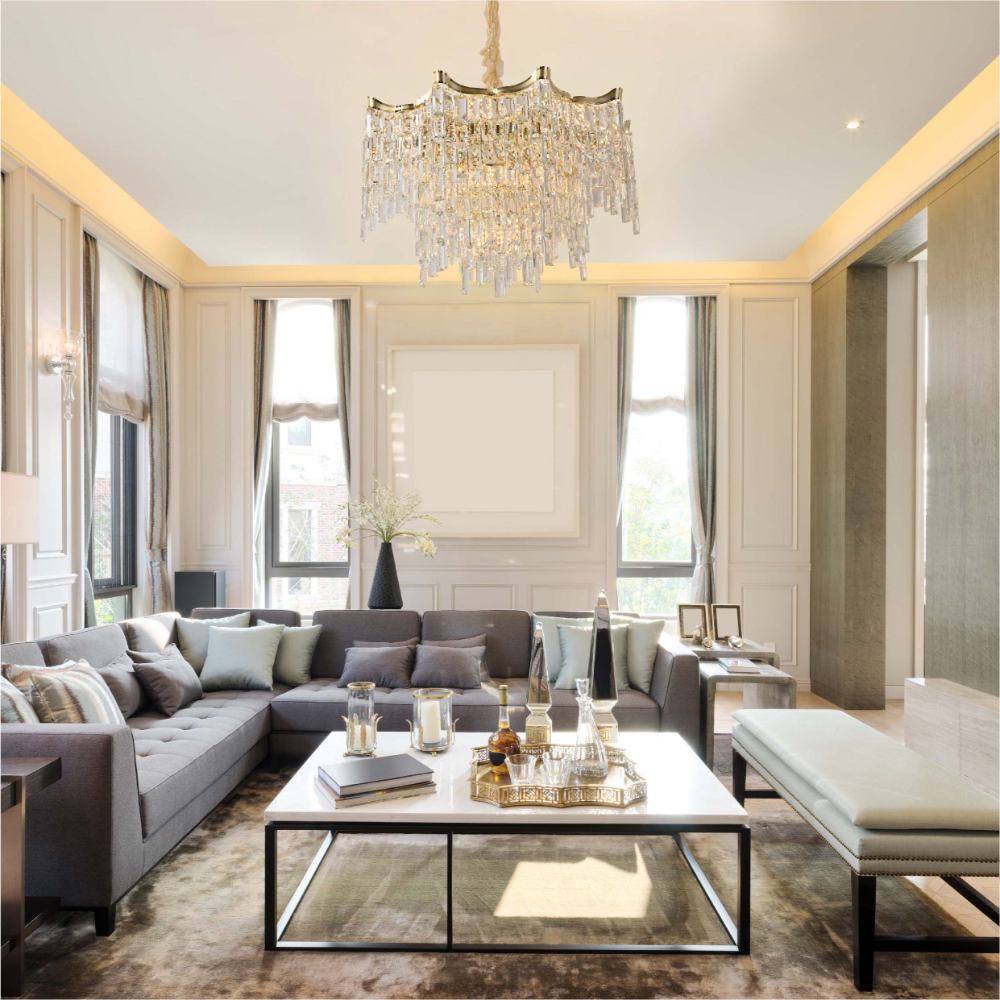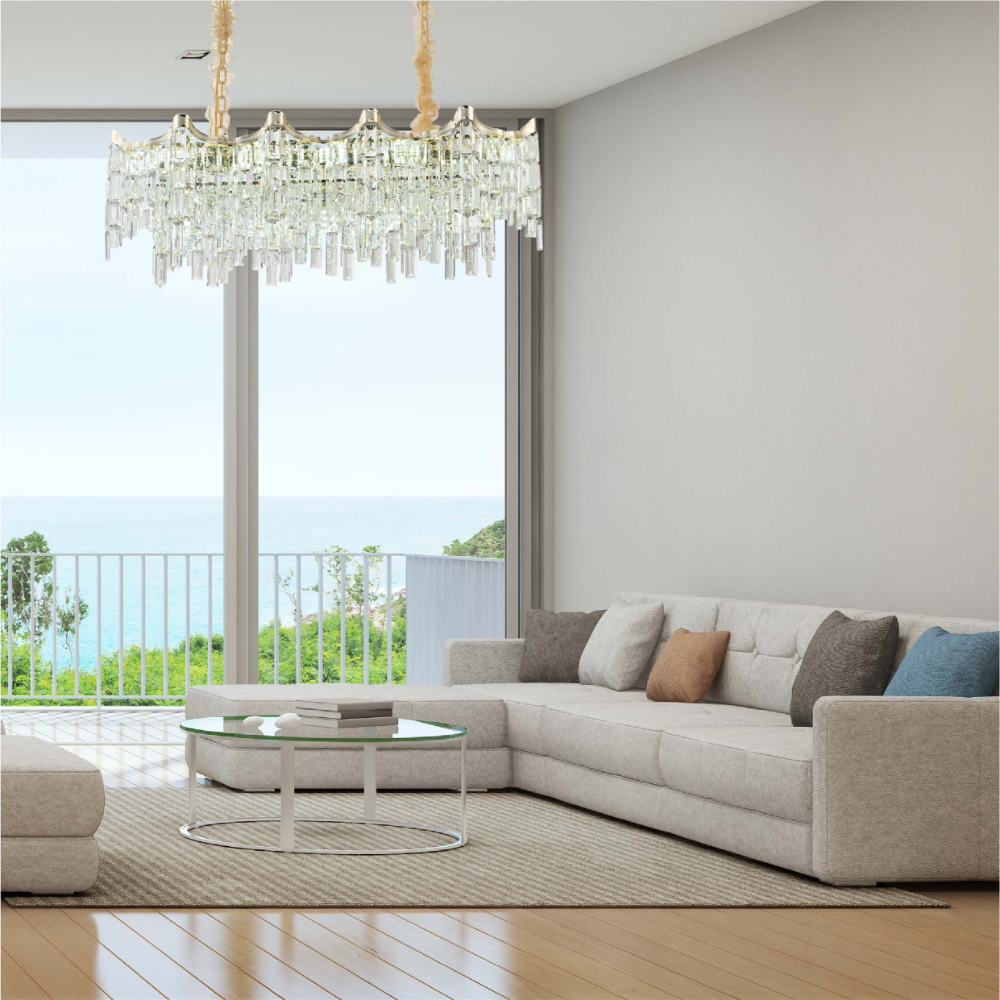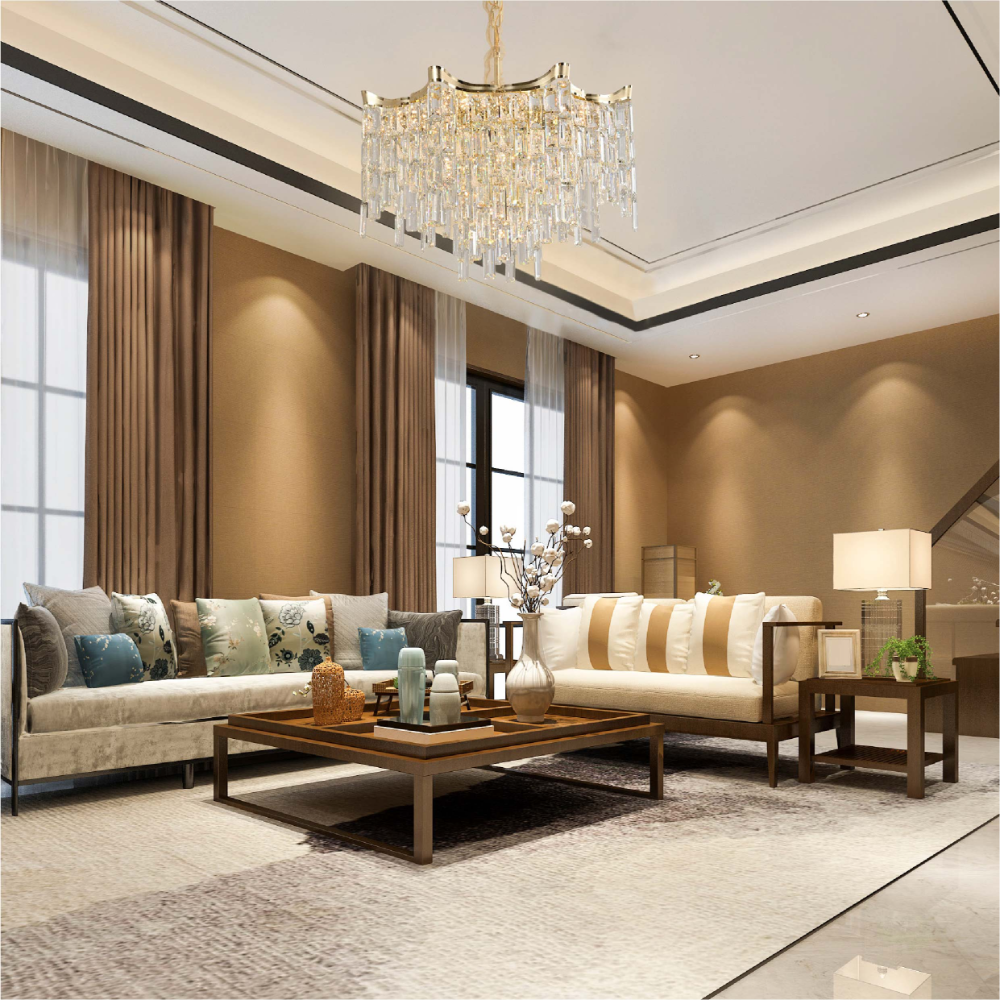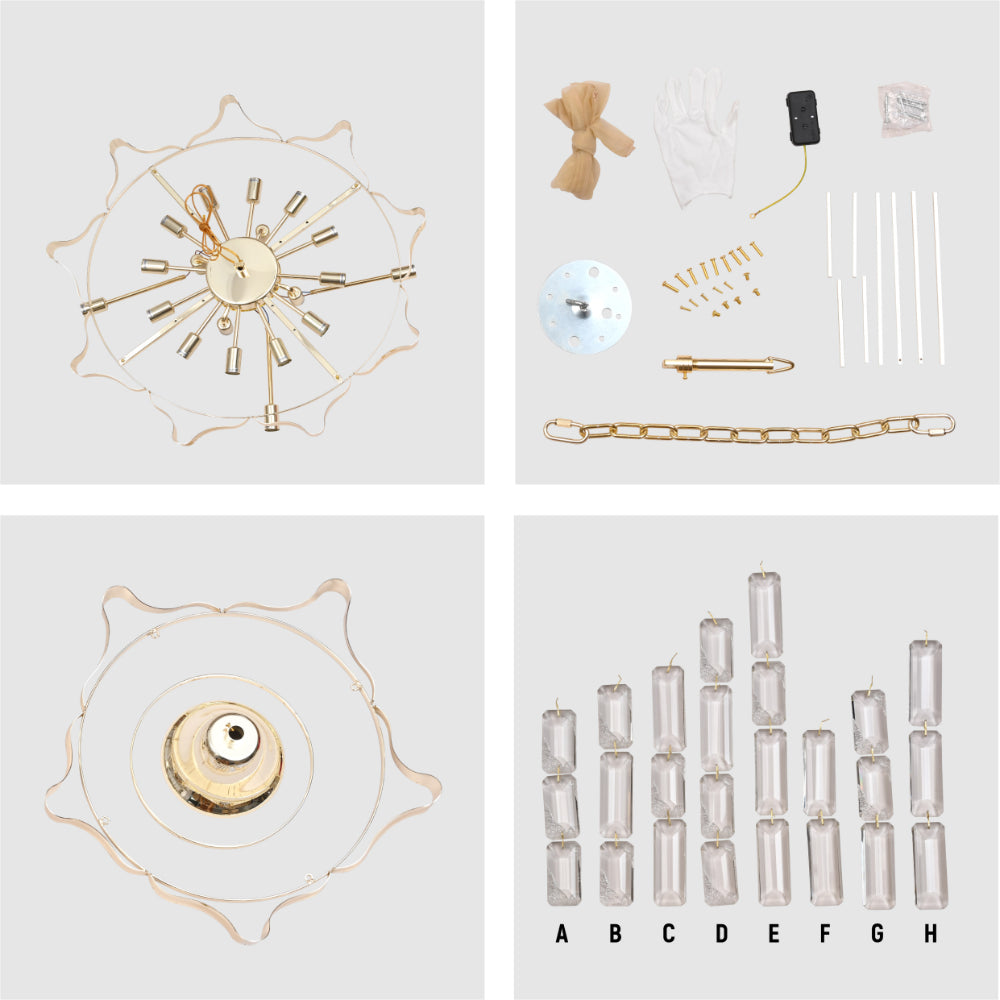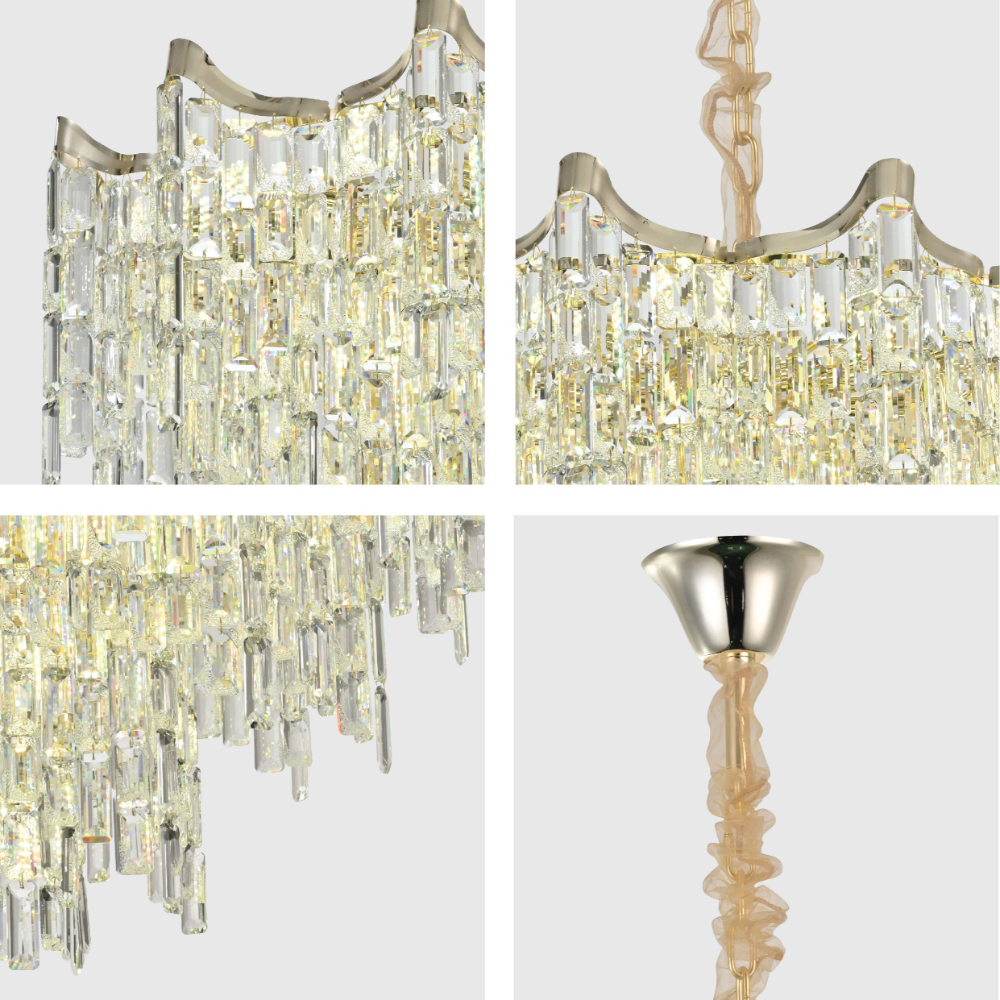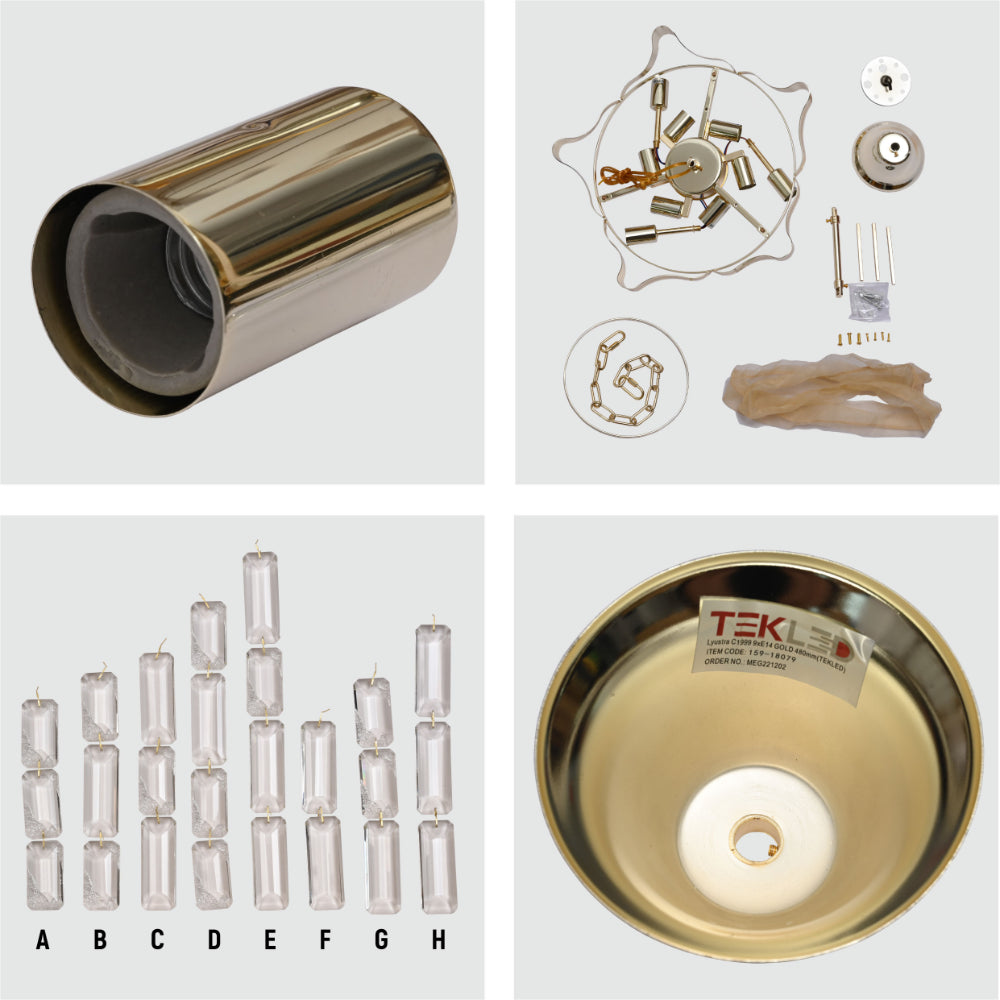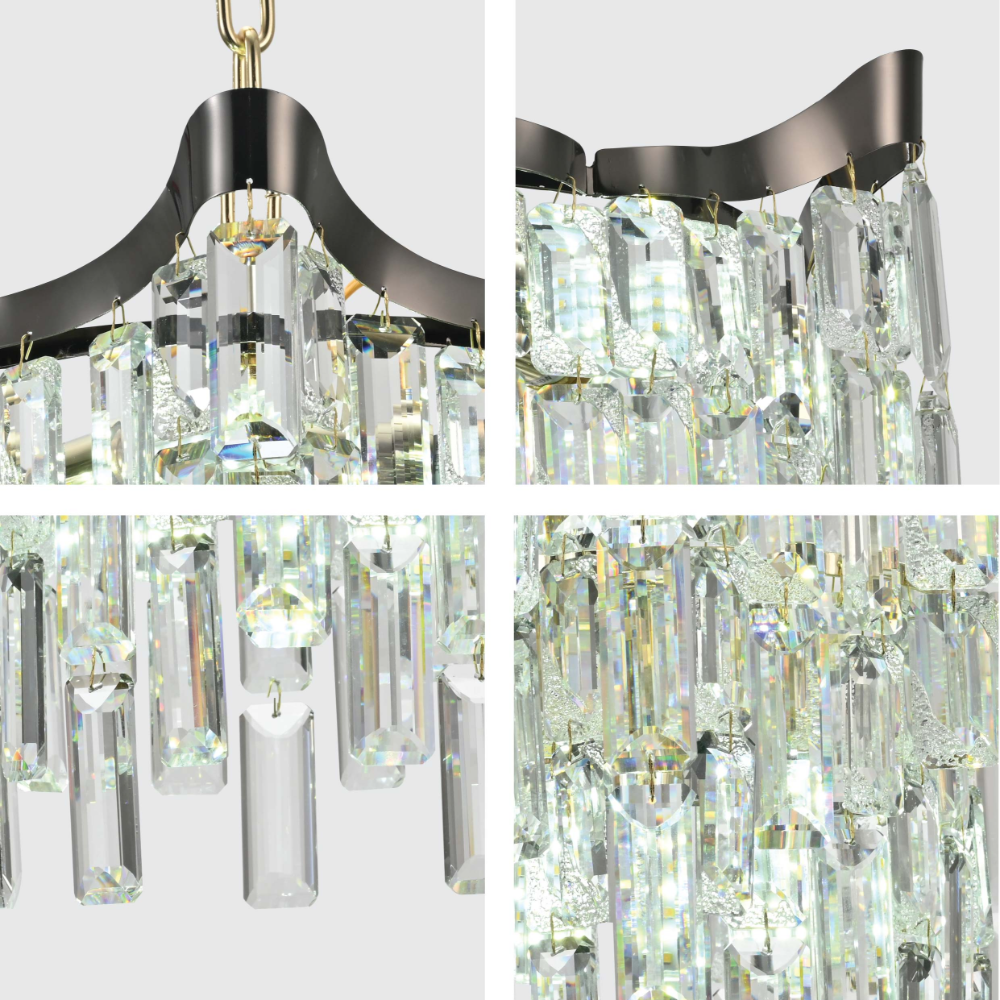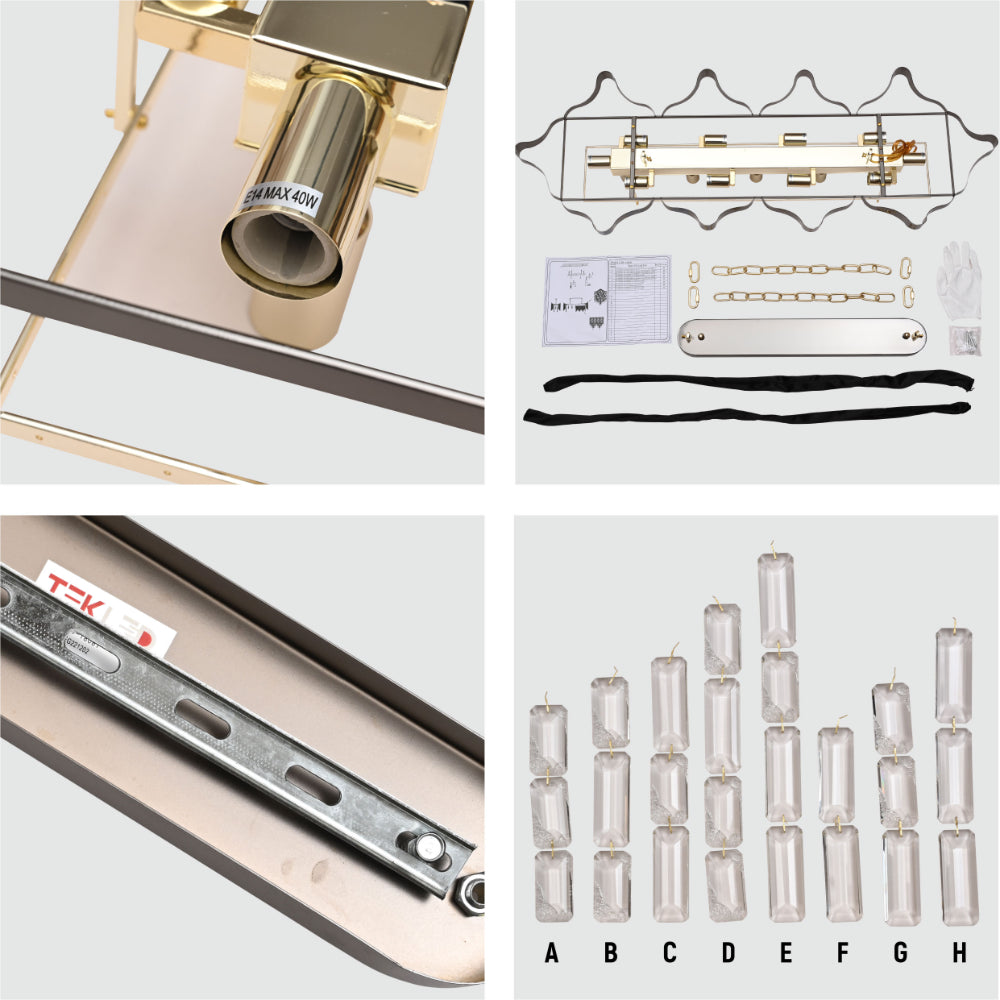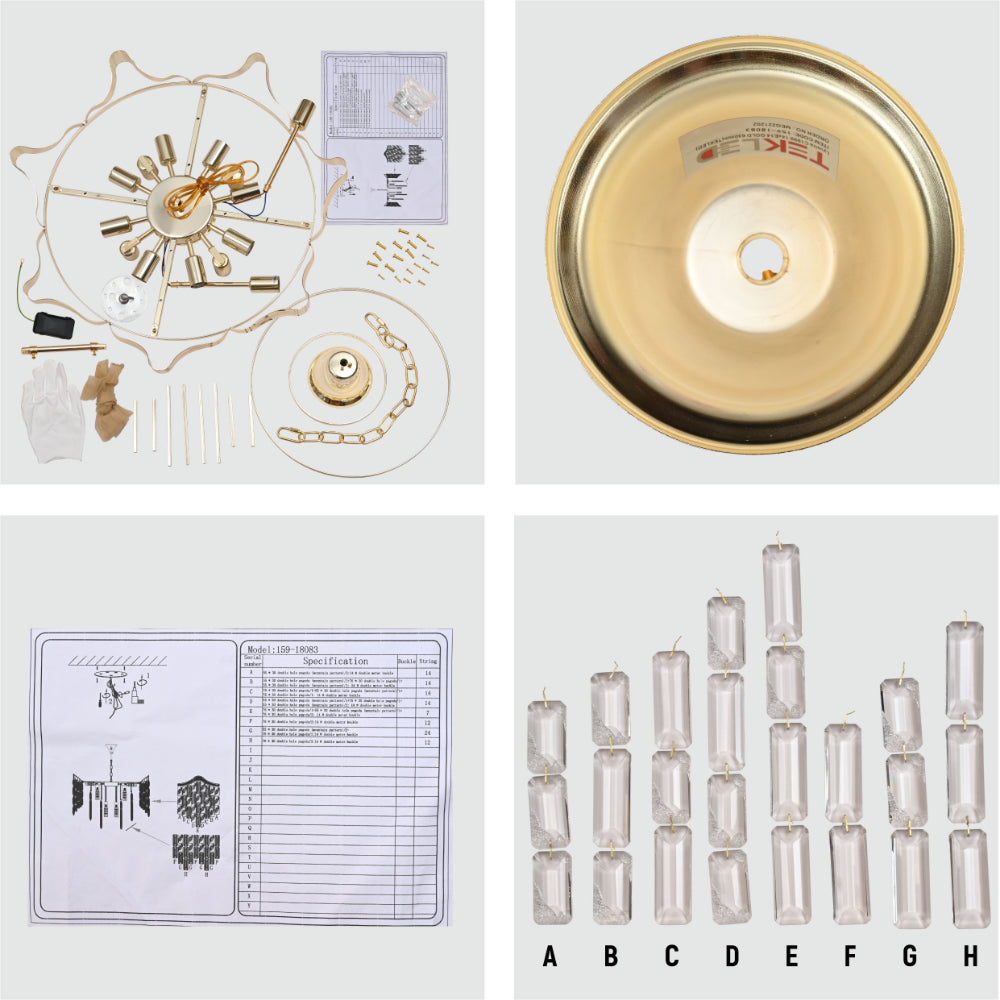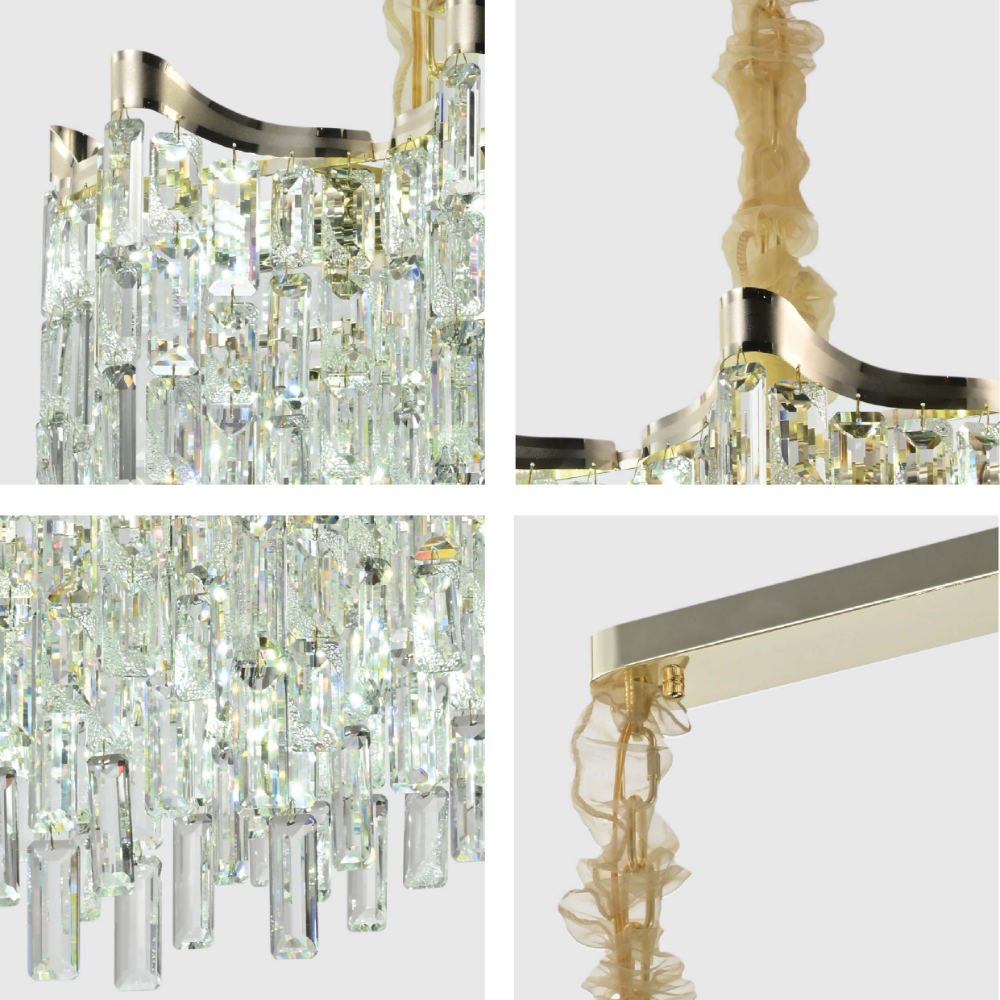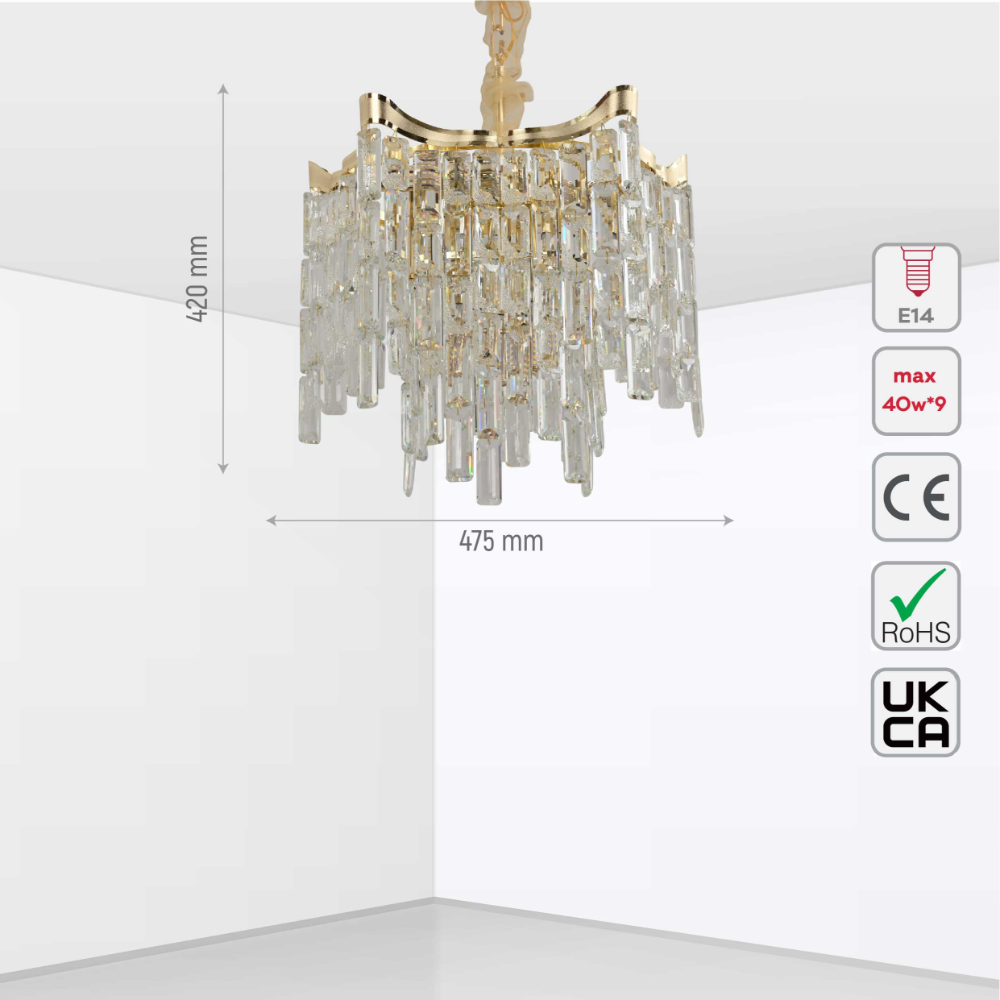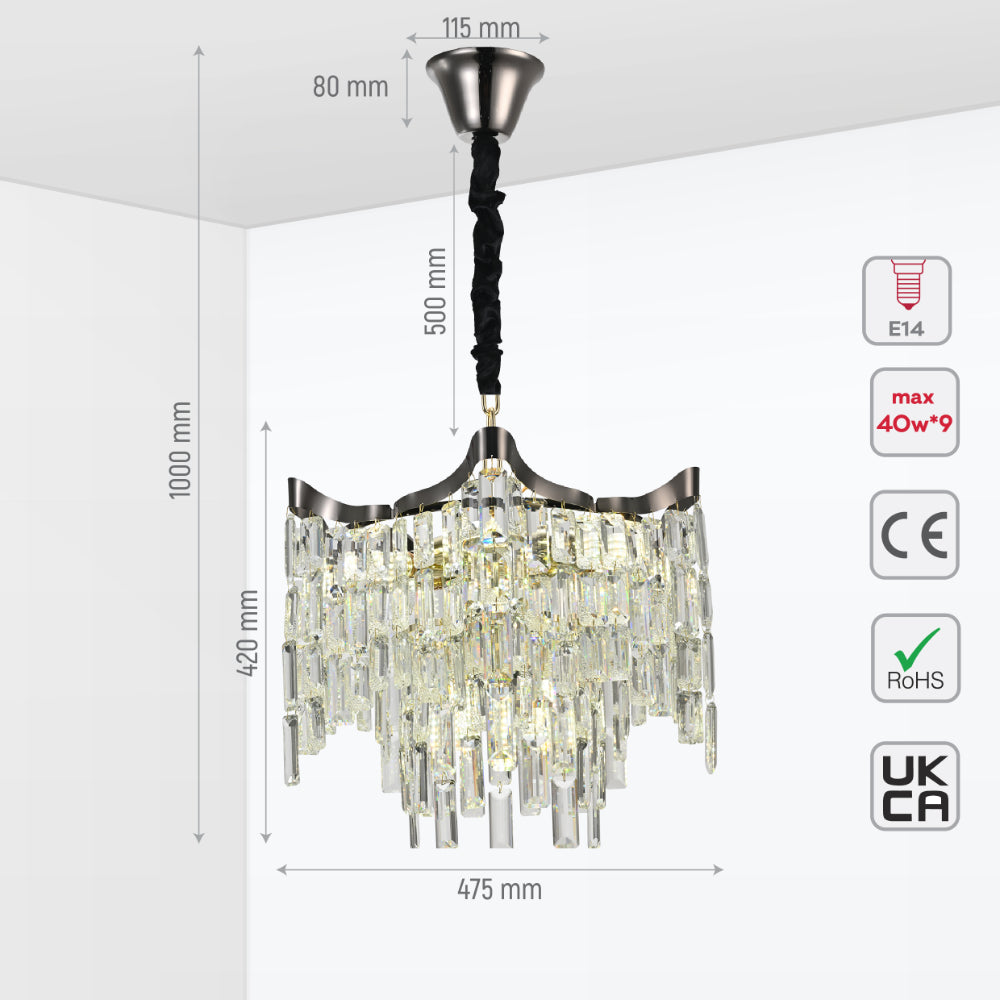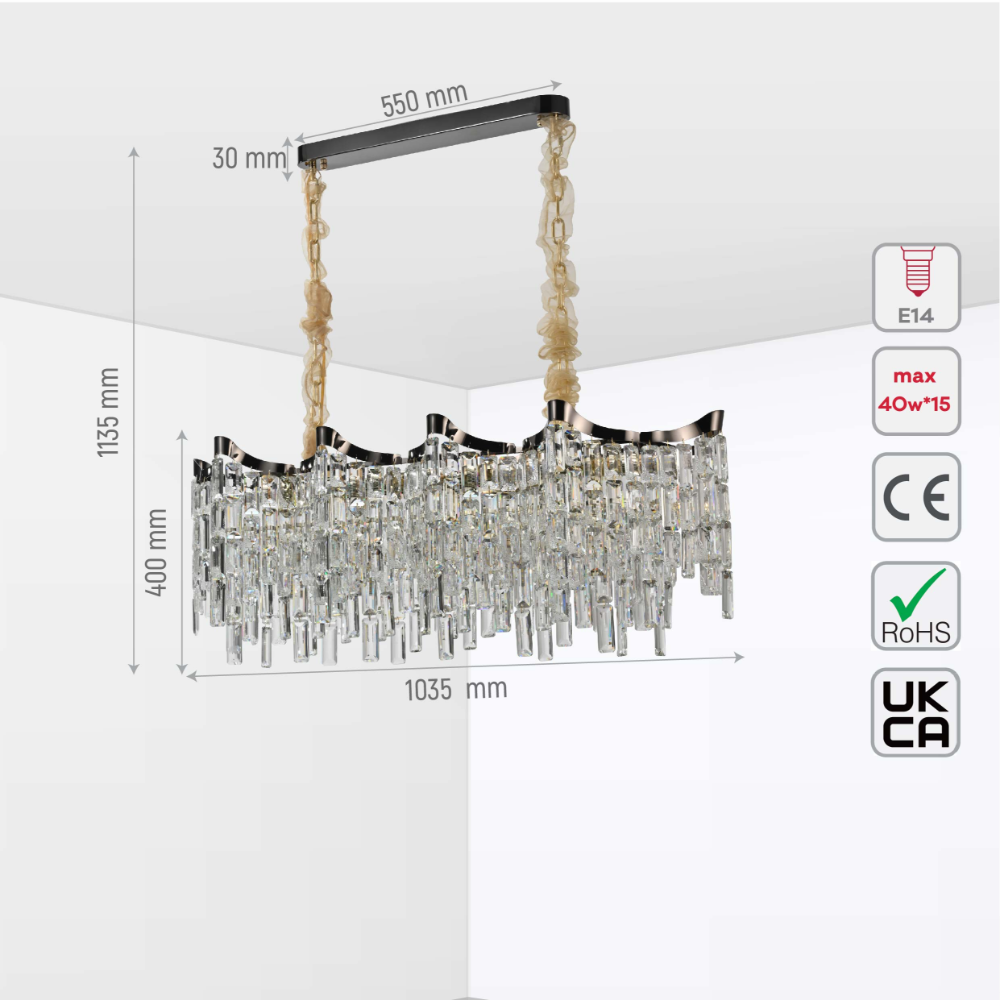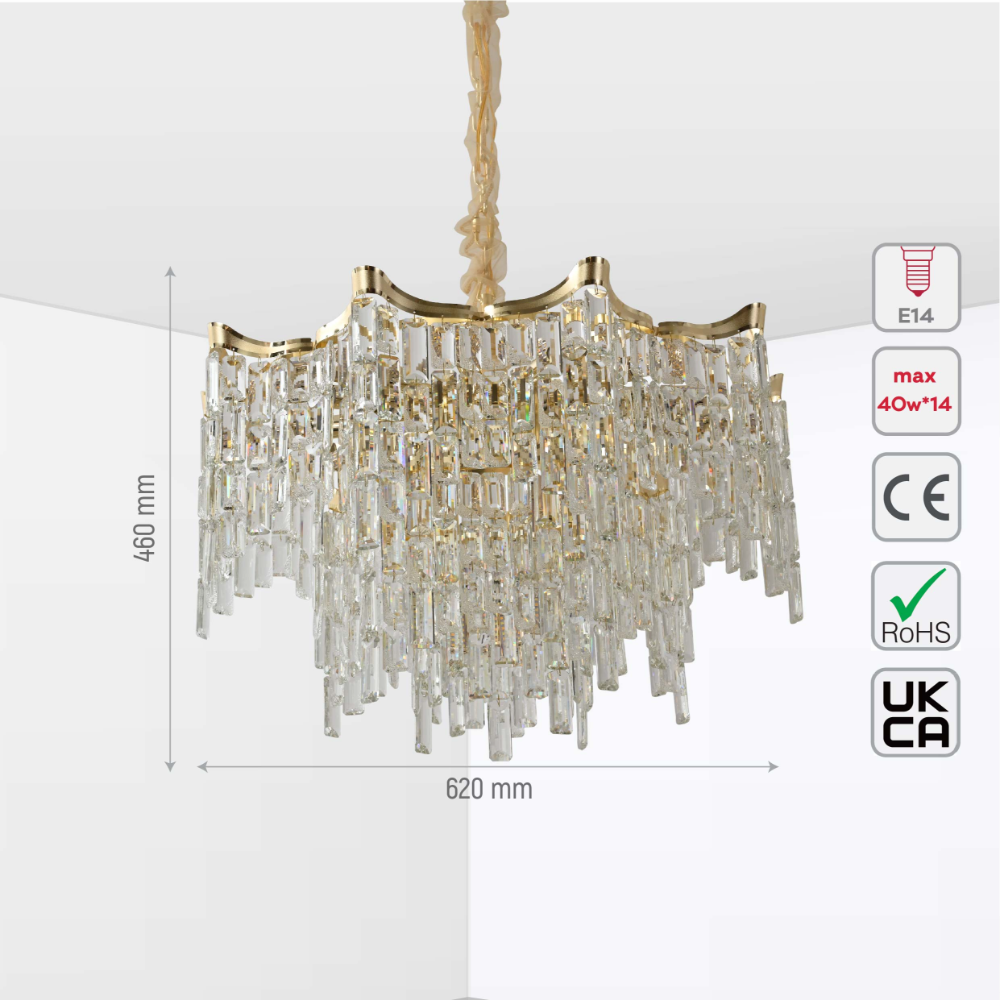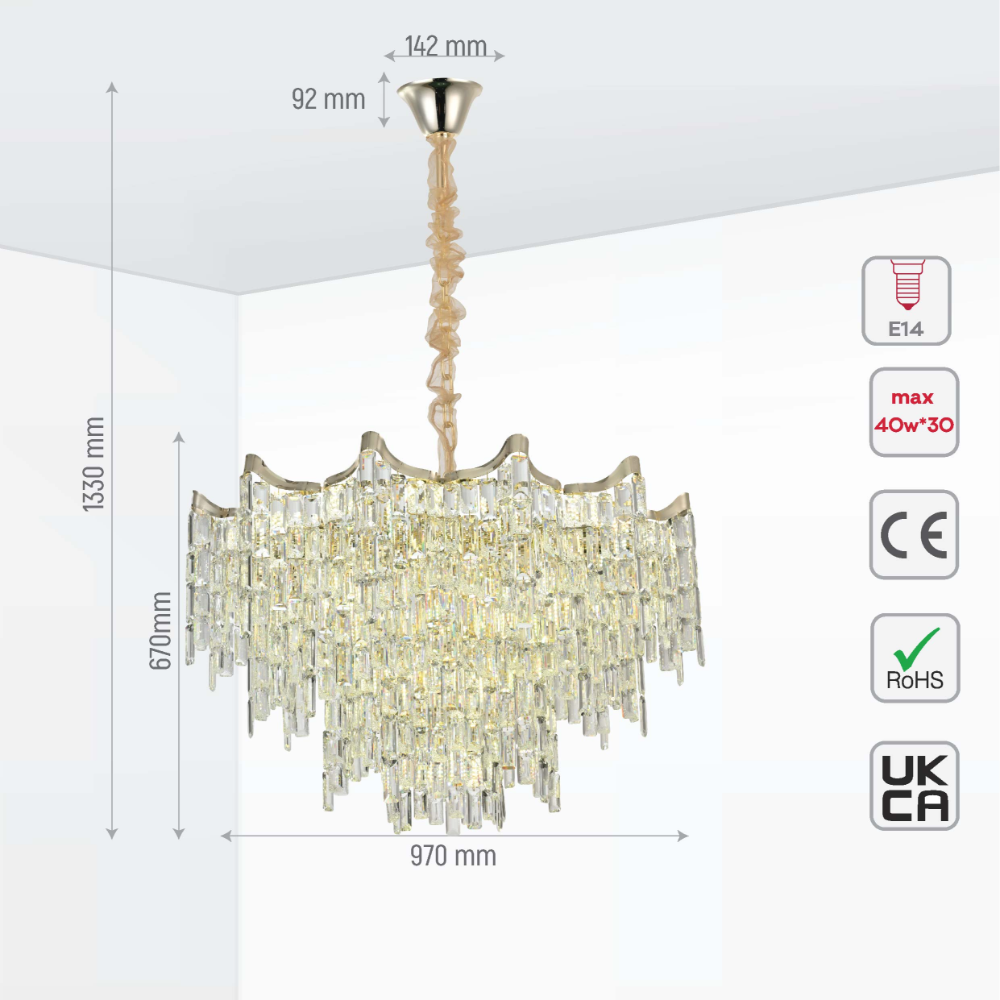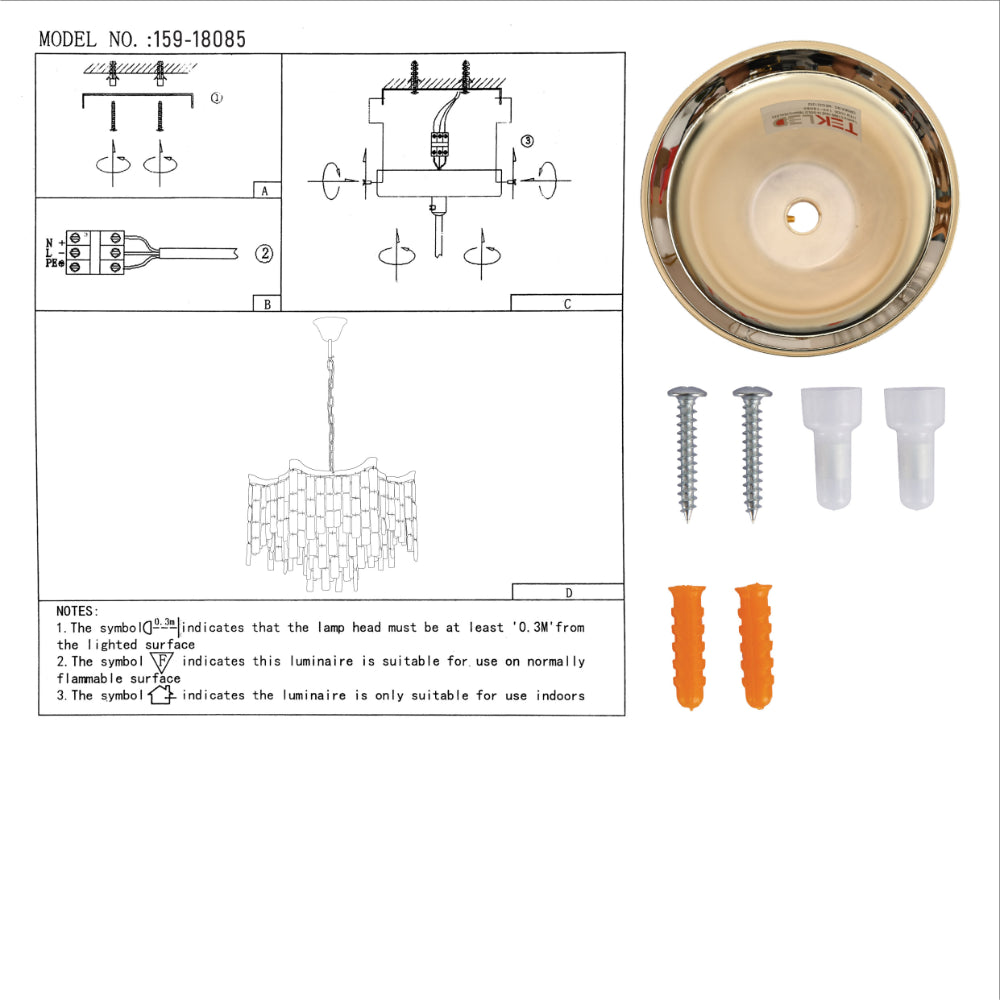 TEKLED
Star Crystal Chandelier Ceiling Light - Gold / Small.
Star Crystal Tiered Chandelier Ceiling Light
Introducing the Star Crystal Tiered Chandelier Ceiling Light, a harmonious blend of modern geometric design and classic tiered elegance. Inspired by the six-edged star, this chandelier boasts graceful, sweeping lines that form its distinctive shape. Crafted with meticulous attention to detail, it features a robust steel frame adorned with clear, shimmering crystals, available in two luxurious electroplated finishes: opulent gold and sophisticated black.
The chandelier is equipped with E14 Small Edison Screw (SES) lamp holders, designed to accommodate candle bulbs, ensuring a soft, ambient glow. Its dimmable feature allows you to set the perfect mood for any occasion. The chandelier's velvet-covered chain suspension is adjustable, offering flexibility in installation across various ceiling heights.
With sizes ranging from small to jumbo, including a distinctive island option, this chandelier is versatile enough to be the centerpiece in a myriad of spaces. Whether it's illuminating a grand entrance hallway, casting a radiant glow over a spacious living room, adding a touch of glamour to a dining hall, or gracing hotel lobbies, waiting rooms, and even upscale cafes and restaurants, this chandelier promises to captivate and impress.
Its modern geometric design seamlessly integrates into contemporary and minimalist interiors. The tiered structure resonates with transitional decor, while the star-inspired shape adds a touch of bohemian charm. In industrial settings, its plated finishes stand out, adding a touch of refinement. And in Scandinavian styled spaces, its simplicity and functionality shine through.
When placing your order, remember to add an E14 bulb to your cart. Elevate your interiors with the Star Crystal Tiered Chandelier, a testament to timeless design and craftsmanship.
Technical Specifications
| | |
| --- | --- |
| Product Code | 159-18079 | 159-18080 | 159-18081 | 159-18083 | 159-18084 | 159-18085 | 159-18087 |
| Name | Star Crystal Chandelier Ceiling Light |
| Model | Glam,Crystal,Tiered Chandelier,Geometric |
| Power | Max 40W*9 | Max 40W*9 | Max 40W*15 | Max 40W*14 | Max 40W*15 | Max 40W*19 | Max 40W*30 |
| Power Source | Hardwired |
| Voltage | 220/240Vac 50/60Hz |
| Lamp Holder Type | E14 Small Edison Screw (SES) |
| Lamp Holder Quantity | 9 | 14 | 19 | 30 | 15 |
| Protection Class | Class I |
| Dimmability | Yes ( if it is used with dimmable bulbs) |
| Light Source | Bulb |
| Compatible Bulbs | Candle |
| Bulbs | Bulbs are not included |
| IP Class | IP20 |
| Mount Type | Suspended |
| Product Dimensions (L x W x H) (D x H) | D475*420mm | D475*420mm | 1035*370*400mm | D620*460mm | 1035*370*400mm | D770*540mm | D970*670mm |
| Product Length | 1070mm | 1070mm | 1135mm | 1110mm | 1135mm | 1190mm | 1330mm |
| Shape | Tiered, Circle |
| Material | Steel, Crystal |
| Product Colour | Gold | Black, Clear |
| Paint Type | Electroplated |
| Shade Material | Crystal |
| Shade Colour | Clear |
| Size of Rose | D115*80mm | D115*80mm | 550*80*30mm | D115*80mm | 550*80*30mm | D142*90mm | D142*90mm |
| Suspension Type | Chain (Velvet covered) |
| Suspension Length | 500mm |
| Adjustable Suspension | Yes |
| Function Mode | On/Off |
| Operating Temperature (°C) | -20/+45 C |
| Warranty | 3 year |
| Box Dimension (L x W x H) | 500*500*190mm | 500*500*190mm | A:1120*450*230mm B:360*300*190mm | 650*650*190mm | A:1120*450*230mm B:360*300*190mm | A:830*830*200mm B:450*260*180mm | A:1030*1030*200mm B:360*260*180mm C:360*260*200mm |
| Net Weight | 9.5kg | 9.5kg | A:4.5kg B:15.8kg Total:20.3kg | 15.5kg | A:4.5kg B:15.8kg Total: 20.3kg | A:5.7g B:16.5kg Total: 22.2kg | A:8.9kg B:14.5kg C:14.8kg Total: 38.2kg |
| Gross Weight | 10.5kg | 10.5kg | A:6.4kg B:16.2kg Total: 22.6kg | 17kg | A:6.4kg B:16.2kg Total: 22.6kg | A:7kg B:17kg Total: 24kg | A:11.8kg B:15kg C:15.4kg Total: 42.2kg |
| Box Content | Light body*1, instructions*1,hanger*1 |
| Pieces/Box | 1 |
| Certifications | UKCA, CE, RoHS |