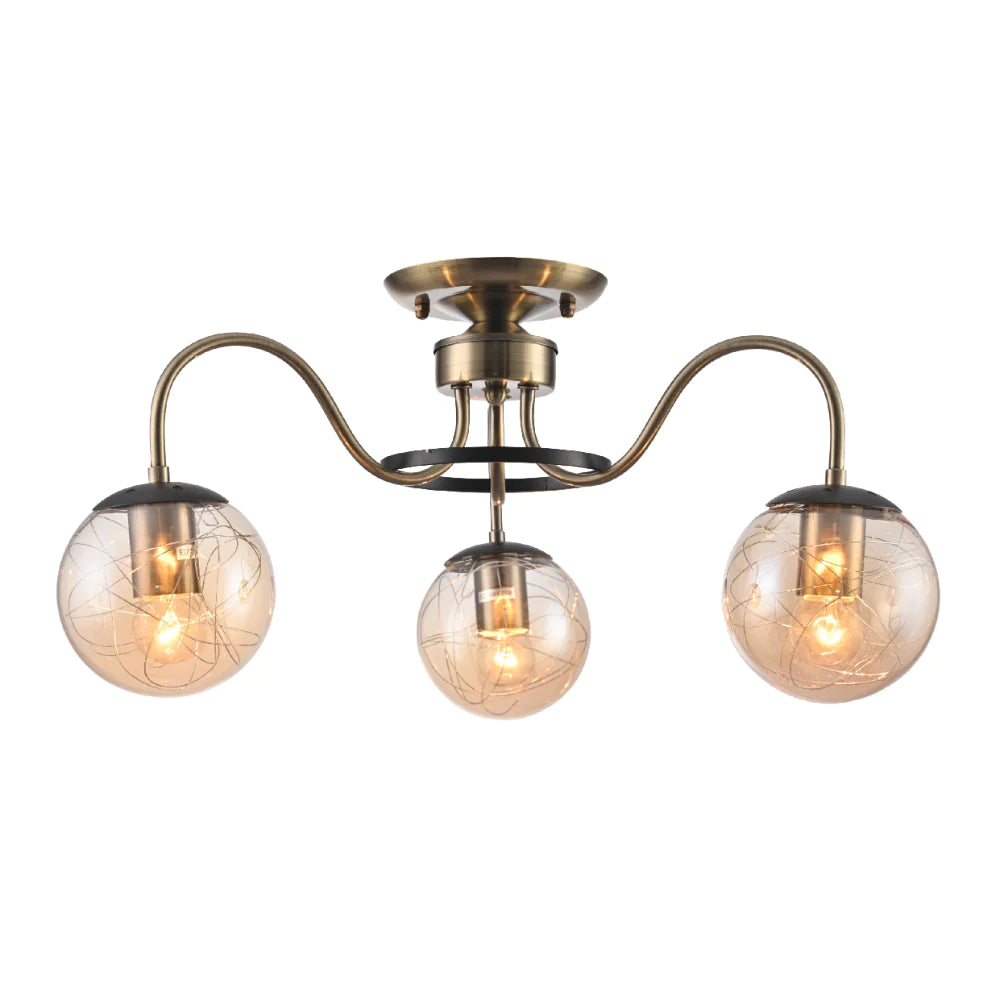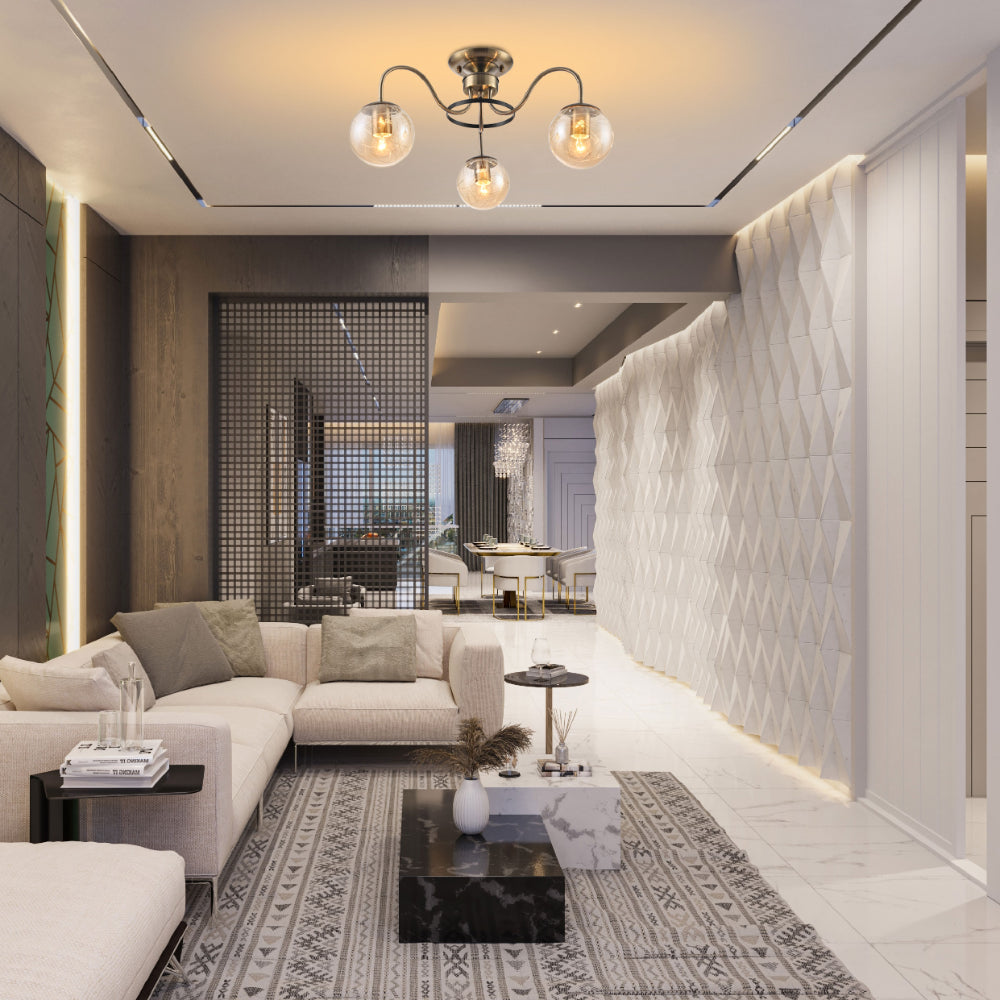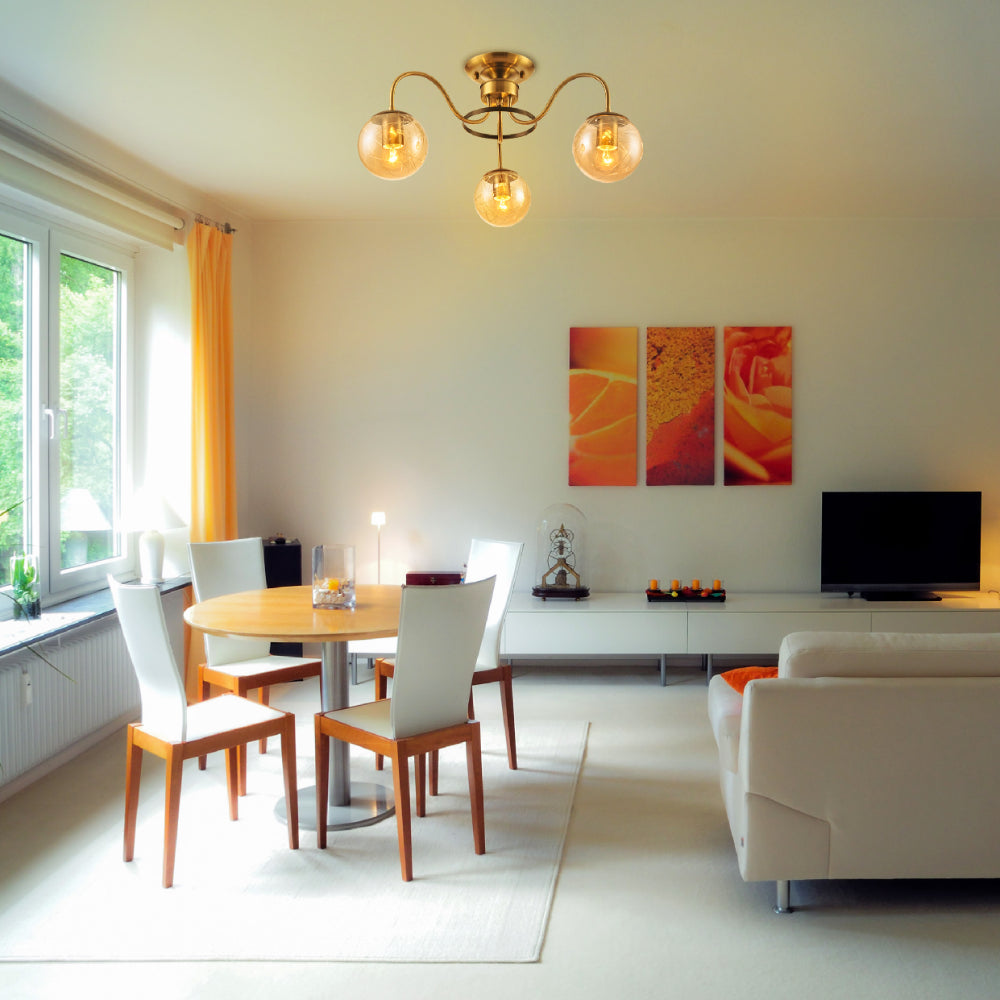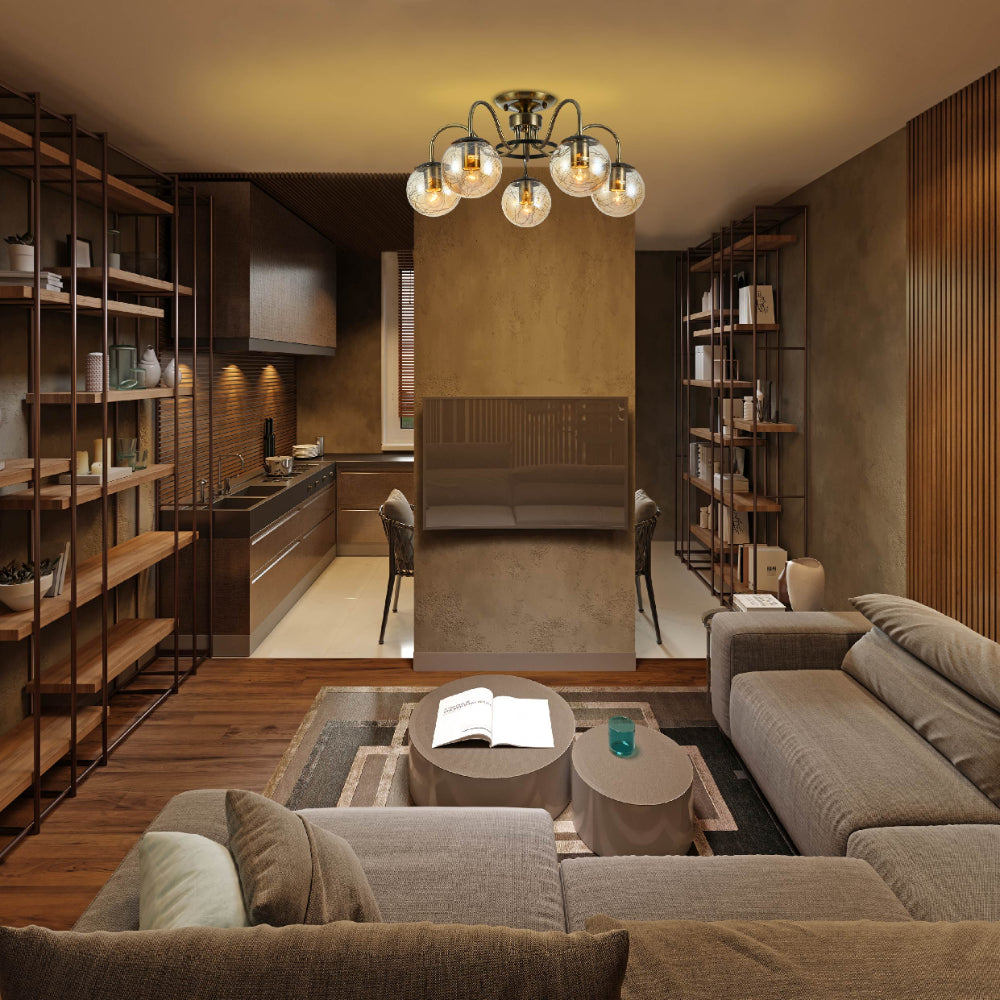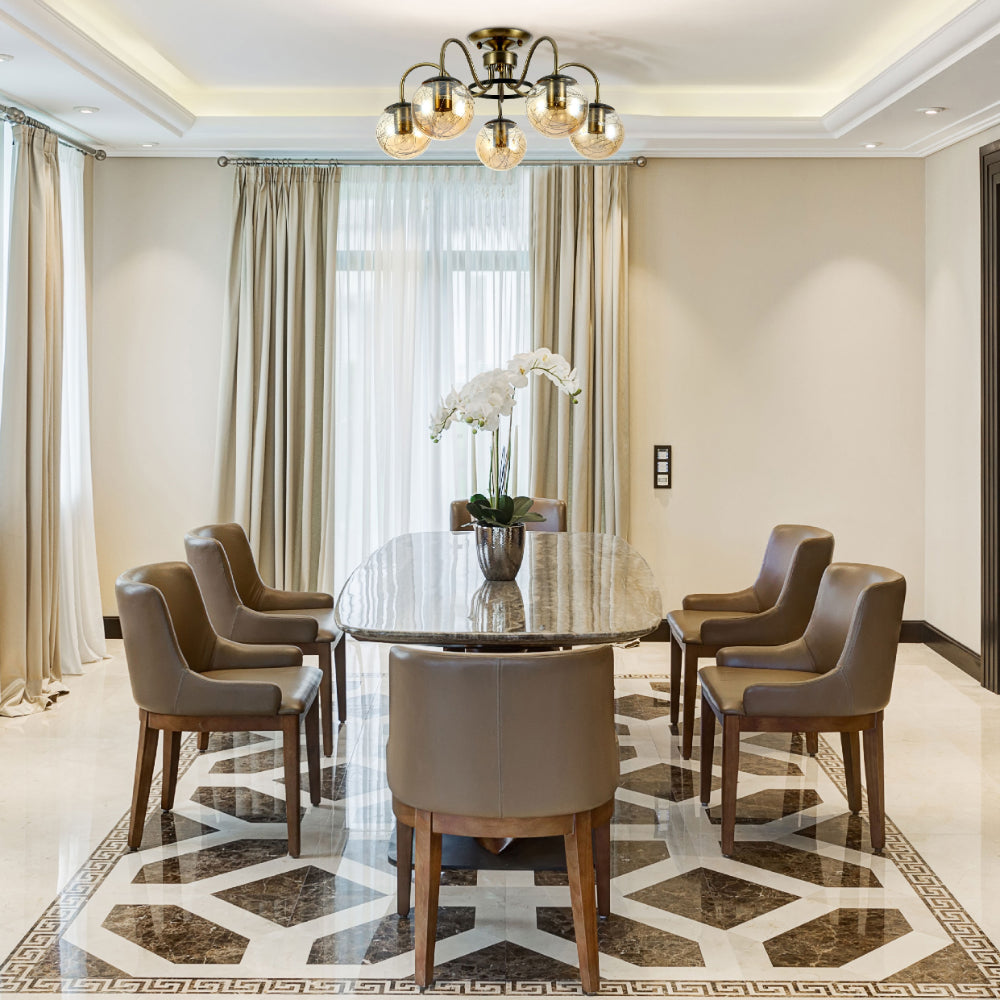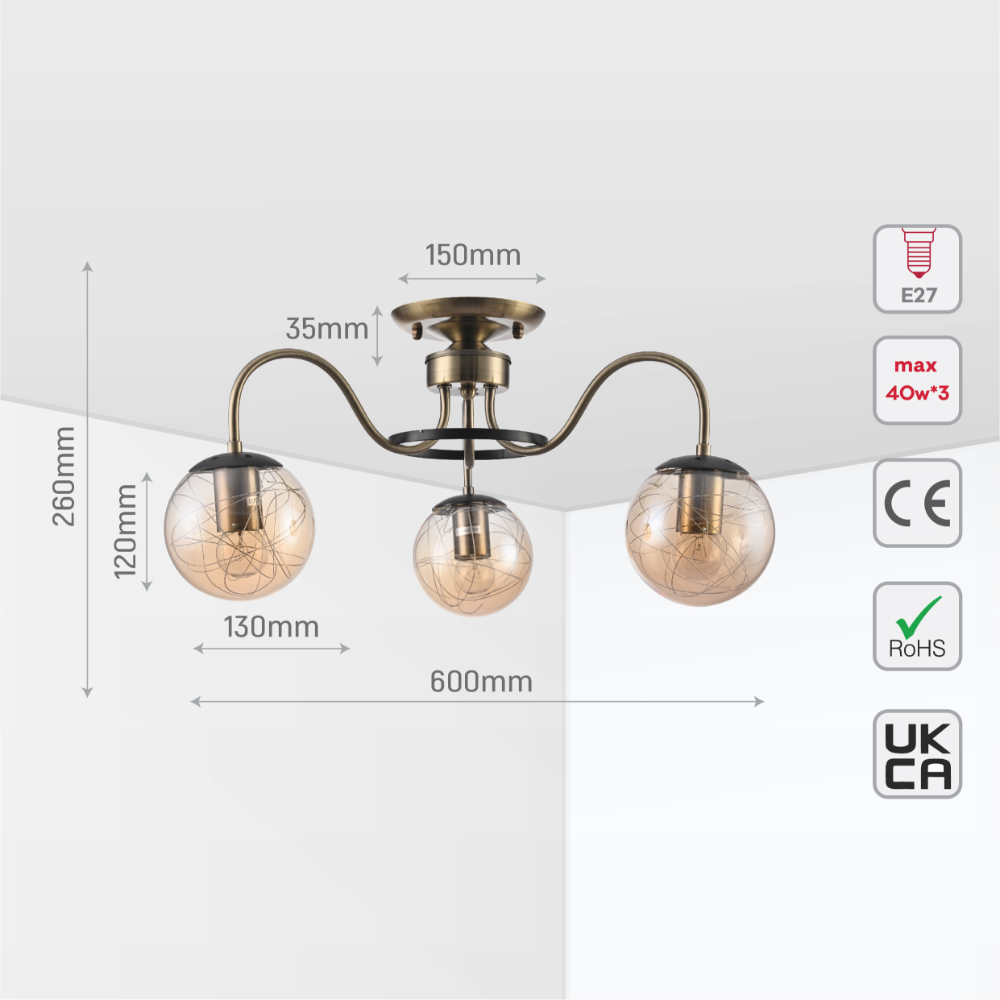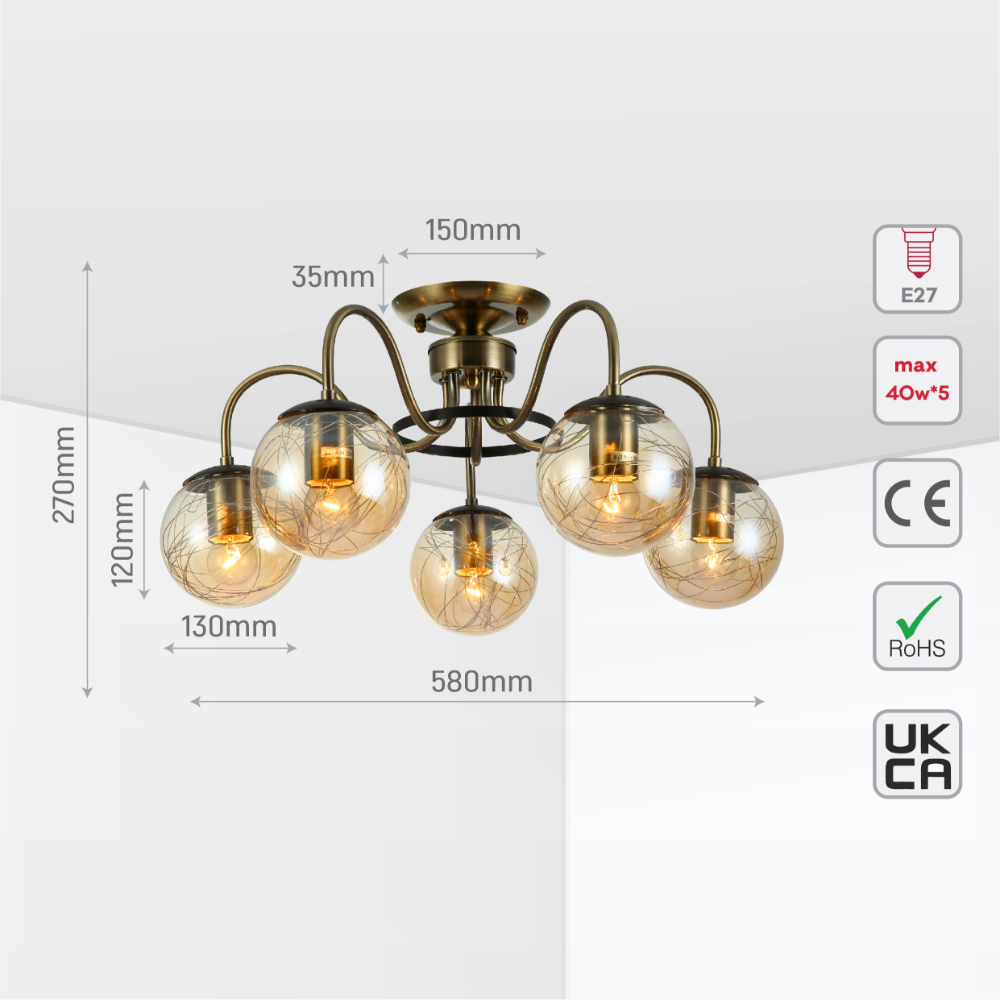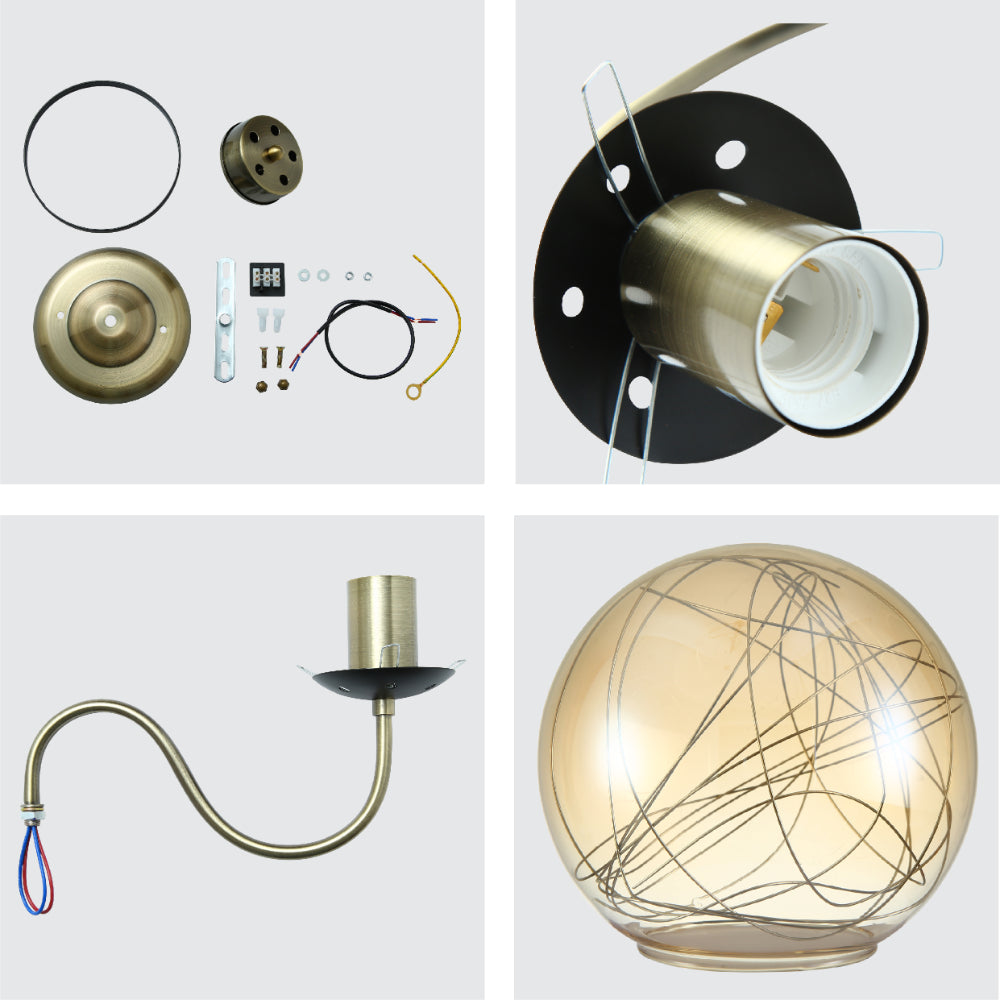 TEKLED
Swan Neck Antique Brass & Amber Globe Light - 3 Globe.
Swan Neck Antique Brass & Amber Globe Light
Elevate your interior with the exquisite Swan Neck Antique Brass & Amber Globe Light, a masterpiece of lighting design that combines classic elegance with modern sophistication. Available in both three and five globe configurations, this semi-flush light is ideally suited for spaces with low ceilings, offering a luxurious ambiance without overwhelming the room.
Artistic Design and Craftsmanship
At the heart of this light's design is a beautifully crafted ceiling rose, reminiscent of a blossoming flower with its lid-like cover and inverted cylindrical center. From this central piece, arms extend gracefully, arching in a refined swan neck silhouette. Each arm culminates in an amber-hued globe, delicately suspended and casting a warm, inviting glow. The globes are adorned with an intricate wire pattern, creating a mesmerizing play of light and shadow, reminiscent of vintage artistry.
Color Palette and Material Elegance
The fixture's antique brass body exudes a timeless charm, complemented by the subtle contrast of black ring accents at the juncture of each arm, adding a contemporary edge to its classic design. The amber glass globes, with their soft, golden glow, bring a sense of warmth and intimacy to any setting.
Versatility in Placement and Style
This ceiling light is a versatile piece, capable of harmonizing with a wide range of interior styles. From the traditional warmth of a classic study to the understated elegance of a contemporary living room, or the intimate ambiance of a cozy dining area, this light adapts to each setting with ease. Its design not only illuminates but also enhances the aesthetic appeal of your space.
Conclusion
The Swan Neck Antique Brass & Amber Globe Light is not just a lighting fixture; it's a statement of refined taste and an homage to the art of sophisticated lighting. Its blend of classic and contemporary elements makes it a timeless addition to any home seeking a touch of elegance and warmth.
Technical Specifications
| | |
| --- | --- |
| Product Code | 159-17994 | 159-17995 |
| Name | Swan Neck Antique Brass & Amber Globe Light |
| Power | MAX 40W*3 | MAX 40W*5 |
| Power Source | Hardwired |
| Voltage | 220/240Vac 50/60Hz |
| Lamp Holder Type | E27 Edison Screw |
| Lamp Holder Quantity | 3 | 5 |
| Protection Class | Class I |
| Dimmability | Dimmable if used with dimmable bulbs |
| Light Source | Bulb |
| Bulbs | Bulbs are not included |
| IP Class | IP20 |
| Mount Type | Semi Flush |
| Product Dimensions (L x W x H) (D x H) | 600*260mm | 580*270mm |
| Product Length | 600mm | 580mm |
| Shape | Arm |
| Material | Steel, Glass |
| Product Colour | Antique Brass, Black, Amber |
| Paint Type | Electroplating, Spray Paint |
| Shade Material | Glass |
| Size of Shade(s) | D130*125mm | D130*120mm |
| Shade Colour | Amber |
| Size of Rose | D150*35mm |
| Operating Temperature (°C) | -20/+45 C |
| Warranty | 3 year |
| Box Dimension (L x W x H) | 490*310*170mm | 550*40*170mm |
| Net Weight | 1.1kg | 1.64kg |
| Gross Weight | 1.6kg | 2.4kg |
| Box Content | 1Light fixture,User manual, Accessories package | 1Light fixture,User manual, Accessories package |
| Pieces/Box | 1 |
| Certifications | UKCA, CE, RoHS |