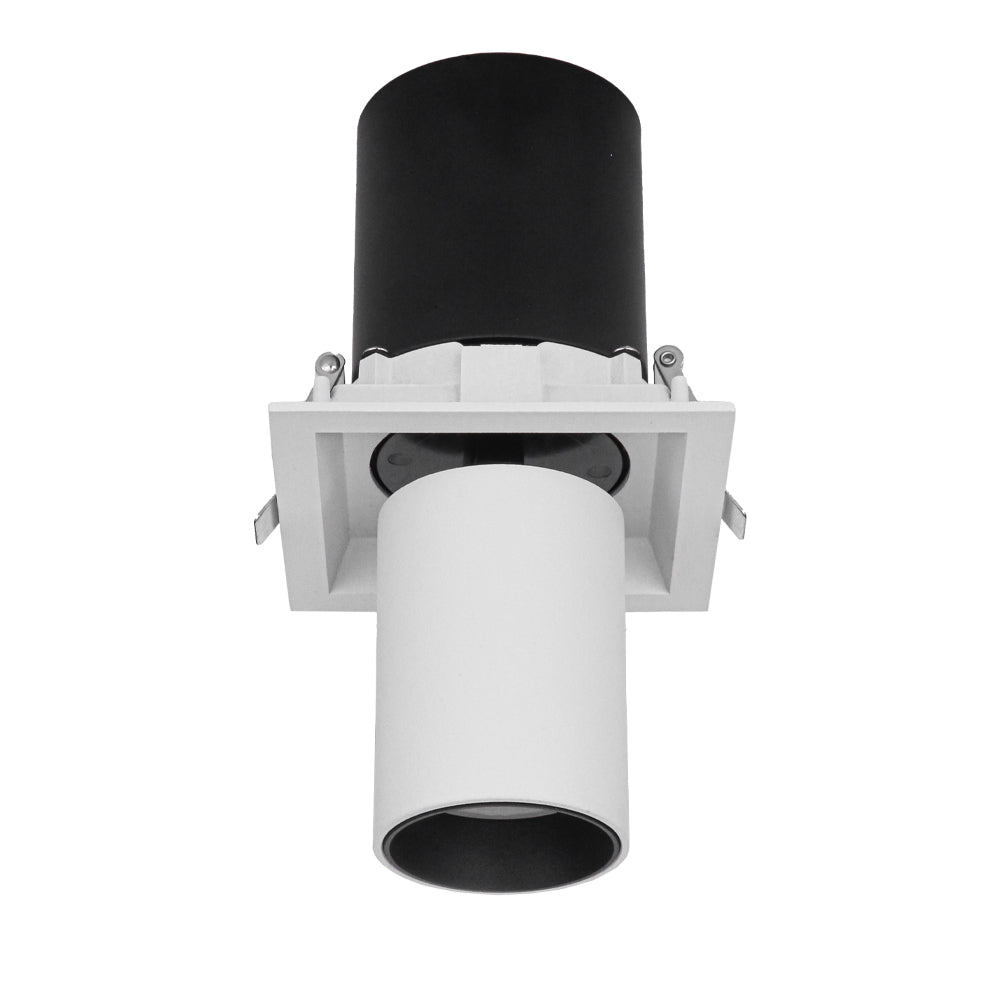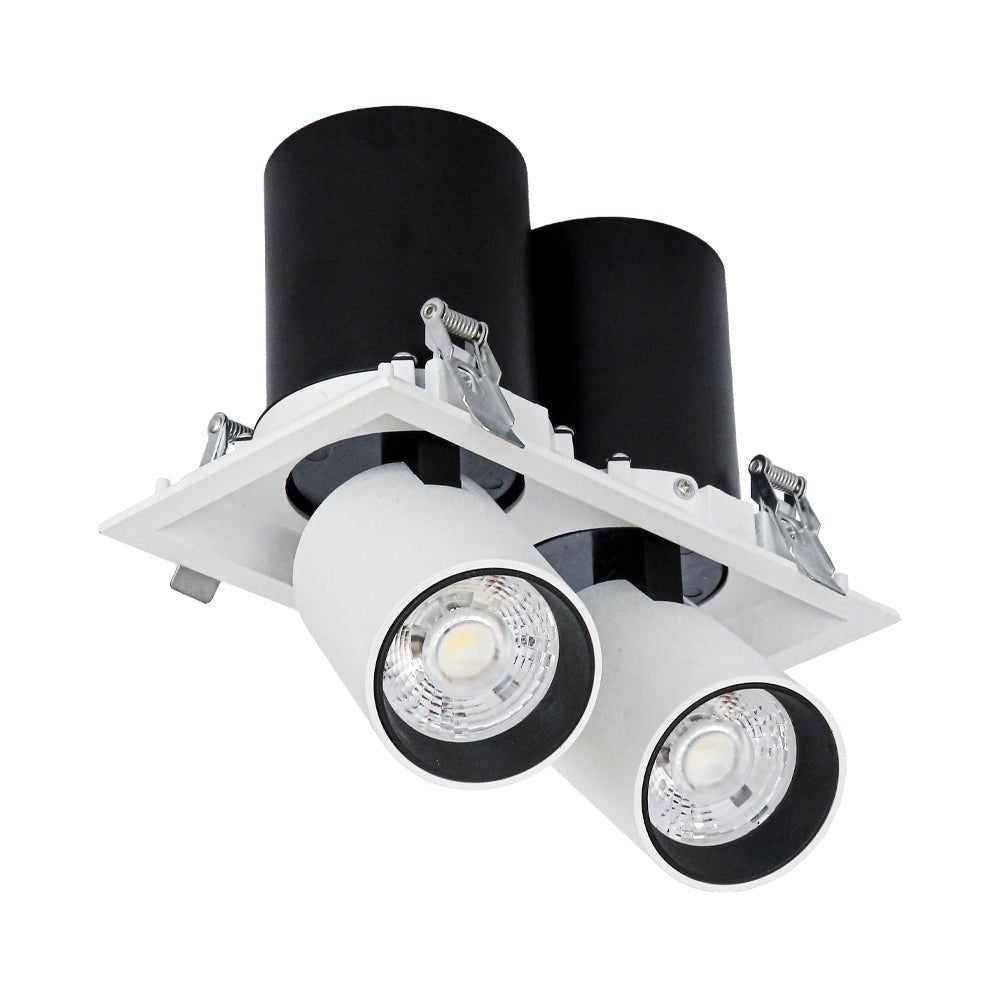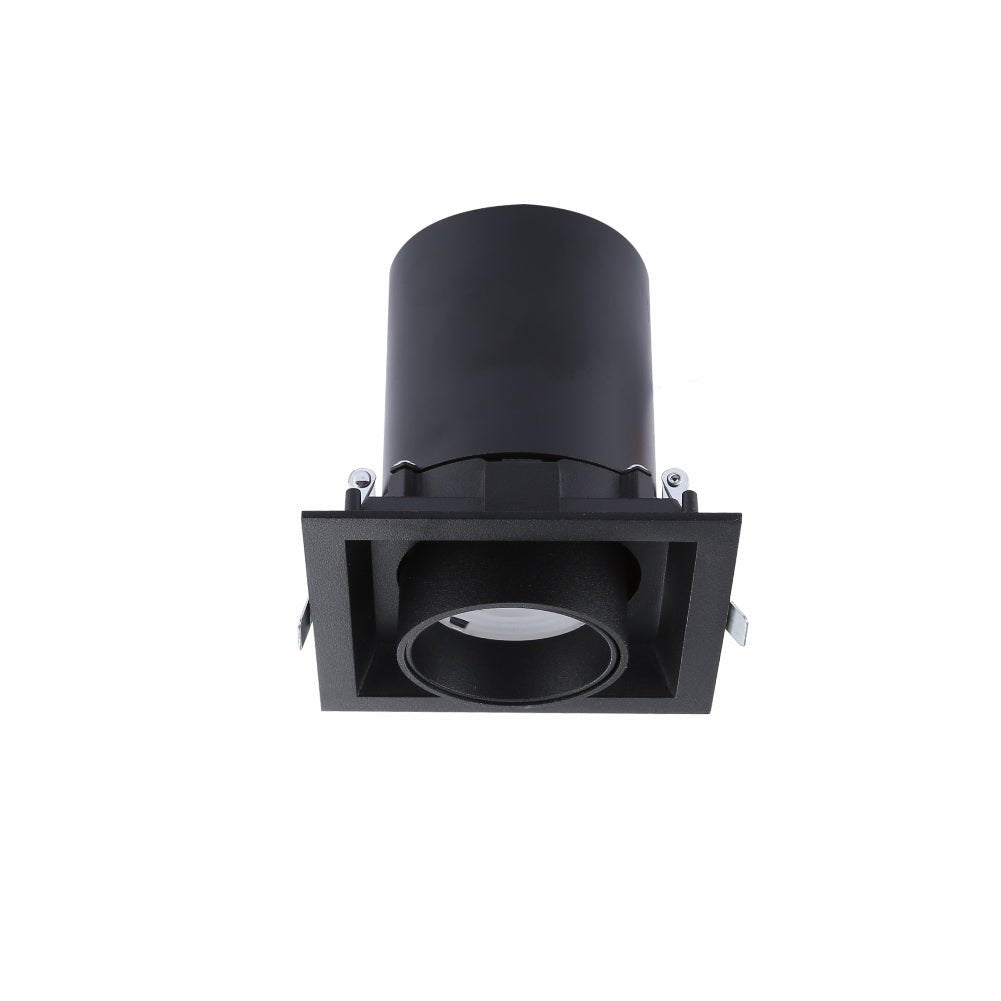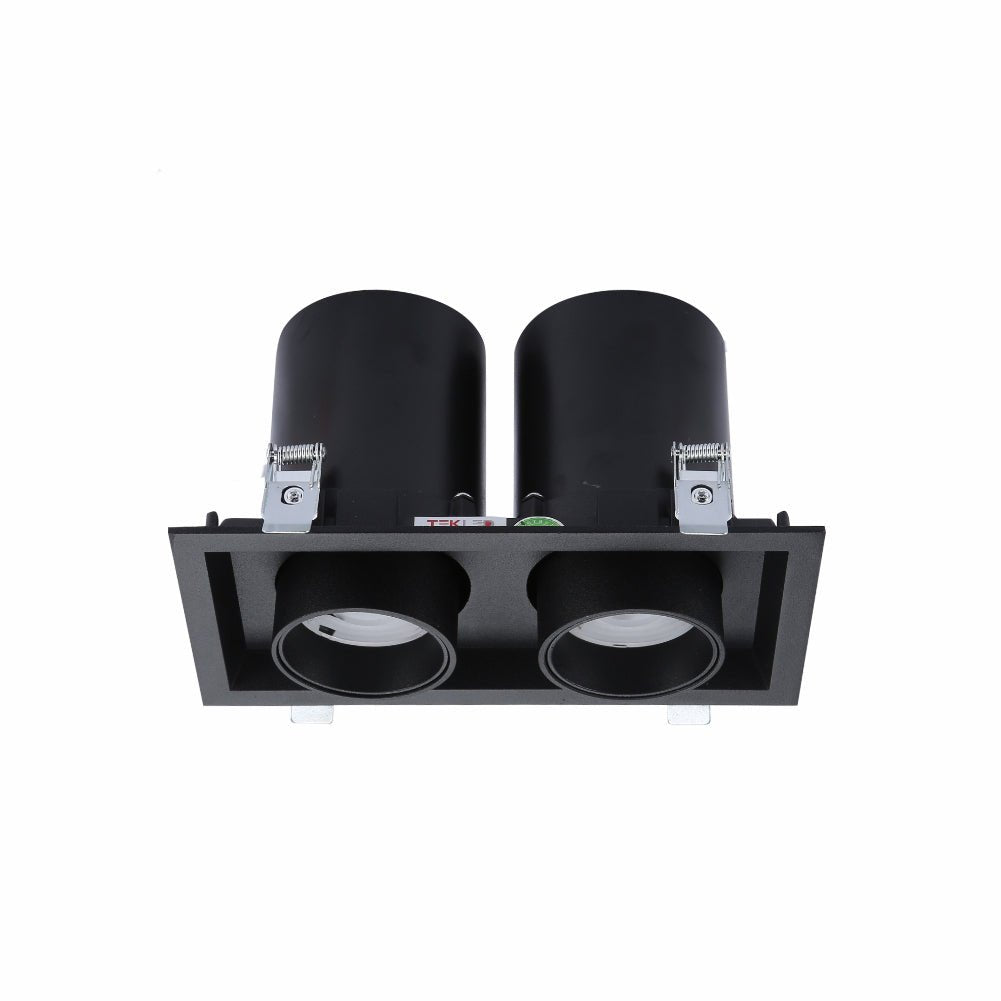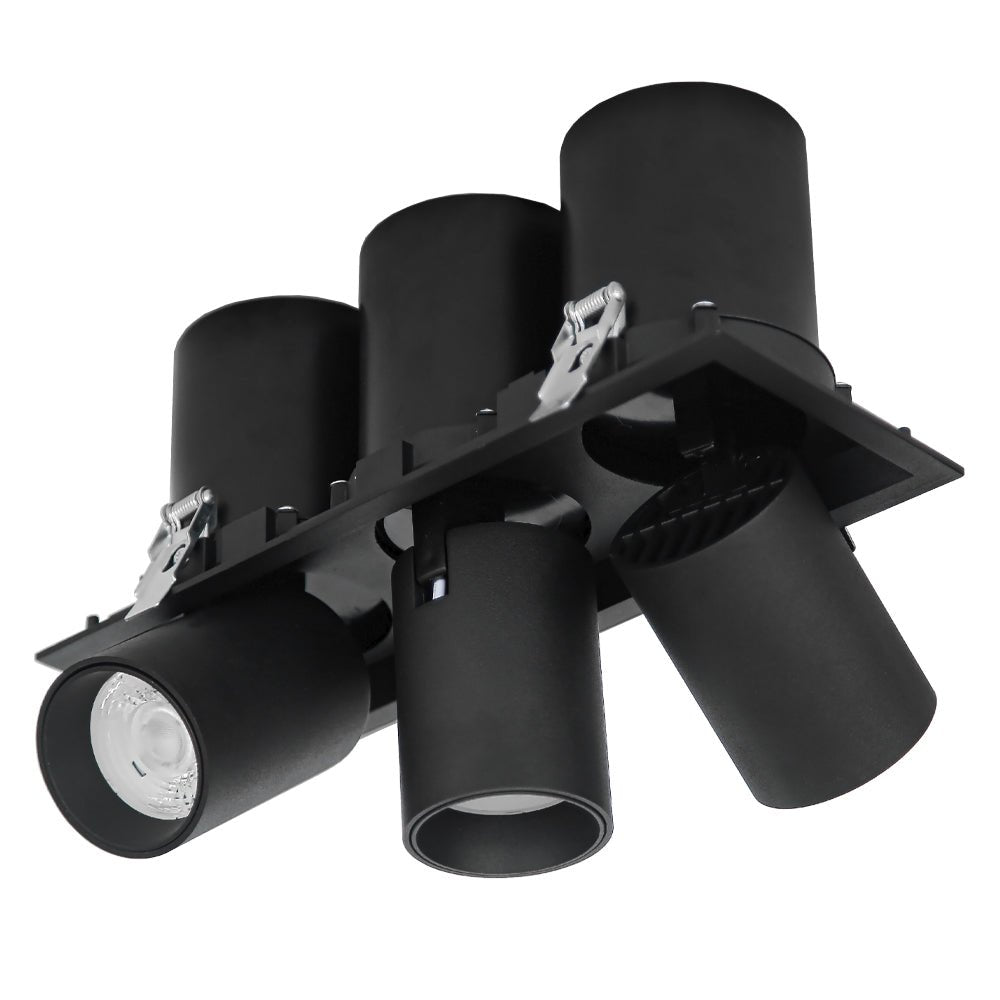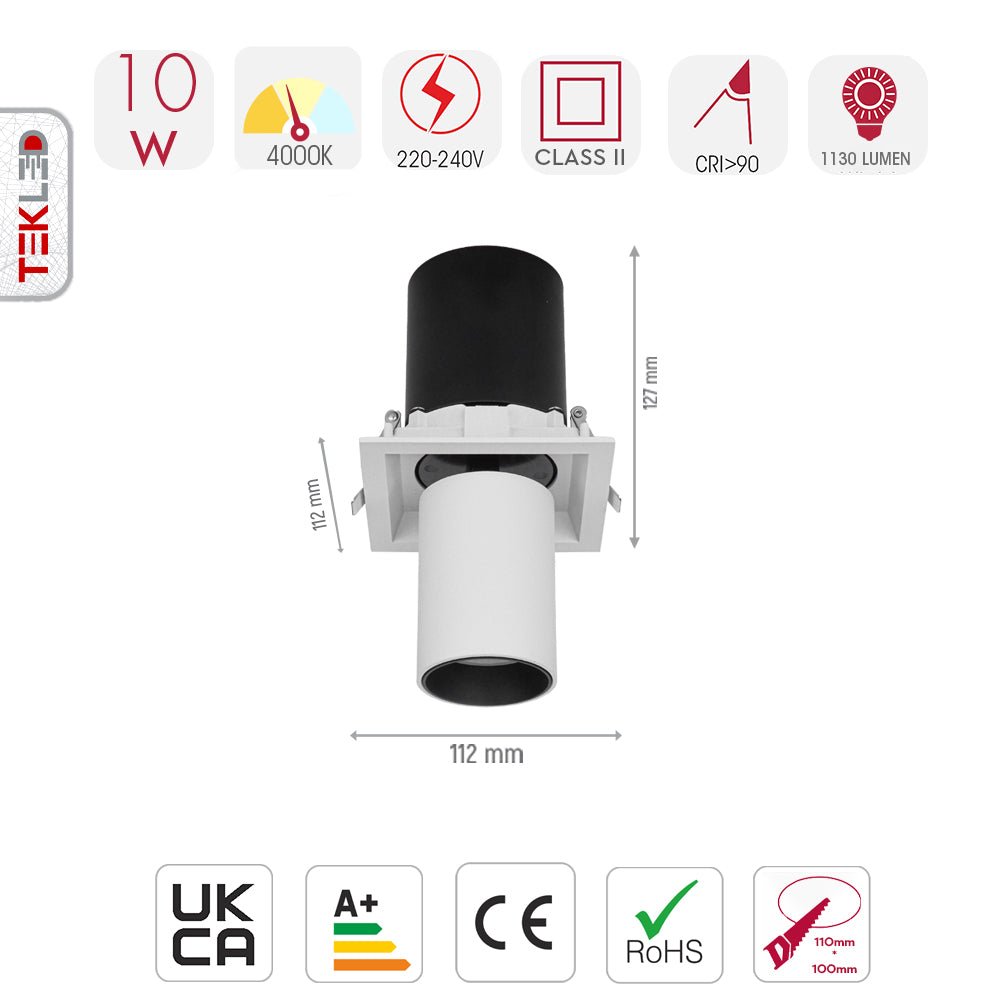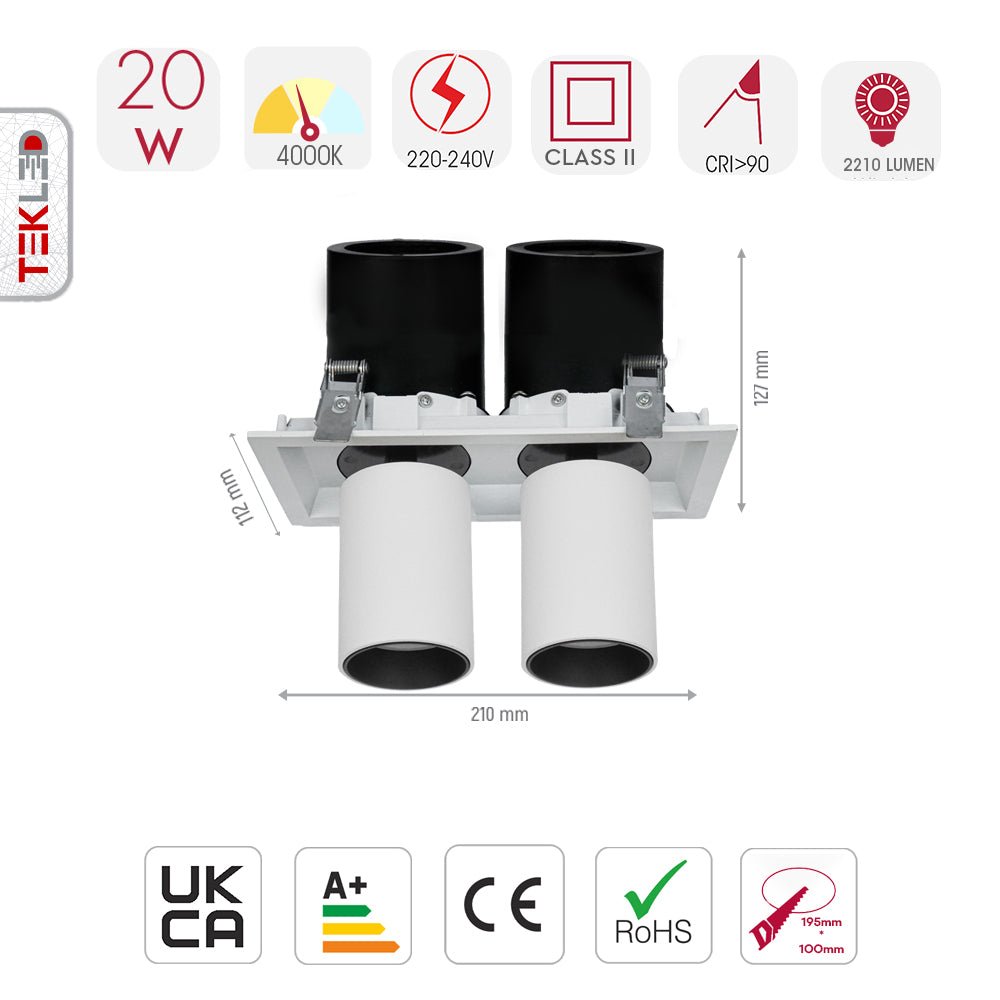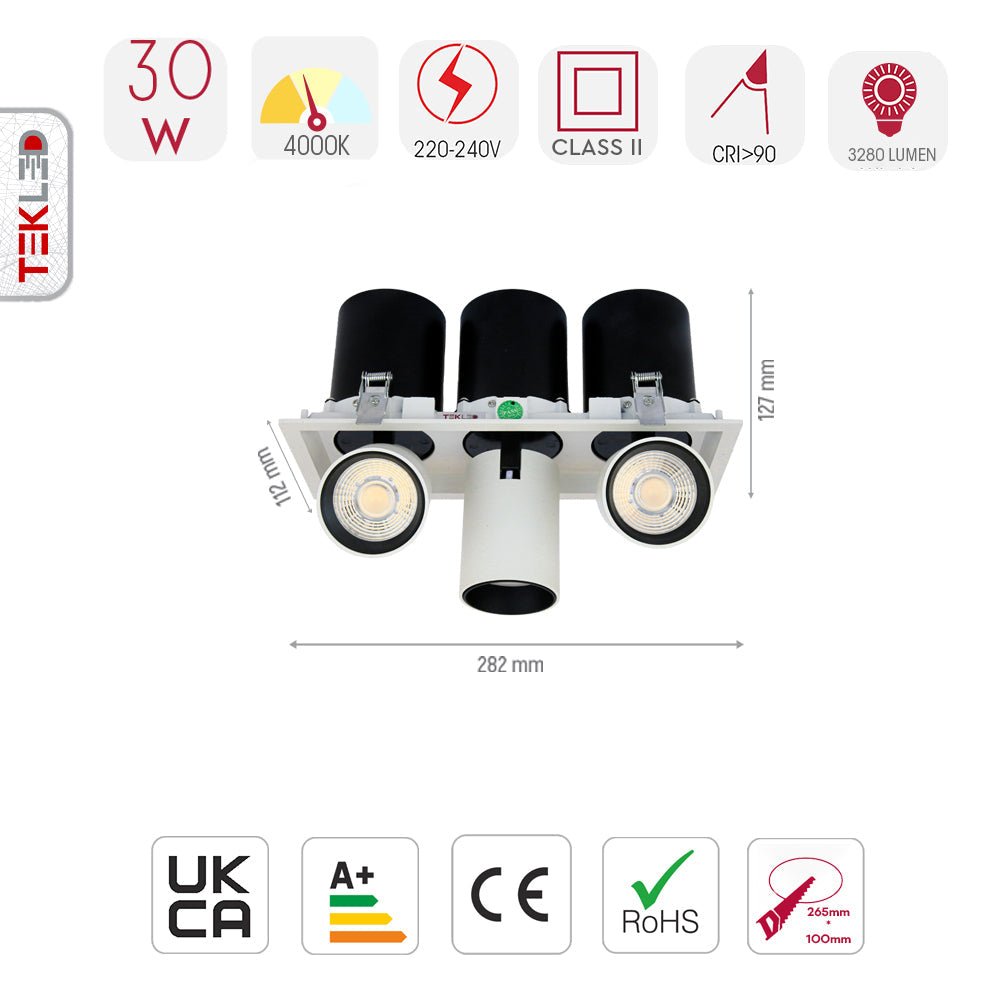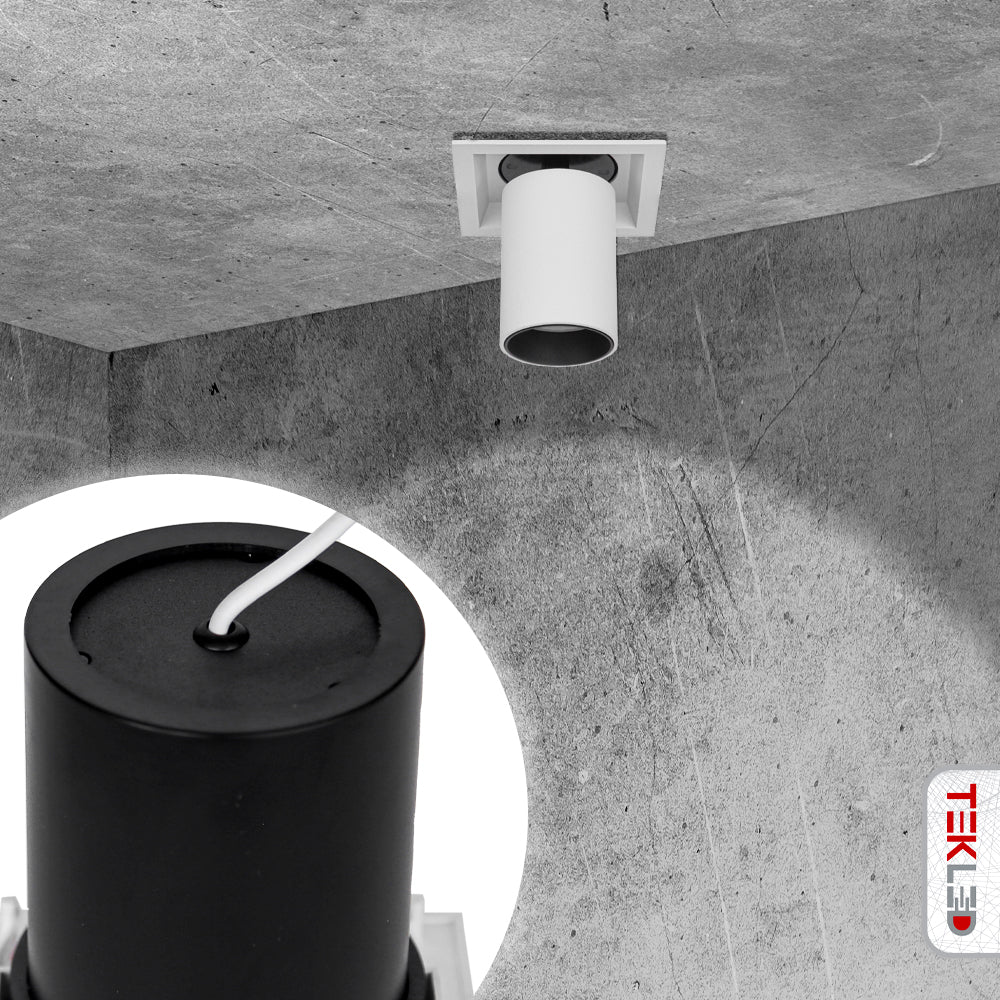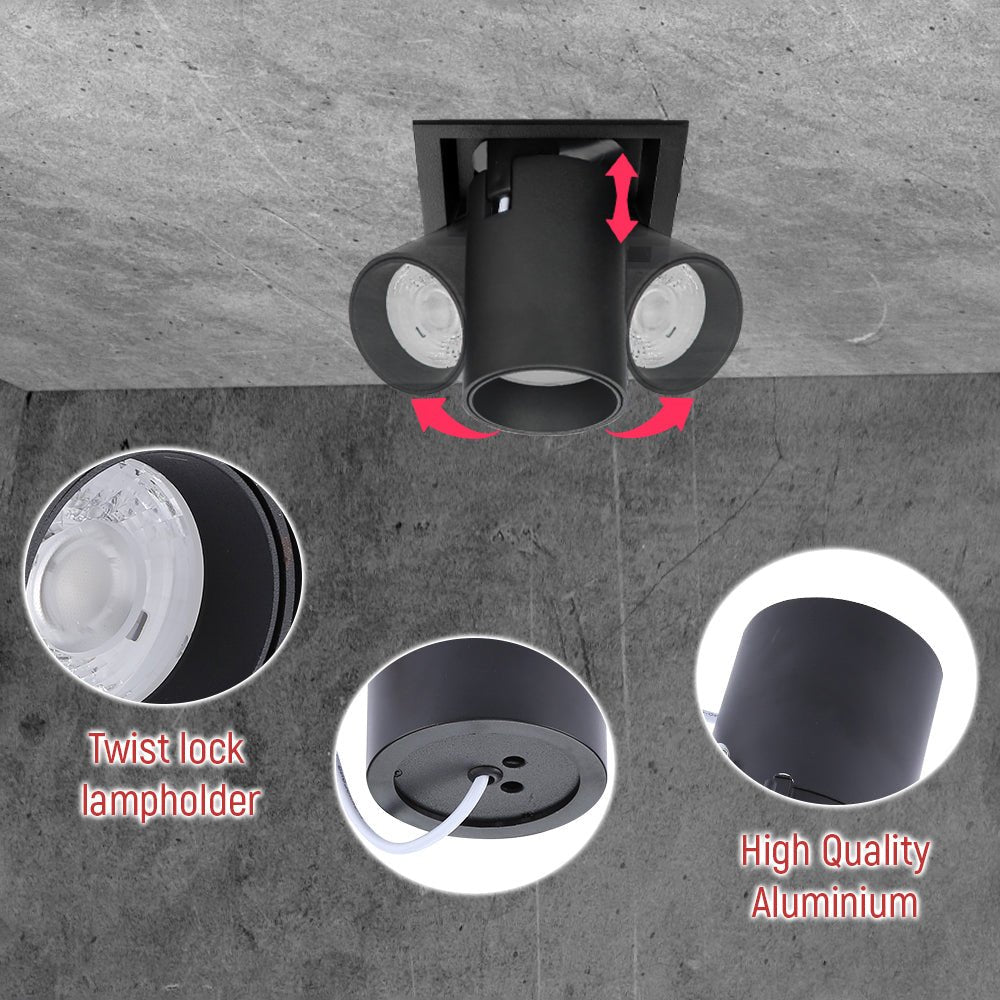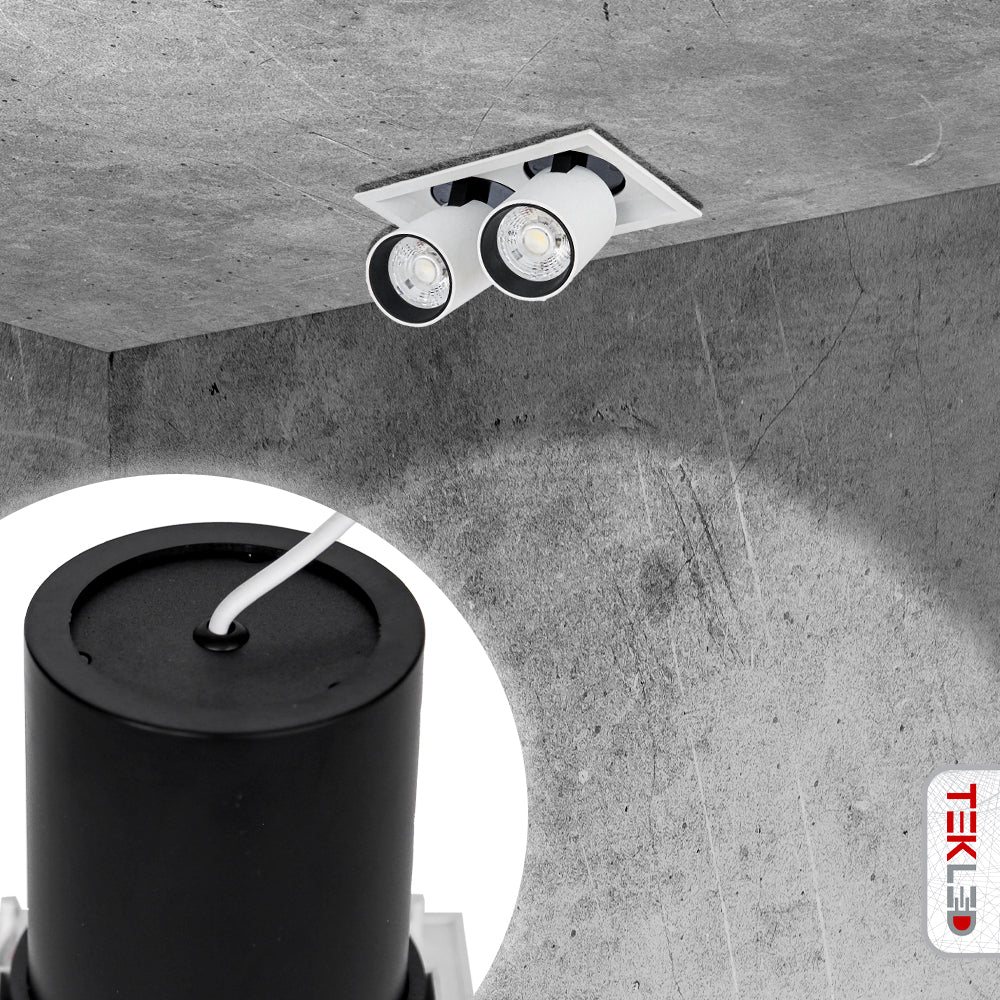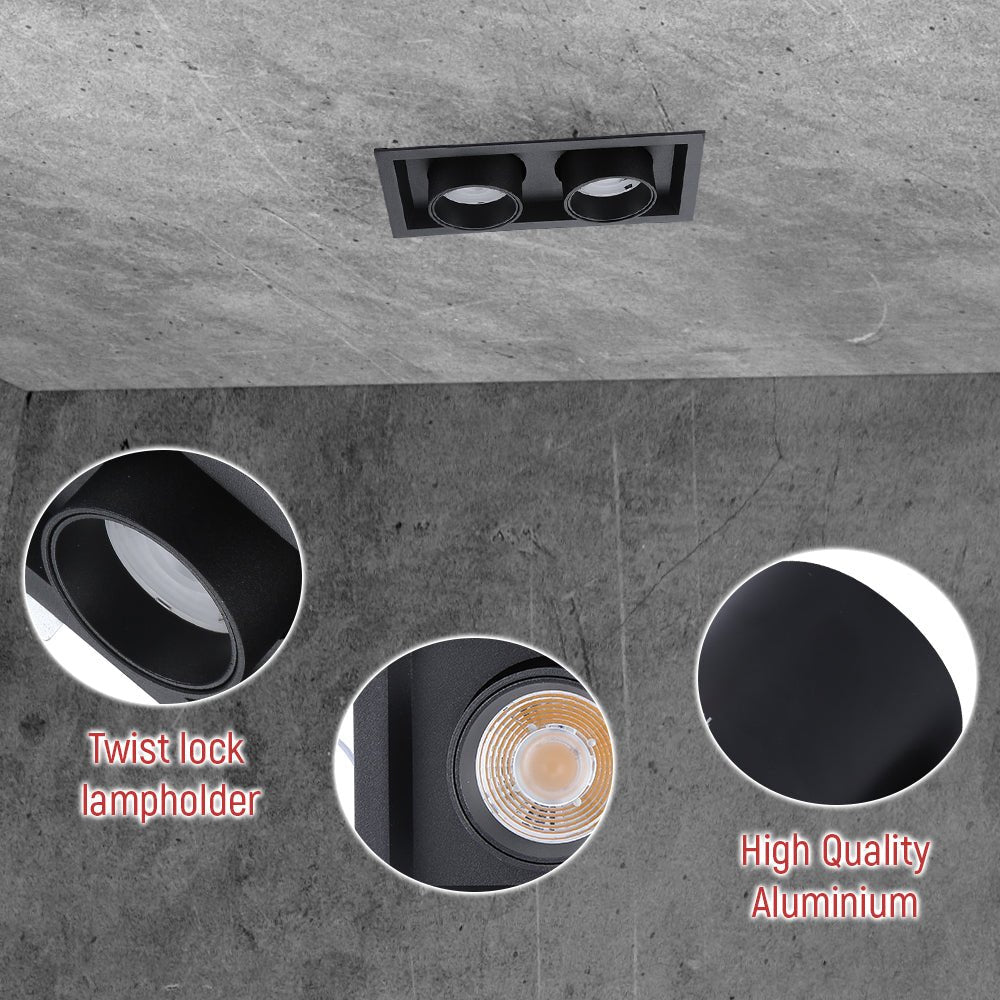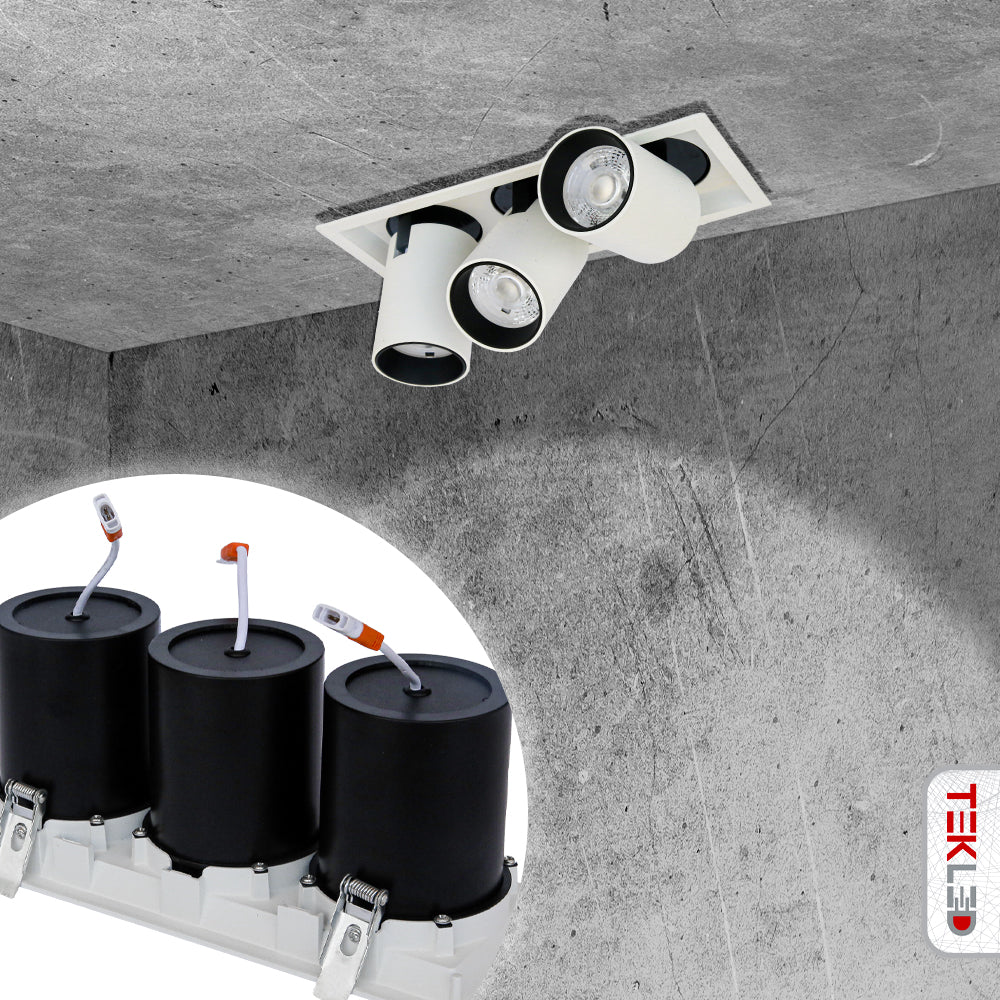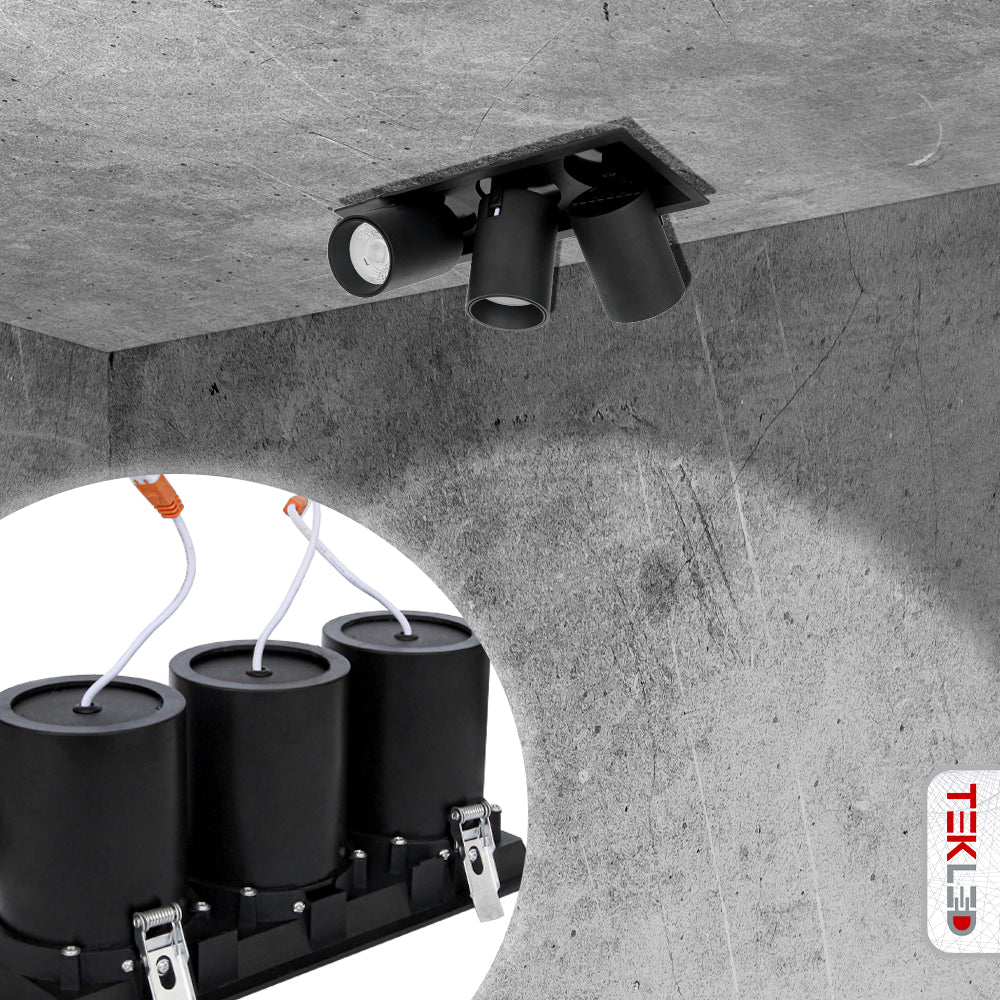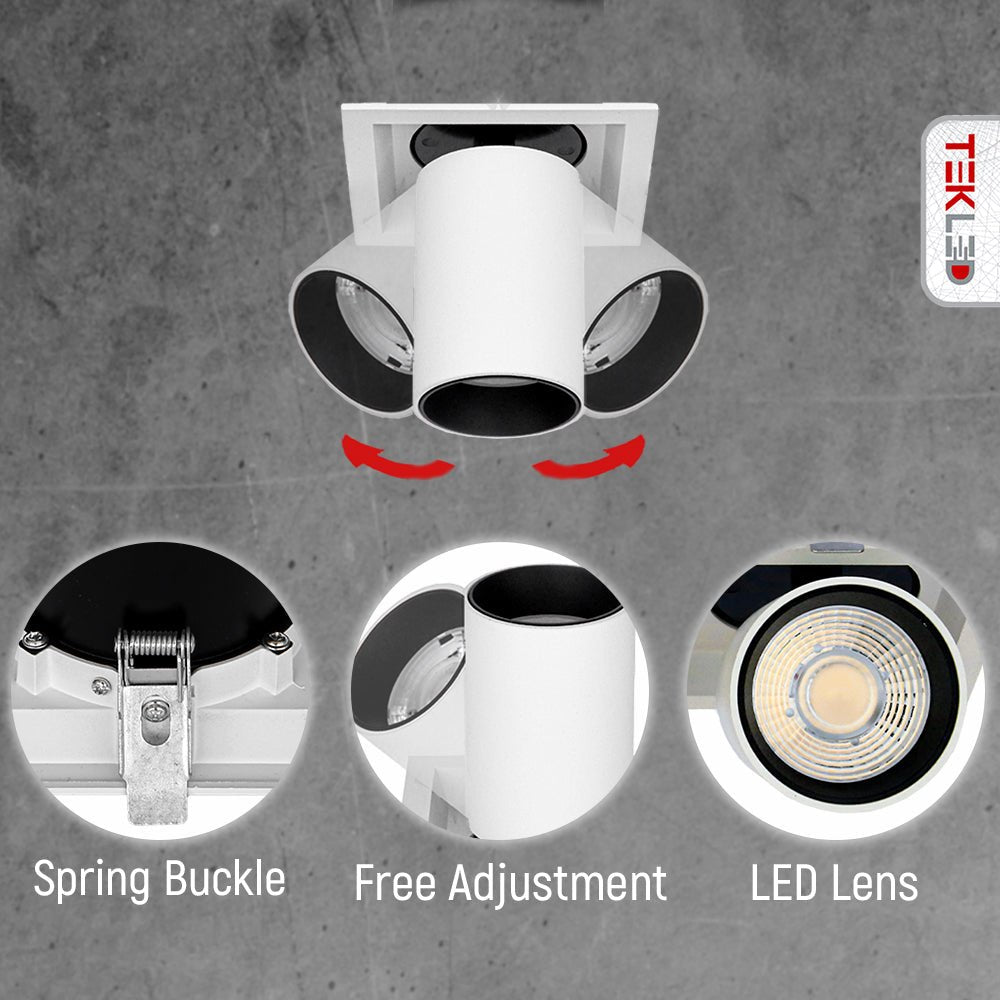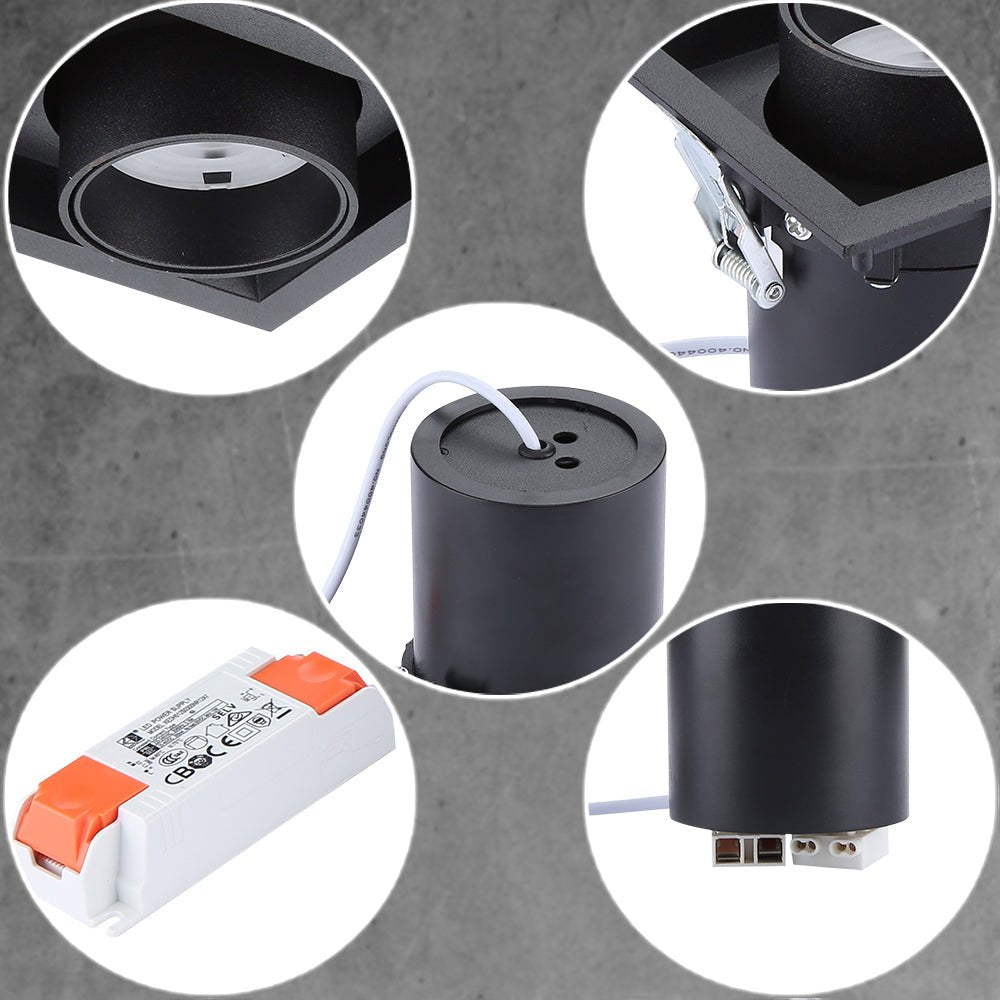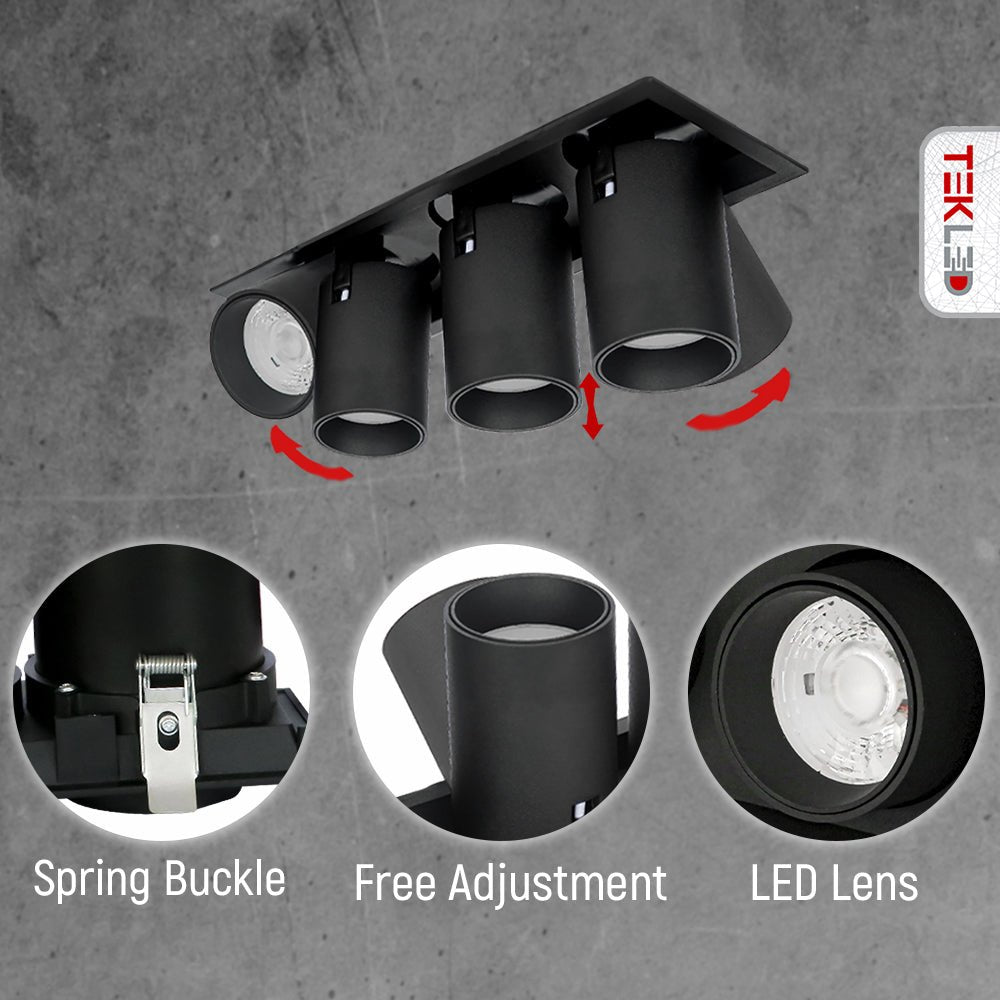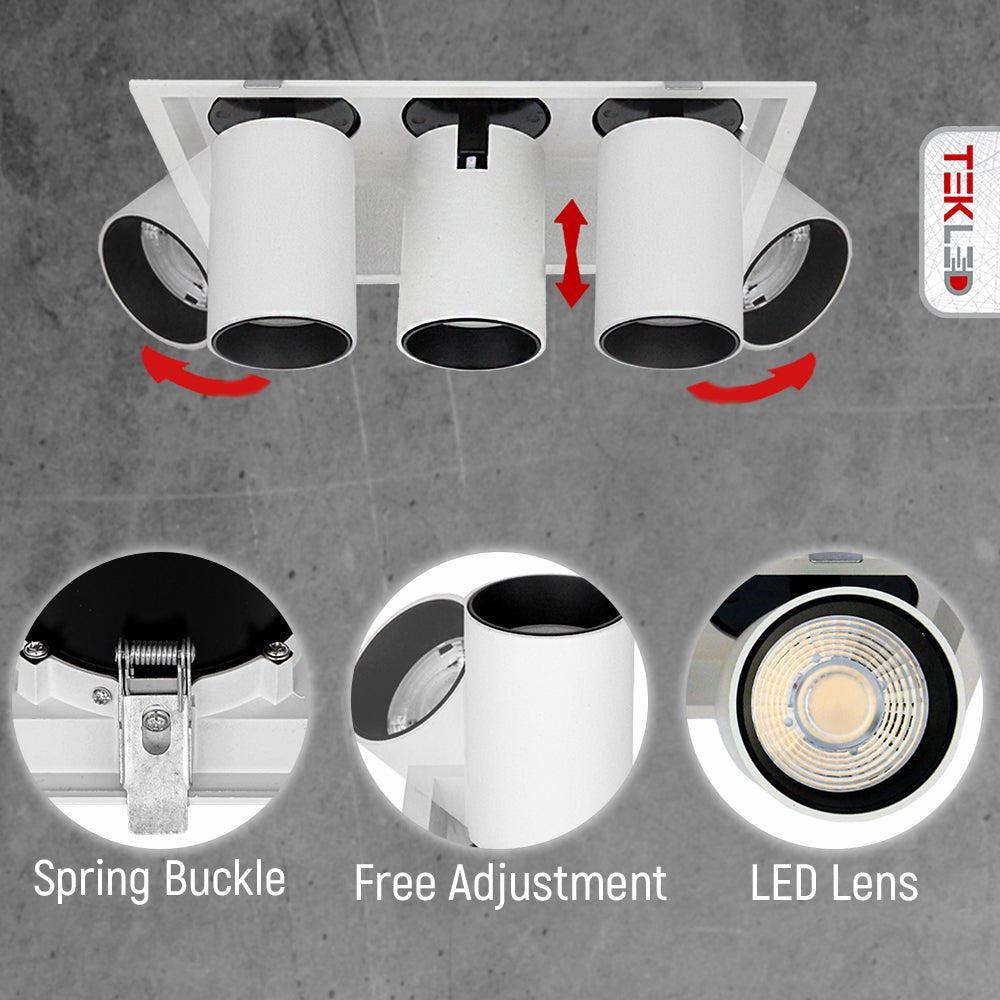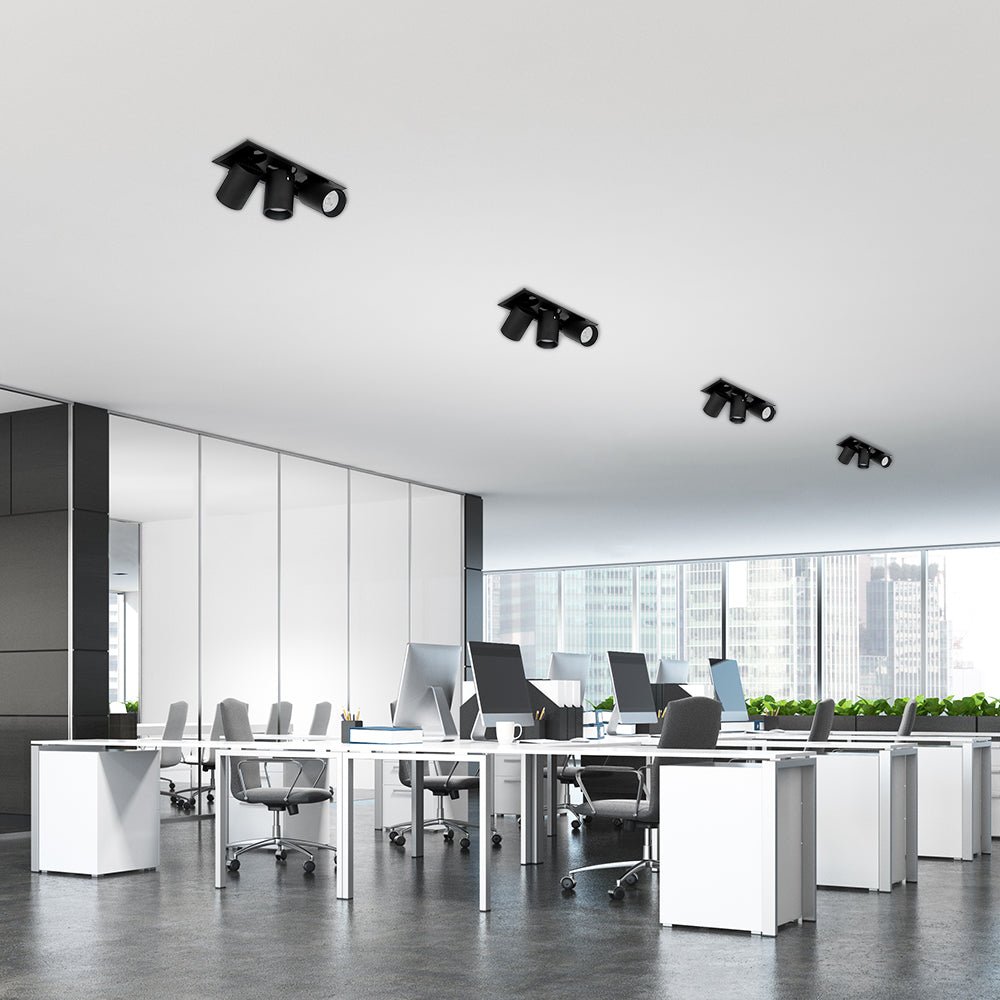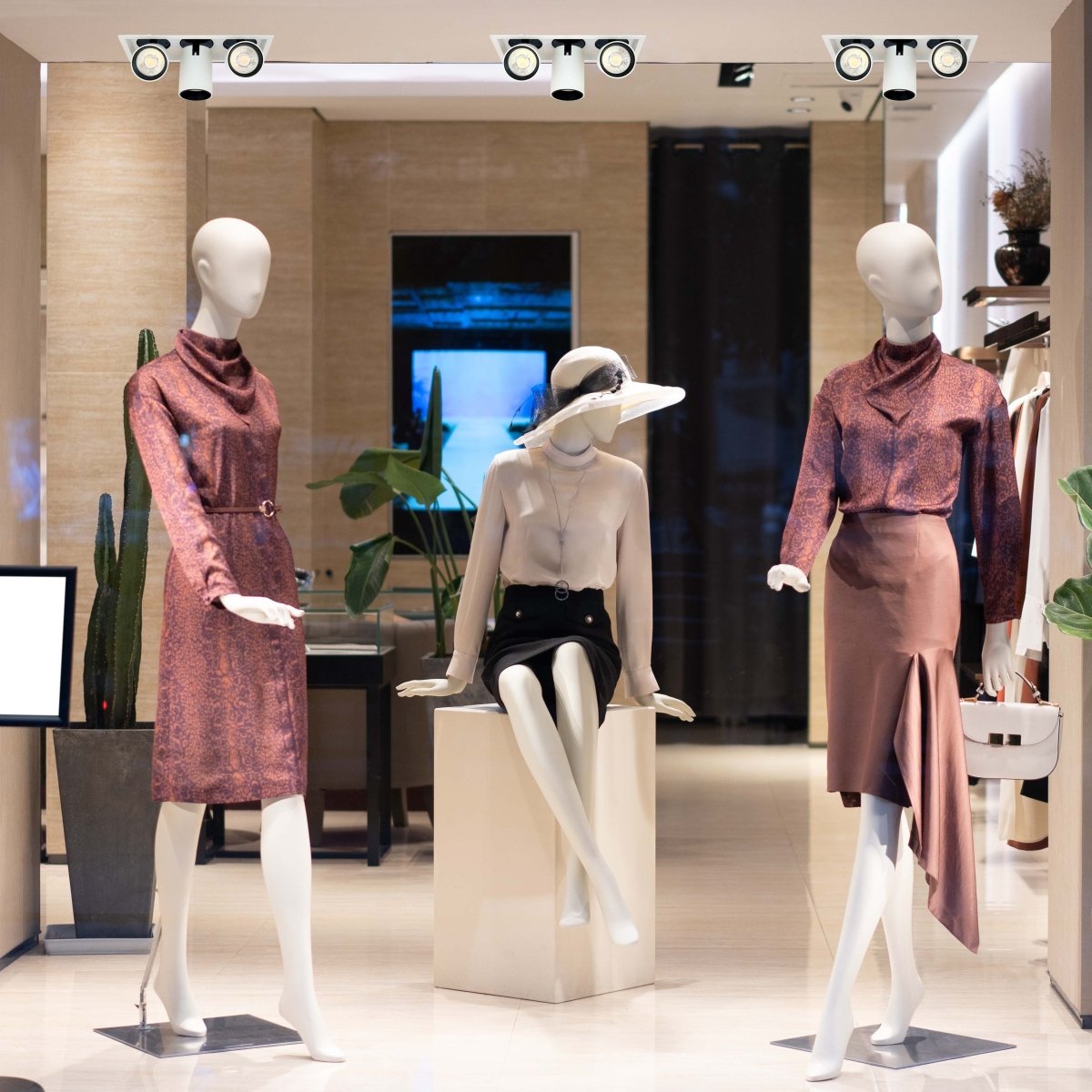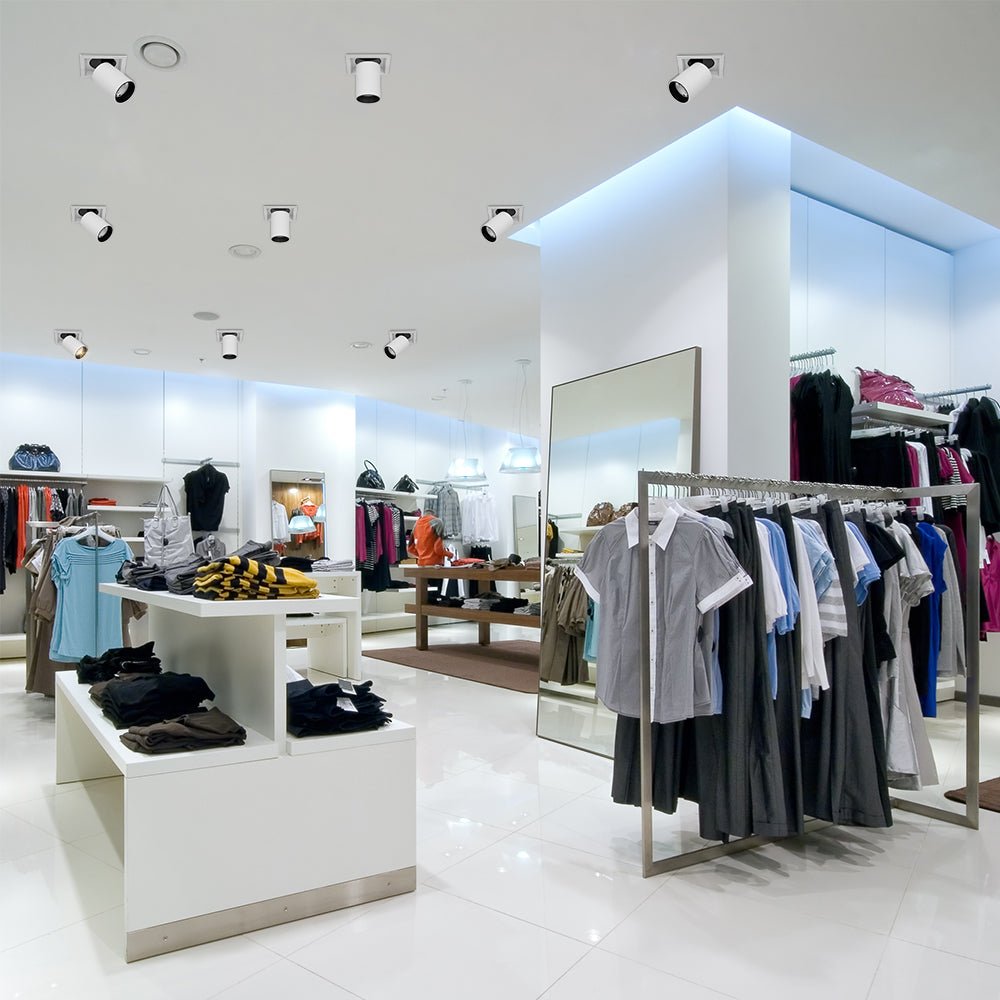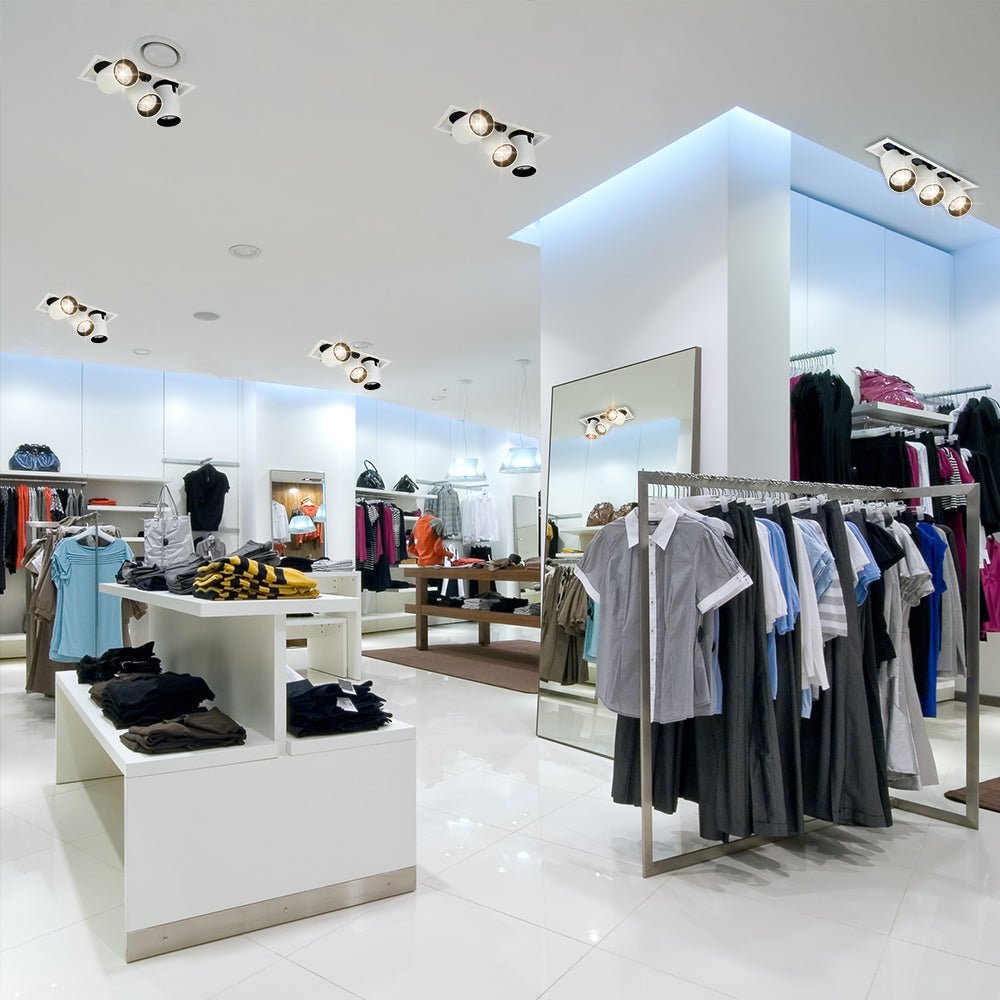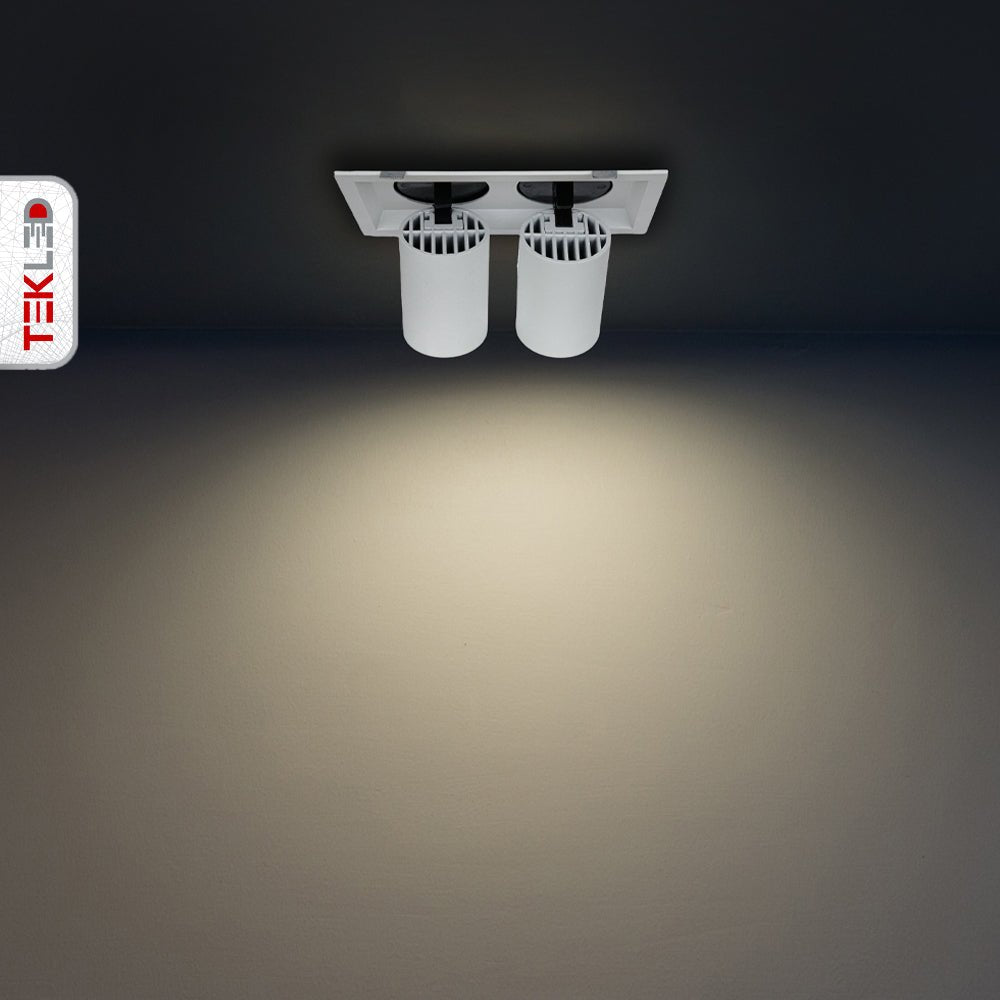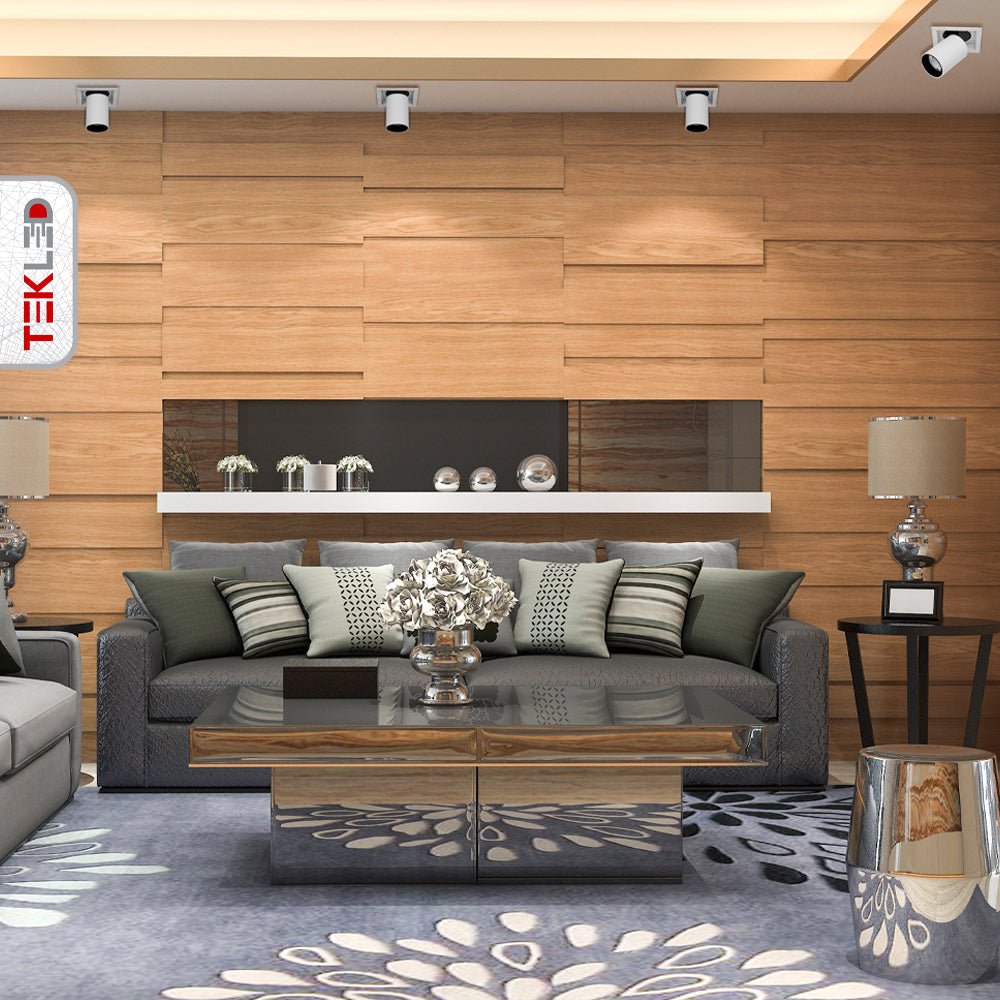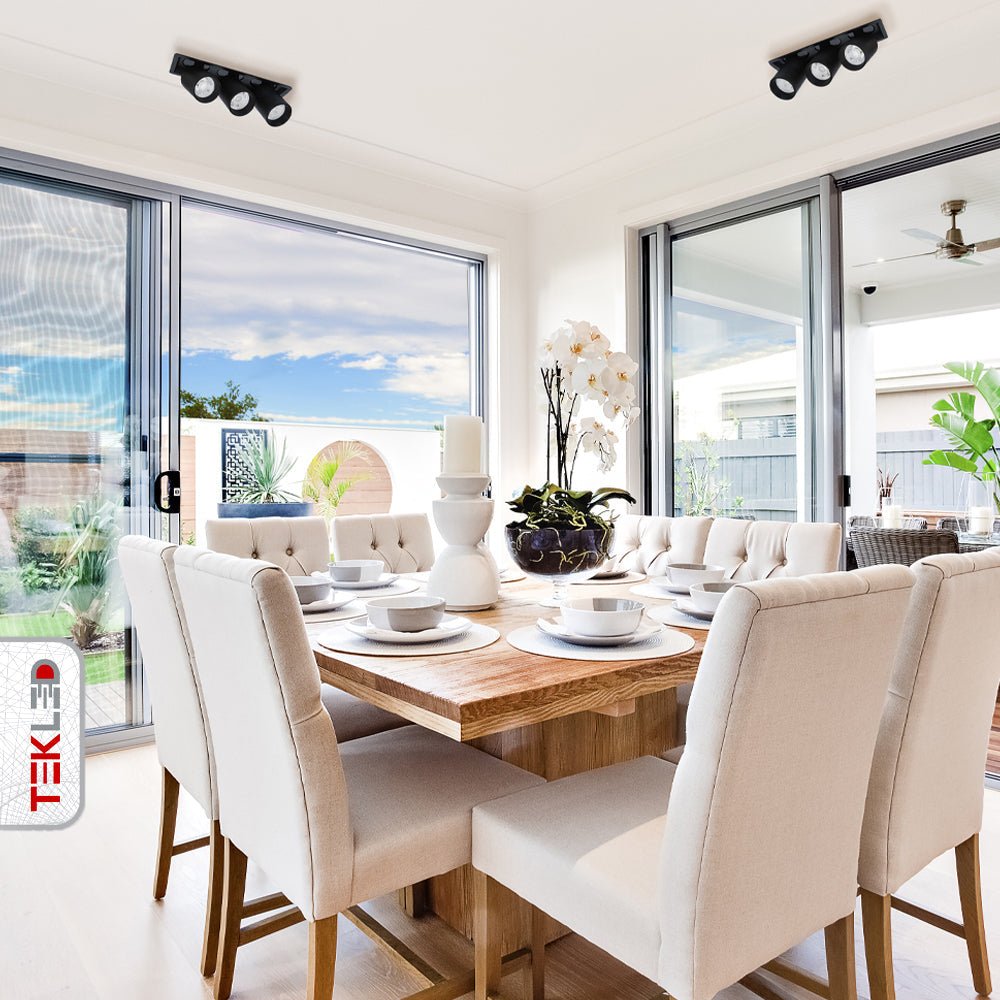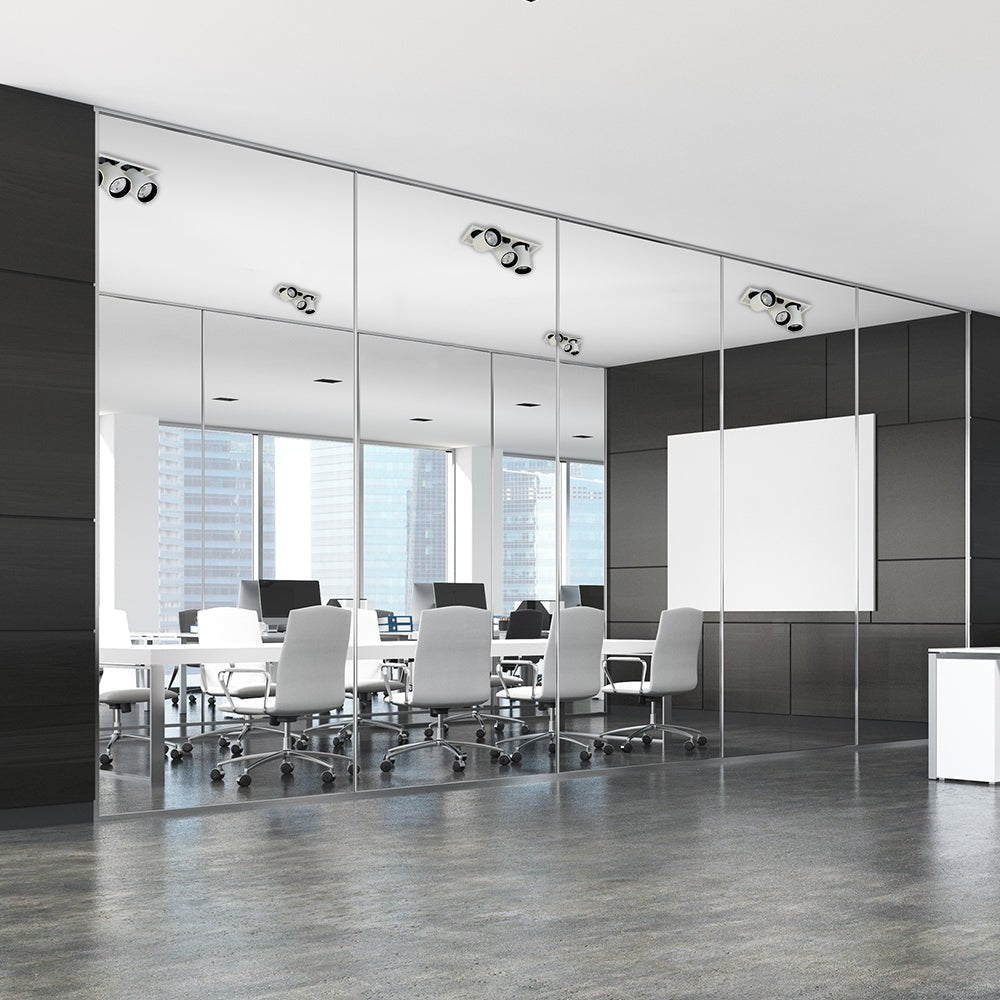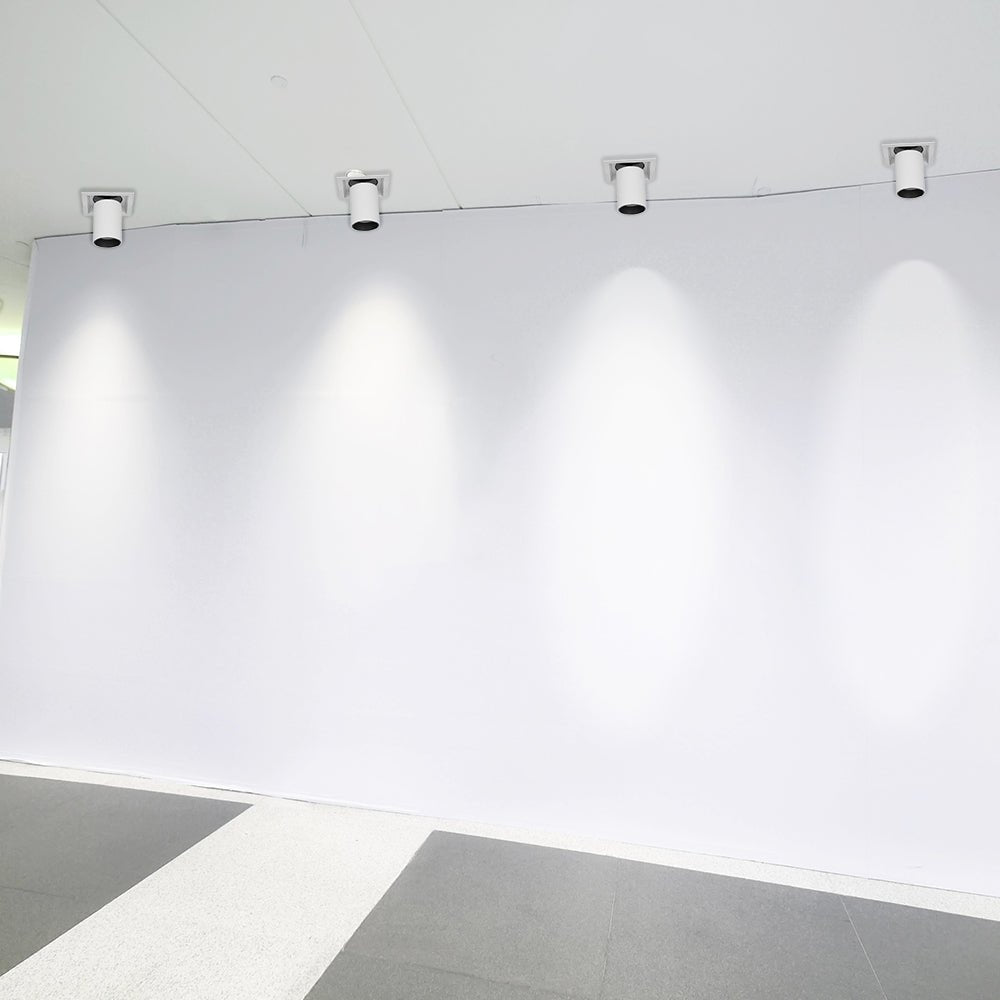 TEKLED
Telescopic Swivel Tilt Adjustable In-Out LED Rectangle Downlight 10W 20W 30W - White / 1 Lamp.
Telescopic Swivel Adjustable In-Out LED Downlight Cool White 4000K
Illuminate your surroundings while saving upto 80% on your electricity bills with this new range of Telescopic Swivel In-Out LED downlights from TEKLED. This IP 20 recessed mount light is made from high quality aluminium and steel, making it highly durable. With a colour rendering index of 90, this hardwired downlight comes with integrated LEDs which run for more hours than any traditional lamp and give you non-flickering brightness. LEDs also save you big bucks on lamp replacement costs, making this a highly cost effective purchase for you. Our high quality LED Lights are elegant in design and integrate seamlessly with your ceilings. All are our LED Lights are extremely energy efficient and feature high efficiency LED driver giving outstanding lighting performance while being extremely low on energy consumption. More so, our lights dissipate least amount of heat comparing with halogen and metal halide lamps to the environment resulting in cooler and comfortable indoors. This fixture comes fitted with 10W LED bulbs and are available in three variants of 1 lampholder, 2 lampholder and 3 lampholders with black and white colour options. These fixtures are telescopic and can go in and out into the ceiling and when they are out you can use them like a scoop light or spot light and they can be adjusted and rotated so these fixtures are a good solution for retail stores especially for clothing and furniture. 
Technical Specifications
| | |
| --- | --- |
| Name | Telescopic Swivel Adjustable In-Out LED Downlight 10W 20W 30W Cool White 4000K Black or White Finish |
| Product Code | 165-03938 | 165-03942 | 165-03946 | 165-03940 | 165-03944 | 165-03948 |
| Power | 10 W | 2 x 10 W | 3 x 10 W |
| Power Source | Hardwired |
| Voltage | 220/240Vac 50/60Hz |
| Input Current | 0.09A @240Vac | 0.18A @240Vac | 0.26A @240Vac |
| Lamp Holder Type | Integrated LED |
| Protection Class | Class II |
| Dimmability | Non-Dimmable |
| Light Source | COB 1414-10W |
| Led Quantity | 1pc COB | 2pcs | 3pcs | 1pcs |
| Bulbs | Built-in LED fixture with LED driver |
| Light Output(luminous flux) | 1130 lm | 2210 lm | 3280 lm | 2220 lm | 3340 lm |
| Luminous Efficacy | 113 lm/W | 110 lm/W | 111 lm/W | 112 lm/W |
| Lux | avg 1086Lux @2m - max 1542Lux and avg 271Lux @4m - max 375Lux | avg 2137Lux @2m - max 3004Lux and avg 534Lux @4m - max 751Lux | avg 3158Lux @2m - max 4403Lux and avg 789Lux @4m - max 1100Lux | avg 977Lux @2m - max 1317Lux and avg 244Lux @4m - max 330Lux | |
| CRI(Colour Rendering Index) | CRI>90 |
| CCT (Kelvin)(Light Colour) | 4000K Cool White |
| IP Class(Ingress Protection) | IP20 |
| Mount Type | Recessed Mount |
| Function Mode | On/Off |
| Product Dimensions (L x W x H) (D x H) | 127x112x112mm | 210x127x112mm | 282x127x112mm |
| Cut-Out Size | 100x100mm | 195x100mm | 265x100mm |
| Made of Materials | Steel, Aluminium, ABS, PMMA |
| Product Colour | White | Black |
| Paint Type | Powder coated |
| Adjustable | Adjustable (Rotate and Tilt) In and Out movement |
| Optic Type | Lens |
| Optic Material | PMMA(acrylic) |
| Driver Brand | KeGu |
| Driver Type | Constant Current |
| Driver Power | 10 W | 10W*2 | 10 W*3 | 10 W*2 |
| Driver Input Voltage | 220~240Vac 50/60Hz |
| Driver Input Current | 0.09A @240Vac | 0.18A @240Vac | 0.26A @240Vac |
| Driver Output Voltage | 25-40Vdc |
| Driver Output Current | 300mA | 300mA*2 | 300mA*3 |
| Surge Protection Level | 1kv |
| Power Factor | pf>0.5 |
| Flickering | Non-Flickering |
| Control | On/Off |
| Operating Temperature (C) | -20/+45C |
| New Energy Rating | E | F | E | E |
| Energy Rating | A+ |
| Warranty | 3 year |
| Life Span | 30000 h |
| Gross Weight | 0.67kg | 1.34kg | 1.9kg |
| Net Weight | 0.62kg | 1.24kg | 1.8kg |
| Box Dimensions (LxWxH) | 133x130x122mm | 220x133x130mm | 290x133x130mm | 133x130x120mm |
| Box Content | 1pcs lamp, 1pcs instruction |
| Certifications | UKCA, CE, SAA, TUV |