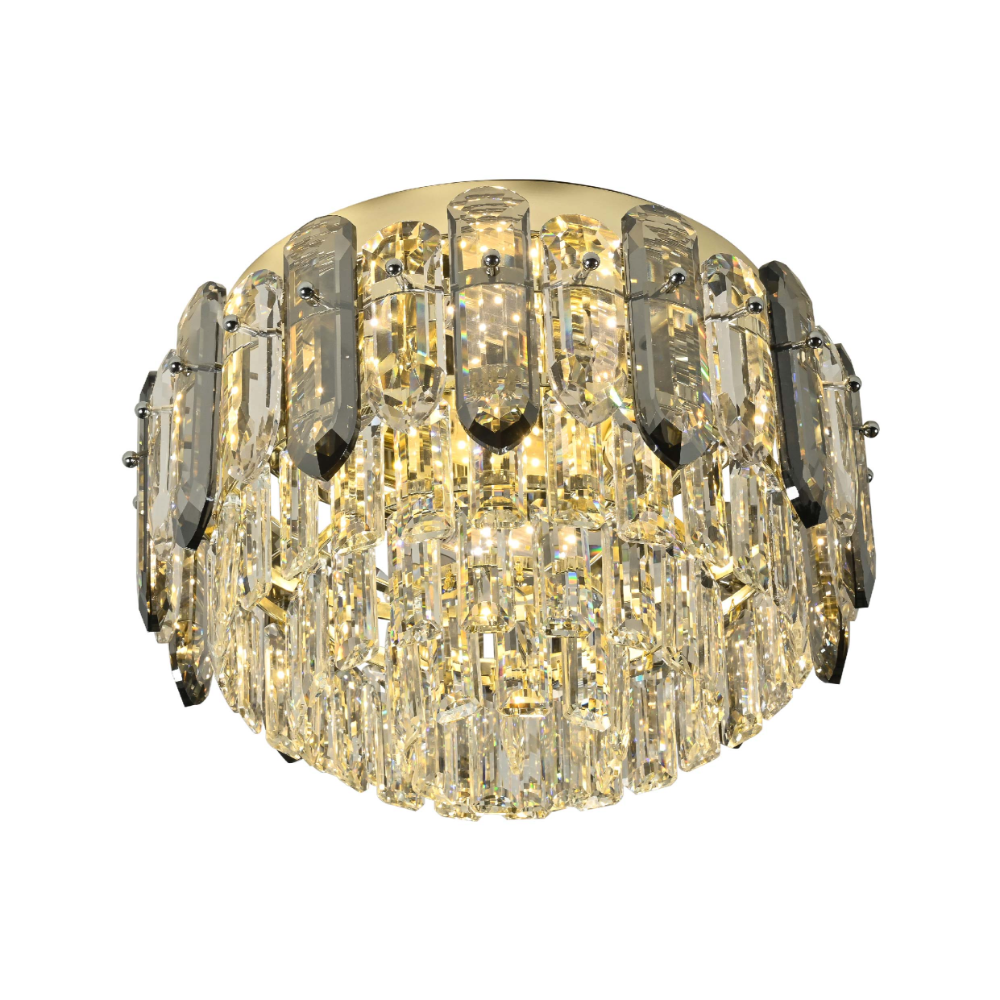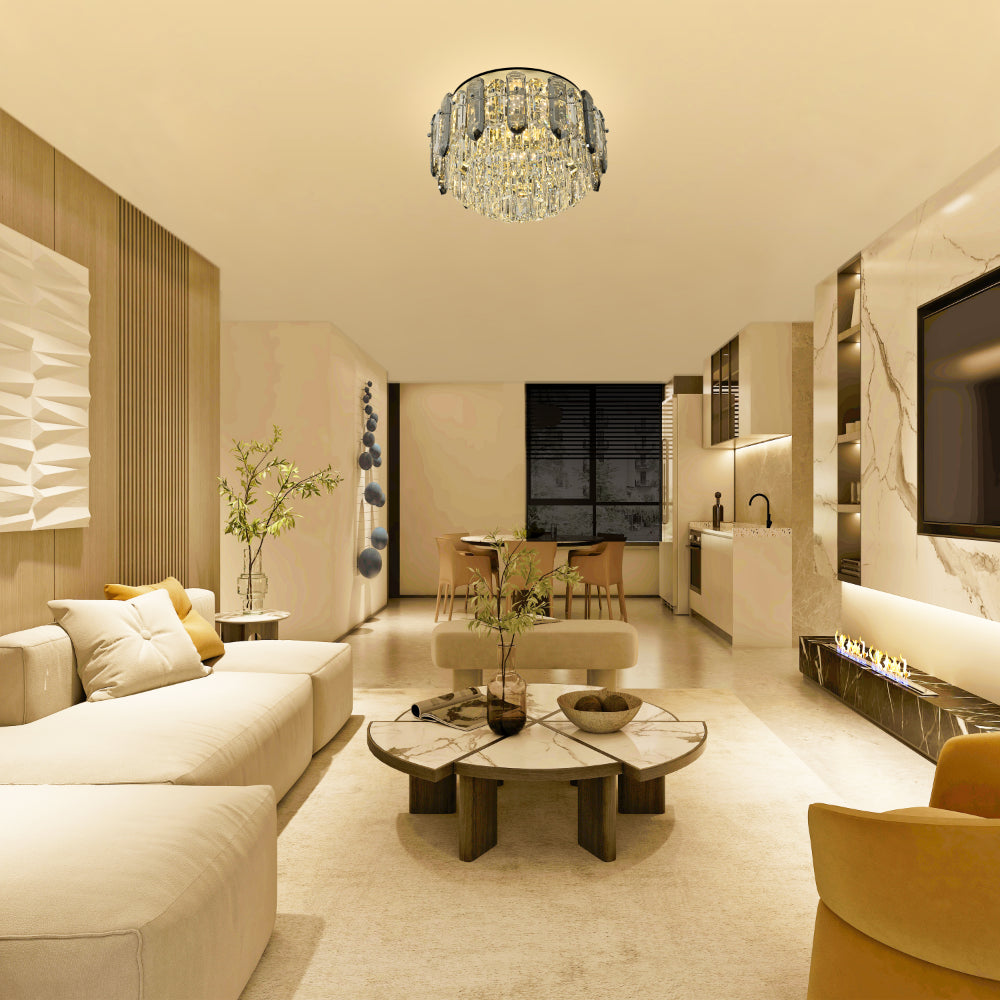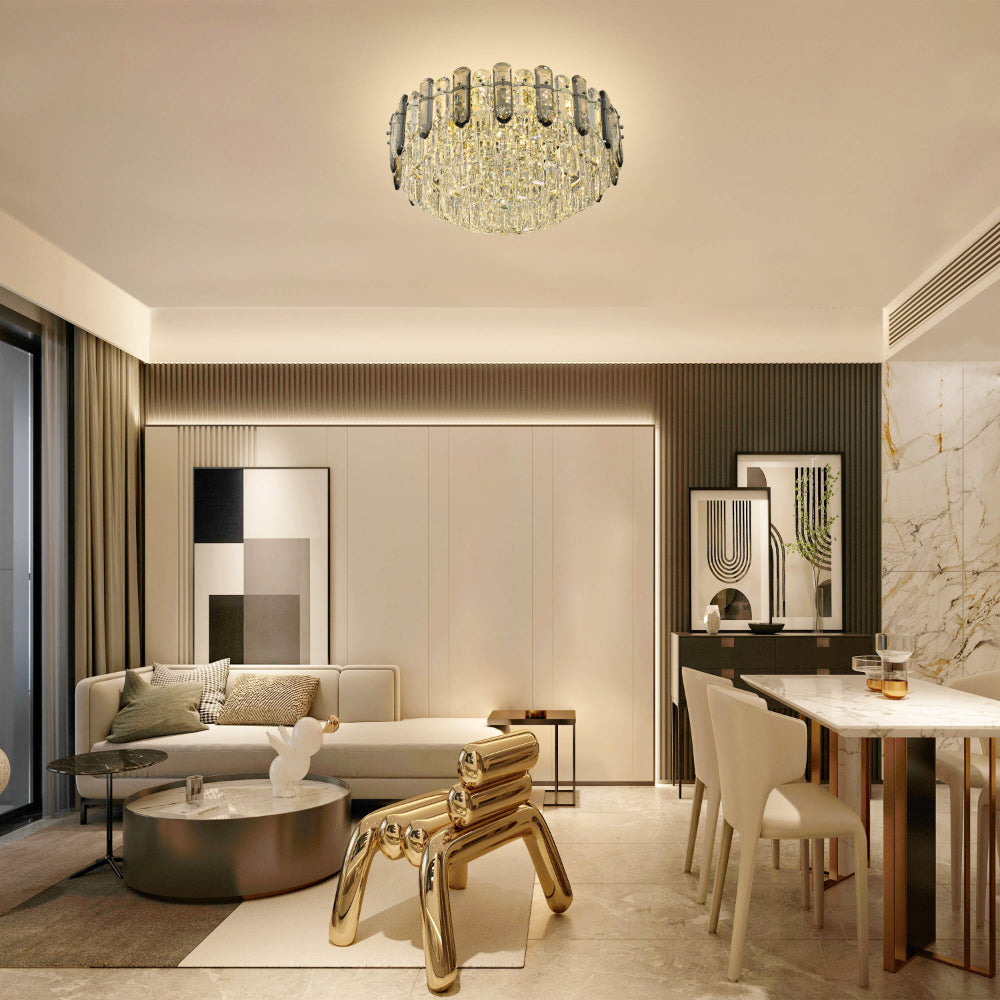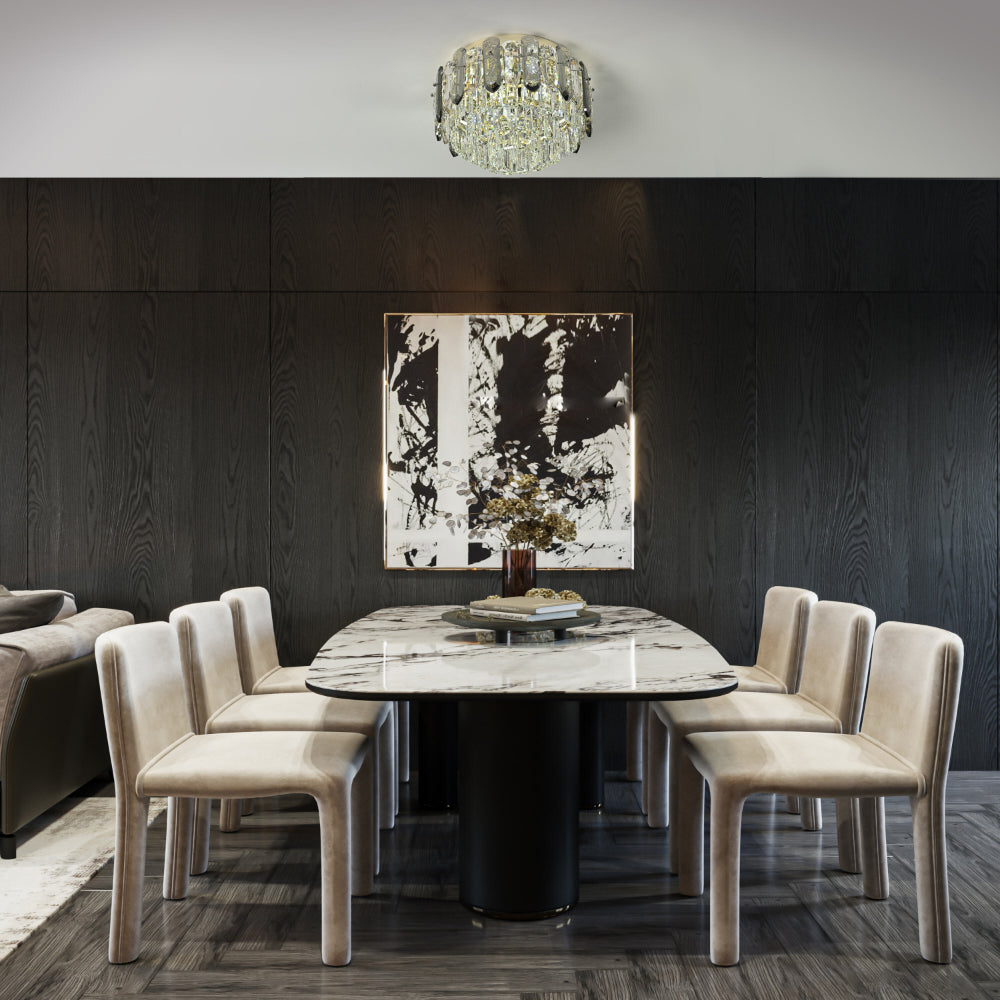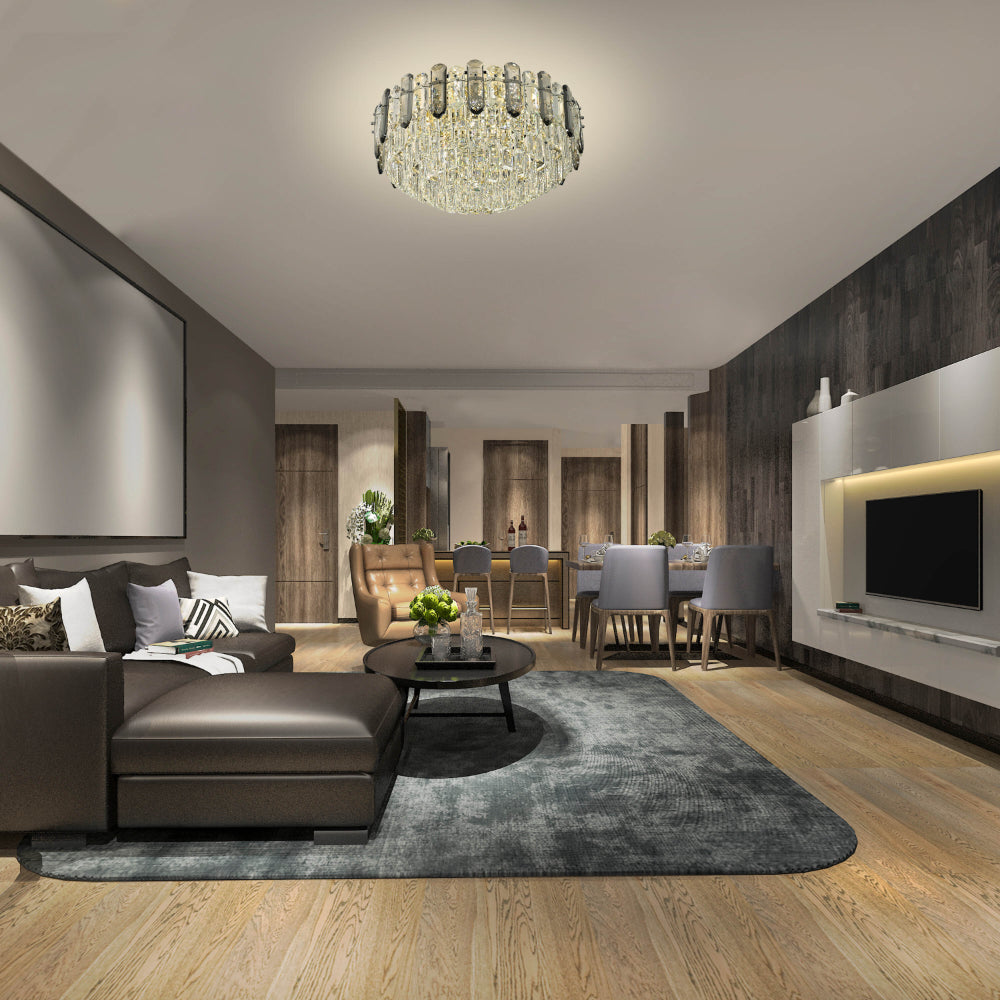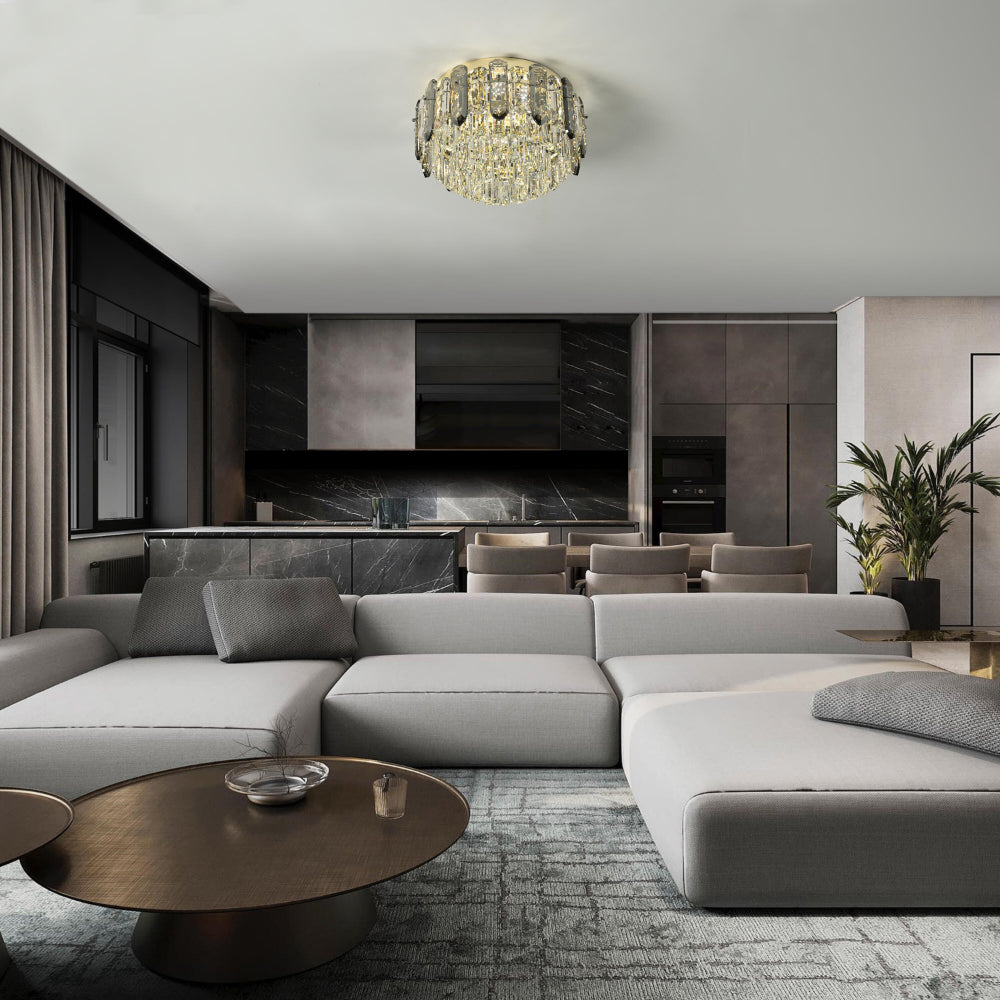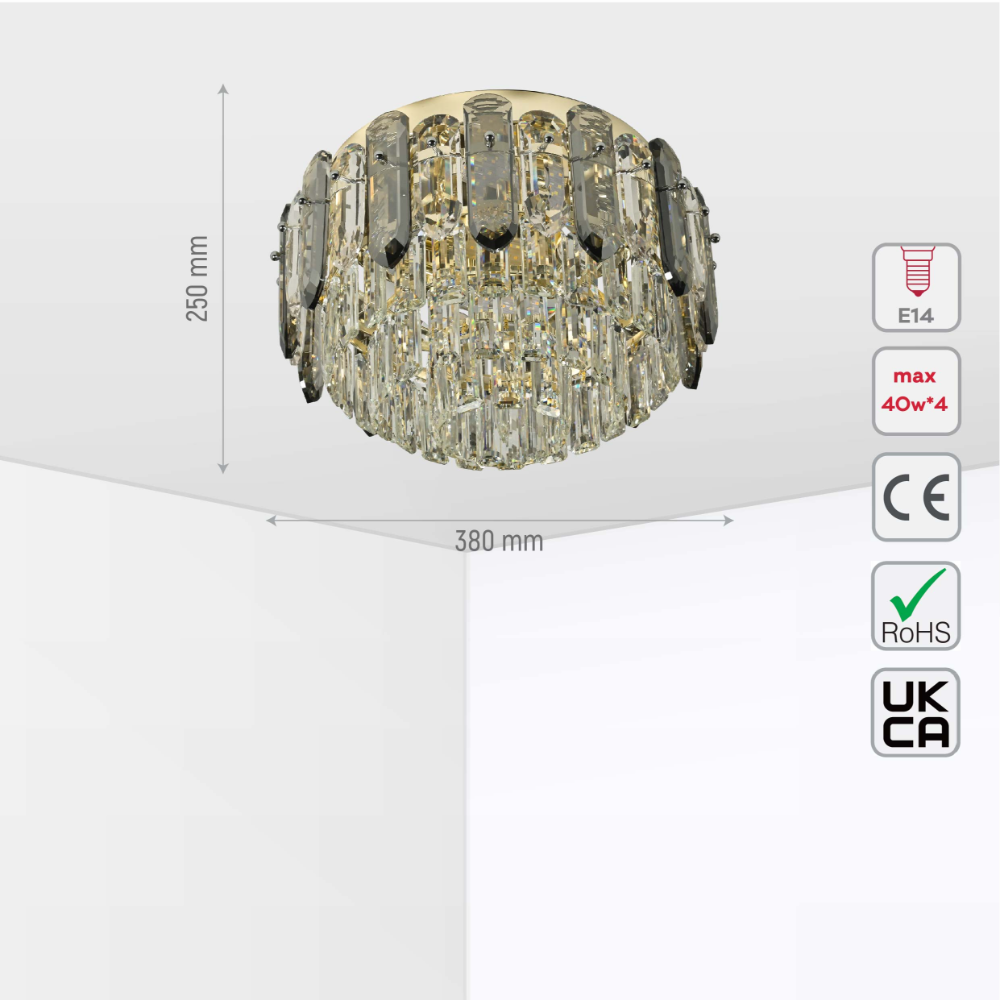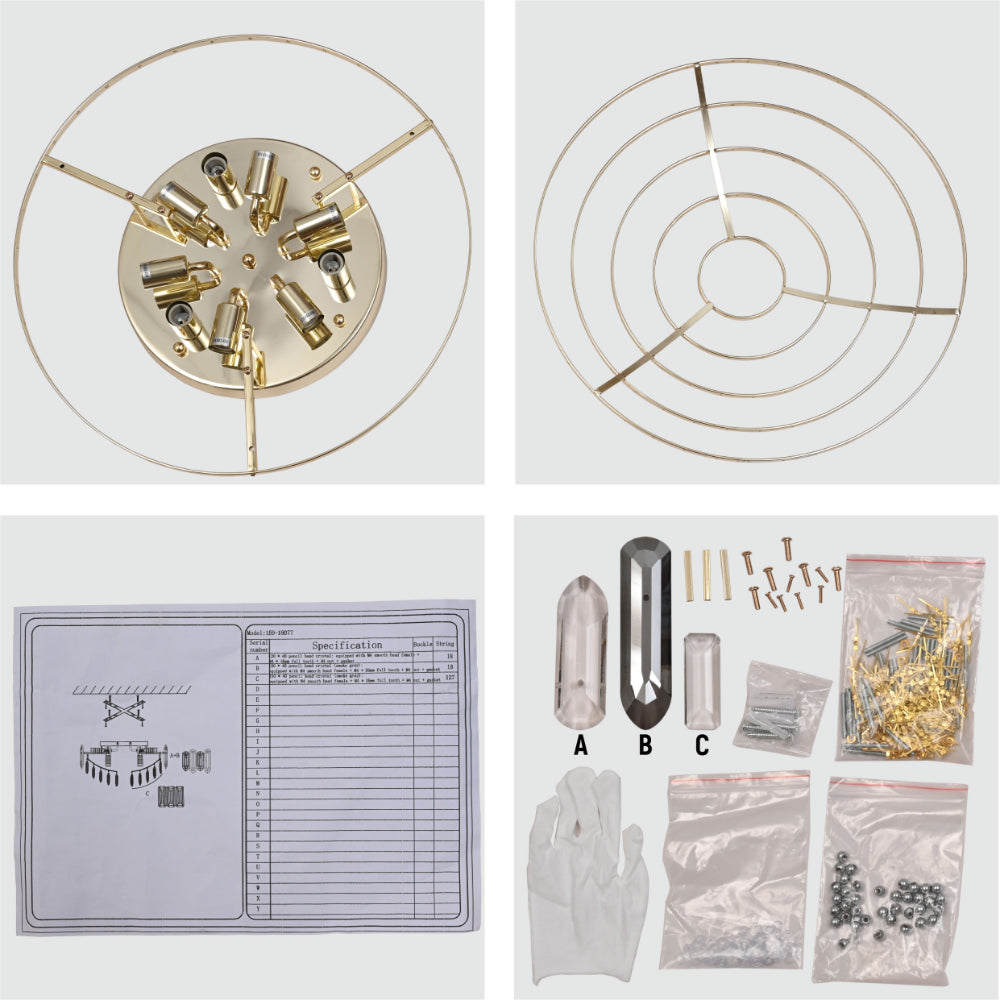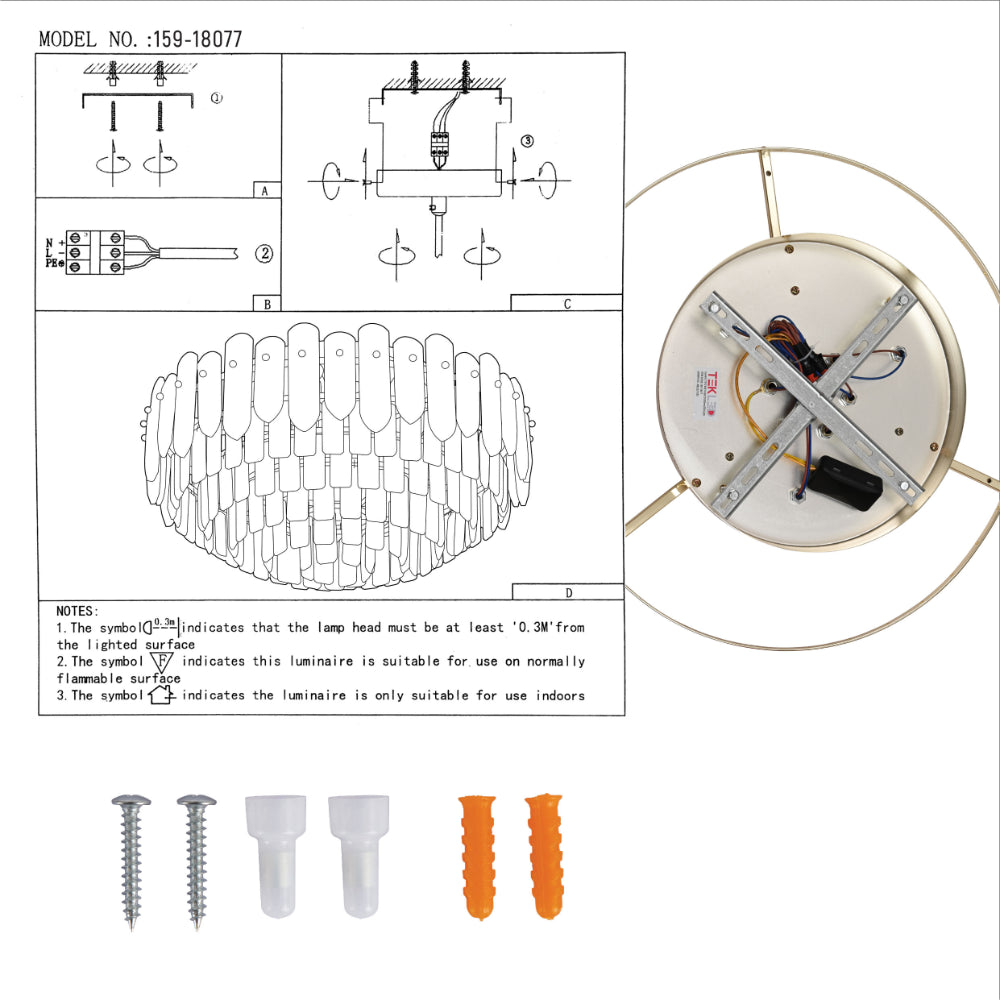 TEKLED
Tiered Flush Chandelier Ceiling Light with Smoky and Clear Crystals - Small.
Tiered Flush Chandelier Ceiling Light with Smoky and Clear Crystals
Tiered Flush Chandelier with Dual-Tone Crystals
Elevate your interiors with the Tiered Flush Chandelier Ceiling Light, a luxurious blend of classic tiered design and contemporary aesthetics. This flush-mount chandelier is a perfect fit for homes with lower ceilings, ensuring that even spaces with height constraints can enjoy a touch of opulence.

Crafted with precision, the chandelier boasts a robust steel frame available in a rich gold finish. What sets this chandelier apart is its dual-tone crystal arrangement. The outer layer is adorned with larger smoky crystals, adding depth and a touch of mystery. In contrast, the inner layer sparkles with clear crystals, reflecting light beautifully and creating a mesmerizing interplay of luminance.

Equipped with E14 Small Edison Screw (SES) lamp holders, it's designed for candle bulbs, ensuring a warm, ambient glow that's perfect for setting a cozy atmosphere. The chandelier's dimmable feature further allows you to customize the ambiance to your preference.

Available in two sizes, small and large, this chandelier is versatile enough to grace various spaces. While it's an ideal choice for hallways and entrances, creating a grand first impression, it's equally at home in kitchens, bedrooms, and living areas. Its flush-mount design makes it a preferred choice for UK homes with lower ceilings, ensuring elegance without compromise.

Its tiered design resonates beautifully with transitional and classic interiors, while the dual-tone crystals add a contemporary twist, making it suitable for modern homes as well. Whether you're looking to add a touch of glamour to your entrance or seeking a statement piece for your bedroom, this chandelier promises to deliver.

When ordering, don't forget to add an E14 bulb to your cart. Experience the allure of smoky and clear crystals with the Tiered Flush Chandelier, a testament to refined taste and craftsmanship.
Technical Specifications
| | |
| --- | --- |
| Product Code | 159-18076 | 159-18077 |
| Name | Tiered Flush Chandelier Ceiling Light with Smoky and Clear Crystals |
| Model | Glam,Crystal,Tiered Chandelier |
| Power | Max 40W*4 | Max 40W*9 |
| Power Source | Hardwired |
| Voltage | 220/240Vac 50/60Hz |
| Lamp Holder Type | E14 Small Edison Screw (SES) |
| Lamp Holder Quantity | 9 | 9 | 15 | 14 | 15 | 19 | 30 |
| Protection Class | Class I |
| Dimmability | Yes ( if it is used with dimmable bulbs) |
| Light Source | Bulb |
| Compatible Bulbs | Candle |
| Bulbs | Bulbs are not included |
| IP Class | IP20 |
| Mount Type | Flush Mount |
| Product Dimensions (L x W x H) (D x H) | D380*250mm | D543*280mm |
| Product Length | 250mm | 280mm |
| Shape | Tiered, Circle |
| Material | Steel, Crystal |
| Product Colour | Gold, Clear, Smoky |
| Paint Type | Electroplated |
| Shade Material | Crystal |
| Shade Colour | Clear, Smoky |
| Size of Rose | D300*30mm |
| Function Mode | On/Off |
| Operating Temperature (°C) | -20/+45 C |
| Warranty | 3 year |
| Box Dimension (L x W x H) | 410*410*250mm | 570*570*240mm |
| Net Weight | 8.2kg | 13.5kg |
| Gross Weight | 9.2kg | 15kg |
| Box Content | Light body*1, instructions*1 |
| Pieces/Box | 1 |
| Certifications | UKCA, CE, RoHS |