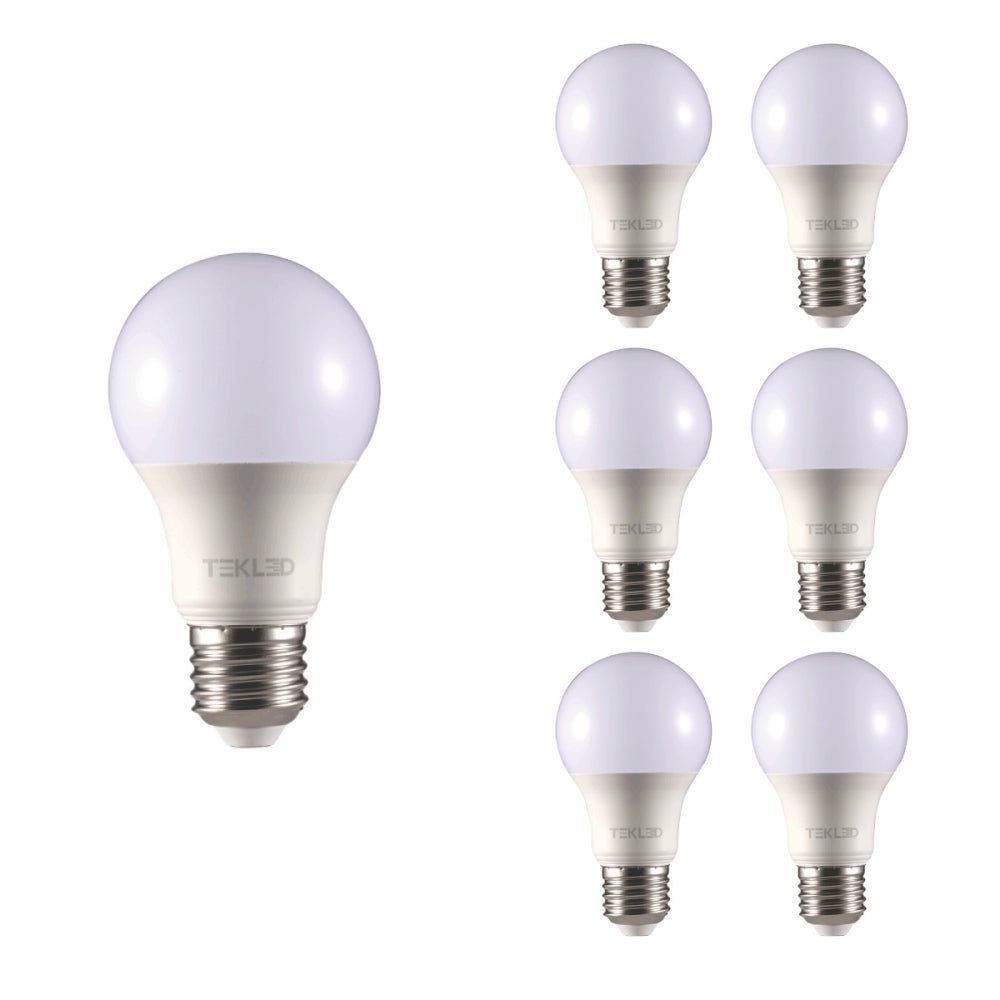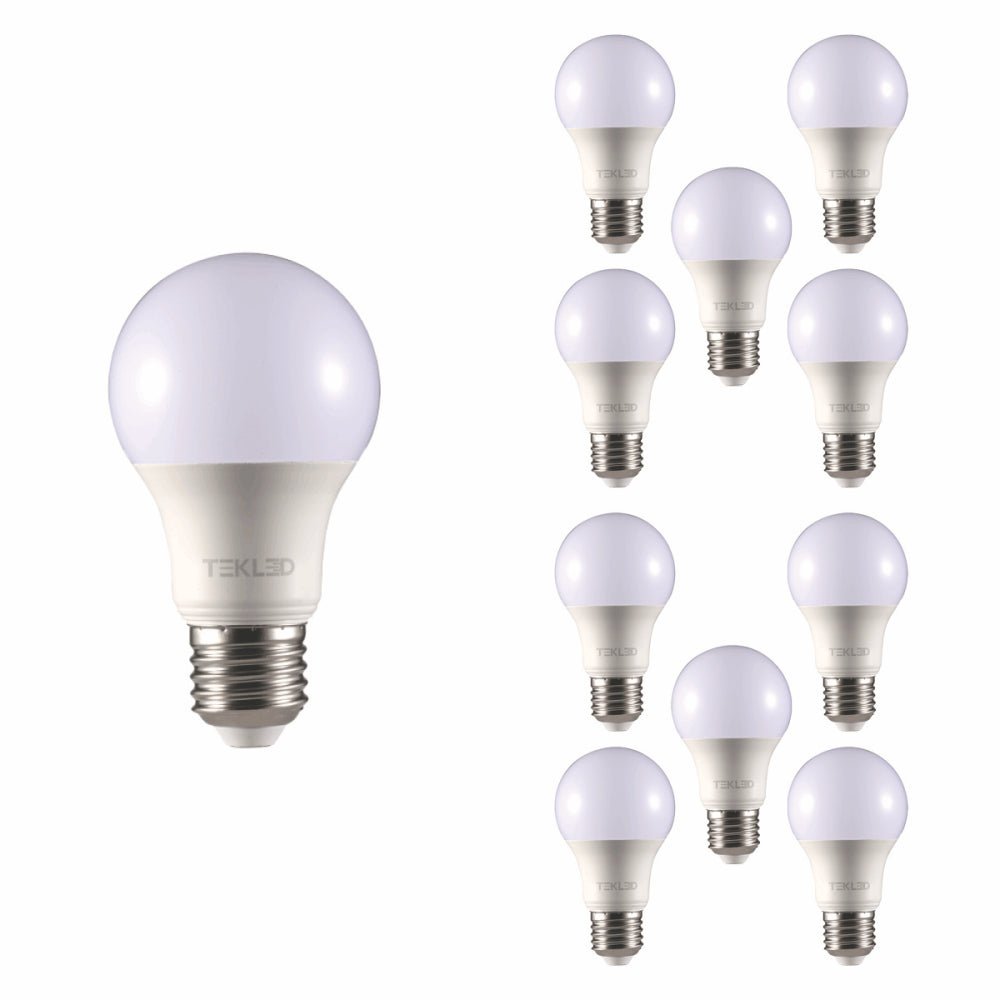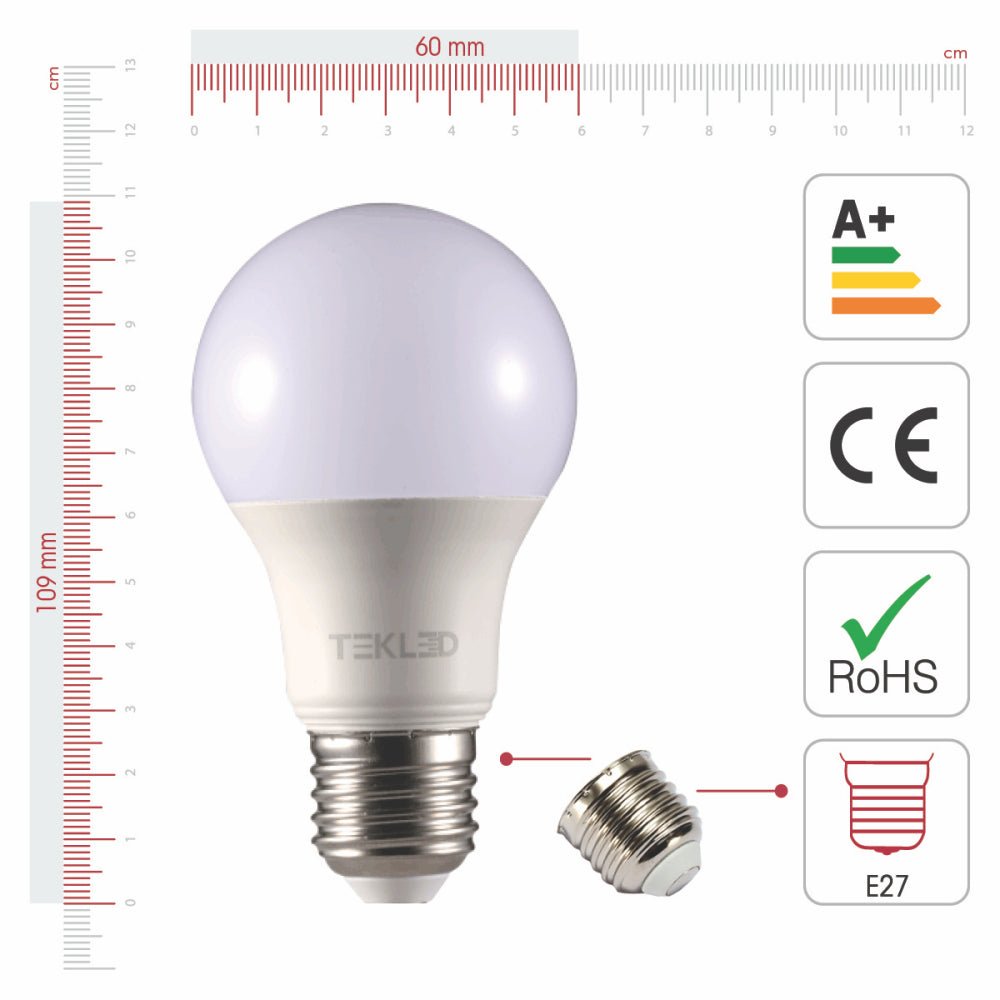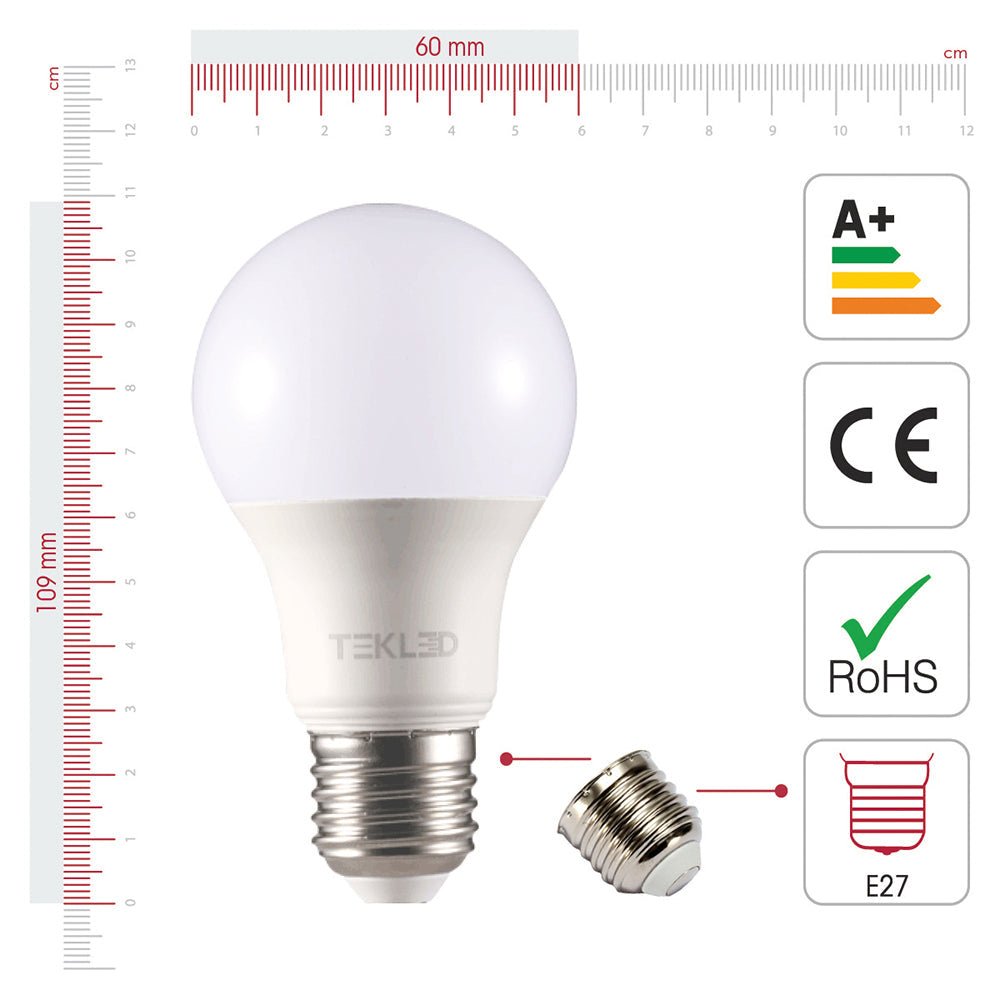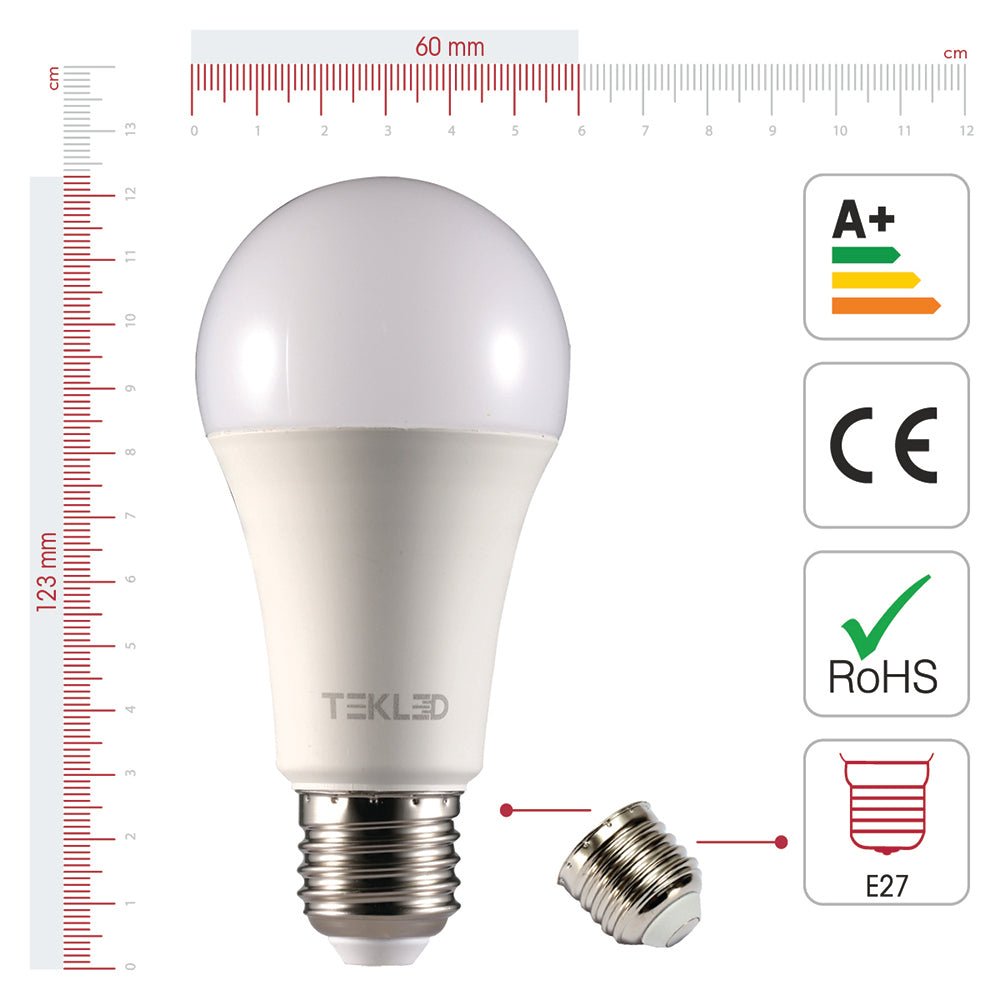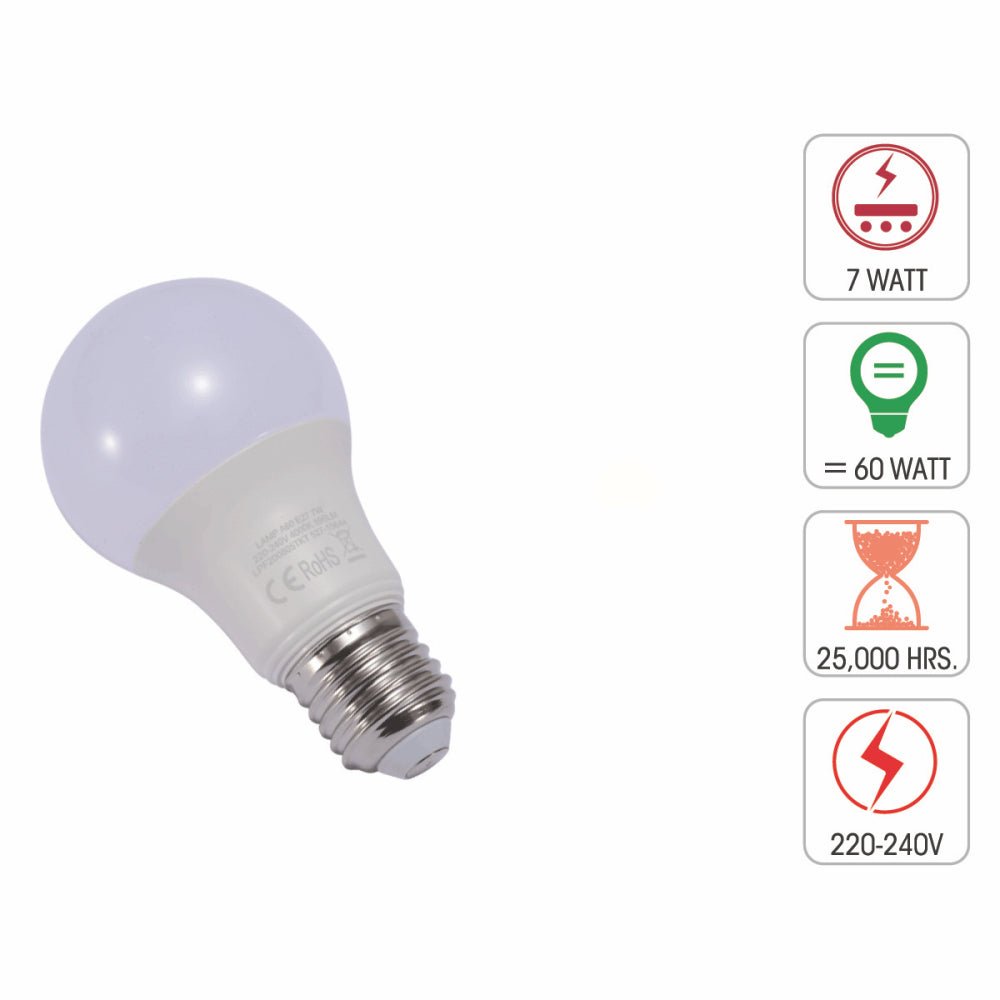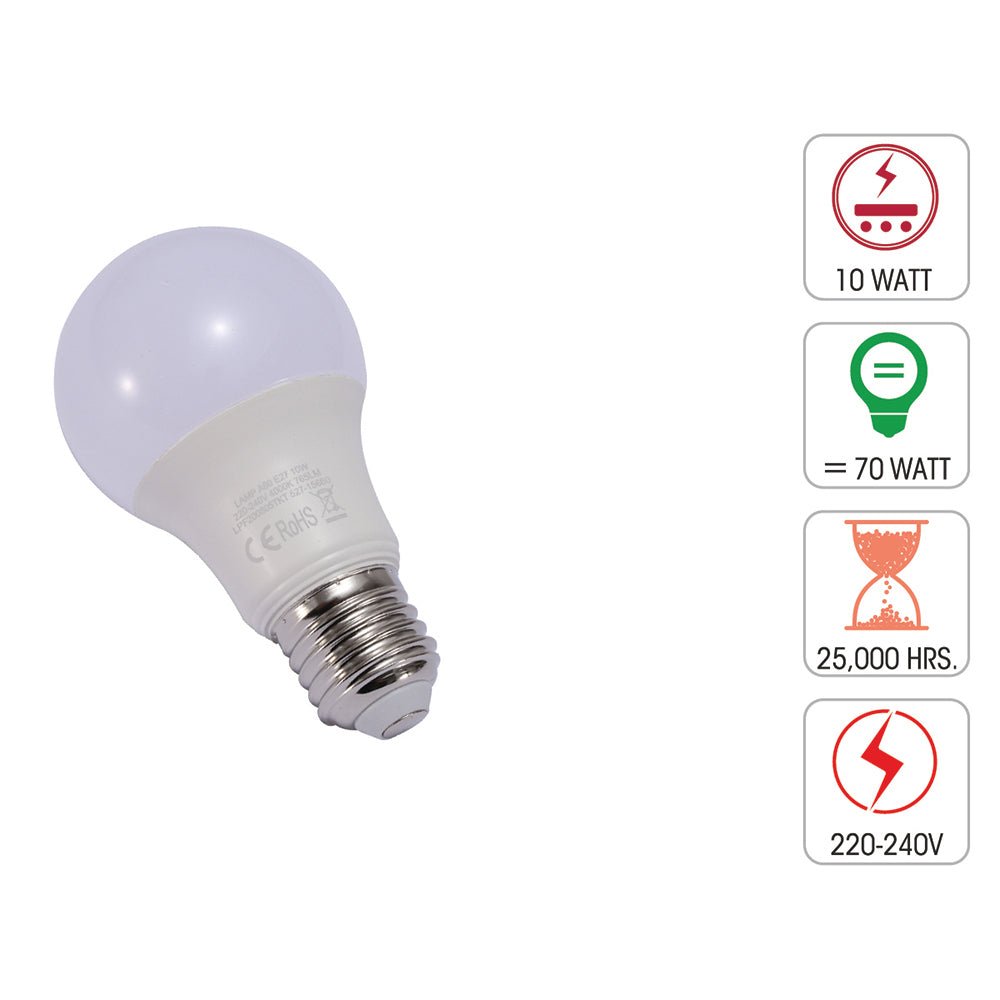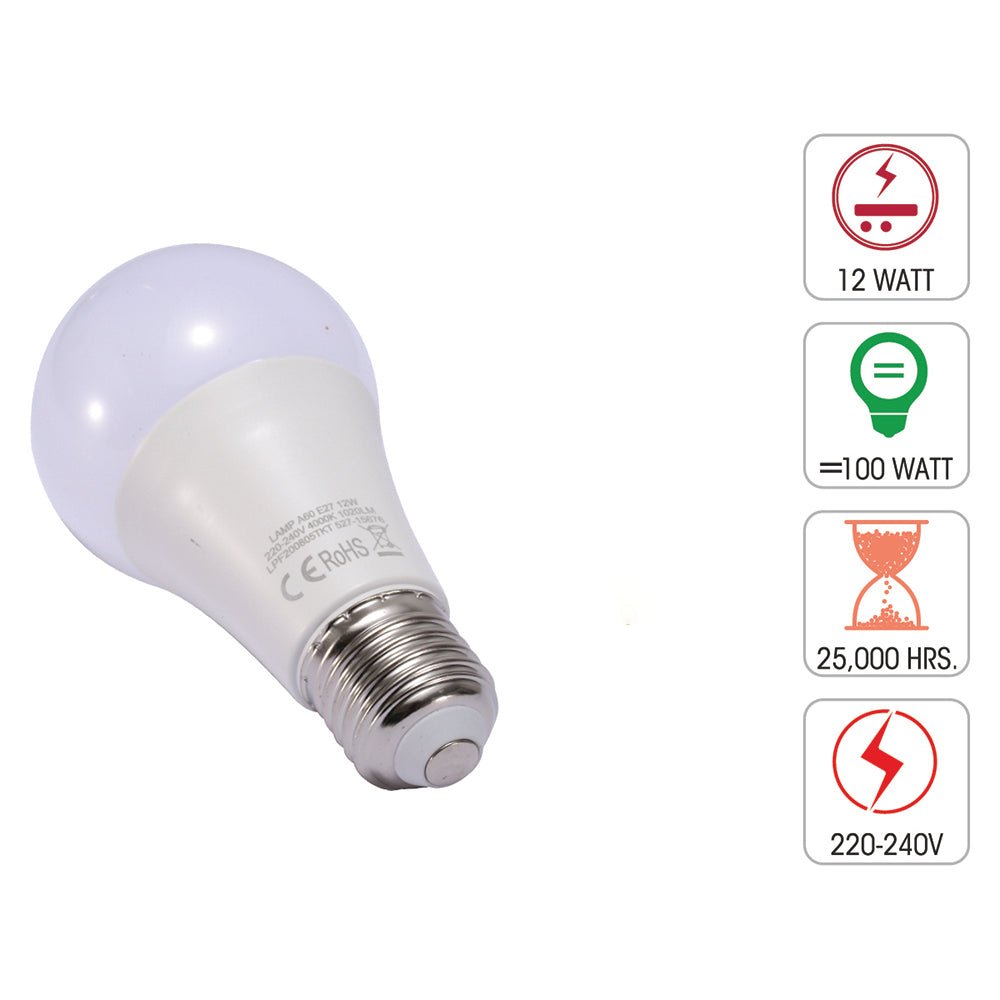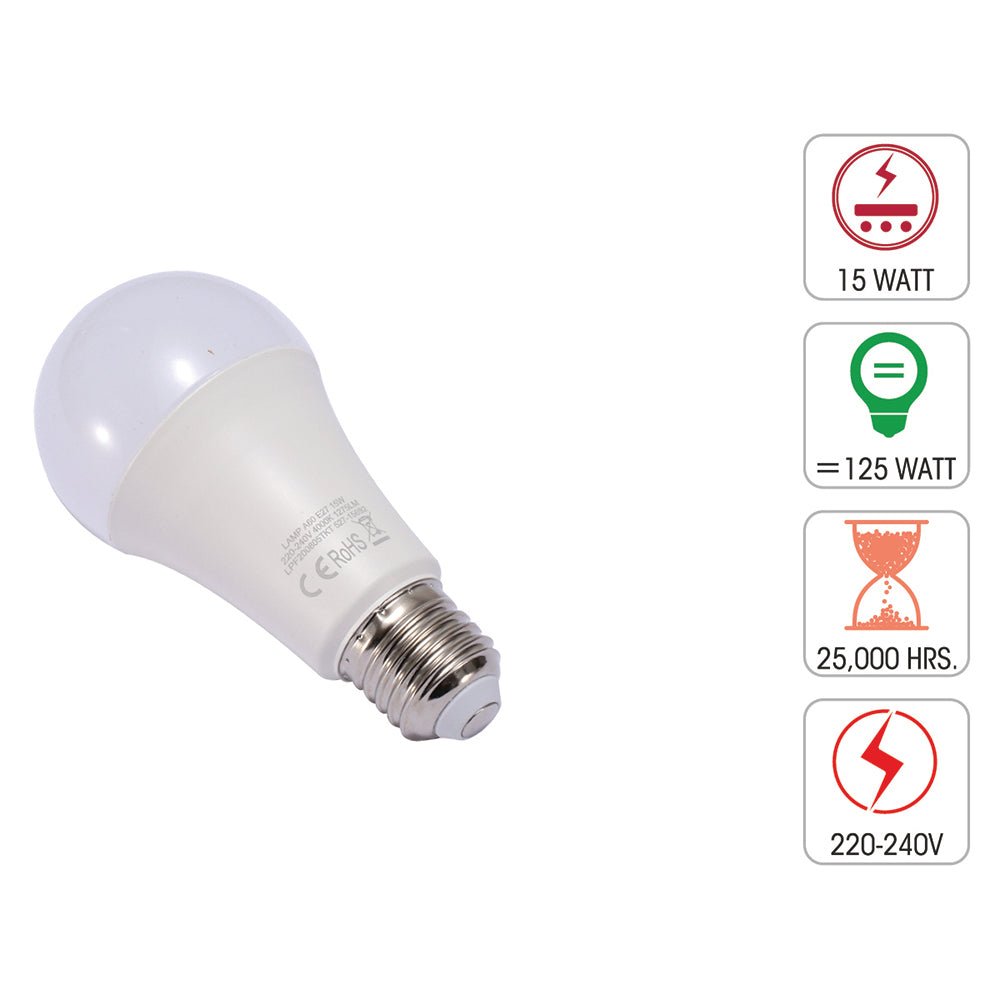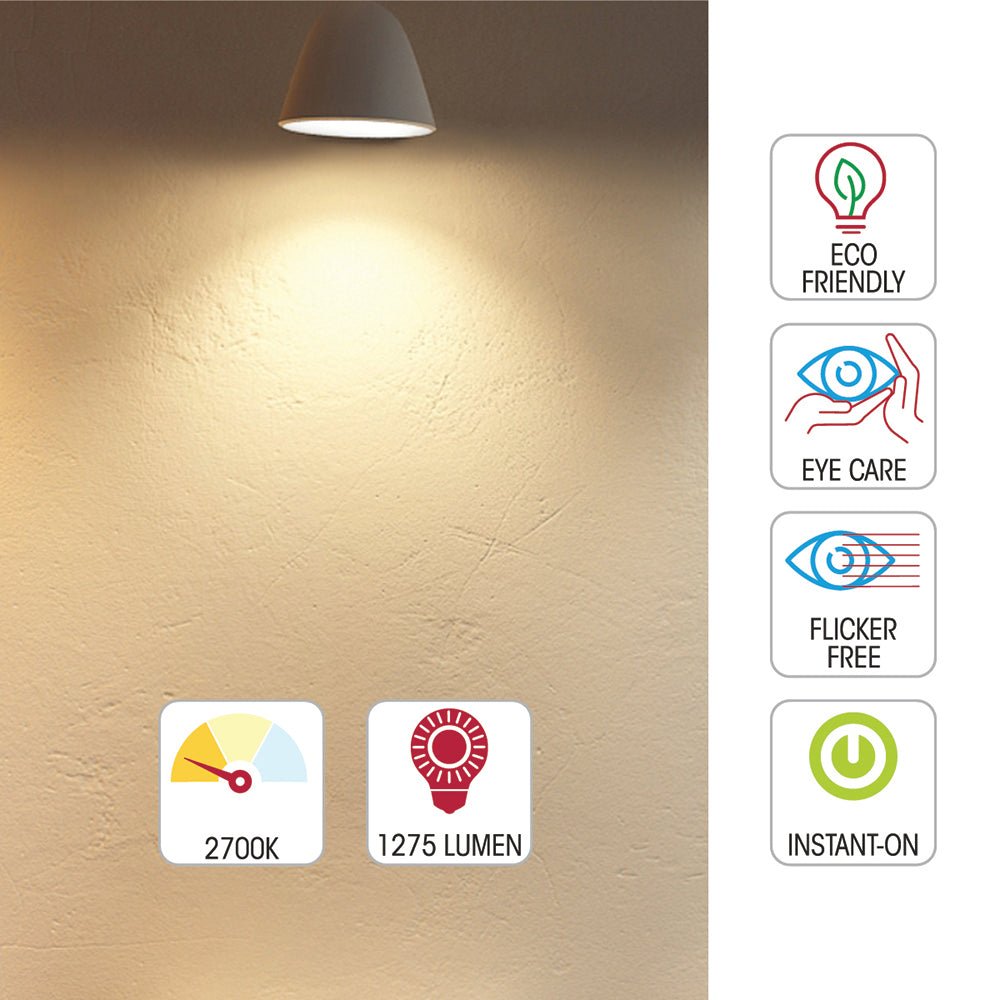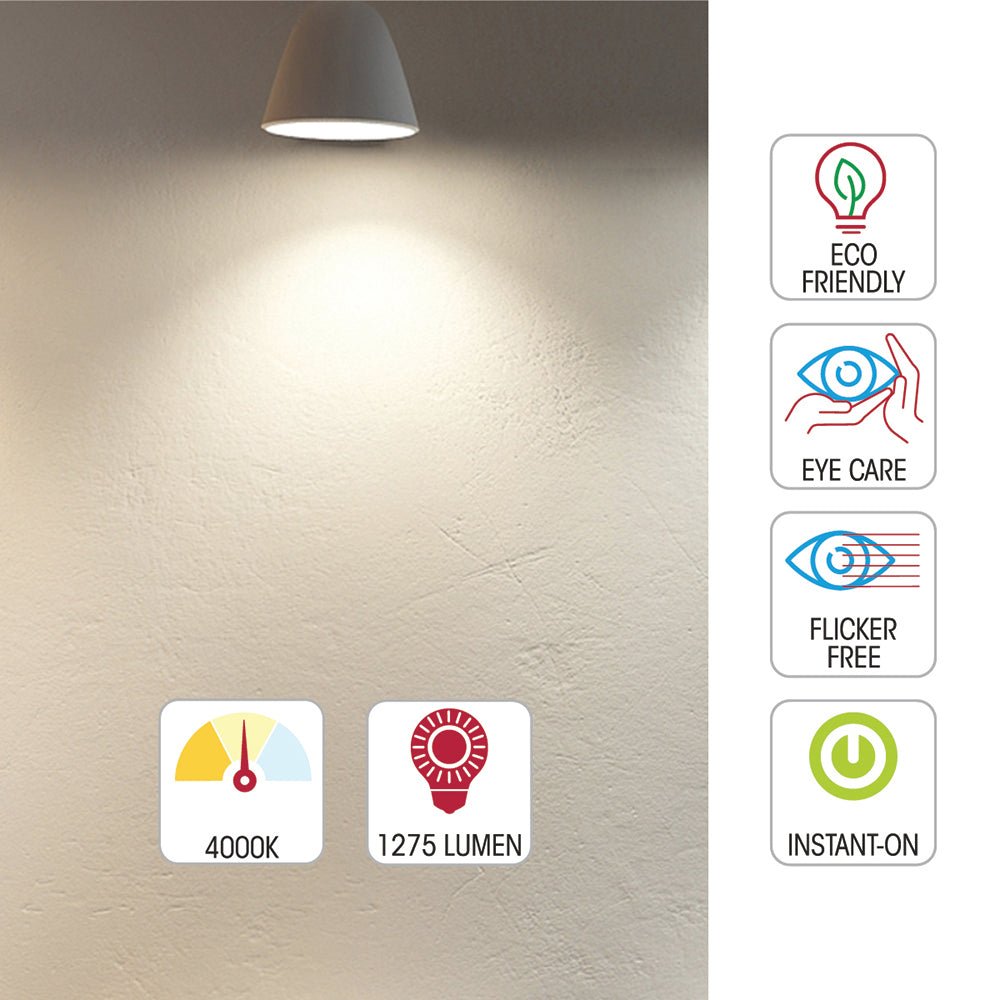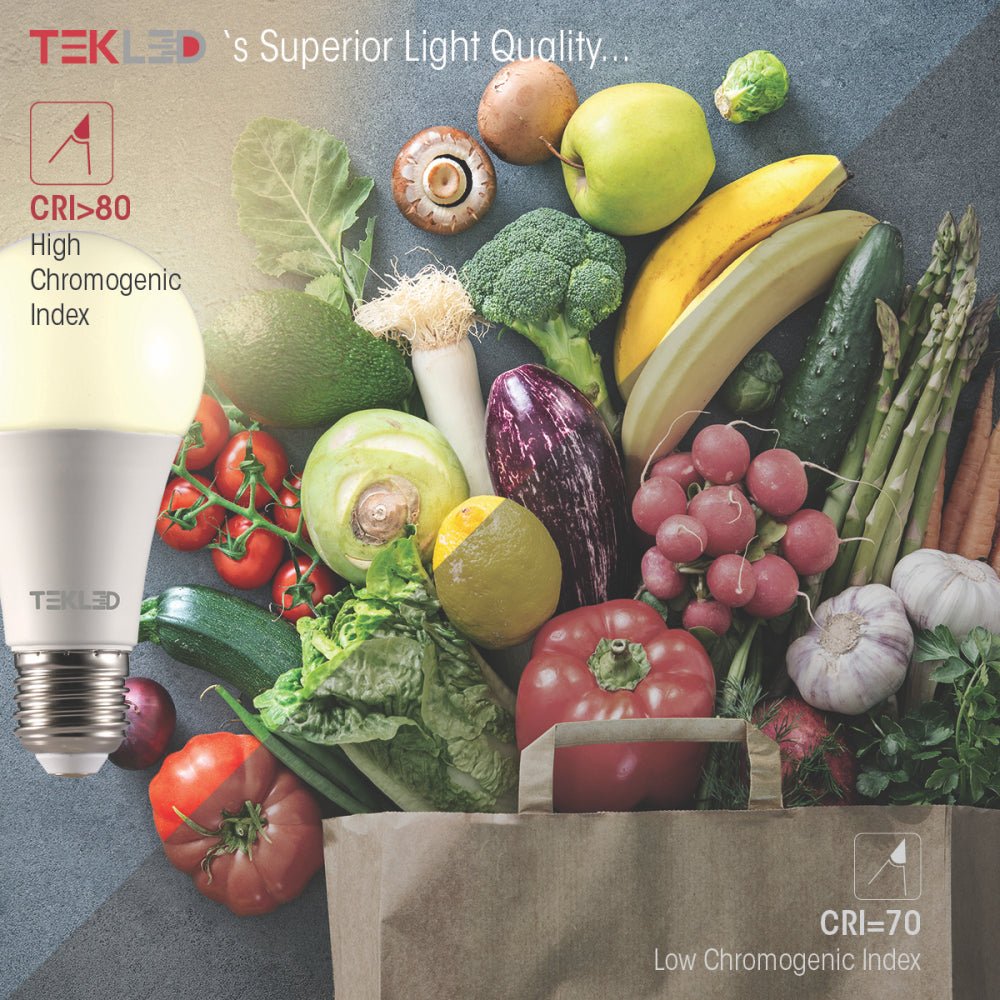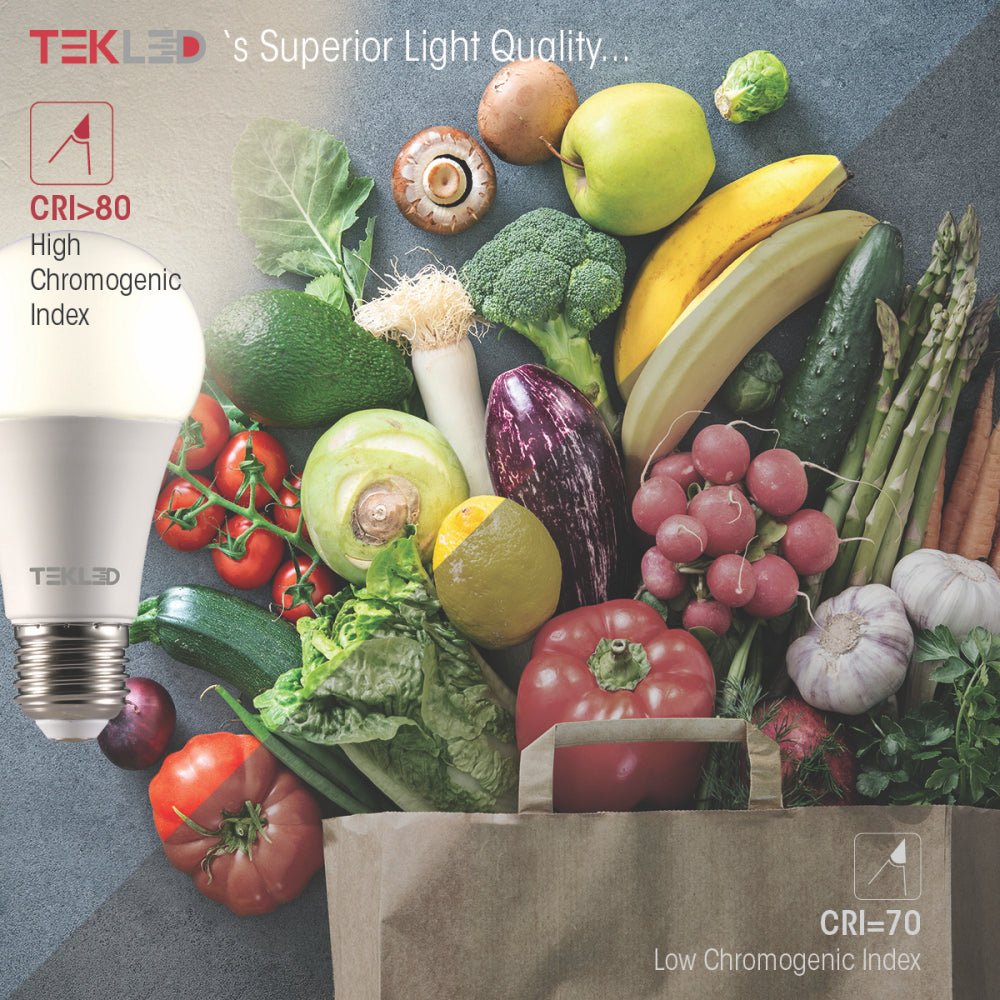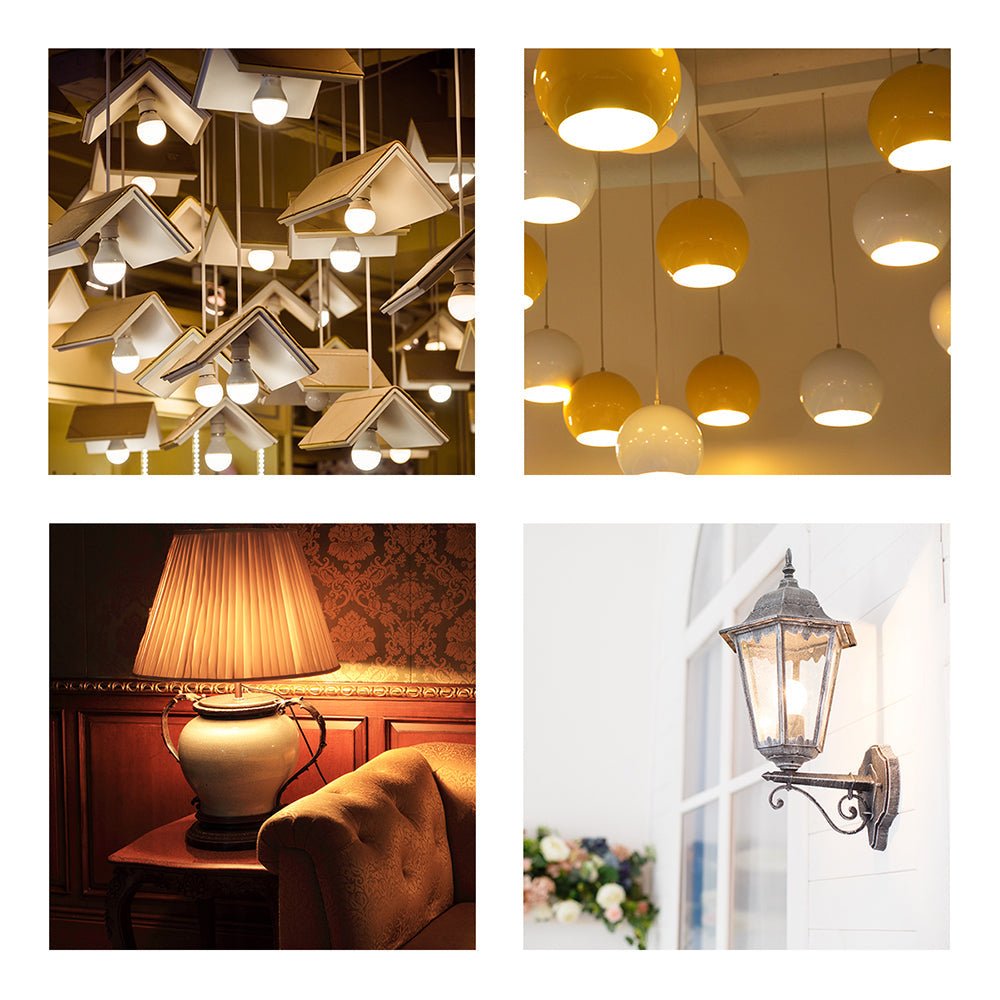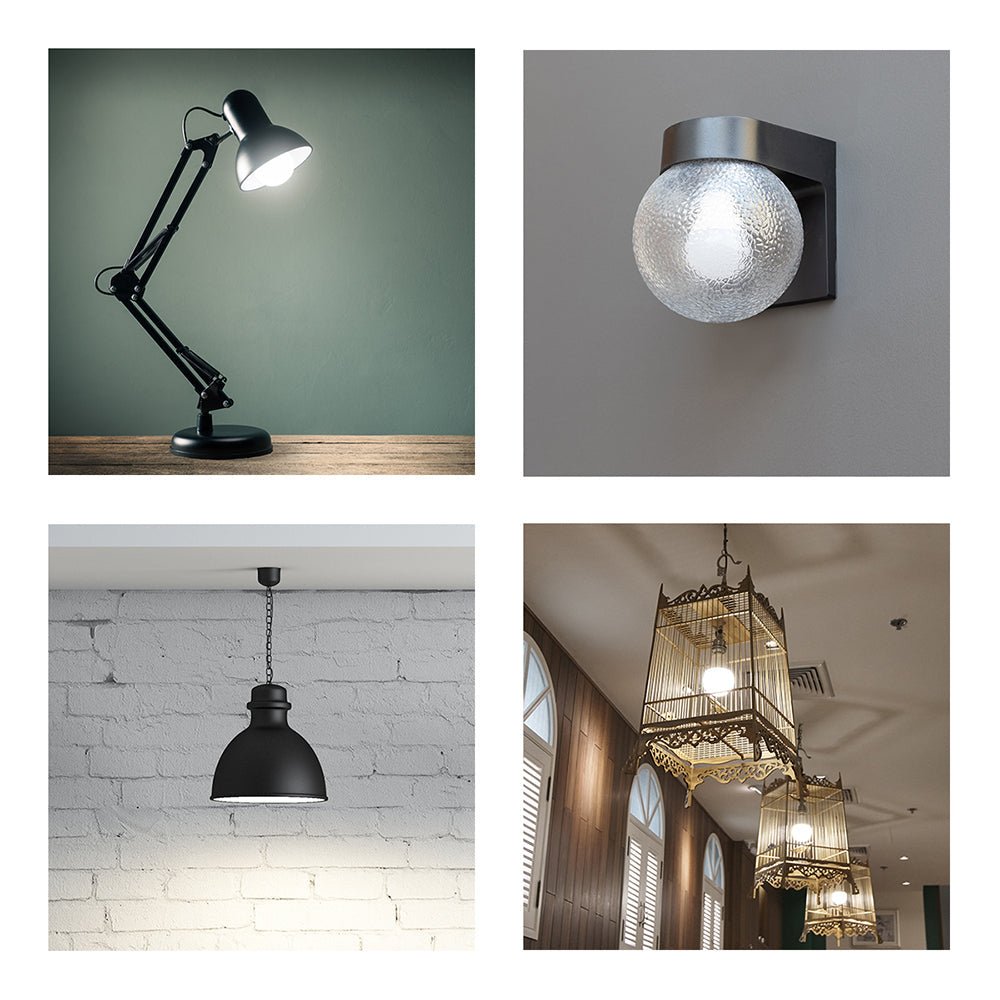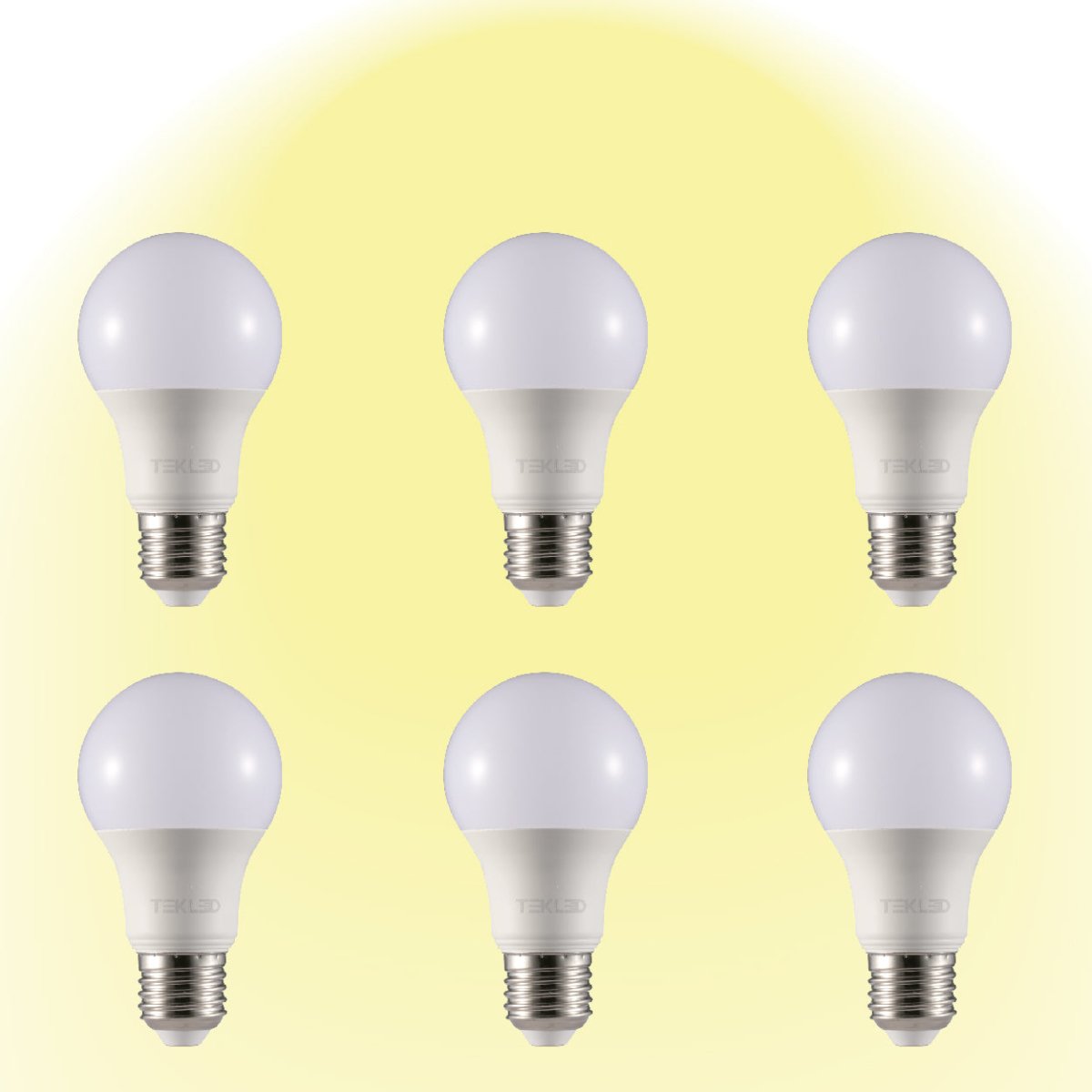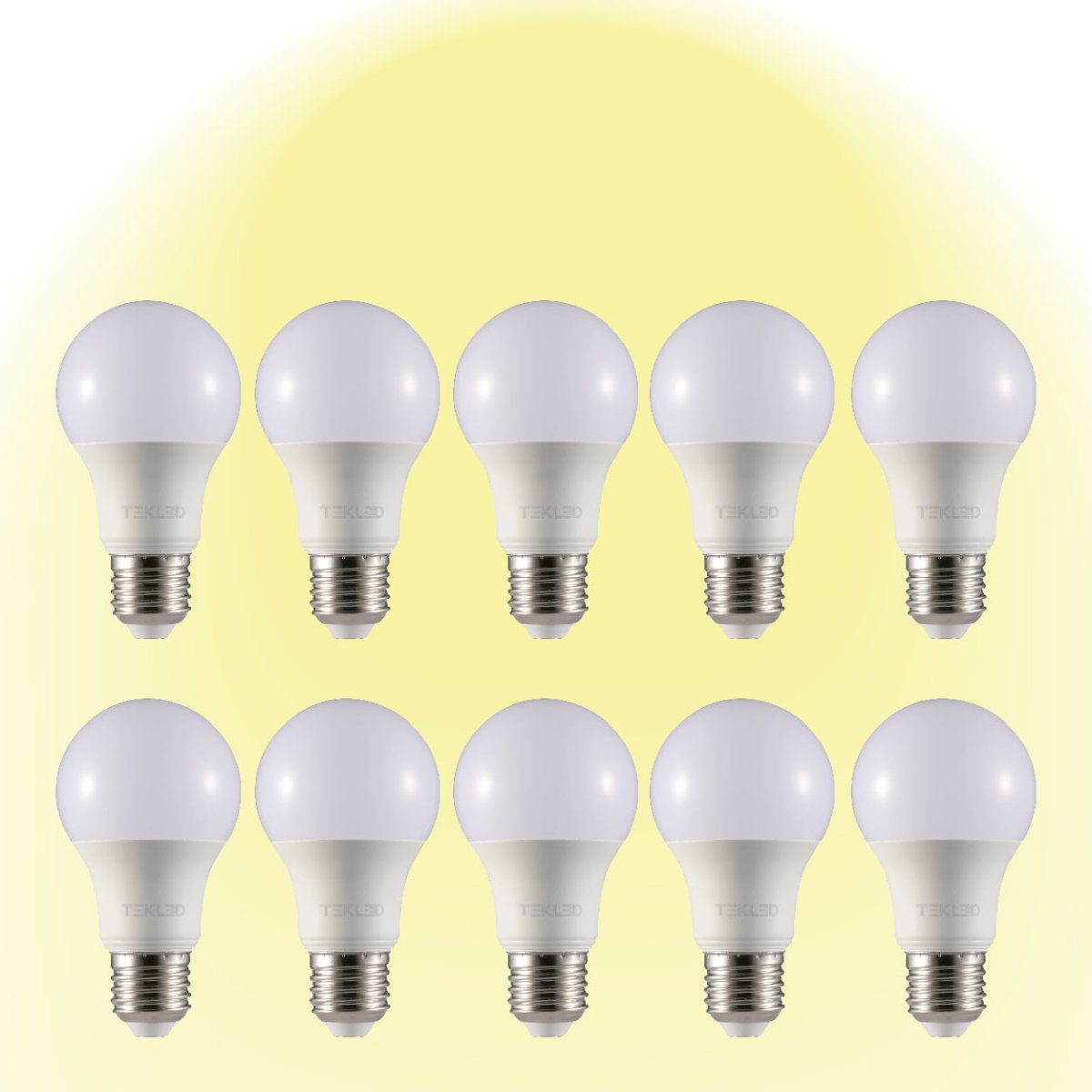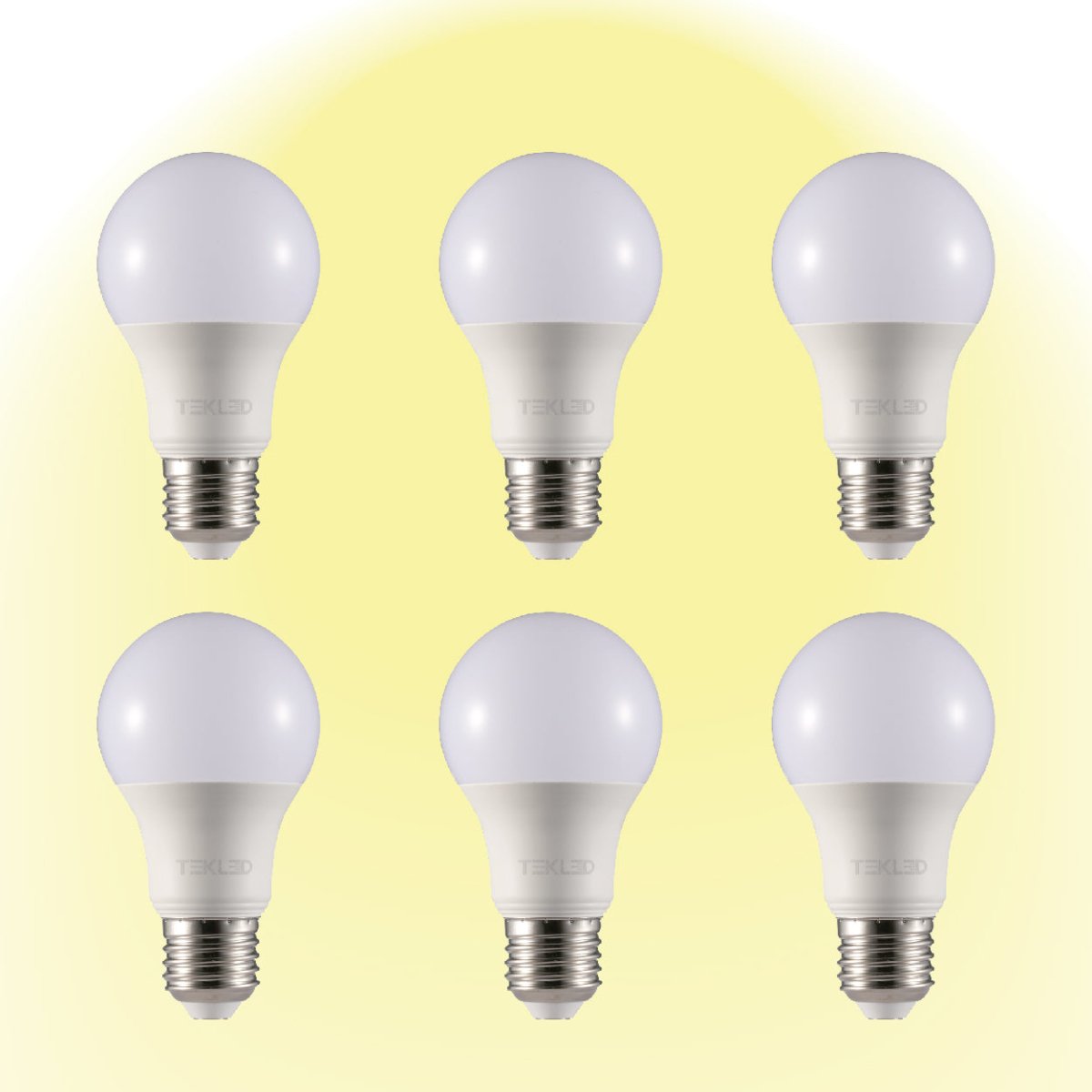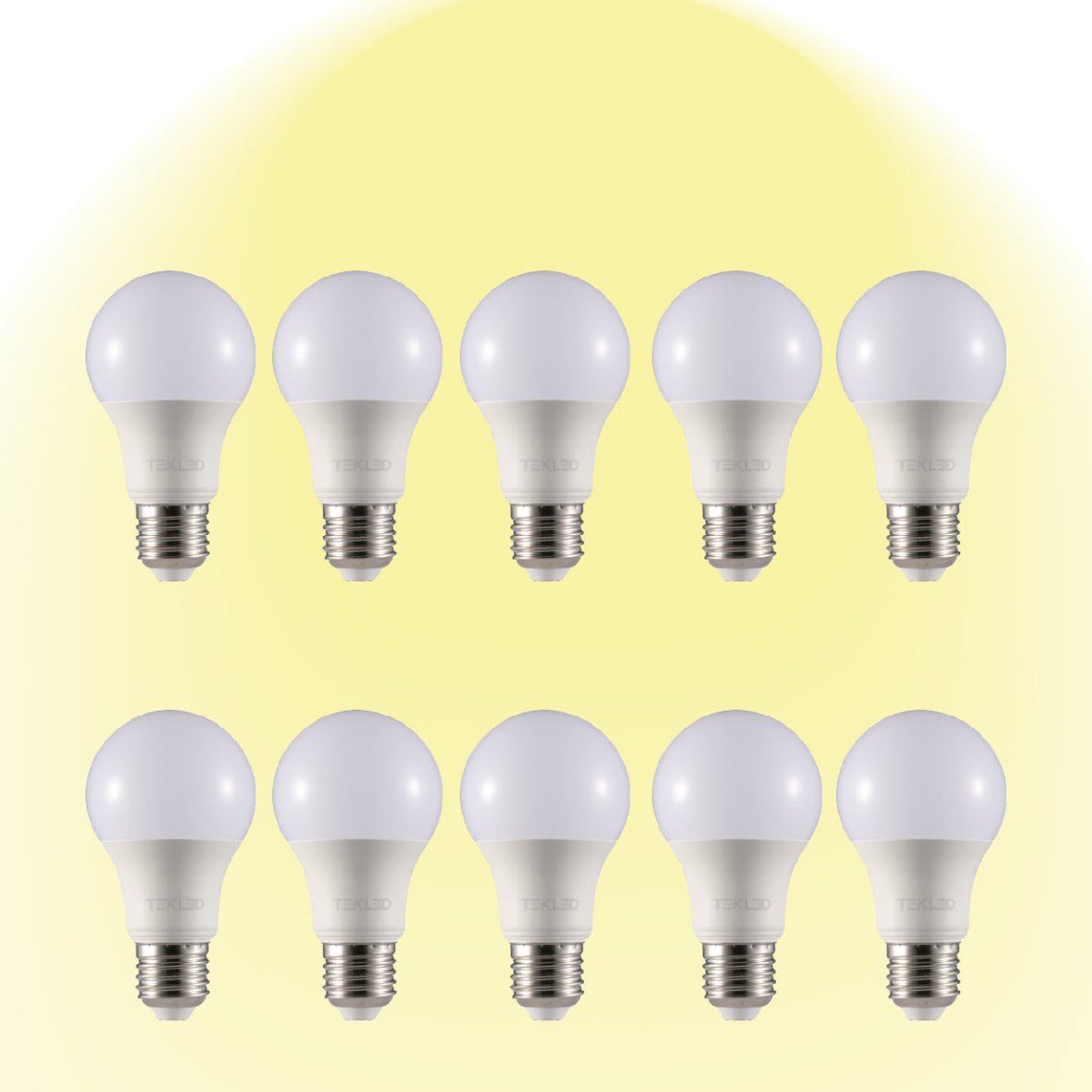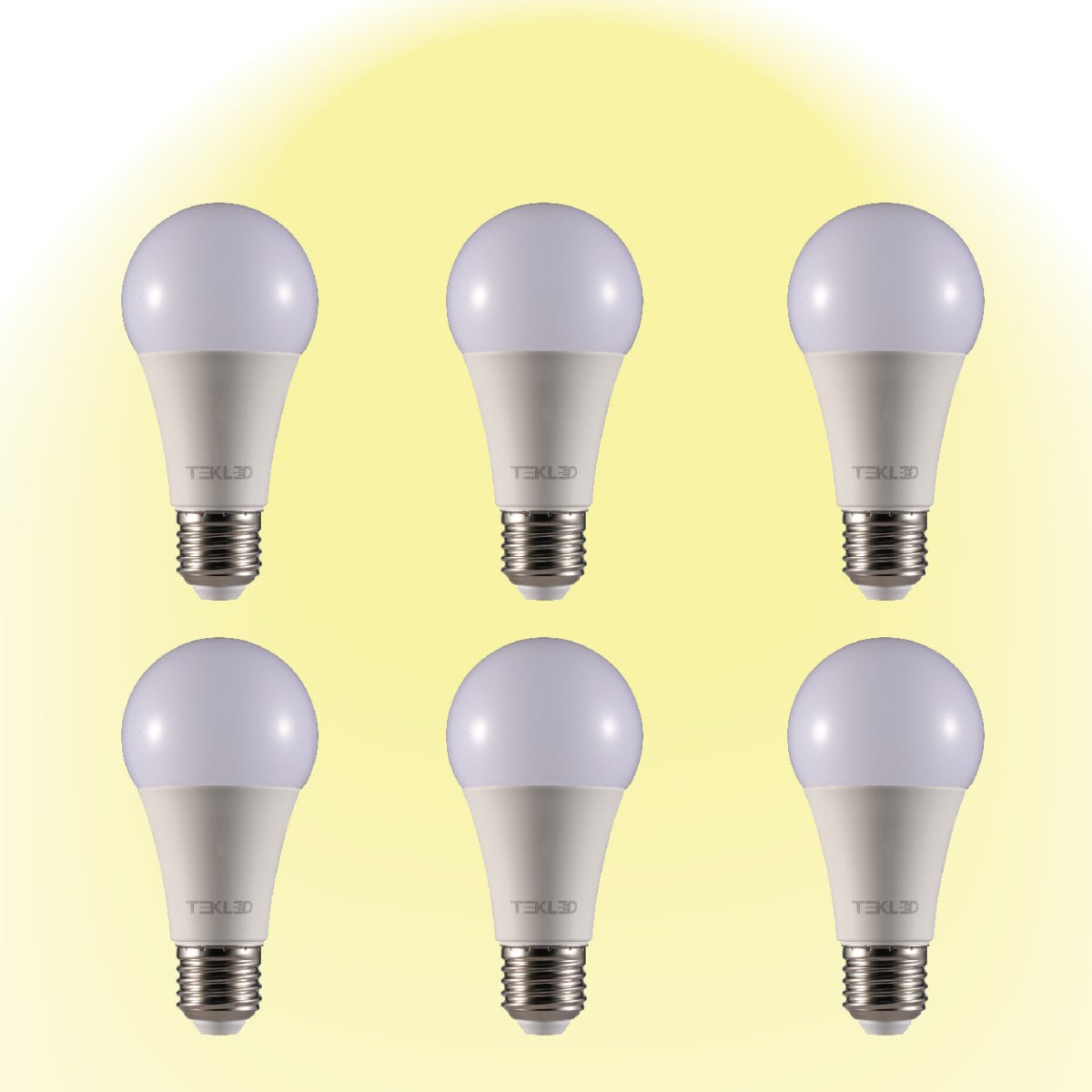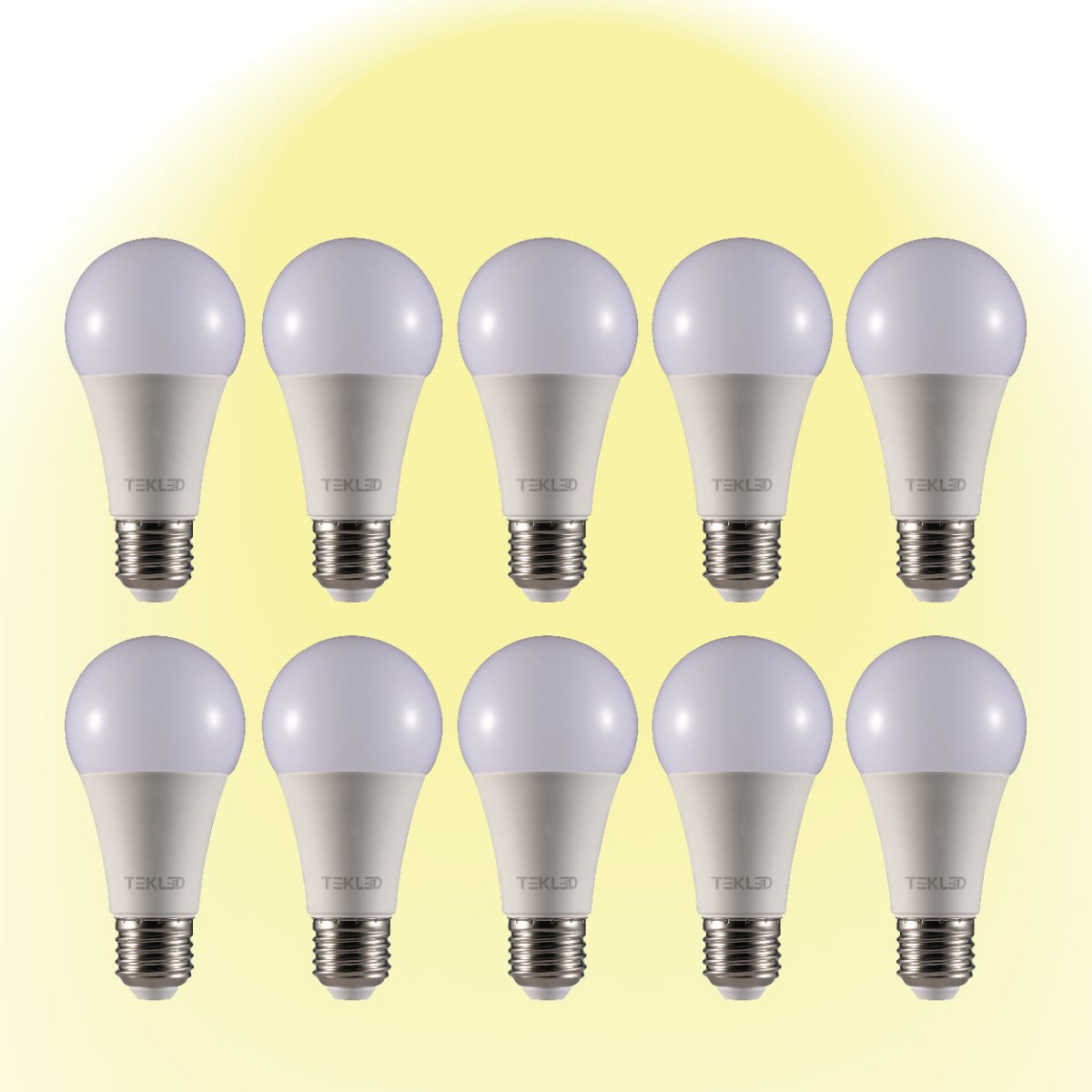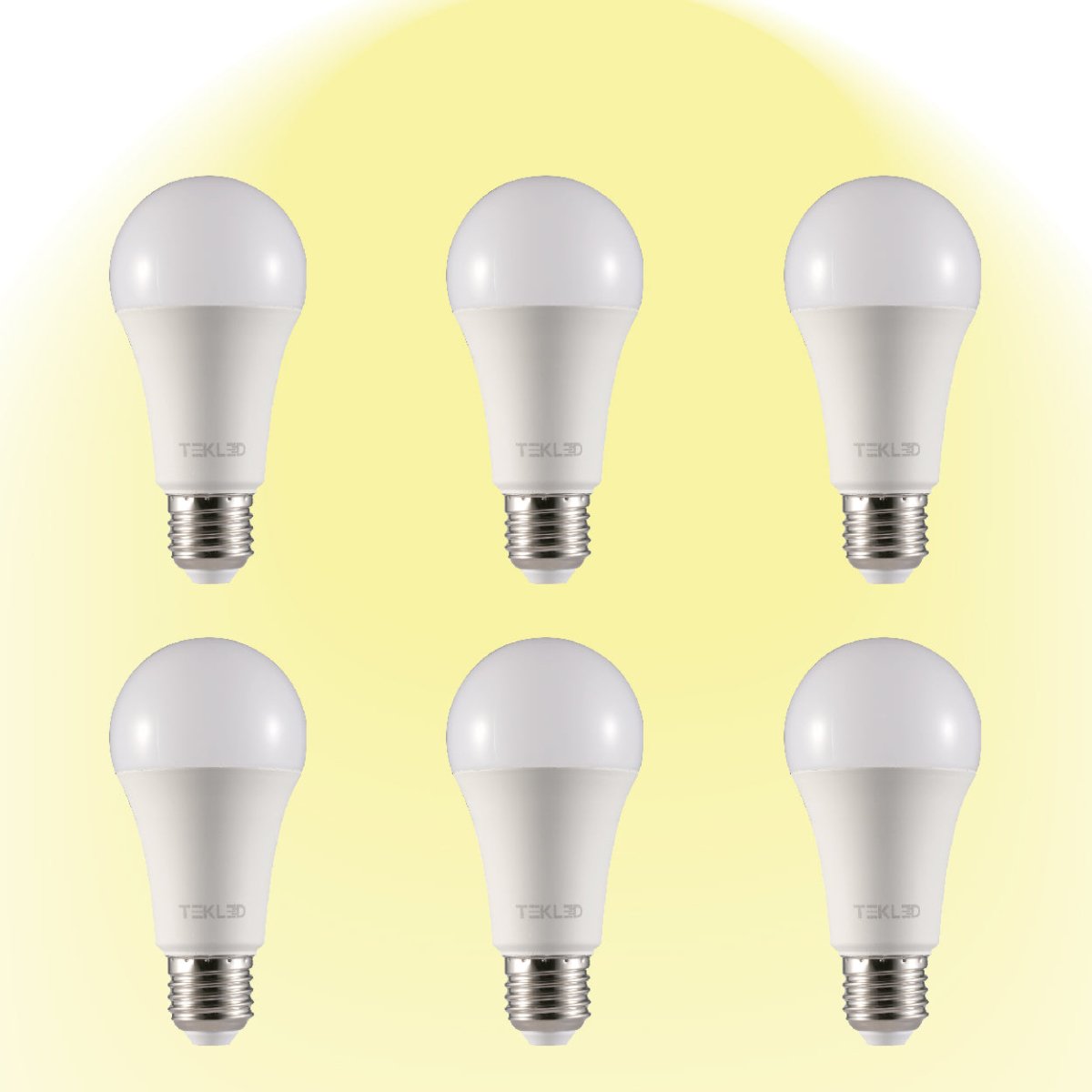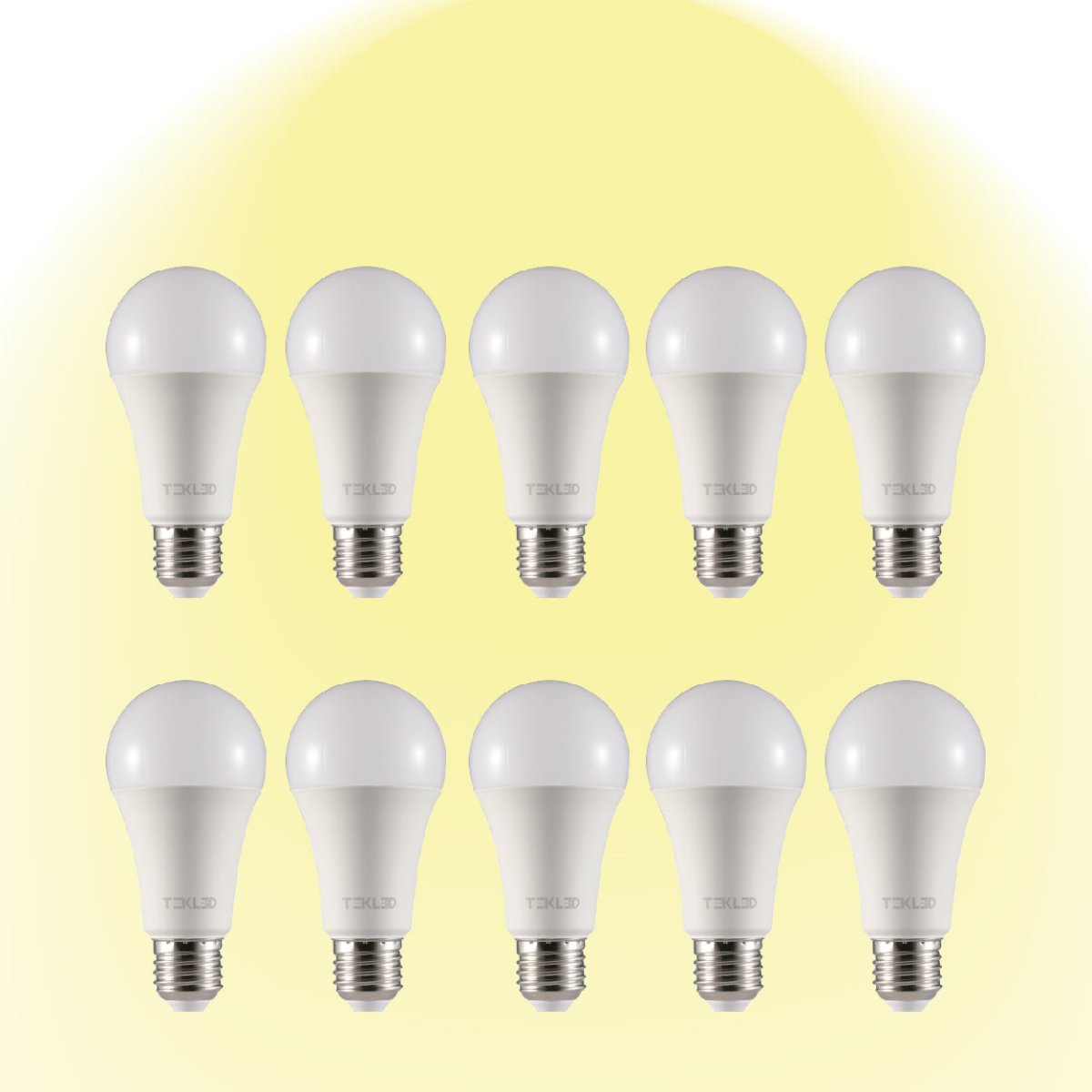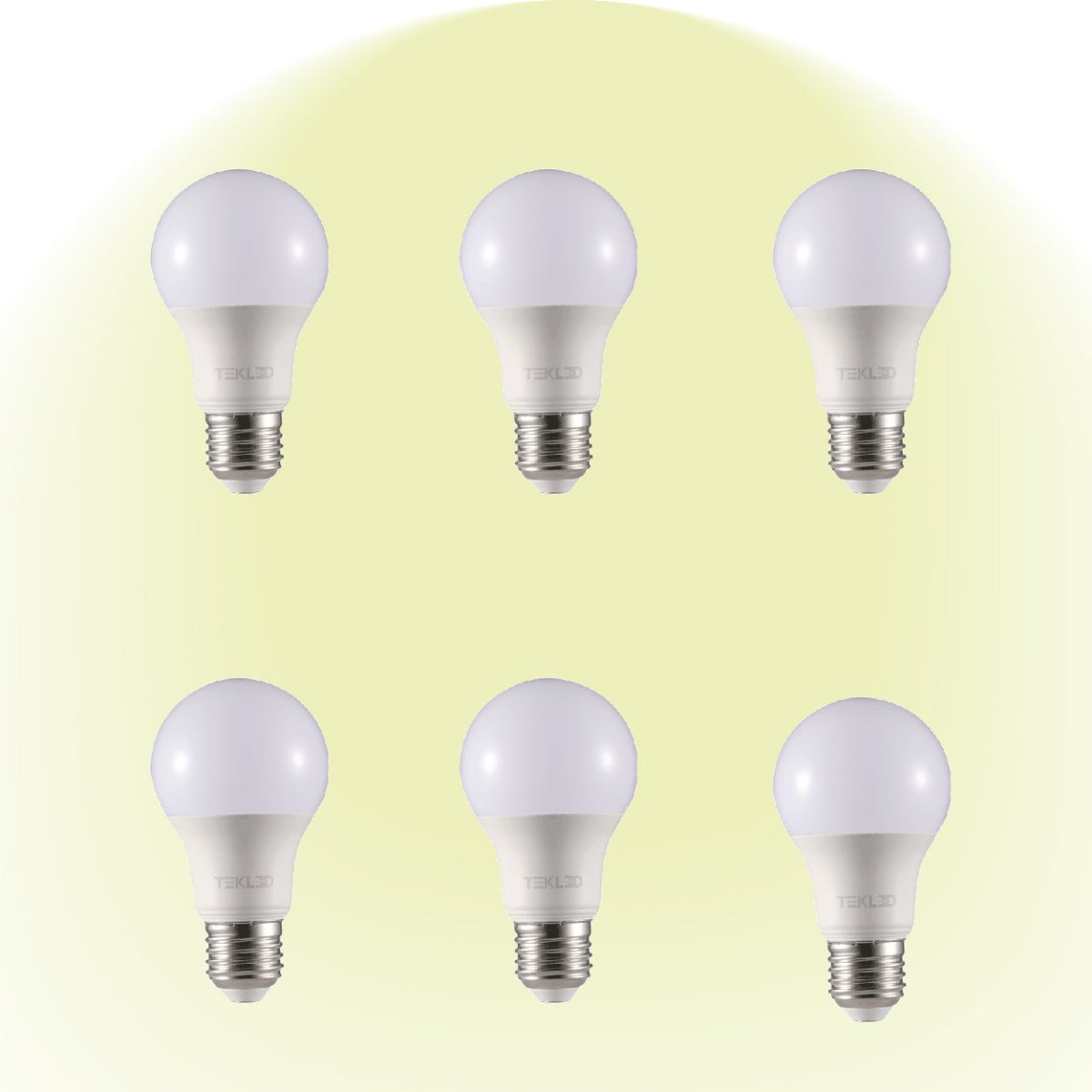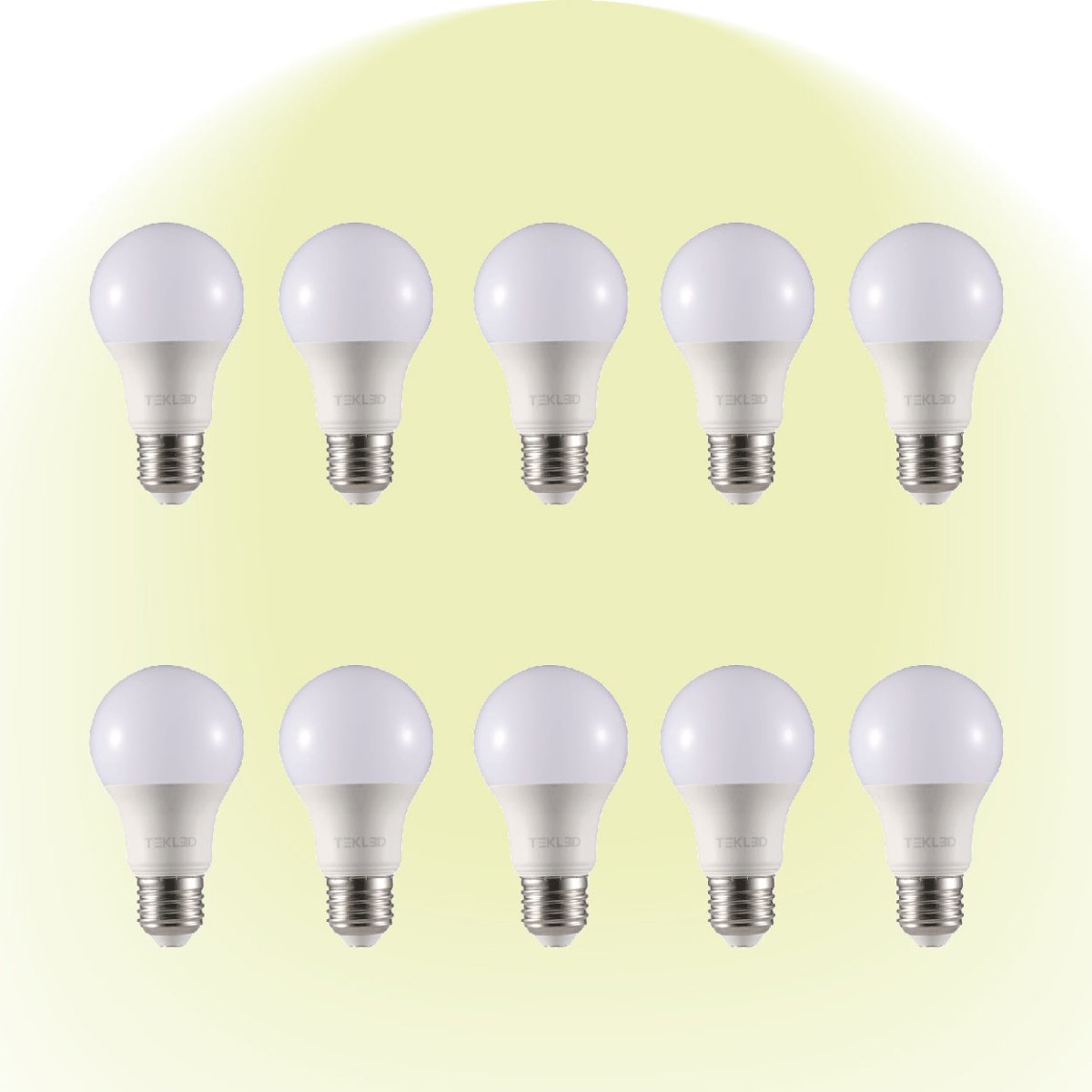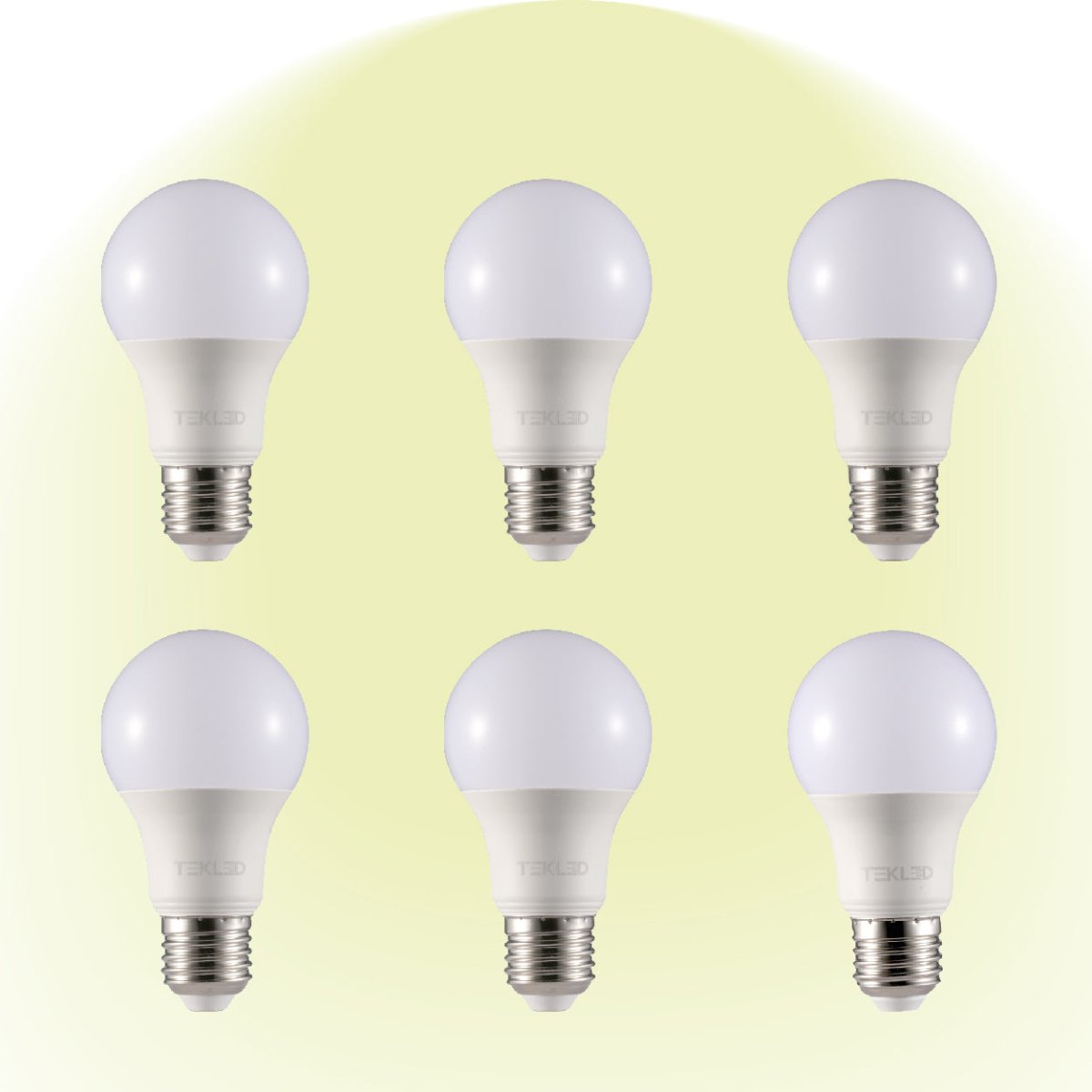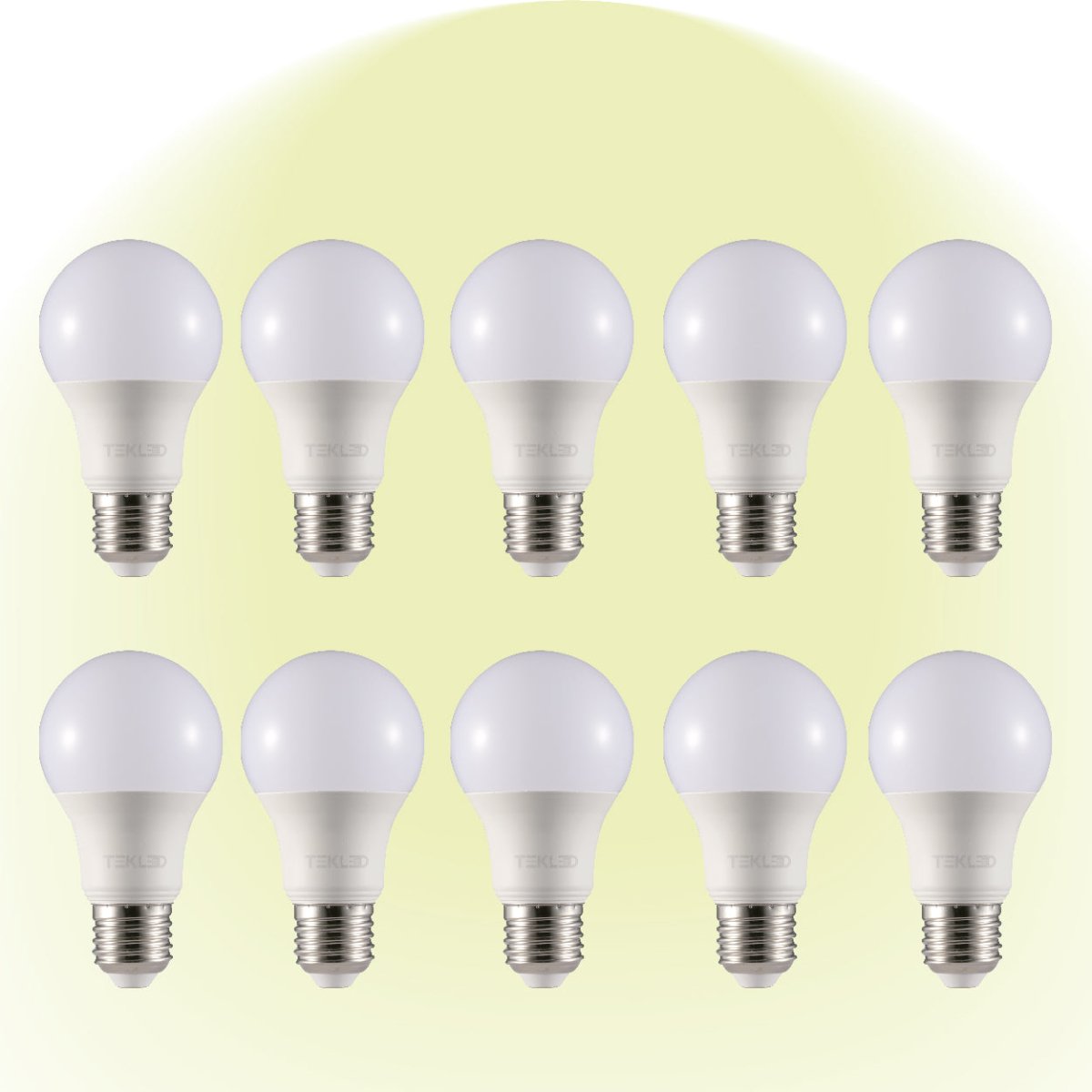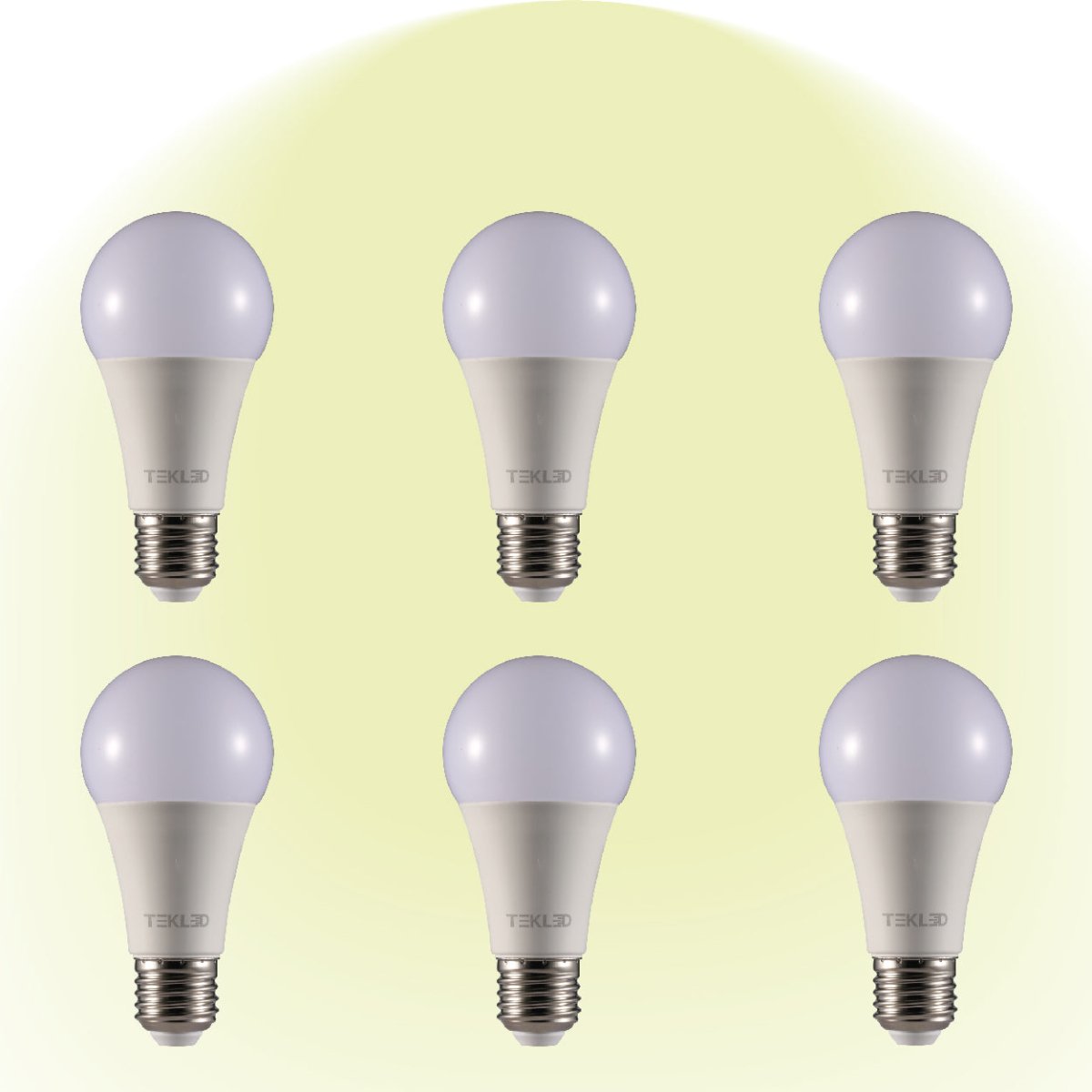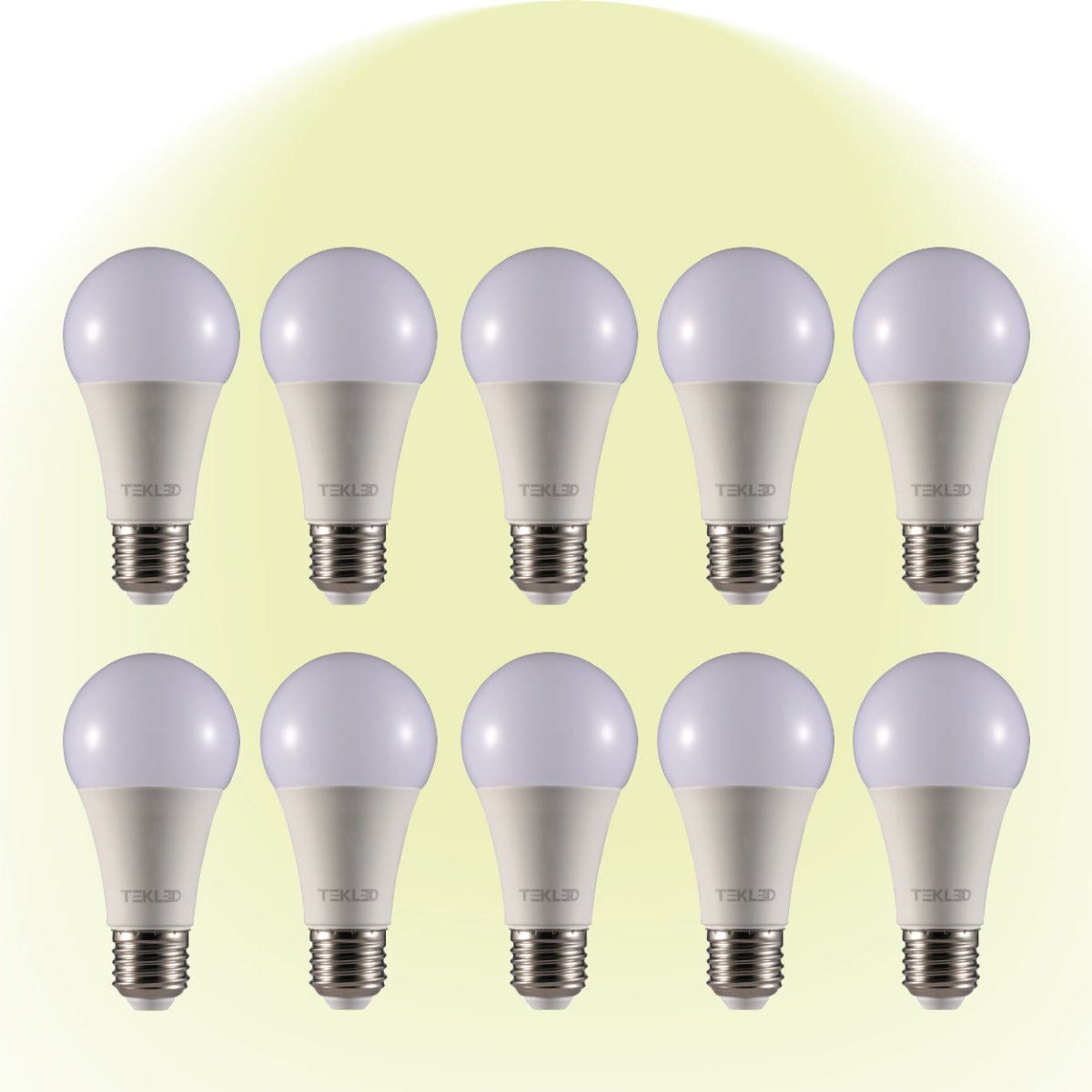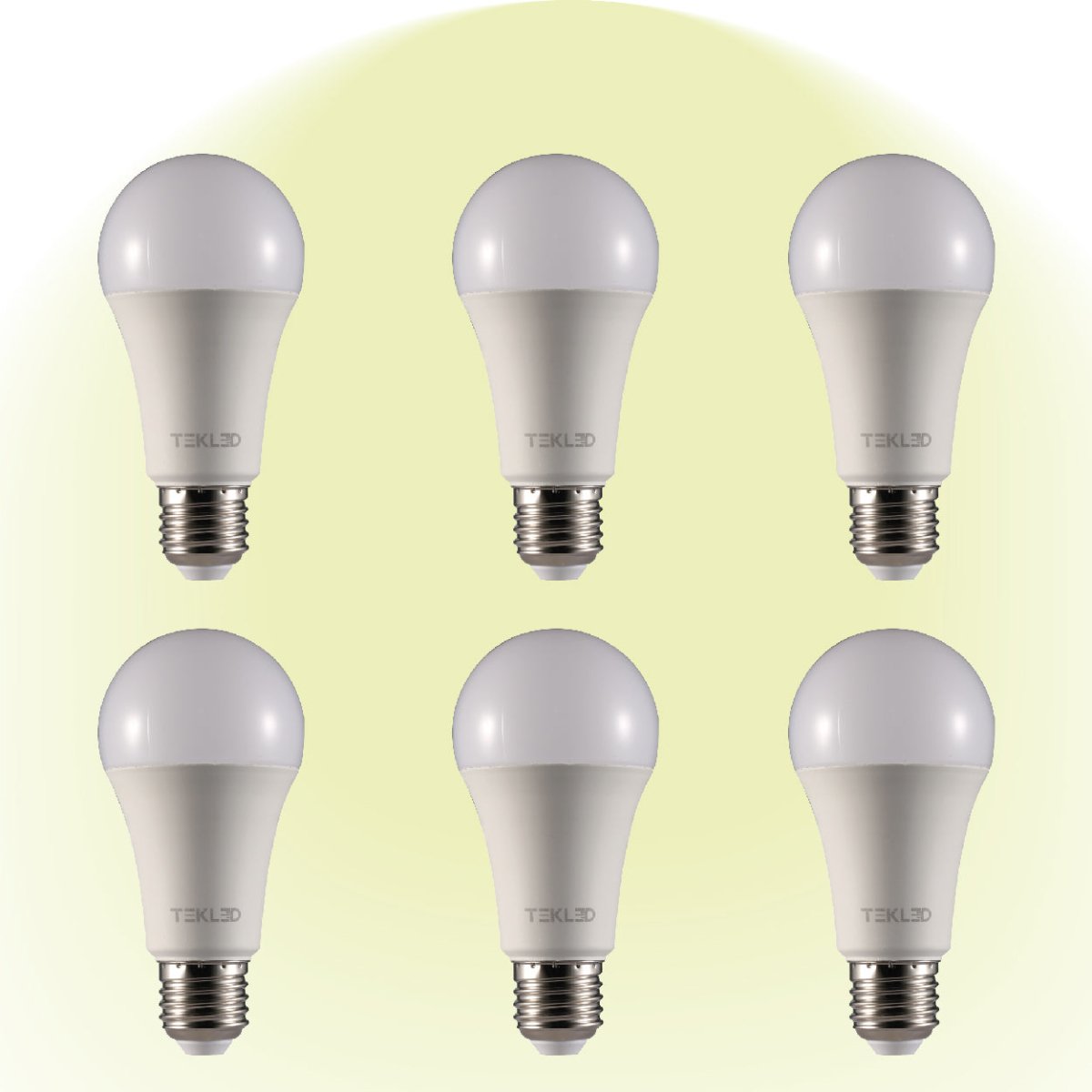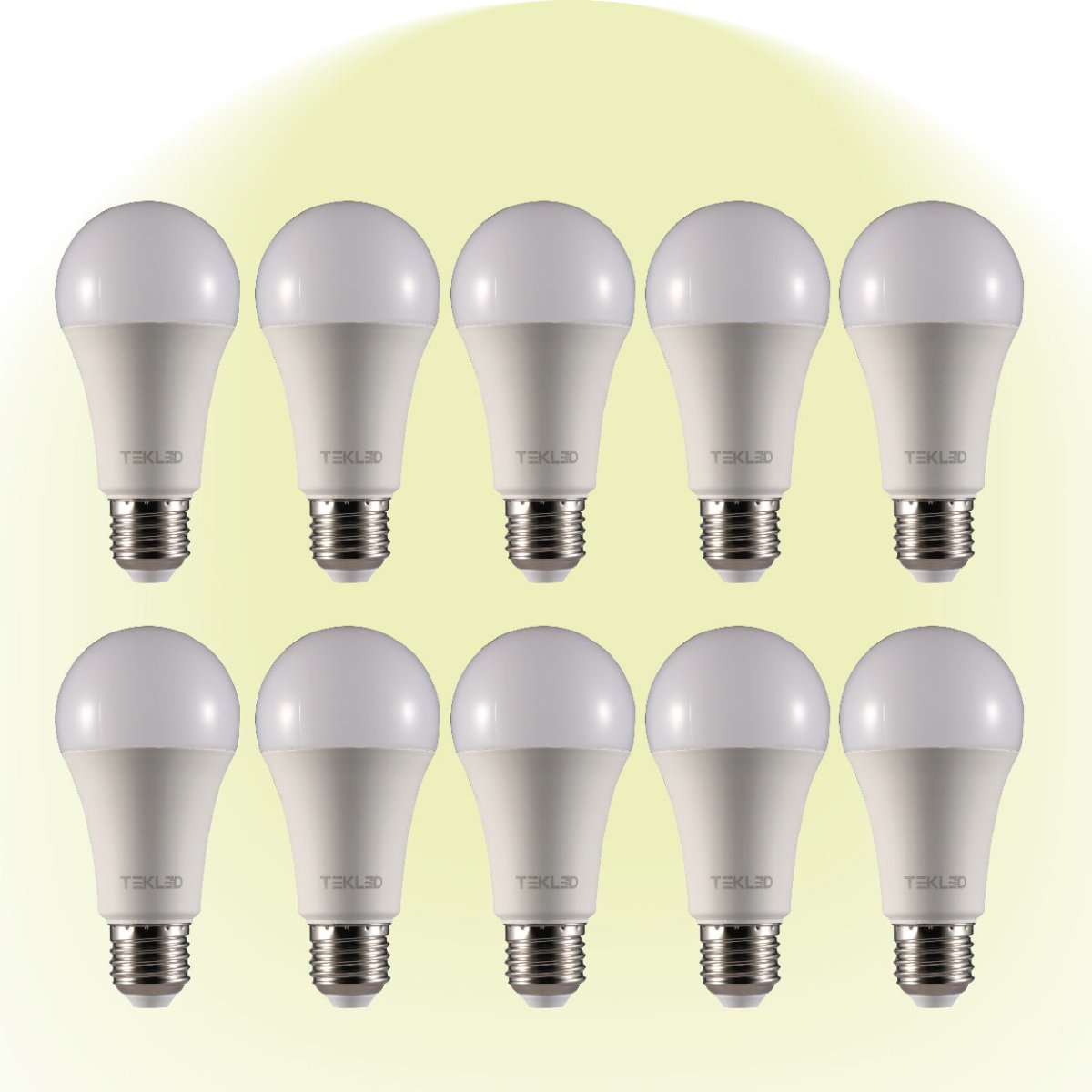 TEKLED
Virgo LED GLS Bulb A60 E27 Edison Screw - 2700K Warm White / 7 W / Pack of 6.
Light Colour:
2700K Warm White
In stock
Virgo LED GLS Bulb A60 E27 Edison Screw
Revitalize your space with TEKLED's Leo LED GLS A60 Bulb, equipped with a classic E27 Edison Screw fitting. This eco-friendly solution ensures notable energy efficiency while delivering light quality that competes with standard halogen bulbs.
Navigate through a spectrum of choices - 7W (an equivalent of a traditional 60W), 9W (similar to a 70W), 12W (parallels a 100W), and 15W (matching a 125W). Each power level is available in 2700K Warm White and 4000K Cool White light tones, providing a gentle, radiant light that promotes a relaxed and inviting environment. They serve as ideal lighting choices for a range of settings, including residential homes and commercial establishments.
Boasting an efficiency rating of 85lm/W and a modern F energy classification (which was known as A+ previously), TEKLED's Leo LED GLS A60 Bulbs are designed to yield substantial energy savings without sacrificing the brilliance and quality of light.
Experience consistent, non-flickering, and immediate illumination with these bulbs, eliminating the need for a warm-up period. With a remarkable longevity of 25,000 hours, they promise lower maintenance and long-term value.
Without any need for additional tools, these easy-to-install, non-dimmable LED bulbs offer the chance to reimagine every room, from the bathroom to the bedroom and the living room, bathing them in beautiful light. The bulbs are available in packs of 6 or 10, providing flexible solutions for all your lighting needs.
Invest in the Leo LED GLS A60 Bulbs from TEKLED, and embrace the harmonious blend of unparalleled brightness, incredible energy efficiency, and enduring light quality.
Technical Specifications
| | |
| --- | --- |
| Name | Virgo LED GLS Bulb A60 E27 Edison Screw 7W 9W 12W 15W 2700K Warm White 4000K Cool White Pack of 6 or 10 |
| Product Code | 527-15640 | 527-15642 | 527-15644 | 527-15646 | 527-15656 | 527-15658 | 527-15660 | 527-15662 | 527-15672 | 527-15674 | 527-15676 | 527-15678 | 527-15688 | 527-15690 | 527-15692 | 527-15694 |
| Power | 7 W | 9 W | 12 W | 15 W |
| Equivalent Wattage | 60 W | 70 W | 100 W | 125 W |
| Voltage | 220/240Vac 50/60Hz |
| Input Current | 44 mA | 60 mA | 80 mA | 100 mA |
| Bulb Type | A60 GLS | A65 GLS |
| Base Type | E27 Edison Screw |
| Protection Class | Class II |
| Dimmability | Non-Dimmable |
| Light Source | SMD LED |
| Light Output(luminous flux) | 595 lm | 765 lm | 1020 lm | 1275 lm |
| Luminous Efficacy | 85 lm/W |
| CRI(Colour Rendering Index) | CRI>80 |
| CCT (Kelvin)(Light Colour) | 2700K Warm White | 4000K Cool White |
| IP Class(Ingress Protection) | IP40 |
| Product Dimensions (L x W x H) (D x H) | D60 x 109H mm | D60 x 120H mm | D60 x 123H mm |
| Made of Materials | Plastic & Aluminium |
| Product Colour | White |
| Diffuser Material | Polycarbonate |
| Diffuser Type | Opal |
| Power Factor | pf>0.5 |
| Flickering | Non-Flickering |
| Operating Temperature (C) | -20/+45C |
| New Energy Rating | F |
| Energy Rating | A+ |
| Warranty | 2 year |
| Life Span | 25000 h |
| Gross Weight | 288 g | 447 g | 289 g | 295 g | 449.5 g | 296 g | 451.5 g | 324 g | 504.5 g | 322.5 g | 505 g | 385.5 g | 623 g | 389 g | 622.5 g |
| Net Weight | 25 g /pc | 26 g /pc | 30g /pc | 39 g /pc |
| Box Dimensions (LxWxH) | 218x138x116mm | 353x138x116mm | 218x138x130mm | 353x138x130mm |
| Certifications | UKCA, CE (LVD, EMC),RoHS |